Welcome to the captivating shores of Varkala, a coastal paradise nestled in the enchanting land of India. As we embark on a virtual tour through this serene destination, let me be your personal travel companion and unveil the hidden gems of beachfront accommodations that will leave you spellbound. Varkala, known for its pristine beaches and breathtaking cliffs, offers an idyllic haven where luxury meets tranquility.
Imagine waking up to the gentle sound of crashing waves as you step out onto your private veranda overlooking the azure waters of the Arabian Sea. Picture yourself basking in the golden rays of the sun while lounging on plush sunbeds, savoring every moment at one of Varkala's exquisite shoreline resorts. Indulge in opulent experiences offered by these oceanfront havens as they present a myriad of amenities tailored to elevate your stay.
Whether you are seeking a romantic escape or an adventurous getaway, Varkala's beachfront hotels provide an array of options suited to every traveler's taste. From boutique retreats exuding charm and intimacy, to luxurious resorts boasting infinity pools with panoramic views, there is something for everyone along this captivating coastline. So pack your bags and join me as we uncover the epitome of seaside elegance in Varkala – where nature's beauty intertwines seamlessly with world-class hospitality.
The Best Varkala Hotels By the Beach
MINT INSIDE beach hotel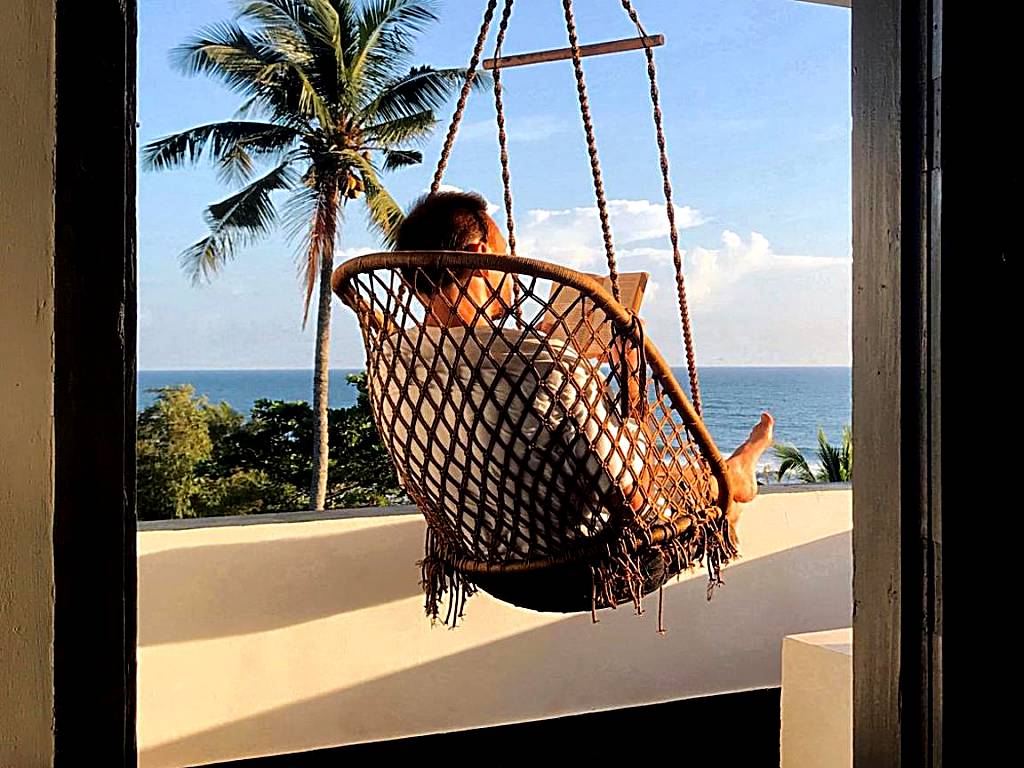 MINT INSIDE beach hotel is a charming beachfront property located in the beautiful Varkala Beach. With breathtaking sea views and a serene atmosphere, this hotel offers an ideal retreat for travelers looking to relax and unwind. The bungalows and cottages are tastefully decorated with traditional wooden furnishings, featuring high ceilings and a private terrace surrounded by lush gardens. Guests can enjoy delicious meals at the sea view restaurant or take a leisurely stroll through the garden. The hotel offers convenient amenities such as free WiFi, 24-hour front desk service, free parking, luggage storage, and laundry facilities. Additionally, guests can avail themselves of bike rental and taxi services for exploring the surrounding areas or indulge in exciting excursions like yoga classes, evening bonfires, dolphin safaris, and surfing adventures. For those interested in local culture and spirituality, Odayam Parambil Sree Bhadrakali Temple is just 500 meters away while Varkala Sree Janardhana Swamy Temple and Papanasam Beach are within a short distance of 5 km. Surf spot Kappil and the fish market are also easily accessible at just 4 km away. Thiruvananthapuram International Airport is conveniently located 49 km from the property.
– Stunning sea views from terrace
– Air-conditioned bungalows with traditional wooden furnishings
– Convenient location close to ayurvedic clinic, shops, and restaurants
– Exciting activities like yoga classes, evening bonfires
– Easy access to nearby attractions such as temples and beaches
Soma Manaltheeram Ayurveda BeachVillage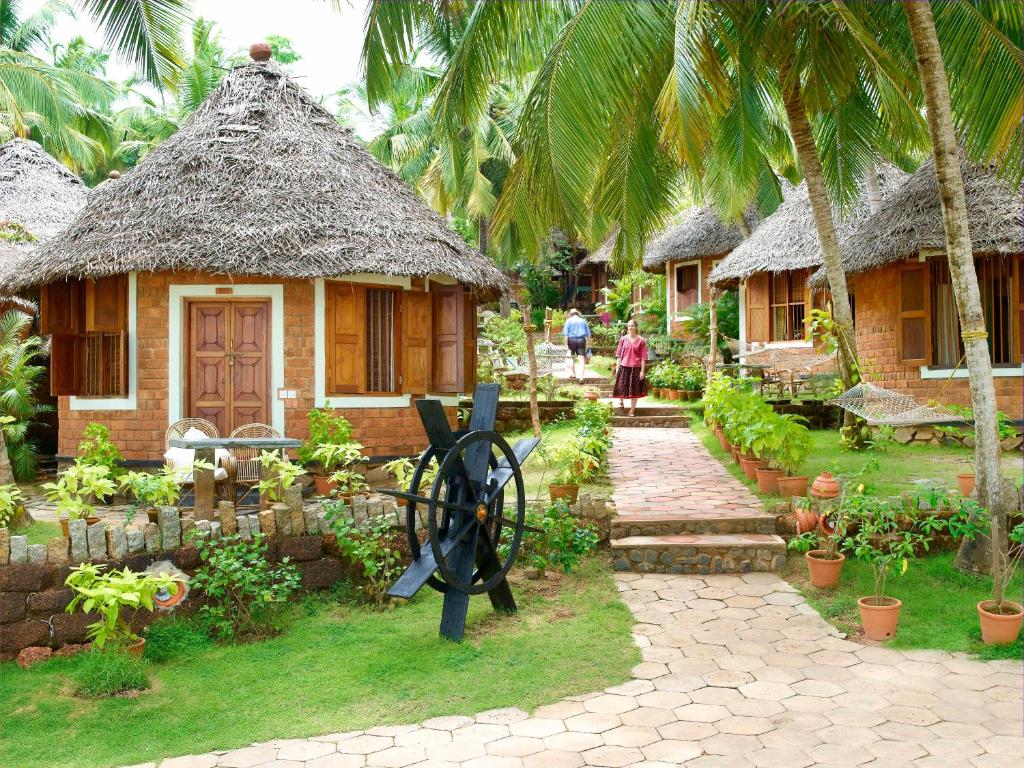 Located in the beautiful natural scenery of Kerala, Manaltheeram Ayurveda BeachVillage is a beachfront hotel that offers guests a truly relaxing and rejuvenating experience. Situated on a hillside facing Kovalam Beach, this hotel features an Ayurvedic spa and an outdoor pool. The spa boasts private treatment rooms with professional Ayurvedic doctors and therapists, offering a range of massage therapies, oil treatments, and beauty services. Guests can also take part in yoga lessons or arrange day trips at the tour desk. The hotel's open-air garden restaurant serves a wide selection of vegetarian and international dishes, while regular cultural performances provide entertainment for guests. With fully ventilated circular cottages offering comfortable accommodations with mosquito nets and attached bathrooms with shower facilities, Manaltheeram Ayurveda BeachVillage provides the perfect setting for a beachfront getaway.
– Stunning location overlooking Kovalam Beach
– Authentic Ayurvedic spa with experienced doctors and therapists
– Outdoor pool for relaxation
– Yoga lessons available for guests
– Wide selection of vegetarian and international cuisine served at the open-air garden restaurant
The Travancore Heritage Beach Resort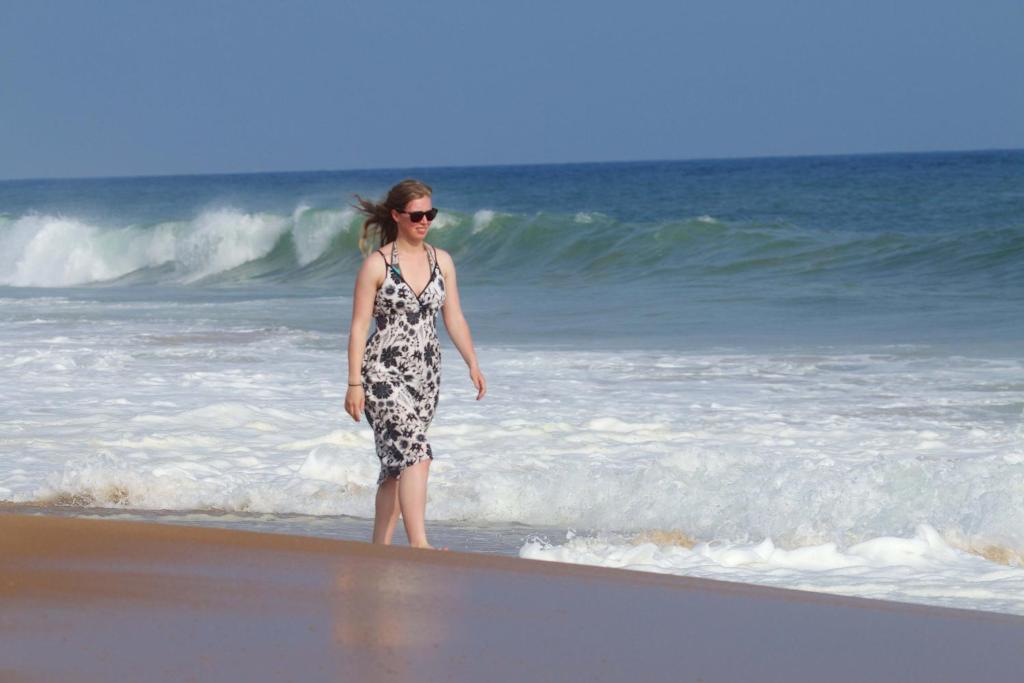 Located on Chowara beach, The Travancore Heritage Beach Resort is the perfect seaside getaway for travelers seeking a touch of traditional architecture and luxury. The resort offers beautifully designed accommodations with smooth interior lighting and spacious bathrooms. Guests can indulge in traditional Indian Ayurveda treatments and massages or take a refreshing dip in one of the two outdoor pools. The property also boasts a small library and a common area equipped with satellite TV, card games, and internet access. For convenience, there is a shop where guests can purchase cosmetics and beachwear, as well as a tour desk to assist with car rentals and information about local attractions. With Trivandum International Airport just 40 minutes away by car, getting to this beachfront paradise has never been easier. Other amenities include air-conditioned rooms featuring wooden floors, satellite TV, minibar, and coffee maker. The spacious bathrooms come complete with garden baths and showers. Additionally, guests have access to a fitness center and laundry services during their stay. Dining options at the resort are equally impressive with Open House serving seafood and local ethnic cuisines overlooking the pool while The Ocean Grill offers fresh seafood dishes right by the beach. Exploring nearby attractions is also convenient as Heritage Travancore is just a short drive from Trivandum Railway Station (45 minutes) as well as Shangumugham Beach (40 minutes).
Hotels Near the Beach in Downtown Varkala
Downtown Varkala offers a range of beachfront hotels that provide a stunning and convenient location for travelers looking to relax by the ocean. With their proximity to the beach, these hotels offer breathtaking views and easy access to the sand and surf.
Sea Wings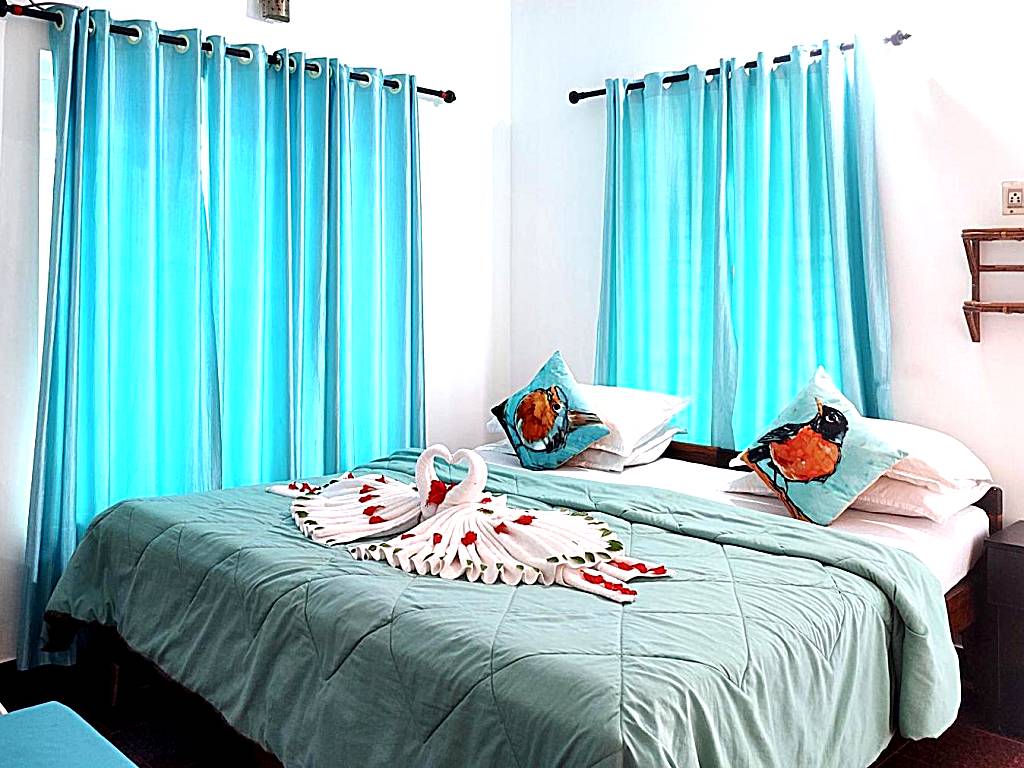 Sea Wings is a charming beachfront guest house located in Varkala. With its close proximity to Odayam Beach and Aaliyirakkm Beach, guests can enjoy the convenience of walking just a few steps to reach the stunning coastline. The property offers a shared kitchen and a lovely terrace for guests to relax and unwind. Each room at Sea Wings is tastefully decorated and features a private bathroom with free toiletries. Some rooms even offer breathtaking sea views. Guests can start their day with a delicious continental, Asian, or vegetarian breakfast before exploring the surrounding area. The friendly staff, fluent in English, Hindi, Malayalam, and Tamil, are available 24/7 to assist guests in planning their stay. Sree Padmanabhaswamy Temple and Napier Museum are both within driving distance from the guest house. Thiruvananthapuram International Airport is also conveniently located just 41 km away.
Pros:
– Conveniently located on the beachfront
– Charming guest house with shared kitchen
– Rooms feature private bathrooms with free toiletries
– Some rooms offer stunning sea views
– Friendly staff fluent in multiple languages available 24/7
The Leela Kovalam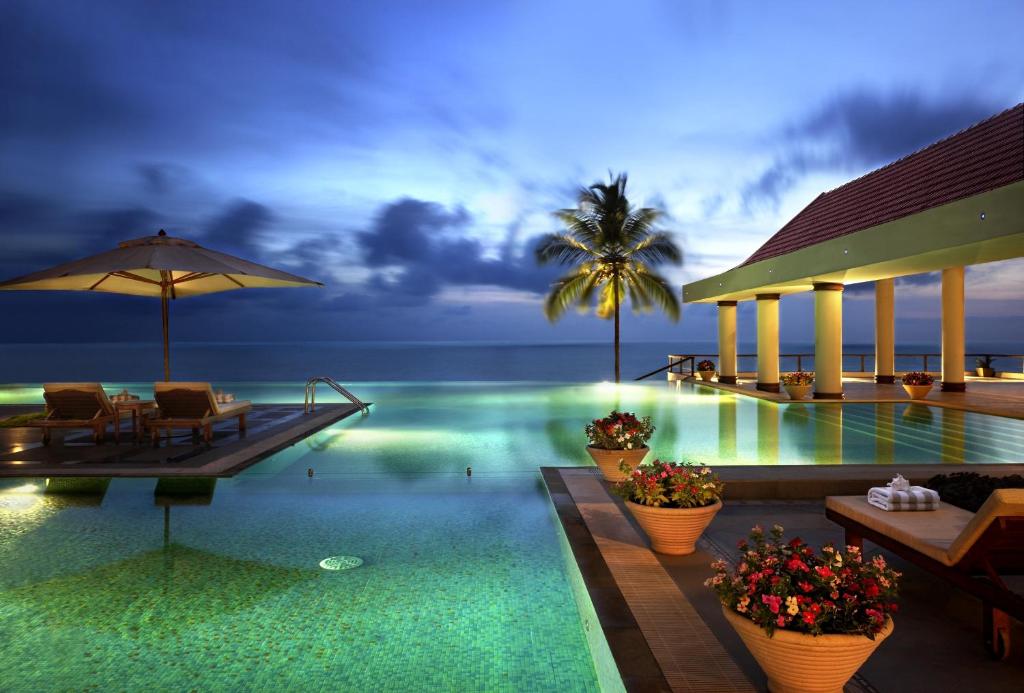 The Leela Kovalam, A Raviz Hotel is a luxurious beachfront resort located on a cliff, offering breathtaking views of the Kovalam shoreline and the Arabian Sea. With its private access to the beach and world-class spa facilities, this hotel provides guests with an exceptional and relaxing experience. The outdoor pool and fitness center both overlook the sea, allowing guests to enjoy their workout while taking in the stunning surroundings. The Terrace, a 24-hour buffet restaurant, offers indoor, outdoor, and poolside seating for dining convenience. Each room at The Leela Kovalam Beach combines wooden decor with modern amenities like a flat-screen TV and tea/coffee making facilities. Whether you choose a garden or sea view room, you are guaranteed stunning vistas from your accommodation. In addition to these features, the hotel also boasts a game room and tennis court for recreational activities. Travel services such as tour arrangements and car rental are available to ensure guests have seamless travel experiences during their stay. For exquisite dining options on-site, head over to The Tides Restaurant which specializes in Asian specialties and grilled seafood dishes while enjoying panoramic views of the beach or savor cocktails at rooftop bar The Sky Bar as you witness breathtaking sunsets.The hotel's convenient location places it just 14 km away from Trivandrum City and the famous Padmanabhaswamy Temple while Trivandrum International Airport can be reached within a 30-minute drive. Additionally,the property offers various activities including table tennis,badminton,Tug of War etc.Additionally,guests can participate in swimming classes (for kids),cooking classes,coktail/mocktail classes,and yoga sessions.There are also popular facilities like three pools,a yoga center,a kid's playroom,and library.Perfectly combining luxury with natural beauty,this beachfront hotel guarantees an unforgettable stay for all its guests.
– Breathtaking panoramic views of Kovalam shoreline
– Private access to the beach
– World-class spa facilities for ultimate relaxation
– Outdoor pool and fitness center with stunning sea views
– Multiple dining options including a rooftop bar for sunset cocktails
Keratheeram Beach Resort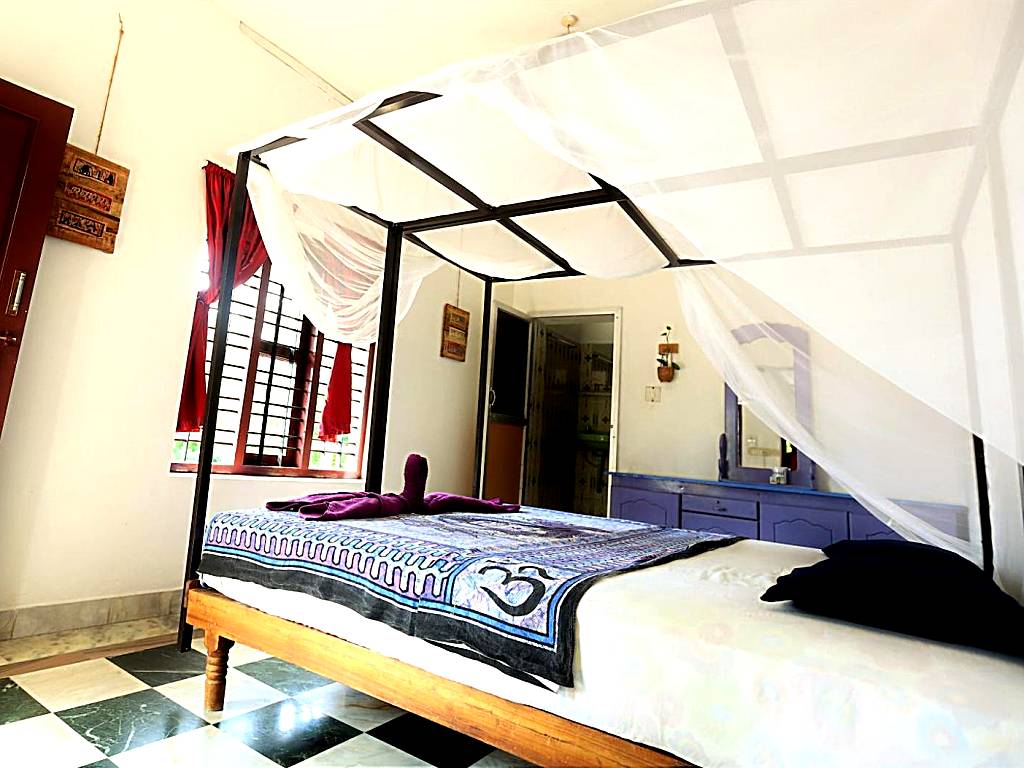 Keratheeram Beach Resort is a cozy and convenient guest house located in Varkala, just 100 meters from the beautiful Varkala Beach. This 1-star accommodation offers comfortable beds and a range of amenities to ensure a pleasant stay. With its garden, free private parking, terrace, and restaurant on-site, guests can enjoy relaxation and convenience during their beachfront getaway. The guest house also provides a shared kitchen, room service, and free WiFi for added comfort. Each room features a balcony with garden views, as well as a kettle and private bathroom with shower and free toiletries. Some rooms even come with a fully equipped kitchenette. The friendly staff at the 24-hour front desk are fluent in English, Hindi, Italian, and Turkish languages and always ready to assist guests. Nearby attractions such as Aaliyirakkm Beach, Varkala Cliff, and Janardhanaswamy Temple are popular points of interest for visitors seeking to explore the area's natural beauty and cultural heritage. For those arriving by air, Thiruvananthapuram International Airport is conveniently located 41 km away from the property.
Pros:
– Comfortable beds
– Convenient location near Varkala Beach
– Free private parking available
– Shared kitchen for guests' use
– Friendly multilingual staff at the 24-hour front desk
Romantic Beachfront Hotels in Varkala
Varkala offers a selection of romantic beachfront hotels that provide the perfect setting for couples to unwind and enjoy the stunning views of the Arabian Sea. With luxurious accommodations, serene ambiance, and direct access to pristine beaches, these hotels offer an idyllic retreat for those seeking a romantic getaway by the sea.
Maadathil Cottages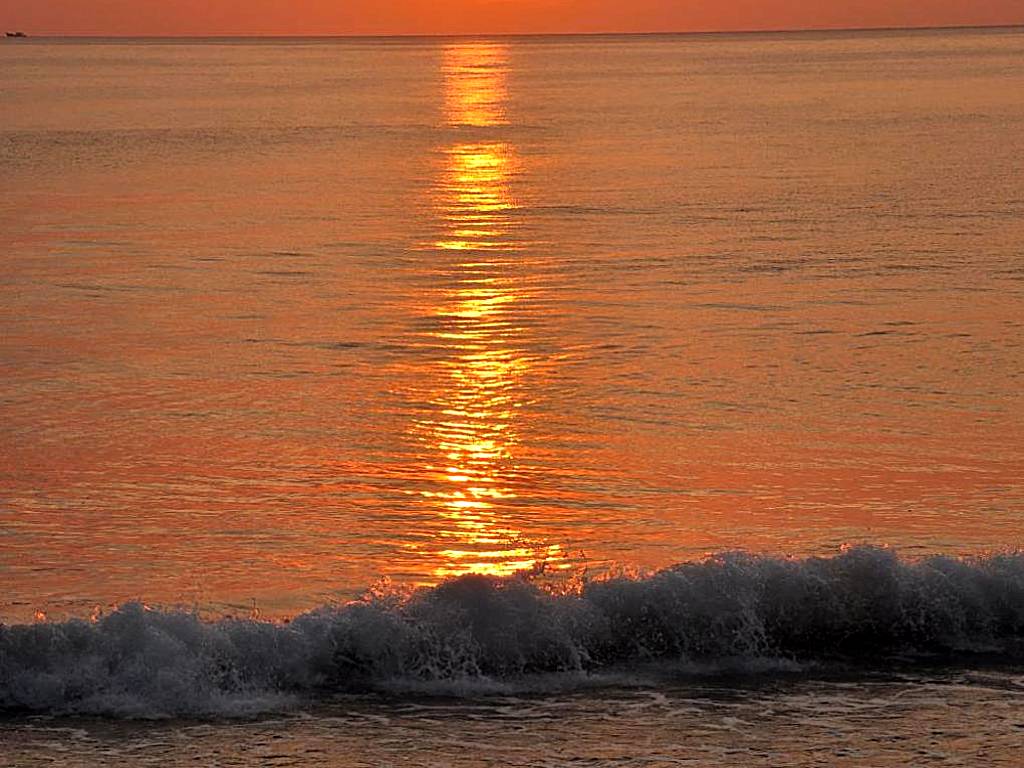 Maadathil Cottages, located in Varkala, is a charming beachfront resort that offers a pleasant stay for guests. The property boasts a restaurant and terrace where visitors can enjoy delicious Indian, Continental, and local dishes while taking in the beautiful views. With free Wi-Fi throughout and on-site parking available, convenience is prioritized at Maadathil Cottages. Each room is equipped with air conditioning to ensure comfort during the stay, and the bathroom includes a shower and complimentary toiletries. Located just 100 meters from Odayam Beach, guests can easily access the sandy shores for a relaxing day under the sun. Additionally, popular attractions such as Varkala Janardhanaswamy Temple are only 3 km away, making it convenient for guests to explore the area. With its prime beachfront location and comfortable amenities, Maadathil Cottages is an excellent choice for travelers seeking relaxation and convenience.
– Beachfront location offering easy access to Odayam Beach
– On-site restaurant serving Indian, Continental and local dishes
– Free Wi-Fi throughout the property
– Air-conditioned rooms for added comfort
– Conveniently located near popular attractions such as Varkala Janardhanaswamy Temple
Samsara Harmony Beach Resort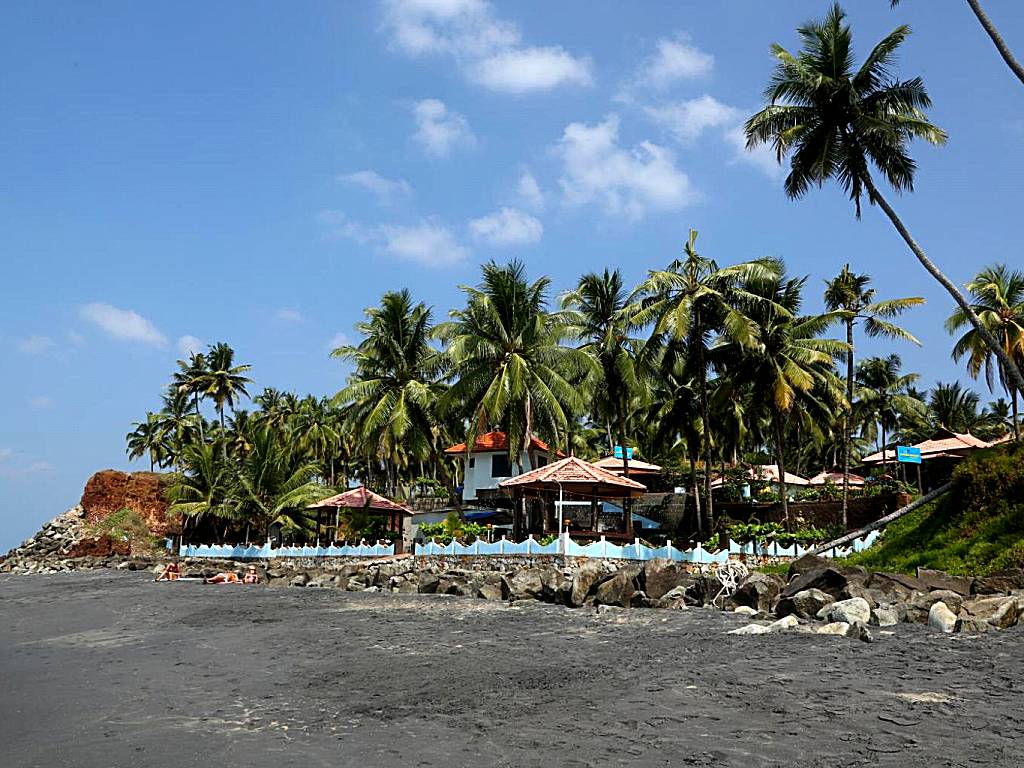 Located just 500 meters from the stunning Varkala Beach, Samsara Harmony Beach Resort offers a delightful beachfront retreat. The resort features an outdoor swimming pool and a shared kitchen, while the 24-hour front desk is always available to assist guests. The air-conditioned rooms are clean and simple, equipped with a flat-screen cable TV and private bathrooms with free toiletries. Free Wi-Fi access is provided throughout the property. Additional amenities include a tour desk, laundry facilities, luggage storage, car rental services, currency exchange services, and free parking. Guests can also indulge in delicious Indian, Chinese, and Continental cuisines at the in-house restaurant or enjoy in-room dining with room service. The resort's convenient location allows easy access to nearby attractions such as Anchuthengu Fort and Golden Island. The Varkala Bus Station and Railway Station are just 4 km away while Thiruvananthapuram International Airport is situated 54 km from the resort.
– Outdoor swimming pool
– Clean and simple air-conditioned rooms
– In-house restaurant offering Indian, Chinese, and Continental cuisines
– Close proximity to beautiful Varkala Beach
– Convenient location near transportation hubs
Magnolia Guesthouse Varkala
Located in a super central and beachfront location, Magnolia Guesthouse Varkala offers guests the perfect getaway with its stunning views of the Indian Ocean. Just a 3-minute walk from Odayam Beach, this guesthouse also provides Ayurvedic massage treatments and yoga sessions on the beach. The rooms and cottages are simply furnished and come with amenities such as a fan, satellite TV, and en suite bathrooms. Family rooms include a small kitchen and private terrace. Guests can enjoy free Wi-Fi in public areas and have access to a restaurant that offers room service. Additionally, Magnolia Guesthouse Varkala is within walking distance of Varkala North Cliff, the main beach, and various transportation hubs like the railway station, bus station, and airport.
– Beachfront location.
– Ayurvedic massage treatments available.
– Free Wi-Fi in public areas.
– Family rooms with kitchenette.
– Conveniently located near transportation hubs.
Information about Beachfront Hotels in Varkala
| | |
| --- | --- |
| 🏢 Number of Beach Hotels in Varkala | 9 |
| 🥇 Average Review Score | 8.5/10 |
| 💰 High season average price | 1744 |
| 💸 Low season average price | 436 |
FAQ
Can you recommend any beachfront hotels in Varkala?
Certainly! Varkala has a wide range of beachfront hotels to choose from. One highly recommended option is the Taj Gateway Hotel Janardhanapuram Varkala. This luxurious hotel offers stunning views of the Arabian Sea and features spacious rooms, an infinity pool overlooking the beach, and a spa for ultimate relaxation. Another great choice is The Oceano, a boutique hotel known for its stylish design and proximity to the beautiful Papanasam Beach.
What amenities can I expect at beachfront hotels in Varkala?
Beachfront hotels in Varkala offer a multitude of amenities to ensure a comfortable stay. Most properties provide well-appointed rooms with modern facilities such as air conditioning, flat-screen TVs, complimentary Wi-Fi, and private balconies or terraces with ocean views. Additionally, many hotels feature on-site restaurants serving delicious local and international cuisine, swimming pools for refreshing dips during hot days, spas offering rejuvenating treatments, and helpful concierge services to assist with any inquiries or bookings.
Are there any budget-friendly beachfront accommodations in Varkala?
Yes! While there are several luxury options available along the beaches of Varkala, there are also budget-friendly accommodations that won't break the bank. One such property is The Lost Hostels – Varkala Beach. It offers dormitory-style rooms perfect for solo travelers or those on a tight budget while still providing direct access to the stunning coastline. There are also guesthouses and homestays available nearby that offer affordable rates without compromising on quality.
Which is the best time of year to visit Varkala for a beachfront holiday?
The ideal time to visit Varkala for a memorable beachfront holiday is during the winter months from November to February when temperatures remain pleasant ranging between 25°C (77°F) and 30°C (86°F). This period sees calm seas, clear skies, and lower humidity levels. The monsoon season, which typically occurs from June to September, brings heavy rainfall and rough seas, making it less suitable for beach activities. However, if you enjoy the dramatic beauty of the rain-soaked coastlines and don't mind occasional showers, visiting during this off-peak season can offer a unique experience.
What are some nearby attractions to explore while staying at a beachfront hotel in Varkala?
Besides its beautiful beaches, Varkala offers various attractions worth exploring during your stay. One must-visit is the 2,000-year-old Janardanaswamy Temple located close to Papanasam Beach. Other highlights include the Sivagiri Mutt ashram with its serene atmosphere and spirituality, Varkala Aquarium where you can discover marine life up close, or taking a boat ride on Thiruvambadi Lake surrounded by lush greenery. Additionally, nearby Kappil Beach offers a peaceful escape from the crowds and is perfect for watching picturesque sunsets over
Popular Beach Hotels destinations