Welcome to the beautiful coastal town of Marmaris in Turkey, a true haven for beach lovers. Today, we embark on an exploration of the exquisite beachfront accommodations that dot this stunning destination. Prepare to immerse yourself in a world where luxury meets seaside serenity as we unveil a selection of lavish hotels nestled along the picturesque shores.
Marmaris boasts a plethora of opulent accommodations that cater to every discerning traveler's desires. Situated on the edge of turquoise waters and surrounded by breathtaking natural beauty, these oceanfront retreats offer an idyllic getaway for those seeking relaxation and rejuvenation. From intimate boutique hotels with personalized service to grand resorts boasting world-class amenities, Marmaris has it all.
Imagine waking up each morning with panoramic views over golden sands and crystal-clear waters stretching as far as the eye can see. Whether you prefer lounging on private sun-kissed beaches or indulging in water sports adventures, Marmaris provides endless opportunities for unforgettable experiences. Join us as we uncover hidden gems among the luxurious beachfront accommodations that await your arrival in this captivating corner of Turkey.
The Best Marmaris Hotels By the Beach
Aurasia Beach Hotel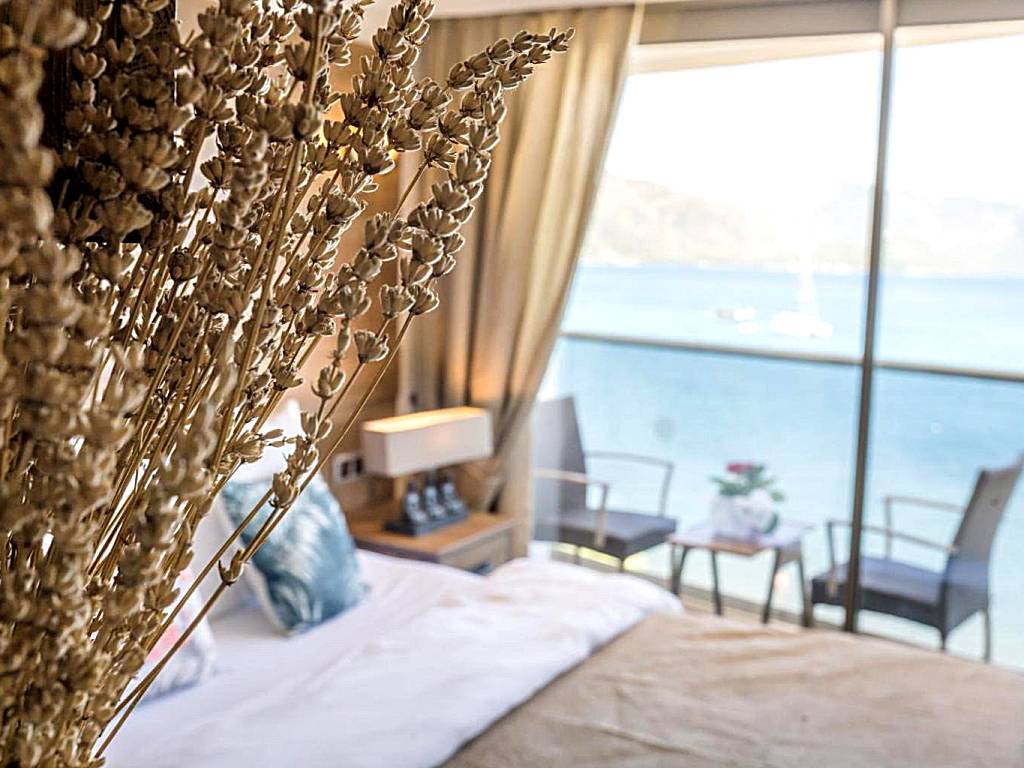 Located on a stunning stretch of Mediterranean beach, Aurasia Beach Hotel offers guests the perfect seaside retreat. The hotel features an outdoor pool and boasts panoramic views of the beautiful Marmaris Mountains. Some rooms provide breathtaking views of the sparkling sea, allowing guests to wake up to the sound of crashing waves. Start your day with a delicious breakfast buffet served at the hotel, and enjoy lunch and dinner at Firuze Restaurant&Bar, where you can savor mouthwatering dishes. Cocktails are readily available at the beach bar, ensuring that you can sip on your favorite drink while enjoying the sun-drenched shoreline. All rooms are equipped with private balconies, air conditioning, and private bathrooms for utmost comfort during your stay. Stay connected with free Wi-Fi access throughout the premises and take advantage of complimentary sun loungers and parasols on the beach. If you decide to venture out, Marmaris city center is just 2 km away, offering plenty of entertainment options. For travelers flying in, Dalaman Airport is conveniently located 100 km from Aurasia Beach Hotel.
– Breathtaking sea views from some rooms
– Delicious breakfast buffet served daily
– Convenient beach bar for refreshing cocktails
– Free Wi-Fi available throughout the premises
– Complimentary sun loungers and parasols at the beach
Marmaris Beach Hotel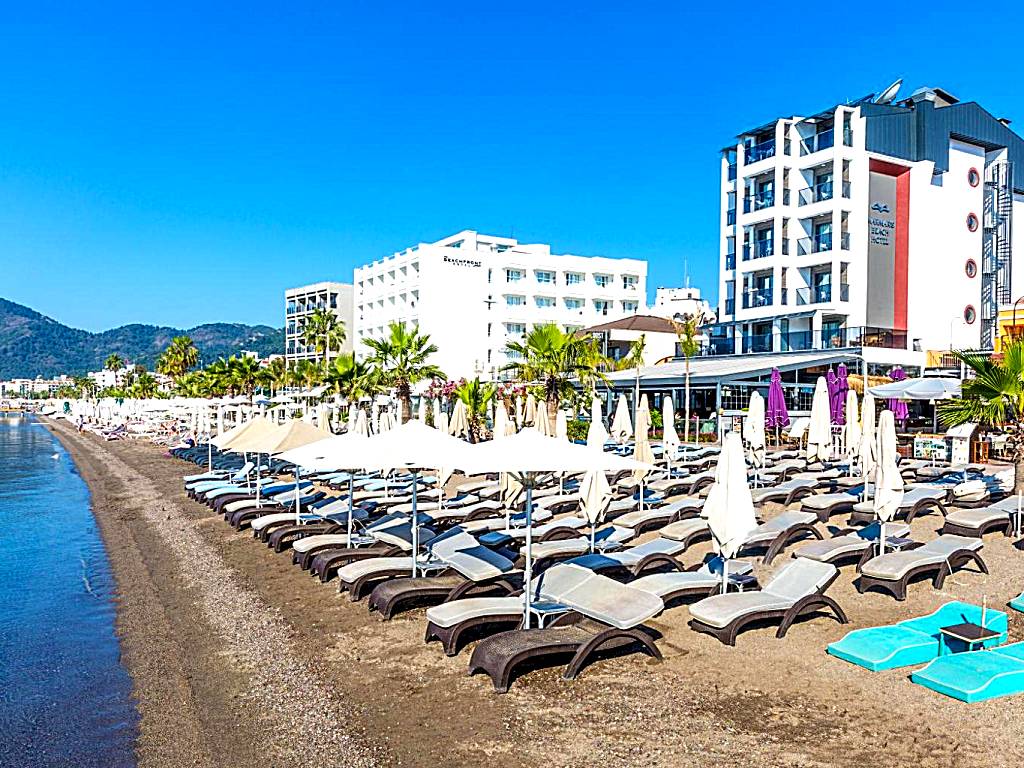 Located in the beautiful bay of Marmaris, the beachfront Marmaris Beach Hotel offers a luxurious stay with its stunning views and convenient amenities. Guests can enjoy the hotel's outdoor pool and air-conditioned rooms, all of which offer breathtaking views of either the sea or the pool. The hotel also provides a private area on the beach, complete with sun loungers and parasols for ultimate relaxation. Indulge in delicious meals at the hotel's beachfront restaurant, or enjoy snacks and drinks at the bar. Free Wi-Fi is provided in all rooms, allowing guests to stay connected throughout their stay. For those looking to explore beyond the hotel, both Marmaris Marina and the city center are just a 15-minute walk away. Additionally, Dalaman Airport is conveniently located 90 km from the hotel.
Pros:
– Prime location right on the beach
– Breathtaking sea or pool views from every room
– Private area on the beach with sun loungers and parasols
– Delicious meals served at a beachfront restaurant
– Walking distance to Marmaris Marina and city center
Yunus Hotel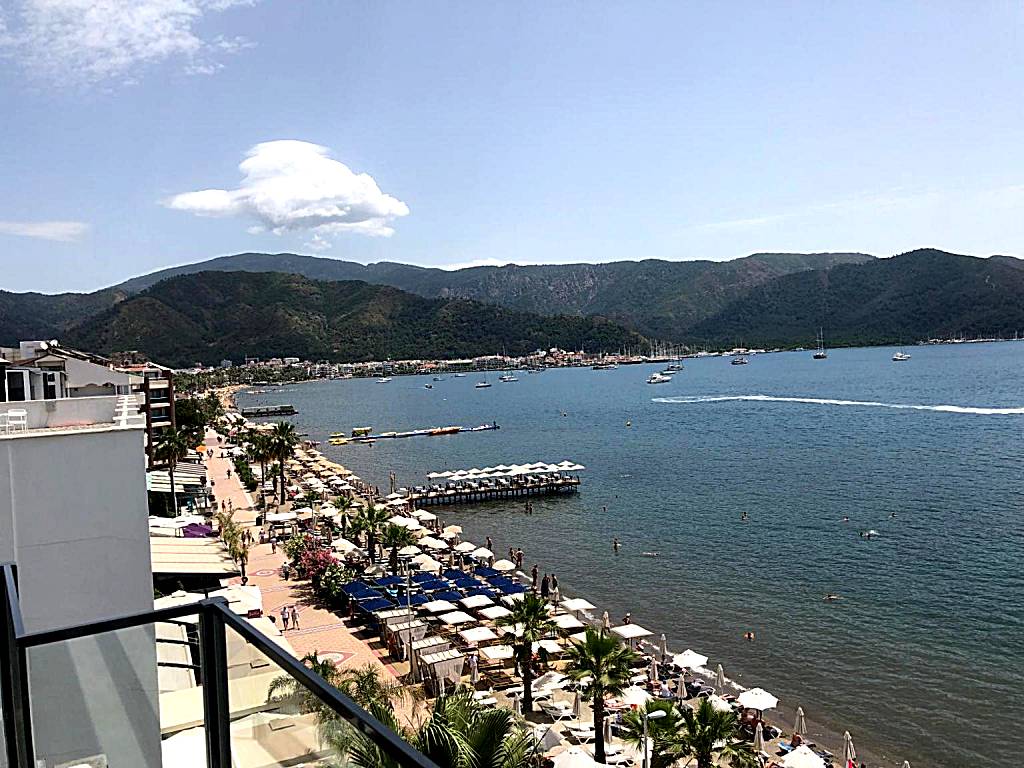 Yunus Hotel is a charming family-run hotel located right on the seafront of Marmaris, offering stunning views of Uzunyali Beach. This beachfront hotel boasts an outdoor swimming pool and a private beach area for guests to enjoy. With free Wi-Fi available throughout the property, staying connected has never been easier. The hotel's restaurant serves delicious local and international specialties à la carte, while the beach-front bar is perfect for relaxing with a refreshing drink. Guests can take a dip in either the separate adult or children's swimming pools or soak up the sun on the comfortable sun loungers provided on the beach. Each guest bedroom at Yunus Hotel comes with its own private balcony, providing panoramic views of Marmaris Bay. The rooms also feature satellite TV, air conditioning, and a private bathroom with all necessary amenities such as a hairdryer. For added convenience, there are safety deposit boxes and minibars available at an additional fee. Start your day off right with a continental breakfast served each morning in the spacious dining area of Yunus Hotel. To top it all off, guests receive a special discount of 10% at the hotel's fantastic à la carte restaurant. The location of this hotel couldn't be better – less than 1 km from Atlantis Water Park and just 5 minutes' walk from Marmaris Castle. For those traveling by air, Dalaman Airport is approximately 90 km away from Yunus Hotel. Free on-site car parking ensures hassle-free transportation during your stay.
– Family-run hotel situated directly on the seafront
– Outdoor swimming pool and private beach area
– Free Wi-Fi throughout the property
– Restaurant serving local and international specialties à la carte
– Spacious guest bedrooms with private balconies offering panoramic views
Hotels Near the Beach in Downtown Marmaris
Downtown Marmaris offers a range of beachfront hotels with stunning views and convenient access to the sandy shores. Whether you're looking for a luxurious escape or a budget-friendly stay, there are options available to suit all preferences and budgets.
Begonville Beach Hotel – Adult Only
Located at the seafront, Begonville Beach Hotel offers a luxurious and tranquil escape for adults only. With its private beach area equipped with free sun loungers and parasols, guests can relax and soak up the sun in style. The hotel features modern air-conditioned rooms with balconies, providing stunning views of the sea. Each room is equipped with a flat-screen TV, minibar, and en-suite bathroom. Guests can indulge in delicious meals at the buffet restaurant that serves regional cuisine or enjoy Mediterranean dishes at the à la carte restaurant. Conveniently located, Marmaris Bus Terminal is just 5 km away from the hotel, while Dalaman Airport is 96 km away.
– Stunning seafront location
– Private beach area with free sun loungers and parasols
– Modern and comfortable rooms with balconies
– Delicious regional and Mediterranean cuisine options
– Conveniently close to transportation hubs
The Diplomat Hotel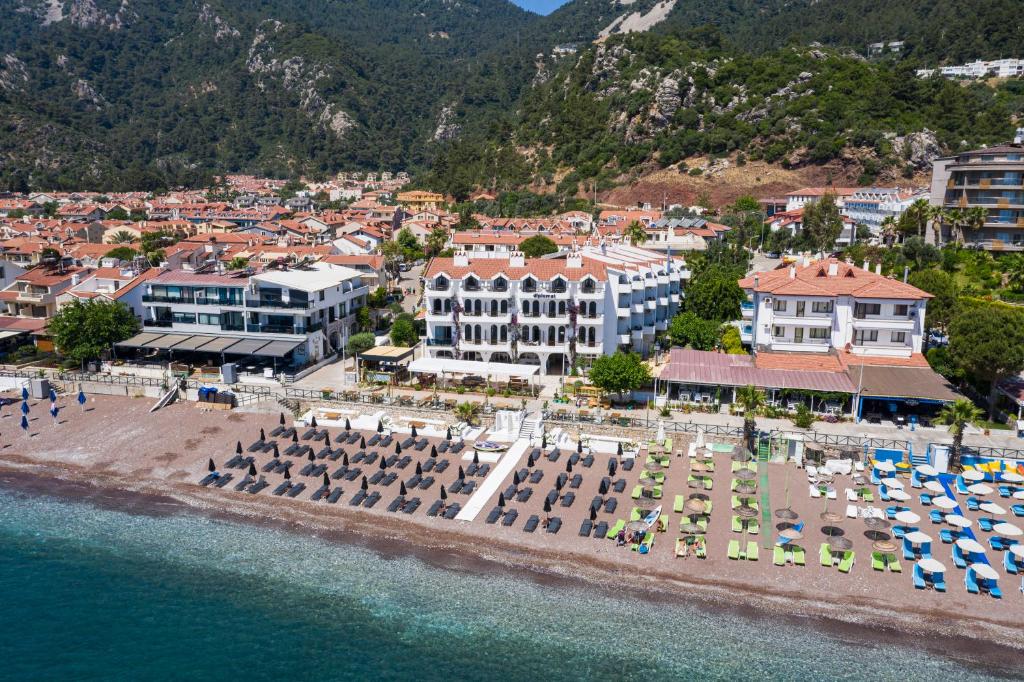 Situated on a stunning beachfront location, The Diplomat Hotel is a charming boutique hotel that offers a private beach area with complimentary parasols and sun loungers. Guests can also enjoy the property's beautiful garden and seasonal outdoor pool. Each room features modern amenities including satellite flat-screen TV, air conditioning, minibar, and a balcony. Start your day with a delicious breakfast before exploring the array of activities available such as fishing, hiking, and diving. The hotel also provides services such as 24-hour reception, room service, car rentals, airport transfers (at an extra cost), shared lounge, games room, and free parking on site. In addition to these amenities, guests can indulge in delectable dishes from the à la carte restaurant offering both local and international cuisines. With Marmaris city centre just 19.5 km away and Dalaman Airport at a distance of 116 km, convenient transportation services including airport shuttles and car hires are available for an additional fee.
Pros:
– Private beach area with parasols and sun loungers
– Beautiful garden and seasonal outdoor pool
– Modern amenities in each room
– Array of activities available on-site or nearby
– Convenient location for exploring Marmaris city centre
Information about Beachfront Hotels in Marmaris
| | |
| --- | --- |
| 🏢 Number of Beach Hotels in Marmaris | 5 |
| 🥇 Average Review Score | 8.2/10 |
| 💰 High season average price | 1666 |
| 💸 Low season average price | 416.5 |
FAQ
Is Marmaris a popular destination for beachfront hotels?
Yes, Marmaris is a highly sought-after destination for beachfront hotels. Located along the beautiful Aegean coastline in Turkey, Marmaris boasts crystal-clear turquoise waters and pristine sandy beaches. With its perfect blend of natural beauty and vibrant nightlife, it attracts thousands of visitors each year who are looking to relax and enjoy the sun, making it an ideal place to find luxury beachfront accommodations.
What types of amenities can I expect at beachfront hotels in Marmaris?
Beachfront hotels in Marmaris offer a wide range of luxurious amenities to enhance your stay. From private balconies or terraces offering breathtaking views of the sea to outdoor swimming pools surrounded by lush gardens, these hotels ensure that guests have plenty of opportunities to relax and soak up the sun. Additionally, many beachfront hotels offer spa facilities where you can indulge in rejuvenating treatments after a day on the beach.
Are there any water sports activities available near beachfront hotels in Marmaris?
Absolutely! If you're an adventure seeker or simply want to try something new during your stay at a beachfront hotel in Marmaris, you're in luck. There are various water sports activities available nearby such as jet skiing, parasailing, banana boat rides, and scuba diving. These activities provide thrilling experiences while exploring the stunning underwater world or enjoying high-speed adventures on the waves.
What are some popular attractions near beachfront hotels in Marmaris?
Marmaris offers numerous attractions for visitors staying at beachfront hotels. One must-visit attraction is Marmaris Castle which overlooks the harbor and offers panoramic views of the town. The bustling Old Town area with its narrow streets lined with shops selling souvenirs and traditional Turkish goods is also worth exploring. For nature lovers, Dalyan Mud Baths and Iztuzu Beach – home to the protected loggerhead turtles – are within a short distance and make for an unforgettable day trip.
Can I find fine dining options near beachfront hotels in Marmaris?
Certainly! Marmaris is known for its vibrant culinary scene, and beachfront hotels offer a variety of dining options to satisfy your palate. From seafood restaurants serving freshly caught fish to international cuisine that caters to different tastes, you'll find plenty of high-quality dining experiences near these hotels. Many establishments also boast stunning views of the sea, allowing you to enjoy delicious meals while taking in the picturesque surroundings.
Popular Hotels near Beach destinations