Welcome adventurous wanderers! Today, we embark on a journey to the breathtaking shores of Zanzibar, nestled in the tropical paradise of Tanzania. Get ready to be enchanted by the allure of beachfront havens that offer unparalleled luxury and relaxation. As your esteemed travel guide, I am thrilled to take you on an exploration of Zanzibar's finest coastal retreats. From powdery soft sands to crystal-clear turquoise waters, this East African gem is a true haven for those seeking tranquility and indulgence. So grab your sun hat and let's dive into the world of beachfront hotels in Zanzibar!
Picture yourself waking up to panoramic views of palm-fringed beaches caressed by gentle ocean breezes – that's what awaits you here on the stunning island of Zanzibar. With its rich history, vibrant culture, and pristine stretches of coastline, this tropical destination offers a perfect blend of relaxation and adventure. Whether you are craving a romantic escape or an adrenaline-fueled water sports extravaganza, Zanzibar has it all.
Now imagine staying at one of the many exquisite beachfront resorts that line these paradisiacal shores; where elegant architecture meets laid-back luxury. Immerse yourself in warm hospitality as you bask in the glorious sunshine and sip on refreshing cocktails at your private cabana overlooking endless azure horizons. From world-class amenities to impeccable service, each hotel has its unique charm that will leave you yearning for more.
Join me as we uncover hidden gems nestled along this captivating coastline – from secluded boutique hideaways where privacy reigns supreme to sprawling resorts offering an array of exhilarating activities just steps away from your doorstep. Experience blissful moments under swaying coconut palms while being serenaded by the gentle lapping waves – get ready for an unforgettable journey through the best beachfront hotels in enchanting Zanzibar!
The Best Zanzibar Hotels By the Beach
Mambo Paradise (Matemwe)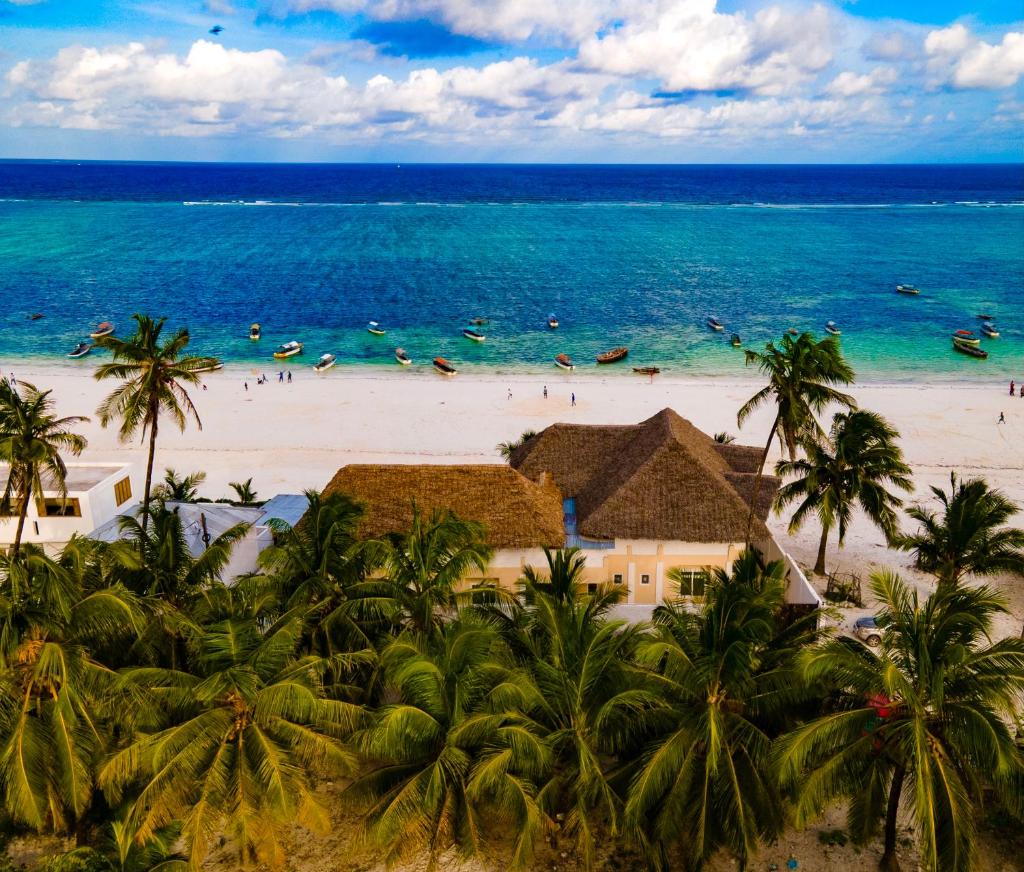 Mambo Paradise is a newly opened boutique hotel located in Matemwe, offering guests a 4-star beachfront experience. The hotel features an outdoor swimming pool, free bikes, and a garden for guests to enjoy. Each air-conditioned room comes with free WiFi and a private bathroom. Guests can indulge in an à la carte, continental or Full English/Irish breakfast every morning. The hotel offers various activities such as darts, hiking, and cycling. Additional amenities include a kids' club, room service, currency exchange facilities, and an on-site restaurant serving African, American and Italian cuisine.
Pros:
– Beachfront location
– Free bikes for guests
– Outdoor swimming pool
– On-site restaurant offering diverse cuisine options
– Kid-friendly amenities available
Sharazad Boutique Hotel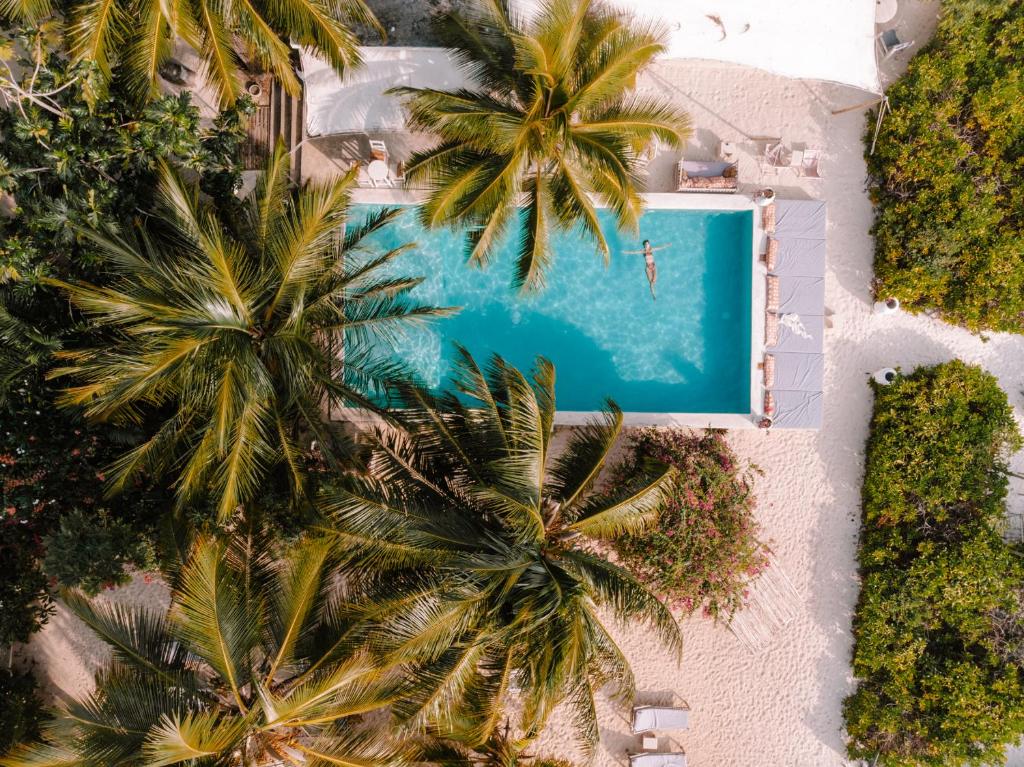 Located in Jambiani, Sharazād Boutique Hotel offers a garden and two pools. Zanzibar City is 41 km away. Some units have a terrace and/or patio. Each unit is fitted with a private bathroom. Bed linen is available. The property has a private beach area and the area is popular for snorkeling. You can engage in various activities, such as windsurfing and diving. Kiwengwa is 41 km from Sharazad Villa, Zanzibar. Kisauni Airport is 38 km from the property.
– Beautiful garden setting
– Two refreshing pools
– Private beach access
– Ideal location for snorkeling, windsurfing, and diving
– Comfortable accommodation with private bathrooms
Geo Zanzibar Resort (Jambiani)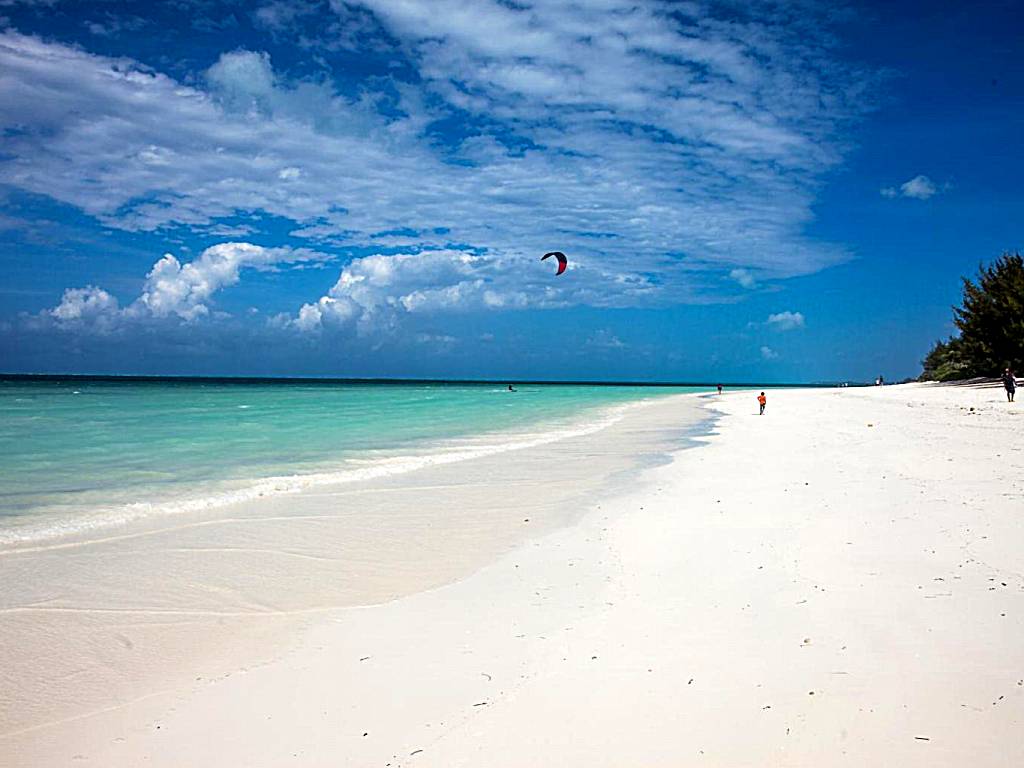 Geo Zanzibar Resort is a stunning beachfront hotel located in Jambiani, just a few steps away from Jambiani Beach. The resort features an outdoor swimming pool, free private parking, a garden, and a shared lounge. Guests can enjoy the convenience of room service and dine at the on-site restaurant or relax on the terrace. The rooms are equipped with private bathrooms, showers, and free WiFi. Some rooms even offer breathtaking sea views. Nearby attractions include Paje Beach (2.1 km) and Jozani Forest (23 km). The resort provides airport transfers and offers bicycle rentals for guests to explore the area further. Each room has a balcony and comes with bed linen and towels. Guests can enjoy a delicious daily breakfast with continental, Full English/Irish or Italian options.
– Beautiful beachfront location
– Outdoor swimming pool
– Free private parking
– Restaurant on-site
– Complimentary WiFi
Other places to stay in Zanzibar
Hotels Near the Beach in Downtown Zanzibar
Downtown Zanzibar boasts a range of hotels near the beach, offering stunning ocean views and easy access to the sandy shores. With their prime locations, visitors can enjoy a relaxing stay with the convenience of exploring both city attractions and coastal charms.
TIKI Beach Club & Resort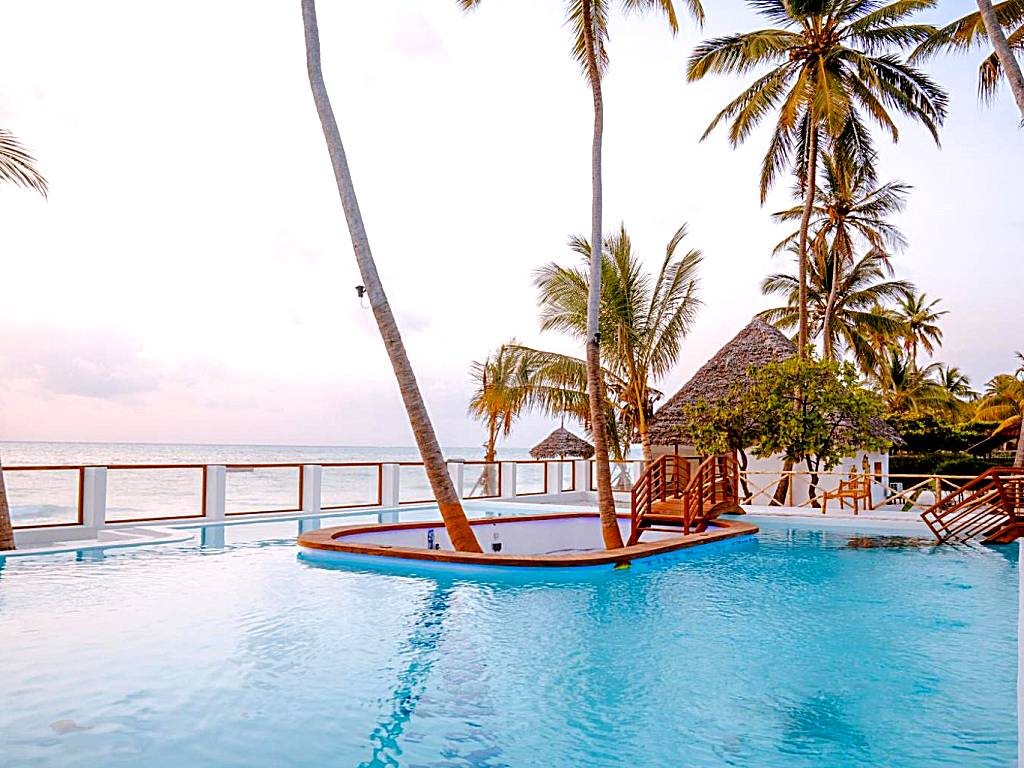 TIKI Beach Club & Resort is a charming 3-star beachfront hotel located in Bwejuu, Zanzibar. With both Paje Beach and Bwejuu Beach just a short distance away, guests can enjoy the stunning views of the sea or garden from their terrace or patio. The resort offers free WiFi and private parking, as well as access to wellness packages. Take a dip in the year-round outdoor pool or explore the surrounding area with activities like cycling and hiking. Rent a bicycle to discover more of the island or relax on the private beach area available on site. Start your day off with a delicious halal breakfast before heading out to explore Jozani Forest, which is only 17 km away.
– Stunning sea and garden views from some units
– Access to wellness packages for ultimate relaxation
– Year-round outdoor pool for swimming anytime
– Convenient bicycle rental service for island exploration
– Private beach area for exclusive relaxation
Aluna Nungwi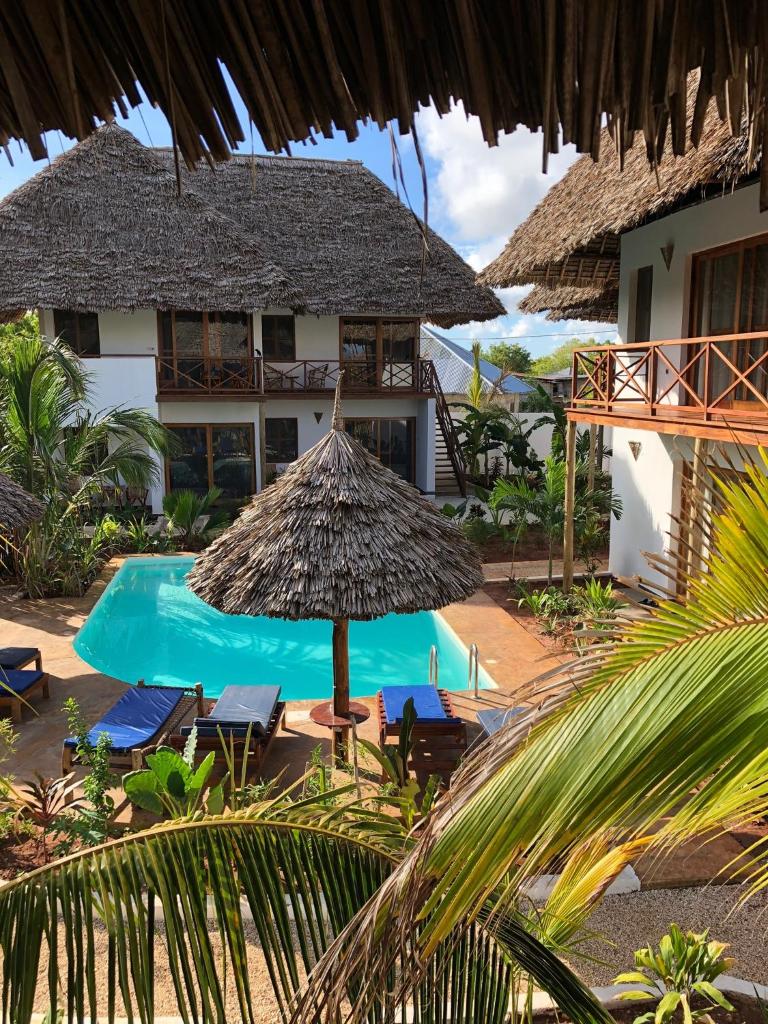 Located in Nungwi, Aluna Nungwi is an exquisite beachfront hotel offering a luxurious and relaxing retreat. With two swimming pools and free WiFi, guests can unwind on the sundecks by the beach or pool, surrounded by lush gardens. The hotel features its own restaurant at the beach where guests can enjoy delicious meals while taking in stunning sea views. Most rooms offer pool views, and each room is equipped with amenities such as air-conditioning and a private balcony or terrace. For those seeking adventure, the hotel offers assistance in organizing various activities including snorkeling trips, sunset cruises, cycling, paragliding, diving, and fishing. Additionally, nightlife options are within reach with a short 20-minute walk along the beach or convenient tuktuk service provided by the hotel. The property also boasts a bar and has a 24-hour front desk to cater to all guest needs. Airport transfers can be arranged for convenience as well.
Zuri Zanzibar (Kendwa)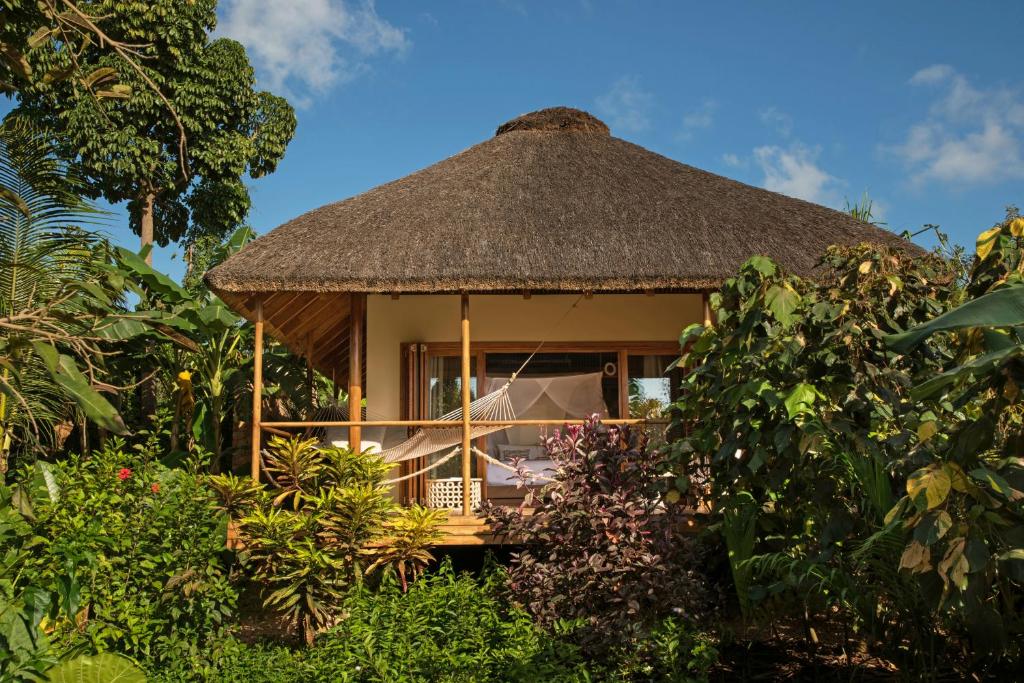 Zuri Zanzibar is a luxurious beachfront resort located in the Kendwa Beach district of Kendwa, offering guests a private beach area and free WiFi. The property features an outdoor swimming pool, a beautiful garden, a terrace, and a bar. The on-site Maischa Restaurant specializes in Middle Eastern cuisines. All rooms are air-conditioned and include amenities such as a wardrobe, desk, and flat-screen TV. Some units also offer stunning pool or garden views. Guests can start their day with a continental breakfast served daily at Zuri Zanzibar. The resort offers snorkeling as one of its activities, with Coral Reefs Snorkel just a short 9-minute walk away.
– Private beach area
– Outdoor swimming pool
– Middle Eastern cuisine at Maischa Restaurant
– Air-conditioned rooms with flat-screen TVs
– Snorkeling activities nearby
Romantic Beachfront Hotels in Zanzibar
Zanzibar boasts a selection of romantic beachfront hotels that offer breathtaking views, private villas, and pristine white-sand beaches. Couples can indulge in candlelit dinners, sunset walks along the shore, and relaxing spa treatments while enjoying the tranquility of this idyllic destination.
Nungwi Dreams by Mantis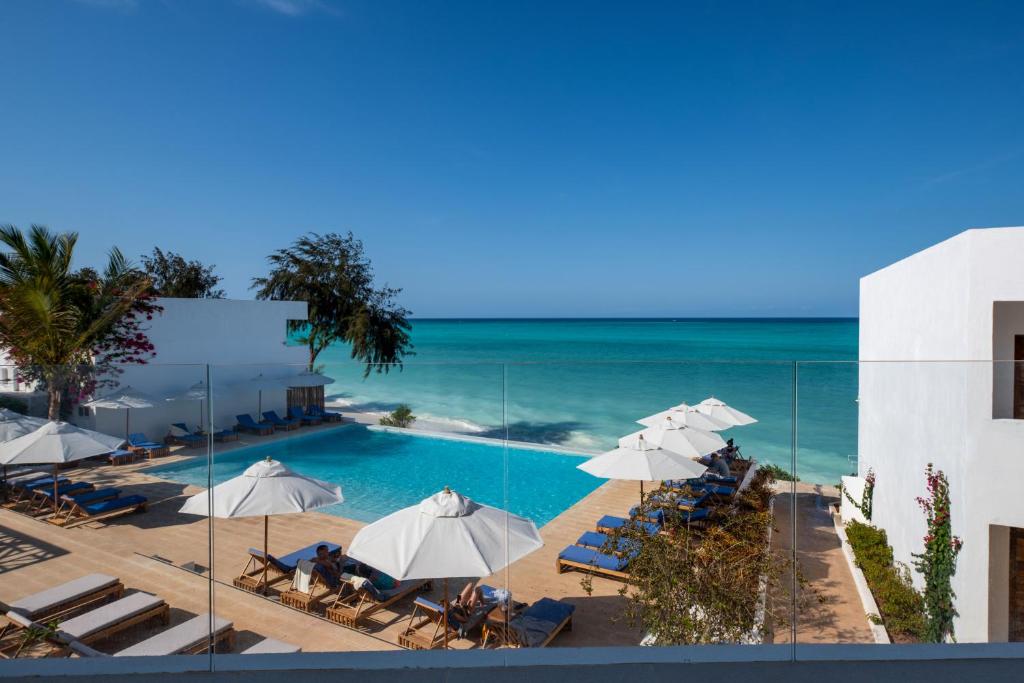 Nungwi Dreams by Mantis is a luxurious 5-star beachfront hotel located in Nungwi, just steps away from the beautiful Nungwi Beach. This exquisite hotel offers a range of amenities including an outdoor swimming pool, free private parking, a fitness center, and a lush garden. The accommodation features spacious rooms with modern comforts such as air conditioning, a seating area, a flat-screen TV with satellite channels, and a private bathroom complete with free toiletries and a hairdryer. Some rooms also offer stunning sea views and come with their own terrace. Guests can indulge in delicious breakfast options every morning including buffet, continental and Full English/Irish choices. For those seeking adventure, the hotel provides opportunities for fishing and snorkeling in the surrounding areas of Nungwi. Royal Beach is only 2.9 km away from the property while Kichwele Forest Reserve is located 43 km away. Abeid Amani Karume International Airport is conveniently situated 62 km from Nungwi Dreams by Mantis.
– Outdoor swimming pool
– Free private parking
– Fitness center
– Stunning sea views from some rooms
– Delicious breakfast options available
Smiles Beach Hotel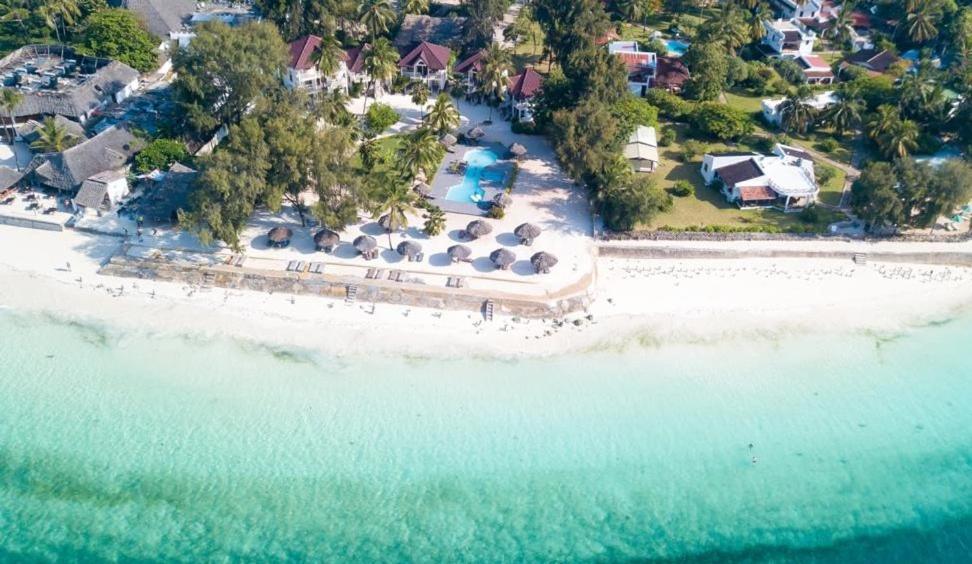 Nestled along a private stretch of Nungwi Beach, the newly refurbished Smiles Beach Hotel offers a tranquil escape with its sun loungers, hammocks, and sprawling tropical garden. Guests can enjoy the convenience of a beach-side restaurant and complimentary Wi-Fi in the comfort of their rooms. The hotel's air-conditioned accommodations boast balconies with breathtaking views of the Indian Ocean, as well as satellite TV and beautifully crafted wooden beds. Each en suite bathroom features a refreshing shower. Visitors can unwind by the beach or take respite amidst the lush garden. The on-site restaurant tantalizes taste buds with delectable Zanzibari and seafood dishes made from fresh local ingredients. Smiles Beach Hotel is just 200 meters away from downtown Nungwi, while Stone Town is 60 km away and Zanzibar Airport is 65 km away.
– Private stretch of Nungwi Beach
– Sun loungers and hammocks
– Large tropical garden
– Beach-side restaurant
– Free Wi-Fi in rooms
Pongwe Beach Hotel (Pongwe)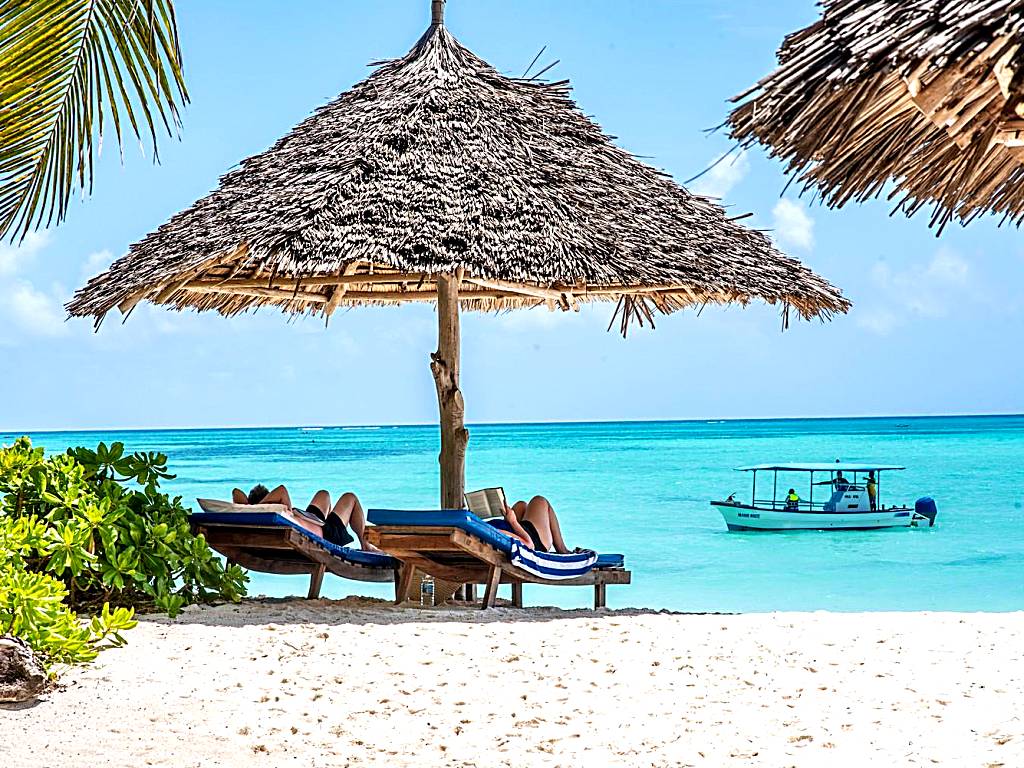 Pongwe Beach Hotel in Pongwe offers an outdoor pool, a restaurant, and WiFi access. The hotel features a private beach area and provides free bikes for guests to explore the surroundings. Each room has a patio and seating area, as well as a private bathroom with bathrobes and free toiletries. Additional facilities include luggage storage, and guests can enjoy activities like cycling. Free parking is available on site, and Kisauni Airport is 28 km away.
– Outdoor pool
– Restaurant on-site
– Private beach area
– Free bikes for guests
– Complimentary parking
Beachfront Hotels Hotels in Zanzibar With a Pool
Beachfront hotels in Zanzibar with a pool offer the perfect combination of stunning ocean views and refreshing water activities for guests to enjoy. With their prime location, these hotels provide a relaxing beach getaway experience like no other.
Riu Palace Zanzibar – All Inclusive – Adults Only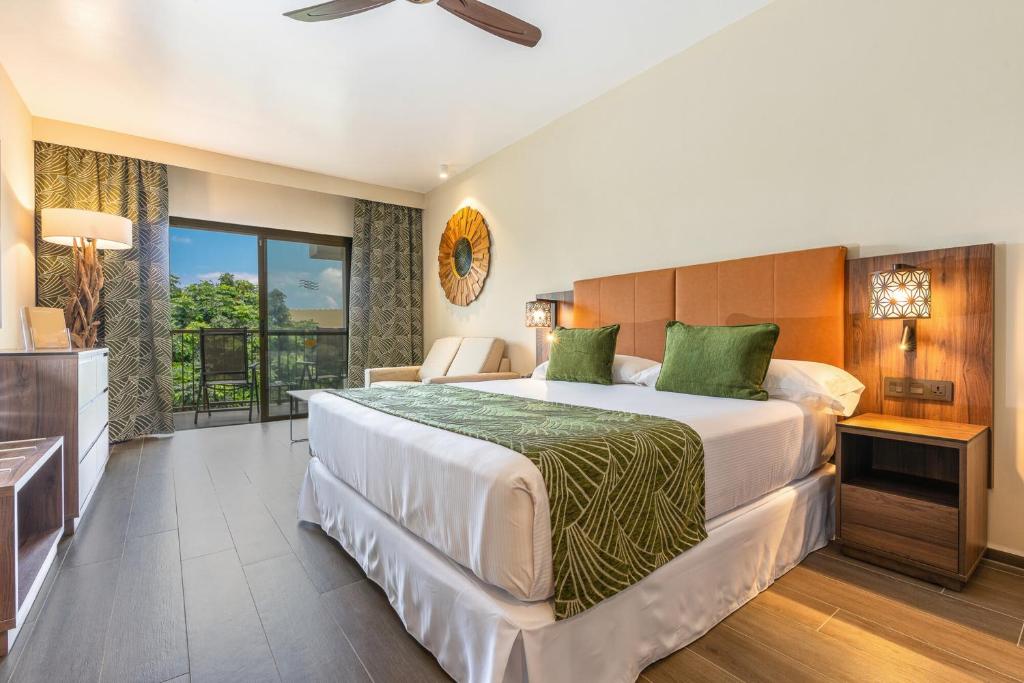 Riu Palace Zanzibar – All Inclusive – Adults Only is a luxurious beachfront resort located on Zanzibar's north-west coast. The resort offers guests lavish accommodations with private terraces boasting stunning views of the Indian Ocean. Guests can enjoy a range of facilities, including an outdoor pool, private beach with watersports, and a dive center. Some accommodations are situated right on Nungwi Beach and feature their own private pool, hot tub, and garden. The spa offers relaxing massages and steam baths for ultimate rejuvenation. This all-inclusive concept includes buffet breakfasts with show-cooking stations, two theme restaurants serving exquisite dishes, and bars offering delicious snacks and cocktails. Indoor public areas are adorned with chandeliers and there is free Wi-Fi throughout the property. Guests can partake in activities such as kayaking and stand-up paddle surfing or enjoy live shows and music entertainment. Riu Palace Zanzibar – All Inclusive – Adults Only is located 55 km from Stone Town.
– Luxurious accommodation with private terraces offering ocean views
– Outdoor pool for relaxation under the sun
– Private beach with watersports activities
– Spa offering massages and steam baths
– All-inclusive concept with buffet breakfasts, themed restaurants, bars serving snacks & cocktails
COCO REEF ECOLODGE (Kizimkazi)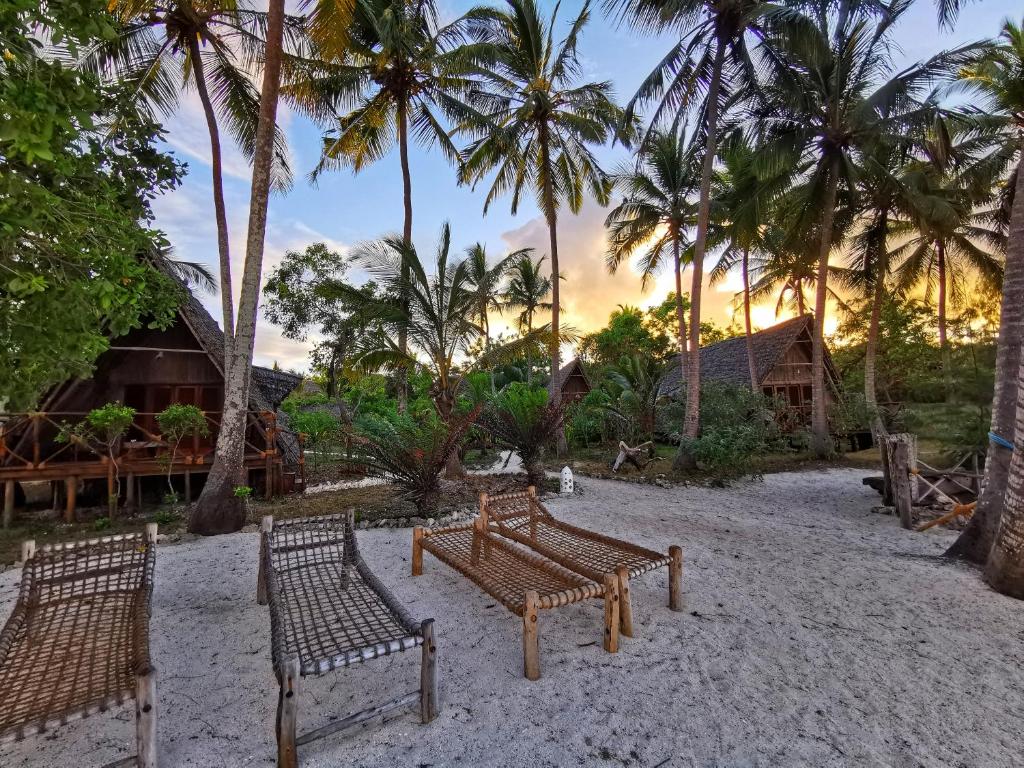 COCO REEF ECOLODGE in Kizimkazi is a newly opened boutique hotel that offers a serene beachfront retreat. Located just 1 km away from Kizimkazi Mkunguni Beach, this eco-friendly lodge provides guests with comfortable accommodations surrounded by lush gardens. The hotel features a range of amenities including free private parking, a terrace, and a restaurant serving delicious breakfast options. With a 24-hour front desk and tour desk services, guests can easily arrange airport transfers and explore the beautiful surroundings. Free WiFi is available throughout the property, allowing guests to stay connected during their stay. For those looking for entertainment options, the hotel offers activities such as darts as well as bike and car hire services.
– Boutique hotel situated in Kizimkazi
– Free private parking
– Delicious à la carte breakfast options
– Availability of bike and car hire services
– Peaceful garden surroundings
Sharazad Oasis Retreat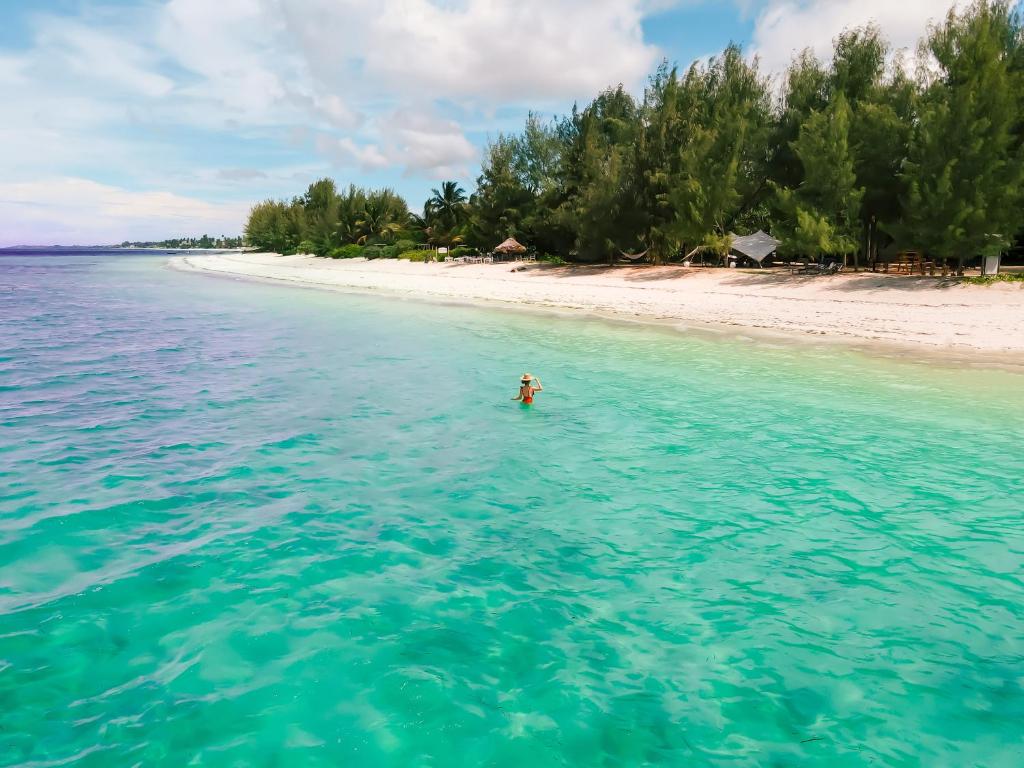 Located in Jambiani and opened in August 2020, Sharazad Oasis Retreat is a beachfront resort situated just 700 meters from Paje Beach. It offers guests a range of amenities including an outdoor swimming pool, free private parking, a fitness center, and a garden. The resort features a restaurant serving delicious African, Brazilian, and Indian cuisine and also offers room service and barbecue facilities. Guests can enjoy stunning views from their rooms which include a balcony with a garden or sea view. The resort provides options for buffet, à la carte or continental breakfast with vegetarian, vegan, and dairy-free choices available upon request. Additionally, the staff at the 24-hour front desk are multilingual and are more than happy to assist guests with any queries about the area. Bike hire and car hire services are available for those looking to explore the surrounding area or go cycling along the beach. With its convenient location near Paje Beach and Jozani Forest just 23 km away, Sharazad Oasis Retreat offers guests both relaxation by the ocean and opportunities for outdoor adventures.
– Outdoor swimming pool
– Free private parking
– Fitness center
– Restaurant serving diverse cuisine
– Multilingual staff providing practical guidance on the area
Information about Beachfront Hotels in Zanzibar
| | |
| --- | --- |
| 🏢 Number of Beach Hotels in Zanzibar | 12 |
| 🥇 Average Review Score | 8.9/10 |
| 💰 High season average price | 950 |
| 💸 Low season average price | 237.5 |
FAQ
1. What are some popular beachfront hotels in Zanzibar, Tanzania?
In Zanzibar, there are several renowned beachfront hotels to choose from. One of the top picks is the luxurious Baraza Resort and Spa offering stunning villas with private pools and access to a pristine white sandy beach. Another popular option is The Residence Zanzibar, known for its elegant villas overlooking the Indian Ocean, complete with personalized butler service and a tranquil spa.
2. Are there any all-inclusive beachfront hotels in Zanzibar?
Yes, there are several all-inclusive beachfront hotels available in Zanzibar that offer guests an ultimate hassle-free vacation experience. One such hotel is Diamonds La Gemma dell'Est, which boasts spacious rooms with ocean views along with various dining options and recreational activities included in the package. Another option is Melia Zanzibar, offering a range of comprehensive amenities like multiple restaurants and bars, watersports facilities, and evening entertainment for guests to enjoy.
3. What activities can I expect at beachfront hotels in Zanzibar?
Beachfront hotels in Zanzibar provide an array of exciting activities to make your stay memorable. Guests can indulge in snorkeling or diving adventures to explore vibrant coral reefs teeming with marine life near Mnemba Island or Prison Island. Additionally, many hotels offer water sports such as kayaking, windsurfing, stand-up paddleboarding for those seeking active pursuits on the turquoise waters of the Indian Ocean.
4. Is it possible to have a private beach experience at these hotels?
Absolutely! Many beachfront hotels in Zanzibar offer exclusive private beaches where guests can bask under the sun without any disturbances while enjoying utmost privacy and tranquility. Resorts like The Palms Zanzibar even provide personal attendants who cater to every need throughout your beach visit, ensuring a truly luxurious and secluded experience by the shore.
5. Are there any budget-friendly beachfront hotels in Zanzibar?
While Zanzibar is known for its luxury resorts, there are also several budget-friendly beachfront accommodations available. For travelers seeking affordability without compromising proximity to the beach, options like Warere Beach Hotel and Mustapha's Place offer comfortable rooms with stunning ocean views at reasonable prices. These hotels provide a great opportunity for travelers on a budget to enjoy the beauty of Zanzibar's beaches without breaking the bank.
Popular Beach Hotels destinations