Welcome to the magnificent world of oceanfront accommodations in The Hamptons, USA! Prepare to be mesmerized as we embark on a journey through the serene and luxurious beachfront hotels that adorn this picturesque destination. Nestled along the pristine shoreline, these exquisite establishments offer an unparalleled escape for those seeking both relaxation and opulence.
The Hamptons, renowned for its breathtaking beauty and exclusive charm, boasts a collection of top-notch seaside retreats. From chic boutique hotels to lavish resorts, each property is meticulously designed to provide a harmonious blend of coastal enchantment and refined elegance. Immerse yourself in stunning vistas of rolling waves and golden sands while indulging in world-class amenities that cater to your every desire.
Whether you yearn for intimate seclusion or vibrant social scenes, The Hamptons' beachfront hotels cater to all preferences. Wander along the sandy beaches at sunrise or unwind by infinity pools overlooking the Atlantic Ocean. Pamper yourself with rejuvenating spa treatments or relish delectable culinary delights served right at your doorstep. With impeccable service and attention to detail, these ocean-facing abodes promise an unforgettable stay in this idyllic coastal haven.
So pack your beach essentials and join us on a virtual tour as we uncover the hidden gems among The Hamptons' beachfront accommodations. Adventure awaits you amidst the sun-kissed shores and lavish hospitality – get ready for an extraordinary experience that will leave you craving more!
The Best The Hamptons Hotels By the Beach
Beachcomber Resort at Montauk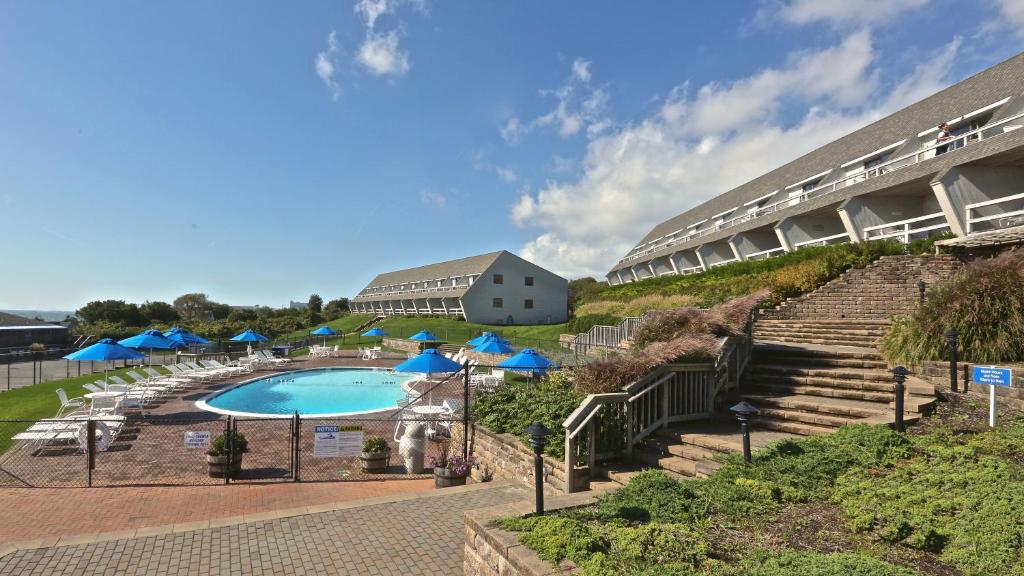 Located directly across from the beach, Beachcomber Resort at Montauk is a charming hotel boasting an outdoor heated pool and rooms with a terrace. Just 0.5 miles away from Montauk village, this hotel offers convenience and relaxation for its guests. The rooms are tastefully decorated in light colors and feature free Wi-Fi access, cable TV, a sofa bed, and an en suite bathroom. Guests can unwind in the sauna or take advantage of beach access and tennis courts. Hither Hills State Park is only 5 miles away while Montauk Downs State Park Golf Course is just a 10-minute drive from the resort.
– Convenient location directly across from the beach
– Outdoor heated pool for relaxation
– Rooms with ocean views and terraces
– Sauna for ultimate relaxation
– Access to beach and tennis courts
Hero Beach Club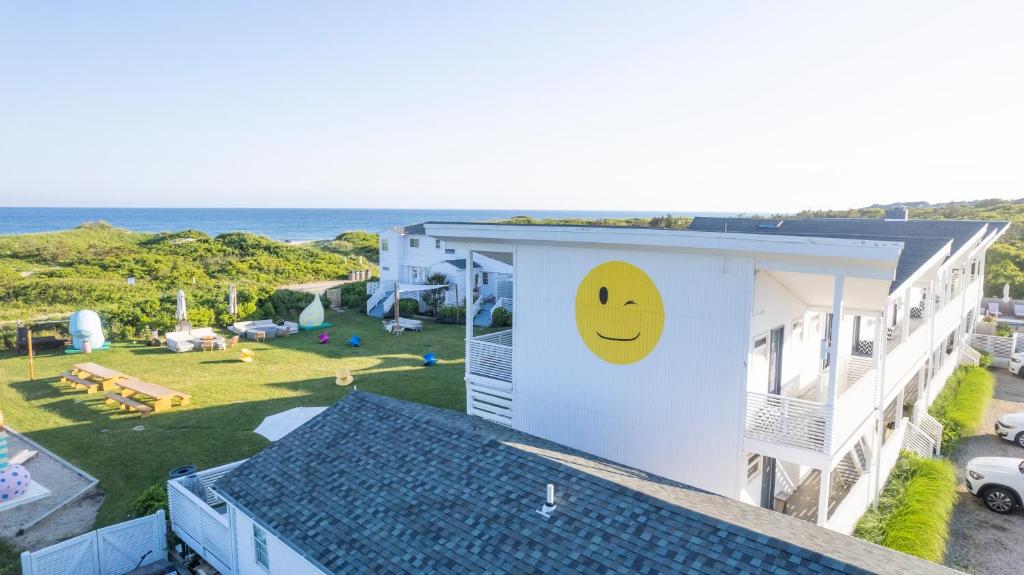 Hero Beach Club is a beachfront resort in Montauk that offers a relaxing and luxurious getaway. With its outdoor pool and convenient location, just 10 minutes' drive to the Montauk Point Lighthouse and less than 1 mile from Montauk town center, guests can enjoy both tranquility and easy access to local attractions. The hotel provides free WiFi throughout the property and offers daily cleaning service for the rooms. For those seeking extra pampering, in-room massage services can be arranged by the front desk. Each room features cable TV and a private entrance, with some offering balconies or decks with ocean views. Outdoor enthusiasts will appreciate the proximity to Ditch Plains Surfing Beach, located just 3 miles away, as well as fishing opportunities at Fort Pond and Fort Pond Harbour, which are both within close proximity.
Sea Crest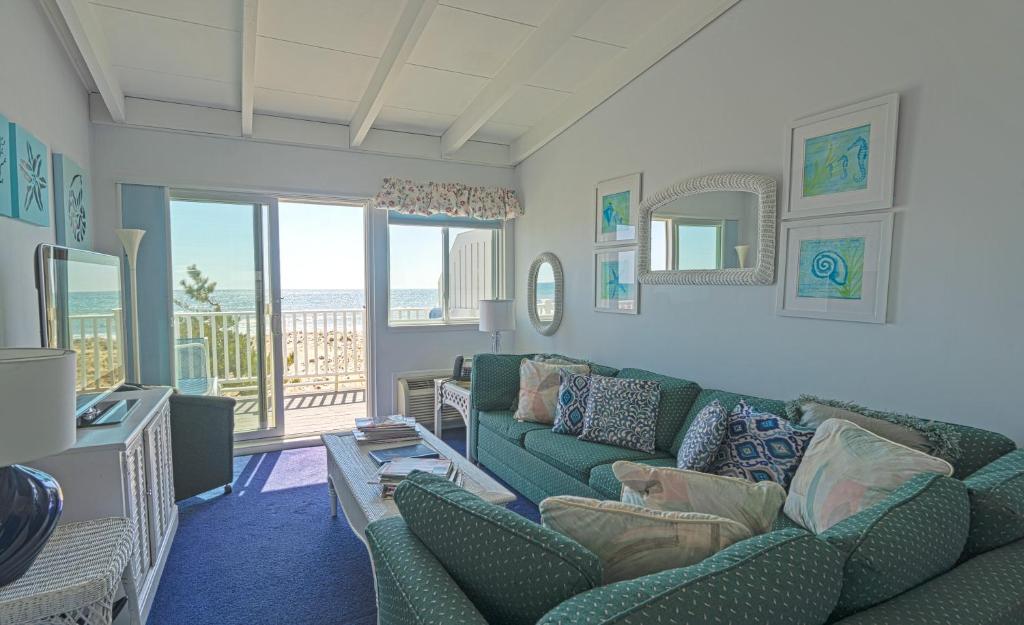 Located on the oceanfront, just 7 minutes' drive from Montauk, this Amagansett resort features an outdoor pool. Complimentary beach umbrellas and lounges are offered. Each room at Sea Crest includes a sofa, TV, kitchenette, balcony, and dining area with dining table. The en suite bathroom comes with a hairdryer. Guests can enjoy the on-site tennis court for exercise and entertainment or grab refreshments from the vending machines. Laundry facilities are also available on site. East Hampton is 15 minutes' drive away while Hither Hills is 2.2 km away.
– Oceanfront location
– Outdoor pool
– Complimentary beach umbrellas and lounges
– On-site tennis court
– Laundry facilities available
Other places to stay in The Hamptons
Hotels Near the Beach in Downtown The Hamptons
Hotels near the beach in downtown The Hamptons offer a convenient location for guests to enjoy the coastal views and proximity to popular attractions. With their prime positioning, visitors can easily access the beach, indulge in water activities, and explore the vibrant city life.
Hartman's Briney Breezes Beach Resort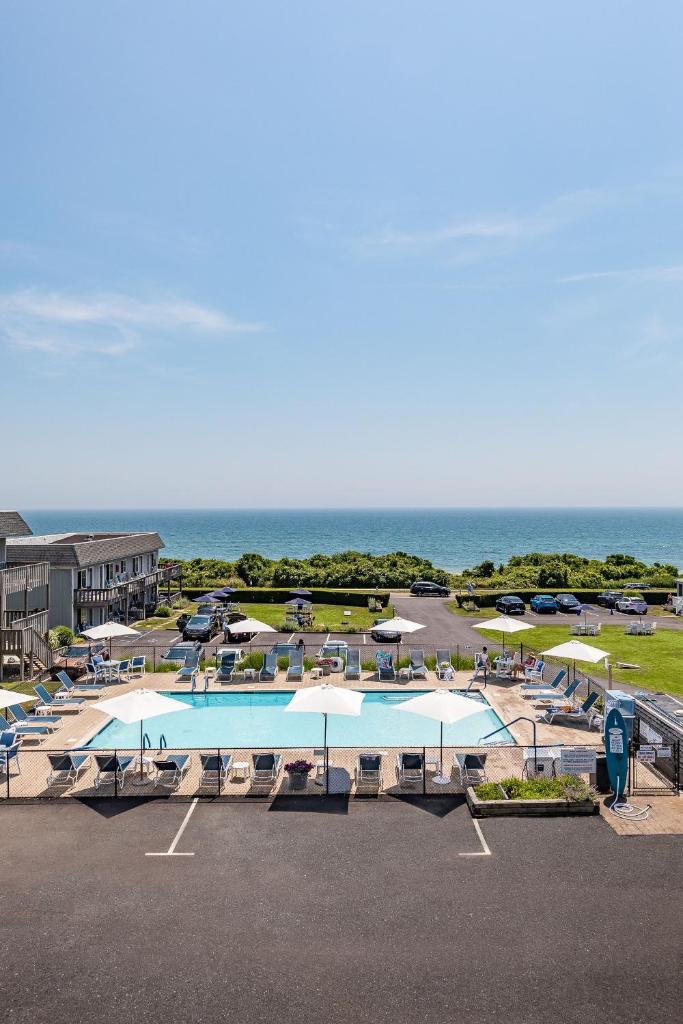 Hartman's Briney Breezes Beach Resort is a charming motel located in Montauk, just opposite the beach. Offering a range of amenities and activities, this property guarantees a delightful beachfront experience. Guests can rent boats at Fort Pond, conveniently located only a mile away, or explore Hither Hills State Park, just three miles from the resort. The famous Montauk Point Lighthouse Park is also within easy reach, being just an 11-minute drive away. With free Wi-Fi throughout the property, guests can stay connected while enjoying their sea view balcony in their well-appointed rooms with dining areas and kitchens. Additionally, the resort features an outdoor heated pool as well as picnic areas and BBQ facilities for those looking to unwind and savor delicious meals outdoors. For fishing enthusiasts, Camp Hero State Park is only six miles away.
– Convenient location right opposite the beach
– Boat rentals available nearby at Fort Pond
– Close proximity to Hither Hills State Park
– Free Wi-Fi throughout the property
– Outdoor heated pool with picnic areas and BBQ facilities
Montauk Yacht Club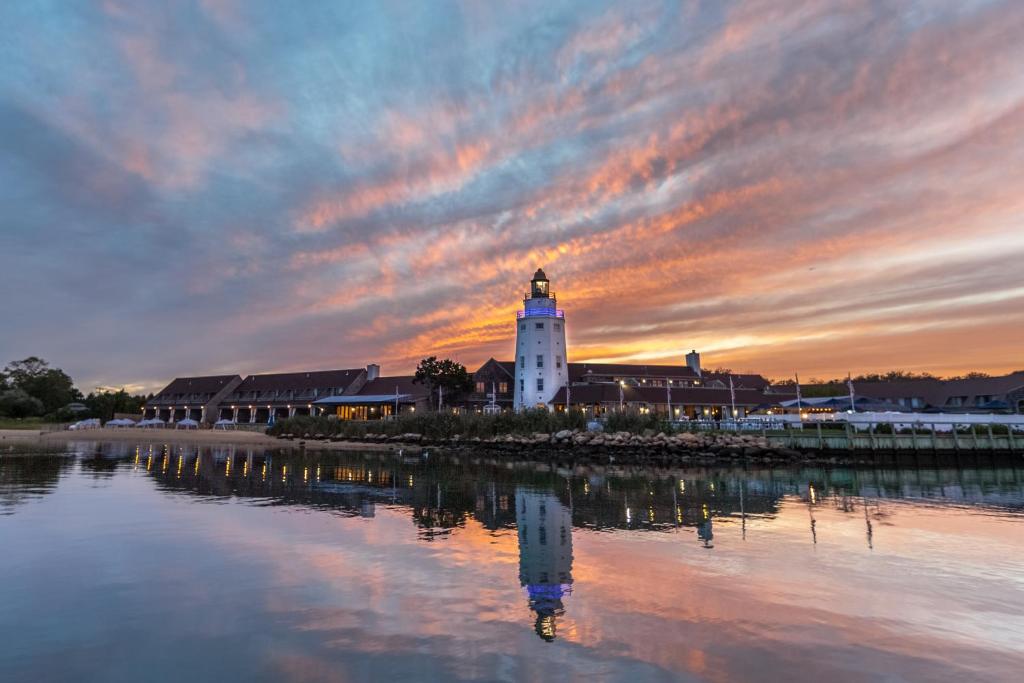 Located on Star Island in Lake Montauk, the Montauk Yacht Club is a resort and spa that offers a luxurious beachfront experience. With its private beach, three swimming pools (including indoor and outdoor options), and boat rentals, guests can enjoy both land and water activities. The nautical-themed accommodations feature whitewashed walls, nautical artwork, and private wooden balconies. On-site dining options include Showfish, The Pool Club, and Il Forno. Additional amenities include spa services, volleyball courts, lighted tennis courts, horseshoe pits, concierge services, and proximity to Rita's Horse Stables, the Montauk Downs Golf Course, and the famous Montauk Point Lighthouse and Museum.
– Private beach access
– Multiple swimming pools
– Nautical-themed accommodations
– On-site dining options
– Convenient location for local attractions
The Ocean Resort Inn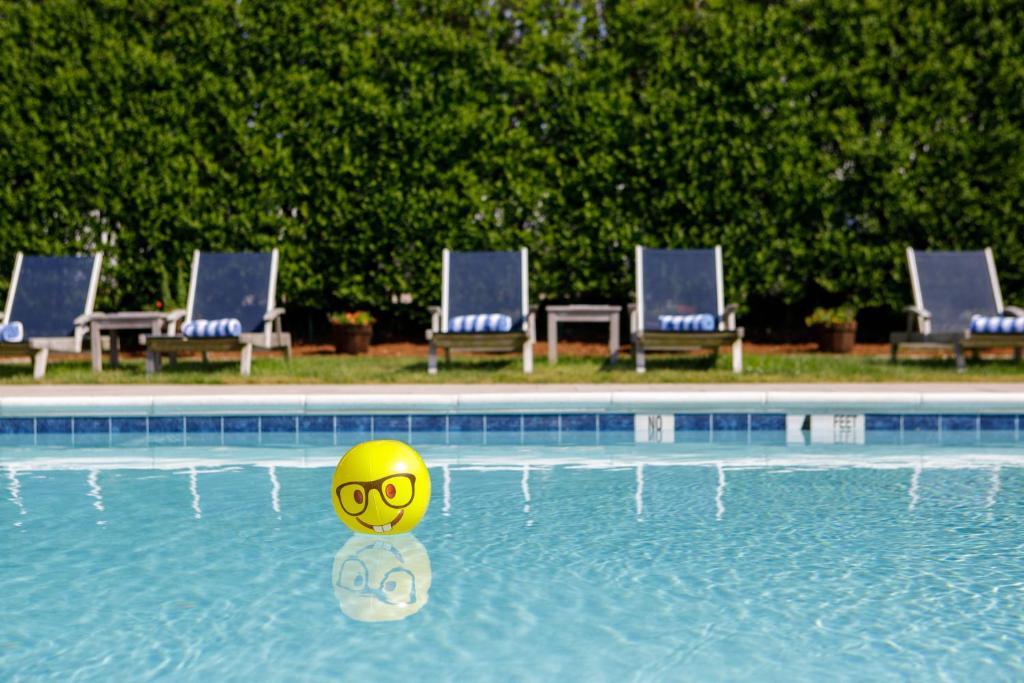 The Ocean Resort Inn is a beachfront resort located just steps from the Atlantic Ocean and less than 5 miles from Montauk Harbor. With its heated salt water swimming pool and easy beach access, guests can enjoy the ultimate seaside getaway. The resort provides beach chairs, towels, and umbrellas for a perfect day in the sun. Additionally, guests will find themselves conveniently near recreational landmarks such as Montauk Downs State Park which offers golf, tennis, and an Olympic-sized pool. The guest rooms at The Ocean Resort Inn are equipped with free Wi-Fi, a flat-screen cable TV, fridge, microwave, and tea/coffee making facilities. These bright and comfortable rooms feature ocean-inspired art to create a relaxing ambiance. Montauk Downs State Park is only a 5-minute drive away.
– Beachfront location with easy access to the Atlantic Ocean
– Heated salt water swimming pool for refreshing dips
– Complimentary beach amenities including chairs and towels
– Convenient proximity to Montauk Downs State Park for outdoor activities
– Comfortable and well-equipped guest rooms with ocean-inspired decor
Romantic Beachfront Hotels in The Hamptons
The Hamptons offer a picturesque setting for romantic beachfront hotels, with stunning ocean views and serene surroundings. Couples can enjoy peaceful walks along pristine beaches, indulge in spa treatments, and savor exquisite dining experiences right on the sand.
Windward Shores (Amagansett)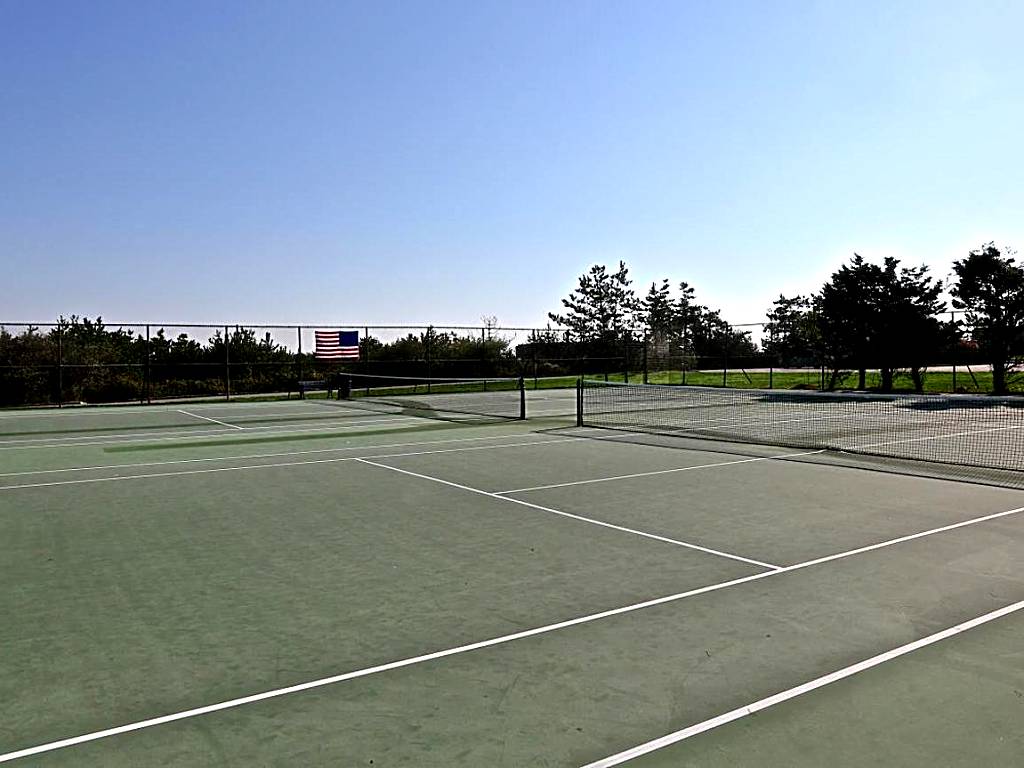 Located on 5 acres of landscaped grounds, Windward Shores Ocean Resort is a beachfront retreat in Amagansett, adjacent to Napeague Harbor and just a short drive from East Hampton. This resort offers the perfect blend of relaxation and recreation with its two tennis courts, outdoor pool, and free Wi-Fi. The spacious accommodations feature fully equipped kitchens, dining areas, living areas with flat-screen cable TVs, and private patios. Guests can also enjoy seasonal cabana service. Conveniently situated along Montauk Point State Parkway, the resort is only a 15-minute drive from East Hampton Airport and a 13-minute drive from Maidstone Golf Club.
Pros:
– Prime oceanfront location
– Two tennis courts for active guests
– Spacious accommodations with fully equipped kitchens
– Seasonal cabana service adds to the luxury experience
– Convenient proximity to East Hampton Airport and Maidstone Golf Club
Gurney's Montauk Resort & Seawater Spa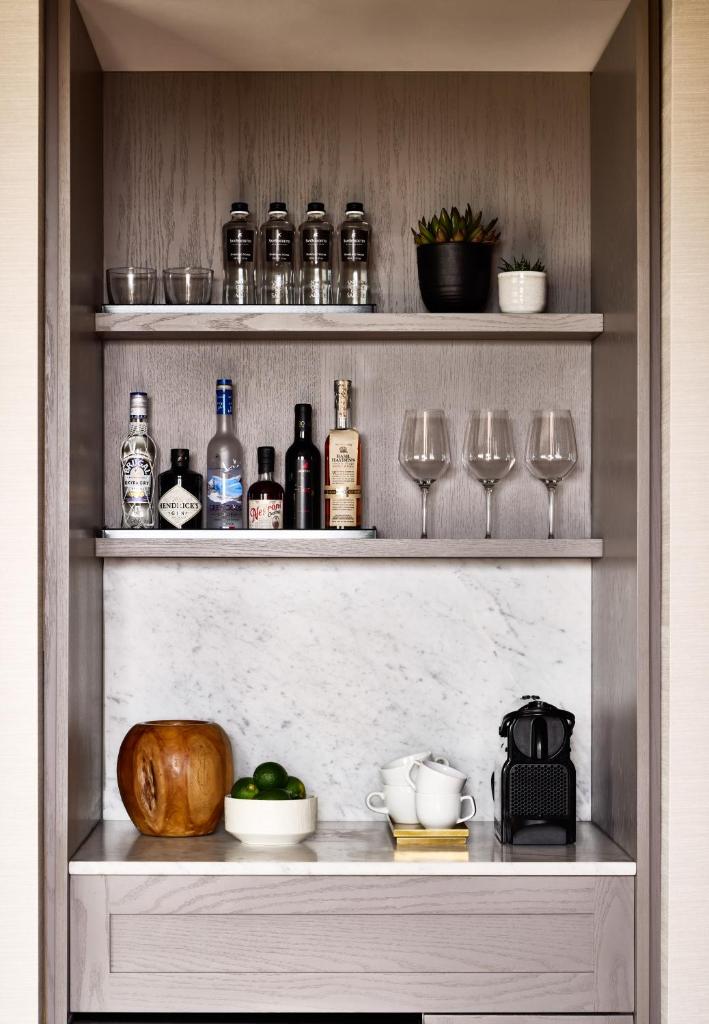 Gurney's Montauk Resort & Seawater Spa is a luxurious beachfront hotel located in Montauk, offering year-round accommodation just steps away from the ocean. With indoor and outdoor pools, guests can enjoy swimming all year long. The resort also features a full-service spa with healing treatments and an ocean-fed seawater pool, perfect for relaxation. Each room offers a stunning ocean view and is equipped with a flat-screen cable TV and a private bathroom with free toiletries. There are five dining and drinking venues available on-site, providing plenty of options for delicious meals. Nearby attractions include Hither Hills State Park and Montauk Downs State Park Golf Course.
Pros:
– Stunning beachfront location
– Indoor and outdoor pools for year-round enjoyment
– Full-service spa with healing treatments
– Ocean-fed seawater pool for ultimate relaxation
– Variety of dining options available
The Menhaden Hotel (Greenport)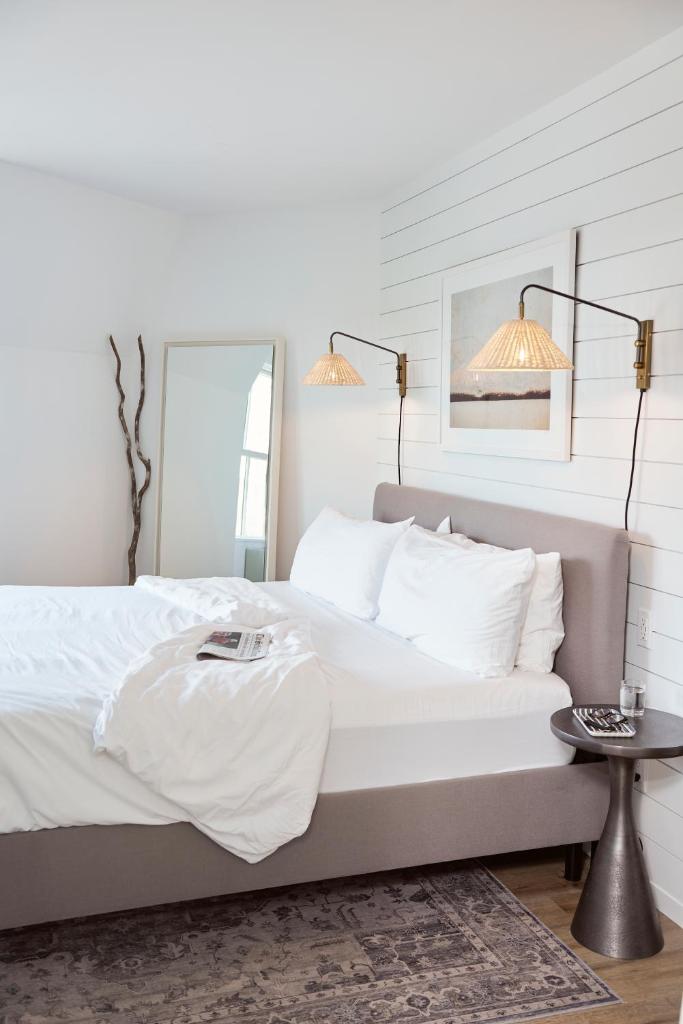 The Menhaden Hotel in Greenport is a boutique hotel that offers 4-star accommodation with a terrace and bar. The air-conditioned rooms have free WiFi and each has its own private bathroom. Guests can enjoy the convenience of a 24-hour front desk, concierge service, and luggage storage. The hotel also provides free bikes for guests to use. Each room at The Menhaden Hotel includes a wardrobe, flat-screen TV, and complimentary toiletries. Located in close proximity to Long Island MacArthur Airport, this beachfront hotel is an ideal choice for travelers looking for luxury and comfort.
– Beachfront location
– Terrace with stunning views
– Free bikes for guests to explore the area
– Attentive 24-hour front desk service
– Complimentary WiFi throughout the property
Beachfront Hotels Hotels in The Hamptons With a Pool
Beachfront hotels in The Hamptons with a pool offer the perfect combination of sun, sand, and relaxation. With stunning ocean views just steps away from your room and a refreshing pool to cool off in, these hotels provide an idyllic beach getaway.
The Hermitage at Napeague (Amagansett)
The Hermitage at Napeague in Amagansett is a luxurious hotel that offers fully furnished apartments with full kitchen facilities. This beachfront property features two tennis courts and private beach access, making it the perfect destination for active travelers. The hotel is conveniently located just 9 miles from downtown East Hampton Village and offers on-site laundry facilities for added convenience. Each apartment is uniquely decorated and includes private balconies, a flat-screen cable TV, separate living and seating areas, and two bathrooms. Set on 7 acres of beautifully landscaped grounds, The Hermitage at Napeague provides a relaxing atmosphere away from the hustle and bustle of city life. Suffolk County Parkland is also within close proximity, offering guests the opportunity to explore nature trails and outdoor activities. With its prime location opposite Hither Woods, this hotel offers guests both luxury and natural beauty.
– Fully furnished apartments with full kitchen facilities
– Private balconies in each apartment
– Two tennis courts for sport enthusiasts
– Convenient location near downtown East Hampton Village
– Close proximity to Suffolk County Parkland for outdoor activities
Information about Beachfront Hotels in The Hamptons
| | |
| --- | --- |
| 🏢 Number of Beach Hotels in The Hamptons | 10 |
| 🥇 Average Review Score | 8.6/10 |
| 💰 High season average price | 1248 |
| 💸 Low season average price | 312 |
FAQ
What are some popular beachfront hotels in The Hamptons?
The Hamptons offers a range of popular beachfront hotels for travelers seeking a luxurious coastal getaway. Some of the top choices include Gurney's Montauk Resort & Seawater Spa, which boasts stunning ocean views and a private stretch of beach, as well as The Maidstone Hotel in East Hampton, known for its charming boutique-style accommodations just steps away from Main Beach.
Are there any family-friendly beachfront hotels in The Hamptons?
Yes, there are several family-friendly beachfront hotels in The Hamptons that cater to both adults and children. One great option is Ocean Vista Resort in Amagansett, which offers spacious suites with kitchenettes and direct access to the sandy shores. Another choice is Southampton Inn, located near Cooper's Beach, providing comfortable accommodations and amenities suitable for families such as an outdoor pool and complimentary bike rentals.
Which beachfront hotel in The Hamptons offers the best spa facilities?
If you're looking for a beachfront hotel with excellent spa facilities in The Hamptons, look no further than Gurney's Montauk Resort & Seawater Spa. This renowned luxury resort features an expansive spa overlooking the Atlantic Ocean, offering a wide array of pampering treatments including seawater soaks and massages. Relaxation areas with breathtaking ocean views complete the serene experience.
Do any beachfront hotels in The Hamptons have on-site dining options?
Absolutely! Many beachfront hotels in The Hamptons boast fantastic on-site dining options to fulfill your culinary desires without having to venture far from your room. For instance, Topping Rose House in Bridgehampton houses Jean-Georges Vongerichten's farm-to-table restaurant where guests can savor exquisite dishes made with locally-sourced ingredients while enjoying beautiful views of the surrounding gardens.
Are there any budget-friendly beachfront hotels in The Hamptons?
While The Hamptons is known for its upscale and luxurious accommodations, there are a few budget-friendly beachfront hotels available for travelers seeking a more affordable option. One such hotel is Driftwood Resort on Montauk's ocean beaches, offering comfortable rooms with basic amenities at reasonable rates. Additionally, Ocean Colony Beach & Tennis Club in Amagansett provides cozy self-catering units perfect for those looking to save some money on dining out.
Popular Beach Hotels destinations