Welcome to the sunny shores of Tenerife, Spain! Get ready for an unforgettable seaside getaway as we dive into the world of luxurious oceanfront accommodations. In this guide, we will take you on a journey along the captivating coastline of Tenerife, where pristine sandy beaches meet turquoise waters. Immerse yourself in the tranquil ambiance and indulge in the ultimate beachfront experience that this magnificent Spanish island has to offer.
Tucked away amidst stunning natural beauty, Tenerife boasts an array of opulent waterfront resorts that cater to every type of traveler. Whether you are seeking relaxation or adventure, these hotels provide a perfect blend of luxury and convenience. Picture waking up to breathtaking panoramic views from your private balcony or strolling barefoot along powdery sands just steps away from your room. With a multitude of amenities at your fingertips and world-class service at every turn, prepare yourself for an enchanting beachside retreat like no other.
Join us as we explore these exquisite beachfront properties that redefine elegance and comfort in Tenerife. From lavish spa facilities overlooking the sea to infinity pools that seem to merge seamlessly with the horizon – these hotels are sure to captivate your senses and leave you yearning for more. So grab your sunglasses and let us transport you to a paradise where sun-kissed days melt into starlit evenings on one of Spain's most alluring coasts – Tenerife awaits!
The Best Tenerife Hotels By the Beach
Boutique Hotel H10 Big Sur – Adults Only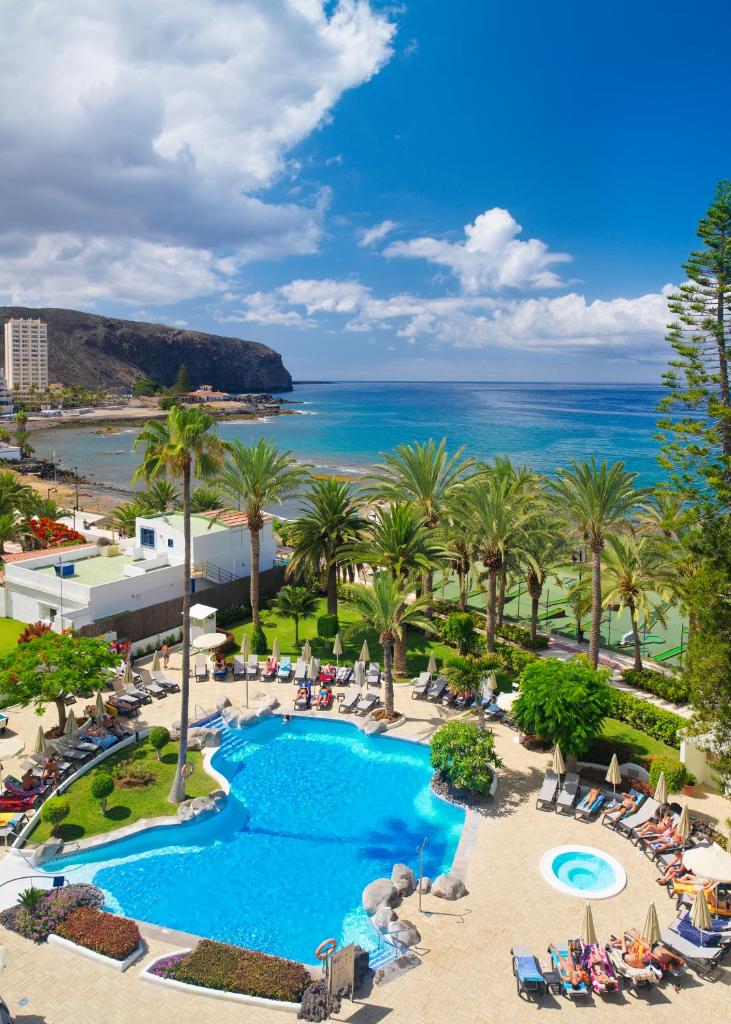 Located on the seafront in Tenerife's Los Cristianos, Boutique Hotel H10 Big Sur – Adults Only offers stunning views of La Gomera Island. This adult-only hotel boasts free WiFi throughout the property and is surrounded by lush tropical gardens. Guests can enjoy a refreshing dip in the outdoor pool or relax on the sun terrace. The hotel also features a poolside bar and a buffet restaurant with show cooking. The bright and airy rooms at Boutique Hotel H10 Big Sur – Adults Only are equipped with a fan, private bathroom, satellite TV with international channels, minibar, and rented safes. Some rooms even have balconies for guests to enjoy panoramic views. Additional facilities include two chill-out terraces overlooking the sea. The hotel is conveniently located just a 4-minute walk from Los Cristianos Beach and a 10-minute walk from the traditional fishing harbor. Tenerife Sur Airport is also just 15 km away.
Pros:
– Stunning seafront location with breathtaking views
– Adult-only atmosphere provides peace and tranquility
– Free WiFi throughout the property
– Beautiful tropical gardens create an oasis-like ambiance
– Convenient proximity to both the beach and fishing harbor
Flamingo Suites Boutique Hotel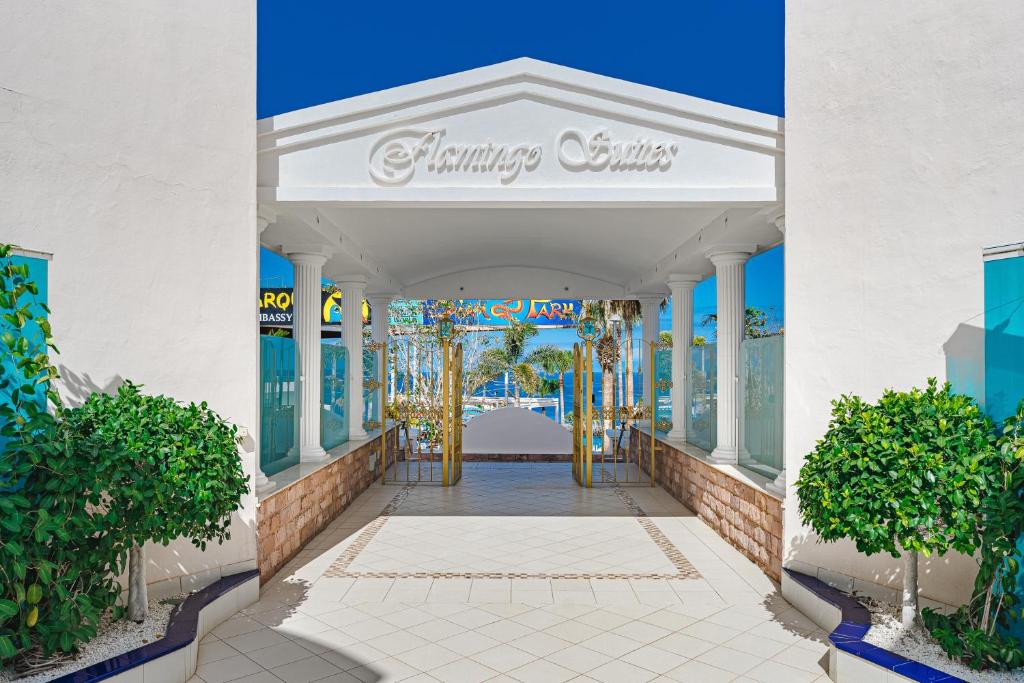 Located in Playa de Fañabe, just 100 meters from La Pinta Beach, Flamingo Suites Boutique Hotel is an attractive complex offering elegant apartments with balconies and kitchens. Guests can enjoy the heated outdoor pool and sun terrace. Puerto Colón Marina is only 400 meters away, while shops, bars, and restaurants can be found on the nearby seafront promenade. The hotel provides free Wi-Fi throughout the property and offers barbecue facilities in select suites. Additionally, guests can indulge in beauty treatments at the spa or relax in the sauna and hot tub. Bicycle and car rentals are available at the hotel's reception.
– Elegant apartments with balconies
– Heated outdoor pool
– Close proximity to La Pinta Beach
– Spa facilities including a sauna and hot tub
– Free Wi-Fi throughout the property
H10 Gran Tinerfe – Adults Only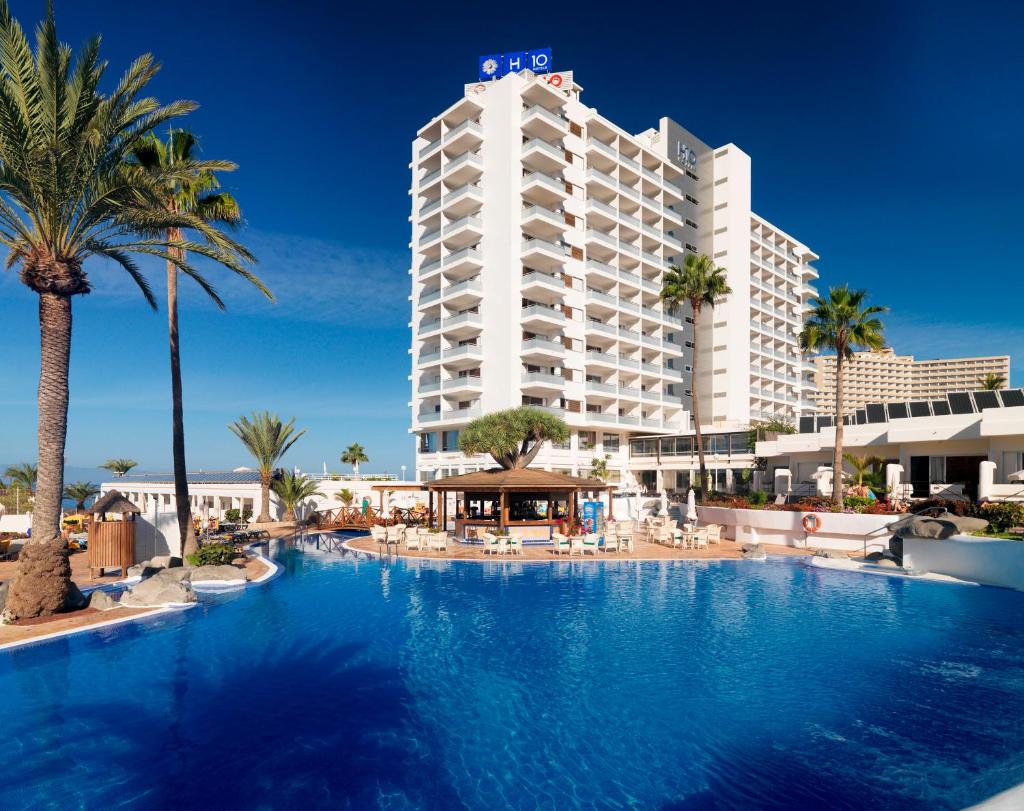 Located on the picturesque Costa Adeje in southern Tenerife, the H10 Gran Tinerfe – Adults Only is a stunning beachfront hotel that offers an unforgettable experience. With its recent renovation, this seafront hotel boasts three outdoor swimming pools where you can bask in the warm Canarian sunshine. Stay active during your vacation with a wide range of sports facilities available onsite. Indulge in an exceptional dining experience as you savor both local and international cuisine at the variety of bars and restaurants. Take in breathtaking sea views from the terrace, complete with a chill-out area perfect for relaxation. Unwind in one of the provided hammocks while enjoying ambient music, or try your luck at Playa de las Américas Casino, which offers complimentary access to hotel guests.
– Spectacular beachfront location overlooking Costa Adeje
– Three outdoor swimming pools for ultimate relaxation
– Wide range of sports facilities available onsite
– Fantastic dining options with both local and international cuisine
– Complimentary access to Playa de las Américas Casino
Other places to stay in Tenerife
Hotels Near the Beach in Downtown Tenerife
Downtown Tenerife offers a range of beachfront hotels that provide the perfect combination of convenience and relaxation. With their prime locations just steps away from the sandy shores, guests can easily enjoy the sun, sand, and sea without having to travel far from their accommodation.
Royal Hideaway Corales Suites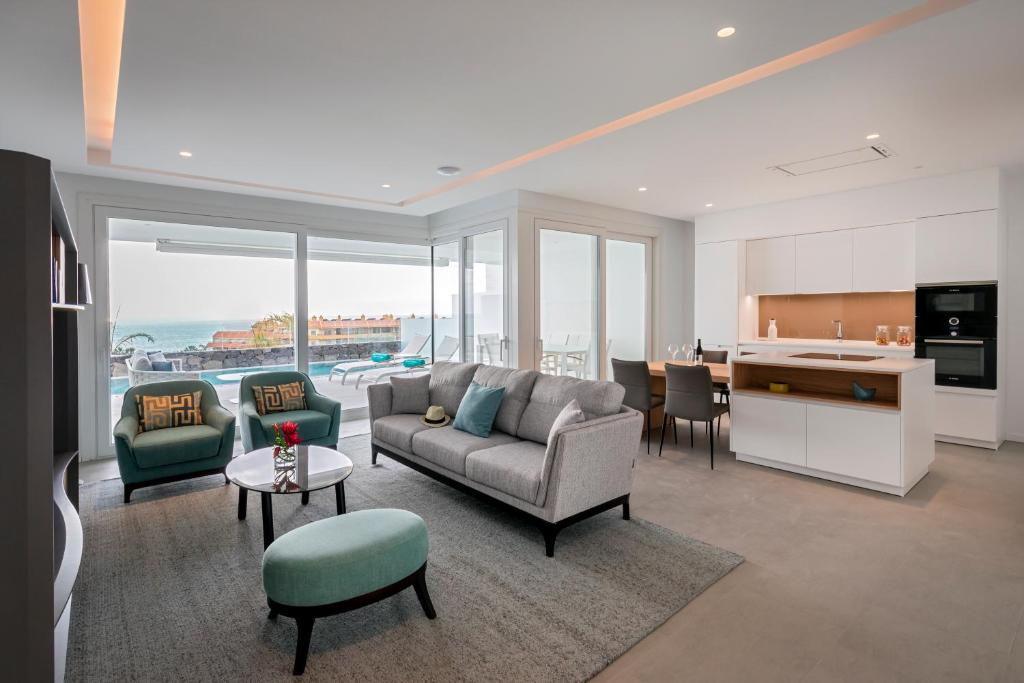 Located in Adeje, just 300 meters from La Enramada beach, Royal Hideaway Corales Suites is a luxurious 5-star hotel offering stunning sea views and comfortable rooms with air conditioning. Guests can relax by the outdoor swimming pool or dine at one of the three exceptional on-site restaurants. The Starfish restaurant offers a wide range of international and local options, while Il Bocconcino serves progressive Italian cuisine. For a more relaxed atmosphere, guests can visit La Trattoría by Il Bocconcino, perfect for enjoying a meal with family. Each room is equipped with modern amenities including a seating area, flat-screen TV, kitchenette and private bathroom. Some rooms even feature terraces for breathtaking views. Guests can start their day with a continental breakfast at Olivia Restaurant before exploring the surrounding area. The friendly staff is fluent in German and English, providing practical information about the region at the reception desk. With its excellent location near La Pinta Beach and Plaza del Duque Shopping Centre, Royal Hideaway Corales Suites offers guests easy access to popular attractions in Adeje. Tenerife Sur Airport is also conveniently located just 18 km away.
– Stunning sea views from the rooms
– Outdoor swimming pool for relaxation
– Exceptional dining options including international and Italian cuisine
– Fully equipped rooms with modern amenities
– Convenient location near beaches and shopping centers
Sir Anthony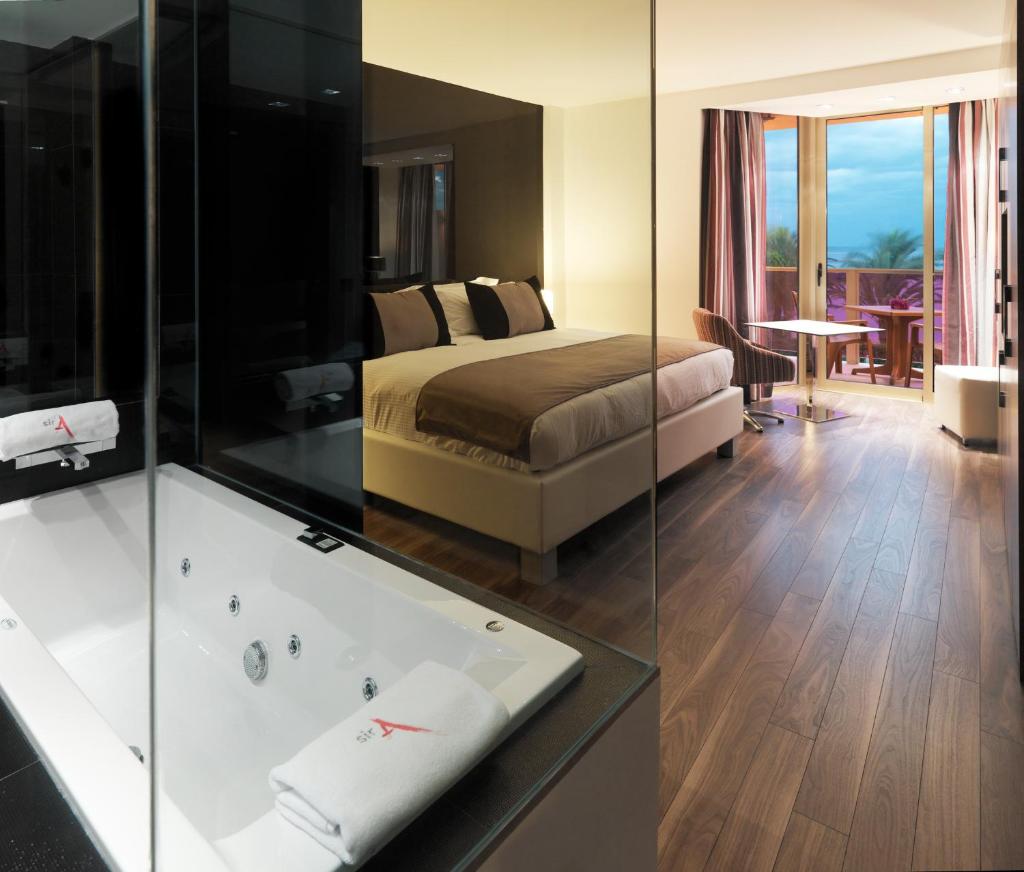 Situated on the stunning Camisón Beach in Tenerife's Playa de las Américas, Sir Anthony is a luxurious beachfront resort offering a range of exquisite amenities. The hotel features an inviting outdoor pool and a spa, perfect for relaxation. The air-conditioned rooms are elegantly decorated with modern furnishings and offer breathtaking ocean views from their balconies. Some rooms even come with private plunge pools for added indulgence. Guests can enjoy refreshing drinks at the poolside juice bar or experience live music at the hotel's private beach club. The Windsor Restaurant serves delicious Mediterranean dishes with a terrace overlooking the beach. Additionally, guests have access to the neighbouring Mare Nostrum's spa facilities, including a hot tub, fitness centre and tennis courts. With Las Américas Golf Course and Siam Park just 1 km away, there are plenty of activities to keep guests entertained during their stay. Tenerife South Airport is conveniently located only 15 km from the hotel.
Pros:
– Direct access to Camisón Beach
– Stylish rooms with parquet floors and modern décor
– Private plunge pools available in some rooms
– Poolside juice bar and private beach club with live music
– Close proximity to golf course and water park
Gran Tacande Wellness & Relax Costa Adeje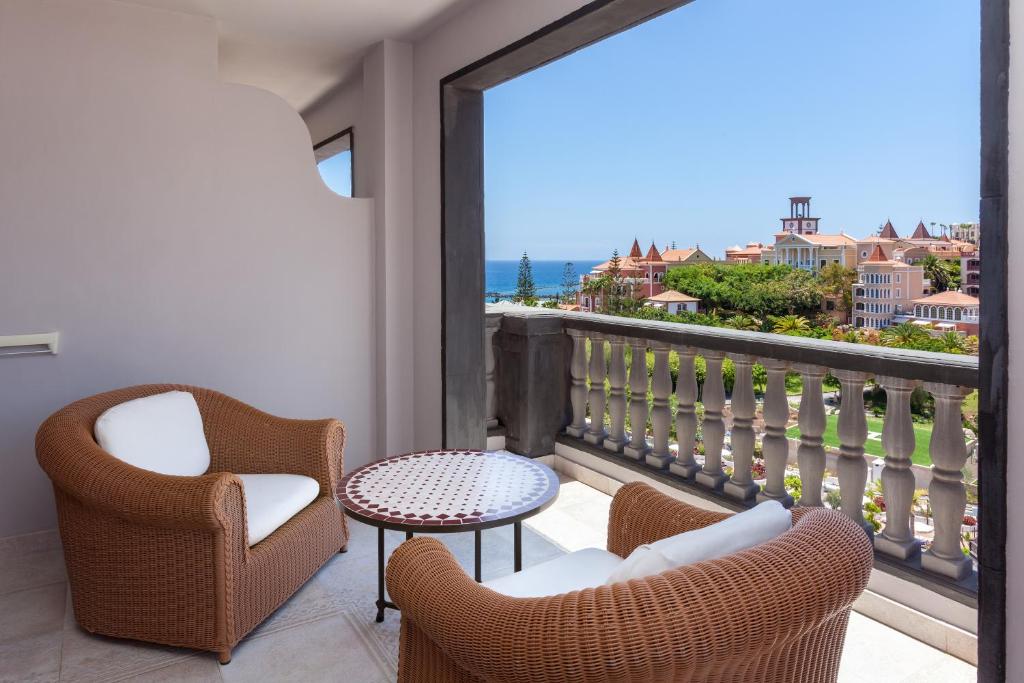 Located on Duque Beach, Gran Tacande Wellness & Relax Costa Adeje is a luxurious hotel overlooking the stunning island of La Gomera. This beachfront hotel boasts two outdoor swimming pools, a spa, and rooms with balconies. The Zurrón Buffet Restaurant offers international and themed cuisines, while the Bocana Beach Club specializes in Mediterranean dishes. With bright and attractive décor, the spacious rooms at Gran Tacande provide views of the surrounding mountains or the hotel gardens, and some even offer breathtaking sea views. Upgrade to a Gold Level room for access to the exclusive San Sebastian Exclusive Plaza private area featuring an infinity pool and a whirlpool with 8 seats, along with terraces offering ocean views. Indulge in cocktails at the rooftop Azotea Sunset Bar or pamper yourself at the hotel's spa with hydrotherapy, massage services, and various beauty treatments available at an extra cost. The fitness center is complimentary for guests' use along with a hairdresser's salon onsite. Within close proximity to Playa de Fañabe resort that offers a selection of shops and bars, Costa Adeje Golf Resort is also just a short 15-minute drive away from Gran Tacande Wellness & Relax Costa Adeje.
Pros:
– Prime beachfront location on Duque Beach
– Luxurious amenities including two outdoor swimming pools
– Excellent dining options with international and Mediterranean cuisines
– Stylish rooms with beautiful views of mountains or gardens
– Upgrade option for exclusive access to private area with infinity pool
Romantic Beachfront Hotels in Tenerife
Tenerife's romantic beachfront hotels offer couples a dreamy escape with breathtaking ocean views and secluded sandy shores, creating the perfect backdrop for romance to blossom. From intimate candlelit dinners on private balconies to sunset strolls along the shoreline, these beachfront retreats in Tenerife cater to every couple seeking a romantic getaway.
Flamingo Beach Mate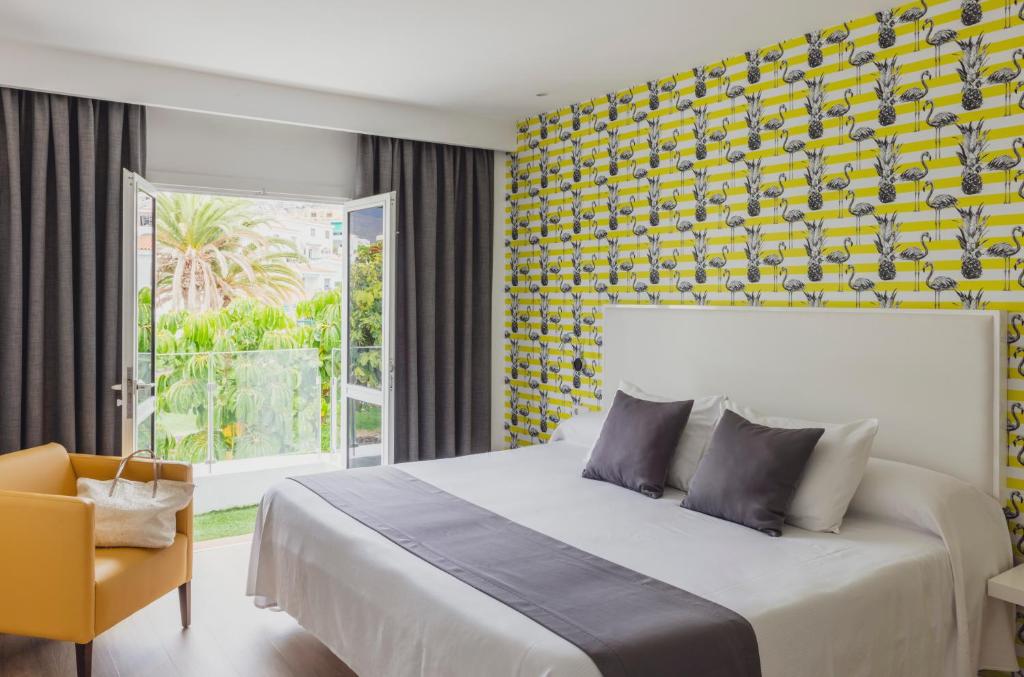 Flamingo Beach Mate in Adeje is a beachfront hotel offering a range of amenities for guests to enjoy. The hotel features an outdoor swimming pool, a children's pool, and a fitness center, perfect for those looking to stay active during their vacation. The lush garden and terrace provide a peaceful setting to relax and soak up the sun. Guests can also unwind at the bar or snack bar on-site. All rooms, apartments, and studios are tastefully furnished with modern decor and come equipped with free WiFi, flat-screen TVs with satellite channels, kettles, and private bathrooms with showers and complimentary toiletries. Apartments include fully-equipped kitchens for added convenience. Start your day off right with the buffet breakfast available each morning. The friendly reception staff are happy to offer guidance on local attractions and activities in the area. Flamingo Beach Mate's prime location allows guests easy access to popular points of interest such as La Pinta Beach, San Eugenio Shopping Centre, and Gran Sur Shopping Centre. Tenerife Sur Airport is also conveniently located just 16 km away from the hotel.
– Outdoor swimming pool
– Fitness center
– Terrace overlooking the beach
– On-site bar
– Free WiFi throughout
Information about Beachfront Hotels in Tenerife
| | |
| --- | --- |
| 🏢 Number of Beach Hotels in Tenerife | 7 |
| 🥇 Average Review Score | 8.9/10 |
| 💰 High season average price | 1060 |
| 💸 Low season average price | 265 |
FAQ
1. Can you recommend any beachfront hotels in Tenerife?
Certainly! One highly recommended beachfront hotel in Tenerife is the Royal Hideaway Corales Beach – Adults Only. This luxurious hotel offers stunning views of the ocean and direct access to the beach. With spacious and modern rooms, a variety of dining options, and a range of amenities including a spa and infinity pool, it's perfect for those seeking a truly luxurious beachfront experience.
2. What are some popular activities near beachfront hotels in Tenerife?
Tenerife offers an array of exciting activities near its beachfront hotels. Visitors can enjoy water sports such as surfing, snorkeling, and jet skiing. There are also opportunities for boat excursions to spot dolphins or whales in their natural habitat. For those looking to explore on land, hiking trails along the coastline provide breathtaking views of the island's volcanic landscapes.
3. Are there any family-friendly beachfront hotels in Tenerife?
Absolutely! If you're traveling with your family, one great option is the Bahía del Duque – Family Selection hotel located on Playa del Duque. This upscale property not only offers direct access to the sandy beaches but also provides excellent facilities for children such as kids' clubs with supervised activities, pools designed for families, and playgrounds. Parents can relax knowing that their little ones are entertained and well taken care of.
4. What is the best time to visit Tenerife for a stay at a beachfront hotel?
Tenerife enjoys mild temperatures year-round due to its location close to the equator. However, the best time to visit for a stay at a beachfront hotel would be during spring (April-May) or autumn (September-October). During these months, temperatures are pleasantly warm without being too hot or crowded with tourists.
5. Do I need to rent a car if I stay at a beachfront hotel in Tenerife?
Whether or not to rent a car depends on your preferences and the location of your chosen beachfront hotel. If you plan to explore other parts of the island or take day trips to nearby attractions, renting a car would be beneficial. However, if you are content with staying within the vicinity of your hotel and enjoying the beach and nearby amenities, it may not be necessary as many beachfront hotels offer convenient access to restaurants, shops, and entertainment options.
Popular Hotels near Beach destinations