Welcome to the stunning island of Sardinia, Italy, where the azure Mediterranean Sea meets pristine sandy shores. Get ready to immerse yourself in a world of pure bliss as we explore the exquisite beachfront accommodations that dot this idyllic coastal destination. From opulent resorts to charming boutique hotels, Sardinia offers a diverse range of luxurious seaside retreats.
Indulge your senses in a symphony of sun-kissed beaches and crystal-clear waters as you unwind in one of Sardinia's many waterfront havens. Prepare to be captivated by the breathtaking views that greet you at every turn, whether you choose an elegant hotel nestled along secluded coves or a lavish resort boasting panoramic vistas over the vast ocean expanse. Immerse yourself in unparalleled relaxation and allow your worries to be swept away by the gentle breeze whispering through palm trees and the soothing sound of waves crashing against powdery sands.
Embark on a journey where tranquility meets sophistication, where each moment is designed to cater to your utmost comfort and pleasure. Join us as we unravel the secrets behind Sardinia's most exclusive beachfront establishments — an invitation crafted for those seeking solace amidst nature's finest spectacle.
The Best Sardinia Hotels By the Beach
Hotel Romazzino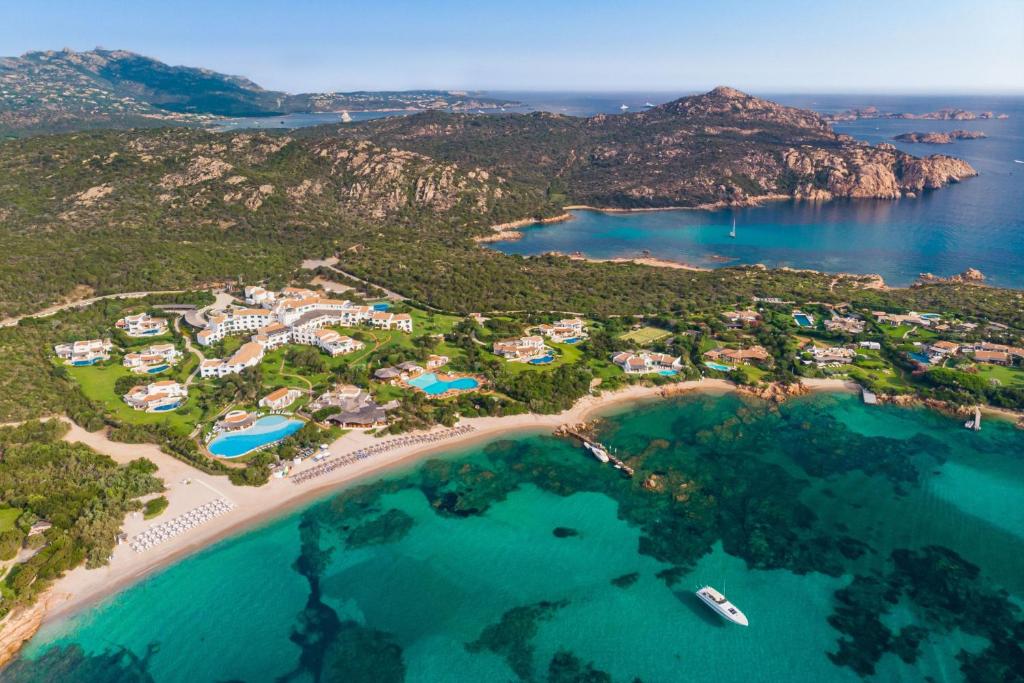 Experience true luxury in a stunning location at Hotel Romazzino. This picturesque property offers an array of leisure activities, including a wellness center, two gyms, and a swimming pool. With water sports, tennis courts, and boutique shopping available, you'll never be bored. Indulge in delectable meals at the beachside barbecue restaurant for lunch and savor international cuisine at Ristorante Centrale for dinner. Each guest room provides ultimate comfort with a private terrace overlooking either the beautiful garden or Mediterranean Sea. You'll enjoy a restful night's sleep with the option to choose from a pillow menu. The rooms are tastefully decorated with handmade tiles and wooden furniture, featuring a hand-crafted writing desk. Modern amenities include an LCD TV with pay-per-view channels and CD/DVD player. The hotel boasts its own expansive garden filled with wildflowers and a private beach area on the renowned Emerald Coast. Take advantage of the indoor and outdoor fitness centers as well as the salt-water swimming pool. Pamper yourself with soothing massages and beauty treatments at the wellness center while your kids partake in entertaining activities organized by expert multilingual staff at the mini club. Unwind in the evenings at the piano bar where live music sets the mood.
Pros:
– Range of leisure activities available including water sports, tennis courts, and boutique shopping
– Delicious dining options including beachside barbecue restaurant and international cuisine at Ristorante Centrale
– Comfortable guest rooms with private terraces offering stunning views
– Wide range of modern amenities including LCD TV, CD/DVD player, and pillow menu
– Expansive garden filled with wildflowers and private beach area on Emerald Coast
Hotel Abi d'Oru (Porto Rotondo)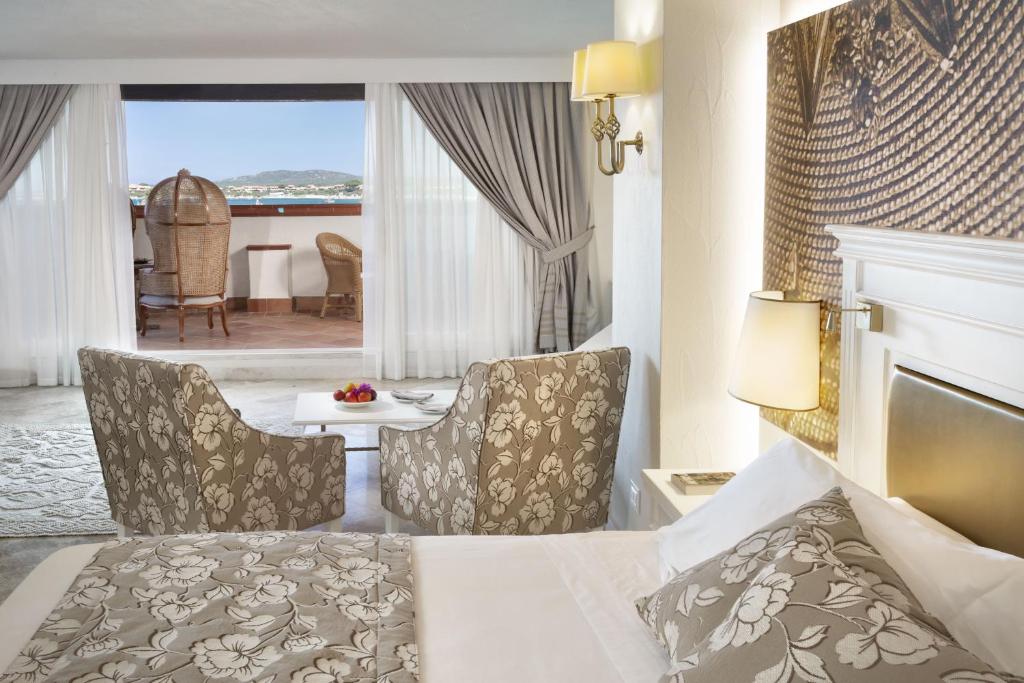 Hotel Abi d'Oru is a luxurious beachfront hotel located on the picturesque Costa Smeralda in Porto Rotondo, Sardinia. With its stunning views of the Marinella Gulf and its pristine white sandy beach, this hotel offers guests an exclusive and idyllic seaside escape. The hotel features a swimming pool with a spabath and beautifully manicured gardens that lead directly to the beach where sun loungers and parasols are provided free of charge. Adults and children alike can enjoy a range of activities and facilities offered by the hotel. The building boasts panoramic terraces surrounded by lush Mediterranean vegetation, providing the perfect setting for enjoying a drink while taking in the breathtaking views. The bright rooms are tastefully furnished in a typical Sardinian style, offering sea views to enhance your stay. Guests can indulge in delicious à la carte meals, snacks, pizza, and grilled dishes at multiple restaurants including one right on the beach. For ultimate relaxation, Hotel Abi d'Oru offers a wellness center equipped with amenities such as saunas, Turkish baths, salt rooms, and treatment cabins. Wi-Fi internet access is available throughout the entire hotel along with an internet point for guests' convenience. With its convenient location near Olbia's harbor and airport, Hotel Abi d'Oru also offers complimentary shuttle services to/from nearby Porto Rotondo.
– Spectacular views of Marinella Gulf
– Direct access to white sandy beach
– Variety of entertaining activities for adults and children
– Panoramic terraces surrounded by Mediterranean vegetation
– Tastefully furnished rooms with sea views
Hotel Simius Playa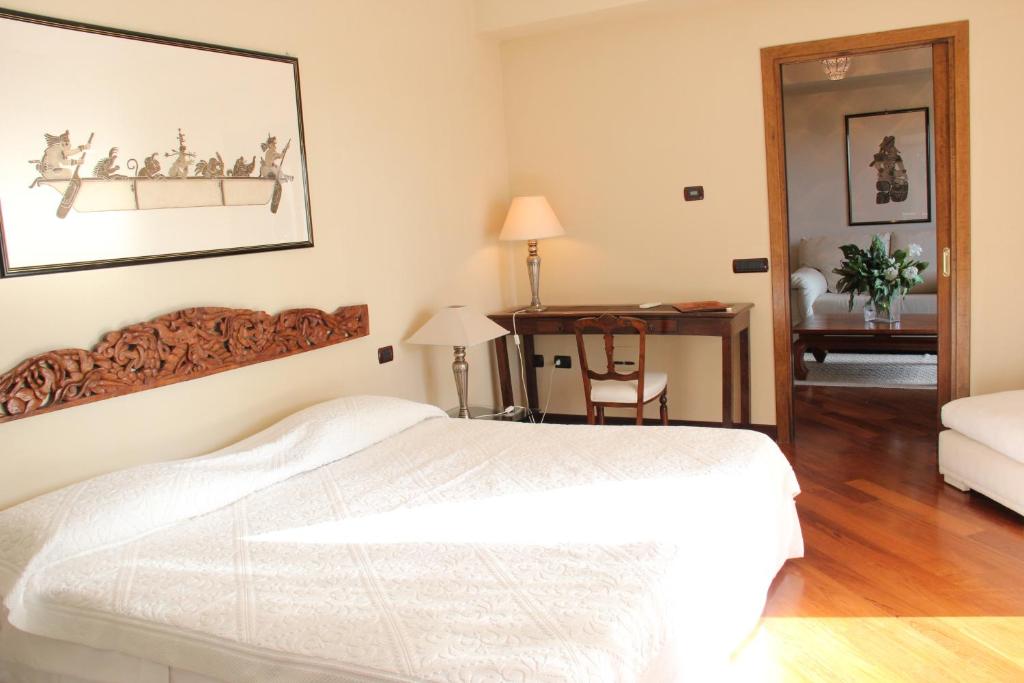 Hotel Simius Playa, located just 900 meters from Villasimius, offers a luxurious beachfront experience overlooking the stunning turquoise sea of Capo Carbonara. This colonial-style hotel boasts an outdoor swimming pool and air-conditioned rooms, ensuring utmost comfort for its guests. The on-site restaurant serves delectable Mediterranean dishes and fresh seafood with a delightful view. Surrounded by a lush tropical garden, Hotel Simius Playa provides a private beach of fine sand right in front of the property. The spacious rooms feature private bathrooms with either a bath or shower, while select rooms offer breathtaking sea views or balconies. With free parking available and the convenience of the Cagliari bus stop just 50 meters away, Hotel Simius Playa guarantees an unforgettable stay.
– Breathtaking views of the turquoise sea
– Luxurious colonial-style building
– Spacious rooms with private bathrooms
– Private beach access
– Free parking facility
Other places to stay in Sardinia
Hotels Near the Beach in Downtown Sardinia
Hotels near the beach in downtown Sardinia offer a perfect location for those looking to enjoy a seaside vacation while being close to the vibrant city atmosphere. With stunning views and easy access to the sandy shores, these accommodations provide an ideal base for both relaxation and exploration.
Gabbiano Azzurro Hotel & Suites (Golfo Aranci)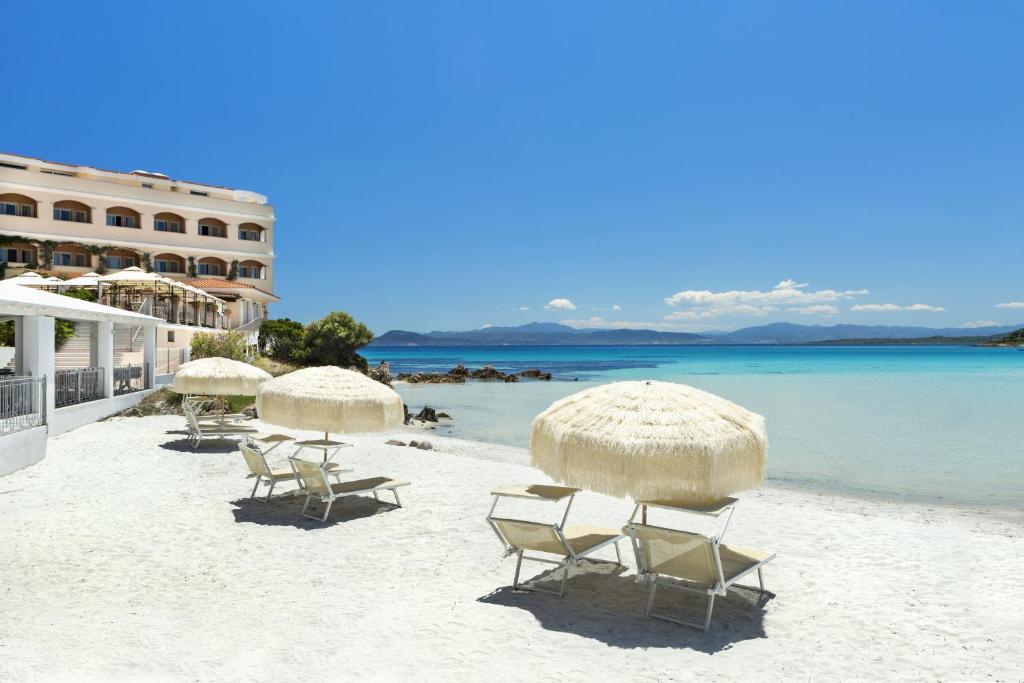 Nestled along Sardinia's renowned Emerald Coast, Gabbiano Azzurro Hotel & Suites is a beachfront paradise offering an idyllic setting on its private white sandy beach. With a prime location directly on the seafront, this luxurious hotel provides guests with breathtaking views of the Mediterranean Sea and Tavolara Island. The highlight of the hotel is its infinity pool, situated on the terrace overlooking the sea, creating a tranquil oasis for guests to unwind and soak up the sun. The spacious and elegant rooms feature 4-star superior amenities including WiFi access and international satellite channels, with most rooms boasting stunning sea views. Indulge in delectable dining options at the beach restaurant during lunchtime or savor a romantic dinner at Blu' Restaurant on the seafront. For panoramic views while enjoying exquisite Sardinian and international dishes, head to the indoor restaurant. Additionally, The White Restaurant offers an Italian daily à la carte menu for those opting for half board treatment. Conveniently located just a 20-minute drive from Olbia Airport, Gabbiano Azzurro Hotel & Suites provides easy access to Golfo Aranci's breathtaking 15 beaches.
Hotel Don Diego (Porto San Paolo)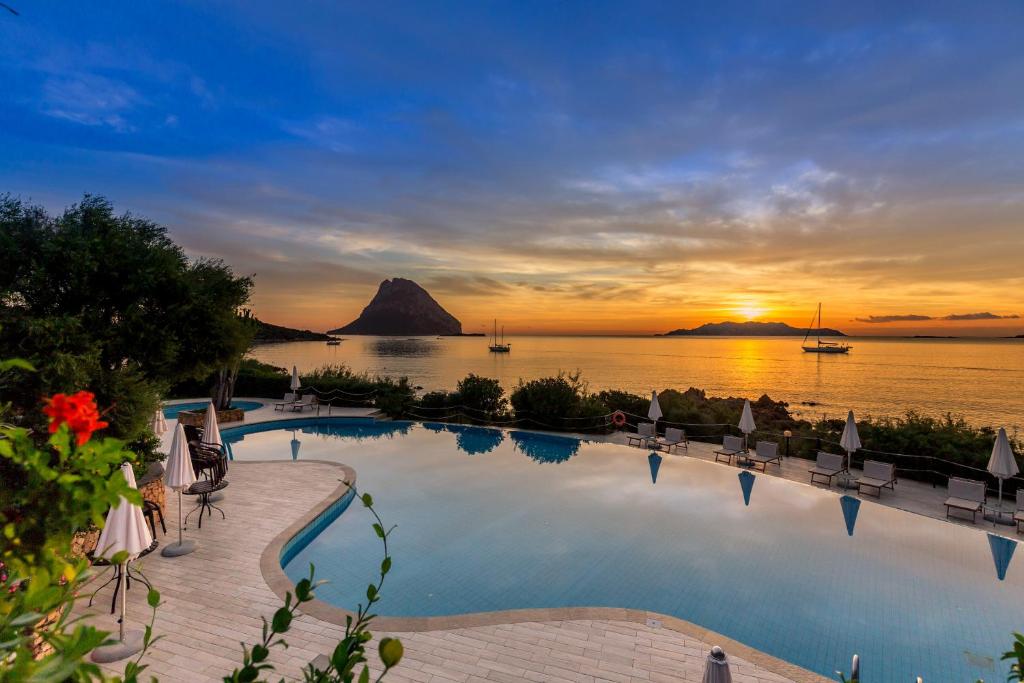 Hotel Don Diego in Porto San Paolo is a beautiful 4-star hotel located right on the coast of Sardinia, offering stunning views of the surrounding flower gardens, Costa Dorata Bay, and Tavolara Island. Set amidst 60,000 m² of lush green valley, this hotel provides a tranquil escape for all types of travelers. With its fully equipped private beach and convenient location just 12 km south of Olbia Airport, Hotel Don Diego is an ideal choice for those seeking a beachfront getaway. The hotel also offers free public parking, complimentary Wi-Fi in the business center, a fitness center, and a swimming pool with panoramic views. Guests can indulge in international and regional cuisine at the traditional restaurant while enjoying breathtaking vistas from the panoramic veranda overlooking Tavolara and Molara islands.
Pros:
– Scenic coastal location with splendid views
– Fully equipped private beach
– Free public parking and Wi-Fi
– Fitness center and swimming pool with panoramic views
– Traditional restaurant serving delicious buffet breakfasts and lunches with stunning vistas
Hotel Resort & Spa Baia Caddinas (Golfo Aranci)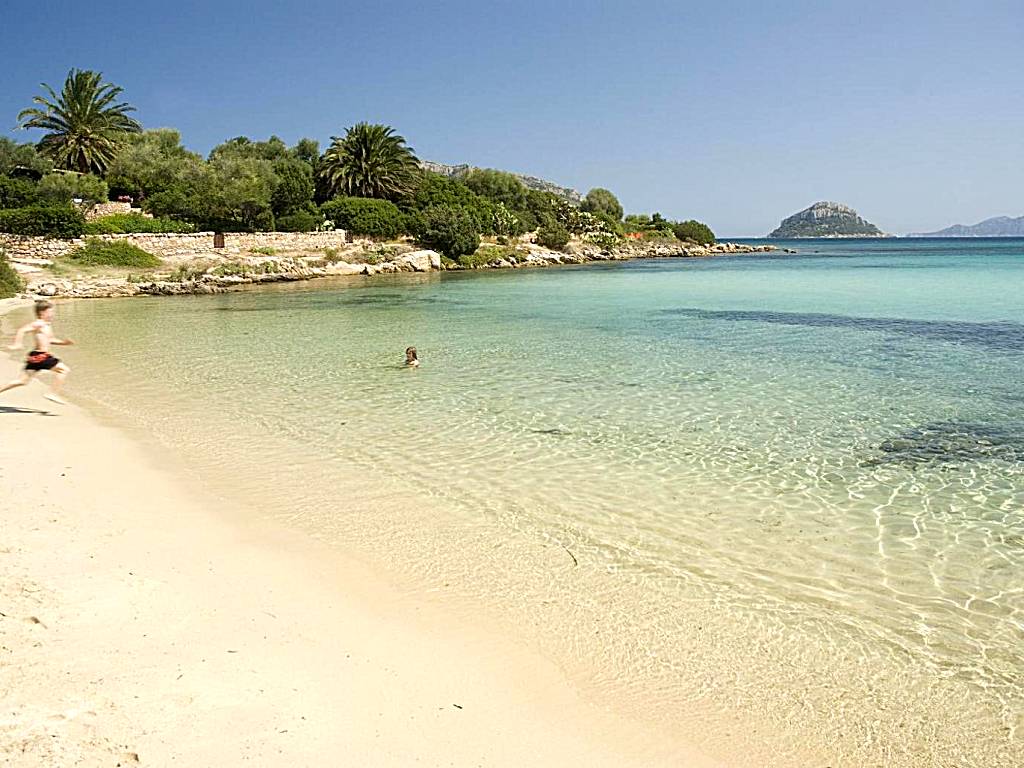 Located directly on the beach, the Hotel Resort & Spa Baia Caddinas offers a perfect seaside getaway. Surrounded by a cool garden with shady corners and a green lawn, guests can relax and enjoy the tranquil atmosphere. The modern hotel features a wide private beach with fine white sand and is conveniently located just 2 km from the port of Golfo Aranci and 20 km from Olbia's Costa Smeralda airport. For those looking for adventure, the hotel cooperates with a nearby diving center, organizing weekly diving and sailing tours to discover new beaches. The spacious and elegant lobby provides a relaxing environment with its comfortable sofas and beautiful garden view. Guests can indulge in international and Italian cuisine at the hotel's restaurant or unwind in the wellness center equipped with a sauna and gym facilities. Families traveling with children can rest assured as they will be entertained in the Kinny Baby Club, which caters to different age groups.
– Direct access to beach
– Beautiful garden surroundings
– Convenient location near port and airport
– Collaboration with nearby diving center for adventurous activities
– Family-friendly amenities such as Kid's Club
Romantic Beachfront Hotels in Sardinia
Sardinia offers breathtaking romantic beachfront hotels that provide an idyllic setting for couples seeking a luxurious getaway. With pristine sandy beaches, crystal-clear waters, and stunning sunsets, these hotels offer the perfect ambiance for romance and relaxation.
Hotel Stefania Boutique Hotel by the Beach
Hotel Stefania Boutique Hotel by the Beach is a charming 4-star boutique hotel located just 100 meters from Pittulongu Beach, offering guests a prime beachfront location with stunning views of Tavolara Island. The hotel's Moorish-style architecture adds to its unique charm and character. With its convenient proximity to Olbia, the harbor, and international airport, guests can easily explore the surrounding area. The hotel boasts a range of amenities including a large parking area, fitness center, and outdoor pool with terrace. For those looking to indulge in some beach relaxation, paid beach service is also available. Guests can enjoy delicious local dishes and seafood at the hotel's restaurant, NINO'S. The accommodation options consist of two buildings – the main house with 28 rooms featuring typical Sardinian furnishings and an independent Villa Stefania built in 2004 offering an additional 10 rooms with small balconies or gardens.
Pros:
– Prime beachfront location
– Charming Moorish-style architecture
– Range of amenities including fitness center and outdoor pool
– Delicious local dishes served at NINO'S restaurant
– Accommodation options that cater to different preferences
Grand Hotel Smeraldo Beach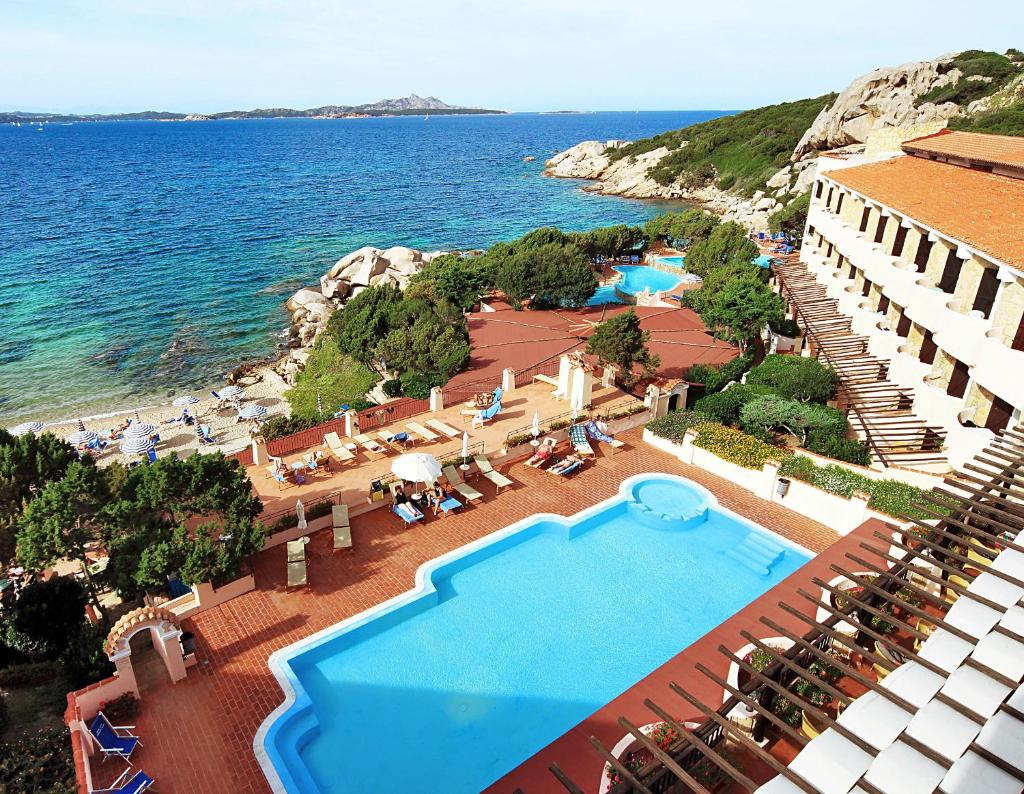 Located beside the mesmerizing blue waters and perched on a rocky outcrop, Grand Hotel Smeraldo Beach offers a remarkable beachfront experience. With several swimming pools leading down to the beach below, guests can immerse themselves in the beautiful setting and scenery. Whether relaxing by one of the hotel's many pools and admiring the breathtaking cliff-top views or taking a dip in the Mediterranean Sea from the private beach, this hotel provides an idyllic retreat. During summer, guests also enjoy complimentary access to deckchairs and sun umbrellas at both the beach and swimming pool. The terraces offer stunning views of Corsica as well as Tahiti and Caprera beaches. Indulge in refreshing beverages at one of the bars or on the patio area while basking in relaxation. For those seeking adventure, water sports are available at the nearby village's beach.
Pros:
– Multiple swimming pools for ultimate relaxation
– Stunning cliff-top views from various areas of the hotel
– Access to a private beach with complimentary deckchairs and sun umbrellas during summer
– Terraces provide picturesque vistas of Corsica, Tahiti beaches, and Caprera
– Close proximity to water sports activities at the village's beach
Hotel Luna Lughente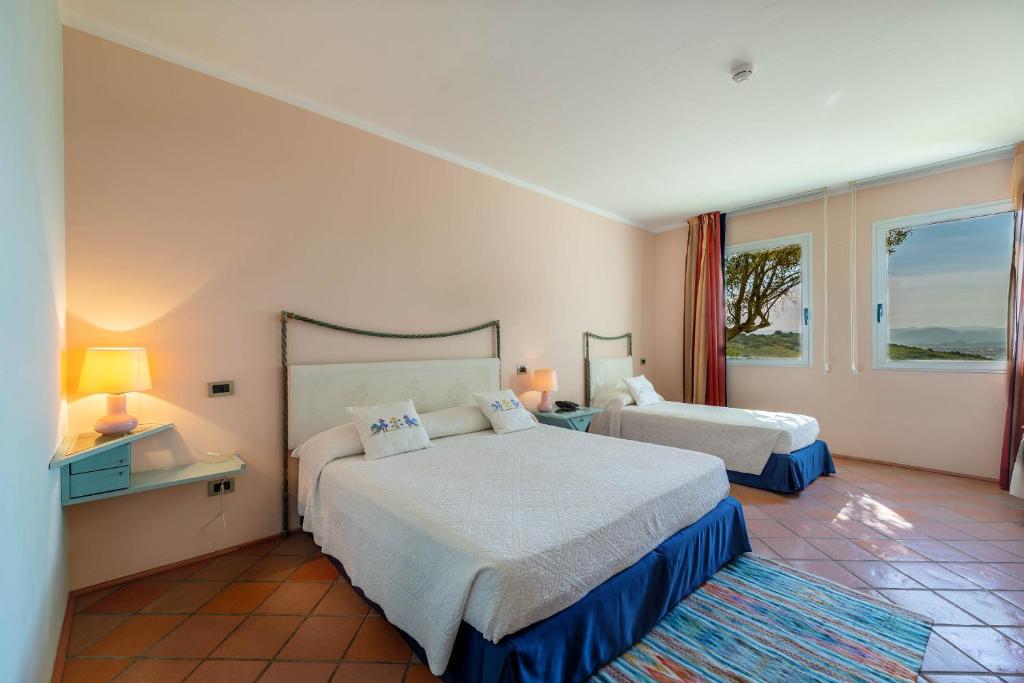 Hotel Luna Lughente is a stylish beachfront hotel located 2.5 km from the stunning beaches of Pittulongu and just 5 km from the vibrant city center of Olbia. Boasting a swimming pool and a garden with breathtaking panoramic views of the Gulf of Olbia, this hotel offers the perfect setting for guests to relax and unwind. The rooms at Luna Lughente feature a minimalist design with charming Mediterranean-style décor, as well as modern amenities such as free WiFi, air conditioning, satellite TV, and a minibar. Some rooms even offer private terraces and sea views. Guests can enjoy complimentary WiFi in the spacious lobby area which showcases beautiful wood-beamed ceilings and large windows that fill the space with natural light. The hotel's restaurant serves delectable Mediterranean cuisine, specializing in fresh fish dishes and homemade pasta. For those looking to indulge in some refreshing beverages or tasty ice creams with stunning sea views, the sea-view bar is the perfect spot to unwind after a day spent exploring Olbia's attractions. Conveniently located just a 10-minute drive from Olbia Costa Smeralda Airport, Hotel Luna Lughente also provides easy access to popular beach destinations such as Porto Cervo and Golfo Pevero which are both approximately 30 km away. During the bathing season, guests can take advantage of Luna Lughente's beach club on nearby Pittulongu beach where they will find exclusive sunbeds and umbrellas available for an additional fee.
Pros:
– Spectacular panoramic views of the Gulf of Olbia
– Stylish minimalist design with charming Mediterranean-style décor
– Complimentary WiFi throughout
– Delicious Mediterranean cuisine served at the on-site restaurant
– Close proximity to both beautiful beaches and lively city center
Beachfront Hotels Hotels in Sardinia With a Pool
Beachfront hotels in Sardinia with a pool offer the perfect combination of relaxation and luxury. With stunning views of the crystal-clear waters and direct access to the sandy shores, these hotels provide an idyllic escape from everyday life.
El Faro Hotel & Spa (Porto Conte)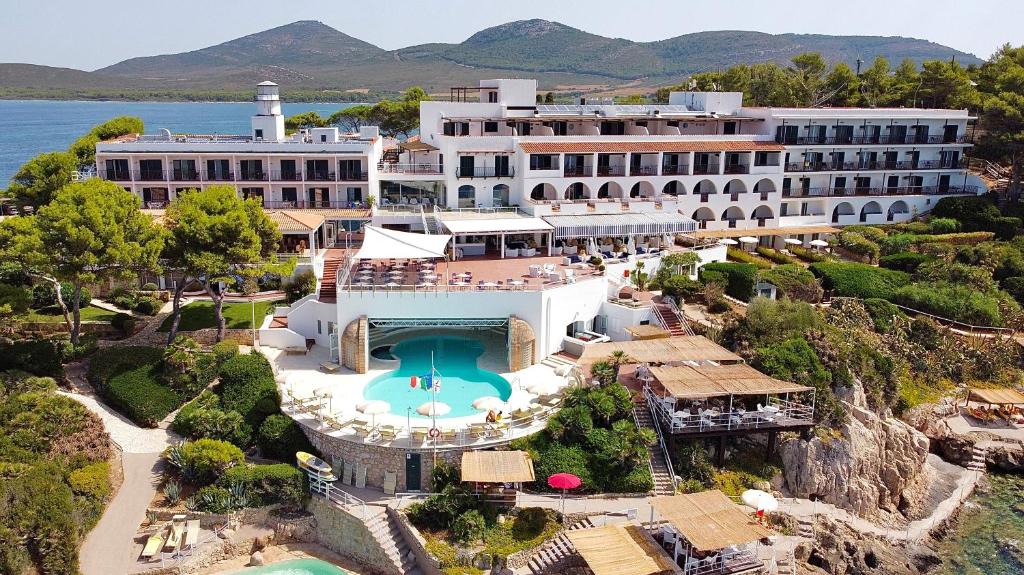 Located in Porto Conte, El Faro Hotel & Spa offers a stunning beachfront experience with breathtaking views of the Mediterranean Sea and Capo Caccia. The hotel boasts a stone terrace with parasols and sun loungers, an outdoor pool, and various leisure facilities. The spacious and comfortable rooms feature air conditioning, tiled floors, a radio, minibar, TV with satellite channels, and most offer a terrace or balcony overlooking the garden or sea. Guests can enjoy the gym and modern wellness center with sauna and steam bath, as well as relax in the spacious common areas that provide stunning sea views and free Wi-Fi access. The à la carte breakfast is served on the terrace overlooking the sea while the restaurant offers delicious Mediterranean cuisine for lunch and dinner. In the evening, live piano music accompanies drinks for a truly enchanting atmosphere. The hotel's staff is also available to organize trips and activities around Sardinia. Conveniently located about 20 minutes' drive from Alghero Airport and Alghero's historic center.
– Spectacular location overlooking the Mediterranean Sea
– Stone terrace with parasols and sun loungers on the beachfront
– Spacious rooms with air conditioning and terraces/balconies offering garden or sea views
– Modern wellness center featuring a sauna and steam bath
– Restaurant serving delicious Mediterranean cuisine accompanied by live piano music in evenings
Information about Beachfront Hotels in Sardinia
| | |
| --- | --- |
| 🏢 Number of Beach Hotels in Sardinia | 10 |
| 🥇 Average Review Score | 8.6/10 |
| 💰 High season average price | 1616 |
| 💸 Low season average price | 404 |
FAQ
Can you recommend a luxury beachfront hotel in Sardinia, Italy?
Certainly! One highly recommended luxury beachfront hotel in Sardinia is the Hotel Romazzino. Located on the stunning Costa Smeralda, this five-star property offers direct access to a private white sandy beach. With beautifully appointed rooms and suites, a spa, multiple dining options, and impeccable service, Hotel Romazzino provides an indulgent experience for guests seeking a luxurious beachfront getaway.
What are some activities available at beachfront hotels in Sardinia?
Beachfront hotels in Sardinia offer a wide range of exciting activities for guests to enjoy. From water sports such as snorkeling, diving, and paddleboarding to beach volleyball tournaments and yoga classes by the sea, there is no shortage of options to keep you entertained during your stay. Additionally, many hotels can arrange boat trips to explore nearby islands or provide recommendations for scenic coastal hikes.
Are there any all-inclusive beachfront hotels in Sardinia?
Yes, there are several all-inclusive beachfront hotels in Sardinia that offer a hassle-free vacation experience. One notable example is Forte Village Resort located near Cagliari. This expansive resort features multiple luxury accommodations situated along its own private stretch of sand. With all-inclusive packages covering meals and beverages as well as access to numerous amenities like pools, sports facilities, and entertainment shows – guests can truly relax and indulge without worrying about additional costs.
Which beaches near the city of Alghero have good hotel options?
The city of Alghero boasts several beautiful beaches where you can find excellent hotel options for your stay in Sardinia. Some top choices include Lido di Alghero Beach located just minutes from the city center which has various accommodation choices ranging from boutique hotels to larger resorts with fabulous sea views. Spiaggia Maria Pia is another popular option offering a pristine sandy beach and a few beachfront hotels providing direct access to the crystal-clear waters of the Mediterranean.
What are the best beachfront hotels for families in Sardinia?
Sardinia offers numerous family-friendly beachfront hotels that cater to the needs of both parents and children. One such hotel is Chia Laguna Resort located near Domus de Maria. This expansive resort features multiple accommodations, including family villas and suites, as well as a range of kid's clubs, sports activities, and pools suitable for all ages. With access to beautiful beaches just steps away from your room, Chia Laguna Resort provides an ideal setting for creating memorable vacation experiences with your loved ones.
Popular Beach Hotels destinations