Welcome to the enchanting world of oceanfront accommodations in Sarasota, USA. Nestled along Florida's stunning Gulf Coast, this coastal haven offers a plethora of luxurious seaside resorts and hotels that promise an unforgettable beach getaway. With its pristine white sands, crystal-clear turquoise waters, and breathtaking sunsets, Sarasota is a paradise for beach lovers craving idyllic coastal retreats.
Prepare to be captivated by the diverse range of beachfront accommodations available in Sarasota. From opulent resorts boasting panoramic ocean views to charming boutique hotels tucked away amidst swaying palm trees, every type of traveler can find their perfect oasis here. Whether you're seeking a romantic escape with your loved one or planning a fun-filled family vacation, these beachfront properties cater to all desires and offer exceptional amenities that redefine luxury by the sea.
Indulge yourself in world-class dining experiences overlooking the ocean or pamper your senses with rejuvenating spa treatments inspired by the sea breeze. Immerse yourself in water sports adventures like snorkeling or paddleboarding right at your doorstep. With an array of cultural attractions nearby including art galleries and museums showcasing local talent, there is no shortage of activities to complement your sun-soaked days on Sarasota's pristine shores.
Get ready to embark on an unparalleled beachfront experience as we unveil some of Sarasota's most exquisite seaside escapes. Join us as we explore these hidden gems where relaxation meets sophistication against the backdrop of endless waves lapping against golden sands.
The Best Sarasota Hotels By the Beach
The Capri at Siesta
Located just steps away from the beautiful white sand Siesta Key Beach in Siesta Key, Florida, The Capri at Siesta is a luxurious beachfront resort. The hotel offers villas with fully-equipped kitchens, air-conditioning, flat-screen cable TVs, and free Wi-Fi. Guests can relax by the heated outdoor pool or rent beach chairs and cabanas to enjoy a day on the beach. The hotel also features a courtyard garden with barbecue equipment for guests to use. With downtown Siesta Key just 3 miles away, guests have easy access to shopping and dining options. Additionally, popular attractions like Selby Botanical Gardens and Stoneybrook Golf Club are only a short drive from the hotel.
– Steps away from Siesta Key Beach
– Villas with fully-equipped kitchens
– Heated outdoor pool
– Free Wi-Fi
– Courtyard garden for relaxation
Hyatt Residence Club Sarasota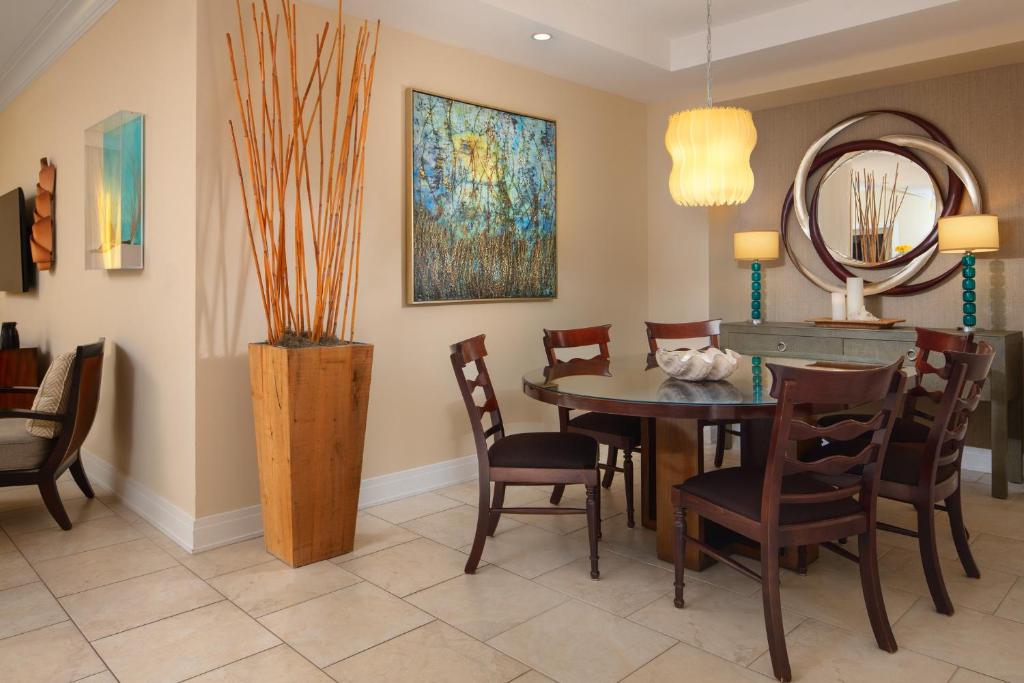 Located in Sarasota, just 2.6 km from Siesta Key Public Beach, Hyatt Residence Club Sarasota offers a luxurious beachfront experience. With a hot tub and a private beach area, guests can relax and enjoy their surroundings. The property is also conveniently situated near popular attractions such as Siesta Key and John and Mable Ringling Museum of Art. The hotel provides free private parking and offers spacious air-conditioned units with a seating and dining area, fully equipped kitchen, spa bath, and free WiFi. Additional amenities include a fitness centre, barbecue facilities, and a game area with shuffleboard and ping pong. The nearest airport is Sarasota Bradenton Airport, just 16 km away.
– Beachfront location
– Private beach area
– Spacious units with full kitchens
– Fitness centre on-site
– Game area with shuffleboard and ping pong
Cedar Cove Resort & Cottages (Holmes Beach)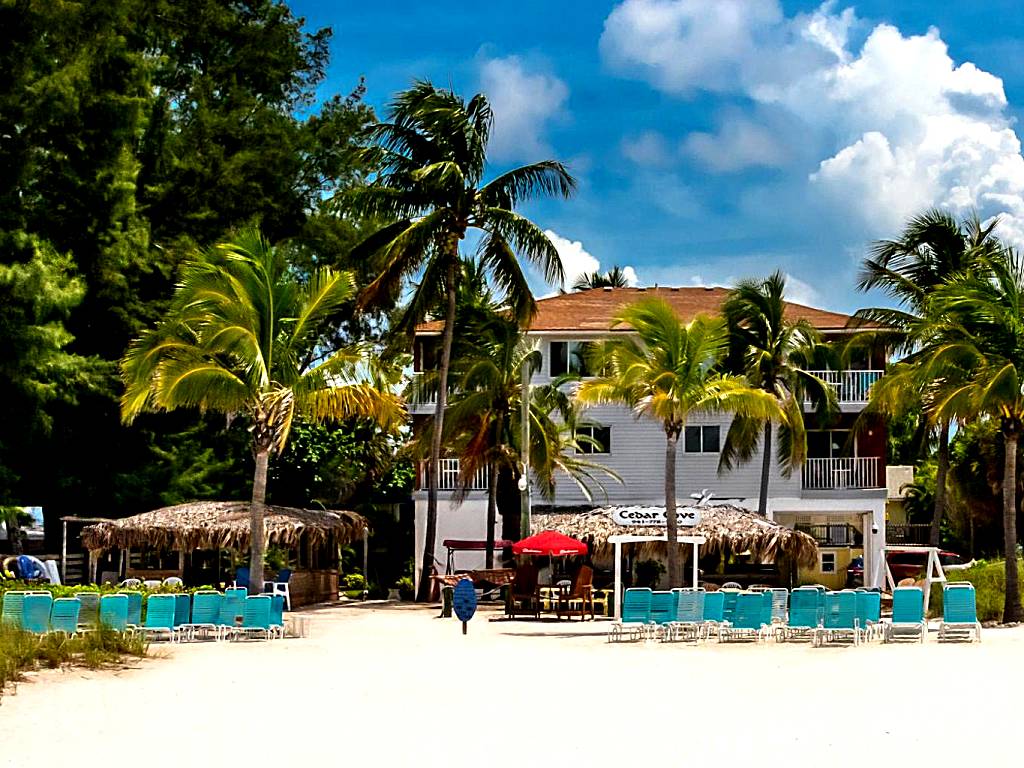 Located in Holmes Beach, just 200 meters from Bradenton Beach, Cedar Cove Resort & Cottages is a luxurious 4-star beachfront hotel that opened its doors in February 2021. This stunning resort offers a range of amenities including free WiFi, free bikes, and free private parking. The spacious guest rooms are beautifully furnished and feature air conditioning, a flat-screen TV with cable channels, a fridge, a coffee machine, and a private bathroom with free toiletries. Some rooms also offer balconies and sea views. Guests can enjoy water sports facilities, relax in the garden or on the terrace, or indulge in a delicious barbecue at the resort's on-site dining area. The hotel is conveniently located near popular attractions such as Anna Maria Island and The John and Mable Ringling Museum of Art. With its prime beachfront location and top-notch amenities, Cedar Cove Resort & Cottages is the perfect destination for travelers looking to enjoy a luxurious beach getaway.
– Prime beachfront location
– Free bikes for guests to explore the area
– Range of water sports facilities available
– Luxurious accommodations with stunning sea views
– Convenient access to popular attractions
Other places to stay in Sarasota
Hotels Near the Beach in Downtown Sarasota
Hotels near the beach in downtown Sarasota offer guests the perfect blend of urban convenience and coastal relaxation. With stunning ocean views just steps away, these accommodations provide an ideal base for travelers looking to soak up the sun and explore all that this vibrant city has to offer.
Suntan Terrace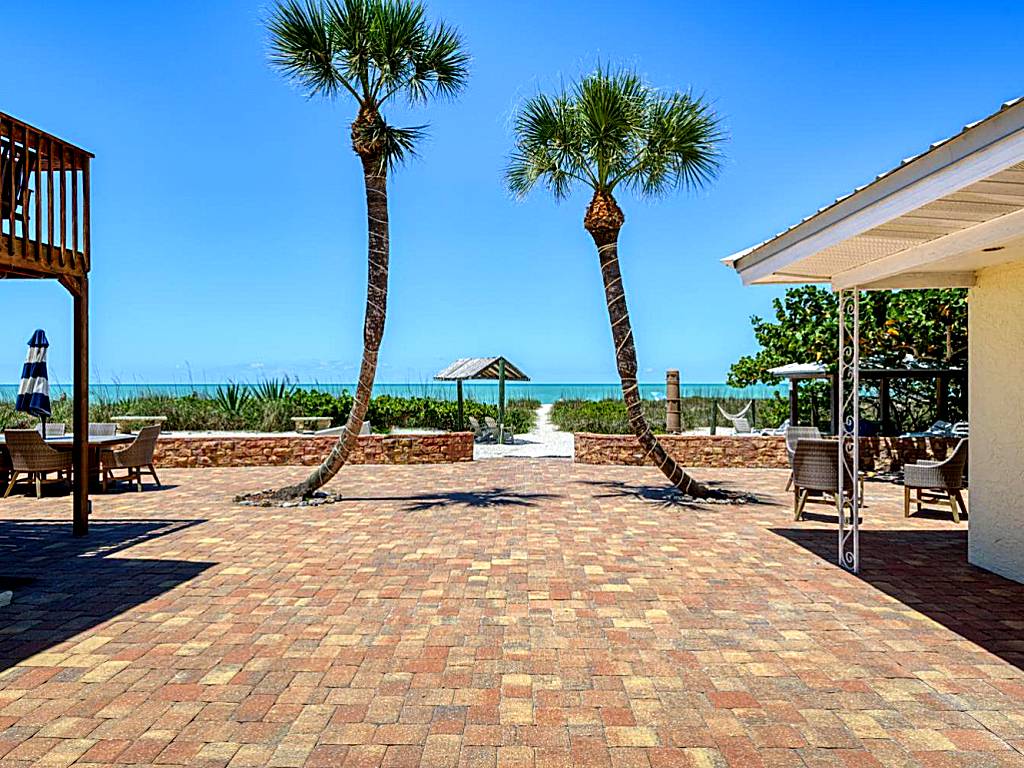 Suntan Terrace is a beachfront resort located in Nokomis, just a few steps away from the beautiful Nokomis Beach. With its outdoor swimming pool, free private parking, and serene garden and shared lounge areas, this resort offers a relaxing escape for guests. Additionally, the property boasts a private beach area and barbecue facilities for those who want to enjoy some fun under the sun. The rooms are fully equipped with modern amenities such as air conditioning, a flat-screen TV, coffee machine, fridge, microwave, safety deposit box, and a private bathroom with shower. Some rooms even come with a kitchen including a dishwasher and oven. Guests can also take advantage of free WiFi throughout the property. Fishing enthusiasts will love the popular fishing spots nearby while others can explore the area by renting bikes available at Suntan Terrace. The resort is conveniently located near attractions like North Jetty Beach and The John and Mable Ringling Museum of Art. Venice Theatre is also within reach at 4.9 km away while Warm Mineral Springs can be found 28 km from the property. For those traveling by air, Sarasota Bradenton International Airport is 42 km away.
– Prime beachfront location
– Outdoor swimming pool
– Private beach area
– Modern amenities in rooms
– Proximity to popular attractions
Lido Beach Resort – Sarasota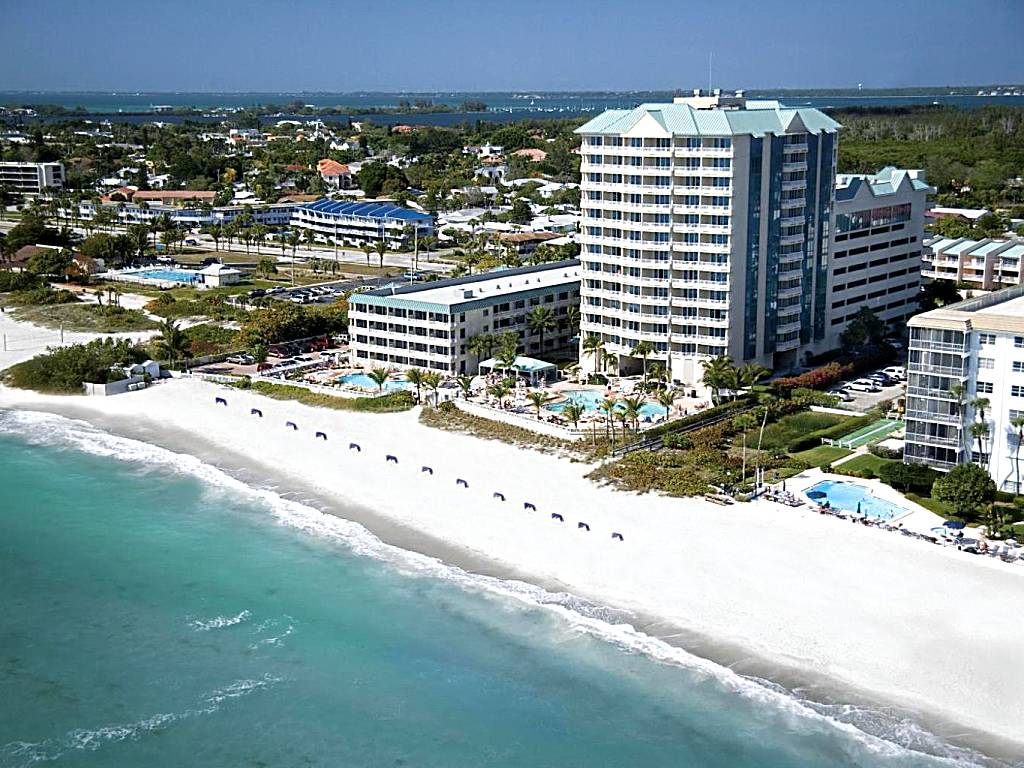 Located on Lido Key, the beachfront Lido Beach Resort offers a luxurious escape with 91 meters of private beach. Guests can enjoy free shuttle services to St. Armands Circle and can relax in their guest rooms equipped with a microwave, refrigerator, and coffee machine. Some rooms feature fully-equipped kitchenettes and breathtaking beach views. The resort boasts two beachfront pools – one for families and another exclusively for adults, as well as three hot tubs and a fitness center. Indulge in tropical cocktails at the Beachside Tiki Bar while soaking up the sun. With central Sarasota just a short drive away, guests have easy access to attractions such as Sarasota Jungle Gardens and Mote Marine Laboratory.
– Private beach with stunning ocean views
– Complimentary shuttle service to nearby St. Armands Circle
– Fully-equipped kitchenettes in most rooms
– Two beachfront pools; one for families, one for adults only
– Convenient location near Sarasota's top attractions
Information about Beachfront Hotels in Sarasota
| | |
| --- | --- |
| 🏢 Number of Beach Hotels in Sarasota | 5 |
| 🥇 Average Review Score | 9/10 |
| 💰 High season average price | 1956 |
| 💸 Low season average price | 489 |
FAQ
What are some of the best beachfront hotels in Sarasota?
Sarasota offers several amazing beachfront hotels that provide luxurious accommodations and stunning ocean views. Some of the top options include The Ritz-Carlton, Sarasota, which boasts a private white sand beach and world-class amenities such as a spa and golf course. Another popular choice is The Resort at Longboat Key Club, offering elegant rooms, multiple pools, and easy access to the beautiful Gulf Coast beaches.
Are there any budget-friendly beachfront hotels in Sarasota?
Yes, there are budget-friendly beachfront hotel options in Sarasota that offer comfortable stays without breaking the bank. One such option is Sandcastle Resort at Lido Beach, which features affordable rooms with ocean views and direct access to Lido Beach. Another option is Gulfside Motel, located on Siesta Key Beach and offering simple yet cozy accommodations at a more affordable price point.
What activities can I enjoy while staying at a beachfront hotel in Sarasota?
Staying at a beachfront hotel in Sarasota opens up numerous opportunities for fun and relaxation. You can soak up the sun on the pristine sandy beaches or take part in water sports like jet skiing or kayaking. Explore nearby attractions like Mote Marine Laboratory & Aquarium or visit St. Armands Circle for shopping and dining experiences. If you're feeling adventurous, consider taking a dolphin-watching cruise or chartering a fishing boat for an exciting day on the water.
Is it necessary to rent a car when staying at a beachfront hotel in Sarasota?
While having your own transportation can be convenient for exploring all that Sarasota has to offer beyond its beaches, it is not necessarily required if you plan to spend most of your time relaxing by the shore. Many beachfront hotels provide shuttle services or are within walking distance of restaurants and shops along the coast. Additionally, ridesharing services like Uber and Lyft are readily available in Sarasota, making it easy to get around if needed.
When is the best time to visit Sarasota for a beachfront hotel getaway?
Sarasota's beaches can be enjoyed year-round, but the best time to visit depends on personal preferences. The summer months from June to August offer warm temperatures and vibrant ocean life, perfect for swimming and water activities. Spring and fall seasons bring pleasant weather with fewer crowds, making it an ideal time for a peaceful beach vacation. Winter months are mild in Sarasota, attracting visitors seeking a quieter escape from colder climates.
Popular Beach Hotels destinations