Welcome to my latest guide on the exquisite seaside retreats in Sanur, Indonesia. Join me as we explore the captivating allure of beachfront accommodations nestled along the pristine coastline. Known for its tranquil ambiance and breathtaking beauty, Sanur offers an idyllic escape for those seeking solace amidst nature's grandeur. Prepare to embark on a journey where azure waters meet golden sands, and luxurious resorts beckon with their opulent offerings.
Indulge your senses in a symphony of relaxation as you immerse yourself in the serene atmosphere of these coastal havens. From boutique hideaways to sprawling resorts, each establishment boasts its own unique charm and character, promising an unforgettable experience tailored to your discerning tastes. Bask in the warm embrace of gentle sea breezes as you unwind by infinity pools that seem to merge seamlessly with the ocean beyond. Allow time to drift away as you sip refreshing cocktails at beachfront bars or surrender yourself entirely at lavish spa retreats that will transport you into a realm of pure bliss.
Embarking on this enchanting adventure through Sanur's beachfront hotels guarantees not just a memorable stay but a deeper connection with nature's wonders. So pack your bags, leave behind life's worries, and let this delightful destination engulf your heart with its alluring magic.
The Best Sanur Hotels By the Beach
Tandjung Sari Hotel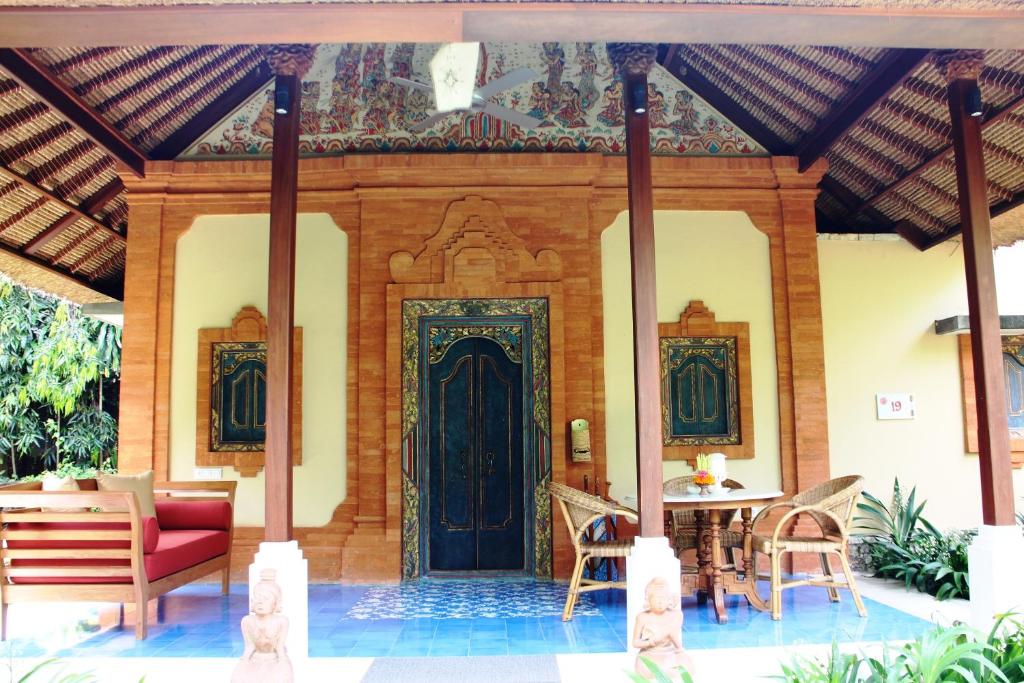 Located along Bali's picturesque Sanur Beach, Tandjung Sari Hotel offers a luxurious beachfront retreat just a short drive away from Denpasar City. The resort features a stunning outdoor pool with a sun deck and an open-air restaurant and bar serving delicious local and international cuisine. Guests can enjoy the traditional Balinese décor in the fully air-conditioned bungalows, which are shaded by tropical trees. Each room comes equipped with modern amenities such as a minibar, fridge, and seating area. The hotel also offers exclusive access to a 50-foot lap pool and a library filled with board games for guests to enjoy. Additional services include concierge assistance, laundry facilities, and twice-monthly classic Balinese dance performances during dinner. With its convenient location just 25 minutes away from Ngurah Rai International Airport, Tandjung Sari Hotel is the perfect destination for those seeking tranquility and luxury on their beach getaway.
– Beachfront location on Bali's Sanur Beach
– Beautiful outdoor pool with sun deck
– Authentic local and international dishes served at the open-air restaurant
– Traditional Balinese décor in fully air-conditioned bungalows
– Exclusive access to lap pool and library with board games available
Hotel Tugu Bali – CHSE Certified
Hotel Tugu Bali, a boutique hotel and CHSE Certified property, is a captivating oasis that tells the romantic tales, folklores, and legends of Indonesia. Situated in the heart of Canggu and steps away from Batu Bolong Beach, guests can immerse themselves in the vibrant surf culture while staying within close proximity to charming cafes, restaurants, and boutiques. The hotel itself exudes the essence of Bali with its extensive collection of Balinese and Indonesian antiques and artworks that beautifully narrate the island's rich history. Nestled within lush gardens, Hotel Tugu Bali boasts an outdoor pool and an award-winning Indonesian spa. Its themed restaurants offer a plethora of dining options, including traditional Indonesian cuisine highlighting regional specialties as well as international dishes and contemporary Japanese fare on the rooftop with breathtaking ocean views. Each suite is elegantly designed with Balinese & Javanese decor, featuring wooden furnishings and oversized spaces. Some suites offer access to private plunge pools or stunning garden or ocean views with separate in-room spa areas for ultimate relaxation. Additionally, guests can indulge in rejuvenating spa treatments deeply rooted in ancient traditions or partake in various activities organized by the 24-hour front desk & concierge service. On Thursday evenings, guests are treated to mesmerizing Balinese dance performances—an exclusive experience found only at Hotel Tugu Bali. With its exceptional luxury accommodations surrounded by cultural richness and natural beauty, this CHSE Certified hotel promises an unforgettable stay.
Pros:
– Proximity to Batu Bolong Beach
– Close to cafes, restaurants & boutiques
– Vast collection of Balinese & Indonesian antiques
– Themed-dining spaces offering diverse culinary experiences
– Luxurious suites with options for private plunge pools
Bali Garden Beach Resort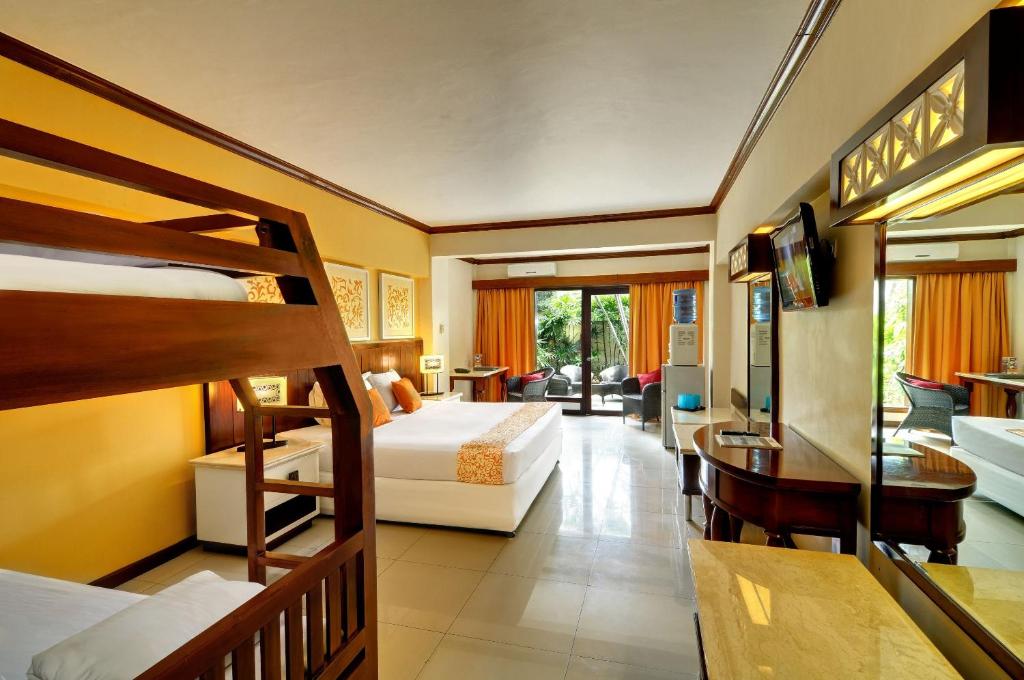 Bali Garden Beach Resort is a stunning beachfront resort located on South Kuta Beach. With spacious rooms offering beautiful views of the garden, ocean or Kuta, guests can truly immerse themselves in the natural beauty of Bali. The resort features three swimming pools and three dining options, including an award-winning restaurant serving a variety of Indonesian, Japanese and other Asian and Western dishes. Within walking distance, guests will find Kuta's lively array of restaurants, bars, spas and shops. For relaxation, the resort offers Tari Spa with a range of rejuvenating treatments such as aromatherapy massages and reflexology. With amenities like free WiFi access in public areas, a business centre and tour desk services available, guests are well catered to at this beachfront oasis.
– Spacious rooms with stunning views
– Three swimming pools for ultimate relaxation
– Award-winning restaurant serving delectable cuisine
– Close proximity to Kuta's lively attractions
– Tari Spa for rejuvenating treatments
Other places to stay in Sanur
Hotels Near the Beach in Downtown Sanur
Hotels near the beach in downtown Sanur offer the perfect combination of convenience and relaxation for beach lovers. With their prime location, visitors can enjoy easy access to pristine sandy shores, stunning ocean views, and a vibrant beachfront scene.
The Laguna
The Laguna is a luxurious beachfront resort located in Bali, offering guests a truly indulgent experience. The resort boasts seven large lagoon swimming pools and breathtaking views of the Indian Ocean. Surrounded by beautifully landscaped tropical gardens, the spacious accommodations come with around-the-clock butler service for added convenience. Guests can relax at the poolside Kul Kul Bar, De Bale Lounge & Bar, or Sapphire Lagoon Bar while enjoying signature cocktails and light refreshments. The rooms and villas feature wooden furnishings and flooring, as well as balconies with stunning views. The hotel's friendly concierge staff can arrange various recreational activities such as kite flying, sand sculpture, and water sports. For ultimate relaxation, guests can visit the Lagoon Spa which offers a range of beauty treatments. Free Wi-Fi is available throughout the property and there is also a fitness center for those looking to stay active. Additionally, guests have direct access to two small islands – Nusa Bagus and Nusa Peninsula – from the beach. Located just a 5-minute drive from Bali Collection Shopping Gallery and 20 minutes from Uluwatu Temple, The Laguna provides an ideal location for exploring the area's attractions. All-day dining is available at Banyubiru restaurant which serves Western and pan-Asian dishes while Arwana restaurant offers fresh seafood right on the beach.
Pros:
1) Stunning beachfront location
2) Beautifully landscaped gardens
3) Large lagoon swimming pools
4) Spacious accommodations with butler service
5) Variety of dining options serving delicious cuisine
Melia Bali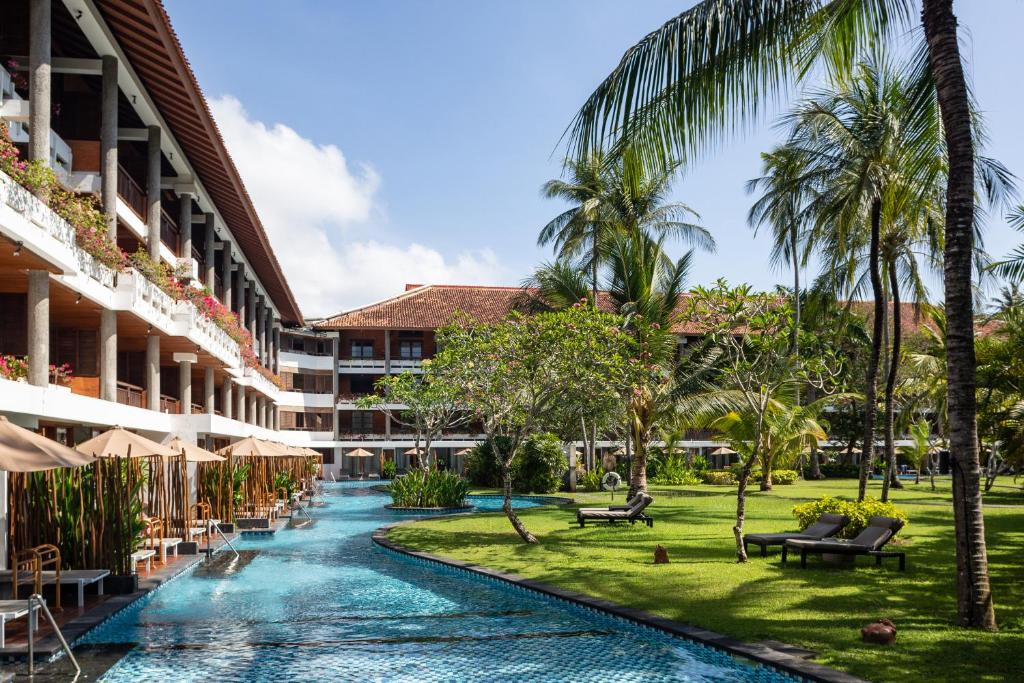 Located along the shores of Nusa Dua Beach, Melia Bali is a stunning beachfront resort that offers guests a luxurious and tropical getaway. The resort features a large lagoon swimming pool, beautifully landscaped gardens, and five restaurants serving a range of cuisines. The air-conditioned rooms are spacious and come with private balconies or terraces offering views of either the gardens or the pool. Guests can enjoy exclusive services through THE LEVEL service, which includes personalized experiences from arrival to departure. The resort also offers a wide range of complimentary activities such as canoeing, paddle surfing, archery, and daily kids activities. For those looking for relaxation, the YHI Spa provides various treatments in a serene setting. With its convenient location just 11 km from Ngurah Rai International Airport and its excellent amenities and services, Melia Bali is the ideal choice for travelers seeking an unforgettable beachfront experience.
– Beautifully landscaped gardens
– Large lagoon swimming pool
– Exclusive personalized experiences with THE LEVEL service
– Complimentary resort activities including canoeing and paddle surfing
– Convenient location near Ngurah Rai International Airport
Peneeda View Beach Hotel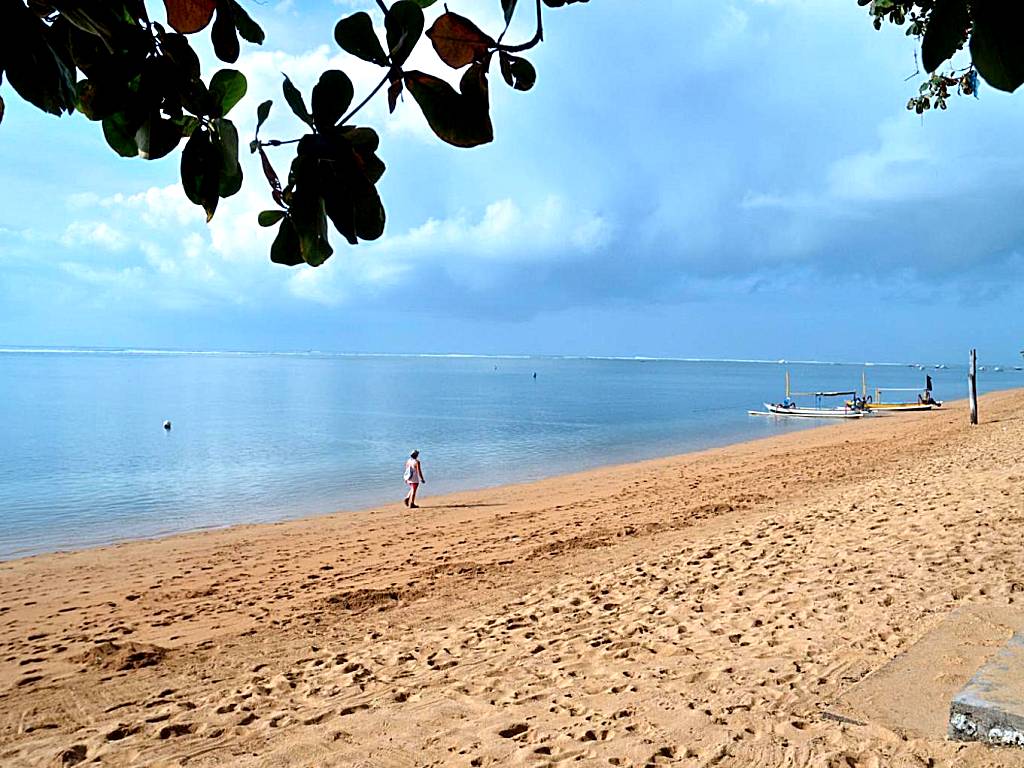 Located on the pristine white sands of Sanur Beach, Peneeda View Beach Hotel offers a tranquil getaway just a short 10-minute drive from Denpasar City. Surrounded by lush tropical gardens, this beachfront hotel boasts a private beach area and four outdoor pools for guests to enjoy. In addition to its picturesque setting, the hotel also offers massage services, a gift shop, and a tour desk for guests' convenience. The Lambongan Restaurant serves up delectable local and Western dishes, while the pool bar provides refreshing beverages. The rooms at Peneeda View are thoughtfully designed in traditional Balinese style, each equipped with modern amenities such as a TV, fridge, and safety deposit box. The private bathrooms come complete with hot and cold shower facilities for ultimate comfort. Guests can unwind at the music bar with live entertainment or find solace in the library while taking in the mesmerizing sea breeze. For those looking to explore further dining options, there is an array of roadside eateries within walking distance from the hotel. With Ngurah Rai International Airport located just 25 km away, Peneeda View Beach Hotel is easily accessible for travelers seeking an idyllic beachfront retreat.
– Tranquil location on Sanur Beach
– Private beach area
– Four outdoor pools
– Traditional Balinese-style rooms
– Close proximity to Ngurah Rai International Airport
Romantic Beachfront Hotels in Sanur
Sanur offers a wonderful selection of romantic beachfront hotels, perfect for couples seeking a serene getaway. These accommodations provide breathtaking ocean views and an idyllic setting for relaxation and romance.
The Oberoi Beach Resort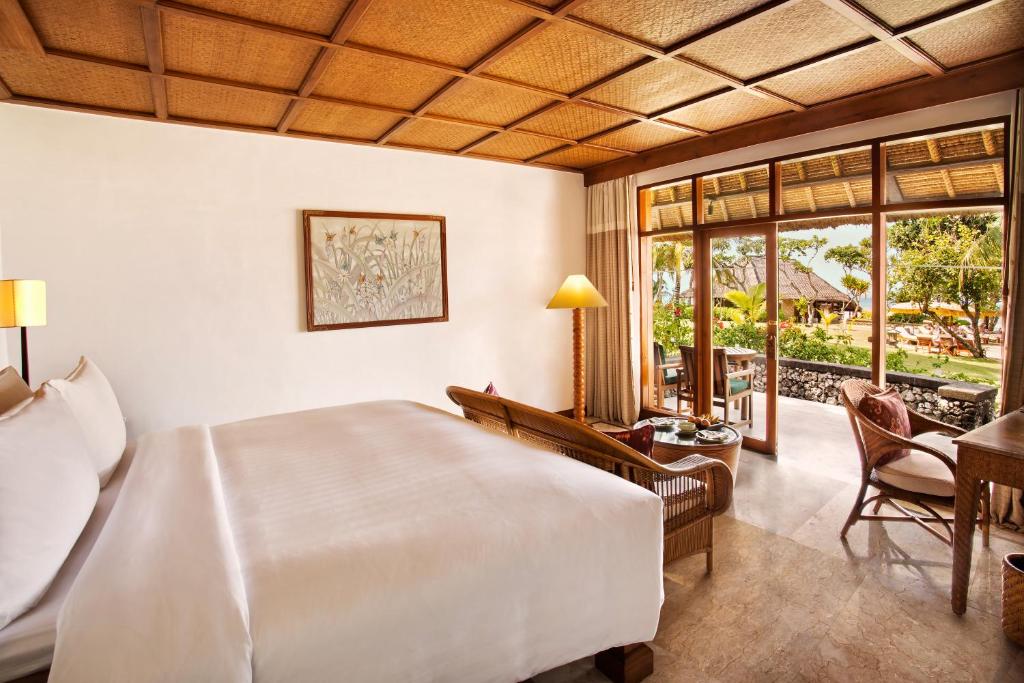 Located in the vibrant area of Seminyak, The Oberoi Beach Resort, Bali is a luxurious beachfront hotel that showcases traditional Balinese architecture amidst its 15-acre tropical gardens. With its prime location just steps away from Ku De Ta and a short distance from The Seminyak Square Shopping Mall, this resort offers guests an unforgettable stay. The outdoor pool provides stunning views of the ocean, while the Oberoi Spa features open-air massage pavilions and a range of beauty treatments. Each room is elegantly decorated with teak wood furnishings and comes equipped with modern amenities such as satellite TV, DVD player, and iPod dock. Guests can enjoy breakfast at the Frangipani Cafe or savor Indonesian, Asian, and Continental cuisines at Kura Kura. For evening entertainment, themed buffet dinners and live performances are held at The Amphitheatre. Kayu Bar offers a selection of cocktails with breathtaking views of the Indian Ocean. Other facilities include a tour desk and fitness center for guests to enjoy during their stay.
– Beautiful beachfront location in vibrant Seminyak
– Luxurious accommodations with traditional Balinese architecture
– Stunning outdoor pool overlooking the ocean
– Oberoi Spa offering relaxing massages and beauty treatments
– Wide range of dining options including themed buffet dinners
Grand Hyatt Bali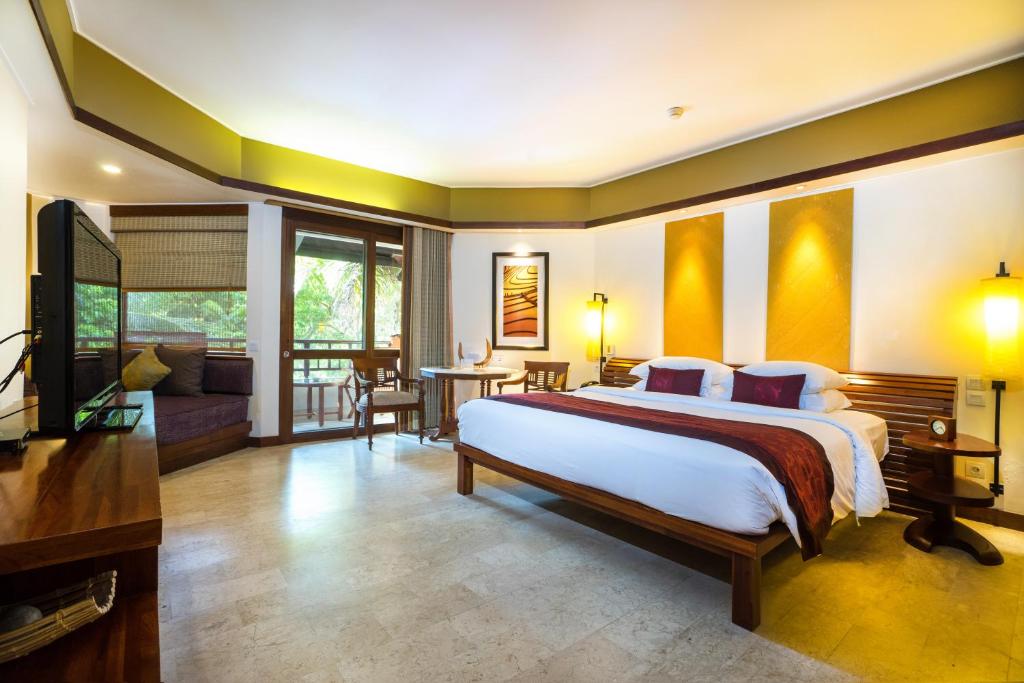 Located in the stunning beachfront area of Nusa Dua, Grand Hyatt Bali offers a luxurious getaway with its spacious rooms featuring private balconies. This impressive hotel boasts 5 outdoor pools, a well-appointed spa, and an array of dining options to satisfy every palate. The modernly decorated rooms are flooded with natural light and equipped with cable TV. Guests can indulge in the en suite bathroom stocked with batik robes, slippers, and complimentary amenities. With tennis courts, a fitness center, and water sports activities like diving and canoeing available on-site, there is never a dull moment at Grand Hyatt Bali. Additionally, guests can enjoy currency exchange services and bicycle rentals for exploring the surrounding area. For dining experiences that range from Italian cuisine at Salsa Verde Restaurant to Asian-European delights at Garden Café and authentic Balinese dishes at Watercourt Restaurant – this hotel truly caters to all tastes. Offering convenience as well as luxury, the property is just a 15-minute drive away from Ngurah Rai Airport and 30 minutes from Denpasar.
Pros:
– Spacious rooms with private balconies
– Multiple outdoor pools for relaxation or swimming
– Well-appointed spa offering indulgent treatments
– Array of dining options catering to various cuisines
– Convenient location near the airport for easy access
Prama Sanur Beach Bali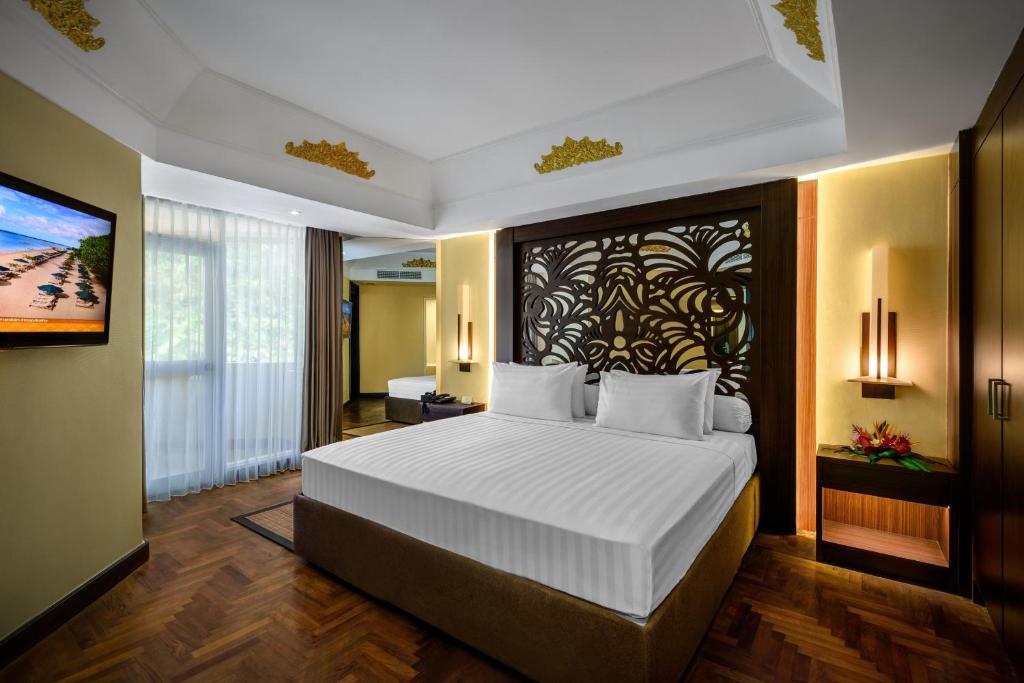 Situated directly on the sandy shores of Sanur Beach, Prama Sanur Beach Bali offers a luxurious beachfront retreat. The hotel features two outdoor pools and tennis courts for guests to enjoy, as well as 24-hour room service. Surrounded by 6 hectares of lush tropical gardens, the hotel also boasts pampering spa services and a well-equipped fitness center. Each spacious air-conditioned room at Prama Sanur Beach Bali is beautifully appointed with parquet flooring and modern amenities including a satellite TV and personal safe. Guests can relax on their private balcony while taking in the stunning views. The hotel is conveniently located just a 15-minute drive from Denpasar and a 25-minute drive from Ngurah Rai Airport, with free parking available for guests' convenience. Water sports activities are readily available on the beach, while beach volleyball courts and a Kid's Club provide additional entertainment options for families traveling with children. Dining options at Prama Sanur Beach Bali offer something for everyone, including international favorites and grilled seafood at the Tirta Poolside Restaurant, authentic Italian cuisine at Basilico Italian Pavilion & Bar, traditional Indonesian dishes at Lada Restaurant, and refreshing drinks served poolside at Bamboo Beach Bar. With free WiFi provided throughout the hotel, guests can stay connected during their stay.
Pros:
– Prime location directly on Sanur Beach
– Two outdoor pools for relaxation or swimming
– Pampering spa services available
– Wide range of dining options to suit various tastes
– Free WiFi provided throughout the hotel
Information about Beachfront Hotels in Sanur
| | |
| --- | --- |
| 🏢 Number of Beach Hotels in Sanur | 9 |
| 🥇 Average Review Score | 8.6/10 |
| 💰 High season average price | 416 |
| 💸 Low season average price | 104 |
FAQ
What are some of the best beachfront hotels in Sanur, Indonesia?
Sanur offers a range of luxurious beachfront hotels that cater to different budgets and preferences. Some of the top options include Maya Sanur Resort & Spa, a stunning property with private pool villas and direct access to the beach
Which hotels in Sanur have private pools?
If you're looking for a hotel with private pools in Sanur, there are several options available. Maya Sanur Resort & Spa features spacious pool villas with their own plunge pools, perfect for relaxation in privacy. Sudamala Suites & Villas also offers luxurious accommodations with private swimming pools overlooking the beach. Another great choice is Kamuela Villas & Suites Sanur, where guests can enjoy their own villa complete with a refreshing private pool.
Are there any family-friendly beachfront hotels in Sanur?
Yes, there are many family-friendly beachfront hotels in Sanur that offer comfortable accommodations and various amenities suitable for children. Griya Santrian is a popular choice among families due to its spacious rooms and kid's club activities. Peneeda View Beach Hotel provides family rooms as well as a children's playground on-site. Artotel Beach Club is another option that features an infinity pool overlooking the ocean along with modern facilities catering to families.
What activities can I enjoy while staying at a beachfront hotel in Sanur?
Staying at a beachfront hotel in Sanur opens up numerous opportunities for exciting activities. You can indulge in water sports such as snorkeling or diving to explore vibrant coral reefs teeming with marine life. Take leisurely walks along the sandy beaches and admire beautiful sunrise or sunset views. Sanur Beach is also known for its cycling path, so renting a bicycle and exploring the area's scenic surroundings is another great option.
What are some popular dining options near beachfront hotels in Sanur?
Sanur offers a diverse culinary scene with many dining options located near beachfront hotels. For seafood lovers, restaurants like Warung Mak Beng and The Village provide fresh catches of the day prepared in local flavors. Casablanca Sanur offers an elegant setting with international dishes on their menu. If you're looking for a laid-back atmosphere, Massimo Italian Restaurant is renowned for its wood-fired pizzas and homemade gelato that can be enjoyed right by the beach.
Popular Beach Hotels destinations