Welcome to the enchanting shores of San Juan, Puerto Rico! Nestled along the sun-kissed coastline, this vibrant city boasts a plethora of beachfront accommodations that will leave you dazzled. From opulent resorts offering panoramic ocean views to charming boutique hotels just steps away from the sandy beaches, San Juan has something for every discerning traveler seeking a blissful coastal getaway.
Immerse yourself in the rich history and culture as you explore the cobblestone streets of Old San Juan, or indulge in delectable cuisine at one of the many waterfront restaurants overlooking turquoise waters. Whether you are yearning for a tranquil retreat or an action-packed adventure, San Juan offers an array of beachfront hotels that cater to your every desire. Sink your toes into golden sands and let the soothing sounds of crashing waves lull you into relaxation at these idyllic sanctuaries by the sea.
Experience unparalleled luxury as you unwind at one of San Juan's premier seaside resorts. Indulge in pampering spa treatments while overlooking azure horizons or soak up rays on private balconies with endless vistas. For those seeking a more intimate ambiance, discover hidden gems among the captivating guesthouses nestled along pristine stretches of coastline. With their authentic charm and personalized service, these boutique establishments offer an oasis-like escape where serenity meets paradise.
So pack your bathing suits and sunglasses – it's time to embark on a breathtaking journey through San Juan's most exquisite beachfront accommodations!
The Best San Juan Hotels By the Beach
La Concha Renaissance San Juan Resort
La Concha Renaissance San Juan Resort is a 4-star beachfront hotel that offers a luxurious and relaxing experience. With its outdoor infinity pool overlooking Condado Beach, guests can enjoy breathtaking views while taking a dip or lounging on the sundeck. The resort also features a 24-hour casino for those feeling lucky, as well as several fine dining restaurants to satisfy any culinary craving. The guestrooms at La Concha are spacious and beautifully decorated, offering private sea view balconies with floor-to-ceiling windows. Each room is equipped with modern amenities such as flat-screen smart TVs, iPod docking stations, and work desks. Guests can stay active at the fitness center which offers cardio equipment and free weights or explore the area using the complimentary bike rental service. Whether dining at one of the onsite restaurants or enjoying a meal in the privacy of their own room, guests will find delicious options to suit their preferences. It's worth noting that breakfast is included for two people in the rate. Overall, La Concha Renaissance San Juan Resort provides an exceptional beachfront experience with its stunning views, comfortable accommodations, and array of amenities.
– Outdoor infinity pool overlooking Condado Beach
– 24-hour casino for entertainment
– Fine dining restaurants on-site
– Spacious guestrooms with private sea view balconies
– Complimentary bike rental for exploring the area
Courtyard by Marriott Isla Verde Beach Resort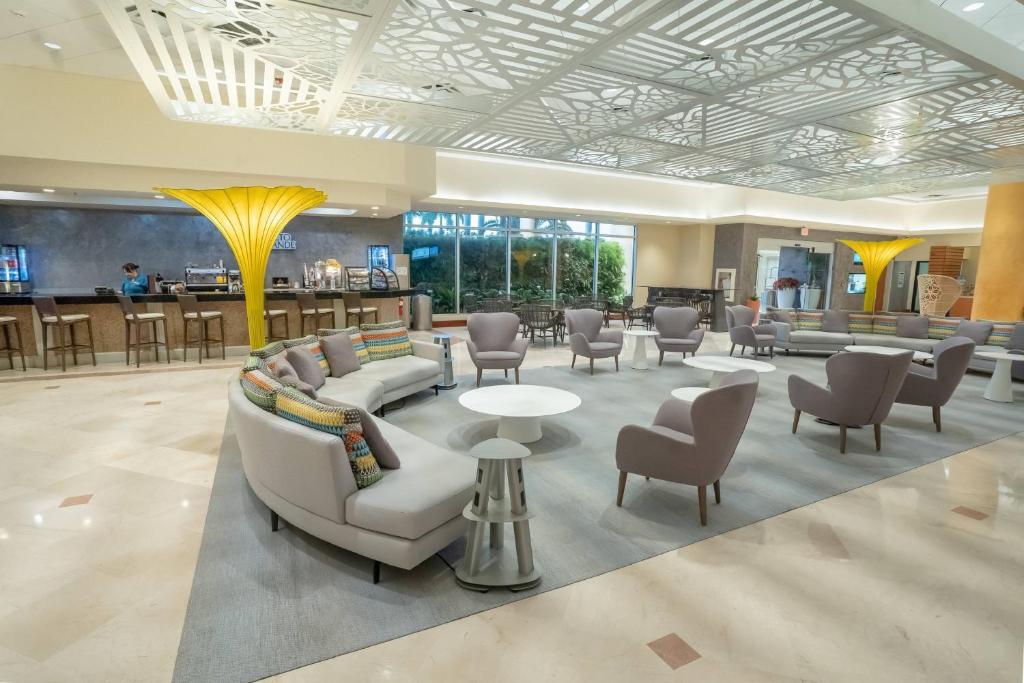 Located on the beautiful Isla Verde Beach in San Juan, Courtyard by Marriott Isla Verde Beach Resort offers guests an extraordinary beachfront experience. The resort features luxurious rooms with private balconies boasting stunning ocean views. With amenities such as outdoor pools, a 24-hour casino, and free WiFi in the pool and beach areas, guests are sure to enjoy their stay. The air-conditioned rooms are bright and airy thanks to floor-to-ceiling windows, and each room is equipped with a mini-fridge, flat-screen TV, and DVD player. Indulge in delicious treats at the Bananas Ice Cream Parlor or savor fresh seafood at Sirene Restaurant. For entertainment and refreshing cocktails, head to Picante Lounge where live music sets the mood. Stay active in the fitness room or take part in weekly salsa dancing classes. Other convenient facilities include an on-site cash machine and laundry/dry cleaning services. With wedding and meeting facilities available, this resort caters to all types of occasions. Conveniently located just 1 mile from San Juan Airport and 6.5 miles from Plaza Las Americas Shopping Center.
– Private balconies with full or partial ocean views
– Outdoor pools for relaxation
– Free WiFi in pool and beach areas
– On-site casino for entertainment
– Weekly salsa dancing classes
Andalucia Guest House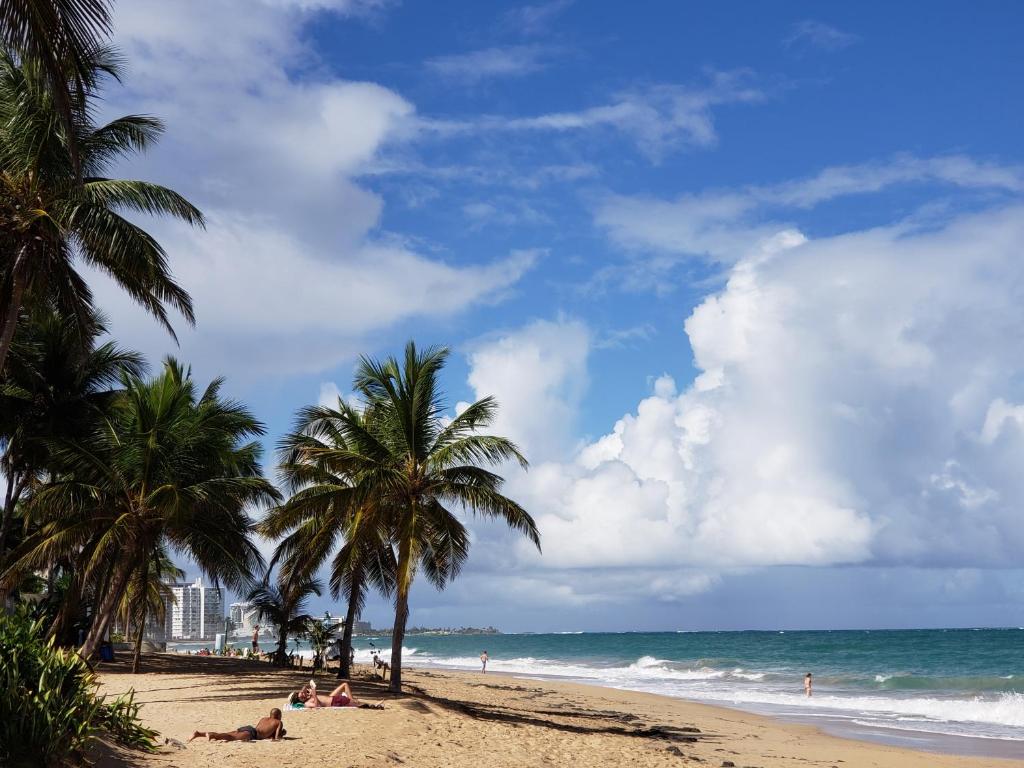 Andalucia Guest House is a charming beachfront hotel located in the Ocean Park district of San Juan. It offers free WiFi throughout the property and complimentary private parking on a first come first served basis. The rooms are equipped with flat-screen TVs and have private bathrooms with either a bath or shower. The hotel is just 300 meters away from Ocean Park Beach and 500 meters from Barbosa Park. Luis Munoz Marin International Airport is also conveniently located just 5 km away.
– Free WiFi throughout the property
– Complimentary private parking
– Close proximity to Ocean Park Beach and Barbosa Park
– Convenient location near Luis Munoz Marin International Airport
Other places to stay in San Juan
Hotels Near the Beach in Downtown San Juan
Hotels near the beach in downtown San Juan offer a convenient location for travelers looking to enjoy both the vibrant city life and the stunning beachfront. With easy access to shops, restaurants, and attractions, these hotels provide a perfect base for exploring all that San Juan has to offer.
San Juan Marriott Resort and Stellaris Casino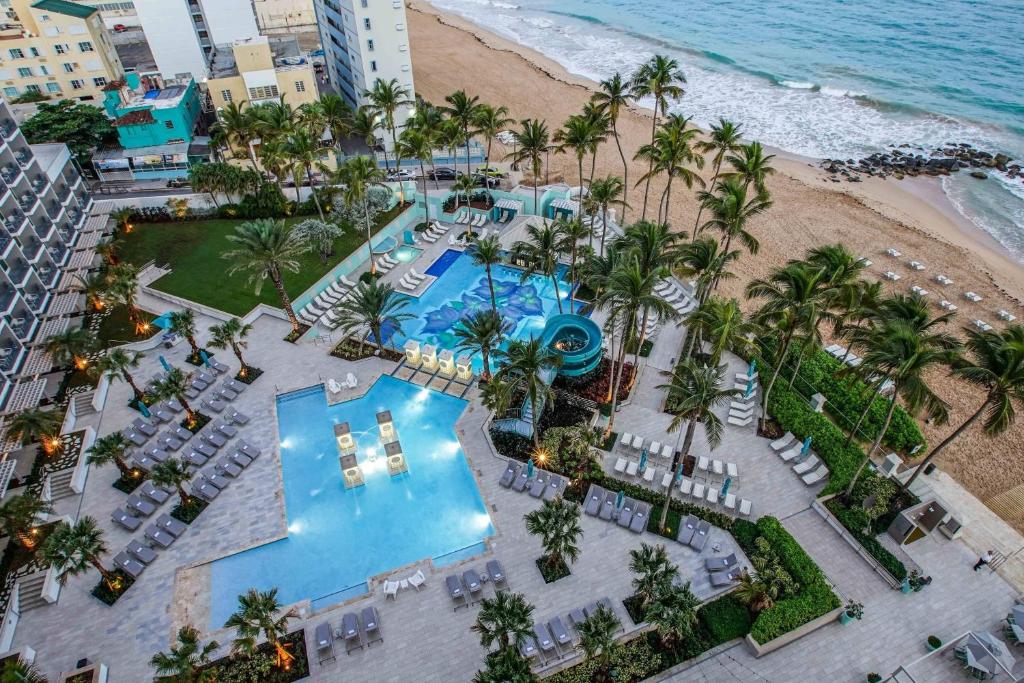 The San Juan Marriott Resort and Stellaris Casino is a luxurious beachfront hotel located directly on Condado Beach in San Juan, Puerto Rico. Guests can enjoy stunning ocean views while lounging by the resort's oceanfront swimming pool or trying their luck at the on-site casino. The hotel also offers convenient amenities such as a 24-hour fitness center with modern equipment, spa services, and business facilities. The guest rooms are elegantly appointed with WiFi, 32-inch LCD TVs, balconies, mini-refrigerators, coffee makers, and plush bedding. The upscale bathroom features floor-to-ceiling windows and upscale amenities. Dining options include buffet-style meals at Gingambo throughout the day or enjoying a cocktail and meal at Red Coral Lounge. For guests on the go, La Panaderia offers take-out snacks and local coffee. With its prime location just a 10-minute drive from San Juan Luis Munoz Marin International Airport, this resort is an ideal destination for beach lovers seeking luxury and convenience.
– Stunning oceanfront location
– On-site casino for entertainment
– Modern fitness center and spa services available
– Upscale amenities in guest rooms for ultimate comfort
– Convenient dining options including buffet-style meals throughout the day
DREAMCATCHER by DW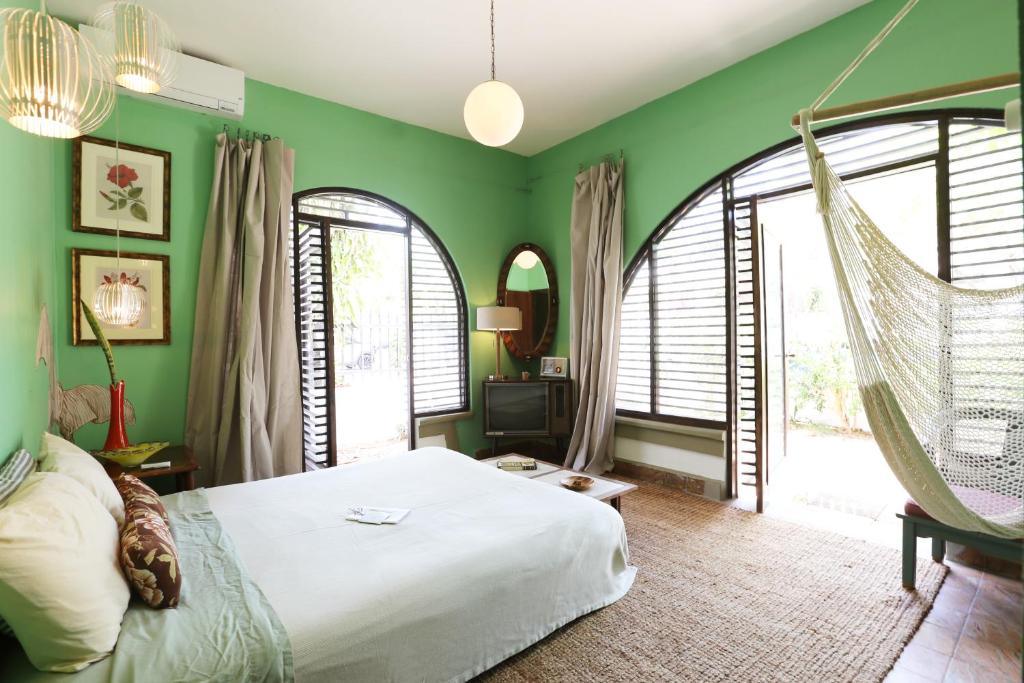 Located on the beach in the gated community of Ocean Park, DREAMCATCHER by DW is a charming boutique hotel that offers a unique and peaceful experience. This vegetarian property not only provides comfortable accommodations but also features on-site yoga and meditation classes for guests to unwind and rejuvenate. The house itself is beautifully decorated with vintage furniture and collectibles, creating a cozy and nostalgic atmosphere. Each bright room is air-conditioned and comes with its own Dreamcatcher, while suites also boast private bathrooms and terraces. In addition, guests have access to a fully equipped shared kitchen, a dining room, and a spacious terrace with rocking chairs where they can relax and enjoy the ocean breeze. The hotel's tropical garden, filled with dozens of Buddhas, adds to the tranquil ambiance. Conveniently located just minutes away from shops, restaurants, bars, as well as popular attractions like Old San Juan and Plaza Las Americas Shopping Centre, DREAMCATCHER by DW offers both comfort and convenience for an unforgettable stay.
– Prime beachfront location in a gated community
– On-site yoga and meditation classes available
– Beautifully decorated rooms with vintage furniture
– Fully equipped shared kitchen for added convenience
– Tranquil tropical garden protected by dozens of Buddhas
Information about Beachfront Hotels in San Juan
| | |
| --- | --- |
| 🏢 Number of Beach Hotels in San Juan | 5 |
| 🥇 Average Review Score | 8.6/10 |
| 💰 High season average price | 378 |
| 💸 Low season average price | 94.5 |
FAQ
Can you recommend a beachfront hotel in San Juan, Puerto Rico?
One of the top beachfront hotels in San Juan, Puerto Rico is The Condado Plaza Hilton. It offers stunning ocean views, direct access to the beach, and luxurious amenities such as multiple swimming pools, a full-service spa, and several on-site restaurants. It's also conveniently located near popular tourist attractions and nightlife options.
What are some popular activities to do near the beachfront hotels in San Juan?
There are plenty of activities to enjoy near the beachfront hotels in San Juan. You can take a leisurely stroll along the beautiful beaches of Isla Verde or Condado, go snorkeling or scuba diving to explore vibrant coral reefs, try your luck at nearby casinos if you're feeling adventurous or simply relax by the poolside with a refreshing cocktail.
Are there any family-friendly beachfront hotels in San Juan?
Absolutely! One great option for families is Caribe Hilton. This beachfront hotel not only offers spacious accommodations but also has an on-site water park with slides and pools for kids to enjoy. Additionally, they have a Kids' Club that organizes supervised activities and games so parents can have some time for themselves while knowing their children are having fun in a safe environment.
What dining options can I find at the beachfront hotels in San Juan?
You'll be spoiled for choice when it comes to dining at the beachfront hotels in San Juan. From casual seafood shacks offering fresh local catches to upscale restaurants serving gourmet cuisine with breathtaking ocean views – there's something for every palate. Some notable options include Oceano Restaurant known for its innovative Caribbean fusion dishes and Pikayo helmed by celebrity chef Wilo Benet.
Which beachfront hotel in San Juan offers all-inclusive packages?
If you're looking for an all-inclusive experience along with your stay at a beachfront hotel in San Juan, The Ritz-Carlton San Juan is a top choice. This luxury resort offers all-inclusive packages that include meals, beverages, recreational activities, and even access to their exclusive Club Lounge. It's a great option for those who want to indulge in a worry-free vacation experience.
Popular Beach Hotels destinations