Welcome to our guide on the finest beachside accommodations in St Pete Beach, USA. If you're seeking a serene seaside getaway, look no further than this delightful coastal destination. Nestled along the glittering shores of the Gulf of Mexico, St Pete Beach boasts an array of luxurious hotels that offer a perfect blend of relaxation and indulgence.
Picture yourself waking up to breathtaking ocean views right from your room's window or strolling barefoot along the powdery white sands just steps away from your hotel. Whether you're lounging by the infinity pool, savoring delicious cuisine at waterfront restaurants, or unwinding with a rejuvenating spa treatment overlooking the waves, these beachfront retreats are designed to provide an idyllic escape for all travelers.
Indulge in ultimate luxury as you bask under the warm Florida sun and let your worries melt away with each gentle breeze. With impeccable service and top-notch amenities at every turn, prepare to experience true bliss during your stay in St Pete Beach's premier oceanfront hotels.
The Best St Pete Beach Hotels By the Beach
The Don CeSar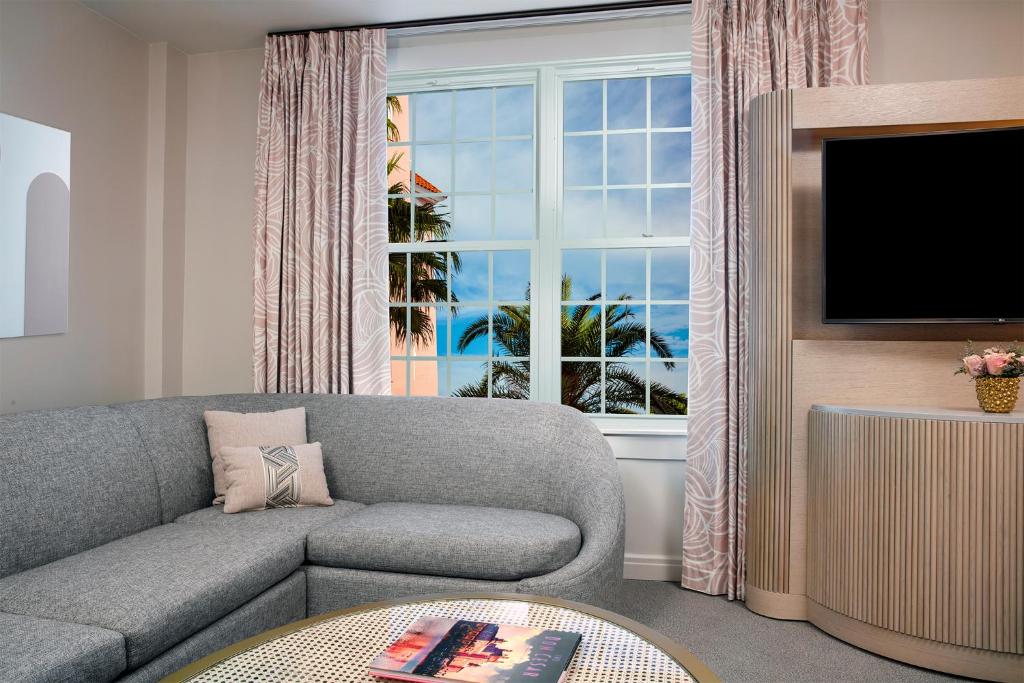 Nicknamed The Pink Palace for its pink façade and grandeur architecture, The Don CeSar has been a beloved beachfront hotel since 1928. Located in St. Pete Beach, Florida, this iconic hotel offers guests a luxurious experience with its two heated pools, three lounges, and stunning beachfront location. Guests can indulge in relaxation at SpaOceana or participate in beach yoga sessions. For those seeking adventure, jet ski rentals are available right at the hotel. Each room is elegantly appointed and includes modern amenities such as a flat-screen cable TV, desk, tea- and coffee-making facilities, and a private bathroom. Some rooms even offer breathtaking views of the Gulf of Mexico or city from their own private balcony or patio. In addition to the exceptional accommodations, The Don CeSar also provides various shops, concierge service, weekday dry cleaning services, and a 24-hour fitness center for guests' convenience. Food enthusiasts will delight in the culinary offerings at the hotel's dining establishments. Maritana Grille serves up delicious dishes made with locally-sourced ingredients while offering stunning saltwater aquarium views. The Sea Porch offers comfort-food menus for breakfast, lunch, and dinner. And for those looking to satisfy their sweet tooth cravings or enjoy a quick bite to eat on-the-go can visit Uncle Andy's Ice Cream Parlor which offers lite breakfast fare along with Starbucks coffee and decadent ice creams! With its prime location near popular attractions like The Dalí Museum showcasing Salvador Dalí's artistry and Fort De Soto Park offering historic charm; guests staying at The Don CeSar will have plenty of opportunities for exploration nearby! Additionally Tropicana Field is just a short drive away making it easy to catch an exciting baseball game during your stay! For those who appreciate nature's beauty can visit Sunken Gardens which showcases over 50k tropical plants located only 17.5km away. The Don CeSar is truly a luxurious beachfront retreat that offers the perfect blend of relaxation and adventure for its guests.
Bungalow Beach Resort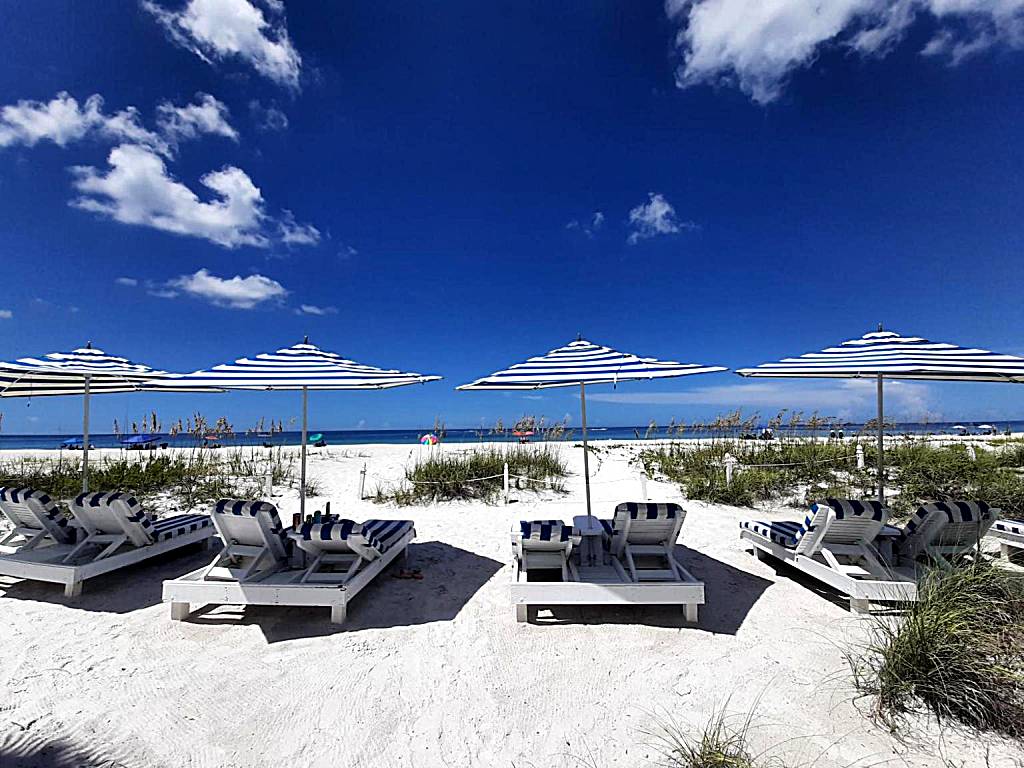 The Bungalow Beach Resort is a beachfront property offering guests a luxurious and relaxing stay. With an outdoor pool and free Wi-Fi access, guests can enjoy the sun and sand while staying connected. The resort is conveniently located just 1 km away from the City of Bradenton Beach, where visitors can explore local shops and restaurants. For those looking to explore the waters, Bradenton Beach Marina is only a 4-minute drive away. History buffs will appreciate being just a short 13-minute drive from the Anna Maria Island Historical Society. Each room at Bungalow Beach Resort features a flat-screen cable TV, refrigerator, coffee maker, and private en suite bathroom for ultimate comfort and convenience. The resort also offers free parking for guests' ease of travel, as well as air conditioning and heating on-site to ensure maximum comfort no matter the weather. Nature lovers won't want to miss out on visiting Palma Sola Botanical Park, located just 13.6 km away.
– Outdoor pool for refreshing swims
– Free Wi-Fi access to stay connected
– Convenient location near City of Bradenton Beach
– Close proximity to Anna Maria Island Historical Society
– Comfortable rooms with various amenities
Sheraton Sand Key Resort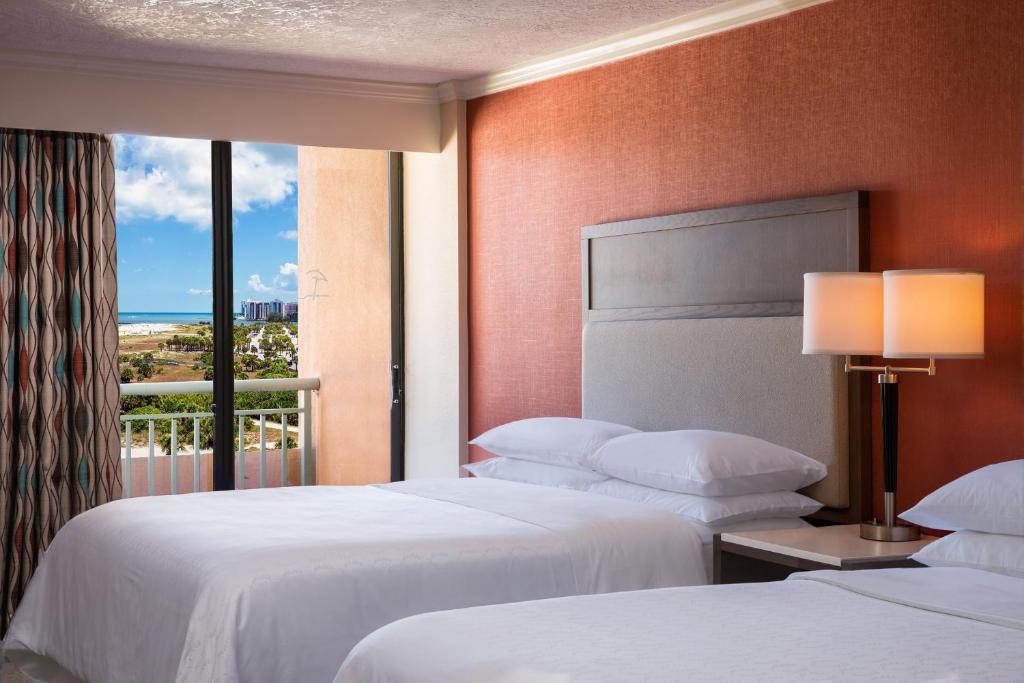 Located adjacent to the picturesque Sand Key Park and Preserve, the Sheraton Sand Key Resort is a beachfront paradise offering an array of amenities and facilities. With its stunning oceanfront location, guests can indulge in relaxation at the spa or make use of the three tennis courts and state-of-the-art fitness center. The resort also features a refreshing oceanfront pool and provides rental services for beach toys and watercrafts. Clearwater Beach town center is easily accessible by trolley ride, offering entertainment options, unique shops, and delectable dining experiences. Guests can explore scenic trails nearby or take sailing lessons at the Clearwater Sailing Center. For dining options on-site, guests can enjoy tropical beverages at the Turtle Bar, quick snacks at the Poolside Cafe, fine dining at Rusty's Bistro, or pub fare at Mainstay Tavern. Additionally, an à la carte buffet awaits guests at Island Grille. Conveniently located near attractions such as Pier 60 Marina and Clearwater Marine Aquarium, Sheraton Sand Key Resort ensures an unforgettable stay for all beach lovers.
– Adjacent to beautiful Sand Key Park and Preserve
– On-site spa for ultimate relaxation
– Three tennis courts for sports enthusiasts
– Rental services for beach toys and watercrafts available
– Convenient trolley ride to Clearwater Beach town center with entertainment options
Other places to stay in St Pete Beach
Hotels Near the Beach in Downtown St Pete Beach
Downtown St Pete Beach offers a range of hotels near the beach, allowing guests to enjoy convenient access to the sand and surf. With their prime location, visitors can soak up the sun, take leisurely strolls along the shoreline, and indulge in breathtaking ocean views.
Plaza Beach Hotel – Beachfront Resort
Located in the heart of St. Pete Beach, Florida, Plaza Beach Hotel is a charming family-owned beachfront resort that offers guests a perfect blend of relaxation and convenience. Boasting stunning views of the Gulf of Mexico, this hotel allows guests to indulge in warm sun and sandy beaches just steps away from various entertainment, shopping, and sightseeing opportunities. The spacious rooms at Plaza Beach Hotel are equipped with modern amenities including free WiFi, a fully equipped kitchen, and a 32-inch cable TV. Select rooms also feature private balconies for guests to enjoy breathtaking ocean vistas. To enhance the guest experience, the hotel offers daily complimentary social hours with beer and wine as well as an outdoor heated swimming pool where visitors can unwind and rejuvenate. The hotel also provides recreational activities such as shuffleboard and mini-golf for added enjoyment during their stay. For those craving delicious meals without leaving their room, Plaza Beach Hotel happily arranges room service from Chick-Fil-A. Additionally, popular attractions like Treasure Bay Golf and Tennis (5 miles away) along with Boyd Hill Nature Park (within 7 miles) can be easily accessed from the property. With its excellent facilities including a gym and fitness center, Plaza Beach Hotel ensures that guests have everything they need for an unforgettable beachfront getaway.
– Prime location in St. Pete beach offering easy access to entertainment options
– Spacious rooms featuring fully equipped kitchens
– Private balconies in select rooms providing stunning ocean views
– Daily complimentary social hour with beer and wine
– Heated outdoor swimming pool along with shuffleboard and mini-golf options
Palm Crest Resort Motel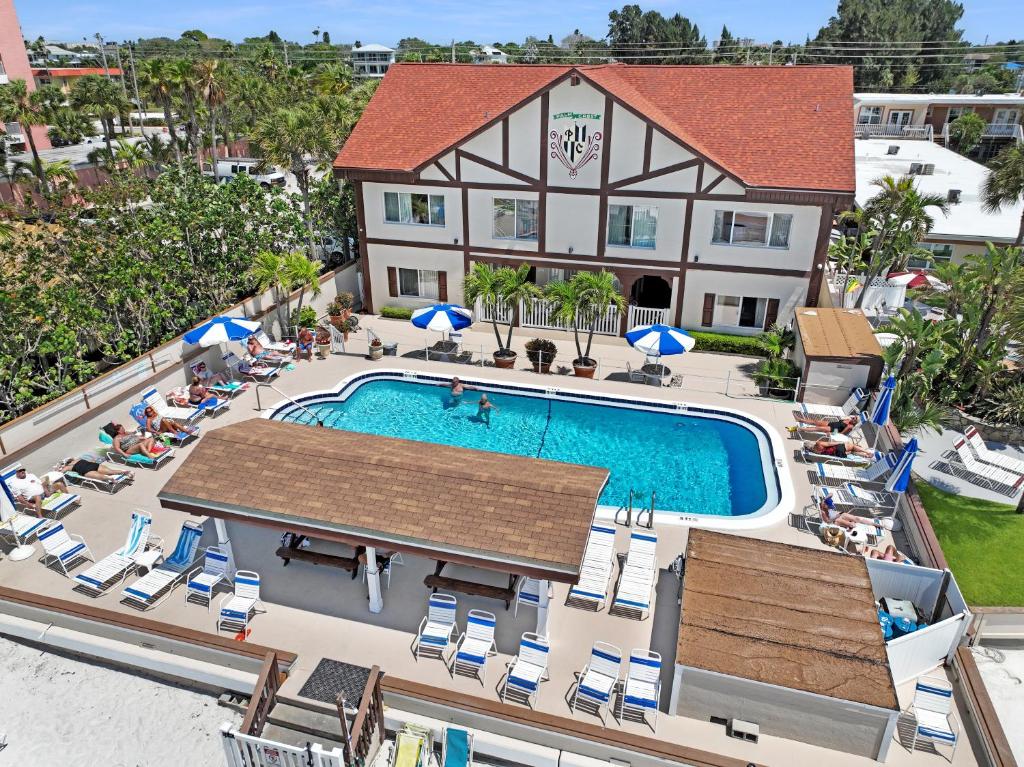 The Palm Crest Resort Motel, which opened in August 2020, is a delightful beachfront accommodation located in St Pete Beach. Just steps away from the stunning St. Pete Beach, guests can enjoy the convenience of an outdoor swimming pool, free private parking, a garden, and a private beach area. The hotel offers comfortable rooms equipped with modern amenities such as a wardrobe, flat-screen TV, private bathroom, and fridge. Free WiFi is available throughout the property. The surrounding area provides plenty of attractions to explore including Isla del Sol Beach (2.7 km), John's Pass and Village Boardwalk (10 km), Tropicana Field (16 km), The Dali' Museum (16 km), and Chihuly Collection (17 km). For those flying in, St Pete-Clearwater International Airport is the nearest airport located 30 km away.
– Beachfront location with direct access to St Pete Beach
– Outdoor swimming pool for relaxation and enjoyment
– Free private parking for added convenience
– Proximity to popular attractions like John's Pass and Tropicana Field
– Modern amenities including flat-screen TVs and free WiFi throughout
Barefoot Beach Club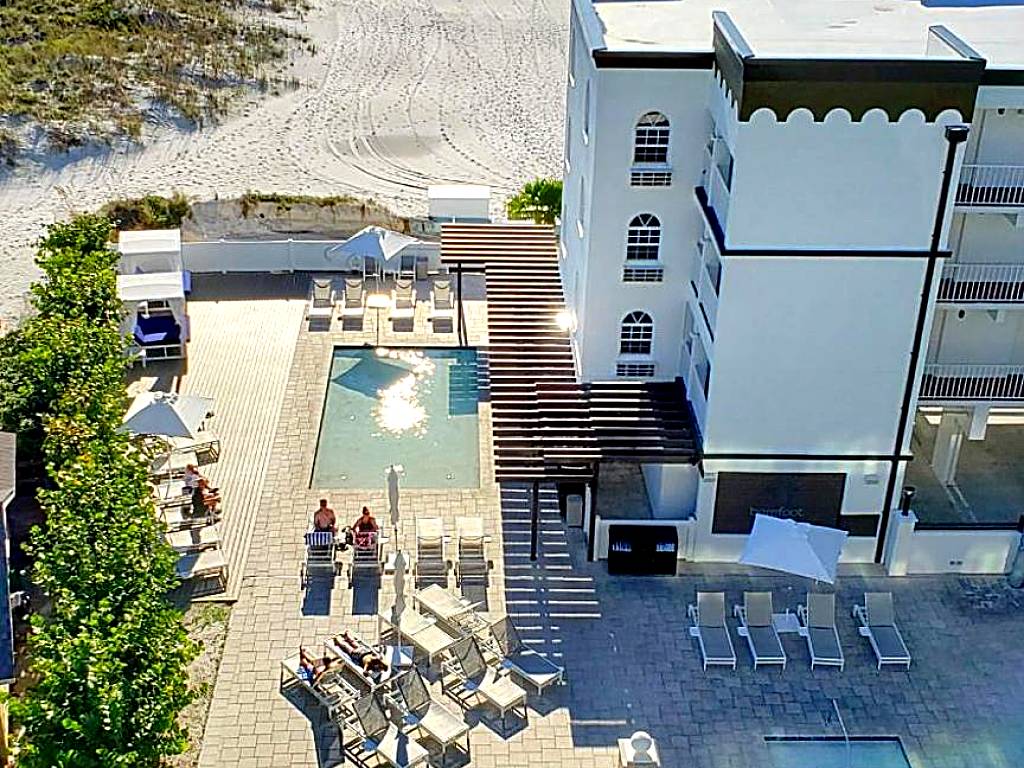 Located on a private beach, just a 5 minutes' drive from Host Dolphin Tours, Barefoot Beach Club is a luxurious hotel that offers an unparalleled beachfront experience. The highlight of this hotel is its heated outdoor pool overlooking the stunning Gulf of Mexico. Each studio at Barefoot Beach Hotel features a balcony with breathtaking ocean or pool views and comes equipped with modern amenities such as free WiFi, a flat-screen cable TV, sofa bed, microwave, fridge, and coffee maker. Guests can take advantage of the complimentary delivery and pickup service for scooter rentals to explore the area conveniently. For those who prefer to dine in, there is a barbecue area where guests can enjoy casual meals. Additionally, this hotel boasts a gym and fitness center for guests looking to stay active during their vacation. Situated just a short 5-minute walk from John's Pass entertainment and historic area, Barefoot Beach Club offers both relaxation and entertainment right at your doorstep. With Tampa International Airport only 36 minutes away by car, this hotel offers easy accessibility for travelers. Please note that renovation work will be conducted on the exterior of one building until November 30, 2023; kindly contact the hotel directly for more information.
Pros:
– Private beachfront location
– Heated outdoor pool with Gulf of Mexico views
– Spacious studios with balconies
– Free WiFi and modern amenities in every room
– Complimentary delivery and pickup service for scooter rentals
Romantic Beachfront Hotels in St Pete Beach
Imagine waking up to the gentle sound of waves crashing on the shore, as you step out onto your private balcony overlooking a pristine beachfront in St Pete Beach. With stunning views, intimate settings, and luxurious accommodations, these romantic beachfront hotels offer the perfect escape for couples seeking a tranquil and memorable getaway.
Queens Gate Resort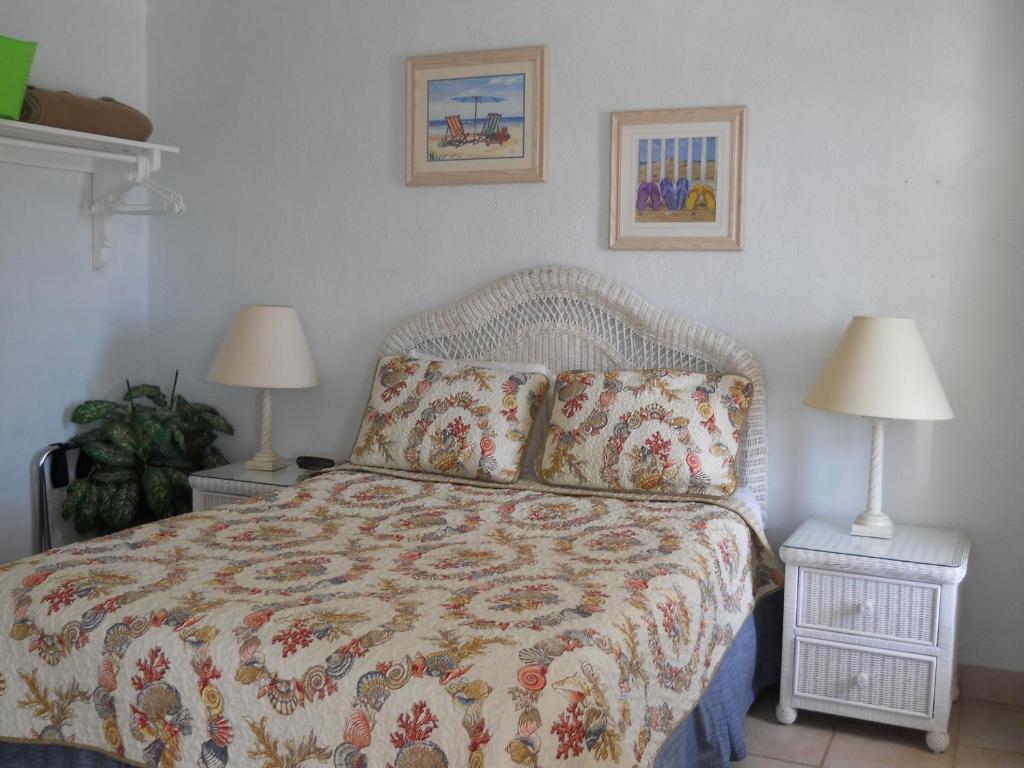 Queens Gate Resort is a family-friendly beachfront resort located in Bradenton Beach. This resort offers a range of amenities, including an outdoor pool and a private beach area for guests to enjoy. The property is conveniently located just 11 minutes' walk from the Bradenton Beach Marina, making it ideal for those who want easy access to water activities. Free WiFi is provided throughout the resort, ensuring that guests can stay connected during their stay. Additionally, Bridge Street, Oma Pizza, and Italian Restaurant are all within a short 4-minute walk from the main property.
Pros:
– Outdoor pool and private beach area
– Convenient location near Bradenton Beach Marina
– Free WiFi provided throughout the resort
– Various dining options within walking distance
– On-site launderette and free parking available
Information about Beachfront Hotels in St Pete Beach
| | |
| --- | --- |
| 🏢 Number of Beach Hotels in St Pete Beach | 7 |
| 🥇 Average Review Score | 8.7/10 |
| 💰 High season average price | 282 |
| 💸 Low season average price | 70.5 |
FAQ
What are some popular beachfront hotels in St Pete Beach?
One of the most popular beachfront hotels in St Pete Beach is The Don CeSar. Known as the "Pink Palace," this luxury hotel offers stunning ocean views, spacious accommodations, and a variety of amenities including multiple swimming pools, restaurants, and a spa. Another top choice is TradeWinds Island Grand Resort, which features an expansive stretch of white sandy beach, various water sports activities, numerous dining options, and a water park for kids.
Are there any all-inclusive beachfront hotels in St Pete Beach?
Yes, there are all-inclusive beachfront hotels in St Pete Beach. One notable option is Sirata Beach Resort & Conference Center. This resort offers all-inclusive packages that include accommodations, meals at their on-site restaurants and bars, access to their poolside cabanas and loungers, as well as various recreational activities such as paddleboarding and volleyball. It's a great choice for travelers looking for a hassle-free vacation experience.
What amenities can I expect at beachfront hotels in St Pete Beach?
Beachfront hotels in St Pete Beach offer a range of amenities to ensure guests have a memorable stay. Most properties provide direct access to the beautiful sandy beaches along with complimentary beach chairs and umbrellas for guests to relax under the sun. Additionally, many hotels feature swimming pools overlooking the ocean or bay area where guests can cool off while enjoying breathtaking views. Other common amenities include on-site restaurants serving delicious cuisine with fresh seafood options, fitness centers equipped with state-of-the-art equipment, spa facilities offering rejuvenating treatments or massages overlooking the ocean.
Is it possible to find pet-friendly beachfront hotels in St Pete Beach?
Yes! There are several pet-friendly beachfront hotels available in St Pete Beach for those who wish to travel with their furry friends. One example is The Hotel Zamora which welcomes pets under 40 pounds. They offer pet-friendly rooms and provide amenities such as pet beds, bowls, and treats upon request. It's always recommended to check with the hotel beforehand regarding their specific pet policies and any additional charges that may apply.
Are there any luxury beachfront hotels in St Pete Beach?
Absolutely! St Pete Beach boasts several luxurious beachfront hotels for those seeking a high-end vacation experience. The Vinoy Renaissance St. Petersburg Resort & Golf Club is a prime example of an upscale beachfront hotel in the area. This historic property offers elegant accommodations, magnificent views of the bay, a championship golf course, tennis courts, multiple dining options, and a full-service spa. Another notable luxury option is The Don CeSar mentioned earlier which exudes grandeur with its iconic pink exterior and opulent interior design.
Popular Beach Hotels destinations