Welcome to a journey through the magnificent beachfront accommodations that Rio de Janeiro, the Cidade Maravilhosa, has to offer. Nestled along the sandy shores of Brazil's vibrant coastal city, these remarkable lodgings provide an unparalleled experience for those seeking both luxury and relaxation. Soak in the breathtaking vistas of Copacabana or Ipanema Beach from your window, allowing the rhythmic waves to serenade you throughout your stay. With a plethora of options ranging from opulent resorts to intimate boutique hotels, Rio de Janeiro truly spoils its visitors with an assortment of beachside havens.
Indulge in the epitome of seaside elegance as you step into these refined establishments adorned with modern amenities and stylish decor. Immerse yourself in the vibrant atmosphere that characterizes Rio's beachfront hotels; where samba rhythms fill the air blending seamlessly with ocean breezes. Each accommodation boasts its own unique charm – whether it be unwinding by a pristine infinity pool overlooking turquoise waters or enjoying world-class cuisine at award-winning waterfront restaurants. From exhilarating water sports activities to relaxing spa treatments, these hotels embrace every facet of coastal living while catering to your every desire. Prepare to be captivated by Rio de Janeiro's enchanting blend of sun-kissed beaches and luxurious hospitality as we embark on this extraordinary exploration together
The Best Rio de Janeiro Hotels By the Beach
Hotelinho Urca Guest House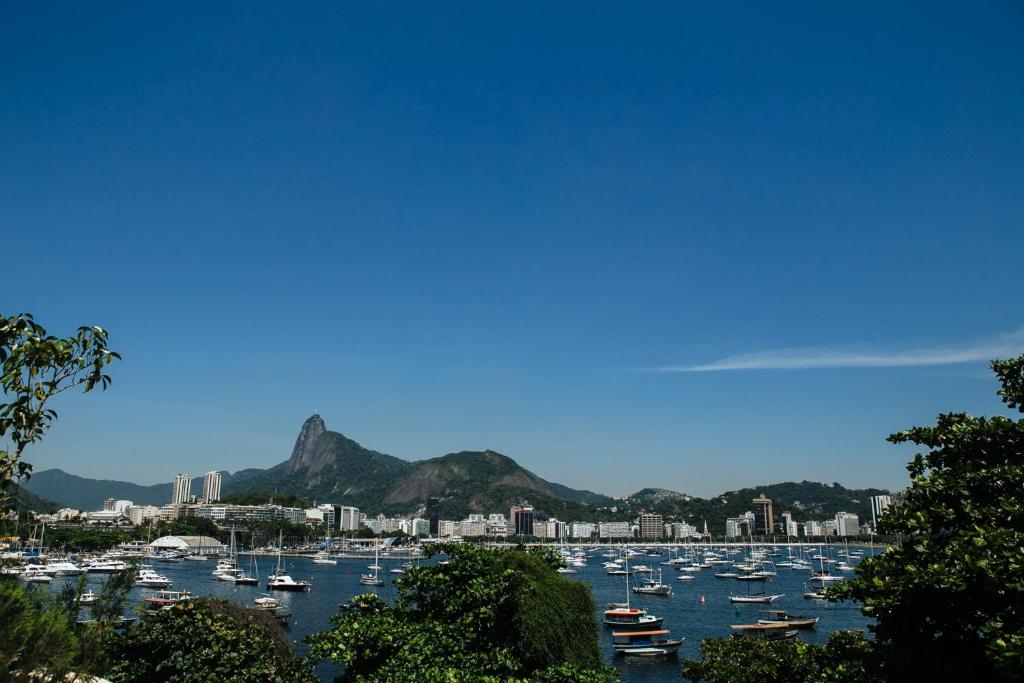 Hotelinho Urca Guest House is a stylish beachfront guest house located just 500 meters from Praia Vermelha and Praia da Urca beaches. With Morro da Urca Rock as its backdrop, this charming property offers stunning panoramic sea views from its sun terrace and pool. Each tastefully decorated room features antique-style furniture, air conditioning, a modern flat-screen TV, minibar, and a private bathroom with a glass-enclosed shower. The guest house serves a daily breakfast buffet with a variety of delicious options including breads, fruits, homemade jams and spreads, as well as hot and cold drinks. Hotelinho Urca is conveniently situated 4 km away from Santos Dumont Airport and central Rio de Janeiro. Guests can also easily access Copacabana Beach which is only 2 km away or take a short drive to reach the iconic Maracanã Stadium.
Pros:
– Stunning panoramic sea views
– Stylishly decorated rooms with antique-style furniture
– Convenient location near the beaches and popular attractions
– Inviting sun terrace and pool area for relaxation
Pousada Camarote Itaipu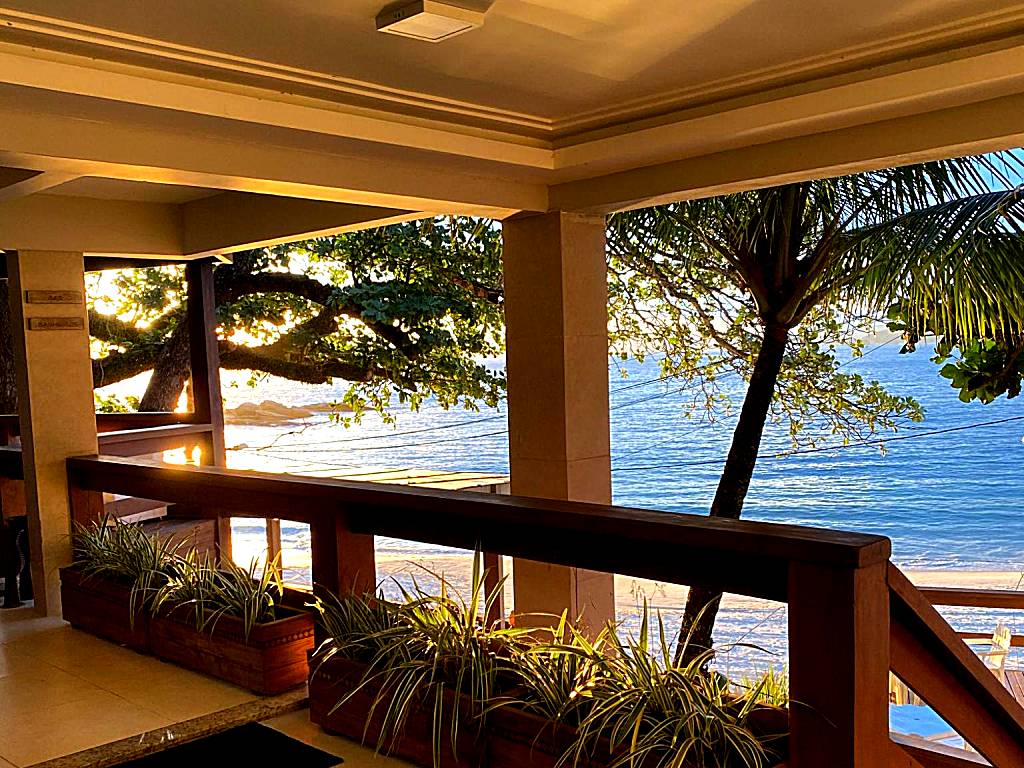 Opened in November 2020, Pousada Camarote Itaipu is a 3-star beachfront hotel located in Niterói. The property offers air-conditioned rooms with private bathrooms and free WiFi. Some rooms feature stunning sea views and each room has a balcony. Guests can enjoy a continental breakfast at the hotel's restaurant. The hotel is just steps away from Itaipu Beach and is non-smoking. Nearby attractions include Baía de Guanabara (21 km) and AquaRio Rio Marine Aquarium (35 km). The nearest airport, Santos Dumont Airport, is 39 km away.
– Beachfront location
– Free WiFi
– Balcony with sea views
– Continental breakfast included
– Close proximity to popular attractions
Miramar By Windsor Copacabana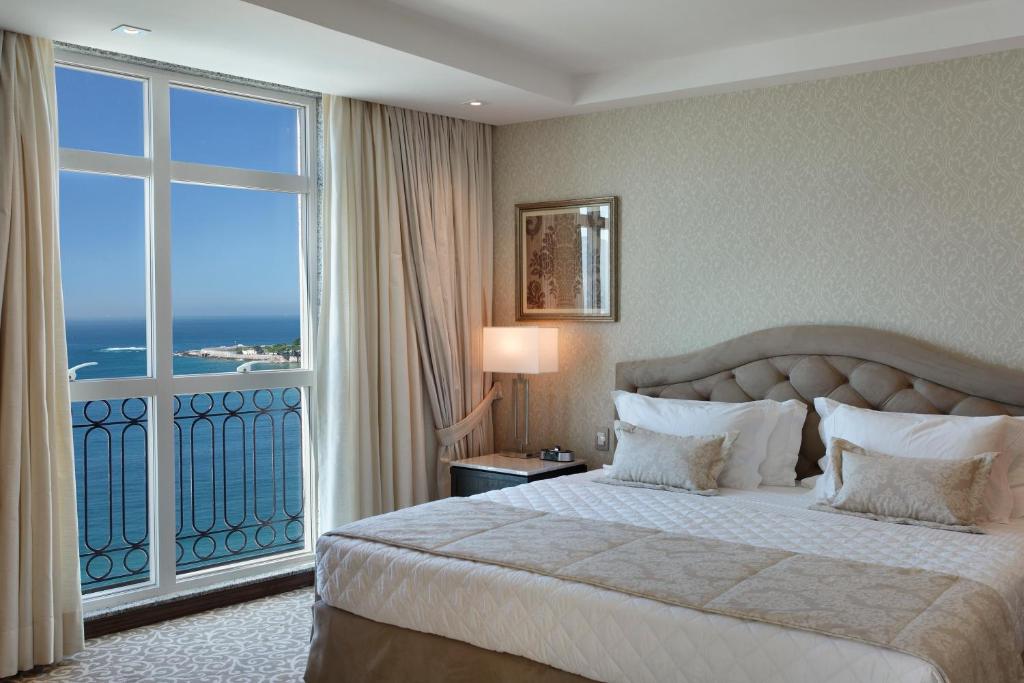 Located right across from the famous Copacabana Beach, the Miramar By Windsor Copacabana is a pet-friendly, design hotel that offers a range of luxurious amenities. Guests can enjoy a green granite pool and a modern gym, as well as butler service and free WiFi. The rooms are decorated in grey tones and come equipped with air conditioning, a flat-screen cable TV, safe, minibar, and private bathroom with toiletries and bathrobes. The hotel also offers beach service with towels, chairs, and parasols. In addition to the stunning beach view available during breakfast, guests can also enjoy drinks at the rooftop bar or dine at the hotel's restaurant. The Miramar By Windsor Copacabana is conveniently located near shops, grocery stores, restaurants, bars, nightclubs, Copacabana Fort (700 meters away), Lagoa Stadium (3.8 km away), Santos Dumont Airport (11.7 km away), and Galeão International Airport (25 km away).
Pros:
– Prime location opposite Copacabana Beach
– Green granite pool for relaxation
– Modern gym facilities for fitness enthusiasts
– Butler service adds an extra touch of luxury
– Pet-friendly accommodations allow guests to bring their furry friends
Other places to stay in Rio de Janeiro
Hotels Near the Beach in Downtown Rio de Janeiro
Downtown Rio de Janeiro offers a range of beachfront hotels, providing guests with convenient access to the city's stunning coastline. These accommodations offer the perfect blend of urban convenience and seaside relaxation for visitors looking to experience the vibrant energy of Rio while soaking up the sun on its beautiful beaches.
Arena Copacabana Hotel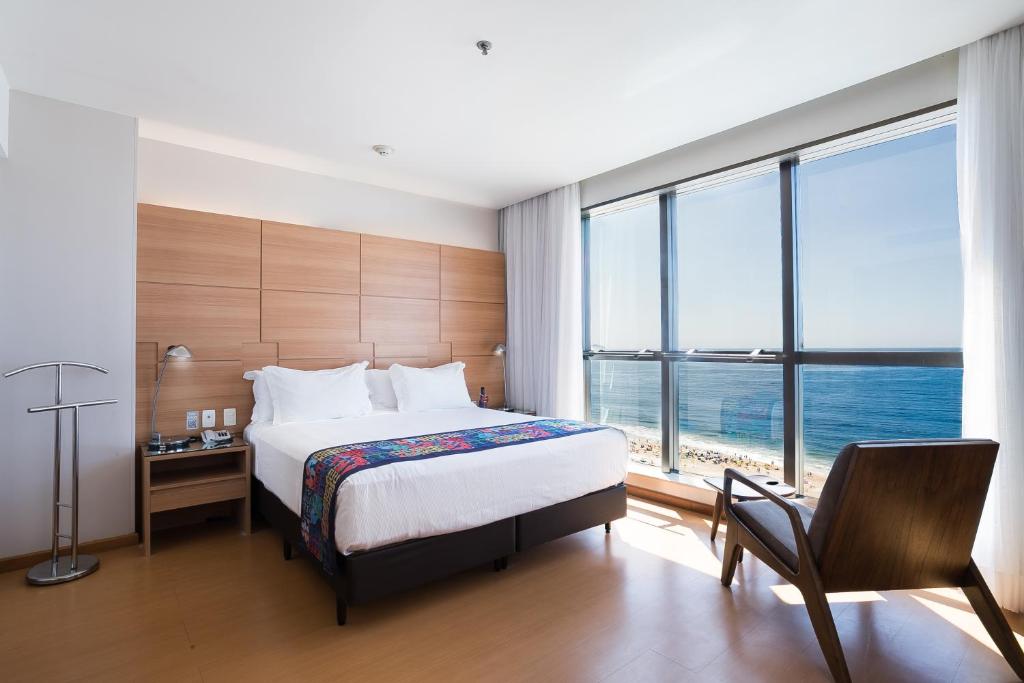 Ideally located right next to Copacabana Beach, the modern Arena Copacabana Hotel offers a rooftop pool, gym, sauna, and a fine restaurant. The hotel features air-conditioned rooms with LCD TVs, minibars, laptop safes, and soundproofed windows. Some rooms offer stunning ocean views. Guests can enjoy the best of Spanish and Brazilian gastronomy at the Otaviano restaurant located in the hotel's lobby. With its sophisticated yet relaxed atmosphere and full views of the boardwalk and beach, it is an ideal spot for breakfast, lunch, and dinner. The hotel is conveniently situated just 700 meters from Cardeal Arcoverde Subway Station and within easy reach of attractions like Ipanema Beach (4.5 km), Sugarloaf Mountain, Rodrigo de Freitas Lagoon, and the Botanical Garden (all within a radius of 7 km). With free WiFi access throughout the property, Arena Copacabana Hotel ensures guests stay connected during their beachfront getaway.
Pros:
– Prime location next to Copacabana Beach
– Rooftop pool offering panoramic views
– Well-equipped gym and relaxing sauna facilities
– Excellent dining experience at Otaviano restaurant
– Close proximity to popular attractions such as Ipanema Beach
Hotel Arpoador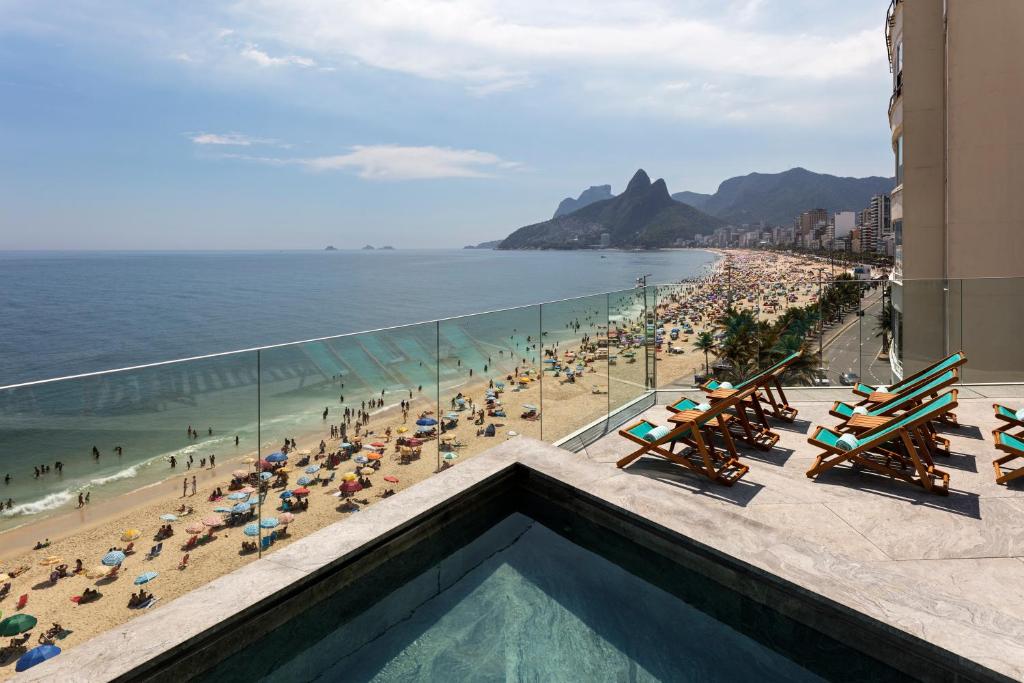 Hotel Arpoador is a beachfront hotel located next to the famous Girl from Ipanema Park and just 100 meters from Ipanema's beach in Rio de Janeiro. Guests can start their day with a delicious breakfast on the restaurant's porch, while enjoying a stunning view of the city's coastline. The rooms are tastefully designed with tiled floors and modern furnishings. The on-site restaurant offers an exquisite menu by chef Roberta Sudbrack, featuring mouthwatering Brazilian dishes made with fresh organic ingredients. Free WiFi is provided in all rooms, which have been recently renovated by architect Thiago Bernardes. Each unit is equipped with air conditioning, Nespresso coffee machine, and luxurious bathroom amenities. Some rooms even boast panoramic ocean views. At the bar, guests can indulge in tropical caipirinhas, classic cocktails, and beers. The hotel's prime location allows easy access to attractions such as Copacabana Fort (800 meters), Lagoa Stadium (3.8 km), Santos Dumont Airport (11 km), and Galeão International Airport (24.8 km).
– Beachfront location next to Ipanema beach
– Delicious breakfast with stunning coastal views
– Tastefully designed rooms with modern amenities
– Exquisite Brazilian cuisine by renowned chef
– Renovated property offering comfort and luxury
Arena Leme Hotel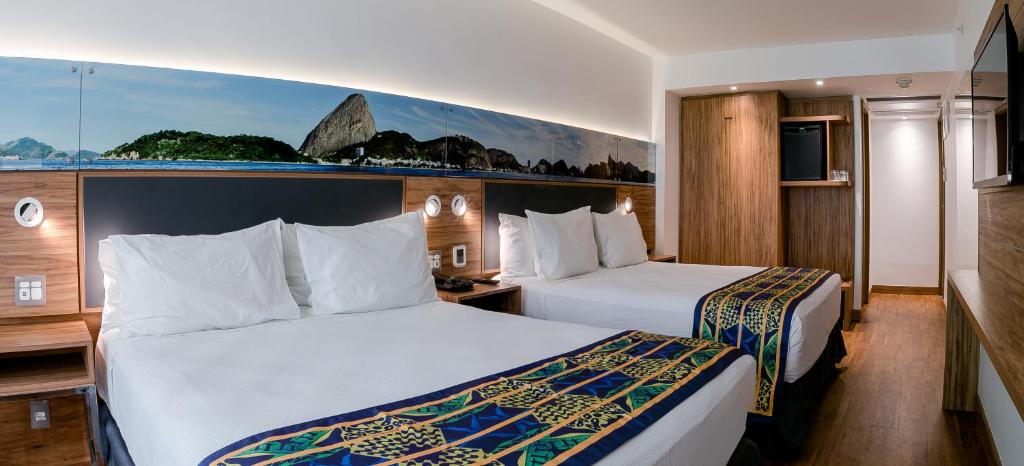 Arena Leme Hotel is a beachfront accommodation located in Rio de Janeiro, just 750 meters from Praia de Copacabana beach. This hotel offers a range of amenities including an outdoor pool, sauna, and fitness center for guests to enjoy. The on-site restaurant serves delicious meals and daily breakfast is complimentary. Each room at the hotel features modern amenities such as a flat-screen TV, cable channels, air conditioning, and a private bathroom with a hairdryer. Guests can also take advantage of the 24-hour front desk and unwind with refreshing drinks at the bar. With Sugarloaf Mountain just 3.2 km away and Santos Dumont Airport being only 5 km from the property, Arena Leme Hotel provides an ideal location for those looking to explore Rio de Janeiro.
– Beachfront location
– Outdoor pool
– Sauna
– Complimentary daily breakfast
– Close proximity to popular attractions
Romantic Beachfront Hotels in Rio de Janeiro
Rio de Janeiro offers a stunning selection of romantic beachfront hotels, perfect for couples seeking an unforgettable getaway. With breathtaking ocean views and luxurious accommodations, these hotels provide the ideal setting for a romantic retreat in one of Brazil's most vibrant cities.
Windsor Excelsior Copacabana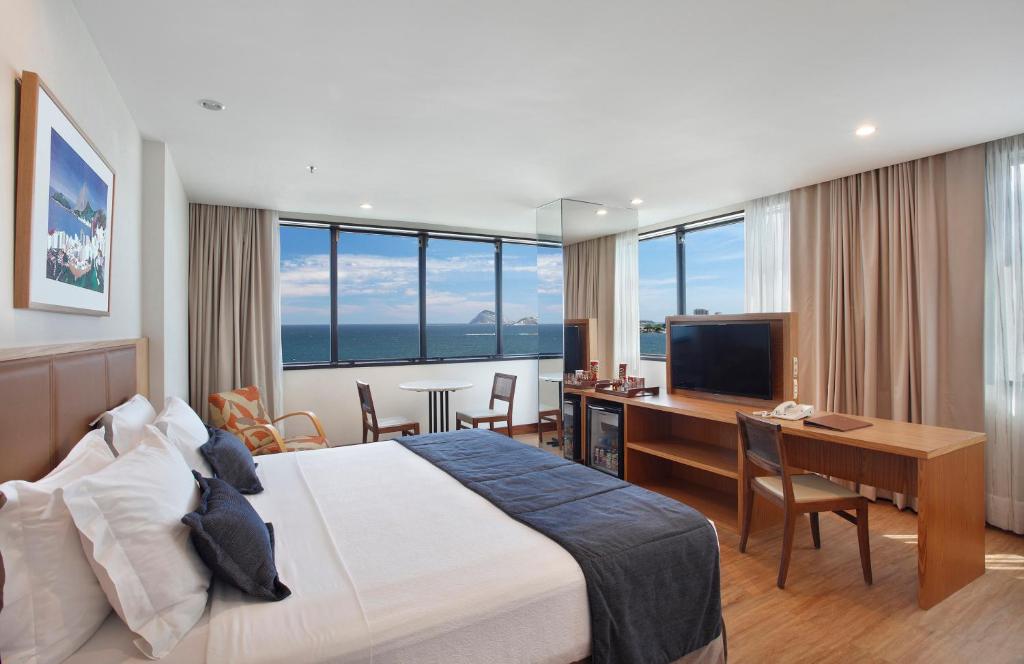 Located in front of Copacabana beach, the Windsor Excelsior offers breathtaking panoramic views of the ocean and the iconic Sugarloaf. The hotel boasts a rooftop terrace complete with a pool, bar, and gym where guests can relax and soak up the stunning surroundings. The rooms at Windsor Excelsior are tastefully decorated with contemporary furnishings, offering spaciousness and brightness. All rooms come equipped with air conditioning, cable TV, WiFi, and minibar. Some rooms even offer majestic sea views as well as a hot tub for ultimate relaxation. With 24-hour room service available, guests can enjoy meals in the comfort of their own rooms at any time. The hotel's restaurant provides a tropical breakfast spread alongside mesmerizing sea views. For lunch and dinner options, guests can indulge in Brazilian and international specialties. Additional amenities include dry and steam sauna units located next to the fitness center for those seeking extra relaxation options during their stay. Conveniently situated just 60 meters from Cardeal Arcoverde metro station, Windsor Excelsior is also only 800 meters away from Beach Volleyball Arena and approximately 9.4 km from Santos Dumont Airport.
– Panoramic ocean views from rooftop terrace
– Tastefully decorated rooms with contemporary décor
– Variety of dining options including tropical breakfast
– Located near public transportation
– Close proximity to popular attractions such as Beach Volleyball Arena
Sol Ipanema Hotel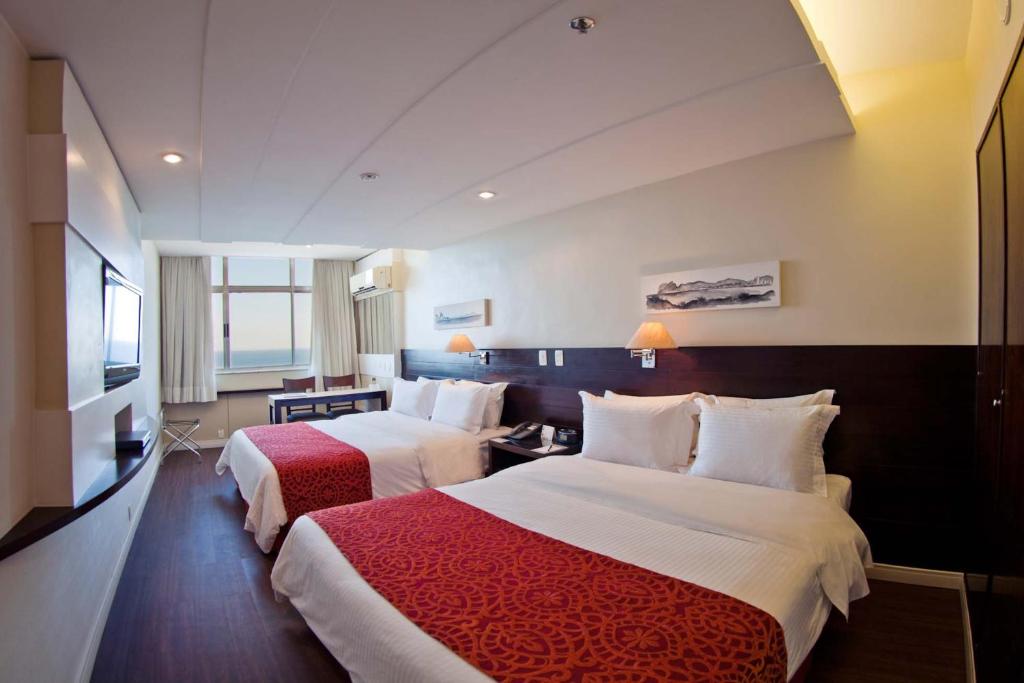 Sol Ipanema Hotel is perfectly situated on the seafront of Ipanema Beach, surrounded by a lively area filled with bars and restaurants. The hotel features a sunny terrace that offers breathtaking views of the coast. The spacious air-conditioned rooms are beautifully decorated with a contemporary design and come equipped with amenities such as a 32-inch LCD TV, minibar, and luxurious bathroom. Some rooms even offer scenic views of Rio de Janeiro's famous beachfront. Guests can enjoy their buffet breakfast in the hotel's restaurant on the upper level while taking in the stunning beach views. The restaurant offers a rich selection of tropical fruits, breads, and cakes. For added enjoyment, guests can dine or have drinks on the terrace next to the pool while admiring panoramic sea views. The hotel provides excellent services including car/bicycle rental and shuttle services which can be arranged through their 24-hour front desk. Beauty shop treatments and child services are also available upon request. Parking options are conveniently located nearby the hotel, and public transportation options like Nossa Senhora da Paz metro station are just a short walk away.
– Superb location right on Ipanema Beach
– Sunny terrace with breathtaking coast views
– Spacious and modern air-conditioned rooms
– Buffet breakfast with beach view from all tables
– Convenient access to public transportation
Information about Beachfront Hotels in Rio de Janeiro
| | |
| --- | --- |
| 🏢 Number of Beach Hotels in Rio de Janeiro | 8 |
| 🥇 Average Review Score | 8.8/10 |
| 💰 High season average price | 654 |
| 💸 Low season average price | 163.5 |
FAQ
Is Rio de Janeiro a good destination for beachfront hotels?
Absolutely! Rio de Janeiro is renowned for its stunning coastline and beautiful beaches, making it an ideal destination for beachfront hotels. From Copacabana to Ipanema, you'll find a wide range of luxury accommodations right on the sand, offering breathtaking views of the ocean and convenient access to the city's vibrant beach culture.
What are some popular beachfront hotel options in Rio de Janeiro?
There are several popular beachfront hotels in Rio de Janeiro that offer unparalleled luxury and comfort. The iconic Copacabana Palace is a timeless classic, known for its impeccable service and glamorous atmosphere. For those seeking modern elegance, the Fasano Hotel offers stylish rooms with stunning views of Ipanema Beach. Another excellent choice is the Belmond Hotel das Cataratas, located right next to the famous Iguazu Falls.
Are there any budget-friendly beachfront hotel options in Rio de Janeiro?
While Rio de Janeiro is often associated with luxury accommodations, there are also budget-friendly options available for travelers looking to enjoy a beachfront stay without breaking the bank. Hotels such as Windsor Leme and Hotel Atlantico Praia offer comfortable rooms at more affordable prices while still providing easy access to the city's beautiful beaches.
What amenities can be expected at a typical beachfront hotel in Rio de Janeiro?
Beachfront hotels in Rio de Janeiro typically offer a range of amenities designed to enhance guests' stay by the sea. These may include private balconies or terraces with ocean views, direct access to the beach or exclusive lounging areas with sunbeds and umbrellas, outdoor swimming pools overlooking the ocean, spa facilities offering relaxing treatments inspired by nature's elements, world-class dining options serving delicious seafood specialties and refreshing tropical cocktails.
Is it necessary to book a beachfront hotel in advance?
It is highly recommended to book a beachfront hotel in Rio de Janeiro in advance, especially during peak travel seasons or major events. The city attracts a large number of visitors throughout the year, so securing your preferred beachfront accommodation ahead of time ensures availability and allows you to take advantage of early booking discounts or special promotions offered by hotels.
Popular Hotels near Beach destinations