Welcome to our virtual tour of beachside accommodations in Punta Cana, the captivating coastal paradise nestled in the Dominican Republic. Within this article, we will artfully guide you through a selection of exquisite seaside hotels that are sure to captivate your senses and leave you yearning for an idyllic beach escape. Prepare to be enthralled by luxurious establishments that boast breathtaking ocean views, pristine white sand beaches, and unparalleled hospitality.
Picture yourself stepping into a world where azure waters meet palm-fringed shores, where the gentle lullaby of crashing waves serenades your every waking moment. As we embark on this journey together, be prepared to delve into a diverse range of accommodation options designed to cater to every discerning traveler's desires. From opulent resorts exuding sophistication and grandeur to intimate boutique hideaways providing personalized pampering, Punta Cana offers an array of beachfront lodgings that ensure an unforgettable stay amidst nature's most alluring elements.
So buckle up and allow us to whisk you away on an extraordinary exploration of Punta Cana's finest beachfront havens. Through this virtual portal, we aim to unveil the secret gems nestled along its stunning coastline — enchanting destinations waiting just for you.
The Best Punta Cana Hotels By the Beach
Catalonia Punta Cana – All Inclusive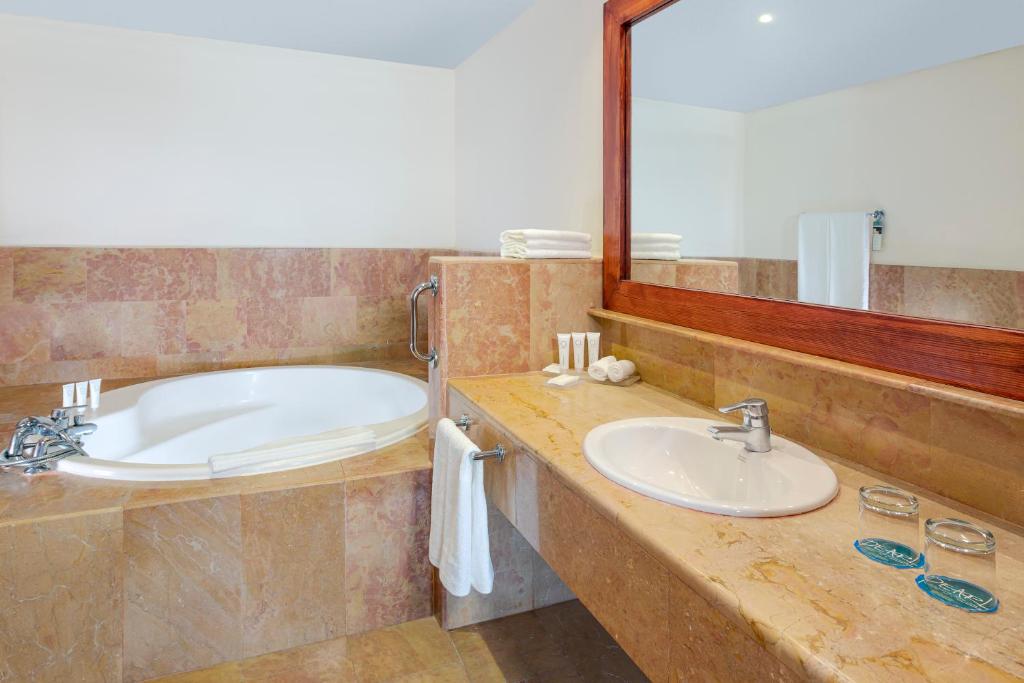 Located in Punta Cana, the Catalonia Punta Cana is an all-inclusive beachfront resort that offers a range of amenities and activities for guests to enjoy. The resort features an outdoor pool, full-service spa, and recreational activities. With 10 dining options available, including the Grand Caribe Restaurant serving breakfast, lunch, and dinner, as well as 4 à la carte restaurants open exclusively for dinner, guests can indulge in a variety of culinary delights. For those craving pizza, Pizzeria Sorrento serves delicious woodstove-cooked pizzas. With 8 bars on-site, including a natural juices bar and an exclusive bar for privileged guests, there are plenty of options to unwind with a drink. The resort also offers 24-hour room service for privileged guests and has a coffee shop available. Activities such as aerobics and bike rides are organized daily by the hotel. Additionally, there is a kid's club for children aged 4 to 12 years old and a teens club for teenagers aged 13 to 17 years old. Guests can partake in games at the casino or dance the night away at the discotheque. Golfing enthusiasts will be pleased to know that both Cabeza de Toro Golf Club and Caribbean Golf Club are nearby. The Catalonia Punta Cana is conveniently located just 14 miles from Punta Cana International Airport.
– Beachfront location
– All-inclusive amenities
– Variety of dining options
– Range of activities and clubs for kids and teenagers
– Close proximity to golf courses
Eden Roc Cap Cana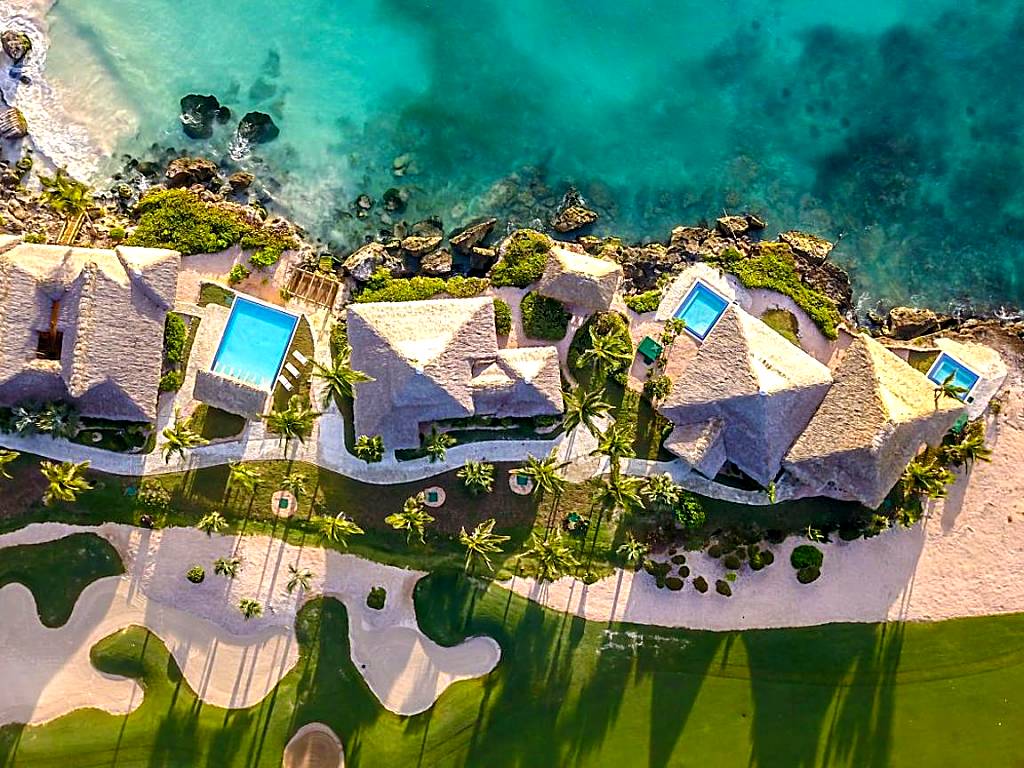 Nestled in the beautiful beachfront community of Cap Cana, Dominican Republic, Eden Roc Cap Cana is a luxurious five-star resort that offers an unforgettable experience. Blending the elegance of the French and Italian Rivieras with a Caribbean charm, this Relais & Châteaux property features 60 all-suite accommodations including Boutique Suites and two multi-bedroom villas, all boasting private pools. In addition to this, the resort recently expanded its beach club to include a Blue Flag certified private beach, an infinity pool, and the Nikkei-themed BLUE Grill + Bar. Guests can indulge in culinary delights at Mediterraneo Restaurant helmed by Executive Chef Gianluca Re Fraschini or enjoy international cuisine with local influences at oceanfront La Palapa. The resort also offers a Jack Nicklaus signature golf course – the No.1 in the Caribbean – as well as spa and fitness facilities, a kids club for children ages 4-12, and ample event space for corporate retreats.
– Luxurious all-suite accommodations with private pools
– Blue Flag certified private beach with infinity pool
– Culinary experiences featuring renowned chefs
– Access to top-rated Jack Nicklaus golf course
– Spa and fitness facilities for relaxation and wellness
Serenade Punta Cana Beach & Spa Resort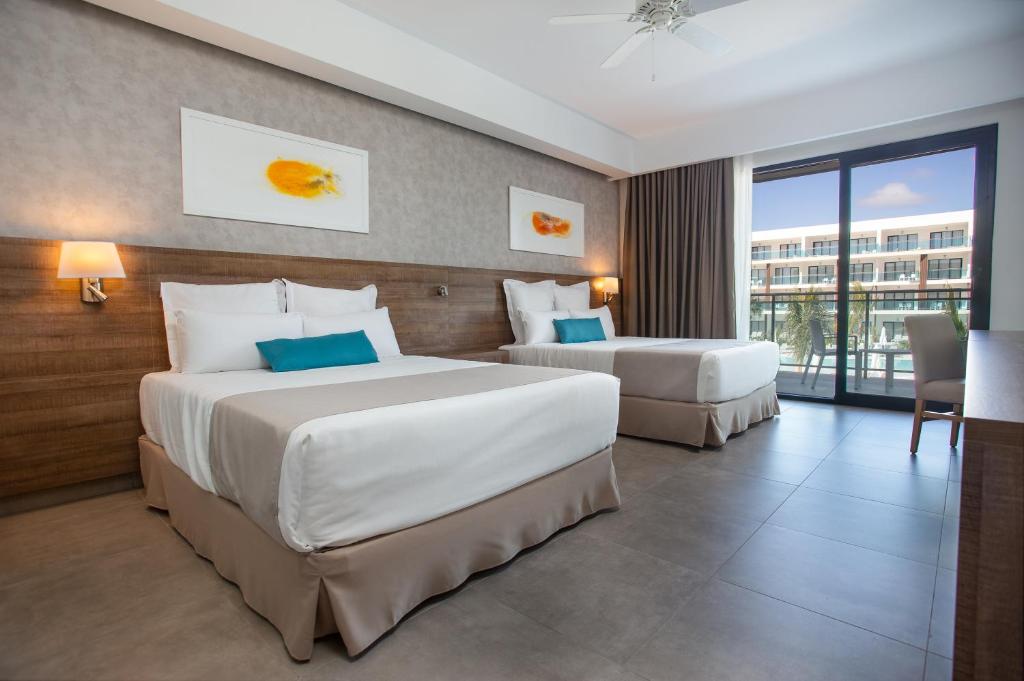 Located on the beautiful Cabeza de Toro Beach in Punta Cana, Serenade Punta Cana Beach & Spa Resort is a luxurious 5-star hotel that opened its doors in December 2019. This beachfront resort features an outdoor swimming pool, a garden, and a restaurant. Guests can enjoy amenities such as room service, free WiFi, and a 24-hour front desk. Each air-conditioned room is equipped with modern facilities including a coffee machine, minibar, flat-screen TV, and private bathroom with shower. Some rooms offer breathtaking sea views or have a patio for guests to relax on. The resort also provides additional perks like a hot tub and children's playground. Guests can start their day off right with a buffet breakfast at the accommodation. For golf enthusiasts, Barcelo Golf Bavaro and Cocotal Golf and Country Club are located nearby. With its convenient location just 16 km from Punta Cana International Airport, Serenade Punta Cana Beach & Spa Resort offers guests the perfect beachfront getaway.
– Outdoor swimming pool for relaxation
– Free private parking for convenience
– Hot tub for ultimate relaxation
– Children's playground for family fun
– Buffet breakfast to start your day off right
Other places to stay in Punta Cana
Hotels Near the Beach in Downtown Punta Cana
Hotels near the beach in downtown Punta Cana offer guests a combination of convenient city access and stunning waterfront views. Visitors can enjoy the best of both worlds, with easy access to restaurants, shops, and nightlife while being just steps away from powdery white sand and crystal-clear turquoise waters.
Grand Bavaro Princess – All Inclusive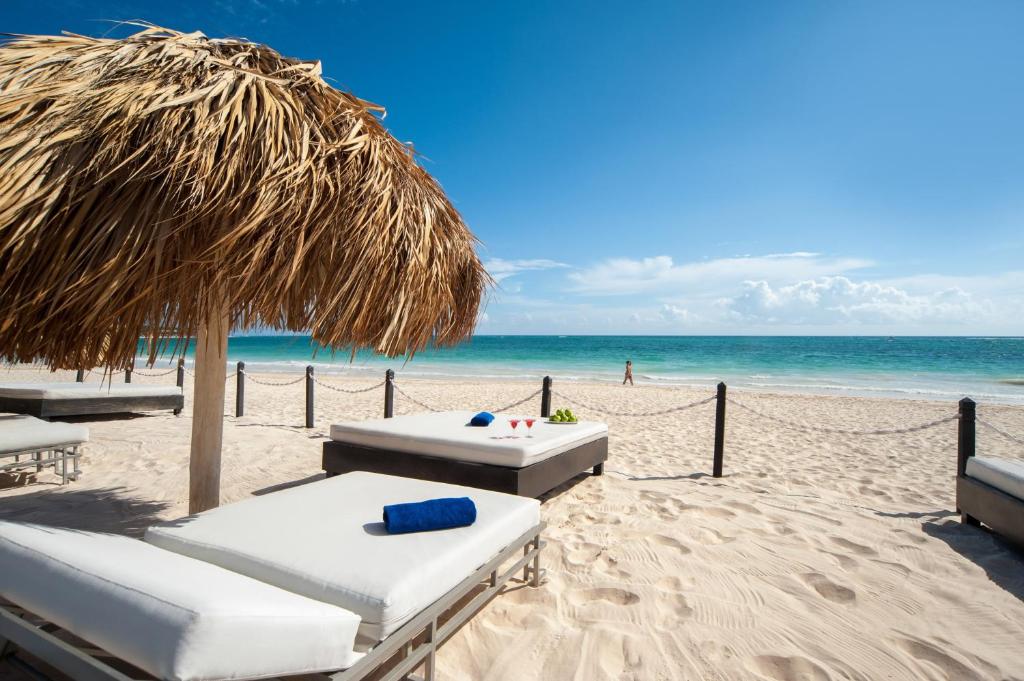 Grand Bavaro Princess – All Inclusive is a luxurious beachfront resort located in Bavaro, Dominican Republic. This all-inclusive resort offers a plethora of amenities and activities for its guests to enjoy. With 10 restaurants, including a snacks bar, pizzeria, coffee shop, and sport bar, guests will have plenty of dining options to choose from. The resort also features four bars where guests can unwind and enjoy their favorite drinks.
Guests can relax by the two spacious outdoor swimming pools, one of which is specially designed for children. Additionally, the resort boasts a full-service spa where guests can indulge in rejuvenating treatments and therapies. For those who prefer an active lifestyle, there are daily pool and beach activities available.
The guest suites at Grand Bavaro Princess offer ultimate comfort with separate living areas and balconies overlooking the beautiful surroundings. Each suite is equipped with cable TV and fully stocked minibars. Some suites even feature private hot tubs for added luxury.
The resort also offers various recreational facilities such as three tennis courts and a fully equipped fitness center. Guests can also enjoy the nearby golf course situated just 3 km away.
Evening entertainment options are abundant at Grand Bavaro Princess, with a movie disco inside Avalon Casino offering free admission along with two national drinks from 11:00 pm to 1:00 am. The lobby also hosts evening entertainment programs for guests' enjoyment.
Punta Cana International Airport is conveniently located just a 25-minute drive away from the resort while popular beaches like Cortecito and Los Corales are only 5 km away.
– Beachfront location
– All-inclusive package
– Variety of dining options
– Full-service spa
– Daily pool and beach activities
The Westin Puntacana Resort & Club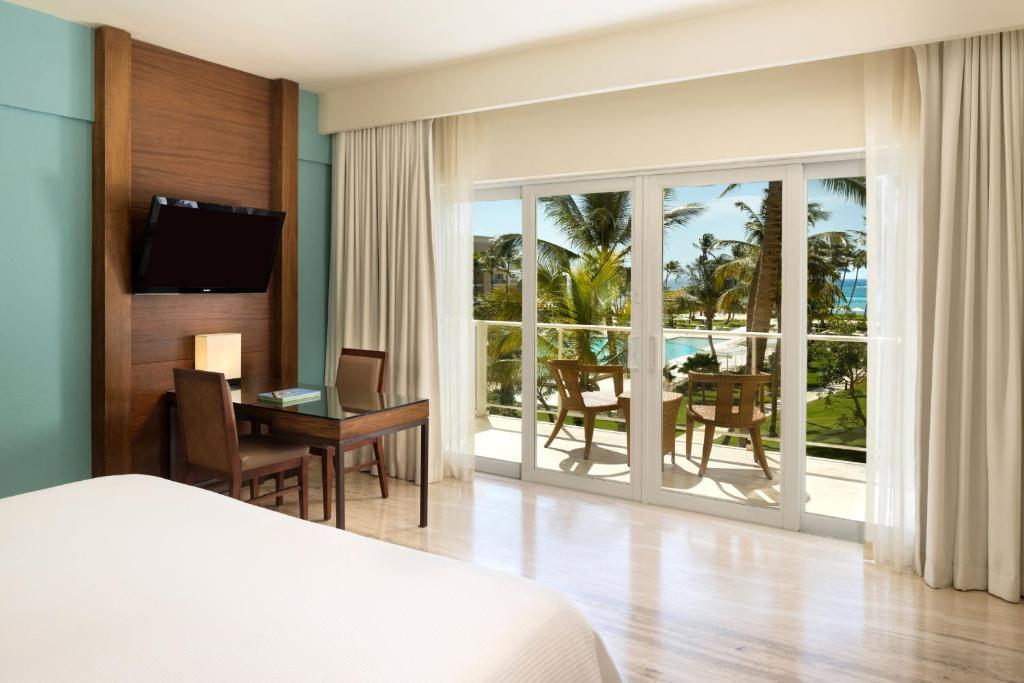 Located just steps from the beach, The Westin Puntacana Resort & Club offers an extensive garden, a swimming pool, spa treatments, a gym, and tennis courts. The rooms provide air conditioning, a flat-screen cable TV, minibar, and a balcony with stunning sea views. Guests can indulge in access to Six Senses Spa and enjoy 45 holes of ocean-view championship golf at the Corales and La Cana courses. With eight restaurants offering international cuisine and a pool-side barbecue, dining options are plentiful. The hotel also features a lobby bar and Don Quicos hand-rolled cigar bar serving wine, cocktails, and local rum specialties. Adventure seekers can arrange activities such as diving, fishing, paddle surfing, kite surfing, and snorkeling. Families will appreciate the children's playground and kid's club while souvenir shopping is available on-site. Conveniently situated just 5 minutes' drive from Punta Cana International Airport and 40 minutes' drive from La Romana city center.
Pros:
– Beautiful beachfront location
– Extensive gardens for relaxation
– Variety of dining options including pool-side barbecue
– Access to Six Senses Spa for ultimate relaxation
– Championship golf courses for avid golfers
Information about Beachfront Hotels in Punta Cana
| | |
| --- | --- |
| 🏢 Number of Beach Hotels in Punta Cana | 5 |
| 🥇 Average Review Score | 8.3/10 |
| 💰 High season average price | 1202 |
| 💸 Low season average price | 300.5 |
FAQ
What are some popular beachfront hotels in Punta Cana?
Some popular beachfront hotels in Punta Cana include the Paradisus Palma Real Golf & Spa Resort, Hard Rock Hotel & Casino Punta Cana, and Majestic Elegance Punta Cana. These hotels offer luxurious accommodations, stunning ocean views, and direct access to pristine white sandy beaches.
Can you recommend any all-inclusive beachfront hotels in Punta Cana?
Absolutely! There are several all-inclusive beachfront hotels in Punta Cana that offer a hassle-free vacation experience. Examples include Excellence Punta Cana, Secrets Cap Cana Resort & Spa, and Dreams Palm Beach Punta Cana. Guests can enjoy unlimited food and drinks, activities and entertainment, as well as access to beautiful beaches.
What amenities can I expect at a typical beachfront hotel in Punta Cana?
Typical amenities at a beachfront hotel in Punta Cana may include spacious rooms or suites with private balconies or terraces overlooking the ocean or gardens. You can also expect onsite restaurants serving delicious local and international cuisine, swimming pools with sun loungers and cabanas, spa facilities for relaxation treatments, fitness centers for workouts with ocean views, water sports equipment rentals like kayaks or paddleboards, as well as organized activities such as yoga classes or live entertainment.
Is it safe to swim at the beaches near these hotels?
Yes! The beaches near these hotels are generally safe for swimming. However, it is always advisable to check with the hotel staff about current sea conditions before entering the water. Additionally, be mindful of any warning signs regarding strong currents or other potential hazards. It's important to prioritize your safety at all times while enjoying the beautiful Caribbean waters.
Are there any nearby attractions or activities around these beachfront hotels in Punta Cana?
Certainly! Besides enjoying the gorgeous beaches, Punta Cana offers numerous attractions and activities for visitors. You can explore the vibrant underwater world through scuba diving or snorkeling excursions, go on thrilling zip-lining adventures in the lush tropical forests, visit the Indigenous Eyes Ecological Park to discover diverse flora and fauna, take a catamaran cruise to nearby islands like Saona or Catalina, or indulge in a round of golf at one of the many championship courses in the area. There's something for everyone to enjoy!
Popular Hotels near Beach destinations