Welcome to a paradise of coastal luxury and breathtaking views in Playa del Carmen, Mexico. Nestled along the sparkling turquoise waters of the Caribbean Sea, this tropical haven boasts an array of magnificent beachfront accommodations. Whether you are seeking a tranquil retreat or an adventurous escape, Playa del Carmen offers something for every discerning traveler.
Picture yourself waking up to the gentle sound of waves crashing against pristine shores, as golden rays of sunshine flood your elegant hotel room. Imagine stepping onto your private balcony or terrace, with panoramic vistas that stretch as far as the eye can see. Each moment spent in these beachfront properties is a sensory delight, with soft sand between your toes and the scent of saltwater lingering in the air.
Indulge yourself in world-class amenities and impeccable service at these exquisite oceanfront hotels. Immerse yourself in the soothing embrace of infinity pools overlooking azure waters, or pamper your senses with rejuvenating spa treatments by expert therapists. Take leisurely strolls along powdery white sands that lead to vibrant local markets and trendy boutiques, where you can find unique treasures to commemorate your stay.
In this enchanting destination filled with unparalleled beauty and charm, prepare to experience an unforgettable getaway at these remarkable beachside havens in Playa del Carmen.
The Best Playa del Carmen Hotels By the Beach
Mahekal Beach Front Resort & Spa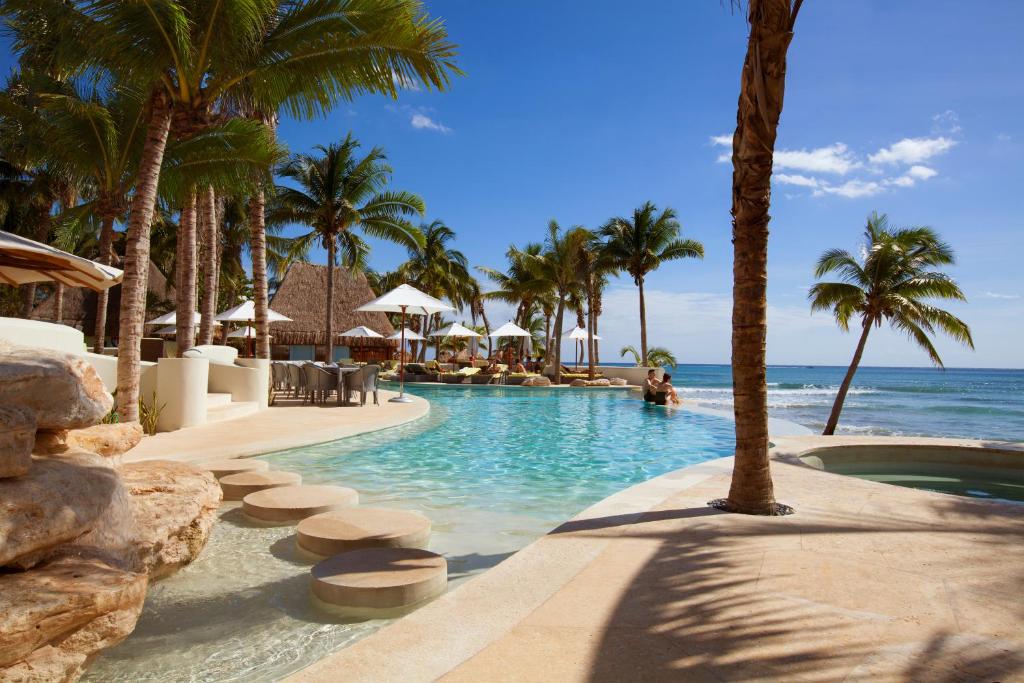 Located on the stunning beachfront in Playa del Carmen, Mahekal Beach Front Resort & Spa offers a luxurious and tranquil getaway for those seeking relaxation and adventure. With four outdoor pools, guests can take a refreshing dip or lounge by the water's edge while enjoying breathtaking views of the sea. The resort also offers invigorating yoga classes and soothing massages to help guests unwind and rejuvenate. For diving enthusiasts, the Dive Center provides an array of options including certification courses, ocean dives, cenotes dives, and even night dives for an unforgettable underwater experience. Food lovers will delight in the dining options available at Mahekal Beach Resort. The Olas Restaurant serves a delicious daily breakfast and à la carte lunch with ocean views as a backdrop. Meanwhile, Fuego Restaurant offers delectable four-course set dinners along with regular theme nights and live music for a memorable evening out. The spacious rooms at Mahekal Beach Resort are beautifully decorated with Mayan-style touches. While they don't include radios or TVs, these peaceful rooms do provide telephone services and WiFi to keep guests connected if desired. Each room boasts a private safe box, a private bathroom with a hairdryer, and a terrace complete with hammocks that overlook either the mesmerizing sea or lush tropical gardens. Despite its serene location, this resort is conveniently situated just minutes away from lively 5th Avenue where guests can explore shops, restaurants, and vibrant nightlife options. With an on-site concierge available to assist guests in arranging visits to attractions such as the Mayan ruins of Tulum National Park (a mere 45-minute drive away), Mahekal Beach Front Resort & Spa ensures that every guest has an unforgettable stay.
Pros:
– Stunning beachfront location
– Four outdoor pools for ultimate relaxation
– Dive Center offering various diving experiences
– Delicious dining options including themed nights
– Convenient proximity to both tranquility and bustling city life
Puerta del Mar Cozumel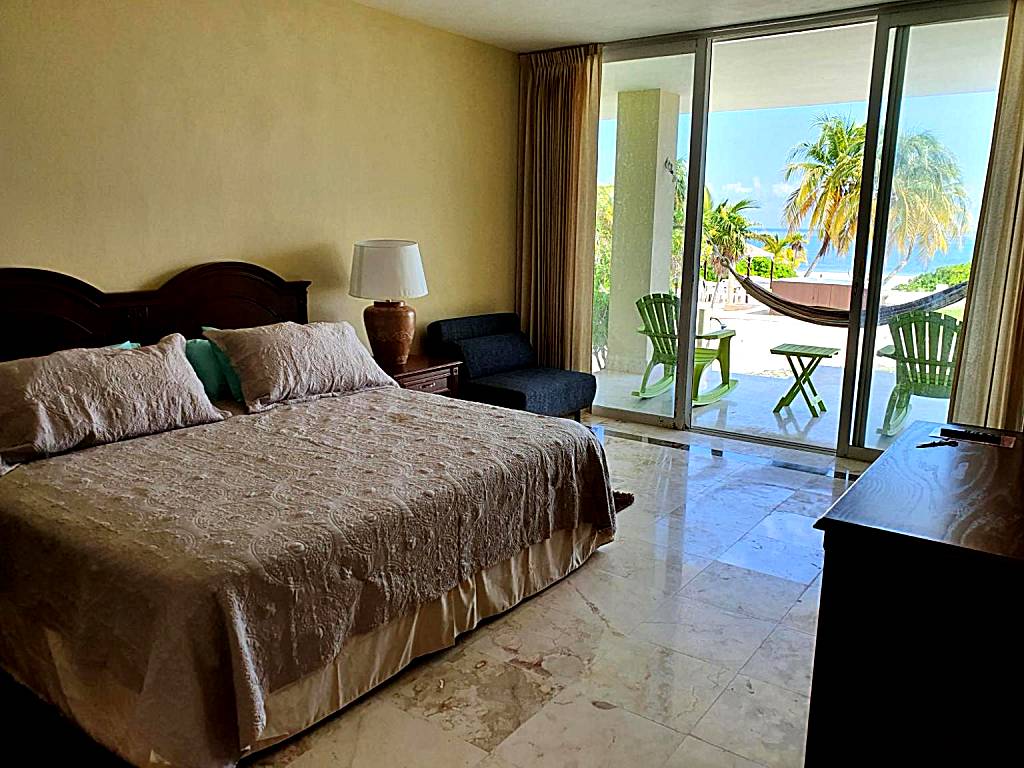 Puerta del Mar Cozumel is a charming bed and breakfast located in Banco Playa, just 6 km from Cozumel Island. The property offers comfortable accommodations with amenities such as flat-screen TVs, Blu-ray and DVD players, and private bathrooms with free toiletries. Some units also feature a seating area or a balcony/terrace where guests can relax and enjoy the beautiful surroundings. The highlight of this hotel is its private beach area, perfect for sunbathing and water sports activities. Guests can also make use of the complimentary bicycles to explore the area or indulge in activities like golfing and horse riding nearby. With its convenient location near Playa del Carmen (18 km) and several attractions like Puerto Morelos (33 km) and Akumal (45 km), Puerta del Mar Cozumel is an ideal choice for travelers seeking a tranquil beachfront retreat.
– Charming bed and breakfast overlooking the stunning Banco Playa
– Comfortable accommodation with modern amenities
– Private beach area for exclusive relaxation
– Complimentary use of bicycles to explore the surroundings
– Convenient proximity to popular destinations like Playa del Carmen
Playa Palms Beach Hotel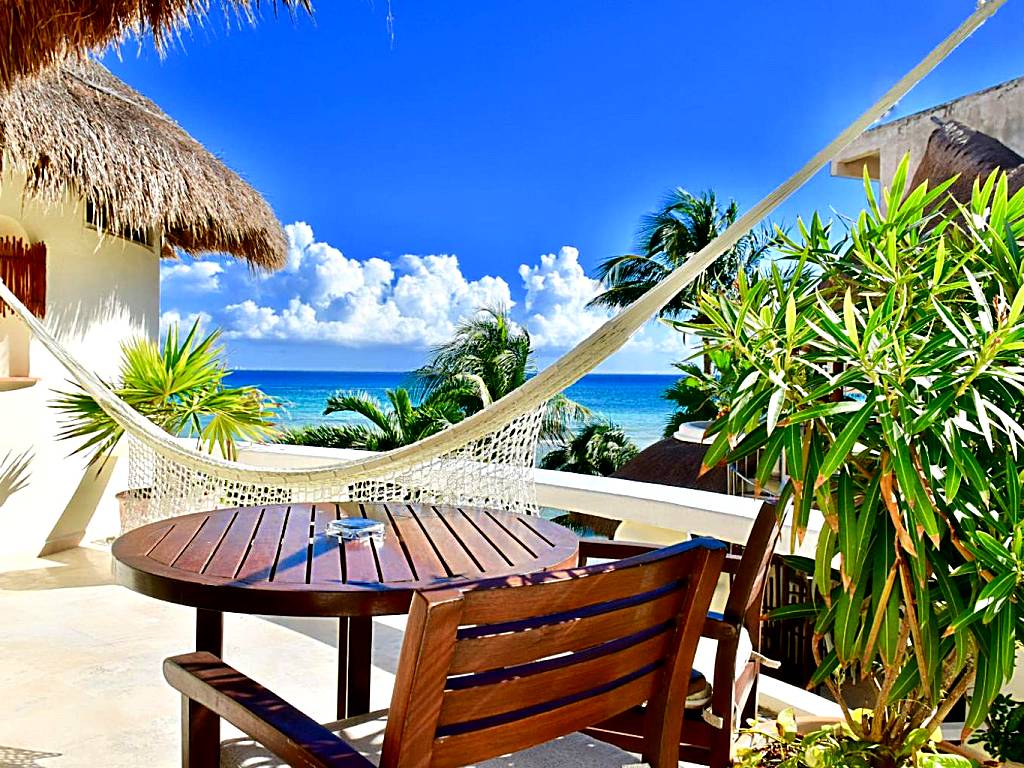 Playa Palms Beach Hotel is a beachfront paradise located just steps away from the vibrant 5th Avenue in Playa del Carmen. With its own private beach area and an inviting outdoor pool, guests can soak up the sun while enjoying breathtaking views of the sea. The hotel offers free WiFi throughout and all rooms feature balconies with hammocks, providing the perfect spot to relax and unwind. Some rooms even offer partial sea or garden views. The hotel is conveniently situated about 60 minutes' drive from Cancun International Airport, making it easily accessible for travelers. Each unit is air-conditioned and includes a comfortable seating and dining area, as well as a flat-screen TV. For those looking for more convenience, some units are equipped with a kitchen complete with a toaster. Guests can indulge in a variety of refreshing drinks available at an extra cost while taking advantage of the spa services offered by the hotel. Additionally, there is also a tour desk available for guests to plan their local exploration activities.
– Private beach area with stunning sea views
– Balconies with hammocks in every room
– Free WiFi throughout the property
– Convenient location near 5th Avenue's attractions
– Spa services and tour desk available
Other places to stay in Playa del Carmen
Hotels Near the Beach in Downtown Playa del Carmen
Downtown Playa del Carmen offers a range of hotels near the beach, allowing travelers easy access to the sandy shores and crystal-clear waters. Whether seeking a budget-friendly option or a luxurious retreat, there are accommodations available to suit every traveler's preference.
The Elements Oceanfront & Beachside Condo Hotel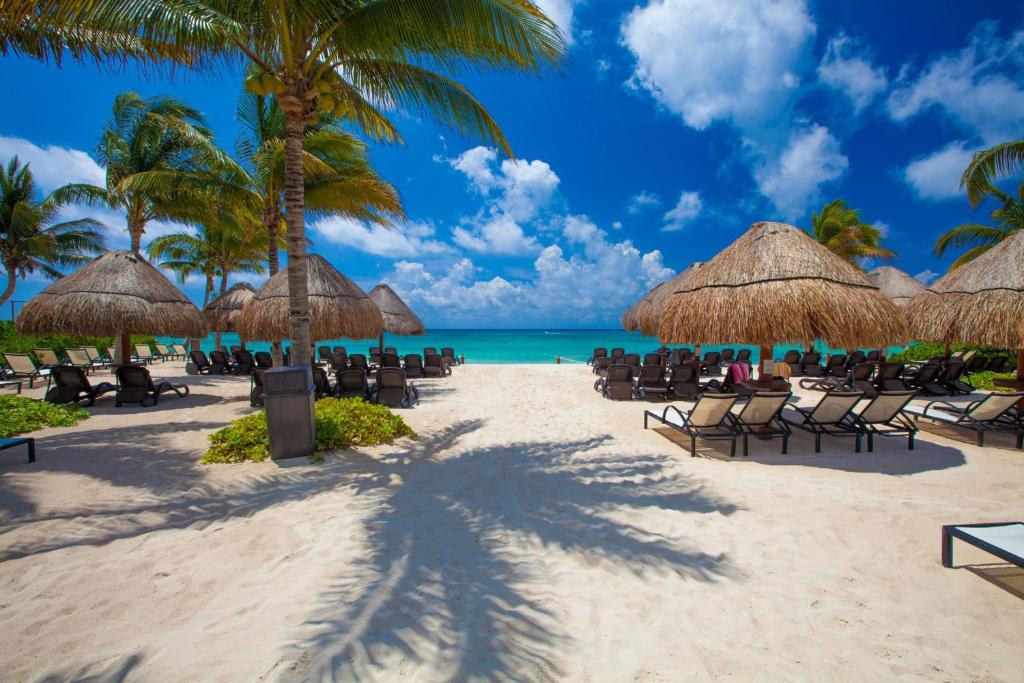 Located just moments from the pristine Caribbean Sea and ancient ruins in Playa del Carmen, The Elements Oceanfront & Beachside Condo Hotel offers a luxurious beachfront getaway surrounded by lush vegetation. This exquisite property features fully furnished condos with fully equipped kitchens and breathtaking ocean views. Guests can indulge in the private beach and beach club, as well as take a refreshing dip in the spacious outdoor pool. With an on-site fitness center and business center, both boasting stunning ocean views, guests can stay active and productive during their stay. The one, two, and three bedroom condos at The Elements provide modern amenities such as flat-screen TVs and high-count linens for maximum comfort. After a day of exploring or lounging on the beach, guests can unwind on their private terrace or enjoy the gentle evening breeze from the comfort of their living room.
– Stunning ocean views from fully furnished condos
– Private beach access for ultimate relaxation
– Spacious outdoor pool for refreshing dips
– Conveniently equipped fitness center with ocean views
– On-site business center for productive stays
Fairmont Mayakoba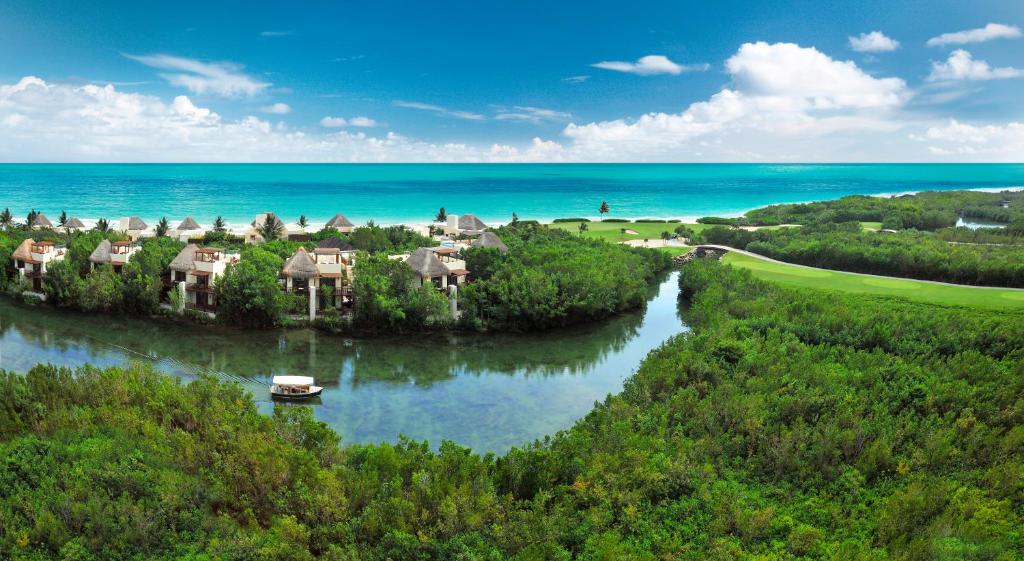 The Fairmont Mayakoba is a luxurious beachfront resort located in the Riviera Maya. This AAA Five Diamond Award winner is comprised of low-rise buildings connected by waterways, offering stunning views of the surrounding lush tropical forest and the sea. The resort is car-free, with guests able to navigate through the different areas by boat, on foot along nature trails, or by bicycle or staff-driven electric golf cart. For golf enthusiasts, the El Camaleon Riviera Maya Golf Club offers an 18-hole course designed by Greg Norman and recognized by the Audubon Society. The resort also boasts a 20,000 square foot Willow Stream Spa with treetop treatment areas and a variety of beauty and massage treatments inspired by local traditions and flora. With multiple on-site restaurants and bars, including a grill, seafood restaurant, sushi bar, and swim-up bar, there are plenty of dining options to satisfy every palate. Families traveling with children can take advantage of the Discovery Club & Adventure Camp which provides cultural and educational activities for kids aged 5 to 12 years old. Additionally, guests have private access to Playa del Carmen beach and can enjoy five outdoor swimming pools within the resort grounds. Cancún International Airport is approximately 45 minutes away by car while Playa del Carmen can be reached in about 15 minutes.
– AAA Five Diamond Award-winning luxury hotel
– Unique experience with low-rise buildings connected by waterways
– Car-free resort allowing various modes of transportation
– Stunning views of tropical forest and sea
– Extensive amenities including a championship golf course
Valentin Imperial Riviera Maya All Inclusive – Adults Only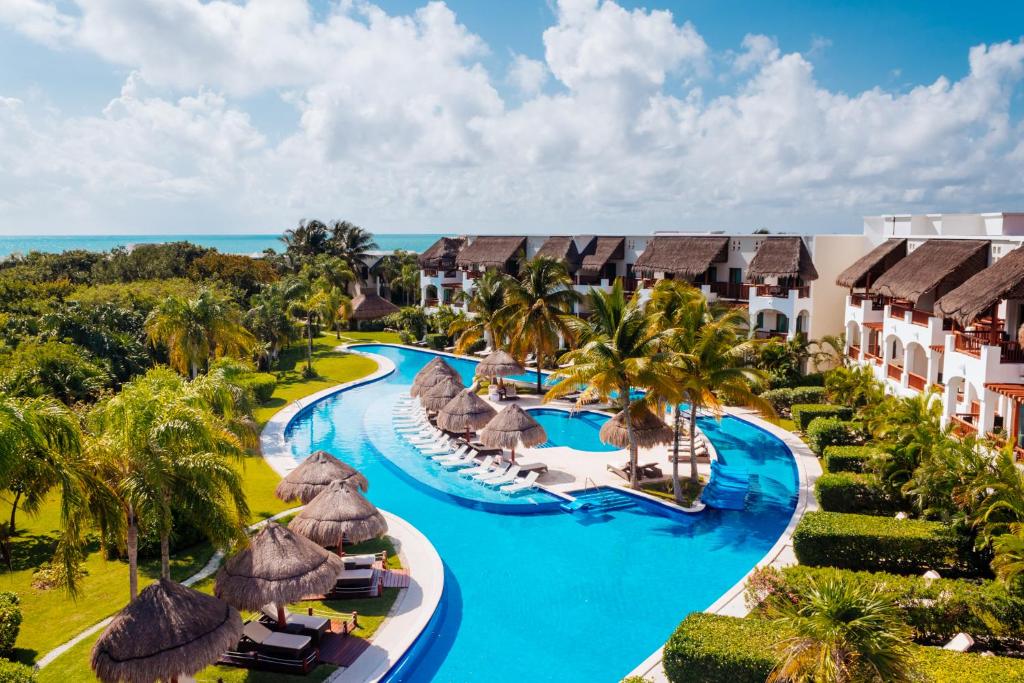 Located on a picturesque half-mile private beach in Playa Secreto, the Valentin Imperial Riviera Maya All Inclusive – Adults Only is a luxurious resort that offers an array of amenities and activities for its guests. This environmentally friendly property boasts spacious rooms with jetted tubs and balconies, providing a comfortable and relaxing atmosphere. The resort features an outdoor swimming pool, tennis courts, and a full-service spa where guests can indulge in rejuvenating massages. With seven à la carte restaurants serving various cuisines such as Italian, French, Japanese, Indonesian, Mexican, steak dishes, and seafood options available for dinner, guests are spoilt for choice when it comes to dining. Additionally, the resort offers exciting water sports activities like kayaking, snorkeling, and scuba diving. Conveniently located just 25 minutes' drive from International Cancun Airport and within easy reach of Cancun and Playa del Carmen,
Pros:
– Stunning location on a pristine private beach
– Extensive range of dining options with seven à la carte restaurants
– Relaxing spa services available on-site
– Exciting water sports activities offered
– Easy accessibility from Cancun Airport
Romantic Beachfront Hotels in Playa del Carmen
Playa del Carmen offers a captivating setting for romantic beachfront hotels, with pristine white sand beaches and turquoise waters. Couples can indulge in intimate moments while enjoying breathtaking sunsets and the soothing sound of waves crashing against the shore.
Capital O Mimi Del Mar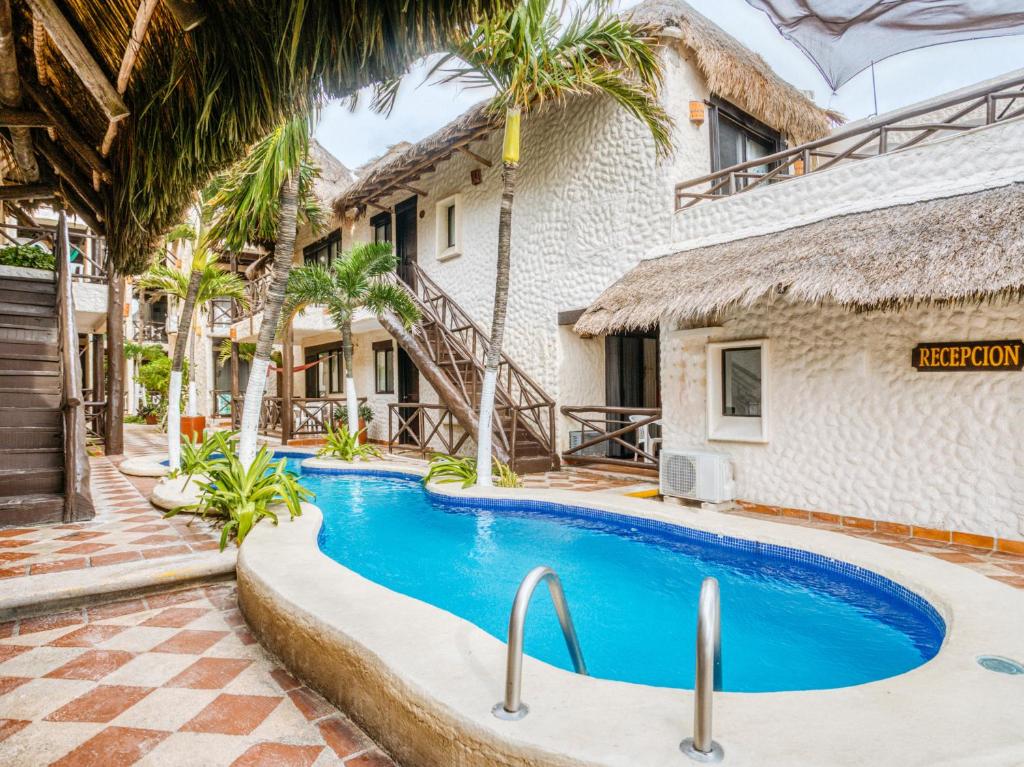 Located in central Playa del Carmen, Capital O Mimi Del Mar offers a comfortable stay with its outdoor pool, beachfront snack bar, and studios equipped with simple kitchenettes. The functional décor of each studio is complemented by amenities such as air conditioning, free Wi-Fi, and a balcony. The private bathrooms feature showers, while the kitchenettes have electric stoves and basic utensils. Conveniently situated just a 5-minute walk from Playa del Carmen ADO Bus Station and the Cozumel ferry terminal, guests can easily explore the area's attractions. Xcaret Eco Theme Park is only a 15-minute drive away, while Tulum and Cancun are within reach with a 45-minute drive.
– Central location in Playa del Carmen
– Outdoor pool for relaxation
– Beachfront snack bar for convenient refreshments
– Studios with kitchenettes provide flexibility for longer stays
– Close proximity to major transportation hubs
Secrets Maroma Beach Riviera Cancun – Adults only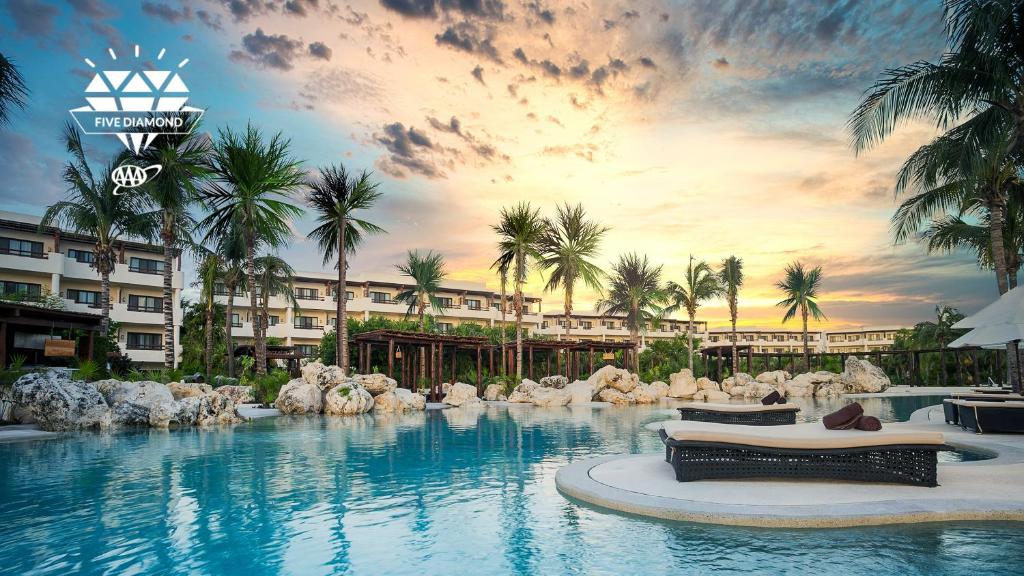 Located on the Riviera Cancun, Secrets Maroma Beach is a luxurious adults-only resort that offers an unforgettable beachfront experience. As a AAA's 5 Diamond Award Winner property, it boasts 13 outdoor pools, including a Preferred Beach Club exclusive for Preferred Club guests. The resort also features 6 à la carte gourmet restaurants, a buffet restaurant, and various casual dining options like Coco Café and Barefoot Grill. Guests can enjoy a wide range of activities such as yoga classes, scuba lessons, dance lessons, and beach and pool volleyball. The spacious suites are equipped with hot tubs, furnished terraces, flat-screen cable TVs, minibars, and marble bathrooms with high-quality toiletries.
– AAA's 5 Diamond Award Winner
– Multiple outdoor pools
– Gourmet dining options available
– Wide variety of on-site activities offered
– Preferred by Nature certified for sustainability commitment
Petit Lafitte Beach Front Hotel & Bungalows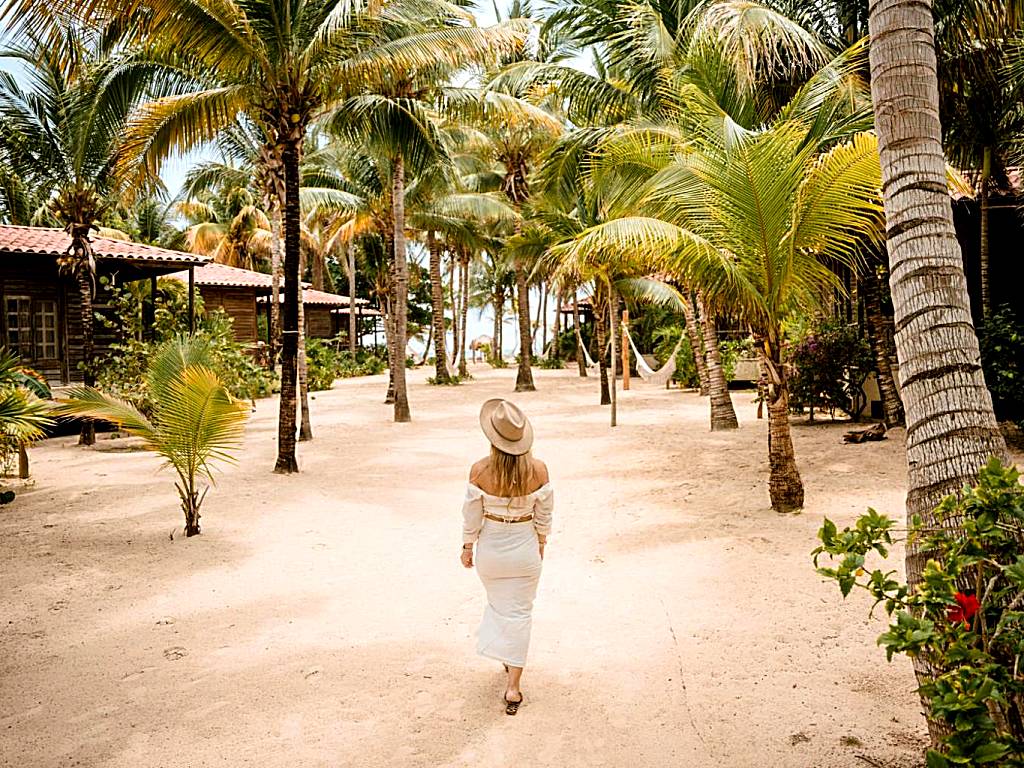 Petit Lafitte Beach Front Hotel & Bungalows is an idyllic beachfront retreat situated just a short 15-minute drive from Playa del Carmen Airport. Nestled amidst lush tropical gardens, this tranquil hotel offers air-conditioned rooms with stunning ocean or garden views, as well as complimentary Wi-Fi access. Guests can unwind in hammocks at the beachside bar while sipping on refreshing drinks. The rooms are beautifully appointed with tiled floors, featuring amenities such as a fan, cable TV, safe, minibar, and coffee maker. Additionally, each room boasts a private bathroom equipped with a hairdryer. Indulge in delectable meals at the charming restaurant that exudes a warm ambience. The hotel provides concierge service along with car hire options for convenience. Guests can take advantage of free on-site parking and also request an airport shuttle for an additional fee.
– Tranquil location amidst tropical gardens
– Air-conditioned rooms offering breathtaking views
– Complimentary Wi-Fi access
– Beachside bar perfect for relaxation
– Charming restaurant serving delicious meals
Beachfront Hotels Hotels in Playa del Carmen With a Pool
Beachfront hotels in Playa del Carmen with a pool offer the perfect combination of relaxation and stunning ocean views. With their convenient location, guests can enjoy the best of both worlds – taking a refreshing dip in the pool while being just steps away from sinking their toes into the soft sand and crystal-clear waters of the Caribbean Sea.
Catalonia Playa Maroma – All Inclusive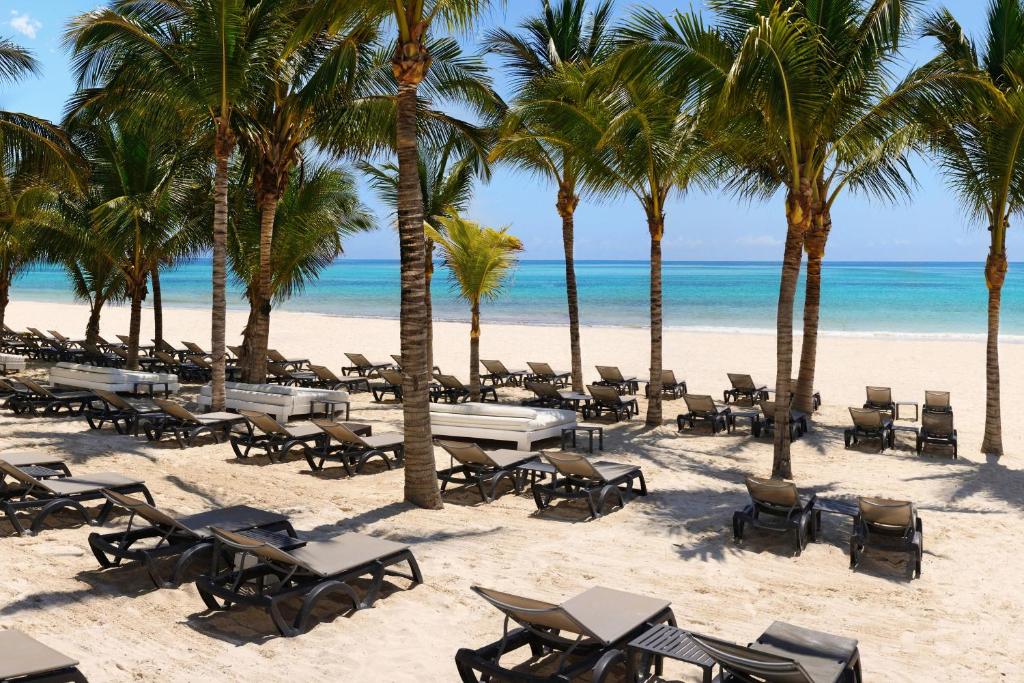 Catalonia Playa Maroma – All Inclusive is a luxurious beachfront resort located on Punta Maroma Beach, surrounded by lush mangrove forests. This all-inclusive hotel and spa offer guests a wide range of activities and amenities to enjoy during their stay. With an outdoor pool and a beachfront swimming pool with a poolside bar, guests can relax and unwind while soaking up the sun. The resort also offers free Wi-Fi access throughout the property, allowing guests to stay connected during their vacation. Dining options are plentiful with a variety of restaurants serving authentic Mexican cuisine and fresh seafood. Guests can also indulge in non-motorized water sports at the beach or keep up with their fitness routine in the fitness center. For ultimate relaxation, visitors can book a massage at the full-service spa or let their kids have fun at the children's club. After dinner, guests can dance the night away in the resort's nightclub.
– Beautiful beachfront location
– Wide selection of dining options
– Outdoor pools for relaxing and swimming
– Variety of activities for both adults and children
– Full-service spa for ultimate relaxation
Information about Beachfront Hotels in Playa del Carmen
| | |
| --- | --- |
| 🏢 Number of Beach Hotels in Playa del Carmen | 10 |
| 🥇 Average Review Score | 8.6/10 |
| 💰 High season average price | 1150 |
| 💸 Low season average price | 287.5 |
FAQ
Can you recommend any beachfront hotels in Playa del Carmen?
Yes, there are several fantastic beachfront hotels in Playa del Carmen. One highly recommended option is the luxurious Mahekal Beach Resort. This charming property offers direct access to a stunning stretch of white sandy beach and crystal-clear turquoise waters. With its thatched-roof bungalows and lush tropical gardens, Mahekal Beach Resort provides a serene and tranquil atmosphere for guests to relax and unwind while enjoying the breathtaking ocean views.
What amenities can I expect at a beachfront hotel in Playa del Carmen?
Beachfront hotels in Playa del Carmen typically offer an array of amenities to enhance your stay. Most properties provide private beach access, allowing guests to enjoy sunbathing, swimming or snorkeling right on their doorstep. Additionally, many hotels feature on-site restaurants serving delicious local cuisine as well as bars where you can sip refreshing cocktails while enjoying the view. Other common amenities include swimming pools with loungers, spa facilities for ultimate relaxation, fitness centers for those who want to stay active and complimentary Wi-Fi throughout the property.
Is it possible to find all-inclusive beachfront hotels in Playa del Carmen?
Absolutely! Playa del Carmen is home to numerous all-inclusive beachfront resorts that offer a hassle-free vacation experience. One popular choice is The Royal Playa del Carmen – All Inclusive Adults Only Resort. This luxury resort not only provides direct access to the pristine white sand beaches but also includes unlimited food and beverages from various dining venues on-site. Guests can indulge in gourmet cuisine, sip on top-shelf drinks by the pool or participate in activities organized by the hotel's entertainment team without worrying about additional costs.
Are there any family-friendly options among the beachfront hotels in Playa del Carmen?
Yes, families traveling with children will find several family-friendly options among the beachfront hotels in Playa del Carmen. One such hotel is the Grand Riviera Princess – All Suites Resort & Spa. This expansive resort offers numerous amenities and activities suitable for all ages, including a kids' club with supervised programs, multiple swimming pools with water slides, and a variety of dining options to cater to different palates. Parents can relax on the beach while their little ones have fun in the dedicated children's area.
What are some nearby attractions to explore when staying at a beachfront hotel in Playa del Carmen?
When staying at a beachfront hotel in Playa del Carmen, there are plenty of nearby attractions worth exploring. The vibrant Fifth Avenue (Quinta Avenida) is just steps away from most hotels and offers an array of shops, restaurants, and entertainment venues. For adventure seekers, the world-famous Mayan ruins of Tulum are within reach for an unforgettable day trip. You can also take a ferry to Cozumel Island and explore its stunning beaches or go snorkeling in its colorful coral reefs.
Popular Beach Hotels destinations