Welcome to our guide on shoreline accommodations in Paignton, England. If you're seeking a tranquil seaside escape, look no further than this charming coastal town. Nestled along the stunning coast of the United Kingdom, Paignton offers an array of beachfront hotels that cater to every traveler's desire for relaxation and luxury. Whether you're craving a romantic getaway or a family-friendly adventure, Paignton has it all.
Immerse yourself in the breathtaking beauty of the coastline as you indulge in the opulence of these magnificent beachside retreats. Feel the gentle breeze caress your skin as you step onto soft sands right outside your doorstep. Enjoy panoramic views of azure waters that stretch as far as the eye can see, creating an idyllic backdrop for an unforgettable stay.
Paignton boasts a plethora of upscale accommodations that promise unrivaled comfort and sophistication. From boutique hotels with chic decor to grand resorts exuding elegance at every turn, you'll be spoiled for choice when it comes to selecting your perfect beachfront haven. Soak up the sun by sparkling pools or unwind with rejuvenating spa treatments while admiring panoramic vistas from private balconies or terraces.
Experience true serenity and allow your worries to melt away as you revel in world-class amenities and exceptional service provided by gracious staff members who are dedicated to ensuring your stay is nothing short of extraordinary. No matter which beachfront hotel you choose in Paignton, one thing is certain – prepare yourself for an exquisite escape where sand meets luxury like never before.
The Best Paignton Hotels By the Beach
The Wentworth Guest House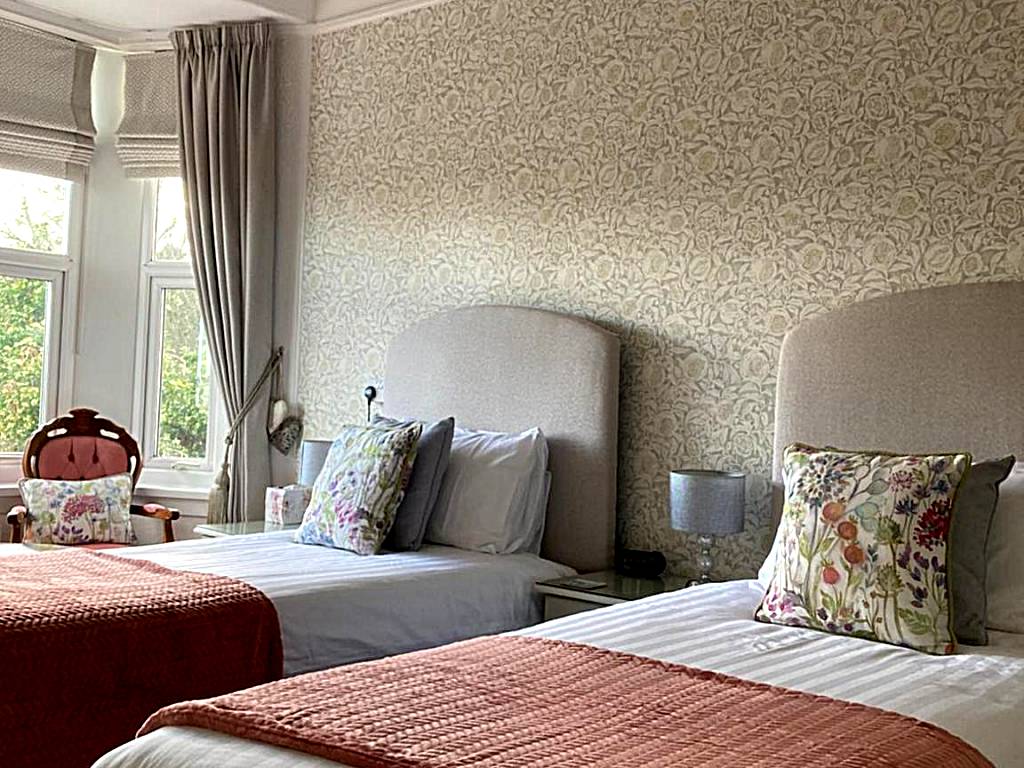 Located in the quiet park-side area of Paignton, The Wentworth Guest House offers a luxurious and comfortable bed and breakfast experience. With its close proximity to the sandy Goodrington beaches, just 200 meters away, guests can enjoy easy access to the stunning coastal views. Each en suite bedroom provides modern amenities including free Wi-Fi, tea and coffee facilities, and a flat-screen digital TV. With its Visit Britain 4-Star rating, this guest house is ideally situated on the coastal path and is only a short distance from Quay West water park. Guests will also find various dining options within walking distance. The hotel offers some free parking on site for added convenience, as well as free public parking nearby. Across the park lies Goodrington Station which is used by the Paignton & Dartmouth Steam Railway.
Pros:
– Quiet location next to a beautiful park
– Close proximity to the sandy Goodrington beaches
– Modern amenities including free Wi-Fi and flat-screen digital TV
– Convenient access to Quay West waterpark
– Several dining options within walking distance
Cherwood Guest House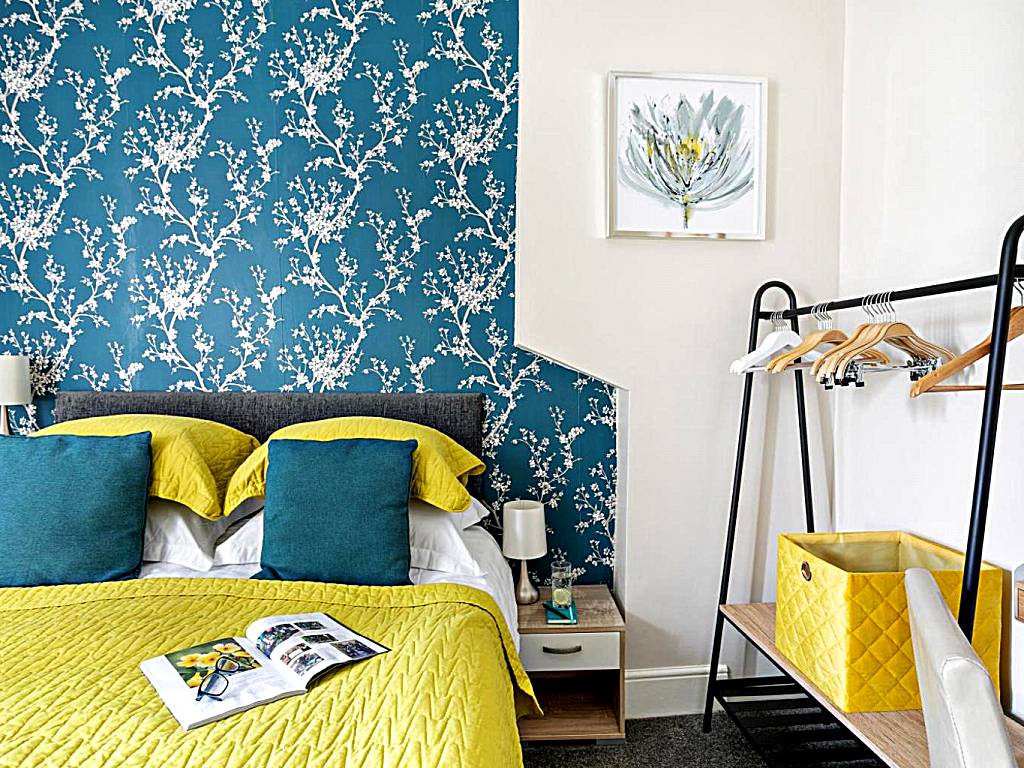 Cherwood Guest House is a unique and comfortable beachfront guest house located just a minute's walk from the seafront, Paignton pier, and the beach. The property is conveniently situated within a 5-minute walk from Paignton train station and bus station. Guests can enjoy a hearty breakfast made with locally sourced ingredients, offering options such as Full English, Poached Egg on Toast, jams, and yogurts. Each room at Cherwood Guest House includes an en suite shower room, central heating, hairdryer, tea/coffee making facilities, and a wall-mounted TV with DVD player. Within a 10-minute walk from the guest house, guests can explore seaside restaurants and cafes. Additionally, Cherwood Guest House provides easy access to nearby attractions including Torre Abbey (2.6 miles away) and Kents Cavern (4 miles away), known for its pre-historic cave formation.
Rowcroft Lodge (Paignton)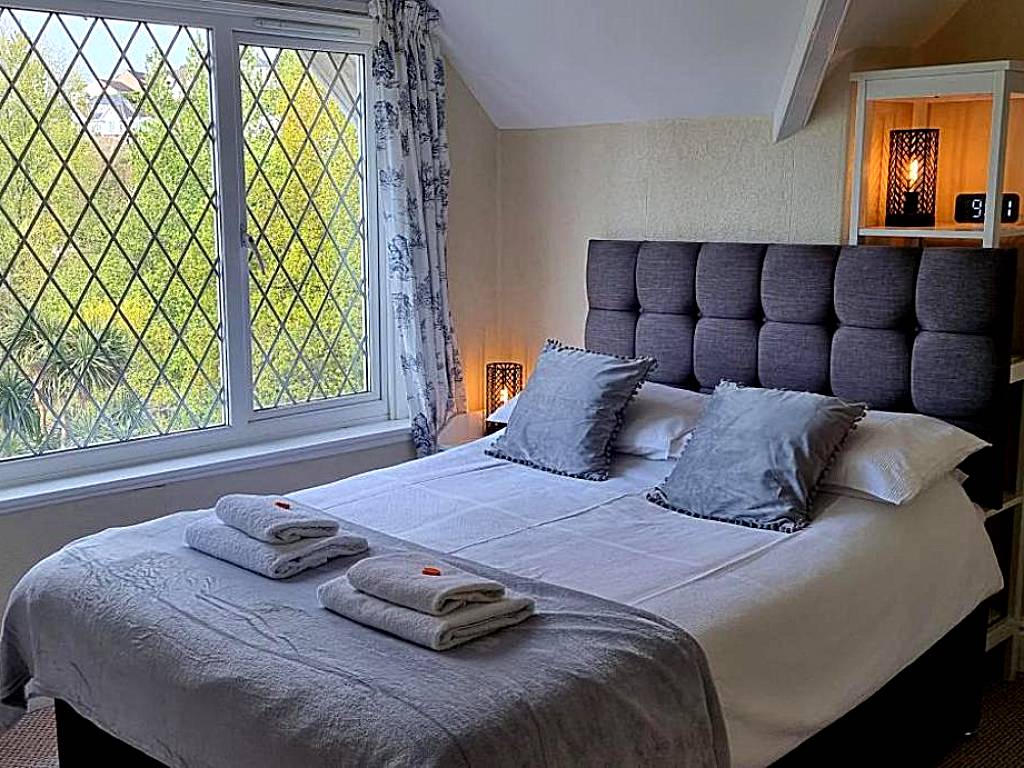 Situated in a peaceful location overlooking Goodrington Park, Rowcroft Lodge is a charming 3-star guest house that offers breathtaking views of the sea and Brixham in the distance. Under new ownership from June 2022, this hotel has exciting renovation plans ahead. The individually decorated en suite rooms feature neutral colors and offer modern amenities such as tea/coffee-making facilities and TVs with Freeview channels. Family rooms are also available for those traveling with loved ones. Selected pet-friendly rooms on the lower ground floor welcome dogs, while all rooms require navigating a set of stairs, as there are no ground floor options due to the layout of the beautiful Victorian house. Guests can savor delicious breakfasts made with locally sourced ingredients from nearby farms and butchers. The hotel's convenient location allows guests to easily explore Torbay's attractions, including Paignton Zoo within one mile. Additionally, the vibrant center of Paignton is just a short walk away, offering access to its charming harbor and pleasure pier.
Pros:
– Stunning beachfront location overlooking Goodrington Park
– Beautiful views of the sea and Brixham from balconies
– Pet-friendly accommodation available on the lower ground floor
– Individually decorated en suite rooms with modern amenities
– Convenient proximity to local attractions like Paignton Zoo and the center of Paignton
Other places to stay in Paignton
Hotels Near the Beach in Downtown Paignton
Downtown Paignton offers a variety of beachfront hotels that provide convenient access to the sandy shores. These hotels offer an ideal location for beach lovers looking to enjoy a relaxing stay with stunning ocean views.
The Palace Hotel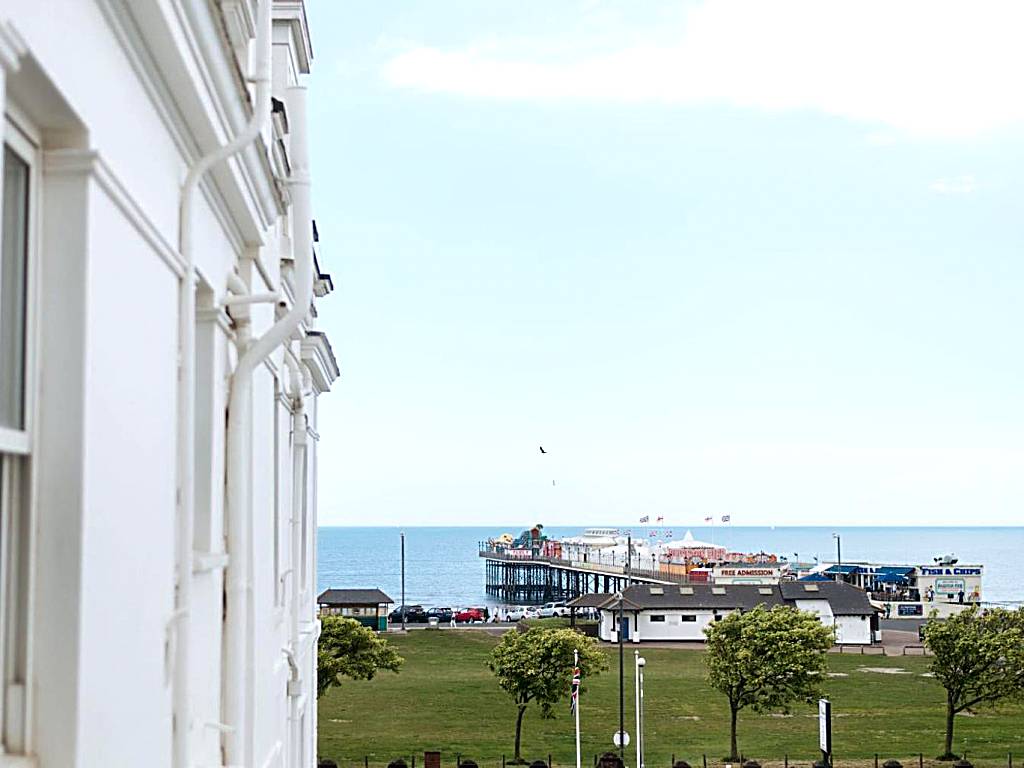 Situated in Paignton, The Palace Hotel is a 3-star beachfront hotel offering comfortable accommodation with stunning sea views. Guests can enjoy the convenience of free private parking and free WiFi throughout the property. The hotel features a charming garden, terrace, and an on-site restaurant where guests can indulge in delicious meals. Each room is equipped with modern amenities including a desk, flat-screen TV, kettle, and a private bathroom. The friendly and multilingual staff are available 24/7 at the front desk to assist guests with their needs. A Full English/Irish breakfast is served daily for guests to start their day off right. With its prime location near Paignton Beach, Preston Sands Beach, and Goodrington Sands Beach, this hotel offers easy access to some of the best beaches in the area. The nearest airport is Exeter International Airport which is approximately 44 km away.
– Convenient location near popular beaches
– Stunning sea views from select rooms
– Free WiFi throughout the property
– On-site restaurant serving delicious meals
– Friendly and multilingual staff available 24/7
Cherry Tree Hotel (Paignton)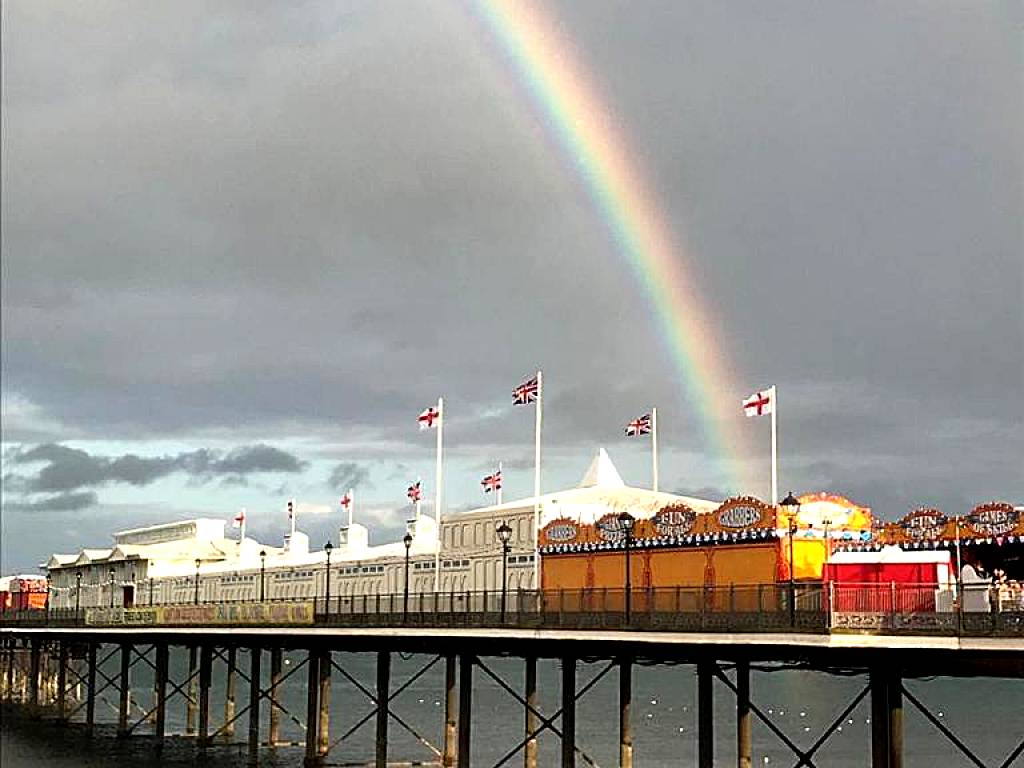 Cherry Tree Hotel is a charming bed and breakfast located in Paignton, offering a perfect base for beach lovers. With both Paignton Beach and Goodrington Sands Beach just a short distance away, guests can enjoy the convenience of staying right by the seaside. The hotel provides comfortable accommodation with free WiFi and complimentary private parking. Start your day off right with a delicious Full English/Irish breakfast served at the property. For those looking to explore, Preston Sands Beach is only 1.1 km away while Institute Beach is 3 km from the hotel. After an exciting day of snorkelling, cycling or fishing, unwind in the shared lounge area and relax before heading out to explore more of what Paignton has to offer.
– Convenient beachfront location
– Free WiFi
– Complimentary private parking
– Delicious Full English/Irish breakfast included
– Cozy shared lounge area for relaxation
The Cimon (Torquay)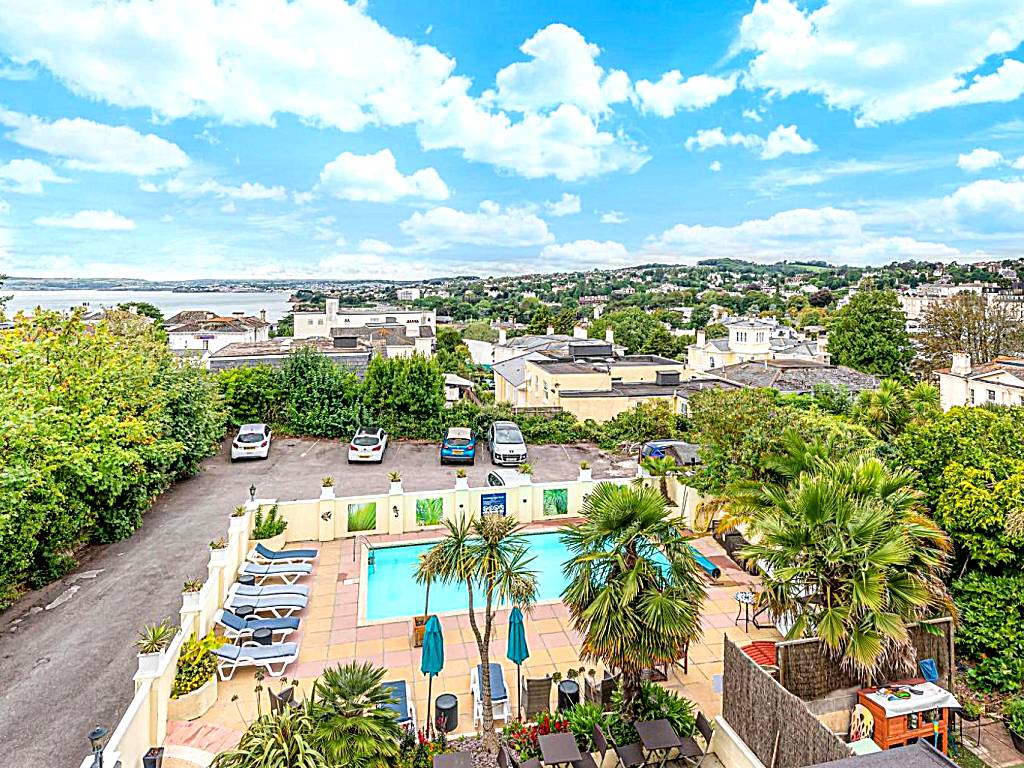 The Cimon is a charming guesthouse located in the heart of Torquay. Set in an 1850's detached Victorian building, this hotel offers guests a comfortable stay with a touch of elegance. The highlight of the hotel is its large patio garden and 30-foot outdoor swimming pool, perfect for lounging and enjoying the sun. The rooms at The Cimon are well-appointed and some even offer panoramic south-facing sea views across Torbay. Guests can also enjoy amenities such as free Wi-Fi, free parking, a DVD player, and a small fridge in select rooms. The south-facing dining room provides beautiful views overlooking the sun terrace and pool area. Additionally, there is a licensed bar for residents to unwind after a day of exploring. With its convenient location, guests can easily access Torquay's sandy beaches and the town's attractions including the Agatha Christie Mile tour. This delightful guesthouse offers everything needed for an enjoyable beachfront getaway.
– Charming Victorian building with period features
– Large patio garden and outdoor swimming pool
– Panoramic sea views from select rooms
– Free Wi-Fi and free parking
– Convenient location near sandy beaches and attractions
Romantic Beachfront Hotels in Paignton
Paignton offers a selection of romantic beachfront hotels, perfect for couples looking to unwind and enjoy beautiful ocean views. With their prime locations along the coast, these hotels provide an idyllic setting for a romantic getaway.
Wulfruna Hotel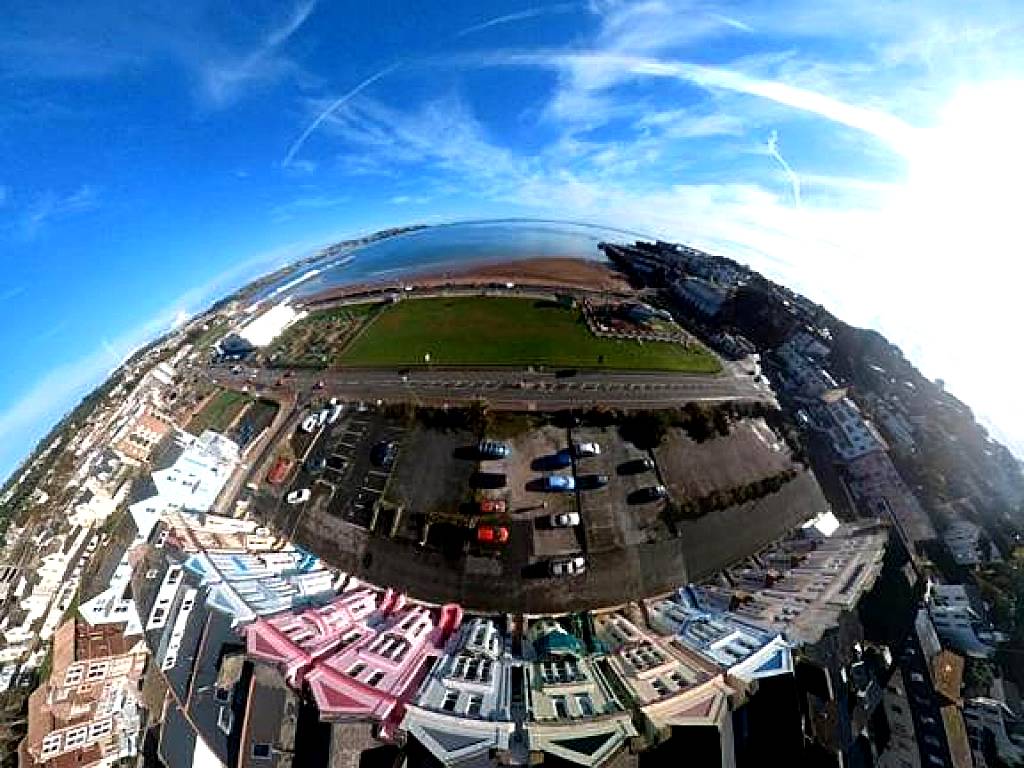 Located in the heart of the town and overlooking the beautiful sea, Wulfruna Hotel is a charming guest house that offers free parking to its guests. Situated just a short walk away from the promenade and Paignton's golden sandy beach, this hotel is perfect for those looking for a relaxing seaside getaway. The bedrooms are exquisitely decorated and furnished, offering a choice between double or family rooms, all of which come with en-suite facilities. For added convenience, ground floor rooms are also available. With its open-all-year policy, Wulfruna Hotel allows guests to enjoy breathtaking views of Torbay from many of its rooms. In addition, there is a lovely patio garden at the rear of the hotel that connects to the dining room, providing an ideal spot to unwind. Guests can also take advantage of the TV lounge for further relaxation during their stay.
Pros:
– Overlooks the sea
– Well-situated in the heart of town
– Free parking available
– Beautifully decorated and furnished bedrooms
– Spectacular views across Torbay
Two Beaches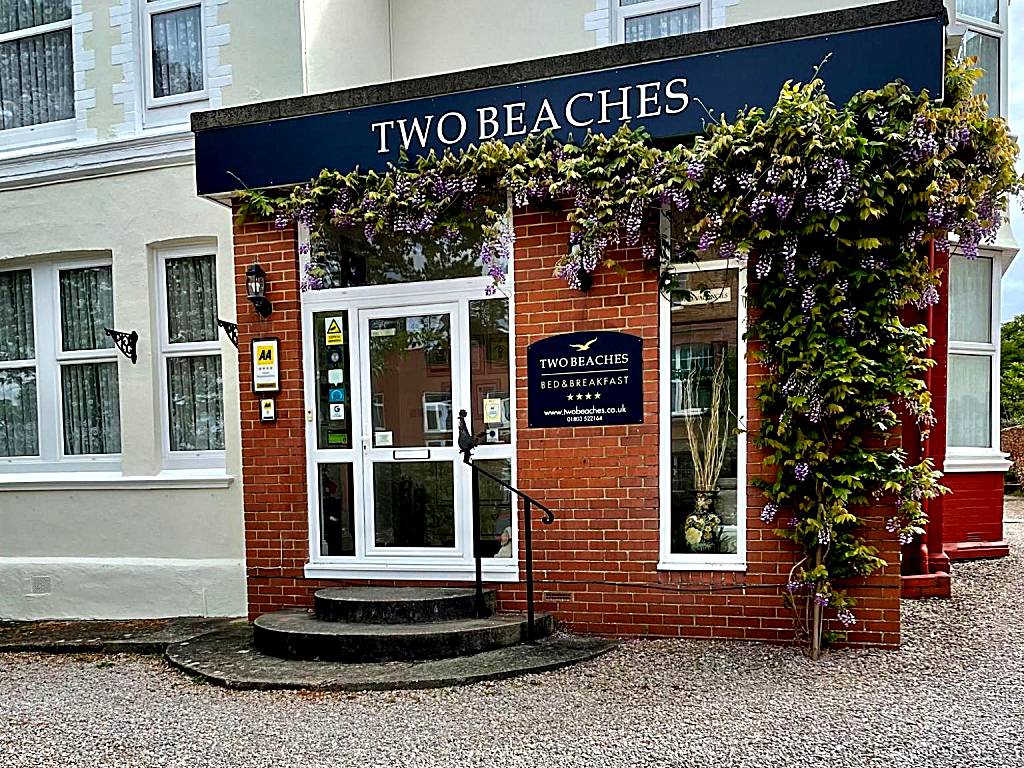 Guest House. Very stylish. Situated in the coastal town of Paignton, Two Beaches is in the heart of The English Riviera. The homely bed and breakfast offers free Wi-Fi and free private parking. Extensive award-winning breakfast menu including full English breakfast, fish specials, and omelettes. Rooms feature flat-screen TV, radio alarm clock, and en suite bath or shower rooms with a hairdryer. Some rooms offer sea or garden views. Wide selection of tea and freshly ground coffee served alongside dishes. Conveniently located near restaurants, shops, and train links to Torquay from Paignton Railway Station. Just 10 minutes' walk from Paignton Beach with kite surfing and dinghy sailing opportunities.
– Stylish guest house in the heart of The English Riviera
– Free Wi-Fi and free private parking
– Award-winning breakfast menu with options for all tastes
– Comfortable rooms with modern amenities including flat-screen TV
– Convenient location near restaurants, shops, and beach activities
The P&M Paignton RESIDENCE (Paignton)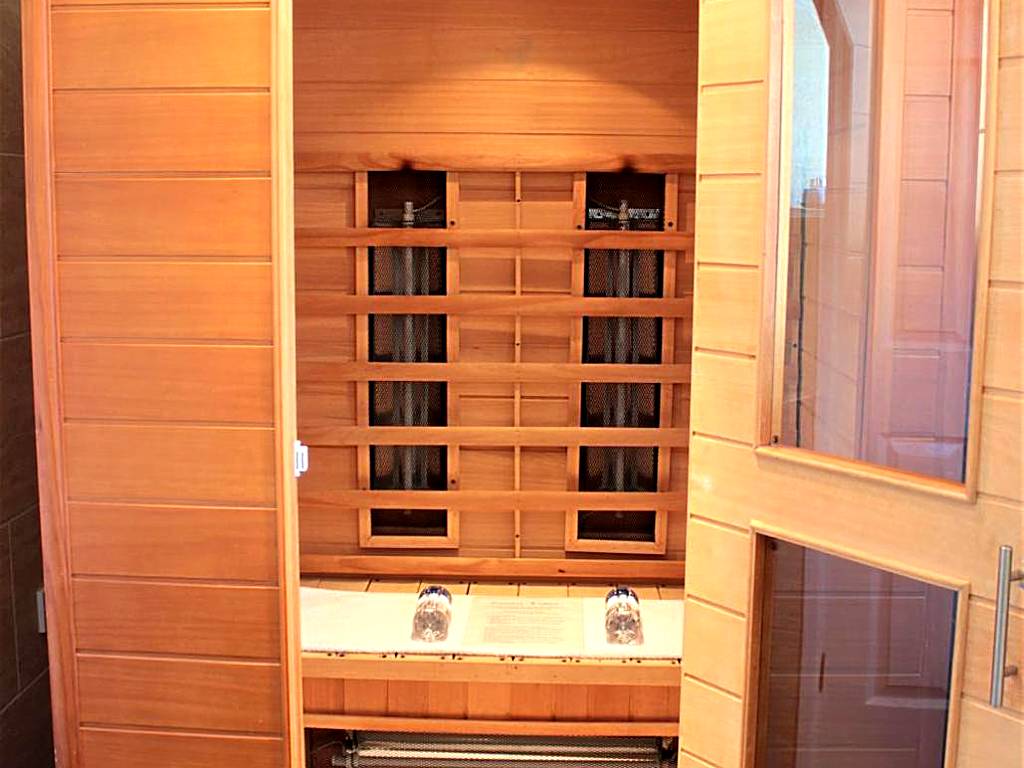 The P&M Paignton RESIDENCE is a luxurious 5-star bed and breakfast located just 200 meters from Paignton beach and a short walk from the town centre. This traditional seaside property offers stylish modern accommodation with bright and clean rooms. Some rooms feature luxurious amenities like an in-room sauna, four-poster bed, or walk-in shower. The hotel is conveniently situated for exploring local attractions such as Paignton's famous zoo and the Paignton and Dartmouth Steam Railway. Guests can enjoy a full English breakfast in the morning, with some rooms offering the option of in-room dining.
Pros:
– Prime location near the beach and town centre
– Stylish modern rooms with luxurious touches
– Option of in-room sauna, four-poster bed, or walk-in shower
– Close proximity to popular local attractions
– Full English breakfast available with room service option
Beachfront Hotels Hotels in Paignton With a Pool
Beachfront hotels in Paignton with a pool offer guests the perfect combination of sun, sand, and relaxation. With easy access to the beach and refreshing poolside experiences, these hotels provide the ultimate beach getaway for travelers seeking seaside bliss.
St Weonards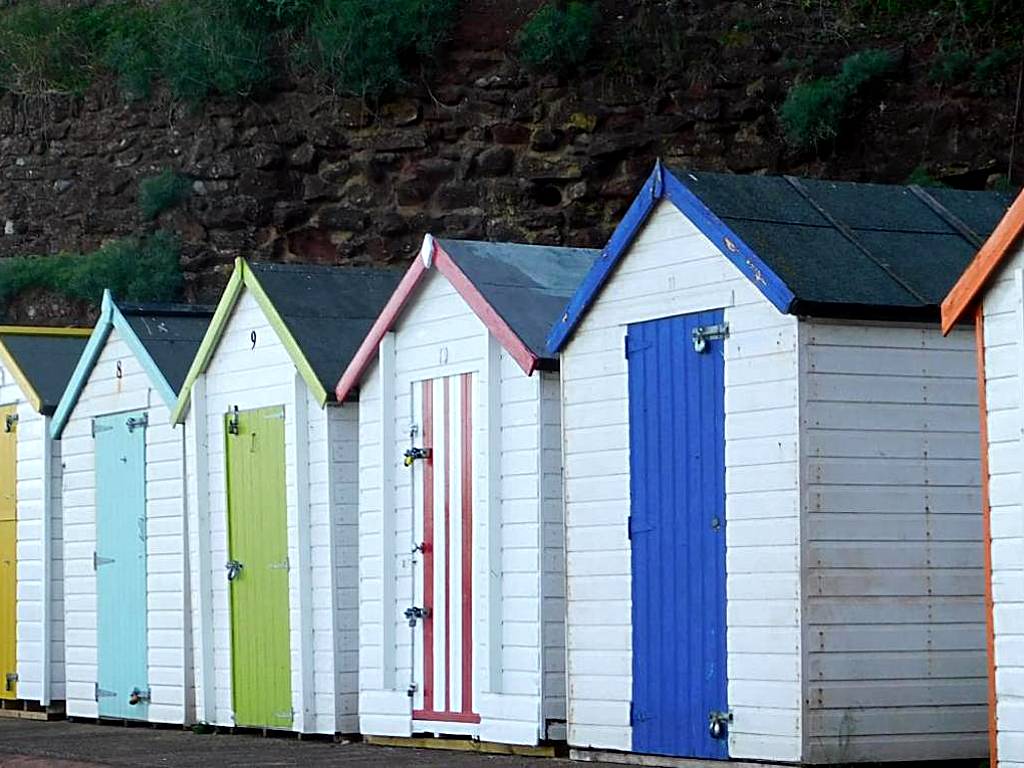 St Weonards is a charming bed and breakfast located in the coastal town of Paignton, on the south Devon coast. Situated just a 4-minute walk from Paignton Train Station and the Eastern Esplanade, this family and dog-friendly accommodation offers comfortable rooms with en suite bathrooms, free Wi-Fi, and flat-screen TVs with Freeview. Guests can enjoy a hearty cooked breakfast each morning in the breakfast room, as well as easy access to numerous cafes and restaurants in the area. With its convenient location between Brixham and Torquay, both just a short drive away, and Dartmoor National Park within 30 minutes' reach, St Weonards is an ideal base for exploring all that this beautiful region has to offer.
– Excellent location near train station and beachfront
– Family friendly with facilities for dogs
– Complimentary Wi-Fi throughout
– Comfortable rooms with en suite bathrooms
– Easy access to local cafes, restaurants, and attractions
The Ashleigh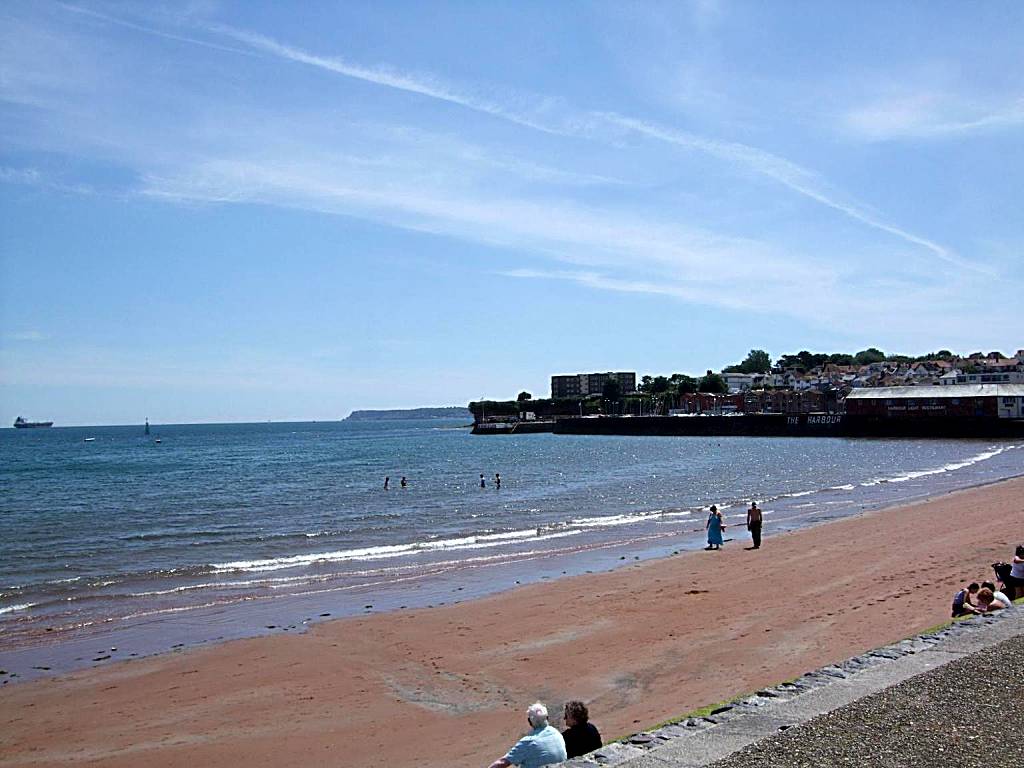 The Ashleigh is a charming 4-star guest house located just a short walk from Paignton town centre. This family-run establishment offers comfortable accommodation with all the necessary amenities for a pleasant stay. The rooms are equipped with en-suite bathrooms and come complete with toiletries and hairdryers. Guests can enjoy a delicious breakfast each morning and take advantage of free WiFi throughout the property. The sun terrace provides a perfect spot to relax and enjoy the scenic views of Queens Park. The hotel's convenient location means that Paignton rail, bus, and coach stations, as well as the beach and harbour, are just a 2-minute walk away. In addition to these amenities, guests can also make use of tea/coffee facilities and work desks in their rooms. The cozy lounge area features a flat-screen TV and an assortment of DVDs and CDs for entertainment purposes. With its proximity to popular attractions such as Paignton Zoo, which is easily accessible via public transport, along with numerous restaurants, bars, and shops nearby, The Ashleigh offers an excellent base for exploring everything this beautiful coastal town has to offer.
– Family-run guest house
– Short walk from Paignton town centre
– Exciting breakfast options
– Free WiFi
– Sun terrace overlooking Queens Park
Information about Beachfront Hotels in Paignton
| | |
| --- | --- |
| 🏢 Number of Beach Hotels in Paignton | 11 |
| 🥇 Average Review Score | 9.2/10 |
| 💰 High season average price | 1512 |
| 💸 Low season average price | 378 |
FAQ
What are some popular beachfront hotels in Paignton?
Some popular beachfront hotels in Paignton include The Palace Hotel, which offers stunning views of the sea and luxurious amenities, and The Grand Hotel, known for its elegant Victorian architecture and direct access to the beach.
Are there any family-friendly beachfront hotels in Paignton?
Yes, there are several family-friendly beachfront hotels in Paignton. One example is the Redcliffe Hotel, which offers spacious rooms with bunk beds for children and a variety of activities for kids such as a playground and indoor swimming pool. Another option is the Berry Head Hotel, which has family suites available and provides entertainment programs for children during peak seasons.
Do any beachfront hotels offer spa services in Paignton?
Yes, some beachfront hotels in Paignton offer spa services for guests to indulge in relaxation. The Palace Hotel has an on-site spa that offers a range of treatments including massages and facials. Another hotel with spa facilities is the Livermead House Hotel, where guests can enjoy rejuvenating therapies while overlooking the beautiful coastline.
Which beachfront hotels provide dining options with sea views in Paignton?
There are several beachfront hotels in Paignton that provide dining options with breathtaking sea views. The Grand Hotel features a restaurant overlooking the bay where guests can savor delicious meals while enjoying panoramic vistas. Similarly, Caley Hall Hotel boasts a terrace restaurant offering stunning views of Torbay during breakfast or dinner.
Are there any budget-friendly beachfront hotels in Paignton?
Yes, there are budget-friendly options when it comes to choosing a beachfront hotel in Paignton. One such choice is the Sefton Lodge Bed & Breakfast that offers comfortable rooms at affordable rates just steps away from Goodrington Sands Beach. Additionally, The Commodore Guesthouse is another reasonably priced accommodation option directly facing Preston Sands Beach, perfect for those looking to enjoy a beachfront stay on a budget.
Popular Beachfront Hotels destinations