Welcome to a captivating journey along the pristine shores of the Oregon Coast, where tranquil waves gently kiss sandy beaches and luxury hotels beckon discerning travelers. Nestled amidst this breathtaking landscape lies an array of exquisite beachfront accommodations, offering a harmonious blend of opulence and coastal charm.
Prepare to be enchanted as we unveil a curated list of spectacular seaside retreats that will transport you to a world of unparalleled beauty. Whether you crave the invigorating embrace of the Pacific Ocean or seek solace in scenic coastal vistas, these oceanfront hotels are designed to immerse you in pure bliss. From stylish boutique establishments exuding elegance to grand resorts boasting panoramic views, each property promises an unforgettable stay filled with serenity and indulgence.
As we embark on this virtual exploration together, let us delve into the hidden treasures that await – from quaint towns peppered with charming cafes and art galleries to majestic lighthouses standing tall against rolling dunes. Soak up the bewitching allure of Oregon's coastline as we uncover its best-kept secrets and showcase extraordinary beachfront havens that promise unrivaled serenity for your next escape.
The Best Oregon Coast Hotels By the Beach
Little Creek Cove Beach Resort (Newport)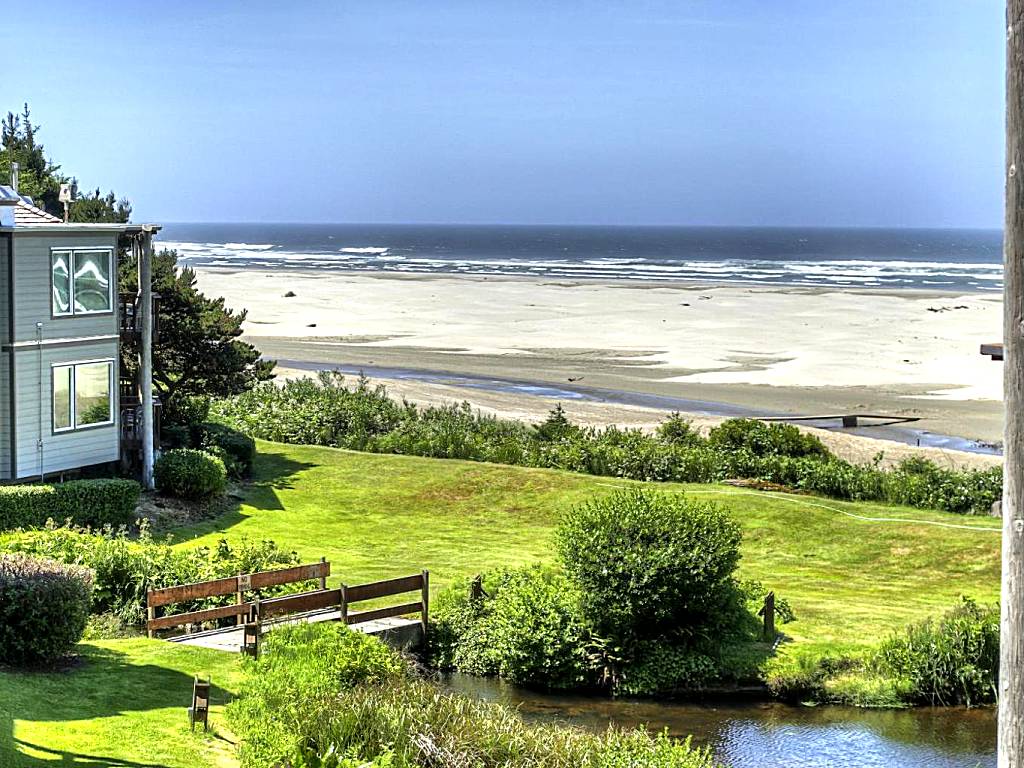 Located directly on the beach, Little Creek Cove Beach Resort in Newport is a charming motel that offers private beach access and stunning ocean views. Each unit features a fully equipped kitchen with a dishwasher, as well as a fireplace and a private terrace facing the ocean. Guests can also enjoy the convenience of free Wi-Fi, a flat-screen cable TV, and a seating area. The resort boasts an on-site wildlife pond and is situated just minutes away from popular attractions like the Oregon Coast Aquarium, Yaquina Head Outstanding Natural Area, and Agate Beach Golf Course.
– Private beach access
– Fully equipped kitchens in each unit
– Ocean views from every room
– On-site wildlife pond
– Close proximity to popular attractions
Hallmark Resort in Cannon Beach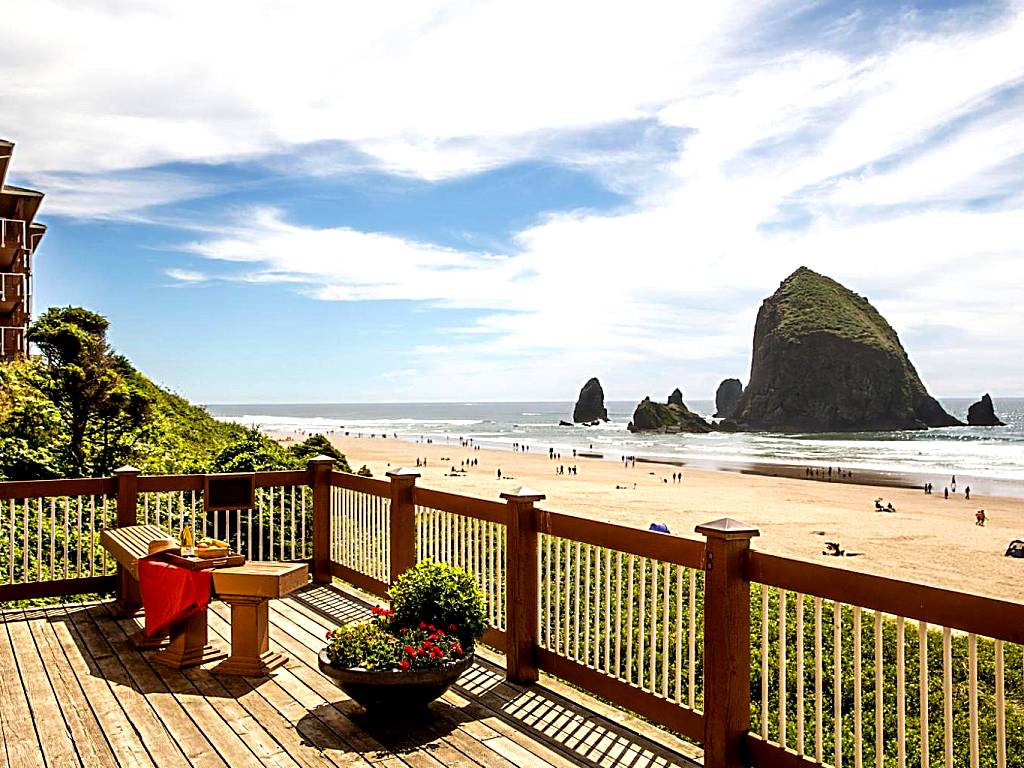 Located directly on the beach with stunning views of Haystack Rock, Hallmark Resort in Cannon Beach is the perfect destination for a relaxing beachfront getaway. The hotel offers a range of amenities to ensure a comfortable stay, including spacious guest rooms with gas fireplaces and free Wi-Fi. Guests can also take advantage of complimentary bicycle rentals to explore the beautiful surroundings. The resort features two indoor heated saltwater pools, three hot tubs, and a dry sauna for ultimate relaxation. For those looking to stay active, there is a fitness center available on site. Additionally, guests can enjoy complimentary DVD rentals and indulge in freshly baked cookies in the lobby. The hotel also offers therapeutic massage services at its day spa, Elements by the Sea. With downtown Cannon Beach just a short walk away and popular attractions like Seaside and Tillamook Cheese Factory within easy driving distance, Hallmark Resort provides an ideal base for exploring all that this coastal region has to offer.
– Prime beachfront location with breathtaking views
– Cozy guest rooms featuring gas fireplaces
– Two indoor heated saltwater pools and hot tubs
– Complimentary bicycle rentals for exploring the area
– On-site day spa offering therapeutic massages
The Coho Oceanfront Lodge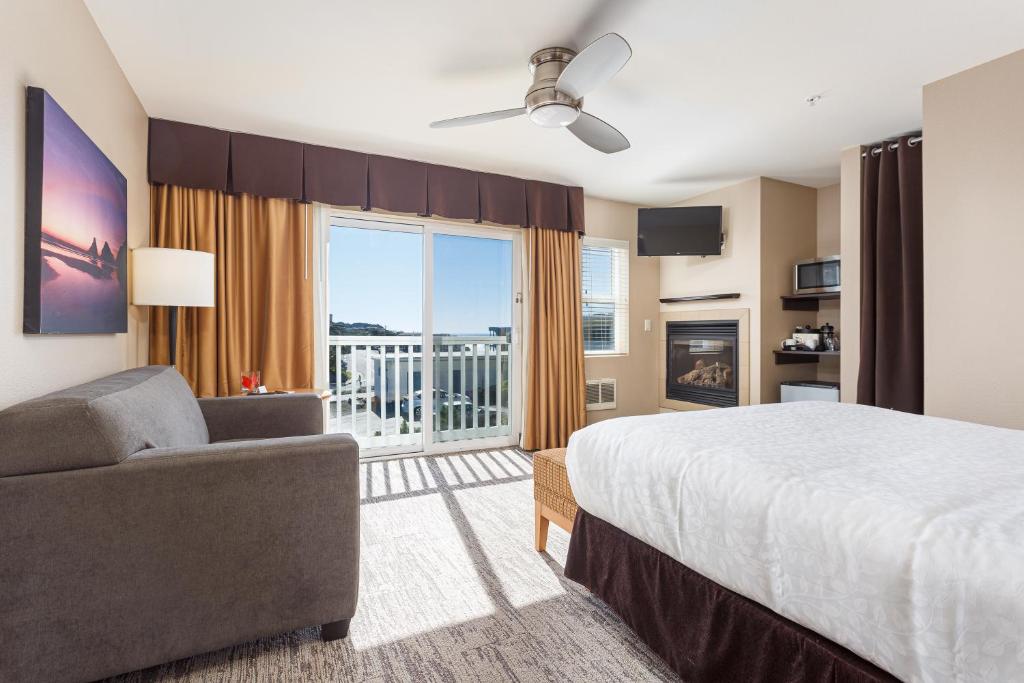 Located on Lincoln City Beach, The Coho Oceanfront Lodge is a luxury hotel offering stunning views of the Pacific Ocean. The modern studios feature 32-inch flat-screen TVs, iPod docking stations, and DVD players. Guests can relax in the heated indoor pool, hot tub, and sauna or stay active at the on-site fitness center. A deluxe continental breakfast, home baked cookies, and freshly ground coffee are served daily. The hotel also arranges cooking classes at The Culinary Center in Lincoln City and whale watching tours with Travelwind Charters.
– On-site spa for relaxation
– Free shuttle service to Chinook Winds Casino
– Large picture windows with panoramic ocean views
– French coffee press with local coffee provided
– Convenient location near attractions like The Culinary Center and Travelwind Charters for cooking classes and whale watching tours
Other places to stay in Oregon Coast
Hotels Near the Beach in Downtown Oregon Coast
Hotels near the beach in downtown Oregon Coast offer guests a prime location for enjoying stunning ocean views and easy access to sandy shores. With their proximity to the coast, these hotels provide an ideal base for exploring the beautiful beaches and experiencing all that the area has to offer.
Pelican Shores Inn (Lincoln City)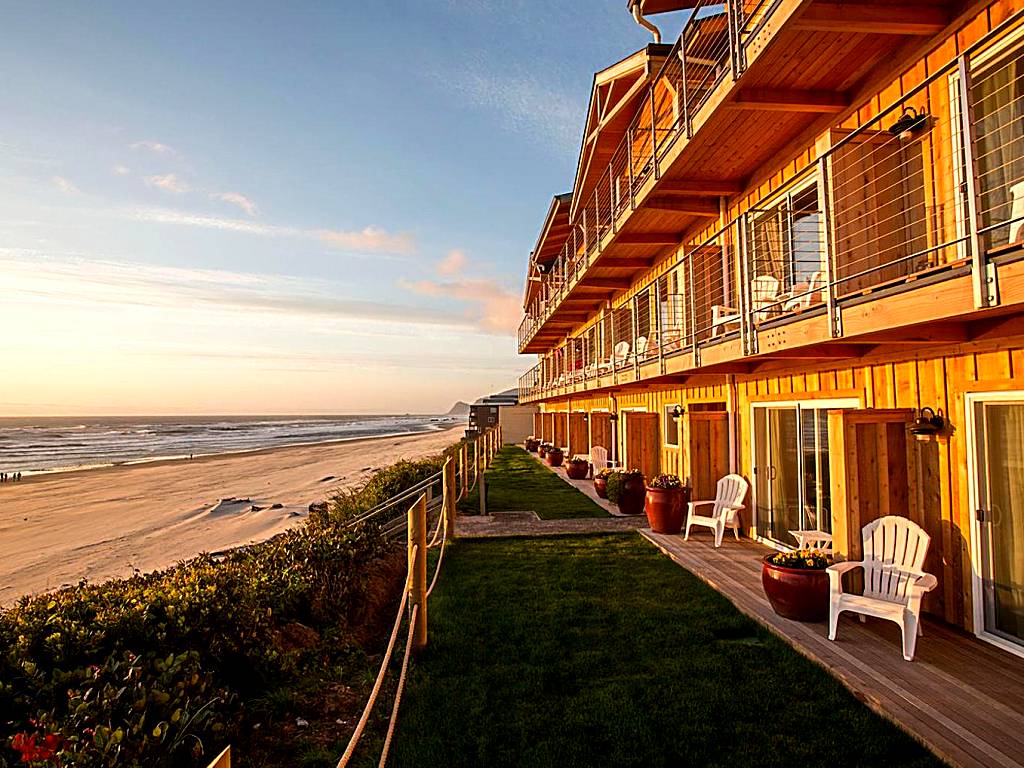 Located in Lincoln City, Oregon, Pelican Shores Inn is a charming beachfront hotel that offers its guests private access to the beautiful Pacific coast. With its prime location just one mile from Chinook Winds Casino, this hotel provides suites with breathtaking oceanfront views and convenient kitchenettes. The spacious suites feature flat-screen TVs with cable channels and complimentary Wi-Fi, making it easy for guests to relax and stay entertained. Additionally, Pelican Shores Inn serves a delicious continental breakfast including hot and cold cereal, bagels with cream cheese, muffins, nuts, yogurt, string cheese, juice, coffee and tea. Guests can also enjoy the mesmerizing sight of the lighted surf at night while taking advantage of the on-site laundry facilities or utilizing the barbecue facilities near the indoor pool. With Devils Lake State Park only a mile away and Devils Lake Golf Course just two miles from the property, Pelican Shores Inn offers an ideal retreat for those looking to explore both nature's beauty and recreational activities.
– Private beach access
– Stunning oceanfront views
– Convenient kitchenettes in each suite
– Complimentary continental breakfast
– Indoor pool area with barbecue facilities
Surfsand Resort (Cannon Beach)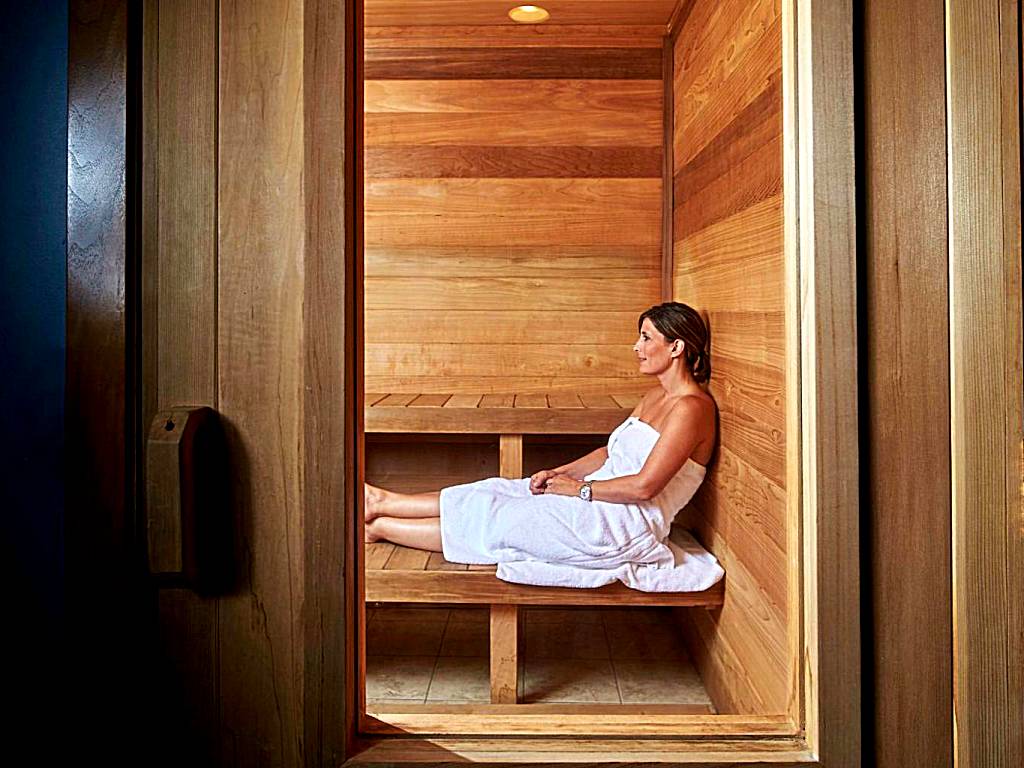 Surfsand Resort in Cannon Beach is a luxurious beachfront hotel that offers stunning views of the 235-foot Haystack Rock. This oceanfront resort provides direct access to Cannon Beach, allowing guests to enjoy the beautiful shoreline at their leisure. The resort boasts an array of amenities including a sauna and an on-site fitness center with workout equipment. For those seeking relaxation, Surfsand Resort offers therapeutic massage services as well as a heated indoor swimming pool and hot tub. The contemporary themed rooms feature modern comforts such as iPod docking stations, free Wi-Fi, and TVs with DVD players and access to a movie library. Some rooms even offer private patios or balconies along with soaking tubs for added luxury. Families will appreciate the Surfsand Kids Club which provides children with engaging crafts and activities to keep them entertained throughout their stay. The Wayfarer Restaurant & Lounge connected to the resort serves fresh seafood dishes daily for guests to savor. Additionally, Surfsand Resort offers a convenient transportation service that can take guests to nearby attractions such as Haystack Rock and the Columbia Maritime Museum.
– Direct access to Cannon Beach
– Sauna available on-site
– Heated indoor swimming pool and hot tub
– Contemporary themed rooms with modern amenities
– Surfsand Kids Club for children's entertainment
Ocean House (Newport)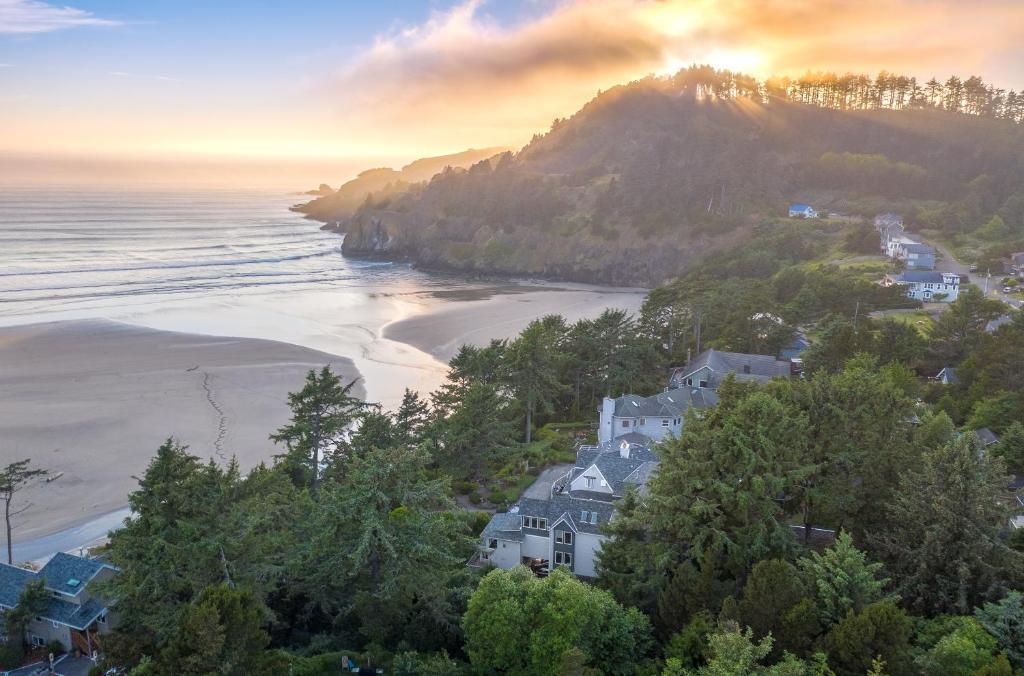 Ocean House is a newly opened boutique hotel in Newport, ideally located just 300 meters from Agate Beach. With its serene garden, shared lounge, and inviting terrace, the property offers a relaxing atmosphere for guests to unwind during their beachfront getaway. The hotel provides free private parking and features comfortable rooms with modern amenities such as free WiFi and concierge service. Guests can choose from an à la carte, American, or vegetarian breakfast options each morning. The well-appointed rooms offer a seating area and private bathroom with a bath and complimentary toiletries. Some rooms also come equipped with a convenient kitchenette including a fridge. Ocean House is surrounded by beautiful beaches including Cobble Beach and Moolack Beach, while Yaquina Head Lighthouse is just two kilometers away. Outdoor enthusiasts will appreciate the proximity to hiking trails and cycling routes in the area. Yaquina Bay State Recreation Site is also nearby at 6.3 kilometers away. For travelers flying into the region, Eugene Airport is approximately 131 kilometers from the hotel.
– Newly opened boutique hotel
– Convenient location near Agate Beach
– Comfortable rooms with modern amenities
– Delicious breakfast options available
– Close proximity to scenic beaches and outdoor activities
Romantic Beachfront Hotels in Oregon Coast
Oregon Coast offers a romantic escape with its stunning beachfront hotels. From the breathtaking ocean views to the soothing sounds of waves crashing, couples can indulge in a serene and intimate retreat in this picturesque destination.
Hi Tide Oceanfront Inn (Seaside)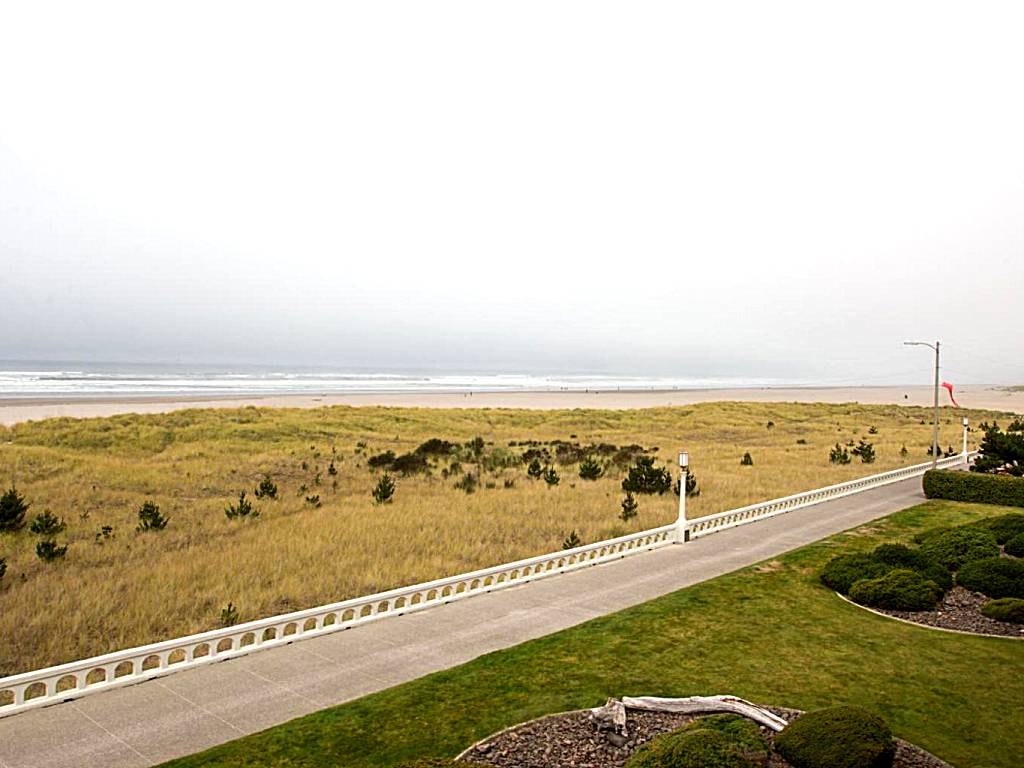 The Hi Tide Oceanfront Inn in Seaside, Oregon is a fantastic beachfront resort that offers an array of amenities to its guests. With an indoor heated pool and a hot tub, visitors can relax and unwind after a long day exploring the nearby attractions. The hotel's location off Highway 101 makes it convenient for guests to visit the Lewis and Clark National Historical Park, which is only a 20-minute drive away. The rooms at the Hi Tide Resort are comfortable and well-appointed, with select rooms featuring balconies with stunning ocean views and kitchenettes. All rooms come equipped with free Wi-Fi, fireplaces, cable TVs, DVD players, and ample seating areas. Guests will also appreciate the proximity of Seaside's city center, which is within walking distance from the resort. Other attractions such as the Seaside Aquarium are just a short walk away, while the Seaside Municipal Airport is only a 5-minute drive from the hotel. In addition to these wonderful features, guests can enjoy a daily continental breakfast and take advantage of free parking during their stay.
– Indoor heated pool and hot tub
– Convenient location near Lewis and Clark National Historical Park
– Rooms with balconies offering ocean views
– Free Wi-Fi throughout the property
– Daily continental breakfast included
Starfish Manor Oceanfront Hotel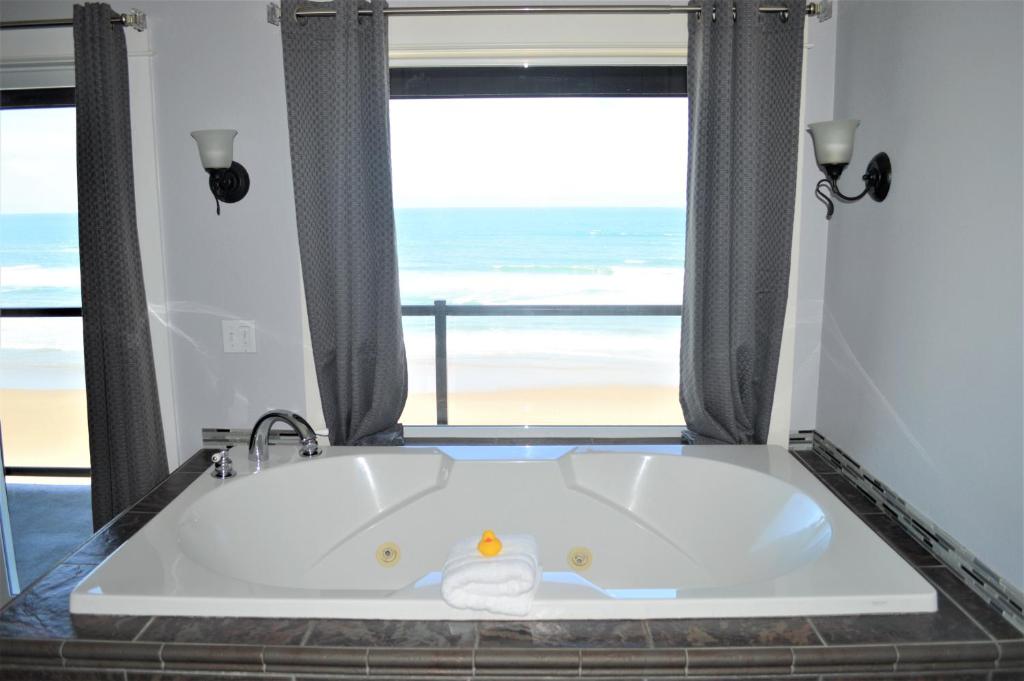 Starfish Manor Oceanfront Hotel is a luxurious 4-star property located in Lincoln City, offering breathtaking views of the beach. This charming hotel was built in 2005 and is conveniently situated within close proximity to popular attractions like D River Beach and Chinook Winds Golf Resort. The hotel features non-smoking rooms equipped with modern amenities such as a flat-screen TV, cable channels, and a safety deposit box. Guests can also enjoy free WiFi throughout their stay. Some rooms even offer stunning sea views. The accommodation provides comfortable bed linen and towels for guests' convenience. Starfish Manor Oceanfront Hotel is an ideal choice for travelers looking to relax by the beach while still being close to local attractions.
– Convenient location near popular beaches and golf resorts.
– Modern amenities including flat-screen TVs, cable channels, and free WiFi.
– Stunning sea views from select rooms.
– Non-smoking property ensures a clean and fresh environment.
– Close proximity to attractions like D River Beach and Chinook Winds Golf Resort.
Inn at Cannon Beach (Cannon Beach)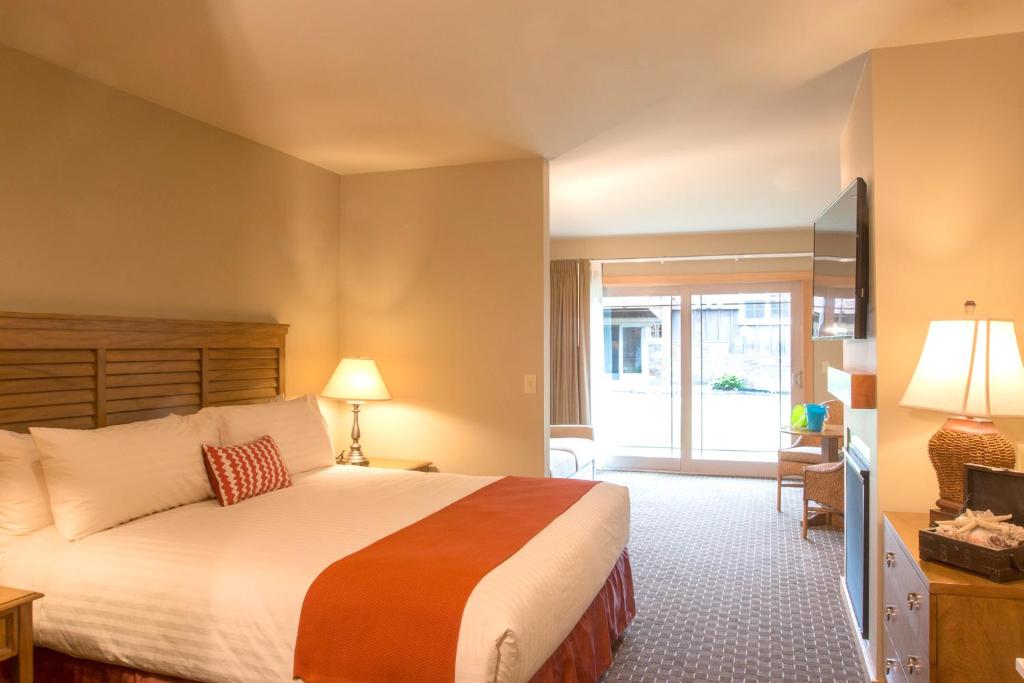 Located just a 5-minute drive from Tolovana Beach State Park, the Inn at Cannon Beach offers a comfortable and convenient stay for beach lovers. The property provides free Wi-Fi and breakfast to all guests, while rooms come equipped with a refrigerator, microwave, flat-screen cable TV, seating area, and gourmet coffee maker. The en suite bathroom offers complimentary toiletries, and all guest rooms are smoke-free. Guests can relax in the private garden or take advantage of the DVD and book collection available. Additionally, free passes to Cannon Beach Fitness and Cannon Beach Yoga Arts are provided. The popular Haystack Rock is just a 15-minute walk away, while the town center of Cannon Beach is only 1.5 miles from the hotel.
– Free Wi-Fi
– Complimentary breakfast
– Private garden for relaxation
– Accessible fitness facilities nearby
– Close proximity to popular Haystack Rock
Information about Beachfront Hotels in Oregon Coast
| | |
| --- | --- |
| 🏢 Number of Beach Hotels in Oregon Coast | 9 |
| 🥇 Average Review Score | 8.8/10 |
| 💰 High season average price | 226 |
| 💸 Low season average price | 56.5 |
FAQ
What are some popular beachfront hotels in the city of Oregon Coast?
Oregon Coast is home to several popular beachfront hotels that offer stunning ocean views and luxurious amenities. Some of the top choices include The Ocean Lodge, Surfsand Resort, Inn at Cape Kiwanda, Headlands Coastal Lodge & Spa, and Hallmark Resort & Spa. These hotels provide easy access to the beach, comfortable accommodations, and excellent services for a memorable stay by the seaside.
Which Oregon Coast beachfront hotel offers the best spa facilities?
If you're looking for a beachfront hotel with exceptional spa facilities on the Oregon Coast, then Headlands Coastal Lodge & Spa is your best bet. This luxury hotel boasts a full-service spa where guests can indulge in rejuvenating treatments like massages, facials, body wraps, and more. With tranquil surroundings and expert therapists, it's an ideal place to relax and unwind while enjoying breathtaking ocean views.
Are there any family-friendly beachfront hotels in Oregon Coast?
Absolutely! Families visiting Oregon Coast have plenty of options when it comes to beachfront accommodations that cater to their needs. One such family-friendly hotel is Surfsand Resort which offers spacious rooms or suites with stunning ocean views along with amenities like an indoor pool, game room for kids' entertainment as well as direct access to Cannon Beach making it perfect for families seeking a fun-filled seaside vacation.
Which Oregon Coast beachfront hotel is known for its fine dining options?
The Stephanie Inn sets itself apart from other beachfront hotels on the Oregon Coast due to its renowned culinary offerings. Guests can enjoy gourmet meals prepared using fresh local ingredients at their onsite restaurant – The Stephanie Inn Dining Room. From delectable seafood dishes to mouth-watering desserts, every meal here is a delightful experience complemented by panoramic ocean views that make dining even more special.
Do any of the luxury beachfront hotels in Oregon Coast offer outdoor activities?
Yes, several luxury beachfront hotels in Oregon Coast offer a range of outdoor activities to enhance your vacation experience. The Inn at Cape Kiwanda, for example, provides guests with opportunities for beachcombing, tide-pooling, and even dory boat rides. At Hallmark Resort & Spa, you can enjoy beach volleyball or take a leisurely stroll along the shoreline. These activities allow guests to make the most of their time by the ocean while enjoying the comforts of a luxurious hotel.
Popular Beachfront Hotels destinations