Welcome to the sunny shores of Orange County, California! Nestled along the picturesque coastline of Southern California, this vibrant region boasts an array of magnificent beachfront accommodations that are sure to please even the most discerning travelers. From opulent resorts to charming boutique hotels, Orange County offers a diverse selection of luxurious options for those seeking a perfect seaside getaway.
Immerse yourself in the laid-back coastal lifestyle as you unwind in one of Orange County's exquisite oceanfront hotels. Feel the gentle sea breeze caress your skin as you sip on a refreshing cocktail by a sparkling infinity pool, or take a leisurely stroll along pristine stretches of sandy beaches. Whether you're seeking an indulgent escape or an adventure-filled vacation, these beachfront havens provide everything you need for an unforgettable experience.
As the sun sets over the horizon and paints the sky with hues of orange and pink, prepare to be captivated by Orange County's enchanting beauty. Join us as we embark on a journey to explore some of the most idyllic beachfront hotels this captivating destination has to offer.
The Best Orange County Hotels By the Beach
Pacific Edge Hotel on Laguna Beach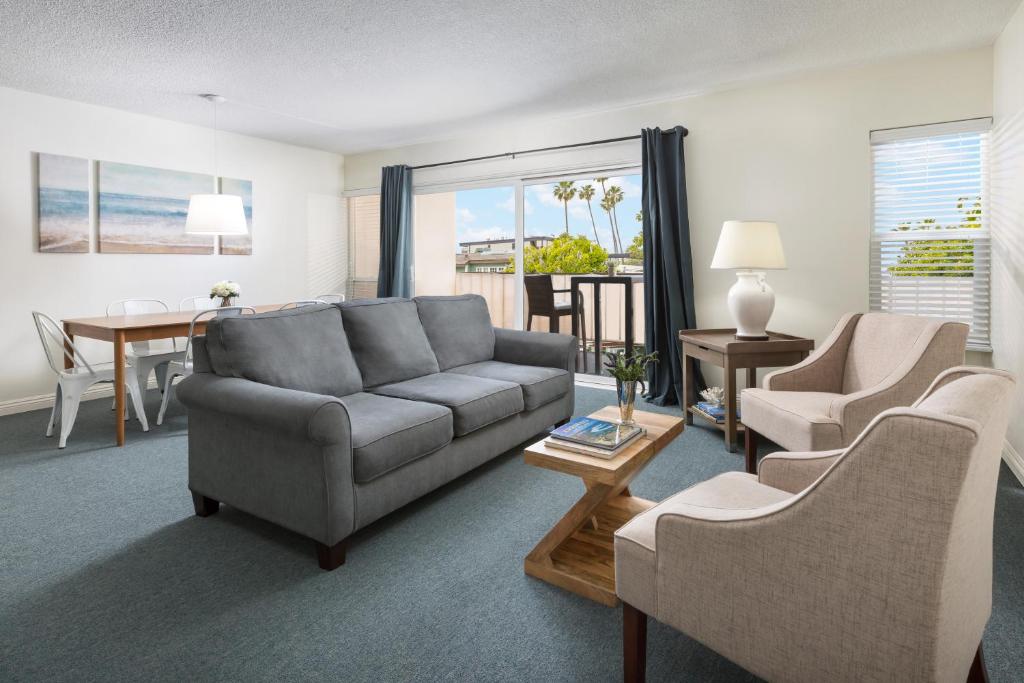 Located directly on the beach, Pacific Edge Hotel on Laguna Beach offers guests stunning views of the Pacific Ocean and easy access to pristine beaches. This charming beachfront hotel features two heated pools and is just 1.18 km from Heisler Park. Guests can enjoy complimentary lounge chairs and beach towels for the pool, as well as free WiFi and air-conditioning in their rooms. The hotel also boasts an on-site restaurant, The Deck, a fitness center, and a computer station compatible with both Mac and PC platforms. With the Laguna Beach seasonal trolley available for free transportation around town, guests can easily explore nearby attractions such as Top of the World (3.7 km away) and Aliso Beach County Park (5.8 km away). John Wayne Airport is also conveniently located 25.9 km from the property.
– Direct beachfront location with stunning ocean views
– Two heated pools for relaxation
– Complimentary lounge chairs and beach towels
– On-site restaurant offering delicious meals
– Easily explore nearby attractions using the free Laguna Beach seasonal trolley
Laguna Beach House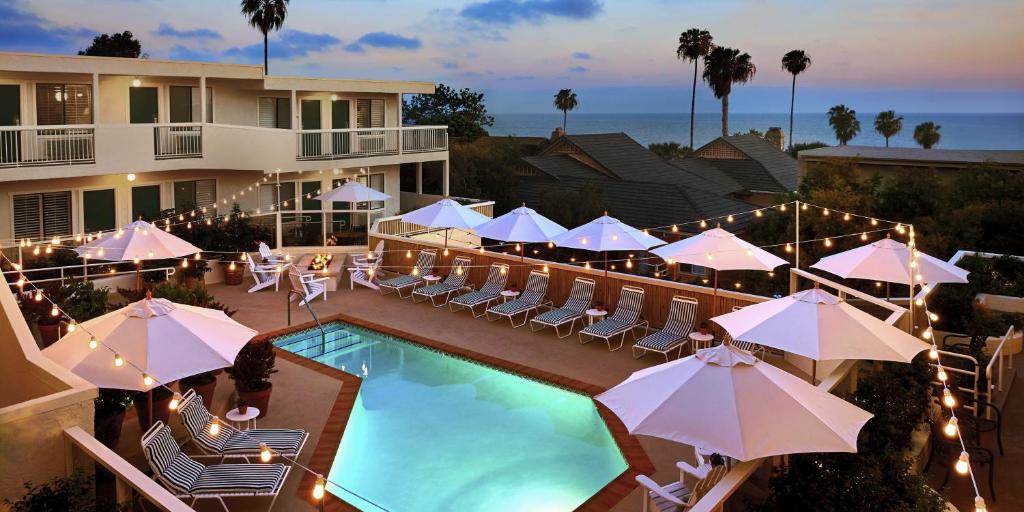 The Laguna Beach House is a charming boutique hotel located near the beach and just 5 miles away from Crystal Cove State Park. Guests can enjoy the outdoor pool and relax on the pillow-top mattresses in their rooms, which also come with free WiFi. The hotel's convenient location allows guests to explore nearby shopping, dining, and art galleries. All rooms have non-smoking policies and offer views of the pool, along with flat-screen cable TVs featuring HBO film channels. Each room also includes a sitting area with chairs and a refrigerator. For added convenience, beach chairs and umbrellas are available at reception. Guests can start their day with complimentary coffee in the morning and unwind with a complimentary nightly wine hour at sunset. The hotel is conveniently located 3 miles from the Pacific Marine Mammal Center and 11 miles from the University of California Irvine.
– Outdoor pool for relaxation
– Convenient location near shopping, dining, and art galleries
– Complimentary coffee in the morning
– Free nightly wine hour at sunset
– Non-smoking rooms with pool views
Waldorf Astoria Monarch Beach Resort & Club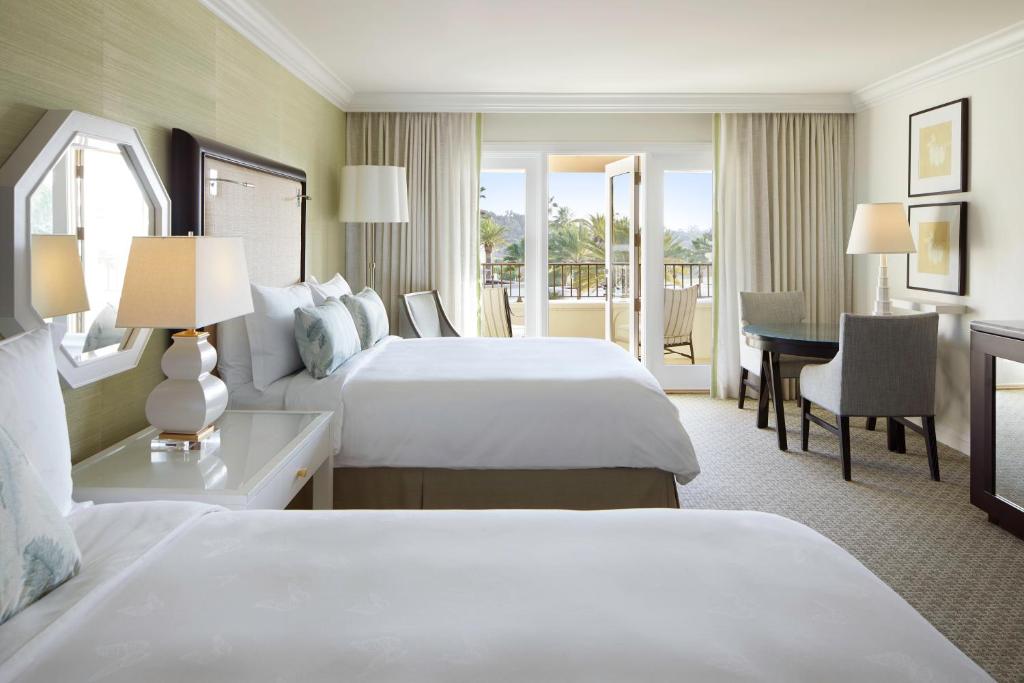 Located on a hillside overlooking the Pacific Ocean, Waldorf Astoria Monarch Beach Resort & Club in Dana Point offers guests an exceptional beachfront experience. With private access to the beach, guests can enjoy the sun, sand, and surf just steps away from their luxurious accommodations. The resort features two restaurants and five bars/lounges offering a variety of dining options. The guest rooms are elegantly appointed with premium amenities including a private balcony or terrace, plush down duvets, and a 50-inch LCD TV. The on-site spa offers a range of relaxing treatments and services, while the three swimming pools provide ample opportunities for relaxation. Children will love the kids' club and pool designed just for them. Additionally, the championship golf course provides an excellent opportunity for those looking to tee off amidst breathtaking views of the ocean. With its prime location near airports and attractions like Mission San Juan Capistrano, Waldorf Astoria Monarch Beach Resort & Club is an unforgettable destination for beach lovers seeking luxury.
– Private beach access
– Championship golf course
– Variety of dining options
– Luxurious spa services
– Kids' club and pool
Other places to stay in Orange County
Hotels Near the Beach in Downtown Orange County
Downtown Orange County offers a variety of beachfront hotels, providing guests with convenient access to the sand and surf. With stunning coastal views and prime locations, these accommodations offer the perfect blend of urban sophistication and seaside relaxation.
Doryman's Oceanfront Inn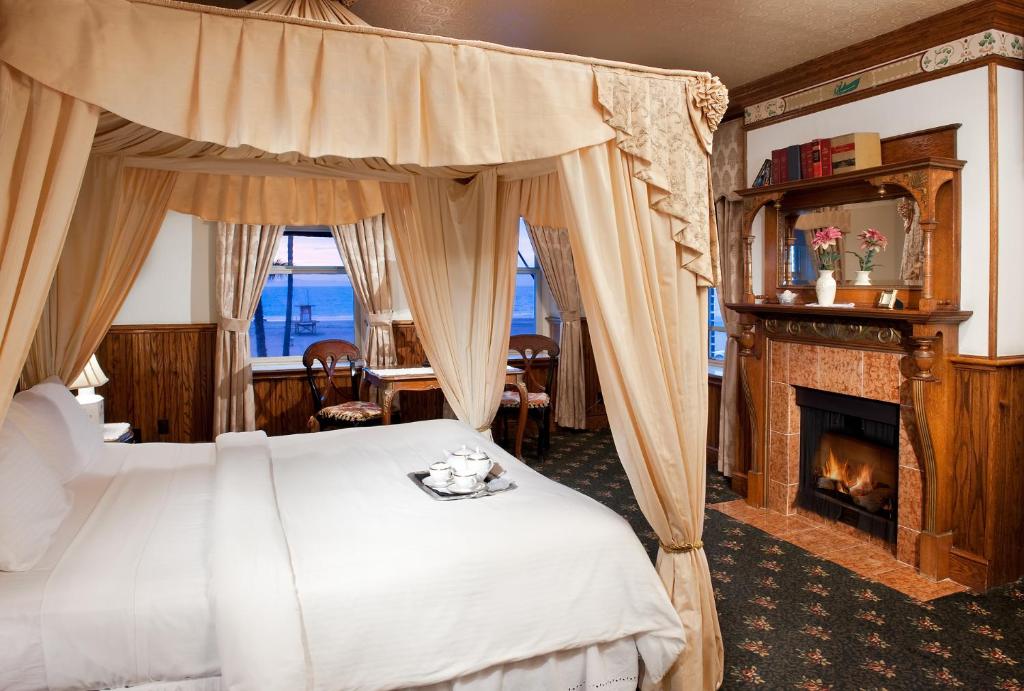 Located just a short 2-minute walk from the beach, Doryman's Oceanfront Inn in Newport Beach is a charming bed and breakfast with classic Victorian design influences. Guests can enjoy access to a sun terrace and free WiFi throughout the property. The accommodation offers comfortable rooms equipped with flat-screen TVs and private bathrooms featuring free toiletries, hairdryers, and baths. Some units even feature a seating area or patio for added relaxation. A highlight of the inn is its oceanfront dining experience at 21 Oceanfront, where guests can indulge in delectable steaks and fresh seafood while taking in breathtaking sunset views. Additional amenities include a shared lounge area and cycling opportunities nearby. Fashion Island shopping center is located just 9 km away, while Newport Beach Pier is only 800 meters from the property.
– Charming Victorian design
– Access to sun terrace
– Oceanfront dining at 21 Oceanfront
– Close proximity to Newport Beach Pier
– Free WiFi throughout the property
Seaside Laguna Inn & Suites (Laguna Beach)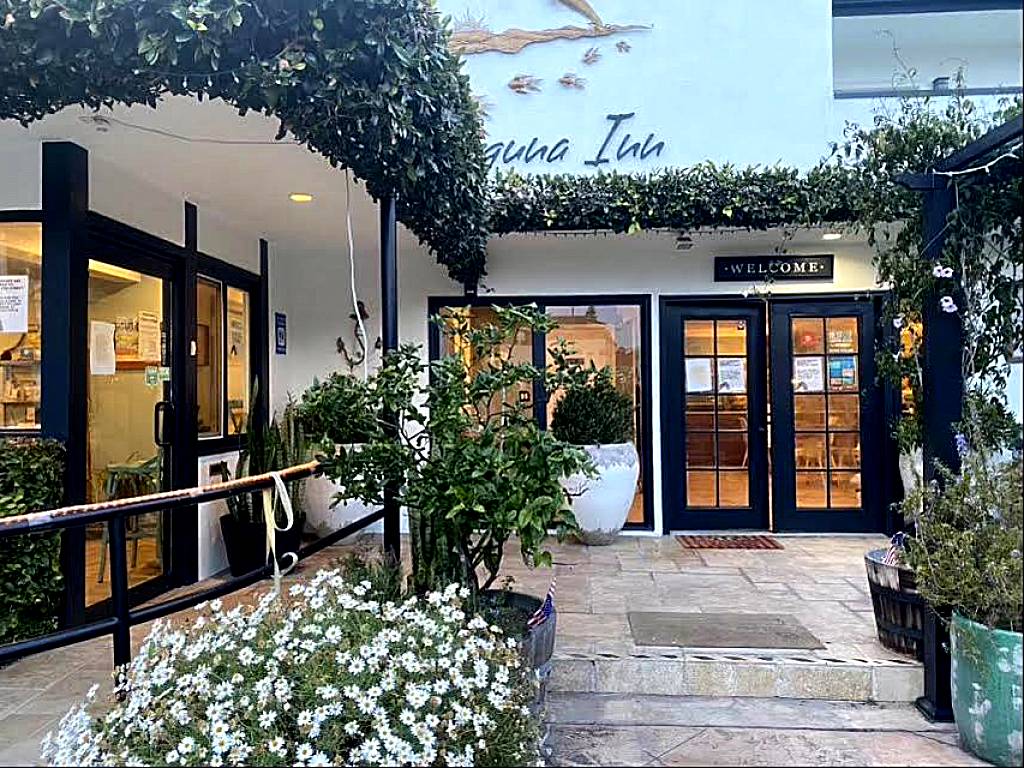 Located just steps away from the beach, Seaside Laguna Inn & Suites in Laguna Beach is a fantastic choice for travelers looking to enjoy a luxurious beachfront experience. The hotel offers convenient amenities such as free on-site parking and WiFi access, ensuring that guests can stay connected throughout their stay. With its prime location less than a mile from downtown Laguna Beach and Main Beach, guests have easy access to popular attractions and entertainment options. The ocean view rooms on the upper floors provide breathtaking views of the Pacific Ocean and Catalina Island, allowing guests to fully immerse themselves in the beauty of the coast. Each room is thoughtfully designed with air-conditioning, a flat-screen cable TV, mini-refrigerator, ironing facilities, and an en suite bathroom with complimentary toiletries. Additionally, guests have access to the hotel's business center for any work-related needs. For art enthusiasts or those looking to explore local culture, both the Laguna Beach Art Museum and Festival of the Masters are just a short 5-minute drive away from Seaside Laguna Inn & Suites. And for those arriving by plane, Los Angeles International Airport is conveniently located only an hour away. Enjoy a relaxing seaside getaway at Seaside Laguna Inn & Suites.
– Prime beachfront location
– Spectacular ocean views
– Free on-site parking
– Accessible proximity to downtown and main beach
– Easy access to local attractions and airport
Hyatt Regency Huntington Beach Resort and Spa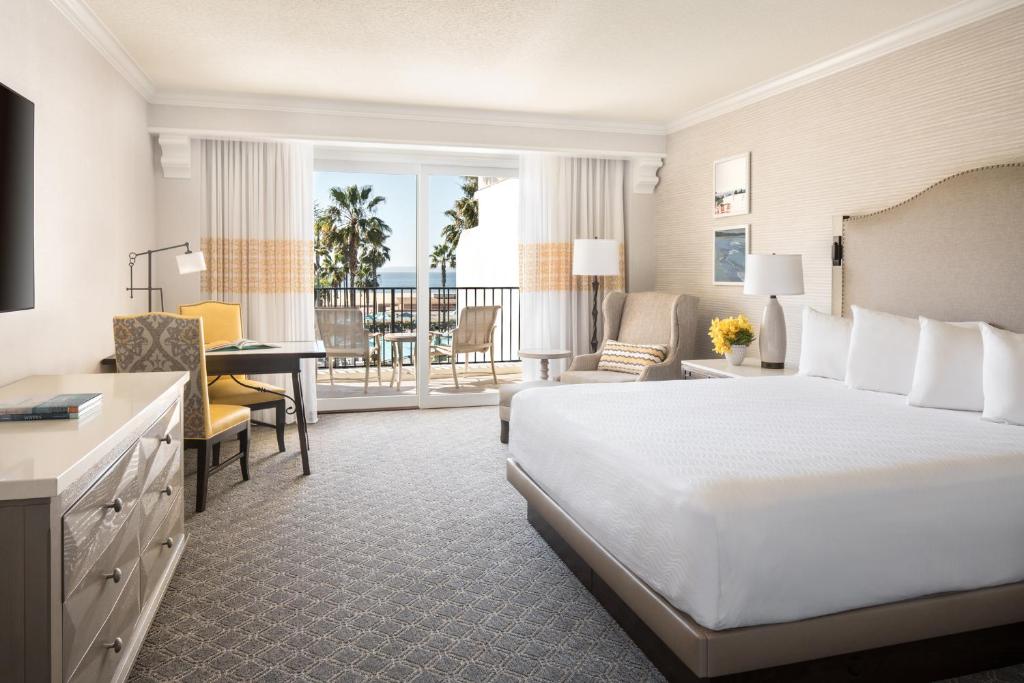 Located right on the beach, Hyatt Regency Huntington Beach Resort and Spa offers guests a truly luxurious coastal experience. The hotel provides surf and paddle boarding lessons for those looking to take advantage of the pristine ocean waves. With two outdoor pools and spa services available, guests can relax and unwind in style. The on-site fitness center is perfect for those wanting to stay active during their stay, while the spa offers soothing massages and facials. The resort also boasts several dining options, including WATERTABLE with its stunning views of the Pacific Ocean and Pete's Sunset Grille serving up delicious fish tacos and beach-inspired cocktails. Tower 15 Pizzeria is located conveniently across from lifeguard station 15 and offers a variety of tasty pizzas, salads, and sandwiches. For families traveling with children, there is a games room, playground, and children's pool with waterslides on site. Bike rentals are also available for exploring the area. With Meadowlark Golf Course just 12 km away and Disneyland within reach at 35 km, there is plenty to see and do in the surrounding area as well. A seasonal shuttle service to the theme park adds convenience for guests seeking some fun-filled adventure. With its beautiful beachfront location, array of amenities, and proximity to popular attractions like Disneyland, Hyatt Regency Huntington Beach Resort and Spa is an ideal destination for all types of travelers.
– Adjacent to the beach
– Surfing & paddle boarding lessons available
– Two outdoor pools & spa services
– Several dining options on site
– Convenient location near Disneyland
Romantic Beachfront Hotels in Orange County
Orange County offers a range of romantic beachfront hotels, where couples can indulge in breathtaking ocean views and intimate walks along the sandy shores. With their serene ambiance and idyllic settings, these hotels are perfect for a romantic getaway or honeymoon.
Laguna Beach Lodge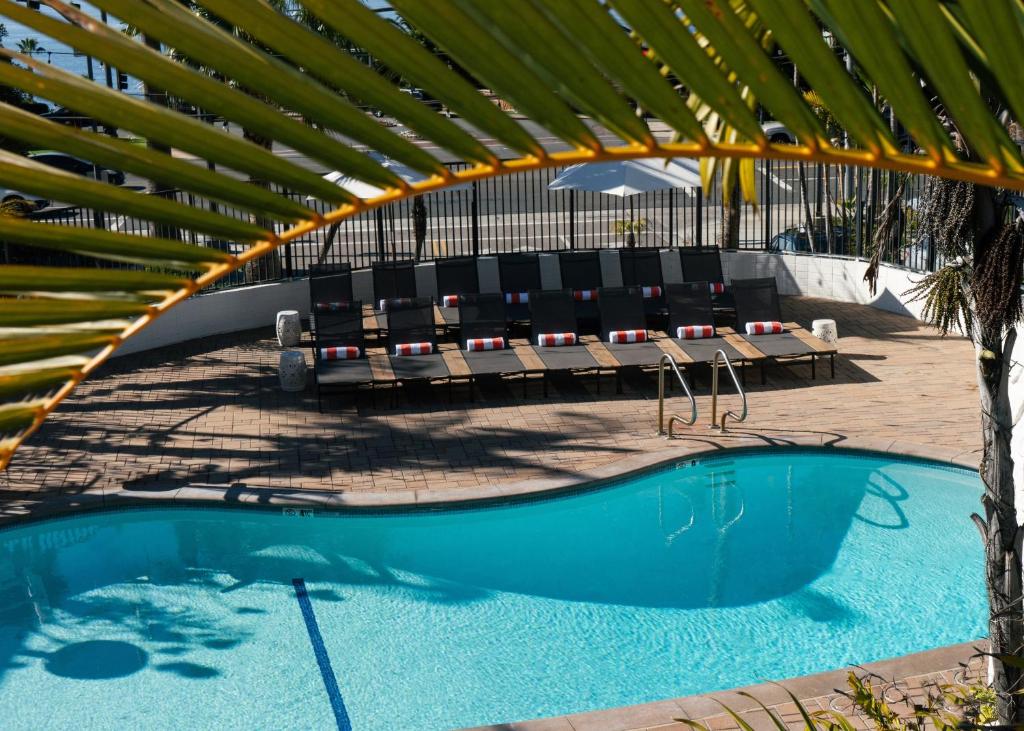 Overlooking the stunning Treasure Island Beach, Laguna Beach Lodge is a beachfront hotel that provides guests with a comfortable and convenient stay. All guest rooms are equipped with modern amenities such as free Wi-Fi, air conditioning, cable TV, and a seating area. The rooms feature sea-inspired decor and offer tea and coffee making facilities, as well as a fridge and microwave for added convenience. Some units even provide an ocean view to enhance the experience. The hotel also offers vending machines on-site for quick access to drinks and snacks. Additionally, guests can explore nearby attractions like the Laguna Beach Playhouse or take a short walk to Ben Browns Golf Course.
Pros:
– Prime beachfront location
– Free Wi-Fi available in all rooms
– Air-conditioned rooms with modern amenities
– Vending machines for quick refreshments
– Nearby attractions like Laguna Beach Playhouse and Ben Browns Golf Course
Pacific Edge Oceanfront Hotel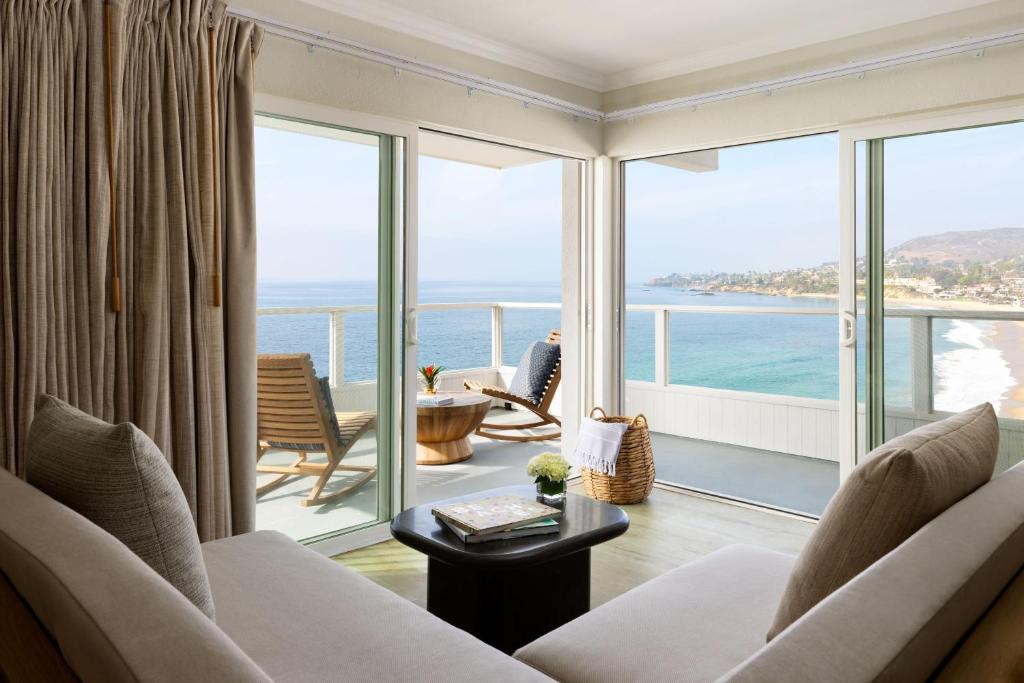 Located in Laguna Beach, Pacific Edge Oceanfront Hotel is a newly opened 4-star beachfront accommodation that offers a range of amenities for a luxurious stay. The hotel features an outdoor swimming pool, terrace, and restaurant where guests can relax and enjoy the stunning ocean views. The air-conditioned rooms are equipped with free WiFi, private bathrooms, and have a desk and flat-screen TV. Some rooms even come with a fully equipped kitchen. Additional facilities include private parking, a hot tub, and table tennis for entertainment purposes. The friendly staff at the 24-hour front desk are available to provide any information needed to make your stay enjoyable. With its prime location near Main Beach, Woods Cove Beach, and Fisherman's Cove Beach, Pacific Edge Oceanfront Hotel is the perfect choice for beach lovers looking for luxury accommodations.
– Newly opened in September 2021
– Stunning beachfront location
– Outdoor swimming pool and terrace
– On-site restaurant offering delicious cuisine
– Complimentary WiFi throughout the hotel
The Waterfront Beach Resort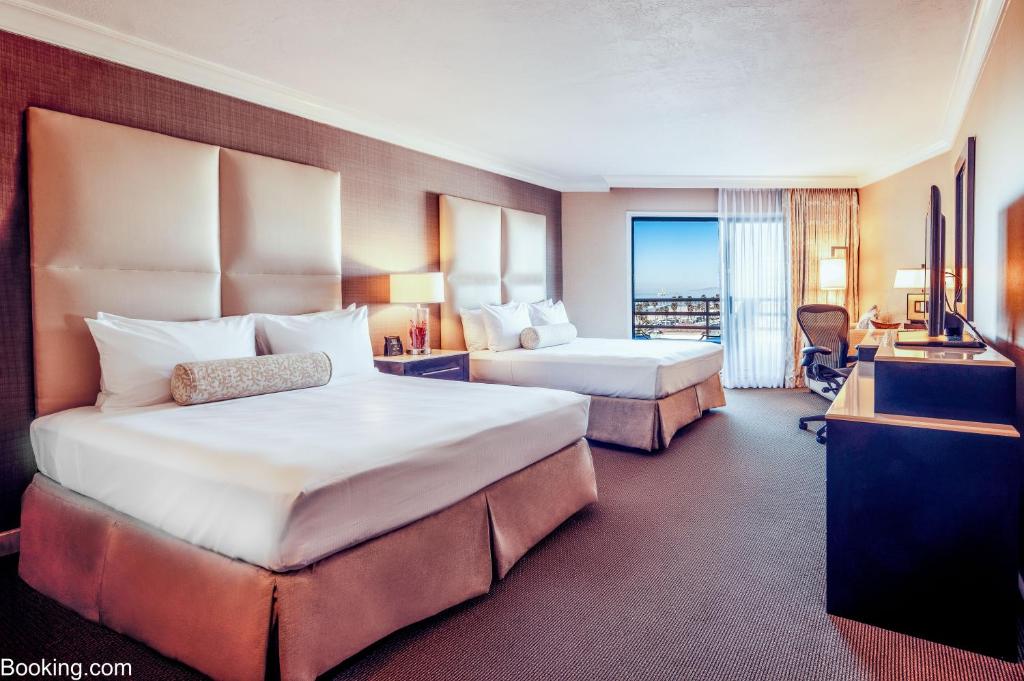 The Waterfront Beach Resort, A Hilton Hotel, is a stunning Mediterranean-Italian inspired resort located in Southern California, just across the street from Huntington Beach. This coastal paradise offers guests a range of luxurious amenities including an outdoor pool with water slides, two restaurants, and a rooftop bar. The rooms at The Waterfront Beach Resort are elegantly styled in warm colors with dark wood furniture and feature modern amenities such as a 42-inch flat-screen TV, iPod docking station, and small fridge. Some rooms even offer breathtaking views of the coastline or Pacific Ocean. Guests can relax in cabanas or gather around fire pits near the pool for an additional fee. The resort also features Surf Hero Market which offers made-to-order sandwiches and live entertainment on weekends. For those looking to enjoy cocktails with a view, the Twin Dolphin Tower rooftop at Offshore 9 provides panoramic ocean views while The Dock Bar offers a more casual atmosphere for cocktails and dining. With Disneyland only a 30-minute drive away and the University of California Irvine just 20 minutes away by car, The Waterfront Beach Resort is perfectly situated for both leisure and business travelers alike.
– Stunning beachfront location
– Outdoor pool with water slides
– Two restaurants offering delicious cuisine
– Rooftop bar with panoramic ocean views
– Close proximity to popular attractions like Disneyland
Beachfront Hotels Hotels in Orange County With a Pool
Beachfront hotels in Orange County with pools offer the perfect combination of sun, sand, and relaxation. With stunning ocean views and refreshing poolside experiences, these hotels provide a luxurious beach getaway for those seeking ultimate comfort and tranquility.
Montage Laguna Beach (Laguna Beach)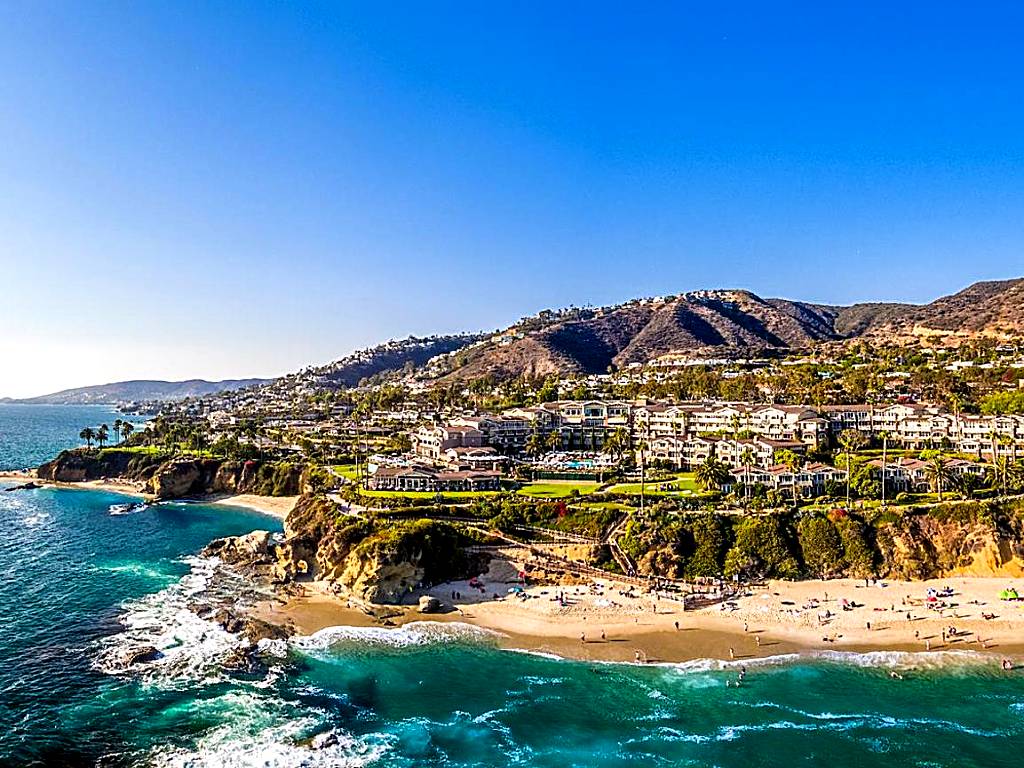 Located on the beautiful beachfront of Laguna Beach, Montage Laguna Beach is a luxurious resort offering stunning ocean views and a range of exceptional amenities. Guests can relax by the ocean-facing pool or soak up the sun on the terrace. The rooms at Montage Laguna Beach are exquisitely designed and feature deep marble soaking tubs, plush bathrobes, and a dual vanity in the en suite bathroom. Select suites offer additional comforts such as plush cream sofas or an ocean view. The resort boasts three outstanding restaurants to cater to every palate. Studio Restaurant features a chef table for an intimate dining experience, while The Loft Restaurant serves breakfast, lunch, and dinner with al fresco dining options. For poolside dining and refreshing cocktails, guests can head to Mosaic Bar & Grille. The Lobby Lounge offers nightly entertainment along with a wide selection of beverages. Spa Montage provides rejuvenating spa services and guests can also enjoy poolside cabanas for ultimate relaxation. Additionally, boutique shops and art galleries are located nearby for those looking for some retail therapy or cultural exploration. With its prime location within reach of Dana Point and airports like Los Angeles International Airport and John Wayne Airport, Montage Laguna Beach is the perfect luxury beachfront retreat.
– Stunning beachfront location
– Luxurious rooms with deep marble soaking tubs
– Three exceptional restaurants offering diverse cuisine options
– Relaxing spa services at Spa Montage
– Poolside cabanas for ultimate relaxation
Information about Beachfront Hotels in Orange County
| | |
| --- | --- |
| 🏢 Number of Beach Hotels in Orange County | 10 |
| 🥇 Average Review Score | 8.3/10 |
| 💰 High season average price | 1578 |
| 💸 Low season average price | 394.5 |
FAQ
What are some of the best beachfront hotels in Orange County?
Orange County is home to a range of stunning beachfront hotels that cater to different budgets and preferences. Some of the top options include The Ritz-Carlton, Laguna Niguel, a luxurious resort known for its breathtaking ocean views and exceptional service. For a more boutique experience, Montage Laguna Beach offers elegant accommodations with direct beach access and world-class amenities. If you're looking for a family-friendly option, the Balboa Bay Resort in Newport Beach provides spacious rooms and a private beach club for guests to enjoy.
What activities can I do when staying at a beachfront hotel in Orange County?
Staying at a beachfront hotel in Orange County opens up endless possibilities for outdoor activities. You can spend your days soaking up the sun on pristine beaches or take part in water sports such as surfing, paddleboarding, or kayaking. Many hotels also offer amenities such as swimming pools, tennis courts, and fitness centers for guests who prefer land-based activities. Additionally, exploring nearby attractions like Disneyland Park or visiting charming coastal towns like Huntington Beach or Laguna Beach are great options for further adventure.
Are there any luxury beachfront hotels that offer spa services in Orange County?
Yes, several luxury beachfront hotels in Orange County offer spa services to provide guests with ultimate relaxation during their stay. The Monarch Beach Resort in Dana Point features an exquisite spa overlooking the Pacific Ocean where you can indulge in rejuvenating treatments inspired by coastal wellness traditions. Another excellent option is The Resort at Pelican Hill located in Newport Coast which boasts an award-winning spa offering personalized therapies using natural ingredients amidst serene surroundings.
Do any beachfront hotels in Orange County have on-site dining options?
Absolutely! Many beachfront hotels in Orange County pride themselves on their on-site dining options that showcase local flavors and provide exquisite culinary experiences for guests. For example, Surf & Sand Resort in Laguna Beach has its own oceanfront restaurant where you can enjoy delicious seafood dishes while taking in breathtaking coastal views. Additionally, The Waterfront Beach Resort in Huntington Beach offers multiple dining options from casual beachside cafes to upscale restaurants, ensuring that every palate is satisfied.
What is the best time to visit Orange County for a beachfront hotel experience?
Orange County enjoys pleasant weather throughout the year, making it an ideal destination for a beachfront hotel experience. However, the best time to visit depends on personal preferences. If you prefer warmer temperatures and want to make the most of water activities, visiting during summer (June to August) would be optimal. On the other hand, if you prefer milder weather and fewer crowds, spring (March to May) or fall (September to November) would be great options as well.
Popular Beachfront Hotels destinations