Welcome, fellow wanderers, to the picturesque shores of Noosa Heads, Australia. Nestled along the pristine coastline of this sun-kissed paradise lies a treasure trove of luxurious seaside retreats that cater to every desire and reverie. In this guide, we embark on an enchanting journey to uncover the finest beachfront accommodations that adorn these breathtaking sands.
Prepare to be bewitched by the idyllic allure of Noosa Heads as golden beaches caress crystal-clear azure waters. Here, where land meets sea in harmonious embrace, a plethora of opulent resorts await your arrival. From elegant boutique establishments to world-renowned five-star havens, Noosa Heads caters seamlessly to discerning travelers seeking respite from their frenetic lives.
Indulge in unrivaled vistas as you wake up each morning enveloped by panoramic ocean views or lush coastal landscapes drenched in vibrant hues. Dip your toes into warm sand mere steps away from your private terrace or balcony and bask in the gentle symphony of crashing waves that lull you into utter tranquility.
Join us on an expedition through Noosa Heads' beachfront paradise as we unveil its hidden gems and elevate your stay amidst the lap of luxury. So dust off your sense of adventure and let us guide you towards unparalleled serenity amidst nature's most exquisite playgrounds – where dreams become reality and memories are etched forevermore.
The Best Noosa Heads Hotels By the Beach
Seahaven Noosa Beachfront Resort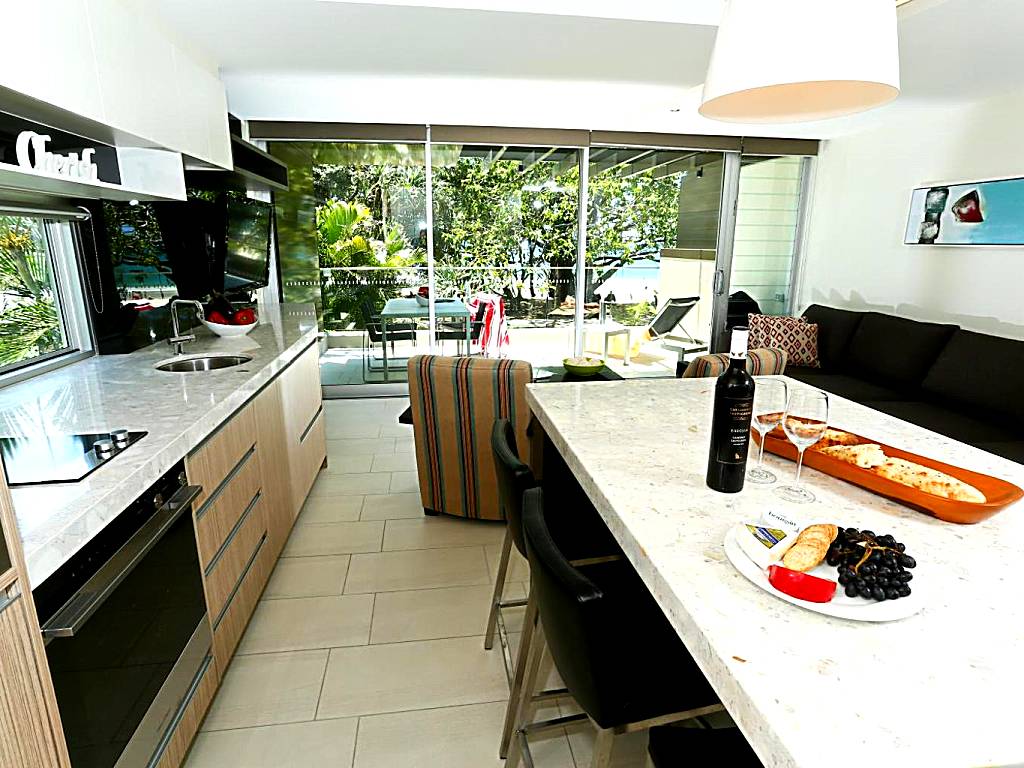 Overlooking the stunning Laguna Bay, Seahaven Noosa Beachfront Resort is a recently renovated luxury resort offering modern holiday apartments with direct access to Noosa's Main Beach. Located on the doorstep of Hastings Street's vibrant cafes, restaurants, and shops, each apartment at Seahaven Noosa features a private balcony, fully-equipped kitchen, air conditioning, and a private bathroom with hairdryer. The resort boasts three heated swimming pools, a spa pool, and a children's wading pool. Guests also have access to a fitness center and two beachfront barbecue areas. Free secure covered car parking is provided on-site. With Sunshine Coast Airport just 25 minutes away by car and Noosa Fair Shopping Centre only 1.5 km from the resort, Seahaven Noosa Beachfront Resort offers convenience alongside its luxurious amenities.
– Stunning views overlooking Laguna Bay
– Direct access to Noosa's Main Beach
– Proximity to cafes, restaurants, and shops on Hastings Street
– Three heated swimming pools and spa pool
– Access to fitness center and beachfront barbecue areas
Netanya Noosa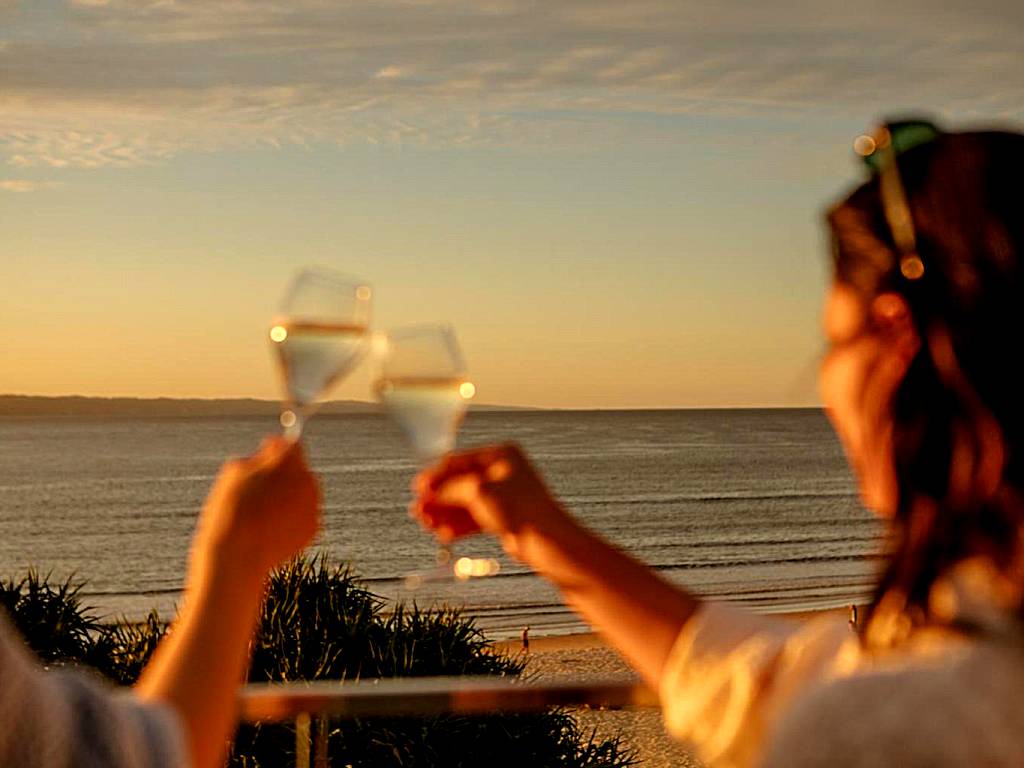 Netanya Noosa is a stylish and luxurious resort located in the heart of Noosa Heads, just steps away from the Main Beach. The resort offers spacious apartments with large balconies and free car parking, ensuring a comfortable stay for guests. Each apartment is tastefully furnished and features modern amenities for entertainment and relaxation. Guests can enjoy the outdoor wet-edge swimming pool that offers stunning panoramic views of the beach. The resort also provides internet access and BBQ facilities for guests' convenience. Its central location next to Hastings Street allows easy access to boutique shops and al fresco restaurants, while a nearby supermarket caters to any additional needs. For those seeking adventure, water sports facilities are within reach, as well as two golf courses just minutes away by car.
– Spacious apartments with large balconies
– Outdoor wet-edge swimming pool with beach views
– State-of-the-art entertainment systems in living areas
– Convenient internet access and BBQ facilities
– Close proximity to boutiques, restaurants, supermarkets, water sports facilities, and golf courses
Maison Noosa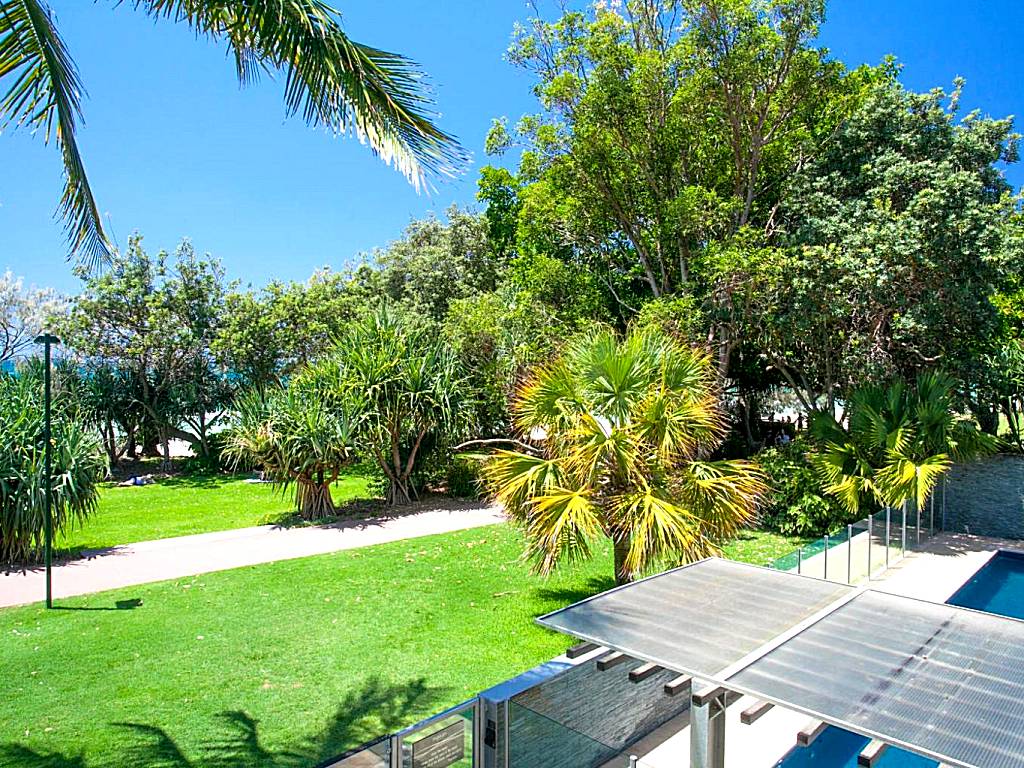 Maison Noosa is a luxurious beachfront apartment hotel located on Noosa's Main Beach. Nestled amidst stunning landscaped gardens, this property offers a serene and peaceful setting for guests to relax and unwind. The hotel features an outdoor heated pool, hot tub, and fitness center, allowing visitors to indulge in wellness activities during their stay. The spacious self-contained apartments are well-appointed with balconies or terraces showcasing breathtaking views of the pool, garden, ocean, or Hastings Street. Conveniently situated at the quieter end of Hastings Street, Maison Noosa is just a short stroll away from boutique shops, restaurants, and cafes. Guests can enjoy complimentary amenities such as on-site parking and WiFi access. Additionally, the resort provides covered BBQ facilities for delightful outdoor dining experiences. Each non-smoking apartment boasts modern amenities like fully-equipped kitchens, air-conditioning, ceiling fans, large flat-screen TVs with DVD players, and cable channels. For those traveling by air, Sunshine Coast Airport is within a 30-minute drive from the hotel with convenient airport transfers available upon request (additional charges apply).
– Beachfront location on Noosa's Main Beach
– Outdoor heated pool and hot tub for relaxation
– Spacious apartments with balconies/terraces offering stunning views
– Proximity to local shops, restaurants & cafes on Hastings Street
– Complimentary on-site parking & WiFi access
Hotels Near the Beach in Downtown Noosa Heads
Hotels near the beach in downtown Noosa Heads offer a prime location for travelers seeking a beachfront retreat. With easy access to the stunning coastline, guests can enjoy relaxing days on the sand and breathtaking views of the ocean right from their accommodations.
Tingirana Noosa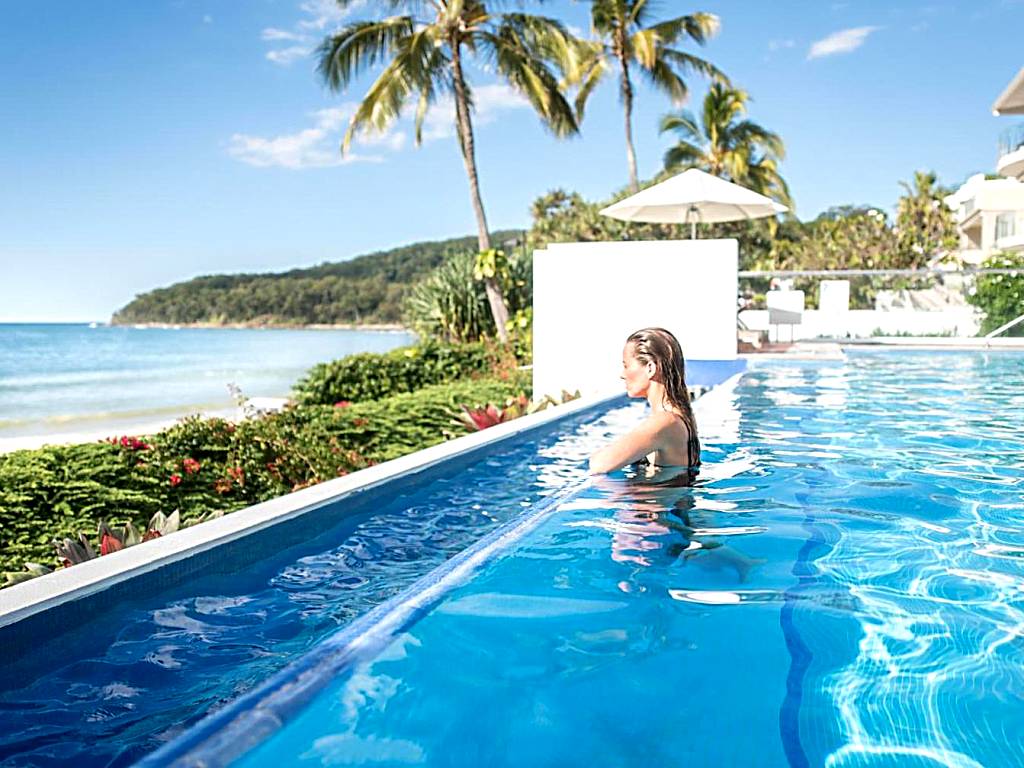 Tingirana Noosa is a luxurious apartment hotel situated opposite Noosa Beach, offering guests stunning views and easy access to the sand and surf. The hotel features an outdoor swimming pool and a fitness centre for guests to enjoy. Each self-contained apartment is beautifully appointed with modern amenities including free Wi-Fi and a flat-screen cable TV. Some apartments also offer a private balcony overlooking the beach and pool area. Located on famous Hastings Street, Tingirana Noosa Apartments are just a short 15-minute drive from the picturesque Noosa National Park, while Sunshine Coast Airport can be reached in 35 minutes by car. Every air-conditioned apartment boasts a kitchenette or kitchen equipped with a microwave and refrigerator. Guests will also find bathrobes, a hairdryer, and complimentary toiletries in each bathroom.
– Convenient location right opposite Noosa Beach
– Self-contained apartments with modern amenities
– Outdoor swimming pool for relaxation
– Fitness centre for those who want to stay active
– Free Wi-Fi throughout the property
SandCastles Noosa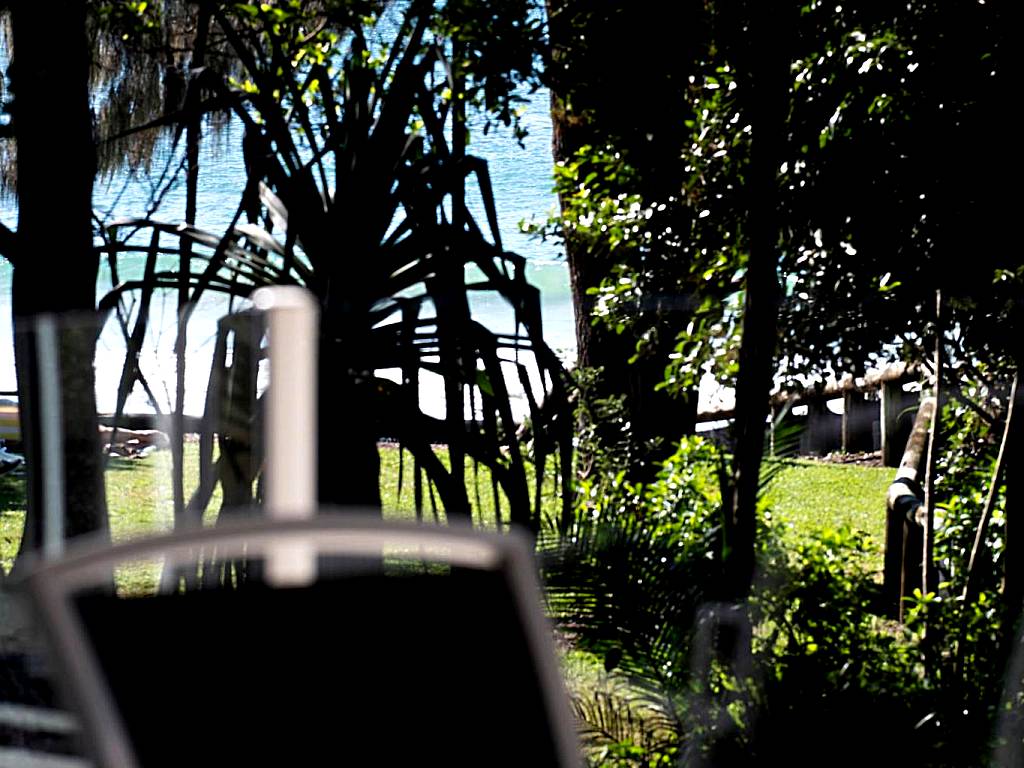 Located on the beautiful Noosa beachfront, SandCastles Noosa is a luxurious apartment hotel perfect for those seeking a seaside escape. The hotel features a range of amenities including a heated swimming pool, hot tub, and outdoor barbecue area with seating where guests can enjoy alfresco dining. Each apartment offers free Wi-Fi and a private balcony with stunning views of the pool or garden. Situated on Hastings Street, renowned for its boutique shops and cafes, guests will have plenty to explore right at their doorstep. For nature enthusiasts, Noosa National Park is just a short 5-minute walk away, while Sunshine Coast Airport can be reached within 40 minutes by car. All apartments are air-conditioned and equipped with flat-screen cable TVs and DVD players for entertainment. Additionally, each unit boasts a fully equipped kitchen complete with a dishwasher, oven, and microwave for those who prefer to cook their own meals. The hotel also offers additional services such as massage treatments upon request and assistance from the tour desk in planning sightseeing adventures or making travel arrangements.
Pros:
– Beachfront location offering stunning ocean views
– Range of amenities including heated pool and hot tub
– Spacious apartments with private balconies
– Close proximity to popular shopping areas and cafes on Hastings Street
– Easy access to Noosa National Park for nature walks
Skippers Cove Waterfront Resort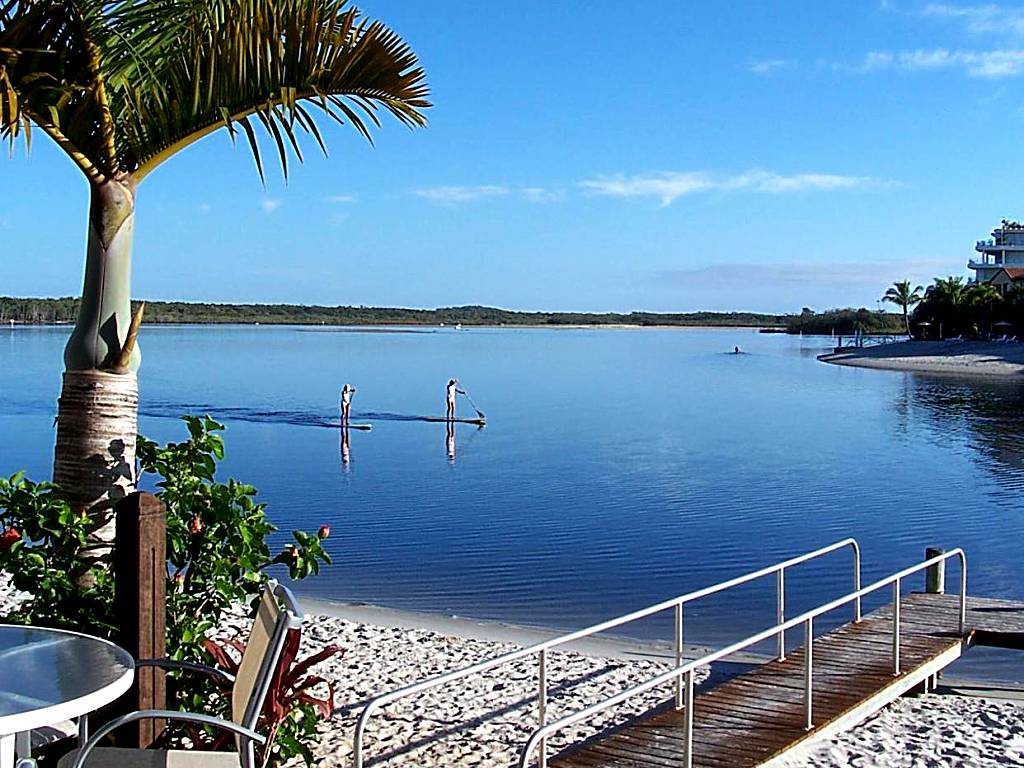 Skippers Cove Waterfront Resort is an ideal choice for families looking for a beachfront getaway in Noosa. This apartment hotel is situated on the Noosa River and offers comfortable waterfront or poolside apartments with private balconies or patios. Guests can enjoy the resort's two lagoon-style swimming pools, a half-size tennis court, and access to a private beach. The property is conveniently located just a 20-minute walk from Noosa's main beach and popular Hastings Street, while Sunshine Beach and Noosa National Park are also within easy reach. The apartments are well-equipped with fully equipped kitchens, laundry facilities, and outdoor furniture, providing guests with all the comforts of home. The spacious living and dining areas feature sofas, TVs, and DVD/CD players for entertainment. Additionally, kayaking gear is available for free use along with small wharves on the private beach that are perfect for fishing enthusiasts. For those seeking relaxation, there is also a spa onsite. Guests can easily book local tours and activities at the reception desk.
– Family-friendly waterfront property
– Access to 2 lagoon-style swimming pools
– Half-size tennis court
– Free use of kayaking gear
– Close proximity to shopping and dining options
Information about Beachfront Hotels in Noosa Heads
| | |
| --- | --- |
| 🏢 Number of Beach Hotels in Noosa Heads | 6 |
| 🥇 Average Review Score | 8.8/10 |
| 💰 High season average price | 1742 |
| 💸 Low season average price | 435.5 |
FAQ
Are there any beachfront hotels in Noosa Heads, Australia?
Yes, Noosa Heads boasts several beachfront hotels that offer stunning ocean views and direct access to the sandy shores. These hotels are strategically located along the coastline, providing guests with a perfect combination of luxury accommodation and proximity to the beach.
What amenities can I expect from beachfront hotels in Noosa Heads?
Beachfront hotels in Noosa Heads offer a range of amenities to ensure a comfortable and enjoyable stay. Guests can typically enjoy facilities such as infinity pools overlooking the ocean, private balconies or terraces with panoramic views, spa and wellness centers, on-site restaurants serving delicious cuisine, water sports equipment rentals, and easy access to nearby attractions and activities.
Can I find budget-friendly beachfront hotels in Noosa Heads?
While Noosa Heads is known for its luxurious accommodations, there are also options available for travelers on a budget. You can find some affordable beachfront hotels that offer comfortable rooms and basic amenities at more wallet-friendly rates. Though they may not have all the extravagances of high-end resorts, these budget-friendly options still provide an excellent location right by the beach.
Which beach is considered the best in Noosa Heads?
Noosa Main Beach is widely regarded as one of the best beaches in Noosa Heads. Located just steps away from Hastings Street – a popular dining and shopping hub – this pristine sandy stretch offers crystal-clear waters ideal for swimming or surfing. It's patrolled all year round ensuring safety for visitors.
What activities are available near beachfront hotels in Noosa Heads?
There is no shortage of activities near beachfront hotels in Noosa Heads. You can indulge in thrilling water sports like surfing or stand-up paddleboarding right from your hotel's doorstep. Additionally, you can explore scenic coastal walks through national parks like Noosa National Park or take a river cruise along the beautiful waterways. The area also offers great dining options, shopping opportunities, and vibrant nightlife.
Popular Hotels near Beach destinations