Welcome to the stunning shores of Naples, a coastal gem nestled along the pristine coastline of Southwest Florida. If you're searching for an exquisite seaside escape, look no further than the beachfront hotels that grace this picturesque destination. With its enchanting shoreline and luxurious accommodations, Naples promises an unforgettable experience for those seeking relaxation and rejuvenation amidst breathtaking natural beauty.
Indulge yourself in the opulence of Naples' oceanfront resorts, where every whim is catered to with utmost care. From lavish suites boasting panoramic views of the azure waters to private balconies that allow you to soak up the sun's warm embrace, these establishments redefine luxury living by the sea. Immerse yourself in tranquility as you stroll along sugar-white beaches or take a dip in crystal-clear waters that stretch as far as the eye can see. Whether you're savoring delectable seafood cuisine at waterfront restaurants or pampering yourself with spa treatments overlooking the gentle waves crashing ashore, Naples' beachfront hotels offer an unrivaled escape from everyday life.
Get ready to bask in ultimate comfort and style as you experience unparalleled hospitality in one of America's most desirable coastal destinations. Plan your getaway now and let Naples' beachfront hotels transport you to a world where relaxation meets extravagance, creating memories that will linger long after the sun sets over its captivating shores.
The Best Naples Hotels By the Beach
Inn On Fifth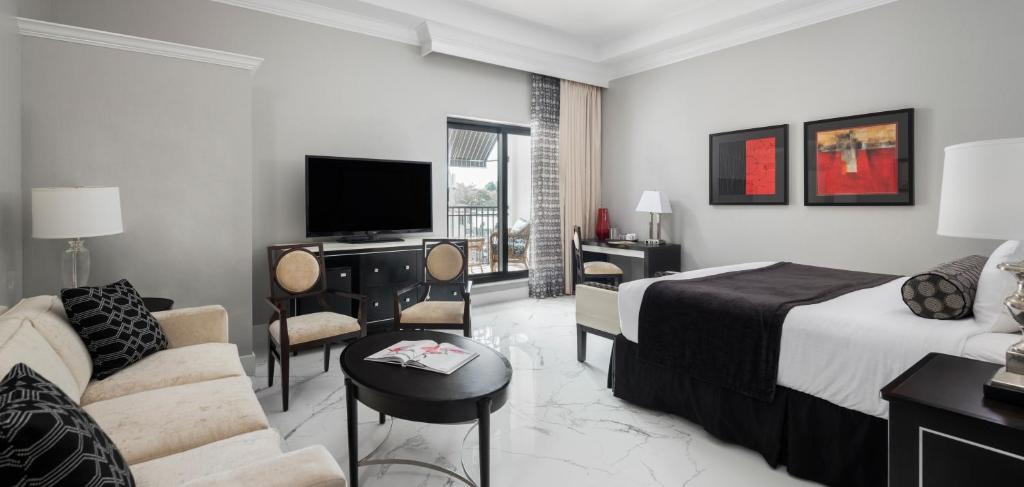 Located in the heart of Naples city center, Inn On Fifth is a Mediterranean-inspired luxury hotel that offers guests an unforgettable experience. The hotel boasts a full-service spa, Spa on Fifth, where guests can indulge in massages, facials, and body wraps. Each room is elegantly decorated and features amenities such as cable TV, seating areas, a work desk, ironing facilities, and a refrigerator. Select rooms also offer video games and pay-per-view channels for added entertainment. Guests can take advantage of the fitness center to stay active or relax by the outdoor pool for some sun-soaked bliss. Additionally, business travelers will appreciate the convenience of the on-site business center. For dining options, Truluck's Seafood Steak Crabhouse specializes in Florida stone crab and serves delectable lunch and dinner options while Ocean Prime offers an array of seafood and steak dishes. The beach is just a short 12-minute walk away from this modern hotel, allowing guests to easily soak up the sun and enjoy water activities. Furthermore, being adjacent to Fifth Avenue South shopping center provides easy access to various dining and shopping options for those seeking leisurely experiences during their stay.
Pros:
– Mediterranean-inspired luxury hotel
– Full-service spa offering massages, facials, and body wraps
– Elegant rooms with comfortable amenities
– Access to fitness center and outdoor pool
– Adjacent to Fifth Avenue South shopping center with numerous dining and shopping choices
Naples Grande Beach Resort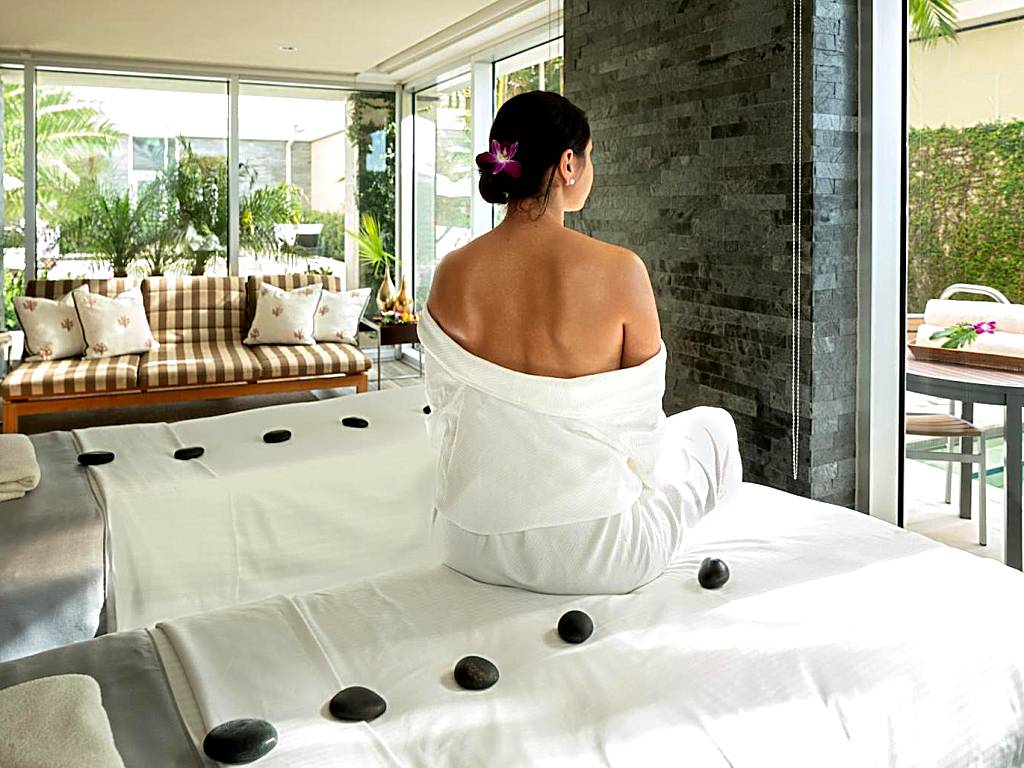 Located on 23 waterfront acres of Florida's Paradise Coast in Naples, the Naples Grande Beach Resort is a luxurious beachfront hotel offering a range of amenities and activities. Guests can enjoy three outdoor swimming pools, a fitness center, and free WiFi access throughout the property. Each accommodation at the resort features its own private balcony, as well as a flat-screen TV, small refrigerator, and tea and coffee-making facilities. For ultimate relaxation, there is also a sauna and hot tub available to guests. Additionally, the resort boasts 15 clay tennis courts for guests looking to stay active during their stay. The highlight of the resort is its stunning 100-foot water slide that provides endless fun for both adults and children alike. Golf enthusiasts will be thrilled by the presence of an 18-hole championship golf course on-site while those seeking pampering can indulge in luxurious treatments at the full-service spa. With five restaurants and lounges to choose from, including Rhode's End which serves mouthwatering Mediterranean cuisine with breathtaking views of the Gulf of Mexico, guests will never be bored when it comes to dining options. Finally, nature lovers will appreciate that this Naples resort is surrounded by 200 acres of mangrove estuary while still being conveniently located just 1.9 km away from Waterside Shops—Naples' luxury shopping mall featuring high-end stores and fine dining establishments.
– Spacious accommodations with private balconies
– Range of amenities including sauna and hot tub
– Multiple outdoor swimming pools
– Variety of dining options including beachfront restaurant
– Convenient location close to luxury shopping mall
Edgewater Beach Hotel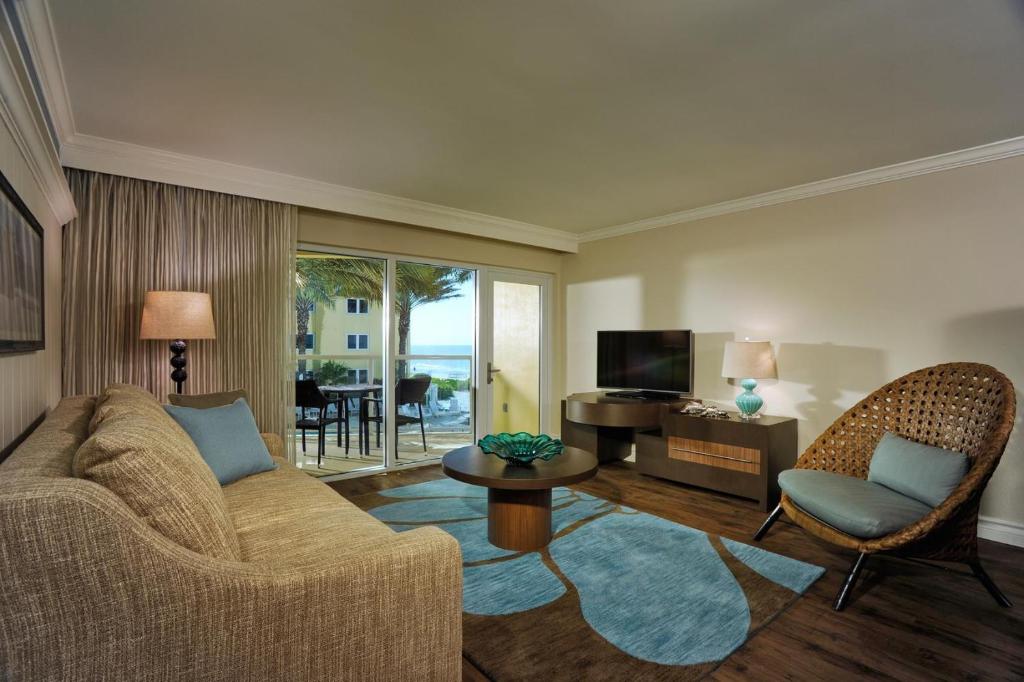 Located in Naples, the Edgewater Beach Hotel is a beachfront resort that offers guests a luxurious stay with stunning views of the Gulf of Mexico. The hotel features spacious suites with balconies, dining areas, and flat-screen cable TVs. All rooms are equipped with kitchenettes, allowing guests to prepare their own meals. Some rooms even offer water or pool views for an added touch of luxury. Guests can enjoy amenities such as free WiFi access, a fitness center, and on-site shops. The hotel also has an on-site restaurant called Coast which serves global cuisine with beachfront views. With its prime location near attractions like Naples Zoo at Caribbean Gardens and Collier-Seminole State Park, the Edgewater Beach Hotel is the perfect choice for travelers looking for a stylish and convenient beachfront getaway.
Pros:
– Beautiful beachfront location
– Spacious suites with balconies
– On-site restaurant serving delicious cuisine
– Free parking available
– Close proximity to popular attractions
Other places to stay in Naples
Hotels Near the Beach in Downtown Naples
Hotels near the beach in downtown Naples offer guests a prime location to enjoy the sun, sand, and stunning ocean views. With convenient access to the beach, visitors can indulge in relaxing walks along the shore or engage in water sports activities during their stay.
La Playa Beach & Golf Resort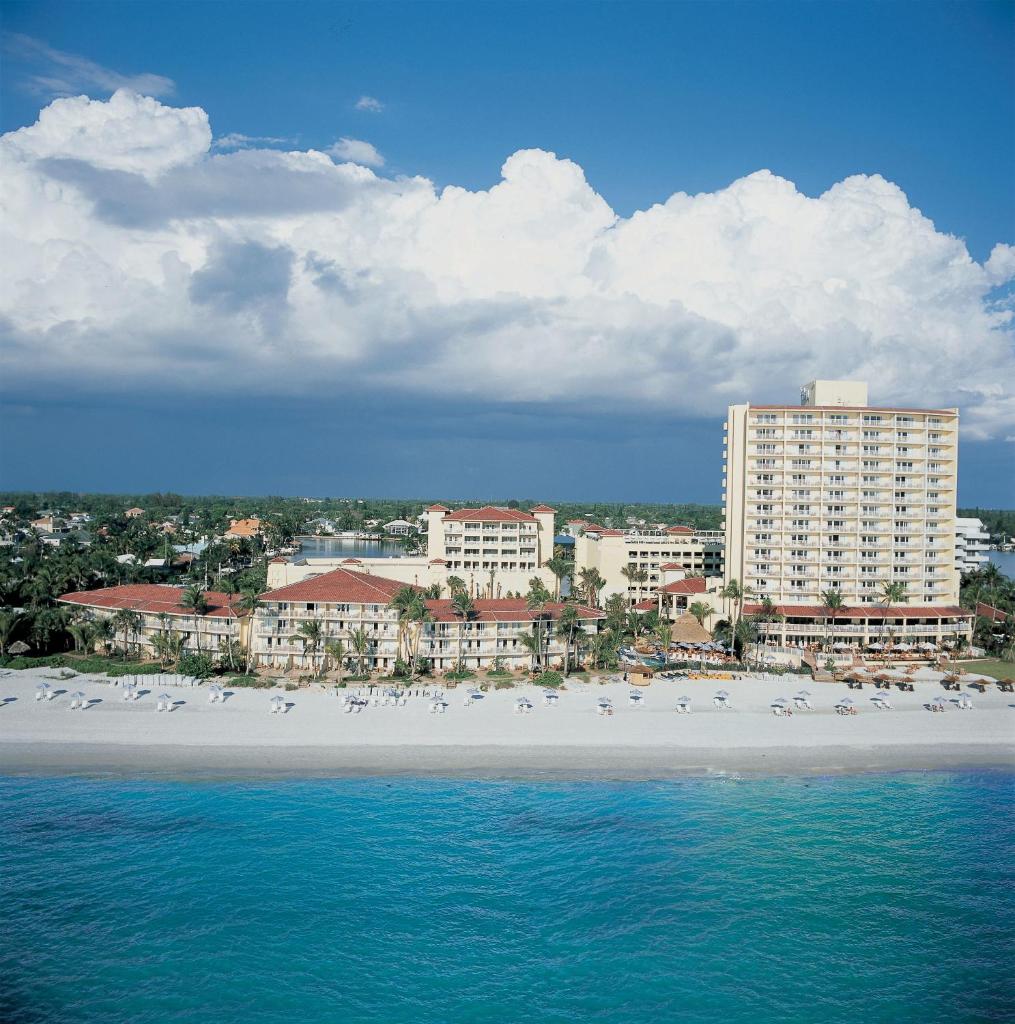 LaPlaya Beach & Golf Resort, a stunning beachfront hotel located on the mesmerizing shorelines, temporarily closed its doors in late-September due to the aftermath of Hurricane Ian. However, guests can look forward to a phased reopening starting from late February 2023 and continuing through March 2023. Although there may be limited amenities and services during this period of restoration, the dedicated team at LaPlaya is working tirelessly to restore its modern tropical splendor that we all adore. Please note that amenities such as restaurants, spas, and pools may be unavailable during your stay. We sincerely appreciate your choice to stay with us at LaPlaya Beach and Golf Resort, and we understand if you wish to reschedule or cancel your reservation at this time. For further updates, kindly refer to our website messaging or contact our reservations department at 1-800-237-6883.
Pros:
– Stunning beachfront location
– Phased reopening ensuring safety
– Dedication towards restoring a modern tropical experience
– Flexible reservation policies considering guest needs
– Direct access to resort facilities for golf enthusiasts
Edison Beach House (Fort Myers Beach)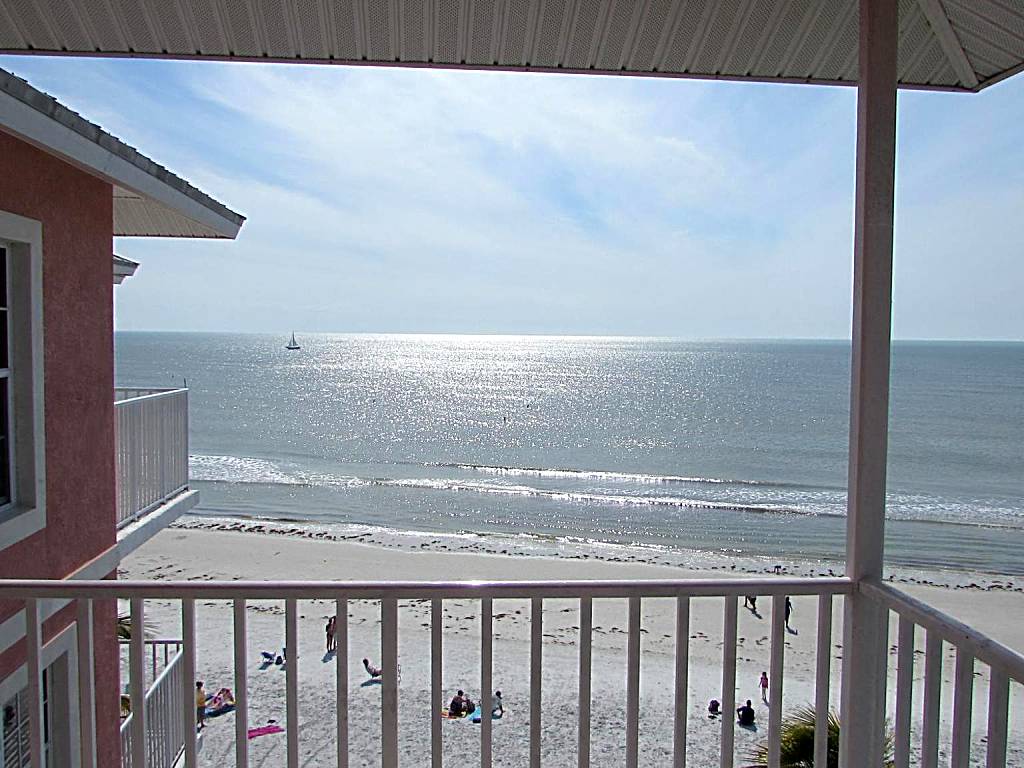 Located in Fort Myers Beach, the Edison Beach House is a charming 2-star hotel that offers a beachfront experience. With its prime location facing the beach, guests can enjoy stunning views of the ocean right from their balcony. The hotel was built in 1999 and features air-conditioned rooms with a desk, flat-screen TV, and private bathroom. Each room also comes with a patio for guests to relax and take in the fresh sea breeze. The hotel is conveniently situated within close proximity to popular attractions such as Fort Myers Beach and Tin City, making it an ideal choice for those looking to explore the area. Additionally, Southwest Florida International Airport is just 29 km away, ensuring convenient access for travelers.
– Prime beachfront location
– Balcony with sea view
– Air-conditioned rooms
– Close proximity to popular attractions
– Convenient access to airport
JW Marriott Marco Island Beach Resort
Located on the stunning Marco Island Beach in Florida, JW Marriott Marco Island Beach Resort is a luxurious beachfront resort. With its three outdoor pools and two private 18-hole golf courses, guests are sure to find plenty of entertainment options. The resort also boasts an impressive array of sports facilities including volleyball and tennis courts. The rooms at JW Marriott Marco Island Beach Resort feature private balconies, marble bathrooms, and small refrigerators. Some rooms offer breathtaking views of the pool, resort, or Gulf of Mexico. Guests can indulge in relaxation at the Spa by JW®, which offers a range of treatments from body scrubs and wraps to facials and massages. In terms of dining options, there are ten restaurants to choose from including Caribbean specialties at Quinn's on the Beach and delicious pastries, sandwiches, and salads at Cafe San Marco. For those interested in exploring the area's history and culture, the Marco Island Historical Museum is just two miles away where fossils and cultural artifacts can be discovered. Additionally, Tin City shops and Naples waterfront are located only eight miles from the resort.
Pros:
– Spectacular beachfront location
– Variety of outdoor pools for guests to enjoy
– Two private 18-hole golf courses onsite
– Extensive dining options with a variety of cuisines
– Convenient proximity to local attractions like museums and shops
Information about Beachfront Hotels in Naples
| | |
| --- | --- |
| 🏢 Number of Beach Hotels in Naples | 6 |
| 🥇 Average Review Score | 8.5/10 |
| 💰 High season average price | 1750 |
| 💸 Low season average price | 437.5 |
FAQ
Which beachfront hotels are located in Naples, United States?
Naples, Florida is home to several stunning beachfront hotels. Some of the top options include The Ritz-Carlton Golf Resort Naples, LaPlaya Beach & Golf Resort, and Naples Grande Beach Resort. These luxurious hotels offer breathtaking ocean views and easy access to the beautiful beaches of the Gulf Coast.
What amenities can I expect at a beachfront hotel in Naples?
Beachfront hotels in Naples offer a wide range of amenities to ensure a comfortable and enjoyable stay. Most properties feature direct beach access, private pools, spa facilities, fitness centers, on-site restaurants serving delicious seafood cuisine, and various water sports activities for guests to enjoy.
Are there any family-friendly beachfront hotels in Naples?
Yes, there are several family-friendly beachfront hotels in Naples that cater to the needs of both adults and children. Many properties have dedicated kids' clubs with supervised activities and entertainment options. Additionally, you'll find spacious accommodations suitable for families with children and amenities like kid's pools or playgrounds.
What is the best time to visit a beachfront hotel in Naples?
The best time to visit a beachfront hotel in Naples is during the winter months from December to March when temperatures are mild and pleasant. This period also sees fewer crowds compared to peak summer season. However, it's worth noting that prices may be higher during this time due to increased demand from snowbirds escaping colder climates.
How far are the main attractions from beachfront hotels in Naples?
Most of the main attractions in Naples are within close proximity to the city's beachfront hotels. For example, popular spots like Fifth Avenue South (downtown area), Tin City Waterfront Shops & Restaurants (marina district), and Delnor-Wiggins Pass State Park (for nature lovers) can be reached within a short drive or even walking distance depending on your hotel's location.
Popular Hotels near Beach destinations