Welcome to the enchanting island of Mykonos, a destination renowned for its sun-kissed beaches and luxurious seaside accommodations. In this guide, we will delve into the idyllic world of beachfront hotels in Mykonos, Greece. Nestled along the crystal-clear Aegean Sea, these exquisite coastal retreats offer an unparalleled blend of natural beauty and opulent comforts.
Prepare to immerse yourself in a captivating ambiance where sandy shores meet pristine turquoise waters. Whether you seek a tranquil escape or vibrant entertainment, Mykonos has it all. With an array of beachfront hotels dotting the coastline, each one exuding its unique charm and allure, you are spoilt for choice when it comes to finding your perfect getaway location. From boutique hideaways nestled amidst picturesque coves to grand resorts boasting panoramic ocean views, there is something to suit every discerning traveler's taste.
Indulge in gourmet dining experiences accompanied by breathtaking sunsets or lounge by infinity pools that seem to merge seamlessly with the sea beyond. With world-class amenities at your fingertips and impeccable service ensuring your every need is catered to, these beachfront hotels provide an oasis of luxury where relaxation meets sophistication.
So pack your bags and prepare for a mesmerizing journey as we explore some of the finest beachfront hotels that Mykonos has on offer. Get ready to be captivated by their unmatched beauty and immerse yourself in the ultimate seaside vacation experience like no other.
The Best Mykonos Hotels By the Beach
Elia Mykonos Resort (Elia Beach)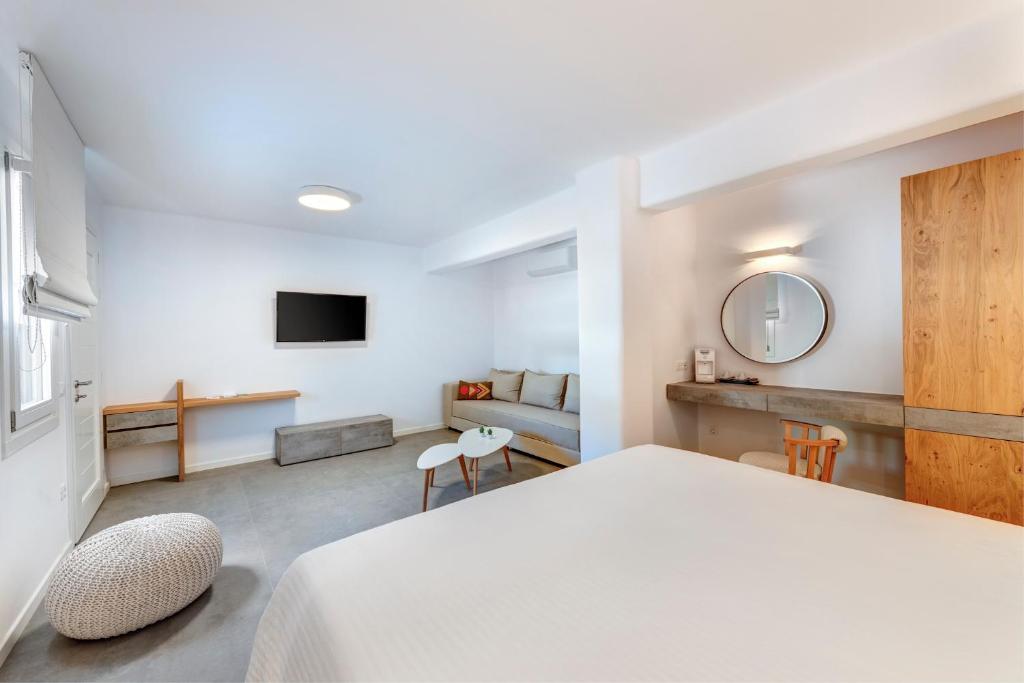 Located on the sandy Elia Beach in Mykonos, the Elia Mykonos Resort is a charming Cycladic-style hotel that offers a beachfront restaurant, boutique shops, and a beautiful garden filled with palm and olive trees. The tastefully decorated rooms and suites feature balconies with views of either the Aegean Sea or the garden, as well as amenities such as free WiFi, minibars, flat-screen TVs, and air conditioning. Some suites even include a seating area and kitchenette. Guests can enjoy complimentary sunbeds and towels, as well as access to the hotel's wellness center which includes a spa, gym, and swimming pool. With its convenient location just 10 km from Mykonos Town and 9 km from Mykonos National Airport, Elia Mykonos Resort offers an ideal beachfront getaway.
– Stunning beachfront location
– Tastefully decorated rooms with balconies
– Complimentary sunbeds and towels
– Wellness center with spa, gym, and swimming pool
– Conveniently located near popular attractions
Acrogiali Beach Hotel Mykonos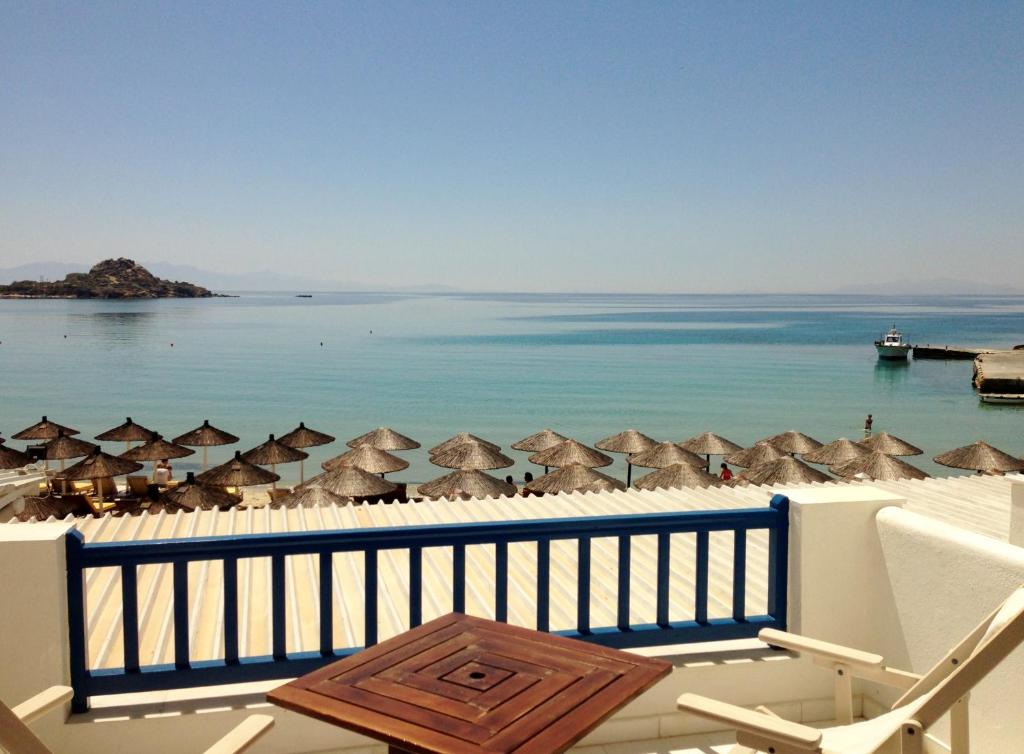 Located just steps from the beautiful Platis Gialos beach in Mykonos, Hotel Acrogiali offers a wonderful beachfront escape. This small hotel features a rooftop pool and spacious rooms with stunning sea or garden views. Guests can enjoy free WiFi, as well as complimentary pick-up and drop-off service and parking. The hotel also provides access to the swimming pool of a neighboring property and free sunbeds at the beach. A 10-minute bus ride takes you to the lively town of Mykonos, while hired boats depart daily from Platis Gialos Beach to explore other nearby beaches. The hotel offers air-conditioned rooms with amenities like rainfall showers, satellite TV, radio, and refrigerators. Start your day with a delicious breakfast buffet served in the breakfast area, and unwind at one of the two bars after a day of sun-soaked activities. Water sports facilities and a diving center are available for those seeking adventure.
Pros:
– Rooftop pool for relaxation
– Direct access to Platis Gialos beach
– Free pick-up/drop-off service and parking
– Variety of room options with sea or garden views
– Close proximity to Mykonos town with easy transportation options
Mykonos Blanc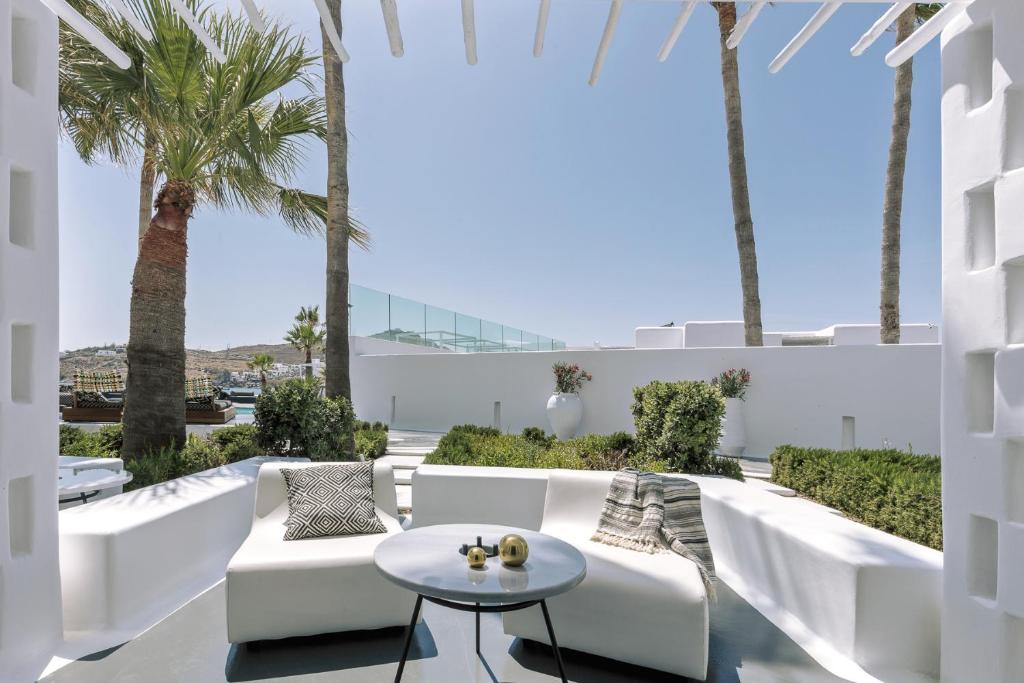 Mykonos Blanc Hotel is a 5-star beachfront luxury boutique hotel in Mykonos, situated at the popular Ornos bay. As a member of the prestigious LVX Preferred Hotels and Resorts network, this charming hotel offers 42 beautifully designed rooms and suites overlooking the stunning Aegean sea. The interiors and exteriors of Mykonos Blanc are inspired by the vibrant blue colors of the surrounding nature, creating a calming atmosphere that perfectly complements the cosmopolitan lifestyle of Mykonian living. Guests can enjoy a range of amenities including a pool and garden area with breathtaking views, as well as in-room hot tubs where they can relax while taking in the scenic sea view. Additionally, there are several award-winning restaurants and beach bars nearby, such as Kuzina Mykonos, Pasaji's Asian Fusion cuisine, and Farina Trattoria which serves delicious Italian dishes.
Pros:
– Gorgeous beachfront location
– Luxuriously designed rooms and suites
– Spectacular views of Ornos bay
– Range of excellent dining options nearby
– Access to top-notch amenities like pools and gardens
Other places to stay in Mykonos
Hotels Near the Beach in Downtown Mykonos
Downtown Mykonos offers a selection of beachfront hotels, providing guests with stunning views of the crystal-clear waters and golden sandy beaches. With their prime locations, visitors can enjoy easy access to the beach and a vibrant atmosphere in the heart of this popular Greek island destination.
Mykonos Ammos Hotel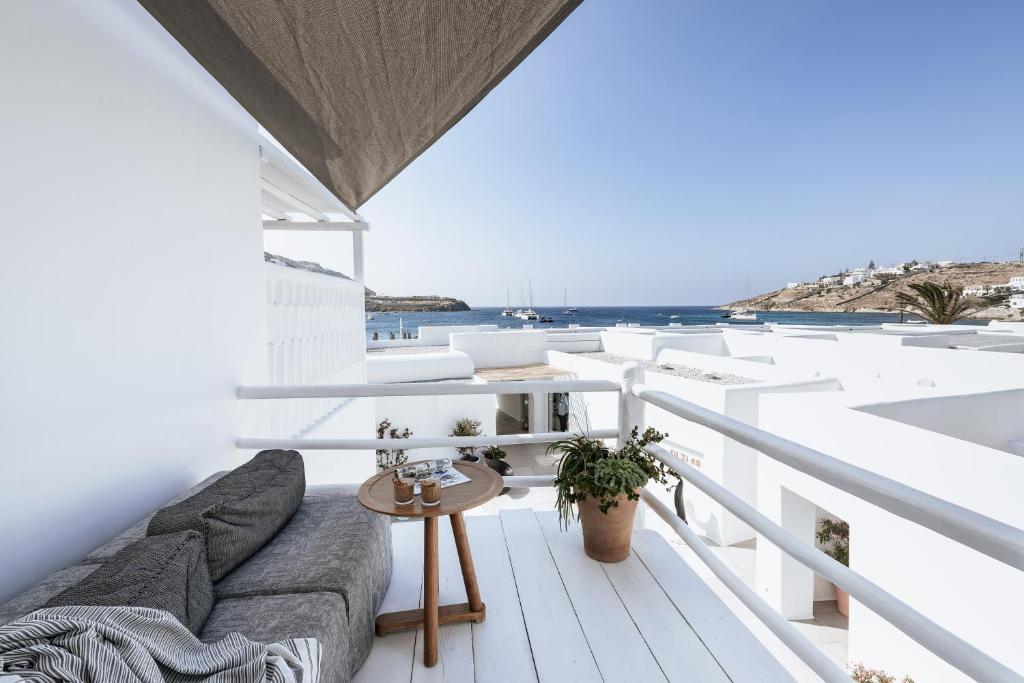 Located on the lively Ornos Beach, Mykonos Ammos Hotel is a 5-star boutique hotel offering luxurious amenities and breathtaking views. As a member of the Small Luxury Hotels of the World, this beachfront retreat provides trendy sun loungers and beach service for guests to relax and soak up the sun. The hotel features an outdoor pool where guests can take a refreshing dip, as well as a wellness and beauty center for those looking to indulge in some pampering. Dining options include Kuzina Restaurant, which serves fusion culinary dishes that combine Asian and Mediterranean flavors right by the seaside, while Farina Italian Restaurant offers authentic Italian cuisine in an elegant setting. For signature cocktails throughout the day, guests can visit Mykonos Ammos Beach and Bar. The spacious rooms and suites are tastefully decorated with earth tones and white washed walls, exuding a stylish ambiance. Each room is equipped with modern amenities such as a 37" flat-screen TV, DVD player, laptop safe, toiletries, hairdryer with balconies or terraces overlooking either the sea or garden views depending on your preference. Additional services include complimentary beach towels and daily newspapers for added convenience. The friendly 24-hour front desk staff can assist with arranging tours of Mykonos Island or provide concierge services upon request at an additional charge. Mykonos Ammos Hotel is conveniently located just 2.5 km from both Mykonos Town, making it easily accessible for exploring local attractions or enjoying vibrant nightlife options in town. Whether you want to unwind on the sandy shores of Ornos Beach or explore all that Mykonos has to offer nearby restaurants café's supermarkets are all within walking distance from this idyllic beachfront escape.
– Luxurious boutique hotel situated directly on Ornos Beach
– Outdoor pool for ultimate relaxation
– Wellness and beauty center for indulgent treatments
– Fusion culinary delights at Kuzina Restaurant by the seaside
– Stylishly decorated rooms and suites with modern amenities
The Wild by Interni (Kalafatis)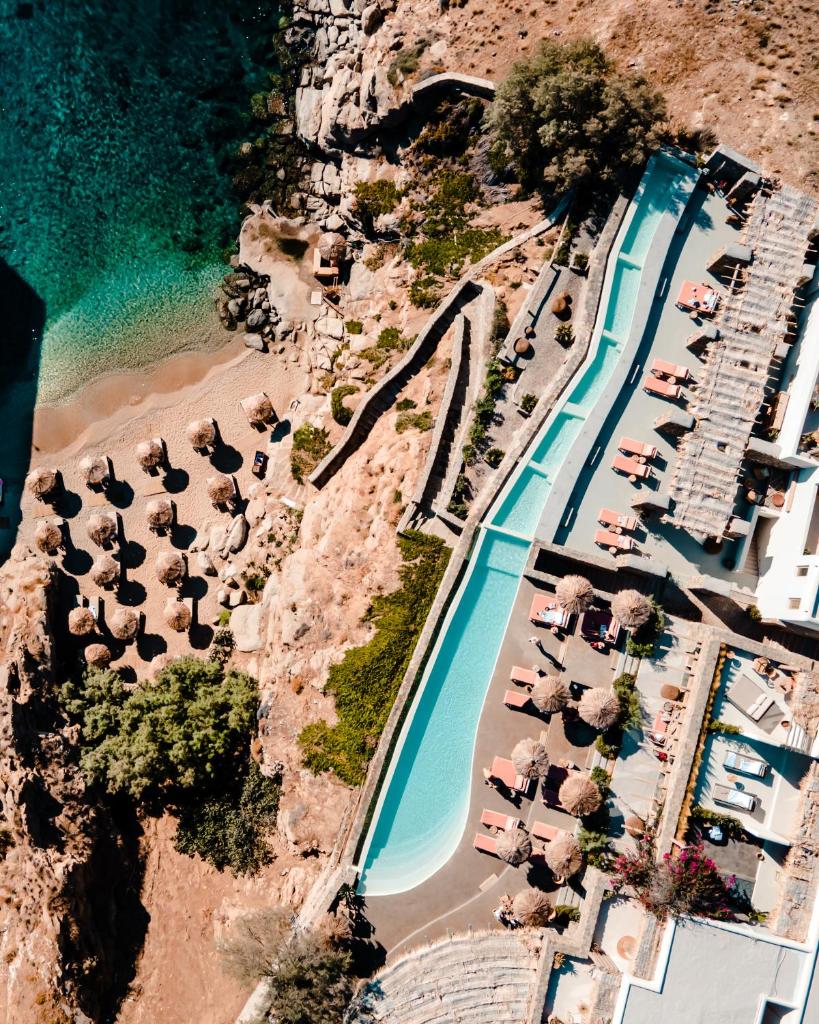 The Wild by Interni is a stunning boutique hotel located on a cliff overlooking the beautiful Kalafatis Beach. This 5-star property seamlessly blends traditional local architecture with modern elements, offering guests a unique and luxurious experience. With an outdoor pool that boasts breathtaking views of the Aegean Sea, handmade floors, and design furnishings in each unit, The Wild by Interni exudes elegance and sophistication. The hotel provides a shuttle service at an additional charge to and from the island's airport and port, ensuring convenience for its guests. The 24-hour front desk is always available to assist with any needs or requests. Free WiFi is accessible throughout the entire property. Each air-conditioned guest room features a flat-screen TV and a private bathroom equipped with a shower and hairdryer. Guests can indulge in Malin and Goetz toiletries provided in every unit. For an authentic culinary experience, the hotel's tavern serves up traditional Greek dishes made from fresh local produce, allowing guests to taste the flavors of the Cycladic islands. Additionally, The Wild by Interni offers a business center for those who need to work while enjoying their stay as well as a fitness center for those looking to keep active during their vacation. Situated just 8 km away from Mykonos City, this beachfront oasis provides easy access to all that this vibrant destination has to offer. Mykonos Airport is also conveniently located just 6 km away from the hotel.
– Private beachfront location
– Beautifully designed rooms with luxury amenities
– Breathtaking views of the Aegean Sea
– Traditional Greek cuisine made from local produce
– Convenient shuttle service available
Adorno Beach Hotel and Suites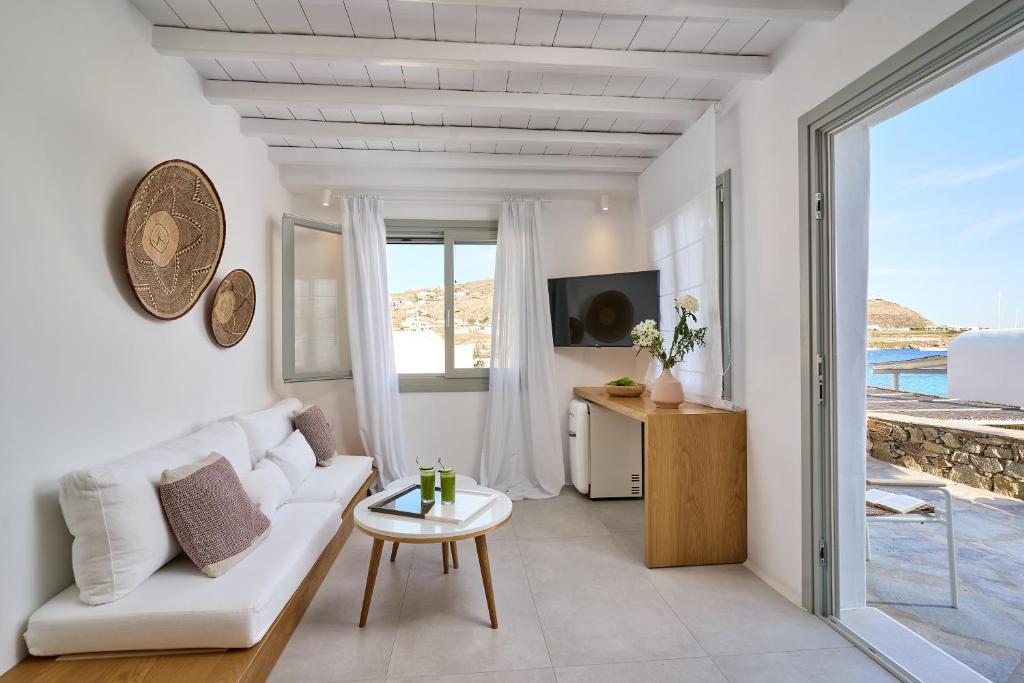 Adorno Beach Hotel and Suites is a charming boutique hotel located in the beautiful area of Ornos. This 4-star hotel offers a range of amenities including an outdoor pool, restaurant, fitness center, and bar. Guests can enjoy the convenience of free private parking and complimentary WiFi throughout their stay. The rooms are elegantly decorated with traditional whitewashed walls, wooden pergolas, and pastel-colored shutters, creating a perfect blend of Cycladic style with chic Bohemian décor. Each room features air conditioning, a flat-screen TV with satellite channels, a fridge, kettle, shower, hairdryer, and desk. The sun terrace provides a serene spot to relax and soak up the sunshine while guests can also partake in activities such as cycling in the surrounding area. With its prime location just 3 km away from Mykonos Airport, Adorno Beach Hotel and Suites also offers paid airport shuttle services for added convenience.
– Boutique hotel with stylish Cycladic design
– Outdoor pool for refreshing dips
– Convenient amenities including restaurant and fitness center
– Complimentary WiFi throughout the property
– Close proximity to the beach and easy access to Mykonos Airport
Romantic Beachfront Hotels in Mykonos
Mykonos offers a range of romantic beachfront hotels that provide the perfect setting for couples seeking a luxurious and intimate escape. With stunning ocean views, private beaches, and serene surroundings, these hotels offer an idyllic location to unwind and experience pure romance by the sea.
Santa Marina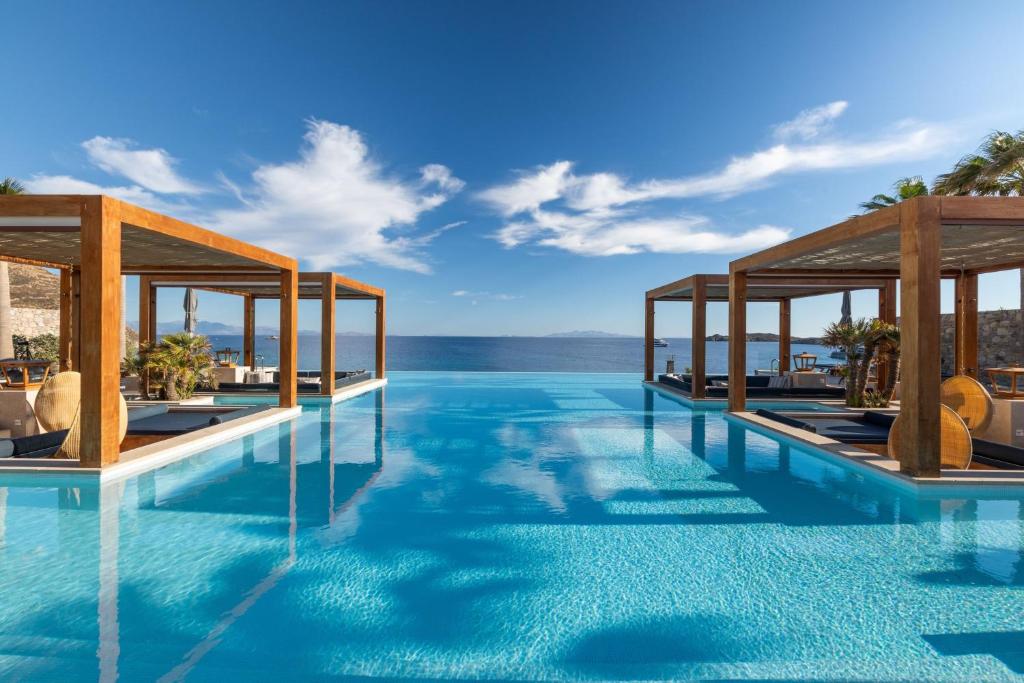 Santa Marina, Mykonos is a luxury hotel situated on a secluded peninsula overlooking the breathtaking Aegean Sea. Just 4 km away from Mykonos town, this exquisite beachfront property offers guests an unforgettable experience. The hotel boasts two exceptional restaurants, including Mykonos Social by Jason Atherton which serves Mediterranean cuisine with stunning sea views, and the Asian-style Buddha Bar offering gourmet seafood and expertly crafted cocktails. Santa Marina also features two infinity pools that overlook the crystal blue sea, as well as a fully equipped spa where guests can indulge in rejuvenating treatments. The rooms at Santa Marina are designed in an organic modern style and feature private balconies for ultimate relaxation. For those wishing to stay active during their stay, there is a floodlit tennis court and tennis coach available, as well as a fully equipped gym. Families are also catered to with a children's playground and pool provided for junior guests. Additional exclusive services such as private helicopter and jet plane transfers, yacht charters from the private marina, and speedboat services can be arranged upon request. With its idyllic location, impeccable amenities, and unparalleled service, Santa Marina is the ultimate destination for a luxurious beachfront getaway.
Pros:
– Stunning infinity pools overlooking the Aegean Sea
– Two exceptional restaurants offering Mediterranean cuisine and gourmet seafood
– Fully equipped spa for indulgent treatments
– Wide range of activities including tennis courts and gym facilities
– Exclusive services available such as private helicopter transfers and yacht charters
Kivotos Mykonos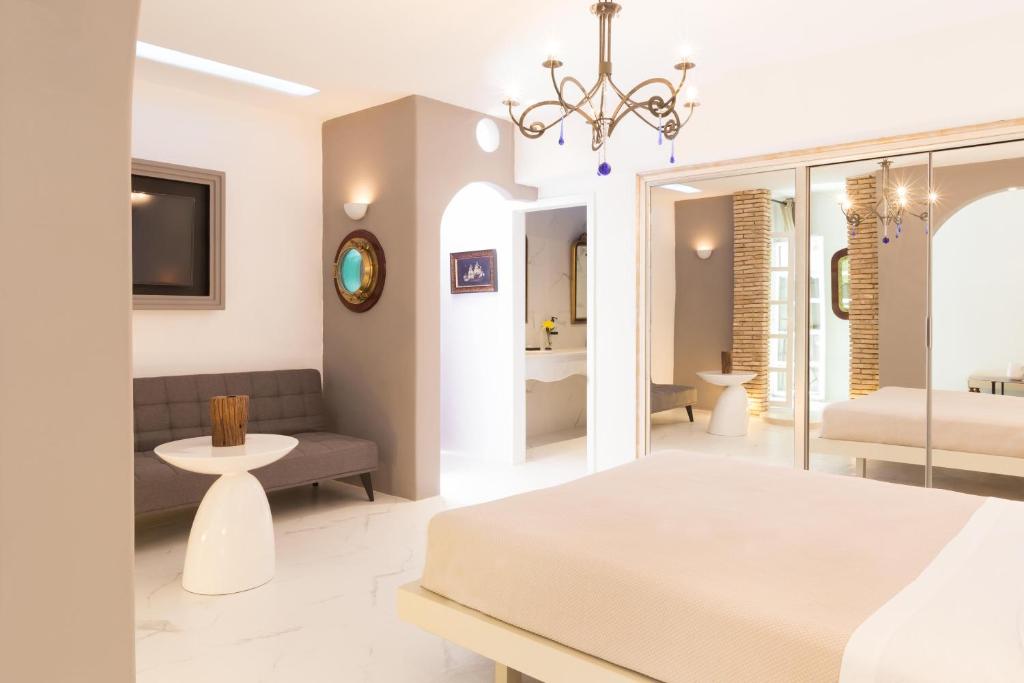 Kivotos Mykonos is a beautiful boutique hotel located on a private beach in the stunning bay of Ornos. It is conveniently situated just a 5-minute drive from Mykonos town, port, and airport, allowing for easy access to all that the island has to offer. The hotel features two inviting swimming pools, as well as extensive spa facilities and a fitness center, ensuring guests can relax and rejuvenate during their stay. Each villa and suite at Kivotos Mykonos has been individually decorated by renowned artists and local craftsmen, creating a unique and luxurious atmosphere. Guests can enjoy delicious Mediterranean cuisine and local specialties while overlooking the bay at Le Pirate, the hotel's exquisite a la carte restaurant. Additionally, La Meduse gourmet restaurant offers Greek fusion cuisine and fresh seafood with breathtaking views over the moonlit Ornos Bay. With its idyllic location, beautiful accommodations, top-notch amenities, and exceptional dining options, Kivotos Mykonos promises an unforgettable beachfront experience.
– Conveniently located near Mykonos town
– Individually decorated villas and suites by famous artists
– Extensive spa facilities for relaxation
– Two swimming pools for leisurely dips
– Exceptional dining options with stunning bay views
Kosmoplaz Beach Hotel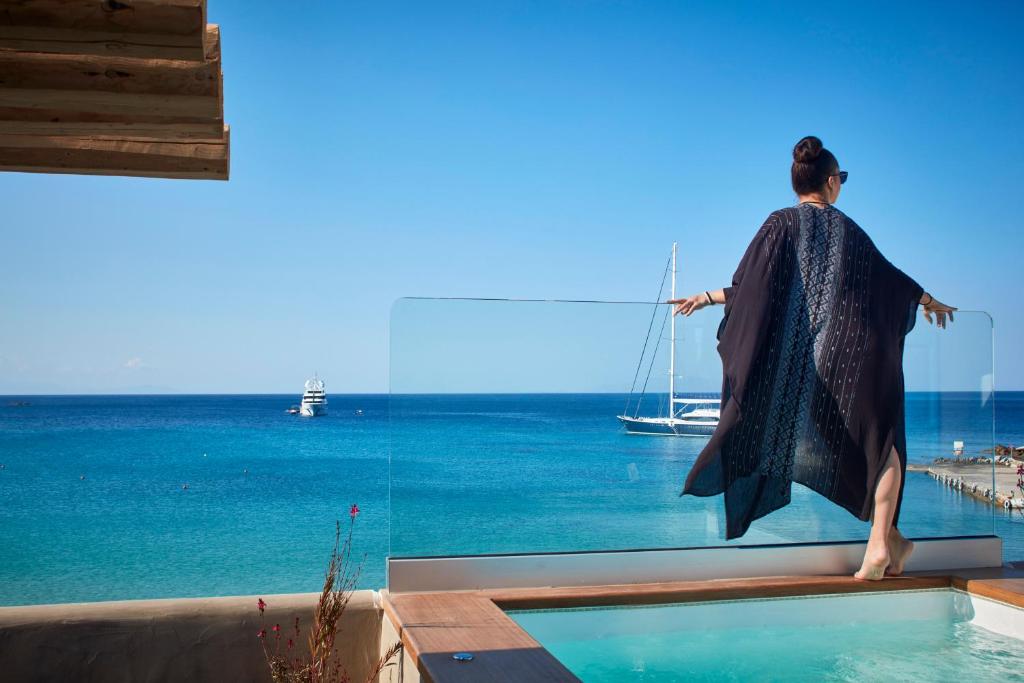 Located on the beautiful blue-flagged beach of Platis Yialos, just 3 km from Mykonos Town, Kosmoplaz Beach Hotel offers guests a luxurious beachfront experience. The hotel features a swimming pool, an hydromassage tub, and a rooftop restaurant with breathtaking panoramic views of the Aegean Sea. Guests can enjoy a delicious American buffet breakfast or Greek breakfast to start their day, and unwind with refreshing drinks and cocktails at the roof garden. The air-conditioned rooms at Kosmoplaz all come with balconies offering views of either the pool or the sea, as well as flat-screen satellite TVs and minibars. Complimentary use of the hotel's hydromassage tub is also provided daily. Free Wi-Fi is available in all public areas, and guests have convenient access to transportation with a bus station just 100 meters away connecting to Mykonos town. The property also offers free one-way transfers from both the port and airport for added convenience. For those looking to explore famous beaches like Super Paradise, water taxis are conveniently located just 15 meters away from the hotel. Additionally, Psarou Beach is only a quick 5-minute drive away while private parking is available on site free of charge.
– Prime location right on Platis Yialos beach
– Swimming pool and hydromassage tub for ultimate relaxation
– Rooftop restaurant with stunning sea views
– Complimentary use of hydromassage tub for guests
– Convenient access to transportation options
Information about Beachfront Hotels in Mykonos
| | |
| --- | --- |
| 🏢 Number of Beach Hotels in Mykonos | 9 |
| 🥇 Average Review Score | 9.1/10 |
| 💰 High season average price | 1440 |
| 💸 Low season average price | 360 |
FAQ
What are the best beachfront hotels in Mykonos?
Mykonos is known for its stunning coastline, and there are several amazing beachfront hotels to choose from. Some of the top options include Cavo Tagoo Mykonos, Santa Marina Resort & Villas, and Myconian Ambassador Relais & Chateaux. These luxurious hotels offer direct access to the beach, breathtaking views of the Aegean Sea, and world-class amenities to ensure an unforgettable stay in Mykonos.
Which beachfront hotel in Mykonos offers a private pool?
If you're looking for a beachfront hotel with a private pool, consider staying at Kenshō Psarou. This boutique hotel boasts stylish suites and villas with their own private pools overlooking Psarou Beach. The combination of luxurious accommodations, personalized service, and stunning sea views make Kenshō Psarou an ideal choice for those seeking a relaxing and indulgent stay in Mykonos.
Are there any all-inclusive beachfront hotels in Mykonos?
Yes, there are all-inclusive options for travelers looking to enjoy a hassle-free getaway in Mykonos. One such option is the Royal Myconian Resort & Villas. This five-star hotel offers all-inclusive packages that cover accommodation, meals at their on-site restaurants, drinks at their bars, as well as access to their private beach area and swimming pools. It's a perfect choice for those who want to maximize their relaxation time without having to worry about additional expenses.
Which beachfront hotel in Mykonos is suitable for families?
If you're traveling with your family and looking for a suitable beachfront hotel in Mykonos, consider staying at the Greco Philia Hotel Boutique Suites & Villas. This family-friendly property not only offers direct access to Elia Beach but also provides spacious accommodations that can comfortably accommodate families of various sizes. Additionally, the hotel offers a children's pool, babysitting services, and a kids' club to ensure that both parents and children have an enjoyable stay.
What are some activities available near beachfront hotels in Mykonos?
There is no shortage of activities to enjoy near beachfront hotels in Mykonos. From water sports like snorkeling, scuba diving, and windsurfing to boat tours exploring the stunning coastline and nearby islands, there's something for everyone. Additionally, many beachfront hotels offer their own facilities such as swimming pools, spa treatments, and fitness centers to keep guests entertained during their stay. Exploring the charming town of Mykonos with its vibrant nightlife and shopping opportunities is also a must-do activity for visitors.
Popular Hotels near Beach destinations