Welcome to the enchanting island of Mallorca, where turquoise waters meet pristine sandy beaches and luxurious accommodations await. If you're in search of the perfect coastal getaway, look no further than Mallorca's exquisite beachfront hotels. Indulge in a symphony of sun, surf, and relaxation as you bask in the warm Mediterranean climate and immerse yourself in the unparalleled beauty that this Spanish paradise has to offer.
Mallorca boasts an impressive selection of seaside retreats that cater to every traveler's desire for opulence and tranquility. From boutique hideaways nestled along secluded coves to grand resorts boasting panoramic ocean views, there is a beachfront hotel to suit every style and preference. Picture waking up each morning to breathtaking vistas of crystal-clear waters stretching out as far as the eye can see, feeling the gentle sea breeze caress your skin while sipping your coffee on a private balcony or lounging by an infinity pool that seemingly merges with the horizon. Whether you seek seclusion or vibrant nightlife, gourmet dining or exhilarating water sports activities, these coastal havens will exceed your expectations at every turn.
Prepare to be pampered by world-class amenities and exceptional service as you embark on a truly unforgettable beachfront escape in Mallorca. So pack your swimsuit and let us guide you through this tantalizing journey where luxury meets the sea – get ready for sun-kissed memories that will last a lifetime!
The Best Mallorca Hotels By the Beach
Hotel Apartamentos Cala Santanyi (Cala Santanyi)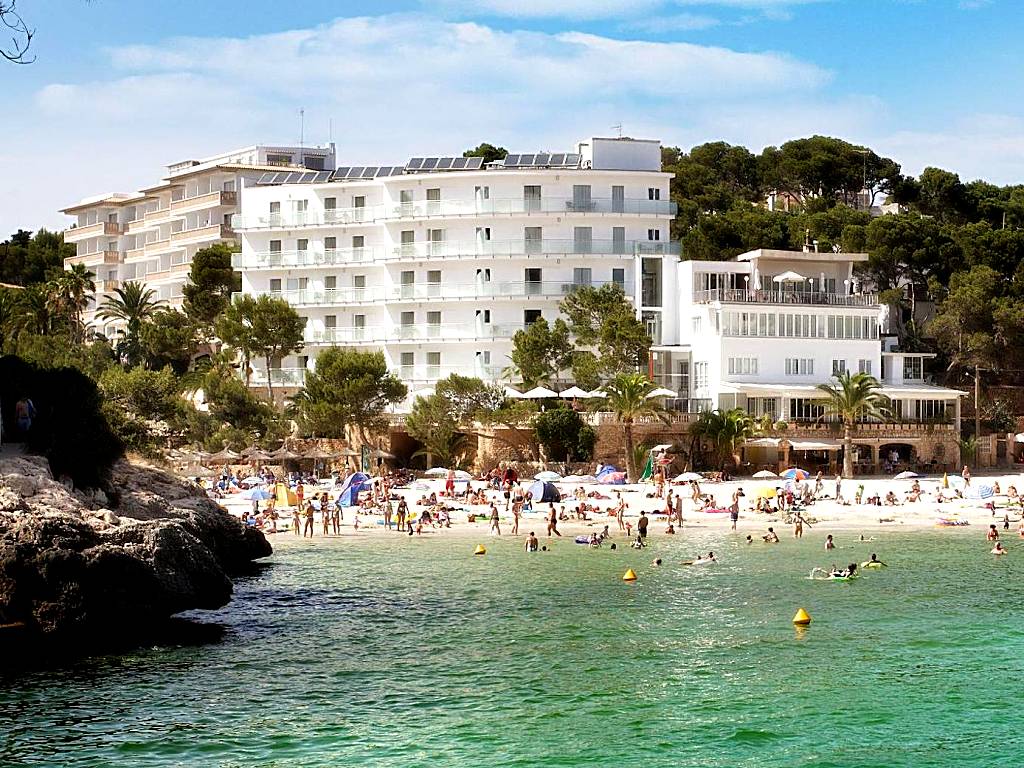 Hotel Apartamentos Cala Santanyi is a beachfront property located in Mallorca, offering stunning views of Cala Santanyi Cove. Guests can choose between booking hotel rooms or apartments, all of which provide modern amenities including free Wi-Fi, flat-screen TVs, and balconies with sea or countryside views. The hotel features an outdoor swimming pool and an on-site restaurant serving delicious Mediterranean cuisine. Additionally, guests can explore the nearby town of Cala Figuera for lively bars and restaurants or take a short drive to the center of Santanyí. With its convenient location and luxurious facilities, Hotel Apartamentos Cala Santanyi ensures a memorable beachfront experience.
– Breathtaking sea views from hotel rooms and apartment balconies
– Beautiful outdoor swimming pool overlooking the cove
– Free Wi-Fi throughout the property
– On-site restaurant serving delectable Mediterranean cuisine
– Close proximity to vibrant bars and restaurants in Cala Figuera
Hotel Condesa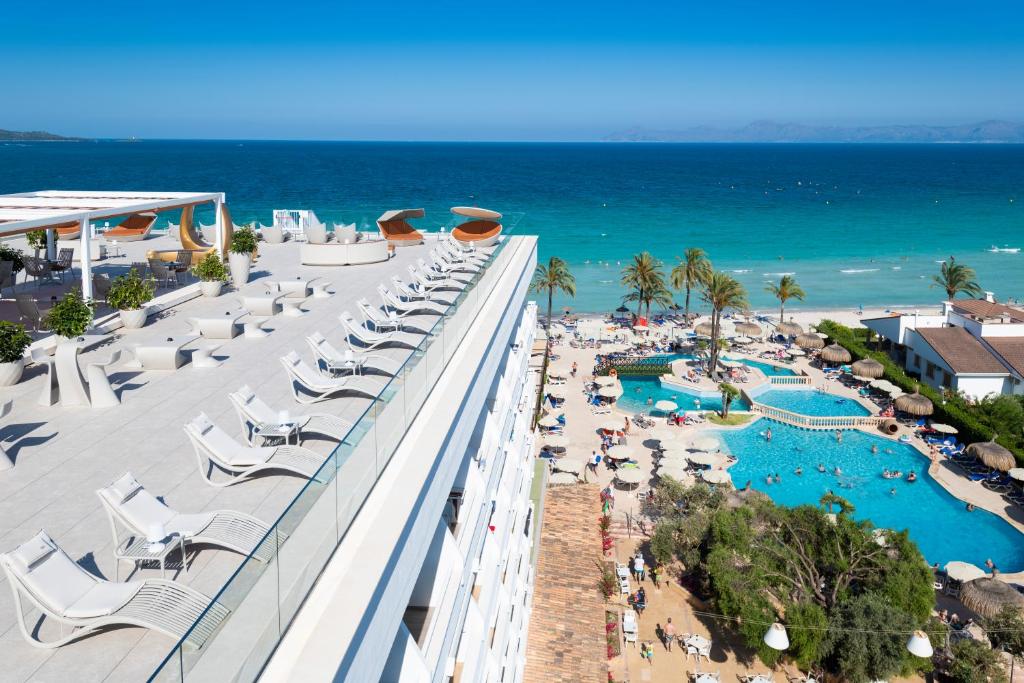 The beachfront Hotel Condesa in Alcudia offers a fantastic location right by the sea and is just a 20-minute walk from the port. This charming hotel features an inviting outdoor pool and all rooms come with balconies where guests can enjoy beautiful views. The brightly decorated rooms are air-conditioned and equipped with amenities such as a TV, minibar, and fridge. Guests can indulge in delicious meals at the hotel's restaurant or unwind with a drink at the bar or terrace. Hotel Condesa also offers entertainment options including table tennis, aerobics, and archery. With its proximity to Alcudia's center, guests have easy access to numerous restaurants, bars, and cafés. Additionally, popular destinations like Puerto de Pollensa are only a short drive away while Palma can be reached within an hour by car.
– Beachfront location
– Outdoor pool
– Rooms with balconies offering beautiful views
– Restaurant and bar on-site
– Entertainment options available
Hotel Hispania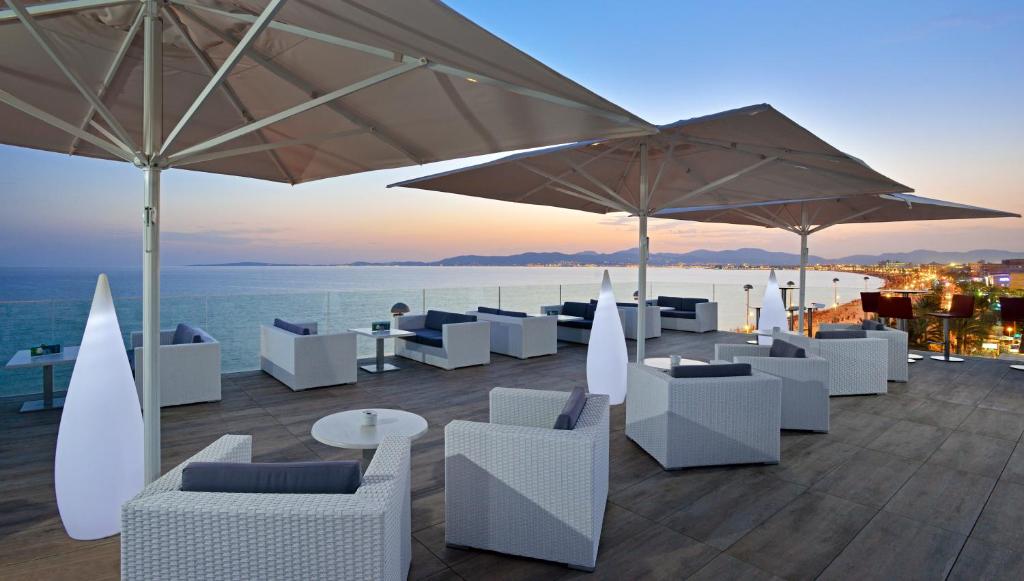 Hotel Hispania in Mallorca is a beachfront hotel located on Playa de Palma. This luxurious establishment offers guests a fantastic outdoor pool, surrounded by beautiful gardens and a sun terrace where visitors can relax and soak up the sun. The hotel also provides free WiFi throughout the property, ensuring that guests have access to all their online needs. In addition to this, Hotel Hispania boasts a cafeteria with stunning views of the beach, as well as a lounge bar with an inviting swimming pool. For those looking for breathtaking panoramic views of the sea and Bay of Palma, they can head up to the Sky Bar on the 5th floor. The spacious rooms are equipped with air conditioning, flat-screen satellite TV, and each room has its own balcony where guests can enjoy some private outdoor space. A safety deposit box is available for an extra charge for added convenience. For those seeking relaxation and pampering during their stay, there is also a spa facility available at an additional cost. Dining options at Hotel Hispania include a buffet restaurant which features an outdoor terrace with marvelous sea views – perfect for enjoying delicious meals while taking in the waterfront scenery. Playa de Palma offers plenty of water sports activities such as windsurfing and water skiing for adventure seekers who want to make the most out of their beach vacation experience. Additionally, cycling enthusiasts will find biking trails readily accessible in the area along with horse-riding opportunities nearby.
Pros:
– Outdoor pool
– Stunning views from cafeteria and Sky Bar
– Free WiFi throughout the property
– Spacious rooms with balconies
– Accessible location near Palma de Mallorca Airport
Other places to stay in Mallorca
Hotels Near the Beach in Downtown Mallorca
Imagine waking up to the soothing sound of waves crashing on the shore, with the sun casting a golden glow over your balcony. Hotels near the beach in downtown Mallorca offer an idyllic escape, where you can enjoy stunning ocean views and easy access to pristine sandy shores.
Bonavida Apartments (Port d'Alcudia)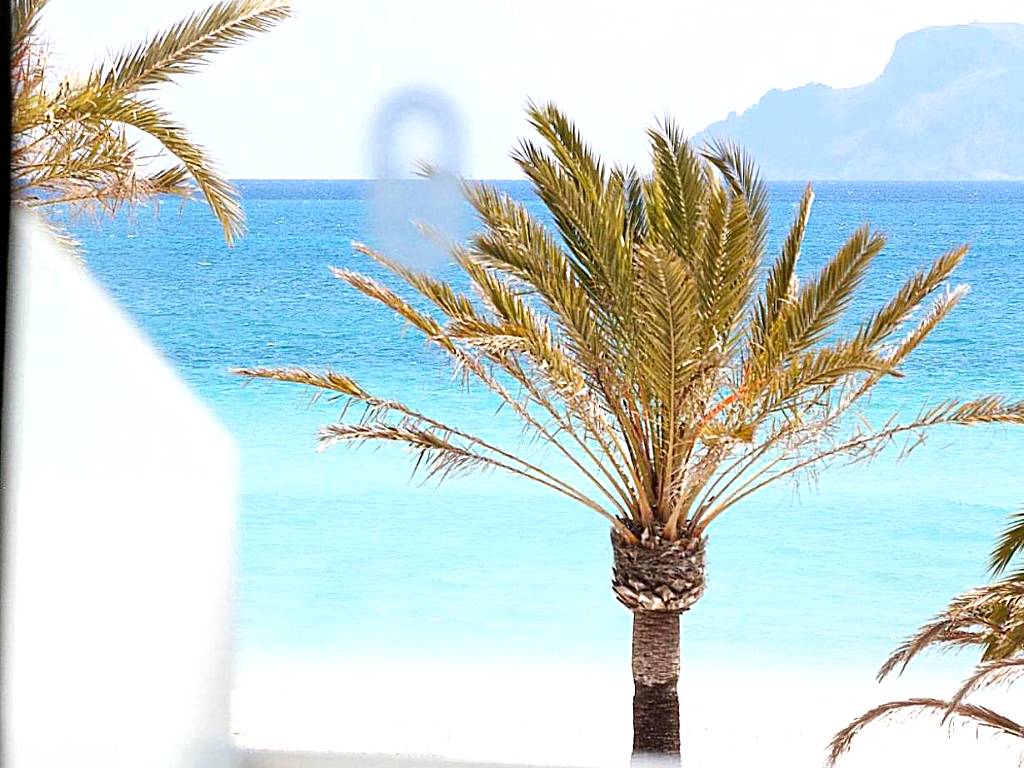 Bonavida Apartments in Port d'Alcudia is a stunning apartment hotel situated just 2 km away from the picturesque Playa de Muro Beach and 3.9 km from the breathtaking Natural Park S'Albufera de Mallorca. The air-conditioned units feature parquet floors, private bathrooms, flat-screen TVs, free WiFi, fully equipped kitchens, balconies with garden views, and spacious living areas. Guests can enjoy access to a beautiful garden and terrace. The aparthotel also offers car rental services and a paid airport shuttle service for convenience. With its prime location and top-notch amenities, Bonavida Apartments guarantees an unforgettable beachfront experience.
– Convenient proximity to Playa de Muro Beach
– Fully equipped kitchens for self-catering options
– Access to a beautiful garden and terrace
– Car rental services available for exploring the area
– Paid airport shuttle service for hassle-free transportation
Mar Blau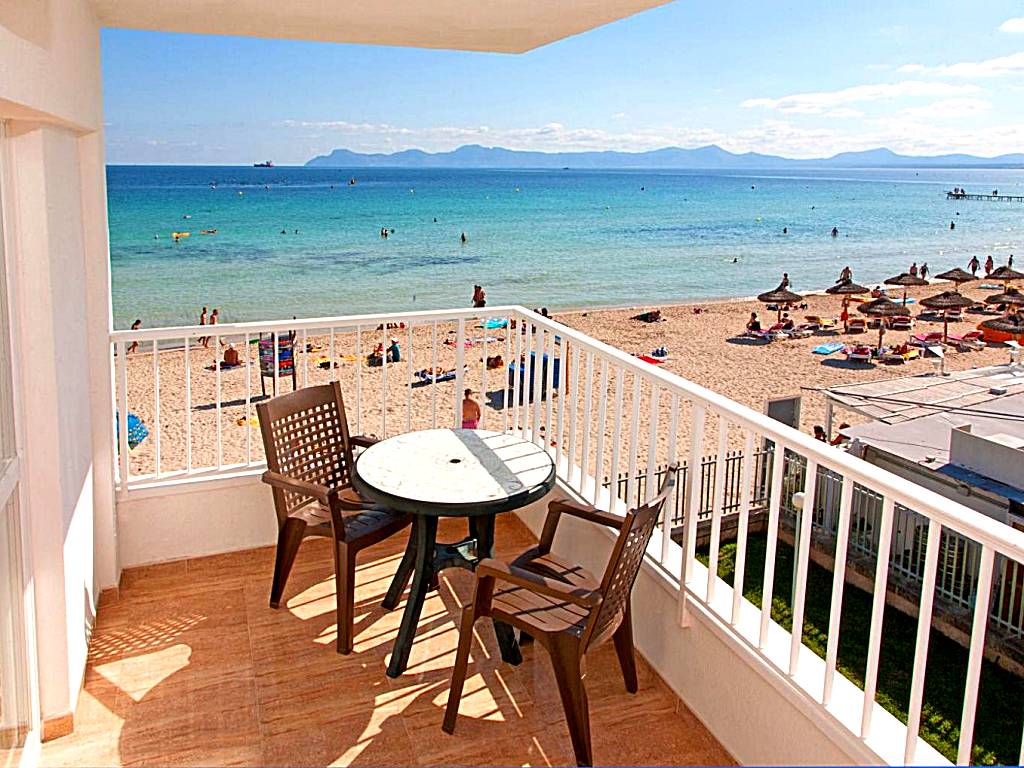 Mar Blau is an apartment hotel that opened in July 2021 and is conveniently located just a few steps away from the beautiful Port d'Alcudia Beach. This beachfront property offers guests a range of amenities including an outdoor swimming pool, a garden, and air-conditioned accommodation with balconies and free WiFi. Each apartment at Mar Blau features a terrace with sea views, a cozy seating area, a flat-screen TV, and a fully equipped kitchen with modern appliances. The nearby Playa de Muro Beach is within 100 meters of the hotel, while Es Comu Beach is just 2.2 km away. For added convenience, guests can find additional amenities such as a fridge, stovetop, kitchenware, coffee machine, and kettle in their rooms. There's also a shared lounge area where guests can unwind and relax during their stay. The nearest airport to Mar Blau is Palma de Mallorca Airport which is approximately 61 km away.
– Prime location steps away from Port d'Alcudia Beach
– Modern apartments with balconies offering sea views
– Outdoor swimming pool for relaxation
– Fully equipped kitchens for self-catering convenience
– Free WiFi throughout the property
Playa Esperanza Resort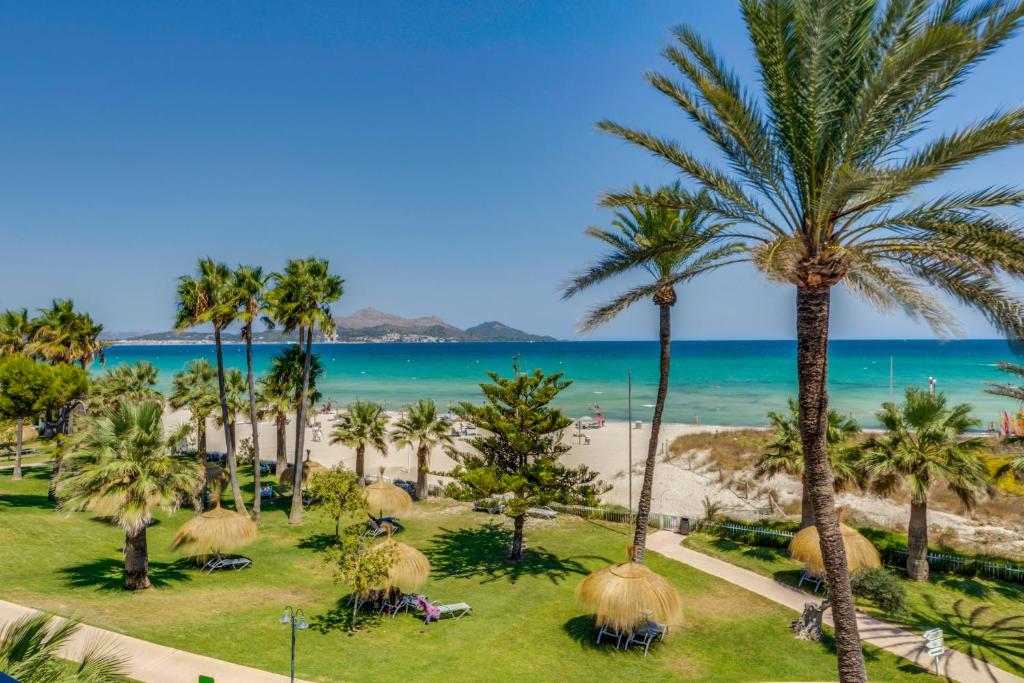 Located next to Platja de Muro Beach, the Playa Esperanza Resort is an apartment hotel that offers impressive sea views. Set in 60,000 m² of beautifully landscaped gardens, it boasts a total of four swimming pools – both indoor and outdoor. The resort also features a spa with an indoor pool, hot tub, and sauna for ultimate relaxation. Each bright and air-conditioned room comes with a flat-screen TV with satellite channels and a private bathroom. Guests can enjoy delicious Mediterranean cuisine at the buffet restaurant which overlooks Alcudia Bay or indulge in various treatments including massages, wraps, and reflexology at the spa. With S'Albufera Nature Reserve just 100 meters away from the resort, guests can easily explore hiking and cycling trails. The nearest golf club in Alcúdia is only a 15-minute drive away.
– Apartment hotel with stunning sea views
– Indoor and outdoor pools
– Spa offering various treatments
– Buffet restaurant serving Mediterranean cuisine with terrace overlooking Alcudia Bay
– Close proximity to nature reserve for hiking and cycling opportunities
Romantic Beachfront Hotels in Mallorca
Mallorca offers a plethora of romantic beachfront hotels, providing couples with breathtaking views and serene atmospheres. These idyllic retreats allow guests to indulge in intimate beach walks, exquisite dining experiences, and rejuvenating spa treatments while enjoying the beauty of the Mediterranean coastline.
Grupotel Picafort Beach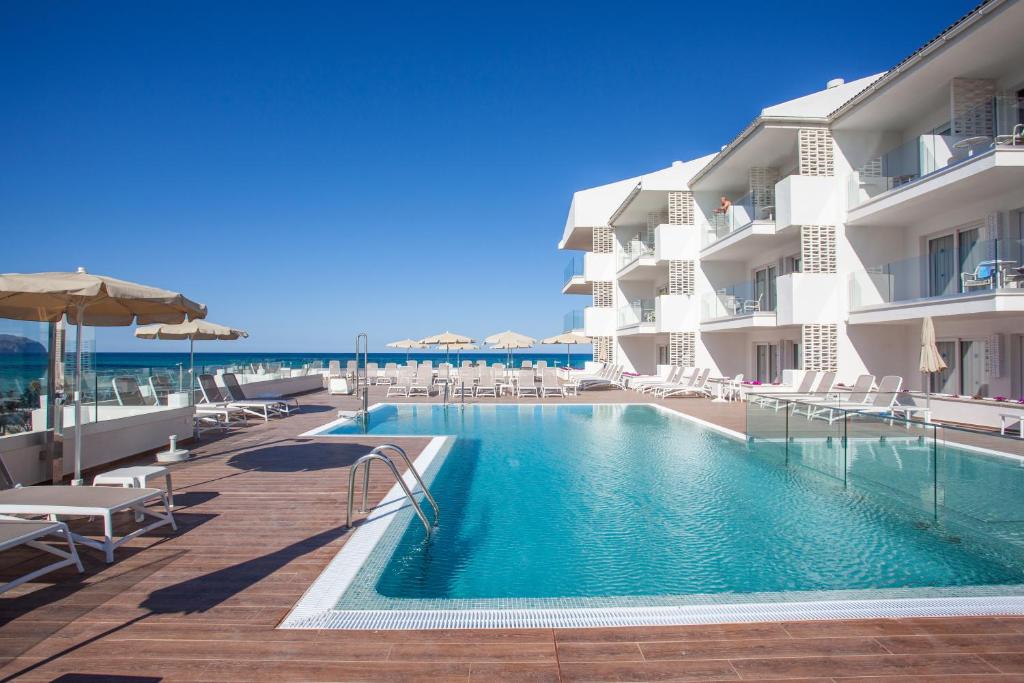 Grupotel Picafort Beach is a charming beachfront complex located in Mallorca, offering bright and air-conditioned apartments with stunning panoramic views of Ca´n Picafort Beach and the Mediterranean Sea. The hotel features a seasonal outdoor swimming pool and a 24-hour reception for guests' convenience. Each apartment is well-appointed with a comfortable living room, equipped with a sofa bed and flat-screen TV. Additionally, there is a safe for valuable belongings, as well as a private bathroom complete with a hairdryer and amenities. Guests can start their day with a delicious buffet breakfast at the on-site restaurant or enjoy drinks at the terrace bar throughout the day. Special diet menus are also available upon request. For those who wish to stay connected, Wi-Fi is accessible throughout the complex at an extra charge. The hotel's tour desk offers bicycle rental services for guests who want to explore the surrounding area, including S'Albufera Nature Reserve which is just 1 km away.
– Bright and comfortable apartments
– Panoramic views of Ca´n Picafort Beach
– Seasonal outdoor swimming pool
– Buffet breakfast served at the on-site restaurant
– Bicycle rental services available from the tour desk
Hotel Cala Fornells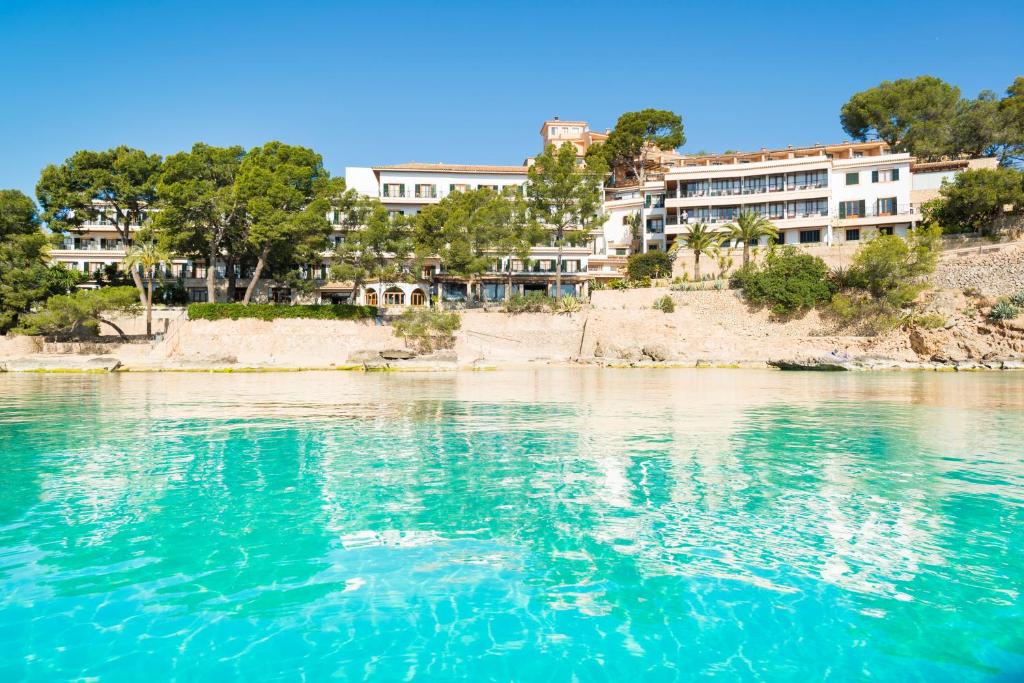 Hotel Cala Fornells is a charming beachfront hotel located on Cala Fornells Beach, surrounded by picturesque pine trees. The hotel boasts a rooftop pool that offers breathtaking views of the bay, and each room comes with a balcony or terrace that provides stunning sea views. The family-run establishment features a restaurant specializing in delicious Mediterranean cuisine, where guests can indulge in delectable meals. The bright and air-conditioned rooms are equipped with wooden floors, satellite TV, and minibars for added convenience. With free WiFi available throughout the property, guests can stay connected at all times. For ultimate relaxation, the hotel offers a spa complete with a sauna and hot tub, as well as an indoor pool and massage services. Other amenities include room service, a bar for refreshing beverages, 24-hour reception for any assistance required, and a tour desk to help plan excursions or book car rentals. Andratx Golf Club is just a quick 5-minute drive away from the hotel.
– Stunning rooftop pool overlooking the bay
– Delicious Mediterranean cuisine served in the restaurant
– Relaxing spa with sauna and hot tub
– Convenient amenities including free WiFi and room service
– Ideal location near Andratx Golf Club
Hotel Club S'Illot (S'Illot)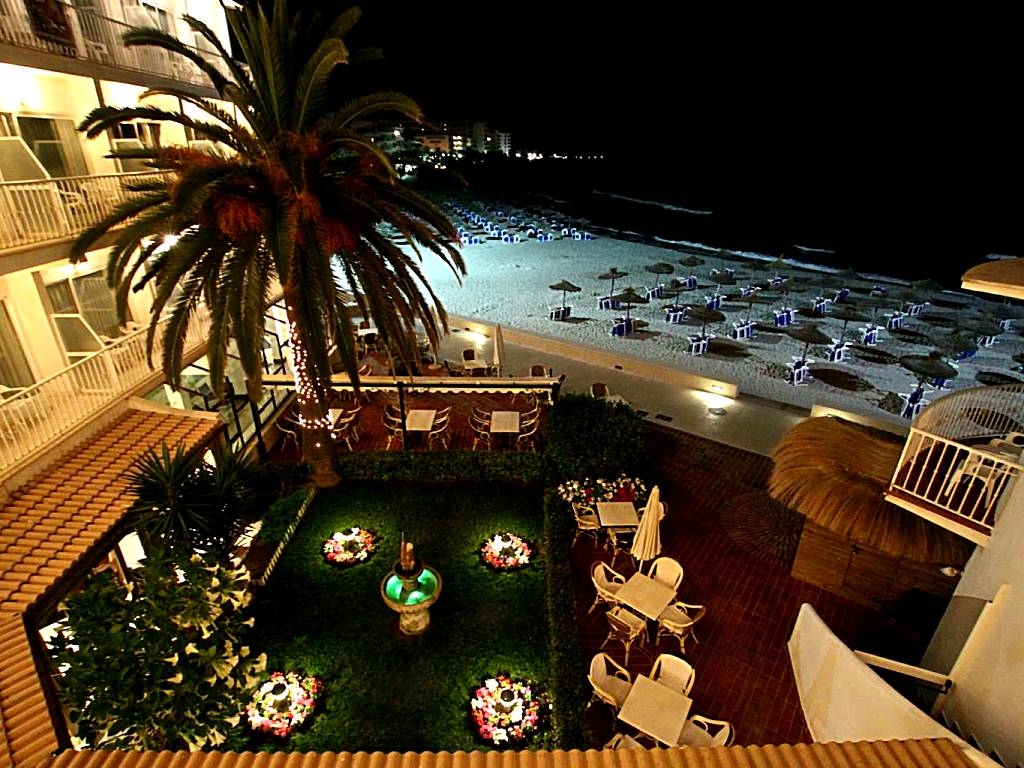 Hotel Club S'Illot is a beachfront hotel located on the stunning S'Illot Beach, situated on a pedestrian street. The hotel offers a range of amenities for guests to enjoy, including a sun terrace, sauna, and indoor pool. The rooms at Hotel Club S'Illot feature private balconies and are equipped with satellite TV and private bathrooms with hairdryers. Guests can indulge in delicious Mallorcan and Mediterranean cuisine at the hotel's restaurant or relax with a cocktail on the charming seafront terrace. With its 24-hour reception, guests can rest assured that their needs will be met at any time. For those looking to explore beyond the hotel, popular activities such as scuba diving, cycling, and tennis can be enjoyed in the surrounding area. Additionally, Pula Golf Course is just a short 20-minute drive away from the hotel.
– Prime location right on S'Illot Beach
– Sun terrace and indoor pool for ultimate relaxation
– Charming seafront terrace to enjoy cocktails
– 24-hour reception for convenience
– Proximity to popular activities like scuba diving and golf course
Beachfront Hotels Hotels in Mallorca With a Pool
Beachfront hotels in Mallorca with a pool offer the perfect combination of sun, sea, and relaxation. With stunning views of the turquoise waters, these hotels provide guests with the opportunity to unwind by the poolside while enjoying direct access to white sandy beaches.
CM Playa del Moro
Located in the pedestrian area of Cala Millor, right on the seafront, CM Playa del Moro is a beachfront hotel perfect for those seeking a relaxing and luxurious getaway. The hotel boasts both indoor and outdoor swimming pools, allowing guests to take a refreshing dip no matter the weather. Additionally, there is a hot tub and fitness center available for guests to enjoy. The spacious and air-conditioned rooms at CM Playa del Moro offer stunning sea views from their private balconies. For added convenience, each room comes equipped with a minibar and safe (surcharge applies). Guests can also indulge in some pampering at the sauna, Turkish bath, or opt for a relaxing massage (extra cost). With an on-site bar and garden as well as an international Mediterranean restaurant serving delicious meals, guests have plenty of dining options without having to leave the premises. Situated in a quiet street within the central area of Cala Millor in Majorca, this hotel offers tranquility while still being close to local attractions.
– Indoor and outdoor swimming pools
– Hot tub
– Fitness center
– Sea-view balconies in every room
– Sauna, Turkish bath, massage services available
Grupotel Natura Playa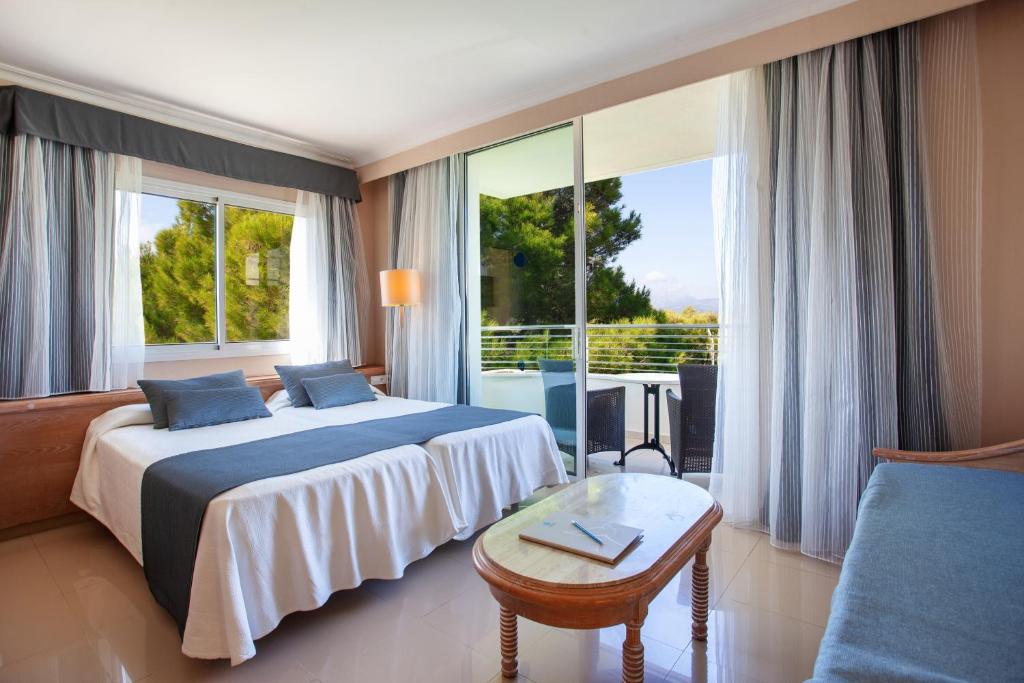 Grupotel Natura Playa is a newly opened apartment hotel located in Playa de Muro. Situated just 100 meters from Es Comu Beach and 800 meters from Playa de Muro Beach, this hotel offers modern accommodations with free WiFi. The rooms are equipped with a flat-screen TV, private bathroom, and kitchenette featuring a fridge, microwave, and stovetop. Guests can enjoy a buffet breakfast or dine at the on-site restaurant serving Spanish and international cuisine. The hotel also offers amenities such as an outdoor swimming pool, indoor swimming pool, fitness room, sauna, terrace, playground, and kids' club. With its convenient location near the beach and attractions like Port d'Alcudia Beach and Natural Park S'Albufera de Mallorca nearby, Grupotel Natura Playa is the perfect choice for travelers seeking a relaxing beachfront getaway.
– Newly opened hotel with modern accommodations
– Conveniently located near two beautiful beaches
– Free WiFi throughout the property
– On-site restaurant offering Spanish and international cuisine
– Excellent facilities including outdoor & indoor pools, fitness room & sauna
Information about Beachfront Hotels in Mallorca
| | |
| --- | --- |
| 🏢 Number of Beach Hotels in Mallorca | 11 |
| 🥇 Average Review Score | 8.6/10 |
| 💰 High season average price | 1740 |
| 💸 Low season average price | 435 |
FAQ
What are the best beachfront hotels in Mallorca, Spain?
Mallorca offers a wide range of luxurious beachfront hotels, but some of the top options include the Belmond La Residencia in Deia, which boasts stunning views of the Mediterranean Sea and exquisite amenities. Another popular choice is the Gran Hotel Son Net in Puigpunyent, known for its elegant decor and direct access to a private beach.
What activities can I enjoy at a beachfront hotel in Mallorca?
Beachfront hotels in Mallorca offer an array of activities to keep guests entertained. You can indulge in water sports such as snorkeling, paddleboarding, or jet skiing. Many hotels also have swimming pools with sun loungers where you can relax and soak up the sun. Additionally, some properties organize excursions to nearby attractions like Palma Cathedral or hiking trails for those seeking adventure.
Are there all-inclusive options available at beachfront hotels in Mallorca?
Yes, many beachfront hotels in Mallorca offer all-inclusive packages for their guests. These packages typically include accommodation, meals at various on-site restaurants, drinks (both alcoholic and non-alcoholic), as well as access to recreational facilities within the hotel's premises. This option allows you to enjoy your holiday without worrying about additional expenses.
Can I have direct access to the beach from my room at a beachfront hotel?
Certainly! Most beachfront hotels in Mallorca provide direct access to gorgeous sandy beaches from either their rooms or common areas. Whether it's stepping out onto a private balcony overlooking turquoise waters or walking straight from your suite onto soft golden sand, these hotels ensure that you experience ultimate convenience and relaxation during your stay.
Is it possible to find family-friendly beachfront resorts in Mallorca?
Absolutely! There are several family-friendly beachfront resorts scattered across Mallorca that cater specifically to children and families. These resorts often feature kid's clubs, playgrounds, and a variety of activities designed to keep the little ones entertained. Some even offer babysitting services, ensuring that parents can have some time to themselves while their children are well taken care of.
Popular Beachfront Hotels destinations