Welcome to our latest exploration of seaside accommodations in Maine, USA. Today, we dive into the world of oceanfront resorts and hotels that provide an idyllic escape from the everyday hustle and bustle. Picture yourself waking up to breathtaking vistas of the coast, feeling the gentle sea breeze caress your skin as you sip on a refreshing beverage, and indulging in luxurious amenities that make you feel like royalty. Yes, we are talking about beachfront abodes that offer unparalleled relaxation amidst pristine sandy shores.
Maine has long been renowned for its natural beauty and charming coastal towns, making it an ideal destination for those seeking a tranquil getaway by the sea. From historical lighthouses dotting the shoreline to charming fishing villages brimming with character, this northeastern state is truly a hidden gem for beach lovers. Whether you prefer quaint boutique hotels or grandiose resorts with sweeping views of the Atlantic Ocean, Maine's beachfront accommodations cater to every taste and preference.
So join us as we embark on an enchanting journey through Maine's picturesque coastline, where sun-kissed days merge seamlessly into starlit nights. Get ready to discover a range of exquisite beachfront hotels that not only provide comfortable stays but also allow you to immerse yourself in nature's splendor while enjoying top-notch hospitality at its finest.
The Best Maine Hotels By the Beach
Sandpiper Beachfront Motel (Old Orchard Beach)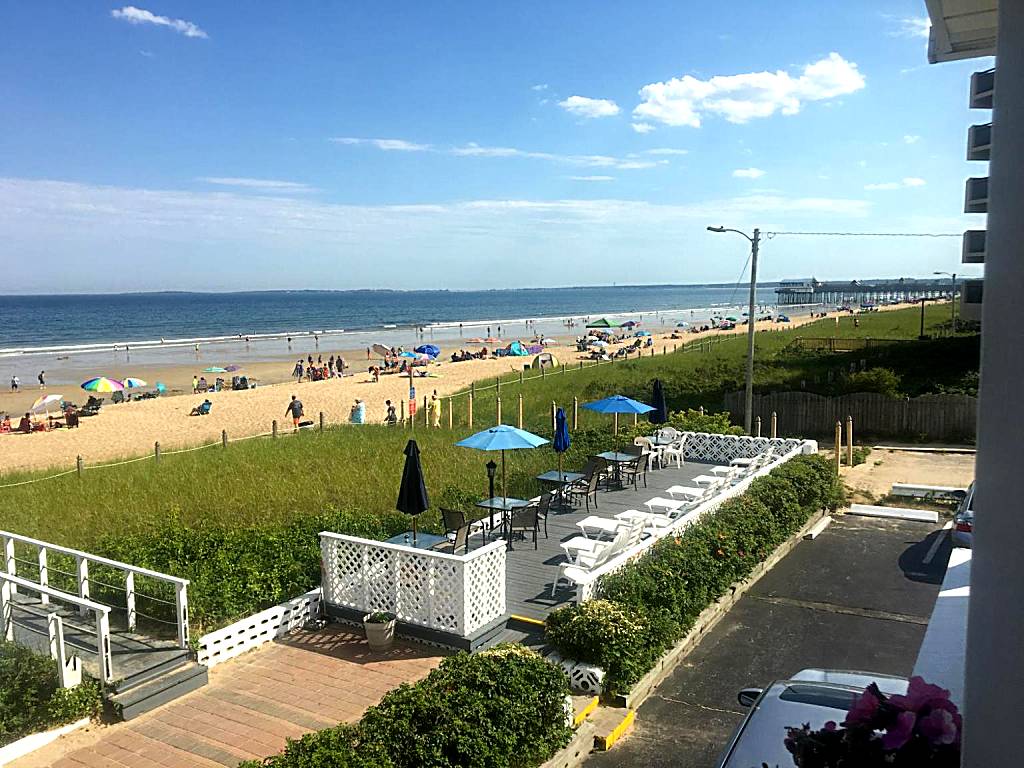 Located in the beautiful Old Orchard Beach, the Sandpiper Beachfront Motel offers guests a convenient and comfortable stay. Just steps away from both Old Orchard Beach and Pine Point Beach, guests have easy access to sun, sand, and surf. The motel provides free Wi-Fi and private parking for guests who drive. Additionally, there are barbecue facilities available for those who want to enjoy a delicious grilled meal by the beach. Certain rooms offer breathtaking sea views from their balconies. This motel is also near popular attractions such as Palace Playland, Old Orchard Beach Pier, and Pirate's Cove. For those looking to explore further afield, Funtown Splashtown USA and Aquaboggan Water Park are just a short drive away. Selected rooms even come equipped with kitchens including a fridge, microwave, and stovetop for added convenience.
Pros:
– Prime location just steps away from the beach
– Free Wi-Fi available throughout the motel
– Private parking provided for guests who drive
– Balconies with stunning sea views in certain rooms
– In-room kitchens in selected accommodations
Alouette Beach Resort Economy Rooms (Old Orchard Beach)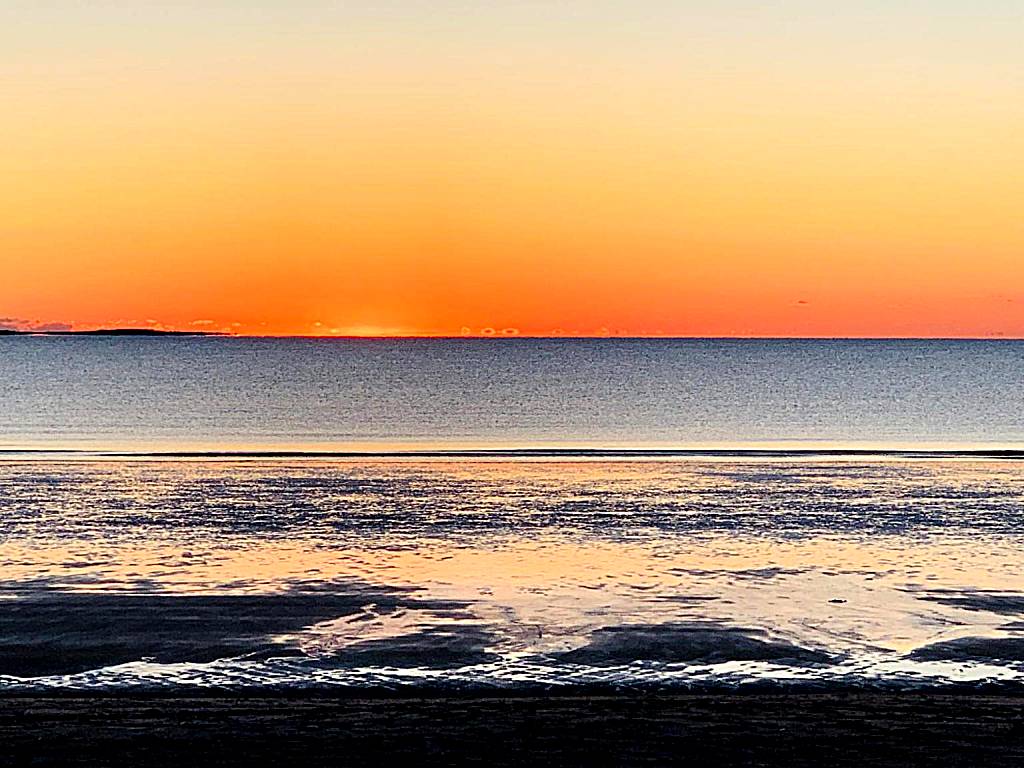 Located in the beautiful coastal town of Old Orchard Beach, Alouette Beach Resort Economy Rooms offers guests a comfortable and convenient stay with its free WiFi access. The hotel is perfectly situated, being only 1 km away from Palace Playland and just a short 13-minute walk from Old Orchard Beach Pier. For those interested in history, the Old Orchard Beach Historical Society Museum is also within easy reach, being just a 16-minute walk away. Guests can enjoy delicious meals at the on-site restaurant. With Portland International Jetport Airport only 21 km away, this hotel provides easy access for travelers.
– Free WiFi access
– Convenient location near popular attractions
– On-site restaurant for dining convenience
– Close proximity to Portland International Jetport Airport
Belfast Harbor Inn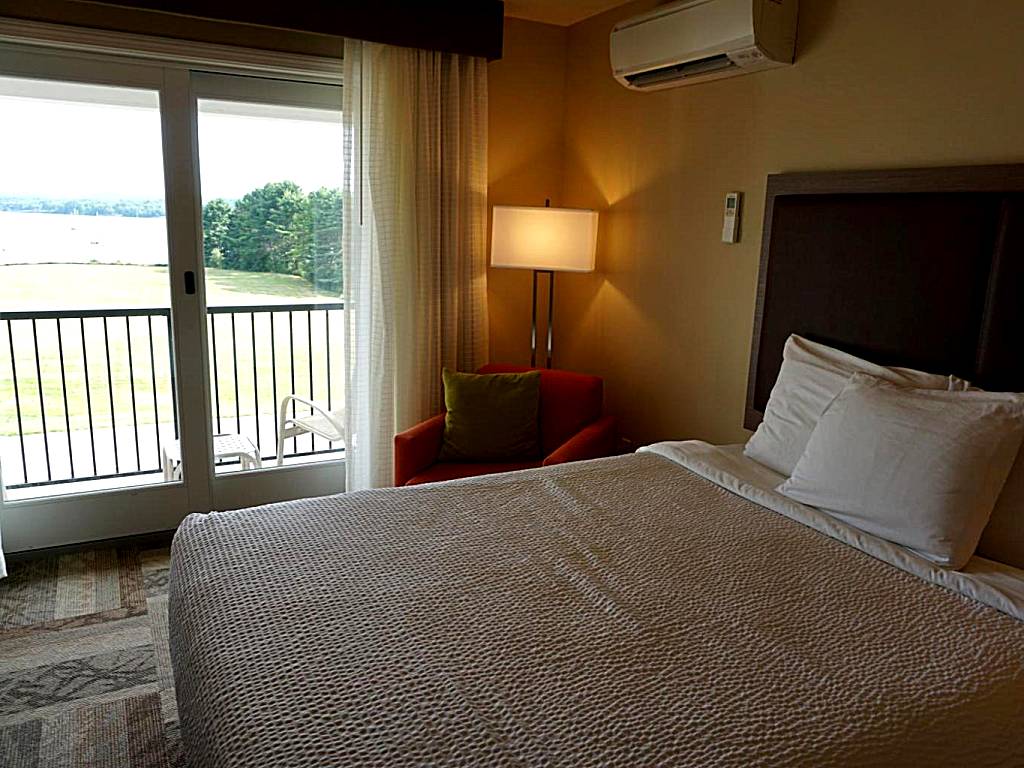 Located in Belfast, Maine, Belfast Harbor Inn offers a stunning beachfront experience with breathtaking views of Penobscot Bay. This waterfront property boasts a seasonal outdoor pool and an indoor pool and hot tub for guests to enjoy. Select rooms feature balconies with sea views, and all rooms are equipped with air conditioning, a microwave, a refrigerator, and a flat-screen cable TV. The private bathrooms include hairdryers. Free WiFi access is available throughout the hotel, and amenities such as luggage storage and free parking are provided. The hotel's convenient location allows easy access to Moose Point State Park within a 3-minute drive and Belfast Municipal Airport within a 7-minute drive.
– Private beach area
– Seasonal outdoor pool
– Indoor pool and hot tub
– Balconies with sea views (select rooms)
– Convenient location near state park and airport
Other places to stay in Maine
Hotels Near the Beach in Downtown Maine
Downtown Maine offers a variety of beachfront hotels that provide the perfect blend of city excitement and coastal relaxation. These hotels offer stunning views, convenient access to the beach, and a range of dining and entertainment options just steps away from your room.
Abalonia Inn
Located just steps away from the beach, the Abalonia Inn in Ogunquit is a charming hotel that offers guests a relaxing and comfortable stay. The rooms are tastefully decorated with wood furnishings and feature amenities such as a flat-screen TV, refrigerator, and free Wi-Fi. Guests can enjoy the seasonal outdoor pool and take a leisurely stroll through the beautiful garden. With shopping and dining options just a short walk away, this hotel is the perfect choice for those looking to explore everything that Ogunquit has to offer. Plus, with Perkins Cove only one mile away and the Ogunquit Museum of American Art just a five-minute drive, there are plenty of attractions nearby to keep guests entertained.
Pros:
– Close proximity to the beach
– Free Wi-Fi in all rooms
– Seasonal outdoor pool for relaxation
– Beautiful garden to explore
– Convenient location near shopping and dining options
Spouter Inn Bed & Breakfast (Lincolnville)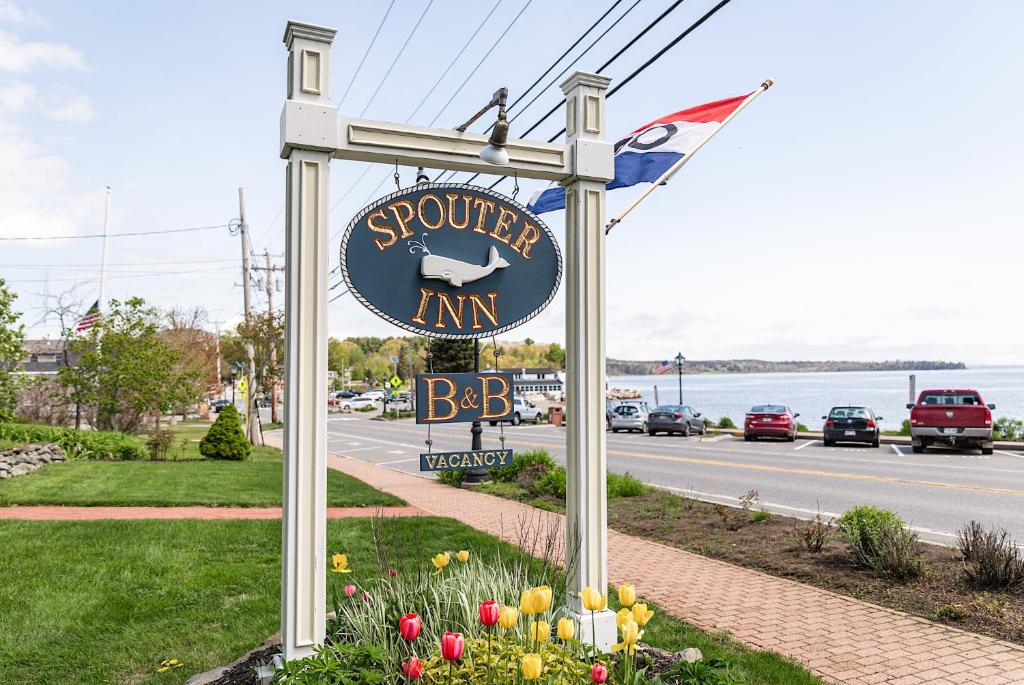 The Spouter Inn Bed and Breakfast in Lincolnville is a picturesque Colonial-style home dating back to 1832. Nestled on 1.5 acres of land, this charming beachfront hotel offers breathtaking ocean views from every room. The property boasts beautiful flower gardens and inviting rocking chairs on the front porch, creating an idyllic setting for guests to relax and soak in the coastal ambiance. Located directly across from Lincolnville Beach, visitors can easily access the beach, explore the nearby shops and restaurants, and even take a ferry out to Islesboro – all within walking distance. With eight guest rooms available, each equipped with private bathrooms (some featuring Jacuzzi jet tubs), guests can unwind in comfort after a day of seaside adventures. Furthermore, the inn offers a delectable three-course gourmet-style breakfast every morning to start your day off right. Positioned along the Rockland, Rockport, Camden, and Belfast corridor of Mid-Coast Maine, vacationing at Spouter Inn allows you ample time to enjoy the sandy shores while venturing out to explore all that this picturesque region has to offer. Conveniently located just 85 km away is Bangor Airport for easy accessibility.
Pros:
– Stunning ocean views from every room
– Charming Colonial-style home with rich history
– Welcoming front porch with rocking chairs
– Proximity to Lincolnville Beach's shops and restaurants
– Delicious three-course gourmet-style breakfast provided daily
Atlantic Oceanfront Hotel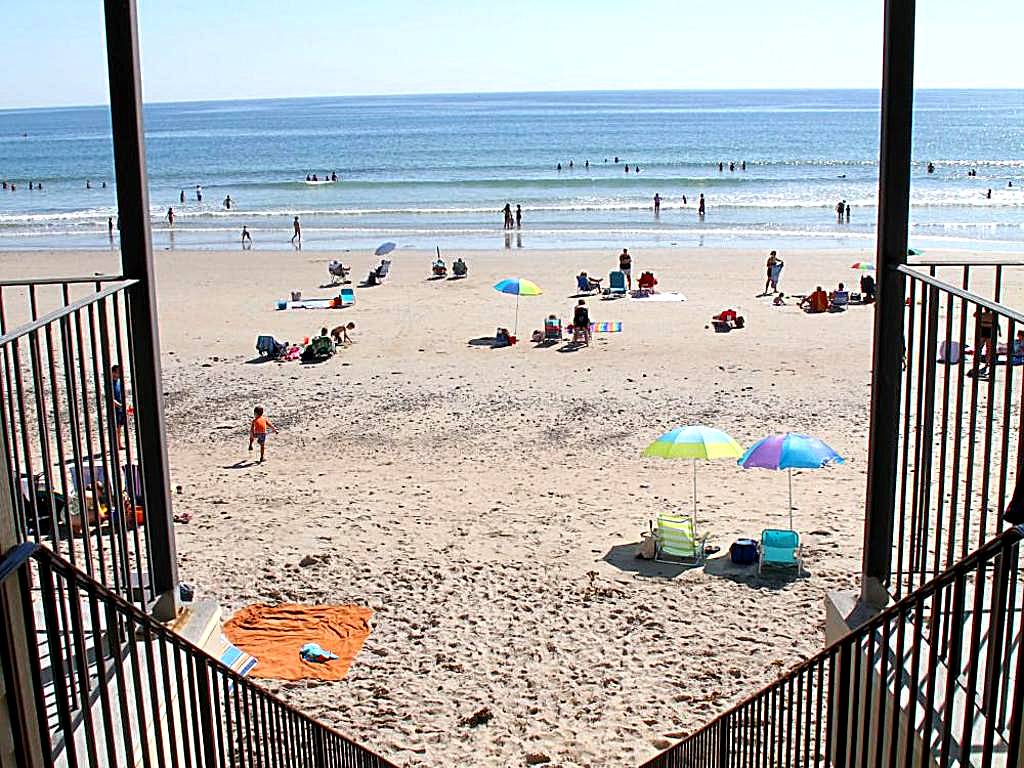 The Atlantic Oceanfront Hotel in Wells Beach is a charming beachfront motel, offering guests an idyllic seaside getaway. Located just steps away from Wells Beach and a short distance from Crescent Beach, this property provides easy access to the beautiful sandy shores. The motel is also conveniently situated near other popular attractions such as Drakes Island Beach, Funtown Splashtown USA, and Marginal Way Walk. The rooms at Atlantic Oceanfront Hotel are cozy and comfortable, with amenities including flat-screen TVs, air conditioning, private bathrooms with showers and free toiletries, as well as some rooms featuring balconies for stunning ocean views. Guests can enjoy the sun terrace or take advantage of free WiFi and complimentary private parking during their stay. With its fantastic location and inviting accommodations, the Atlantic Oceanfront Hotel is the perfect choice for a beach vacation.
– Direct beachfront access
– Comfortable guest rooms with modern amenities
– Sun terrace for relaxation
– Free WiFi throughout the property
– Complimentary private parking
Romantic Beachfront Hotels in Maine
With its rugged coastline and picturesque beaches, Maine offers a charming backdrop for romantic beachfront hotels. Couples can escape to these intimate retreats, where they can enjoy breathtaking ocean views, indulge in beachside dining experiences, and unwind with soothing walks along the sandy shores.
Fireside Inn (Belfast)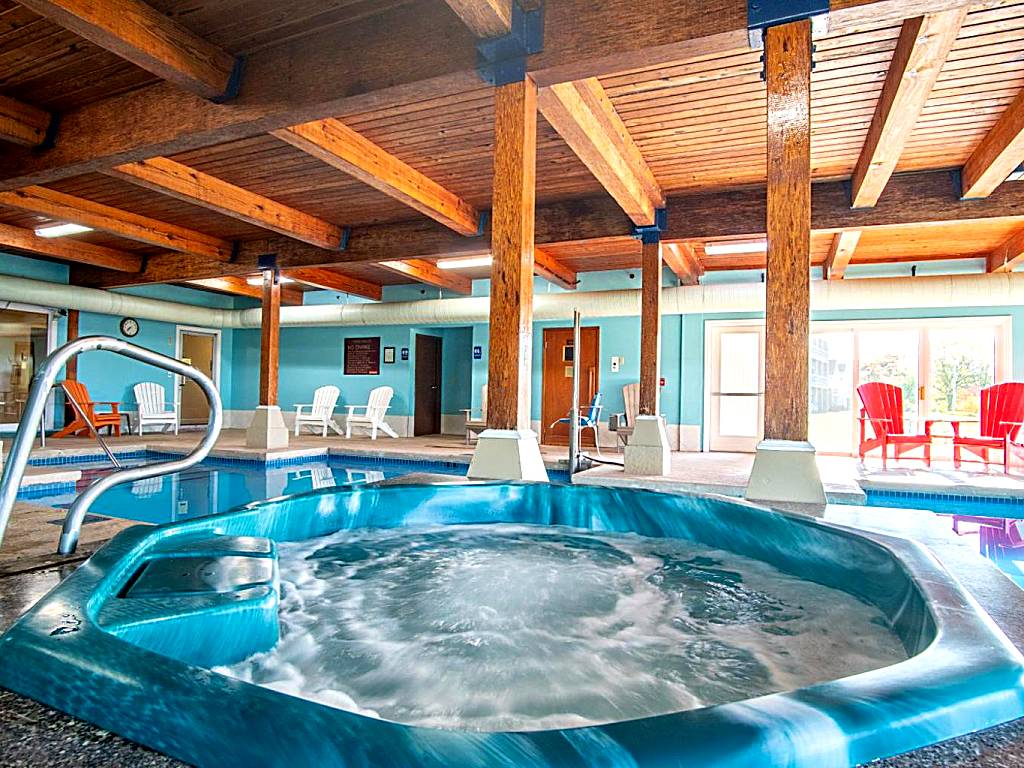 The Fireside Inn in Belfast, Maine is a beachfront hotel located in the heart of Midcoast Maine. Offering breathtaking views of Penobscot Bay, this hotel is perfectly situated between Camden and Bar Harbor, making it an ideal base for exploring the area. Guests can take advantage of the indoor heated pool, hot tub, and sauna to relax after a day of sightseeing. The spacious lobby with a fireplace and large sundeck overlooking the bay provide additional spaces for guests to unwind. The hotel also offers amenities such as free local calls, laundry facilities, and a meeting room for business travelers. Each room is well-appointed with coffee service, cable television, voice mail, irons, ironing boards, and hair dryers. Oceanfront rooms feature private balconies or patios while king suites offer separate living rooms with sofa sleepers, microwaves, refrigerators, wet bars and two televisions. With its convenient location close to Bangor International Airport and popular harbor towns like Castine and Boothbay Harbor nearby, guests will have plenty of dining options to choose from in the surrounding area.
Pros:
– Stunning beachfront location overlooking Penobscot Bay
– Indoor heated pool, hot tub & sauna
– Spacious lobby with fireplace and large sundeck
– King suites with separate living rooms and ocean views
– Close proximity to popular harbor towns like Castine and Boothbay Harbor
The Seaside Inn (Kennebunk Beach)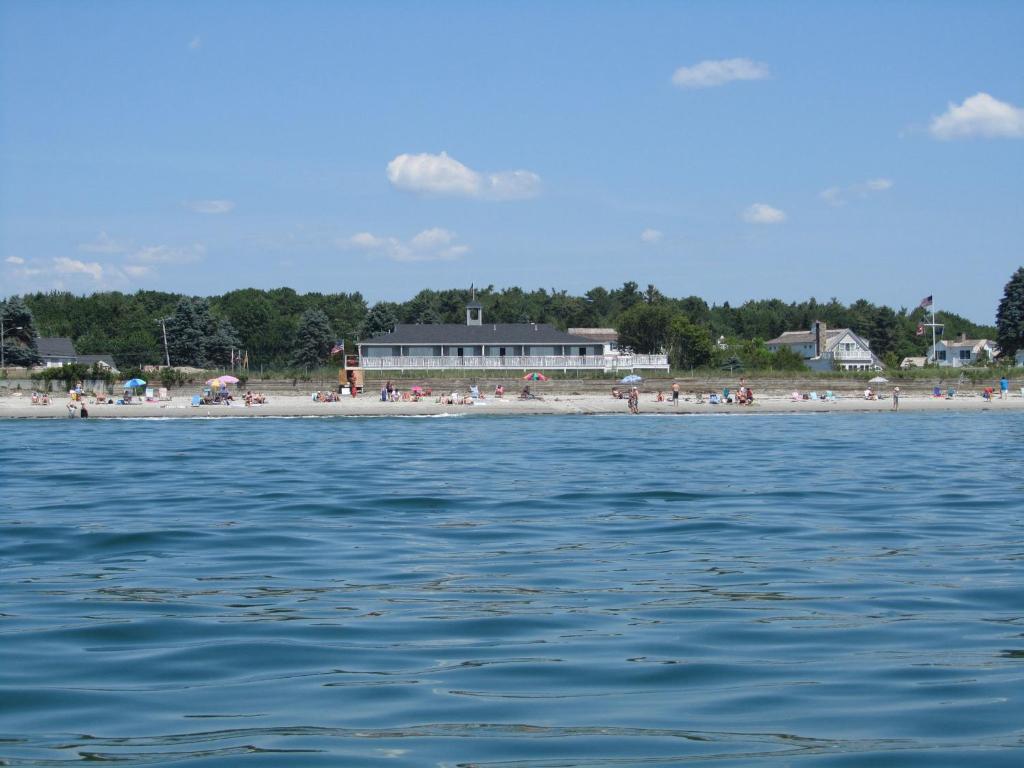 Located in Kennebunk Beach, just steps away from Goochs Beach, The Seaside Inn is a luxurious 4-star hotel that offers an unforgettable beachfront experience. With its prime location and impeccable amenities, this hotel provides the perfect retreat for travelers seeking relaxation and adventure. The property features free bikes and private parking for guests' convenience, as well as a fitness center and a beautiful garden to unwind in. The rooms are tastefully decorated and some even offer balconies with breathtaking sea views. Guests can start their day with a delicious continental breakfast before exploring the area on foot or by bike. For those looking to relax, The Seaside Inn offers a hot tub and terrace where you can soak up the sun and enjoy panoramic views of the ocean. Hiking and cycling enthusiasts will find plenty of opportunities nearby, while car hire is available for those who want to explore further afield. With Kennebunk Beach just 1.9 km away and Funtown Splashtown USA within easy reach at 31 km, there are endless possibilities for fun-filled activities. For added convenience, Portland International Jetport Airport is situated just 44 km from The Seaside Inn.
– Prime beachfront location
– Free bikes for guests' use
– Tastefully decorated rooms with sea view balconies
– Hot tub and terrace with stunning ocean views
– Nearby hiking trails and bike paths
The Trellis House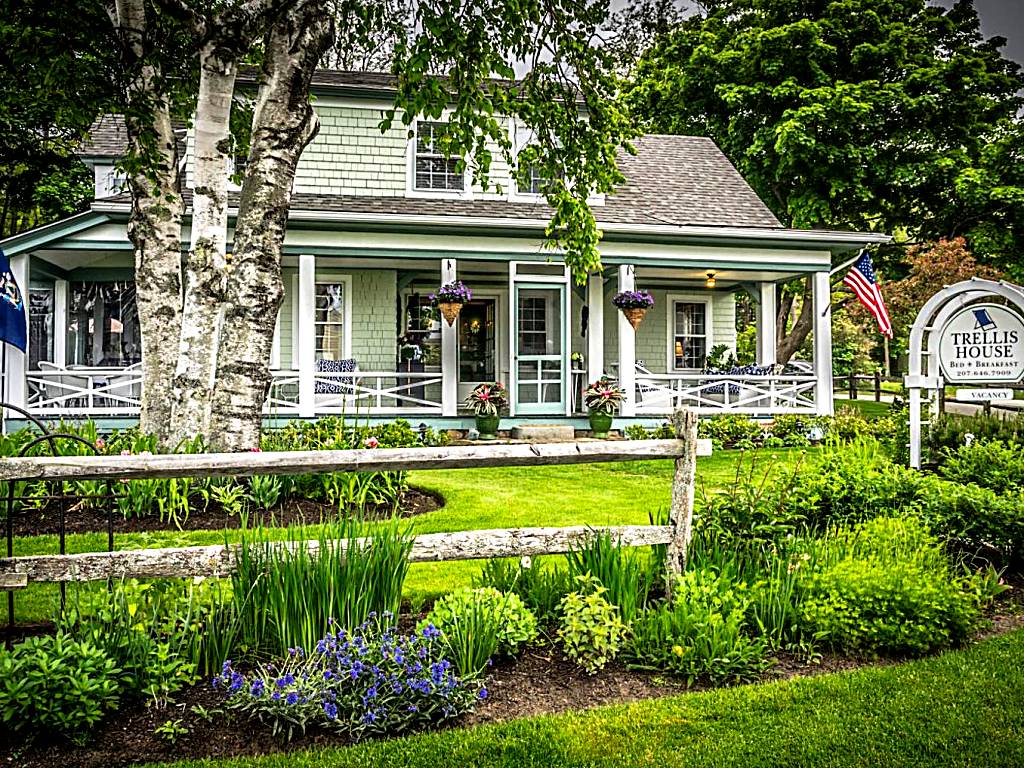 The Trellis House is a charming bed and breakfast located in Ogunquit, just steps away from Little Beach and a short distance from Ogunquit Beach. This delightful property offers comfortable accommodation with free WiFi, air conditioning, and access to a beautiful garden featuring a sun terrace. Each room comes equipped with a flat-screen TV and a private bathroom stocked with complimentary toiletries. Guests can start their day off right with the superb American breakfast served at The Trellis House. The location of this hotel is perfect for exploring popular attractions such as Marginal Way Walk, Perkins Cove, and the renowned Ogunquit Playhouse. For those traveling by air, Portsmouth International at Pease Airport is conveniently situated only 30 km away.
– Convenient beachfront location
– Charming and well-maintained property
– Excellent breakfast options
– Free WiFi available
– Close proximity to popular attractions
Information about Beachfront Hotels in Maine
| | |
| --- | --- |
| 🏢 Number of Beach Hotels in Maine | 9 |
| 🥇 Average Review Score | 8.9/10 |
| 💰 High season average price | 1110 |
| 💸 Low season average price | 277.5 |
FAQ
What are some of the best beachfront hotels in Maine?
Maine is known for its picturesque coastline and there are several amazing beachfront hotels to choose from. Some of the top options include The Cliff House Resort & Spa in Cape Neddick, offering stunning ocean views and luxurious amenities. Another popular choice is Inn by the Sea in Cape Elizabeth, which combines elegance with eco-friendly practices. For a more secluded experience, The Colony Hotel in Kennebunkport is a great option, featuring private access to a pristine sandy beach.
Which beachfront hotels in Maine offer family-friendly amenities?
Many beachfront hotels in Maine cater to families and provide a range of amenities to ensure an enjoyable stay for all ages. One such hotel is Sebasco Harbor Resort in Phippsburg, which offers family cottages, children's activities, and access to a beautiful sandy beach. Ocean Gate Resort in Southport also provides family-friendly accommodations with options like suites and cottages as well as recreational activities like kayaking and paddleboarding.
Are there any pet-friendly beachfront hotels in Maine?
Yes, there are several pet-friendly beachfront hotels in Maine that welcome furry companions. The Beachmere Inn in Ogunquit not only offers breathtaking ocean views but also allows pets upon prior arrangement at an additional fee. Another great choice is Stage Neck Inn located on York Harbor Beach, where certain rooms are designated as pet-friendly so you can enjoy your vacation with your four-legged friend.
What are some popular outdoor activities near the beachfront hotels in Maine?
Maine's coastal location provides ample opportunities for outdoor adventures near the beachfront hotels. Visitors can engage in various water sports such as kayaking or paddleboarding along the coastlines or take scenic boat tours to explore nearby islands. Hiking enthusiasts can enjoy trails along rugged cliffs or through picturesque forests at places like Acadia National Park or Rachel Carson National Wildlife Refuge. Those looking for a more relaxed experience can simply enjoy sunbathing on the sandy beaches or taking leisurely walks along the shoreline.
What is the best time to visit beachfront hotels in Maine?
The best time to visit beachfront hotels in Maine is during the summer months from June to August when temperatures are warmest, ranging from 70°F to 80°F (21°C to 27°C). This period offers ideal conditions for outdoor activities and enjoying the beautiful coastal scenery. However, it's important to note that summers in Maine can get busy with tourists, so booking well in advance is recommended. If you prefer fewer crowds and don't mind slightly cooler temperatures, spring and early fall are also great times to visit as they offer pleasant weather and stunning fall foliage respectively
Popular Beachfront Hotels destinations