Welcome, fellow travelers, to a virtual journey through the serene beachfront hotels that grace the enchanting shores of Lake George in the United States. Prepare to embark on a captivating expedition as we unveil the idyllic hideaways that beckon sun-seekers and leisure enthusiasts alike. Nestled against the tranquil waters of this breathtaking lake, these splendid accommodations offer an exquisite sanctuary for those yearning to escape the ordinary and embrace pure indulgence.
Imagine awakening to gentle waves caressing your toes as you step onto soft powdery sands at dawn's first light. Picture yourself basking in golden sunlight while gazing upon the majestic beauty of Lake George sparkling in all its glory before you. These beachfront retreats provide an unparalleled setting where nature's splendor effortlessly merges with luxurious comfort.
Allow us to guide you through a collection of hand-picked establishments exuding elegance and opulence at every turn. From lavish suites adorned with modern amenities to charming waterfront cottages offering a rustic ambiance, these hotels cater to discerning travelers seeking nothing less than perfection during their stay by this magnificent lake. So pack your bags, dear adventurers, and let us embark on an unforgettable voyage through Lake George's most exquisite beachfront havens!
The Best Lake George Hotels By the Beach
The Juliana Resort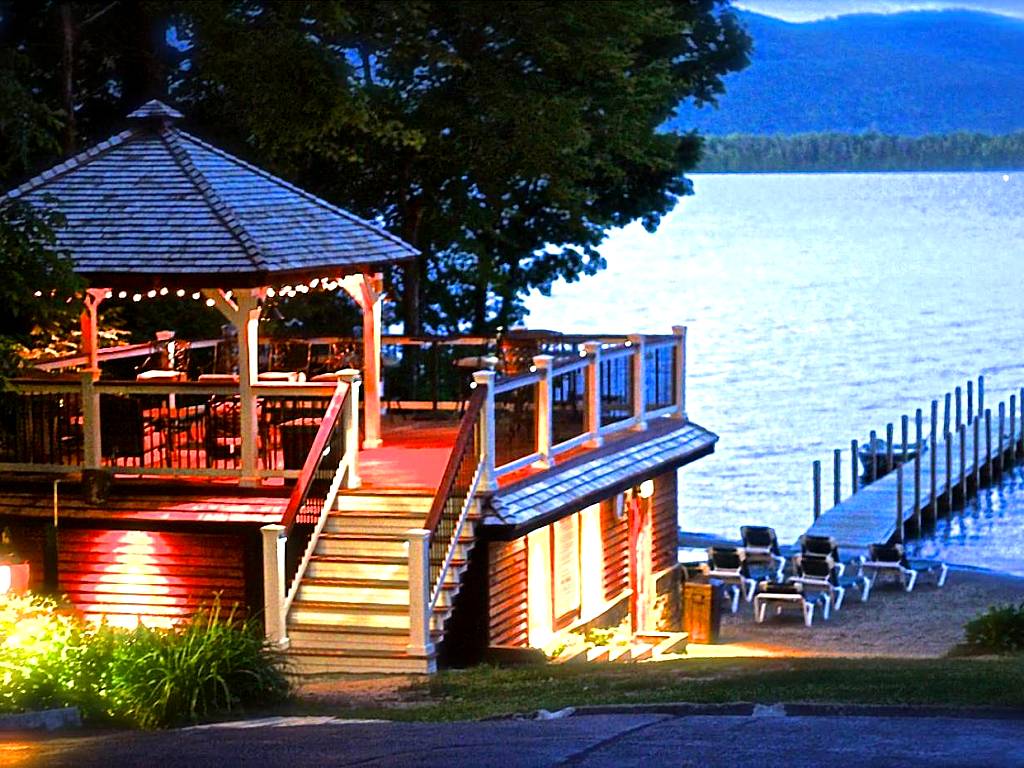 Located in Diamond Point, New York, The Juliana Resort is a luxurious waterfront resort with private beach access and a heated outdoor pool. Offering breathtaking views of Lake George, this hotel is the perfect destination for those looking to relax and unwind. The accommodations at The Juliana Resort are beautifully decorated in rich colors and wood furnishings, providing guests with a comfortable and stylish stay. Each room features modern amenities such as free Wi-Fi access, a TV, and a refrigerator. Some select cottages and suites even include a kitchen or a sofa bed for added convenience. Guests can enjoy the on-site games room with billiards or take advantage of the fishing and free kayak rentals available at the resort. Barbeque facilities and a children's playground are also offered for an enjoyable family experience. Additionally, Six Flags Great Escape & Splashwater Kingdom Amusement Park is just 15 minutes' drive away, perfect for thrill-seekers seeking adventure during their stay. Hiking enthusiasts will appreciate being close to the Adirondack Mountain Club which is only 8 miles away from the property.
– Private beach access
– Heated outdoor pool
– Free Wi-Fi access
– Games room with billiards
– Fishing and free kayak rentals
The Lake Motel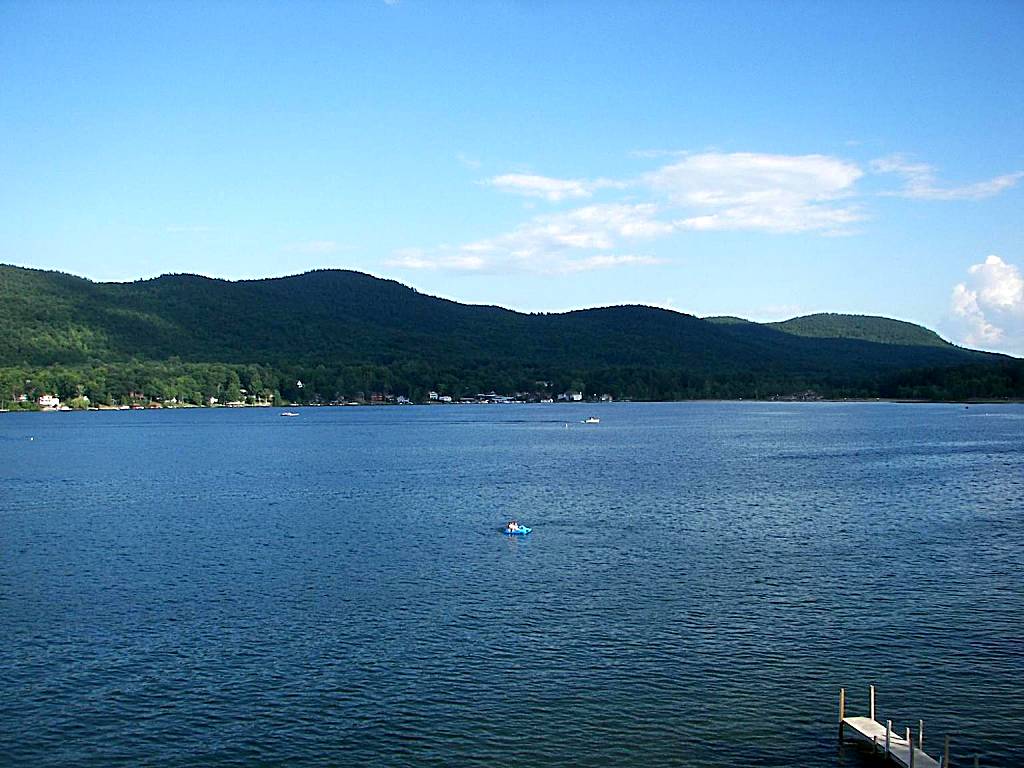 The Lake Motel is a charming beachfront motel located in Lake George. It offers a range of amenities to ensure a comfortable stay for its guests. The heated outdoor pool is the perfect spot to relax and enjoy stunning lake views. The motel also has a private swim area in the lake, as well as an outdoor fireplace and observation deck that overlooks the water. There is a picnic area with barbecue facilities where guests can enjoy meals outdoors. Each room at The Lake Motel is equipped with modern conveniences such as a 32" flat screen TV, microwave, and refrigerator. The rooms also feature a work desk and en suite bathrooms with free toiletries and hairdryer. Guests can take advantage of the complimentary WiFi access, cable channels, and premium channels available in their rooms. For those who love outdoor activities, fishing and canoeing are available on-site and in the surrounding area. The motel provides complimentary kayaks, paddle boards, and inflatable rafts for guests to use during their stay. Shepard Park is just a short walk away from The Lake Motel, while Six Flags Great Escape can be reached within a 10-minute drive.
– Heated outdoor pool with lake views
– Private swim area in the lake
– Outdoor fireplace and observation deck overlooking the water
– Picnic area with barbecue facilities
– Complimentary kayaks, paddle boards, and inflatable rafts
Scotty's Lakeside Resort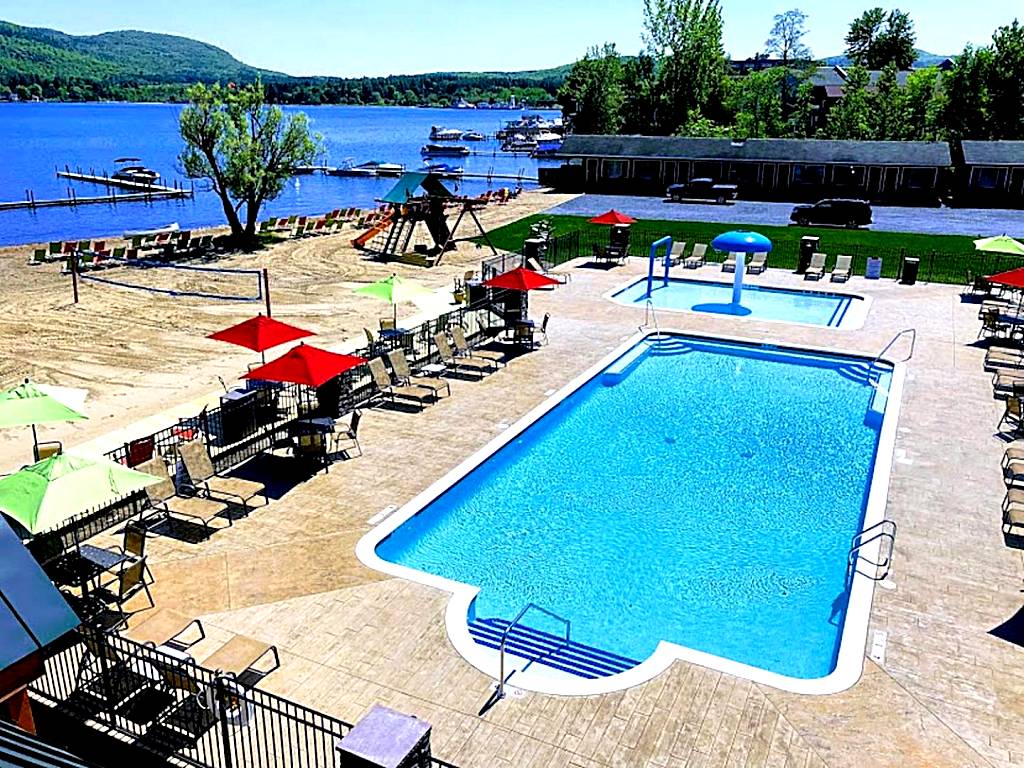 Located on the picturesque shores of Lake George, Scotty's Lakeside Resort offers a delightful escape for beach lovers. The resort boasts a seasonal beachfront heated outdoor pool, perfect for relaxing and soaking up the sun. Families with children will love the splash pad, while those seeking some time by the water can enjoy the private beach area. The resort also features a seasonal restaurant, ensuring guests have access to delicious meals throughout their stay. The accommodations are comfortable and equipped with modern amenities such as a TV, air conditioning, refrigerator, microwave, and coffee maker. Guests can take advantage of additional facilities including a 24-hour front desk, bar, snack bar, vending machine, and arcade. Watersport rentals are conveniently available on-site for those looking to have some fun in the water. With free WiFi and parking provided, guests can explore nearby attractions such as Fort William Henry and Lake George at their leisure. Albany International Airport is approximately 76 km away from this idyllic lakeside retreat.
– Seasonal beachfront heated outdoor pool
– Private beach area
– Convenient watersport rentals on-site
– Comfortable accommodations with modern amenities
– Close proximity to popular attractions
Hotels Near the Beach in Downtown Lake George
Downtown Lake George offers a range of beachfront hotels, allowing guests to indulge in panoramic views of the stunning shoreline. With convenient access to the water and vibrant city life, these hotels provide an ideal retreat for travelers seeking a mix of relaxation and excitement.
Tea Island Resort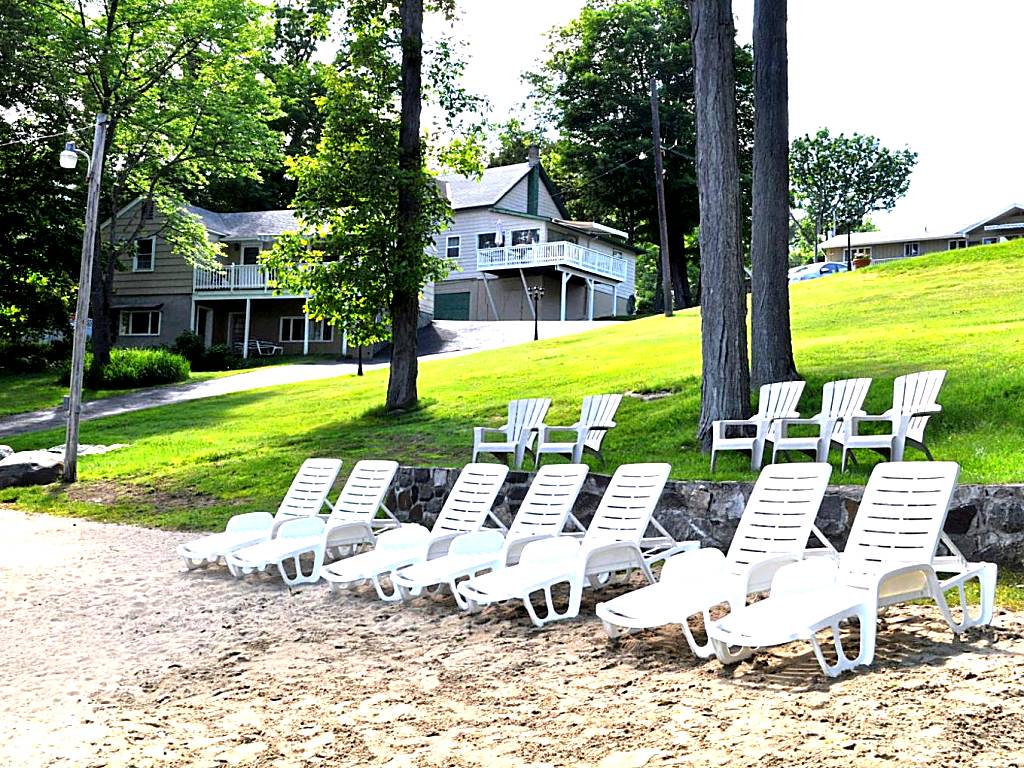 Located in Lake George, New York, Tea Island Resort is a waterfront paradise offering guests a wide range of activities and amenities. With canoes, kayaks, and paddle-boats available for use, adventure awaits just steps away from the resort. For those looking to explore the area further, the Lake George Steamboat Company is conveniently located just 2 miles away. Take in stunning mountain and lake views from the boat house terrace or relax on the private beach area. The rooms at Tea Island Resort are spacious and well-appointed, with most featuring a large terrace overlooking the lake. Free Wi-Fi, cable TV, microwave, and refrigerator are included in every room. Decorated in light colors and dark wood furnishings, each room exudes comfort and tranquility. In addition to its prime location and comfortable accommodations, Tea Island Resort offers on-site basketball and volleyball courts for guests to enjoy some friendly competition. For thrill-seekers or families looking for some excitement nearby, Six Flags Great Escape and Splashwater Kingdom Amusement Park is just a 10-minute drive away. Nature lovers will also appreciate the proximity of Prospect Mountain Summit hiking trail located only 10 miles from the resort.
– Waterfront location with private beach access
– Canoes, kayaks, paddle-boats available for guest entertainment
– Spacious rooms with large terraces overlooking the lake
– On-site basketball and volleyball courts
– Proximity to popular attractions like Six Flags Great Escape Amusement Park
The Stone Gate Resort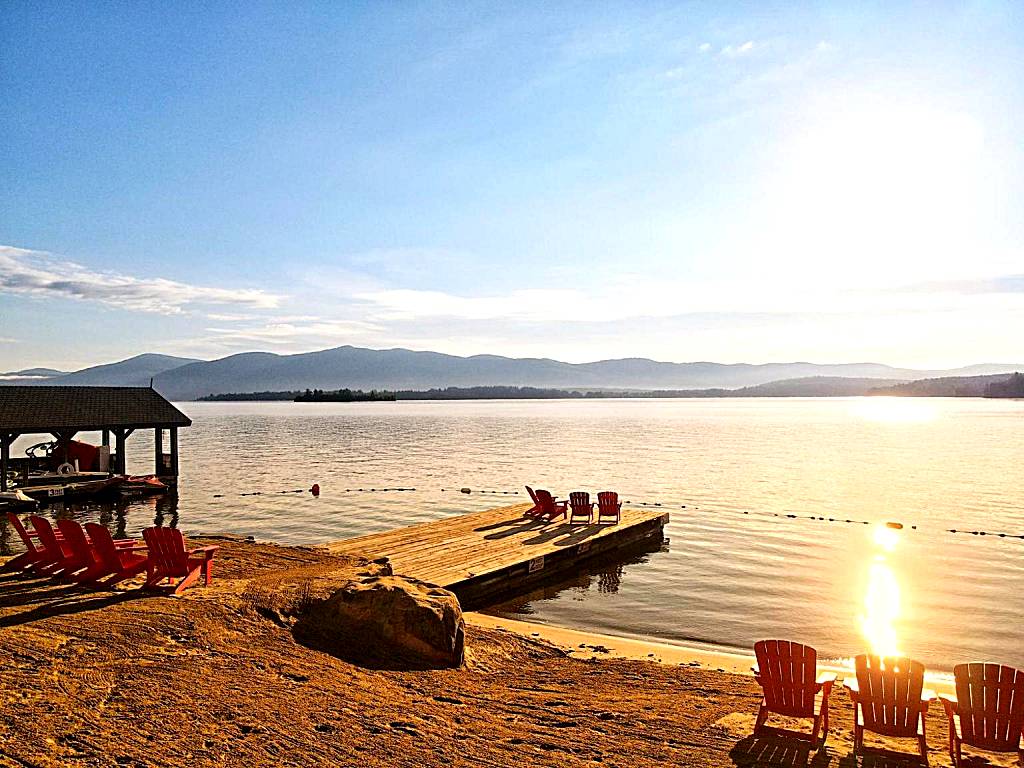 The Stone Gate Resort is a newly opened luxury beachfront resort, located in Lake George just 4.1 km from Fort William Henry. Featuring a seasonal outdoor swimming pool, guests can enjoy activities such as hiking, cycling, and fishing in the surrounding area, or simply relax along the beautiful beachfront. The resort offers comfortable rooms with modern amenities including a flat-screen TV and private bathroom. Families will appreciate the family rooms available at the resort. For added convenience, each guest room is equipped with a coffee machine and microwave. Additional amenities include free private parking, a garden, barbecue facilities, and a children's playground. With its prime location near Lake George and attractions like Lake George Plaza Outlet Center just 10 km away, The Stone Gate Resort is the perfect destination for those looking to experience both luxury and natural beauty.
– Newly opened luxury resort
– Seasonal outdoor swimming pool
– Beachfront location
– Family-friendly accommodations
– Convenient amenities such as coffee machines and microwaves in guest rooms
Information about Beachfront Hotels in Lake George
| | |
| --- | --- |
| 🏢 Number of Beach Hotels in Lake George | 5 |
| 🥇 Average Review Score | 8.6/10 |
| 💰 High season average price | 1550 |
| 💸 Low season average price | 387.5 |
FAQ
What are the top beachfront hotels in Lake George?
Lake George offers a range of amazing beachfront accommodations. Some of the top options include The Sagamore Resort, a luxurious hotel with a private beach, stunning views of the lake, and world-class amenities. Another excellent choice is The Georgian Lakeside Resort, renowned for its beautiful sandy beach and convenient location near popular attractions. For those seeking a more intimate setting, The Lodges at Cresthaven provides cozy waterfront cabins with direct access to the lake.
Are there any family-friendly beachfront hotels in Lake George?
Absolutely! Lake George has several family-friendly beachfront hotels that cater to guests of all ages. One highly recommended option is Fort William Henry Hotel and Conference Center. With its expansive grounds, swimming pools, on-site dining options, and proximity to Million Dollar Beach, it's perfect for families looking to enjoy quality time together by the water. Another great choice is Surfside On The Lake Hotel & Suites, which offers spacious rooms or suites with lake views and easy access to the private sandy beach.
What amenities do the beachfront hotels in Lake George offer?
The beachfront hotels in Lake George boast an array of amenities designed to enhance your stay. Most offer private beaches where you can relax and soak up the sun or enjoy water sports activities such as kayaking or paddleboarding. Many also provide outdoor pools or hot tubs with panoramic views of the lake for a refreshing swim or soothing soak. Additionally, you'll find on-site restaurants serving delicious meals made from fresh local ingredients along with bars offering signature cocktails and breathtaking vistas.
Can I rent water sports equipment at the beachfront hotels in Lake George?
Yes! Many of the beachfront hotels in Lake George give guests access to various water sports equipment rentals right on their premises. From jet skis to paddleboards and even pontoon boats, you can easily explore this stunning lake and make the most of your beachfront experience. Whether you're a beginner or an experienced water sports enthusiast, renting equipment from these hotels allows you to enjoy the thrill and beauty of Lake George at your own pace.
What is the best time to visit Lake George for a beachfront hotel stay?
The best time to visit Lake George for a beachfront hotel stay depends on your preferences. The summer months, from June through August, are the peak season with warmer temperatures perfect for swimming and lounging by the beach. However, if you prefer a quieter and more serene experience, consider visiting during the shoulder seasons of spring (April-May) or fall (September-October). During these times, you can still enjoy pleasant weather while avoiding crowds and potentially finding better deals on accommodation rates.
Popular Hotels near Beach destinations