Welcome to the enchanting world of oceanfront accommodations in Kuta, Indonesia! Nestled along the sun-kissed shores of this tropical paradise, these exquisite seaside hotels offer an unmatchable retreat for avid beach lovers and serenity seekers alike. Indulge in a symphony of waves crashing against the shore while relishing breathtaking panoramic views that stretch as far as the eye can see. From luxurious resorts boasting opulent amenities to charming boutique escapes exuding authentic island vibes, Kuta has it all when it comes to beachfront havens.
Immerse yourself in the vibrant energy that permeates every corner of this coastal town, as you discover a plethora of dining options featuring mouthwatering local delicacies and international cuisines. Feel your worries melt away under the warm golden sun as you unwind poolside or sink your toes into soft powder-white sand beaches just steps away from your elegant accommodation. Whether you seek thrilling water sports adventures or tranquil moments by azure waters, these beachfront sanctuaries in Kuta promise an unforgettable escape teeming with natural beauty and indulgent relaxation. So pack your bags, slip into your favorite pair of flip-flops, and let us lead you on a journey to discover the epitome of seaside luxury in stunning Kuta!
The Best Kuta Hotels By the Beach
The Anvaya Beach Resort Bali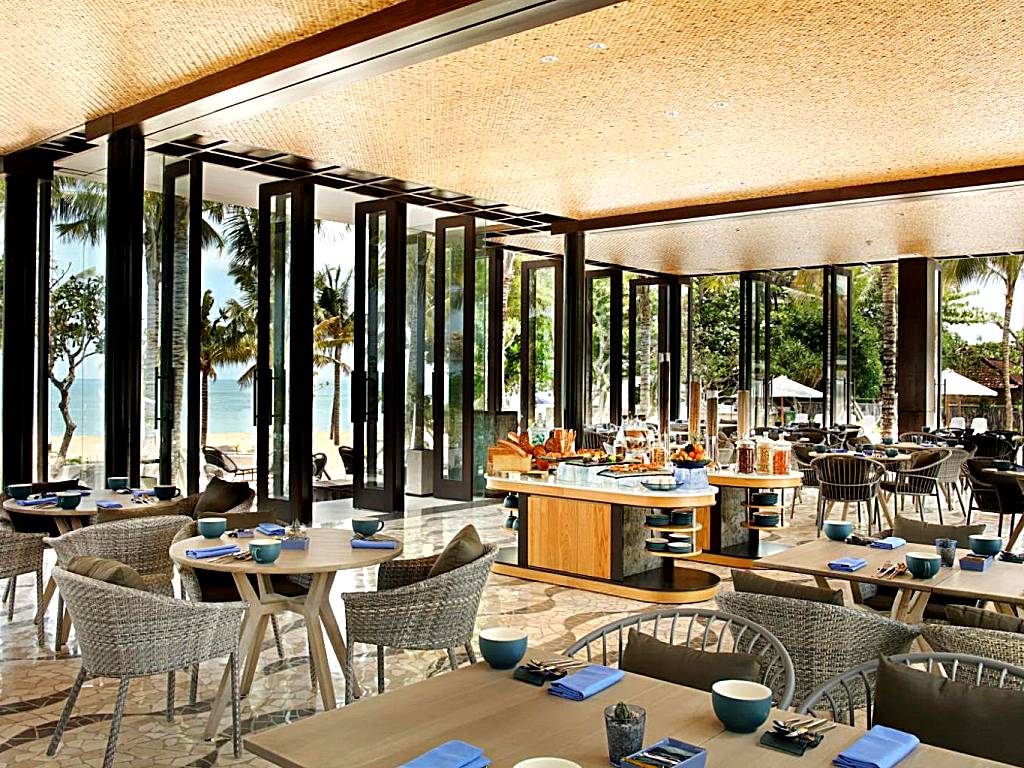 Located in the Kartika Plaza district in Kuta, The Anvaya Beach Resort Bali is a luxurious beachfront hotel offering a range of accommodations including rooms, suites, and private villas. With its stunning large swimming pools and beautifully landscaped tropical gardens, guests can truly unwind and enjoy their stay. The air-conditioned rooms are designed with modern touches and Balinese elements, equipped with all essential amenities. The spacious villas feature a private pool and an en suite bathroom with a walk-in dressing room, double vanities, a bath, and a separate shower. For ultimate relaxation, Sakanti Spa offers various massages and spa treatments while the dining options on-site include Kunyit Restaurant serving delicious local dishes and Sand & Wine Cellar offering tapas-style fare. Guests can also enjoy drinks at the Pool Bar or the Lobby Lounge. Conveniently located near popular attractions like Waterbom Bali and Tuban Beach, The Anvaya Beach Resort Bali is only 1 km away from Ngurah Rai International Airport.
– Stunning beachfront location
– Large swimming pools
– Luxurious villas with private pools
– Variety of dining options on-site
– Spa facilities available
Hotel Tugu Bali – CHSE Certified
Hotel Tugu Bali, a boutique hotel and CHSE Certified property, immerses guests in the romantic tales, folklores, and legends of Indonesia. Located in the vibrant village of Canggu and just steps away from Batu Bolong Beach, this hotel offers a tranquil escape from the hustle and bustle. The property boasts an extensive collection of Balinese and Indonesian antiques and art pieces that tell the captivating stories of Bali's rich history and culture. Guests can enjoy an outdoor pool, an award-winning Indonesian spa, and themed restaurants serving a variety of culinary delights including traditional Indonesian dishes, royal dining experiences, international fare, and contemporary Japanese cuisine with breathtaking ocean sunset views. The all-suite accommodation features oversized rooms adorned with Balinese and Javanese decor, wooden furnishings, TV, safe deposit box, mini bar offering organic coffee & tea from Tugu's own plantation – Java's oldest coffee plantation. Some suites also offer garden or ocean views with private plunge pools or separate in-room spa areas. All bathrooms are equipped with rain showers and oversized bathtubs for ultimate relaxation. Hotel Tugu Bali provides unique opportunities to experience traditional Balinese dance performances every Thursday evening—an exclusive treat for guests staying in Canggu/southwest Bali area. With its convenient location near Tanah Lot Temple (30 minutes away) and 50 minutes' drive from the airport, Hotel Tugu Bali promises an unforgettable stay filled with luxury amenities amidst authentic cultural surroundings.
– Boutique hotel showcasing Indonesia's romantic tales
– Closest hotel to Batu Bolong Beach
– Vast collection of Balinese & Indonesian antiques
– Themed restaurants serving diverse cuisines
– Private plunge pools available for select suites
Besakih Beach Hotel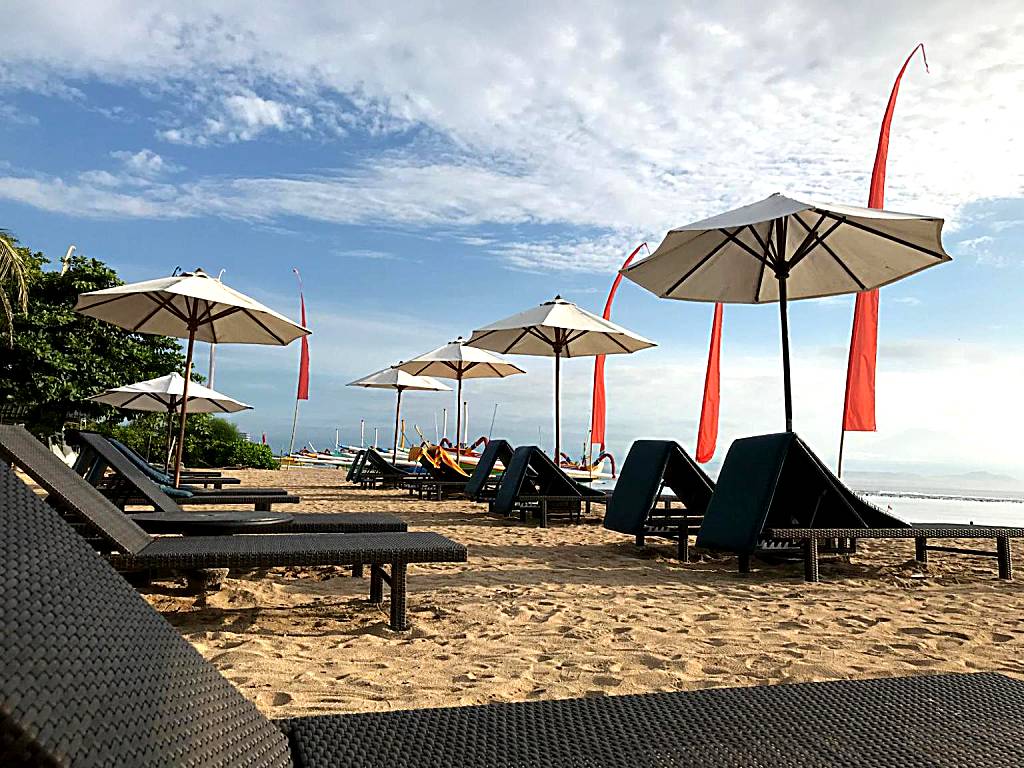 Besakih Beach Hotel is an idyllic beachfront retreat located along the shores of Sanur Beach. Surrounded by lush tropical gardens, this hotel offers a private beach area where guests can soak up the sun and enjoy the crystal-clear waters. The outdoor pool provides a refreshing escape from the heat, while massage services offer ultimate relaxation. The hotel is conveniently situated just a 5-minute walk from Sindhu Art Market and a short 10-minute drive from Denpasar Town. For dining options, guests can indulge in a variety of fresh seafood, European, and Indonesian cuisine at the beachside Nirvana Restaurant. Modern rooms with balconies overlooking the garden provide a comfortable sanctuary for guests to unwind after a day of exploration. Besakih Beach Hotel also offers convenient amenities such as cable TV, minibar, and bathroom toiletries in each room. Additional services including city tour arrangements, car rentals, dry cleaning, laundry, ironing services are available upon request at the tour desk. With its prime location and excellent facilities, Besakih Beach Hotel promises an unforgettable stay in Bali.
– Private beach area
– Outdoor pool
– Nirvana Restaurant serving fresh seafood and international cuisine
– Modern rooms with garden views
– Convenient amenities such as cable TV and minibar
Other places to stay in Kuta
Hotels Near the Beach in Downtown Kuta
Hotels near the beach in downtown Kuta offer an ideal location for travelers looking to relax and soak up the sun. With stunning ocean views and easy access to the sandy shores, these hotels provide a perfect retreat for beach lovers.
Jimbaran Puri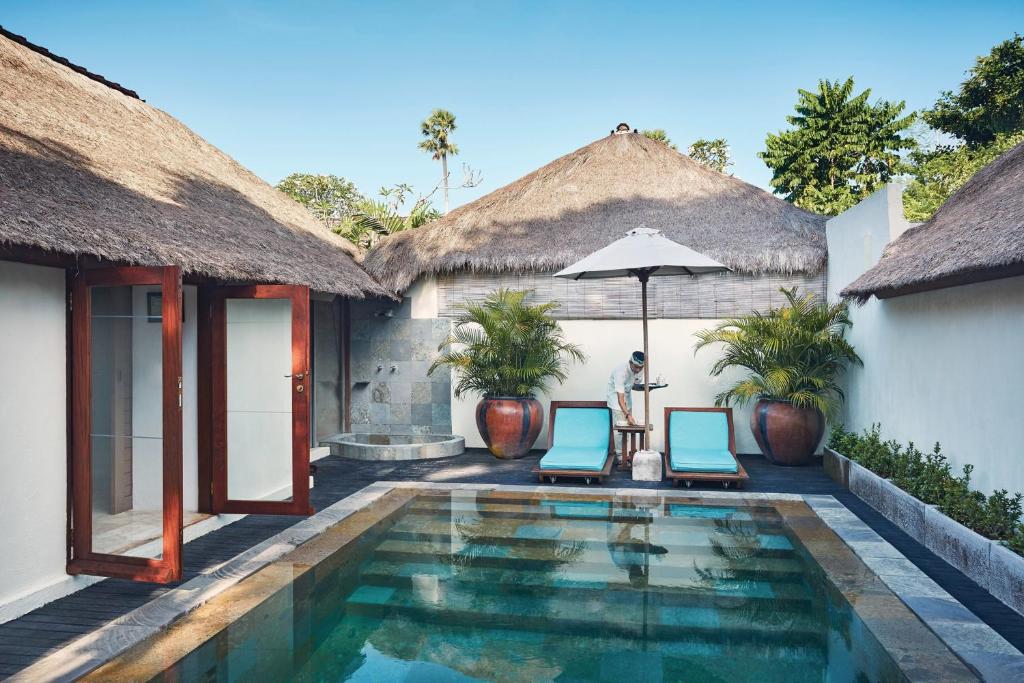 Nestled amidst lush tropical gardens, Jimbaran Puri, A Belmond Hotel, Bali is a luxurious beachfront resort offering spacious Balinese-style cottages and villas. The accommodations boast walled terraces and indoor/outdoor bathrooms, as well as modern amenities such as flat-screen TVs and DVD players. Some villas even feature private pools for ultimate relaxation. Guests can enjoy a refreshing dip in the outdoor pool or indulge in rejuvenating treatments at the beach spa. The resort offers three dining options, including Nelayan Restaurant which serves delectable seafood and French Mediterranean dishes with beachside views. For breakfast, guests can feast on an American buffet at Tunjung Café. In the evening, the café transforms into a venue for mouthwatering Indonesian specialties. Light snacks and beverages are also available at Puri Bar throughout the day. Conveniently located along Jimbaran Bay, this hotel provides easy access to nearby attractions such as Kuta and Nusa Dua areas which are just a 15-minute drive away. Ngurah Rai International Airport is only 10 minutes away by car. With transport rental services available and free WiFi in public areas, Jimbaran Puri ensures that guests have a seamless stay.
– Spacious Balinese-style cottages and villas
– Walled terraces and indoor/outdoor bathrooms
– Outdoor pool for relaxation
– Delectable seafood and French Mediterranean dishes at Nelayan Restaurant
– Convenient location near popular areas like Kuta and Nusa Dua
The Oberoi Beach Resort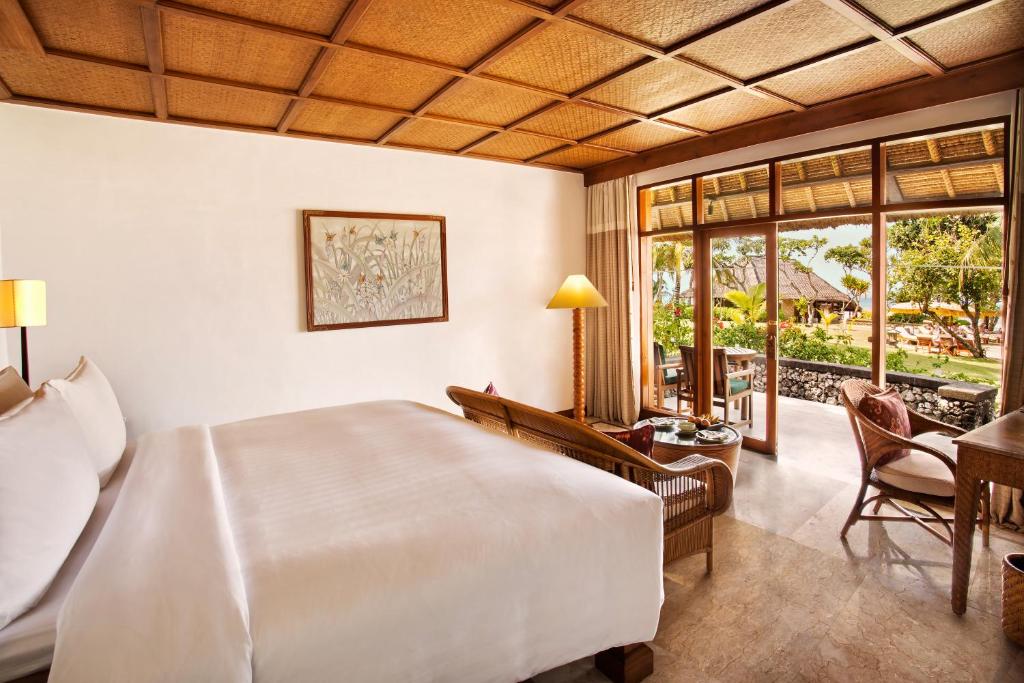 Located in the heart of Seminyak, The Oberoi Beach Resort, Bali offers a luxurious and beachfront accommodation surrounded by lush tropical gardens. The resort features traditional Balinese architecture and boasts an outdoor pool with stunning ocean views. Indulge in relaxation at the Oberoi Spa, offering open-air massage pavilions and a range of beauty treatments. The rooms are elegantly decorated with teak wood furnishings and equipped with modern amenities such as satellite TV, DVD player, and iPod dock. Enjoy a delightful breakfast at Frangipani Cafe or savor Indonesian, Asian, and Continental cuisines at Kura Kura restaurant. Experience themed buffet dinners and live performances at The Amphitheatre or unwind with cocktails while enjoying panoramic views of the Indian Ocean at Kayu Bar. Additional amenities include a tour desk for your convenience and a fitness center to stay active during your stay. With its prime location near Ku De Ta and The Seminyak Square Shopping Mall, you'll have easy access to nearby attractions. Ngurah Rai International Airport is just 7 km away from this magnificent beach resort.
– Beautiful beachfront location
– Traditional Balinese architecture
– Luxurious spa facilities
– Delicious dining options
– Close proximity to popular attractions
Grand Hyatt Bali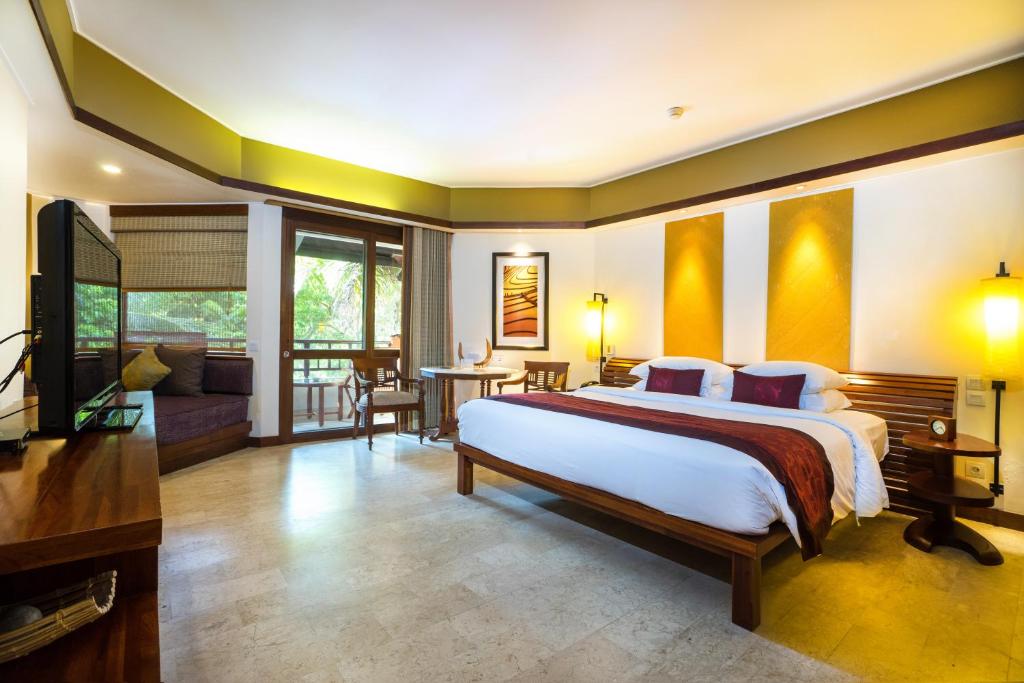 Located in the beautiful area of Nusa Dua, Grand Hyatt Bali offers a luxurious beachfront getaway with spacious rooms and stunning views. With five outdoor pools to choose from, guests can enjoy a refreshing swim or relax by the poolside. The hotel also boasts a well-appointed spa where guests can indulge in rejuvenating treatments. For dining options, there are eight choices available, including Salsa Verde Restaurant which serves delicious Italian cuisine and Garden Café offering Asian and European dishes. Other amenities include tennis courts, a fitness center, water sports activities such as diving and canoeing, currency exchange services, bicycle rentals, and free parking. The hotel is conveniently located just 15 minutes away from Ngurah Rai Airport and 30 minutes away from Denpasar.
– Spacious rooms with private balconies
– Five outdoor pools for relaxation and enjoyment
– Well-appointed spa for rejuvenation
– Multiple dining options serving various cuisines
– Convenient location near the airport and city center
Romantic Beachfront Hotels in Kuta
Kuta offers a range of romantic beachfront hotels, perfect for couples seeking a serene getaway. With breathtaking ocean views and private access to pristine white sand beaches, these hotels provide an idyllic setting for a romantic escape in paradise.
Bali Natha Beach Front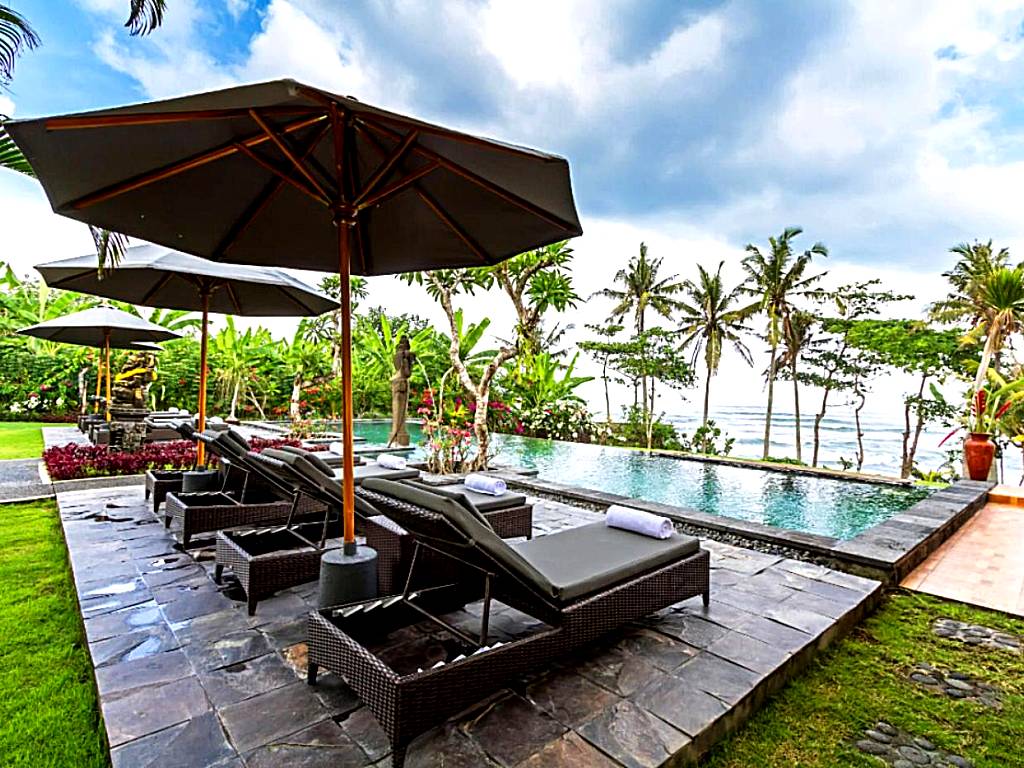 Bali Natha Beach Front is a charming guest house located in Canggu, right by Mengening Beach and Nyanyi Beach. This beachfront property offers a range of comfortable accommodation options with an infinity pool and free WiFi throughout. Guests can enjoy stunning sea views from certain units that feature balconies. The hotel also provides a 24-hour front desk, a restaurant, and a sun terrace for relaxation. In addition, the guest house offers airport transfers and bicycle rental services for guests to explore the area conveniently.
– Infinity pool overlooking the beach
– Free WiFi throughout the property
– Balconies with sea views in some rooms
– Restaurant serving delicious meals
– Convenient location near popular attractions like Tanah Lot Temple
Bali Garden Beach Resort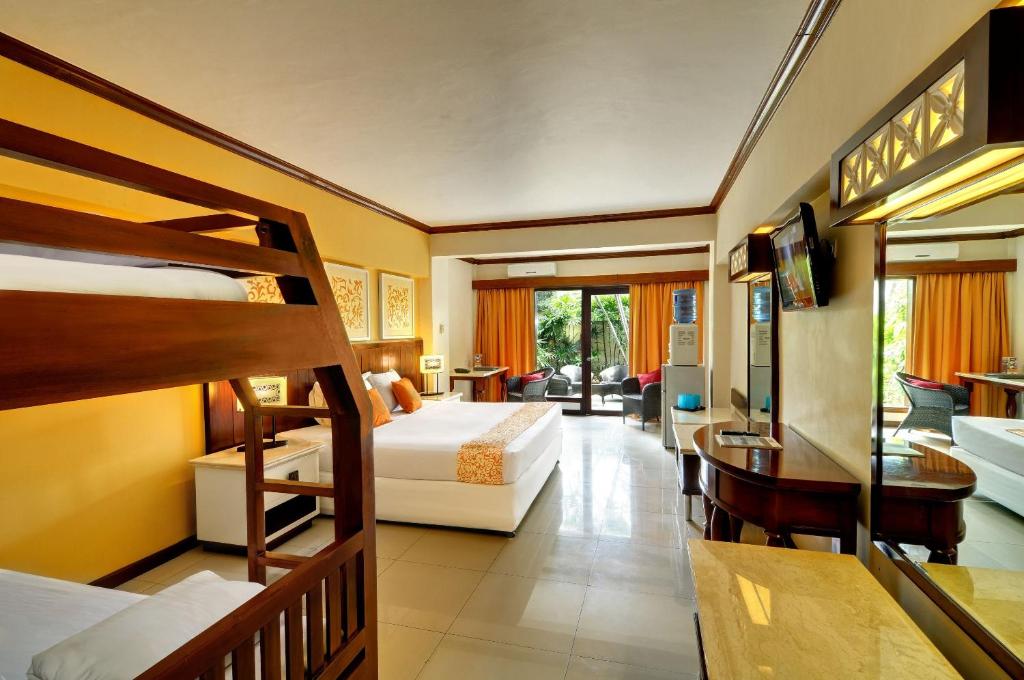 The Bali Garden Beach Resort is a stunning beachfront hotel located on South Kuta Beach. The resort offers spacious rooms with beautiful views of the garden, ocean, or Kuta. With 3 swimming pools and 3 dining options, including an award-winning restaurant, guests will have plenty of choices for relaxation and delicious meals. The lively restaurants, bars, spa centers, and shops of Kuta are within easy walking distance. The resort also provides free WiFi access in public areas. Guests can enjoy the convenience of being less than 1 km from Kuta Beach and less than 2 km from Ngurah Rai International Airport. Waterbom Park and Kuta Centre are just about 150 meters away from the hotel. Each air-conditioned room is designed with a Balinese contemporary feel and features a private balcony, dark wood furniture, private bathrooms with shower facilities and a bathtub. A minibar and cable TV are also included in each room. For ultimate relaxation, guests can visit Bali Garden's Tari Spa which offers a wide range of aromatherapy massages, reflexology treatments,and other relaxing services.The resort provides additional amenities such as a business centre and tour desk as well as airport shuttle service for convenience.Guests can indulge in delicious cuisine from the wide variety Indonesian,Japansese,and other Asian & Western favourites at one of the resort's restaurants or bars.Room service is available too making it easier for guests to enjoy their stay.
Pros:
– Stunning beachfront location
– Spacious rooms with beautiful views
– Multiple swimming pools to choose from
– Convenient proximity to local attractions
– Wide variety of dining options available
The Grand Bali Nusa Dua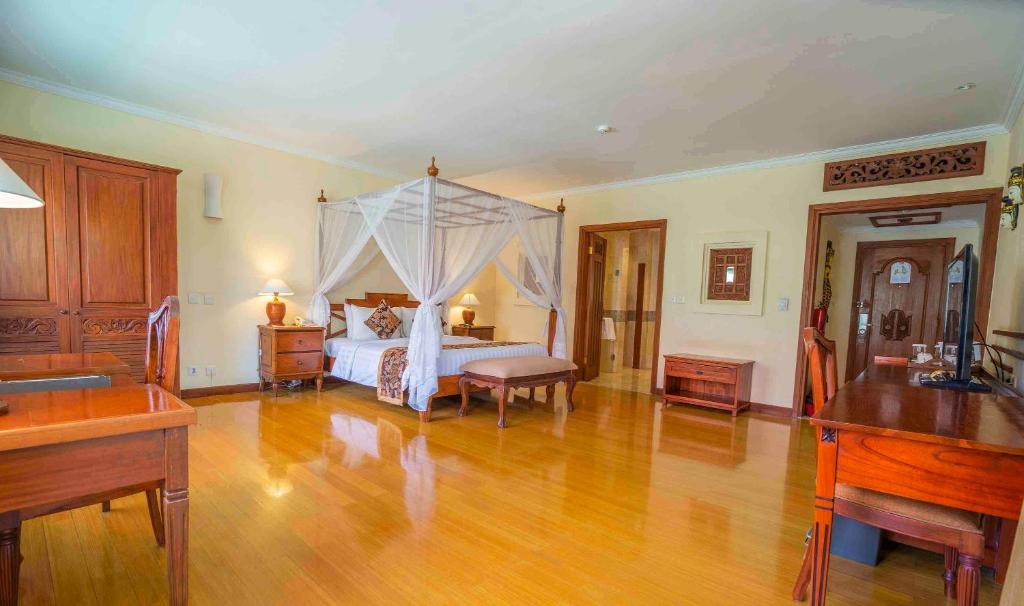 Located just a 20-minute drive from Ngurah Rai International Airport, The Grand Bali Nusa Dua is the perfect destination for those seeking a relaxing Balinese getaway. This resort offers an outdoor pool and a spa, providing guests with the ultimate opportunity to unwind and rejuvenate. The spacious smoke-free rooms offer stunning views of the pool and garden, and come equipped with comfortable seating areas. Guests can enjoy their days lounging by the pool or exploring the surrounding area on rented bicycles. For added convenience, The Grand Bali Nusa Dua provides shuttle service to The Grand Bali Beach Club, which is only a 5-minute drive away. With amenities such as free WiFi access, satellite TV, safety deposit boxes, tea/coffee making facilities, and luxurious marble bathrooms with bathtubs and separate walk-in showers, guests are sure to feel right at home. The hotel also features a tour desk, business center, laundry services, car rental options,and currency exchange services. Dining options include Telaga Waja restaurant which overlooks the gardens and swimming pool while serving a delicious selection of Asian and international dishes; there is also a bar offering snacks and drinks for those looking to relax after a long day of exploring. Moreover,the hotel's proximity to attractions such as the Bali Golf and Country Club makes it an ideal choice for golf enthusiasts. Additionally,the provision of free shuttles to Kuta as well as Nusa Dua's beach and shopping areas ensures that guests have easy access to all that this beautiful region has to offer.
– Convenient location near Ngurah Rai International Airport
– Outdoor pool perfect for relaxation
– Shuttle service provided for easy access to nearby attractions
– Spacious rooms with beautiful views of gardens or swimming pool
– On-site spa offering rejuvenating treatments
Information about Beachfront Hotels in Kuta
| | |
| --- | --- |
| 🏢 Number of Beach Hotels in Kuta | 9 |
| 🥇 Average Review Score | 8.6/10 |
| 💰 High season average price | 924 |
| 💸 Low season average price | 231 |
FAQ
What are the best beachfront hotels in Kuta, Indonesia?
Kuta is renowned for its stunning beaches, and there are many luxurious beachfront hotels to choose from. Some of the best options include The Anvaya Beach Resort Bali, a 5-star resort with direct access to Kuta Beach and breathtaking ocean views. Another top choice is Sheraton Bali Kuta Resort, offering stylish rooms and a rooftop pool overlooking the beach.
Are there any all-inclusive beachfront hotels in Kuta?
Yes, if you're looking for an all-inclusive experience in Kuta, you can consider Hard Rock Hotel Bali. This beachfront resort offers a range of dining options, including several restaurants and bars where you can enjoy delicious meals and refreshing drinks without worrying about extra charges. They also offer various activities and entertainment options for guests.
What amenities do beachfront hotels in Kuta typically offer?
Beachfront hotels in Kuta often provide an array of amenities to ensure a comfortable and enjoyable stay for their guests. These may include private balconies or terraces with ocean views, outdoor pools with sun loungers and cabanas, spa facilities offering relaxing treatments, fitness centers with state-of-the-art equipment, on-site restaurants serving local and international cuisine, as well as direct access to the beautiful sandy beaches.
Is it possible to find budget-friendly beachfront accommodations in Kuta?
While there are many luxury beachfront hotels in Kuta, there are also some budget-friendly options available. One popular choice is Grand Istana Rama Hotel Bali which offers affordable rates while still providing direct access to the famous Legian Beach. Additionally, several smaller boutique hotels located near the coastline offer comfortable accommodations at more reasonable prices.
Do any of the beachfront hotels in Kuta cater specifically to families?
Yes! There are several family-friendly beachfront hotels in Kuta that cater specifically to families traveling with children. For example, Discovery Kartika Plaza Hotel offers spacious family suites with separate bedrooms and living rooms, a kids' club with activities for children of all ages, and a large pool area for families to enjoy together. Another option is The Stones – Legian Bali, which has a dedicated kids' pool and play area as well as babysitting services available upon request.
Popular Hotels near Beach destinations