Welcome to the mesmerizing world of oceanfront accommodations in Kovalam, a coastal paradise nestled along the stunning shores of India. Prepare to embark on a journey filled with sun-kissed sands, azure waters, and luxurious beachside retreats that are bound to leave you breathless. Indulge your senses as we unveil the hidden gems of Kovalam's seaside hospitality, where opulence meets the rhythmic lullaby of crashing waves.
Kovalam boasts an array of exquisite shorefront lodgings that cater to every discerning traveler's desires. Whether you seek tranquil solitude or vibrant beachside vibes, these ocean-facing havens present an impeccable amalgamation of comfort, style, and indulgence. From lavish resorts that exude timeless elegance to boutique hotels showcasing unique architectural designs, Kovalam offers an unrivaled selection for those seeking a truly idyllic coastal getaway.
Allow yourself to be immersed in the serenity and charm that only beachfront accommodations can provide. Wake up each morning greeted by breathtaking panoramic views while sipping on freshly brewed coffee from your private balcony overlooking golden sandy beaches stretching as far as the eye can see. Relish in the warm hospitality embraced by these waterfront abodes that make it their mission to ensure your stay is nothing short of extraordinary.
Join us on this voyage through Kovalam's finest beachfront retreats – where tranquility meets luxury and natural beauty meets refined elegance. Let us be your guide as we unveil the best-kept secrets along this coastal haven and help you navigate through a sea of options for an unforgettable stay in paradise.
The Best Kovalam Hotels By the Beach
Taj Green Cove Resort and Spa Kovalam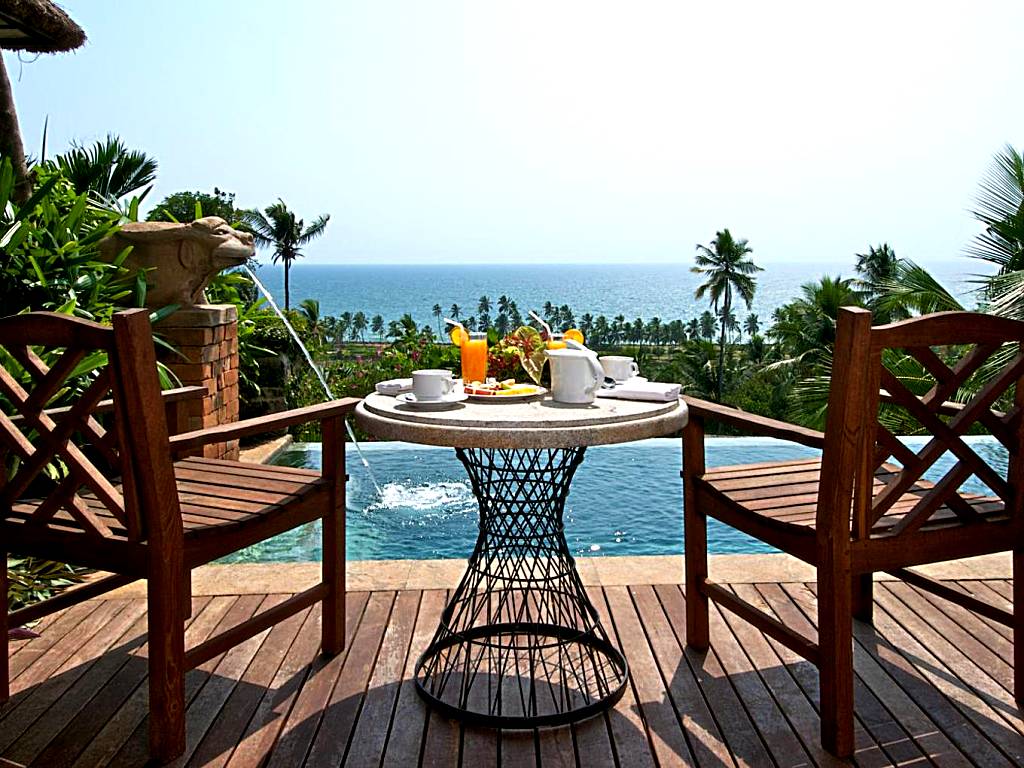 Taj Green Cove Resort and Spa Kovalam is a stunning beachfront resort situated on a 16-acre property with a kilometer of coastline. The resort features Balinese-style villas that are nestled on a hillock overlooking the ocean, with a lagoon in between. The Sea View villas and suites, exclusive Pool Villas, as well as Tropical Garden view rooms, are all designed in a Balinese style and offer exquisite wooden furnishings. Guests can enjoy 24-hour in-room dining and indulge in the tranquility of the seaside evening experience along the coastline. The resort boasts an Infinity Pool and Fitness Center that overlooks the lagoon and ocean, while the Ayurveda Spa room offers privacy with a private plunge pool and dining nook. Additional amenities include jogging trails, sprawling lawns, wooden walkways along the coastline, and a children's activity area with games and books. Dining options at Taj Green Cove include "Bait," a Seaside Specialty Restaurant known for its vegetarian platters and wood-fired marinades, "Jasmine Bay," an all-day diner offering Asian and Continental menus by the poolside, "Curries," an A/C Restaurant serving typical Kerala & other Indian specialties, and "Neera Bar" which serves signature cocktails and bar snacks. The resort is conveniently located just 30 minutes away from Trivandrum International Airport, allowing for easy access to nearby attractions such as Kuthira Malika Palace & Napier Museum, Padmanabha Swamy Temple, Kanakakkunnu Palace, churches in Trivandrum city center,and popular shopping districts. Travel services provided by Taj Green Cove include airport transfers,sightseeing tours of Kovalam,and arranging leisure activities such as scuba diving , para-gliding,ocean sports like beach volleyball ,backwater boating,bird-watching among others.However,it is important to note that beach access at the resort is seasonal and only available from November to mid-March, subject to weather conditions. Guests can expect unparalleled hospitality with a personalized touch and exclusive five-star luxury experience at Taj Green Cove Kovalam.
Pros:
– Stunning beachfront location with a kilometer of coastline
– Luxurious Balinese-style villas with exquisite wooden furnishings
– Ayurvedic spa led by a Naturopathy Doctor
– Infinity pool and fitness center overlooking the lagoon and ocean
– Multiple dining options offering a variety of cuisines
Little Elephant Beach Resort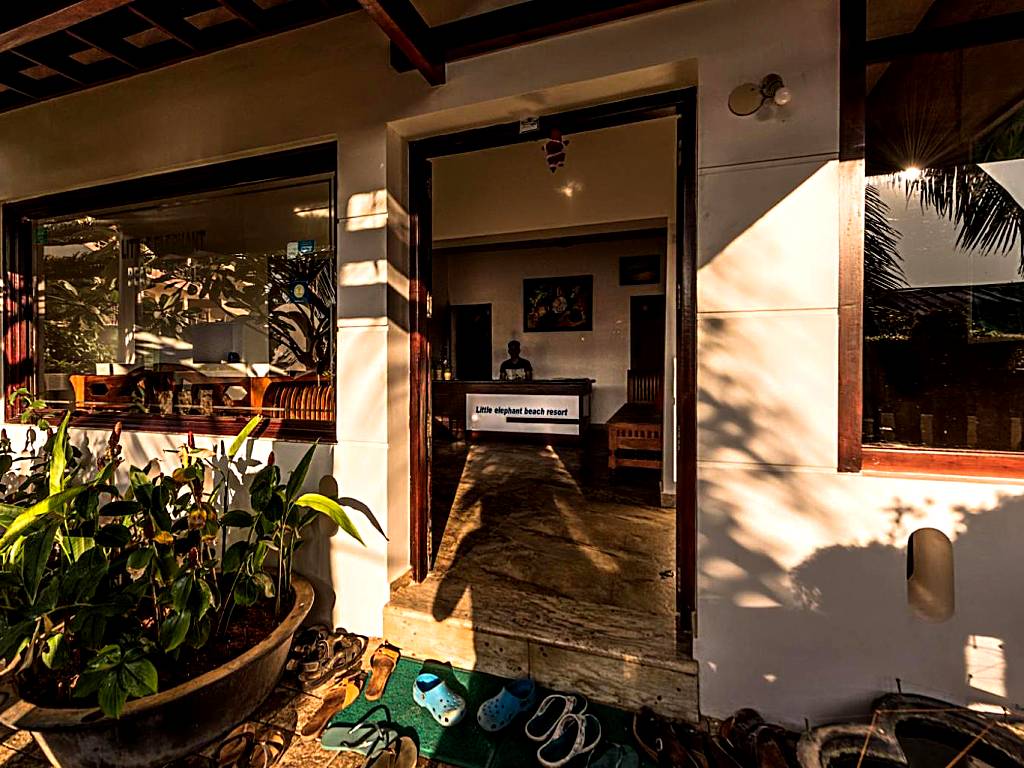 Located just 20 metres from the picturesque Lighthouse Beach in Vizhinjam, Little Elephant Beach Resort offers guests a stunning beachfront experience in Kovalam. The resort features comfortable rooms with balconies and en suite bathrooms. Guests can enjoy free WiFi throughout the property and have access to a range of amenities, including a 24-hour front desk, currency exchange services, laundry facilities, and room service. For those looking to relax and unwind, massages can be booked on request. Additionally, guests are welcome to join yoga classes during their stay. Kovalem Reef is only a 5-minute walk away from the resort, while Trivandrum bus and train station as well as Tricandrum International Airport are conveniently located just 13 km away. Sree Padmanabha Swamy Temple and Napier Museum can be reached within a 30-minute drive.
Pros:
– Stunning beach views
– Free WiFi throughout the property
– Yoga classes available for guests
– Conveniently located near popular attractions
– Option to book relaxing massages on request
Niraamaya Wellness Retreats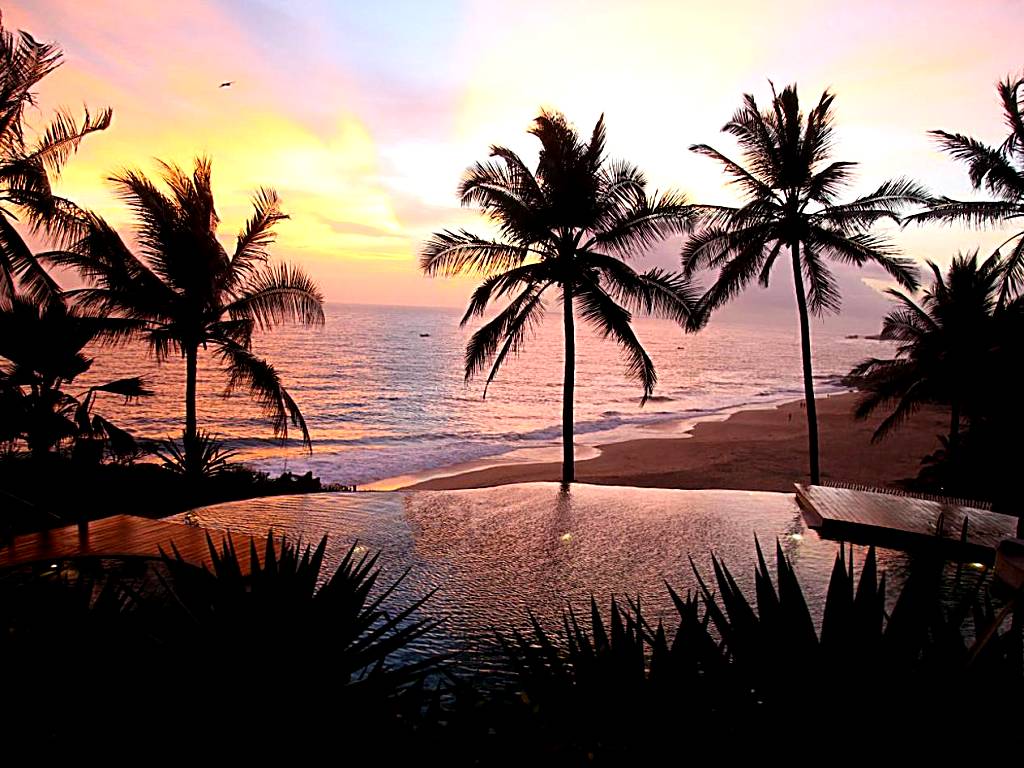 Niraamaya Wellness Retreats, Surya Samudra, Kovalam is a luxurious beachfront resort in Trivandrum that offers the perfect romantic getaway. With its private beach and stunning sea-facing infinity pool, guests can indulge in pure relaxation and soak up the beauty of their surroundings. The resort features the Niraamaya Spa where guests can enjoy pampering spa treatments, as well as a platform overlooking the sea for soothing yoga sessions. The spacious rooms are elegantly designed with terracotta roofs, wooden pillars, and tiled floors, creating a dreamy and luxurious ambiance. Each room comes with modern amenities such as a flat-screen TV and minibar, and offers breathtaking views of either the sea or gardens. Conveniently located just 20 minutes from Vizhinjam Beach and 40 minutes from Trivandrum International Airport, Niraamaya Retreats is also within an hour's drive from Technopark. Guests can arrange day trips at the tour desk or explore the on-site facilities including a gift shop and 24-hour front desk service. Indulge in delicious meals at Cafe Samsara, an all-day dining restaurant offering multi-cuisine delights or savor gourmet seafood grills at Essence, their specialty restaurant. End your day by enjoying breathtaking sunsets at Madira Bar while sipping on delightful sundowners.
– Private beachfront location
– Beautiful sea-facing infinity pool
– Luxurious spa treatments at Niramaya Spa
– Yoga sessions overlooking the sea
– Multiple dining options including gourmet seafood grills
Hotels Near the Beach in Downtown Kovalam
Downtown Kovalam offers a range of beachfront hotels, providing guests with convenient access to the sandy shores and mesmerizing ocean views. With a variety of accommodation options available, visitors can enjoy a memorable stay just steps away from the beautiful beaches.
The Leela Kovalam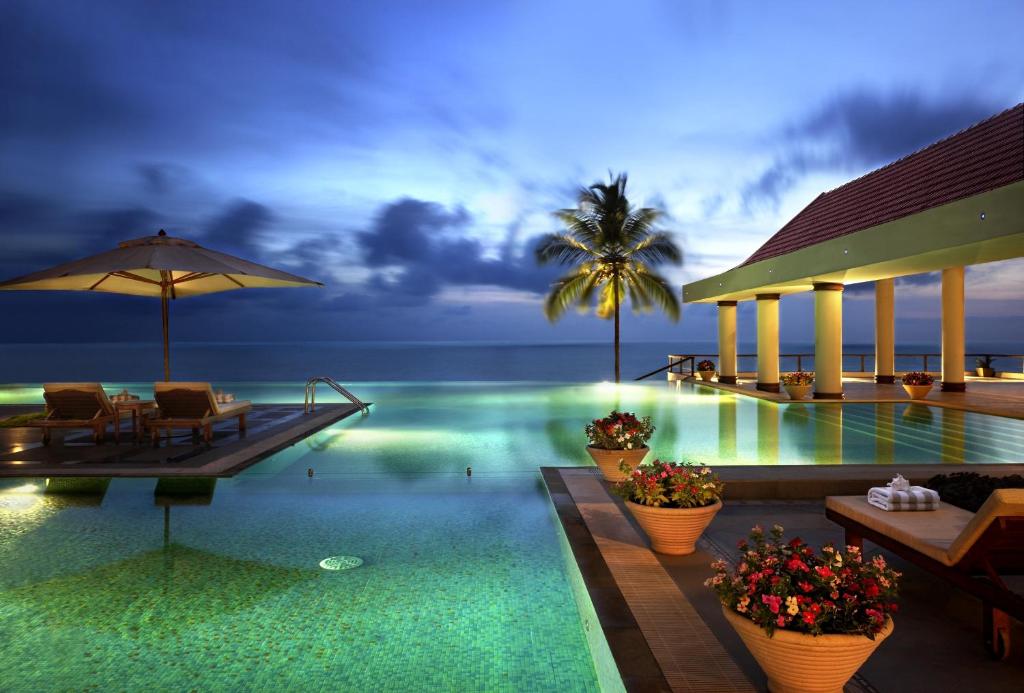 Located on a cliff with breathtaking panoramic views of the Kovalam shoreline and the Arabian Sea, The Leela Kovalam, A Raviz Hotel is a luxurious beachfront resort. Guests can enjoy direct access to a private beach and indulge in spa treatments. The outdoor pool and fitness center offer stunning sea views, while The Terrace buffet restaurant provides 24-hour dining options in indoor, outdoor, and poolside settings. The stylish rooms feature wooden decor and modern amenities, with each offering picturesque views of either the garden or the sea. Additional facilities include a game room, tennis court, and travel services for tours and car rentals. Dining options range from Asian specialties at The Tides Restaurant to sunset cocktails at the rooftop Sky Bar. Located just 14 km from Trivandrum City and its famous Padmanabhaswamy Temple, this hotel offers an array of activities including table tennis, badminton, beach volleyball, billiards, swimming classes for kids, cooking classes, cocktail/mocktail classes,and yoga sessions.
Pros:
– Stunning panoramic views of the Kovalam shoreline
– Private access to a beautiful beach
– Outdoor pool with sea view
– Multiple dining options including buffet restaurant and rooftop bar
– Exciting activities such as tennis, table tennis,and yoga sessions
The Travancore Heritage Beach Resort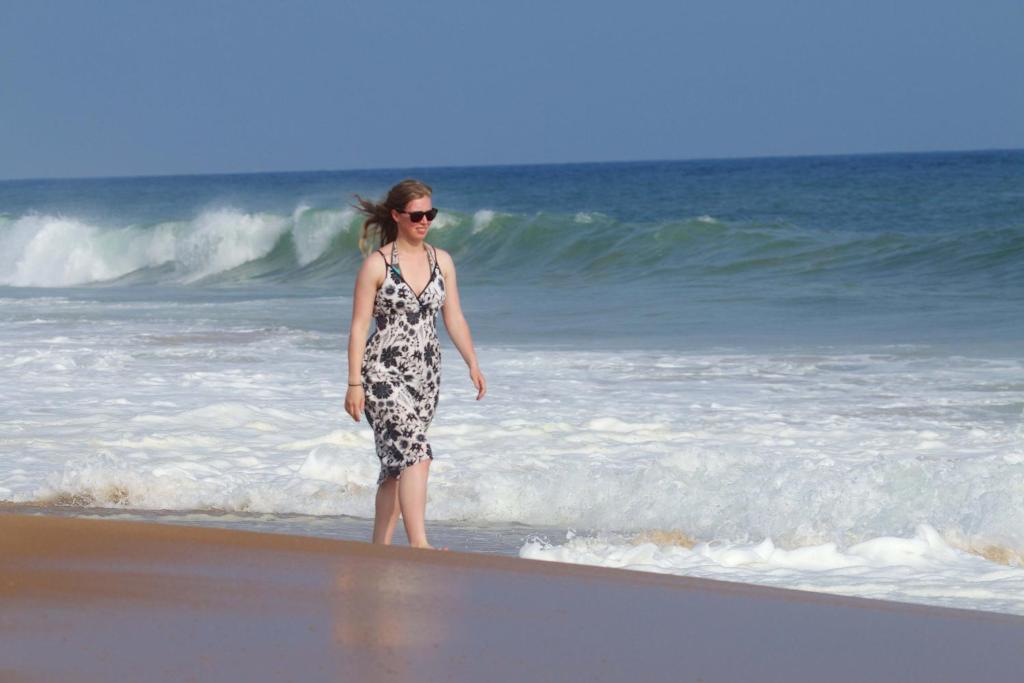 Located right on Chowara beach, The Travancore Heritage Beach Resort is a stunning sea-side resort that offers guests a taste of traditional Indian architecture with its smooth interior lighting and spacious bathrooms. Relaxation is key at this resort, with traditional Ayurveda treatments and massages available, as well as the option to enjoy a swim in one of the two outdoor pools. Guests can also take advantage of the small library and common area equipped with satellite TV, card games, and an internet-connected computer. Additional amenities include a shop selling cosmetics and beachwear, car rental services, and a tour desk for all your travel needs. The air-conditioned rooms feature wooden floors, satellite TVs, minibars, coffee makers,and spacious bathrooms with garden baths and showers. Other facilities at The Travancore Heritage Beach Resort include a fitness center and laundry services. When it comes to dining options, Open House restaurant overlooks the pool and specializes in serving seafood dishes along with local ethnic cuisines while Ocean Grill is situated right by the beach offering delectable seafood dishes as well. Notably convenient for travelers arriving by air, Trivandrum International Airport is only a 40-minute drive away from the resort.
Pros:
– Direct access to Chowara beach
– Traditional Indian architecture
– Ayurveda treatments available
– Two outdoor pools for relaxation
– On-site dining options with fresh seafood
Soma Manaltheeram Ayurveda BeachVillage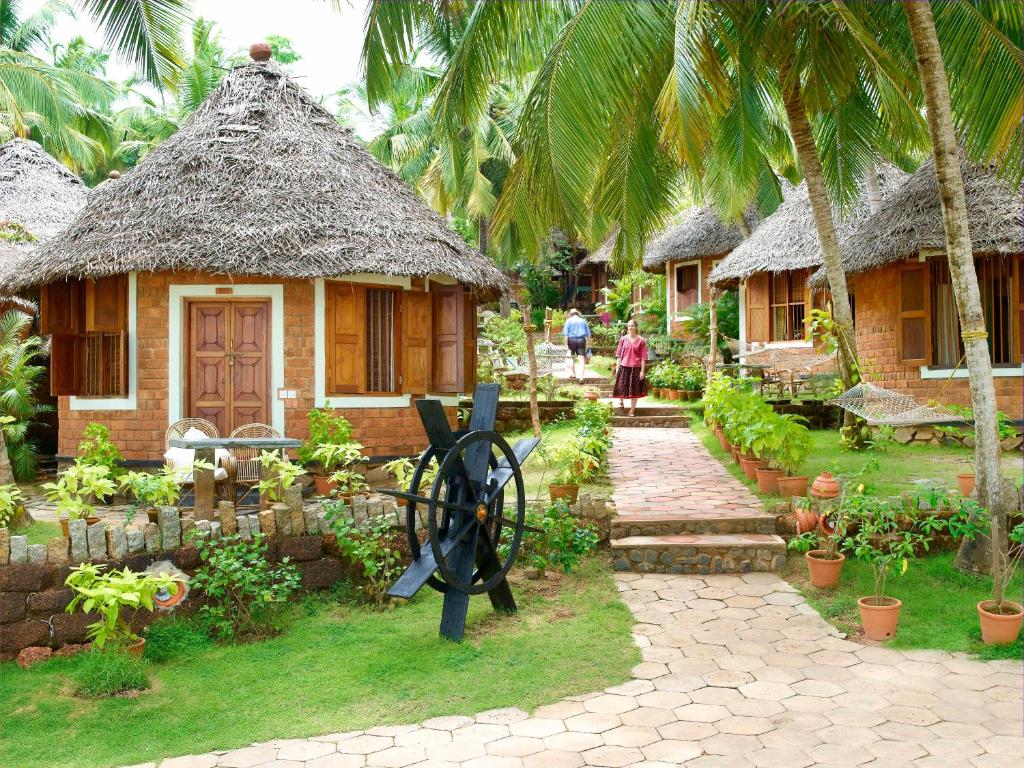 Located on the picturesque coast of Kerala in Southern India, Soma Manaltheeram Ayurveda BeachVillage is a stunning beachfront hotel that offers guests a serene and rejuvenating experience. Situated on a hillside facing the famous Kovalam Beach, this hotel boasts an Ayurvedic spa and an outdoor pool, allowing guests to indulge in ultimate relaxation while surrounded by beautiful natural scenery. The Ayurveda Spa is staffed with five professional Ayurvedic doctors and over 50 therapists, offering a range of treatments to promote physical and mental well-being. The circular cottages provide fully ventilated rooms with fans and mosquito nets, ensuring comfort during your stay. With attached bathrooms featuring shower facilities, convenience is also prioritized at Manaltheeram Ayurvedic Hospital and Research Centre. This hotel is conveniently located just 21 km from Thiruvananthapuram International Airport and 12 km from Thiruvananthapuram City, making it easily accessible for travelers. One of the highlights of this beachfront hotel is its open-air garden restaurant which serves a wide selection of vegetarian and international dishes, providing guests with an exceptional dining experience amidst lush surroundings. Additionally, cultural performances and entertainment programs are regularly organized to further enhance guests' stay. Other amenities include free parking facilities as well as opportunities for yoga lessons or arranging day trips through the tour desk. Overall, Soma Manaltheeram Ayurveda BeachVillage offers a tranquil escape where you can truly unwind while taking advantage of its luxurious facilities.
– Beautiful natural surroundings
– Well-equipped Ayurvedic spa with professional doctors
– Convenient location near airport and city
– Open-air garden restaurant serving delicious vegetarian cuisine
– Regular cultural performances and entertainment programs
Information about Beachfront Hotels in Kovalam
| | |
| --- | --- |
| 🏢 Number of Beach Hotels in Kovalam | 6 |
| 🥇 Average Review Score | 8.4/10 |
| 💰 High season average price | 142 |
| 💸 Low season average price | 35.5 |
FAQ
What are the top beachfront hotels in Kovalam?
Kovalam offers a range of luxurious beachfront hotels perfect for a memorable vacation. Some popular options include The Leela, Taj Green Cove Resort & Spa, and Turtle on the Beach. These hotels offer stunning views of the Arabian Sea, world-class amenities, and exceptional hospitality to make your stay truly unforgettable.
Are there any budget-friendly beachfront hotels in Kovalam?
Yes, if you're looking for more affordable options without compromising on the beachfront experience, Kovalam has several budget-friendly hotels to choose from. Some recommended choices include Abad Harmonia Ayurveda Beach Resort, Uday Samudra Leisure Beach Hotel & Spa, and Hotel Samudra KTDC. These hotels offer comfortable accommodation with easy access to the beach at reasonable rates.
Can I find private villas or bungalows near the beach in Kovalam?
Absolutely! Kovalam boasts some exquisite private villas and bungalows located near its beautiful beaches. One such option is Niraamaya Retreats Surya Samudra, which offers charming heritage cottages nestled amidst lush greenery overlooking the sea. Another excellent choice is The Ocean Park Beach Resort that provides spacious villas with private gardens just steps away from the sandy shores.
Which beachfront hotels in Kovalam have on-site spas?
If you're seeking relaxation and rejuvenation during your stay in Kovalam, look no further than Leela Raviz Kovalam and Vivanta by Taj – Green Cove. Both these remarkable properties feature luxurious spas where you can indulge in therapeutic treatments inspired by traditional Ayurvedic practices while enjoying breathtaking ocean views.
Do any beachfront hotels in Kovalam provide water sports activities?
Certainly! Several beachfront hotels in Kovalam offer exciting water sports activities for adventure enthusiasts. Turtle on the Beach is known for its water sports center that offers activities like snorkeling, kayaking, and jet skiing. The Leela also provides a range of aqua adventures including banana boat rides and surfing lessons to ensure you have an action-packed vacation by the sea.
Popular Beach Hotels destinations