Welcome to a mesmerizing coastal paradise – Hvar, Croatia. Nestled on the sun-soaked shores of the Adriatic Sea, this enchanting destination offers an idyllic setting for beach lovers and luxury seekers alike. With its crystal-clear turquoise waters, secluded coves, and vibrant nightlife, Hvar is a dreamy escape that will leave you craving for more.
As you step foot on this sun-kissed island, prepare to be captivated by its pristine sandy beaches and awe-inspiring ocean vistas. Whether you're seeking solitude or fun-filled activities under the gentle coastal breeze, Hvar has it all. Indulge in a leisurely stroll along the palm-fringed promenade or bask in the glory of golden sunsets while sipping cocktails at one of the many beachfront bars.
Hvar boasts an array of exquisite beachfront hotels that epitomize luxury and opulence. Immerse yourself in unrivaled comfort as you unwind in beautifully designed rooms offering panoramic sea views. Pamper yourself with rejuvenating spa treatments or take a dip in infinity pools overlooking the glistening Adriatic horizon. With exemplary service tailored to your every need, these beachfront havens provide an unforgettable experience that will elevate your stay to new heights.
Whether you're seeking adventure or relaxation amidst breathtaking natural beauty, Hvar's beachfront hotels offer an idyllic retreat that promises nothing short of perfection. Embark on a journey filled with unforgettable moments and revel in the ultimate blend of luxury and tranquility at this seaside haven nestled on Croatia's stunning coastline.
The Best Hvar Hotels By the Beach
Hotel Hvar – All Inclusive (Jelsa)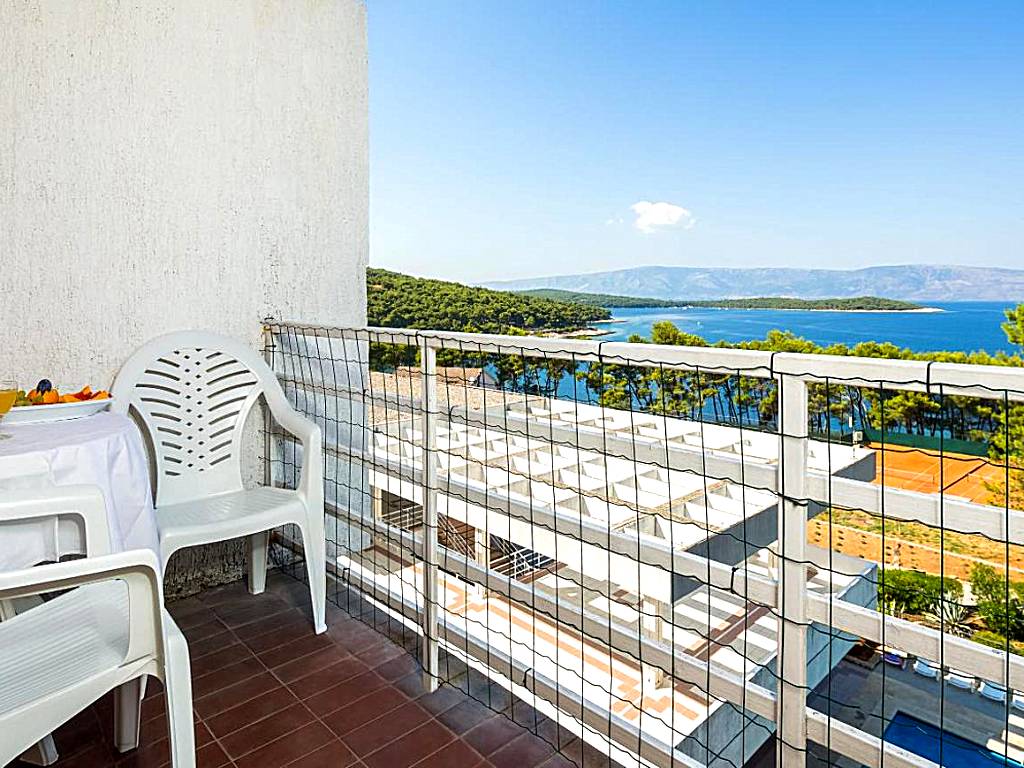 Hotel Hvar is a luxurious beachfront hotel located in the charming town of Jelsa on the island of Hvar. With its prime position on a wooded hill, the hotel offers breathtaking panoramic sea views from its rooms, restaurant, and lounge bar. The property boasts an indoor pool, a small outdoor pool with a sun terrace and deck chairs, and an olive garden for guests to relax and unwind. Just a short walk away along the beachfront is the bustling center of Jelsa, where visitors can explore numerous shops and clubs. The hotel features a sea-view restaurant and lounge bar, serving delicious European cuisine as part of their all-inclusive offer. With various facilities including a fitness room and entertainment program with animation, Hotel Hvar ensures that guests have plenty of options for leisure activities during their stay. For those who enjoy sports, the hotel also provides tennis courts and bike rentals. Additionally, there are two beach areas close to the hotel—one specifically suitable for children—along with a sandy beach just 200 meters away.
– Picturesque location on a wooded hill overlooking the sea
– Panoramic views from rooms, restaurant, and lounge bar
– Indoor pool and outdoor pool with sun terrace
– All-inclusive offer at the sea-view restaurant
– Close proximity to shops, clubs, and sandy beaches
Beach Bay Hvar Hotel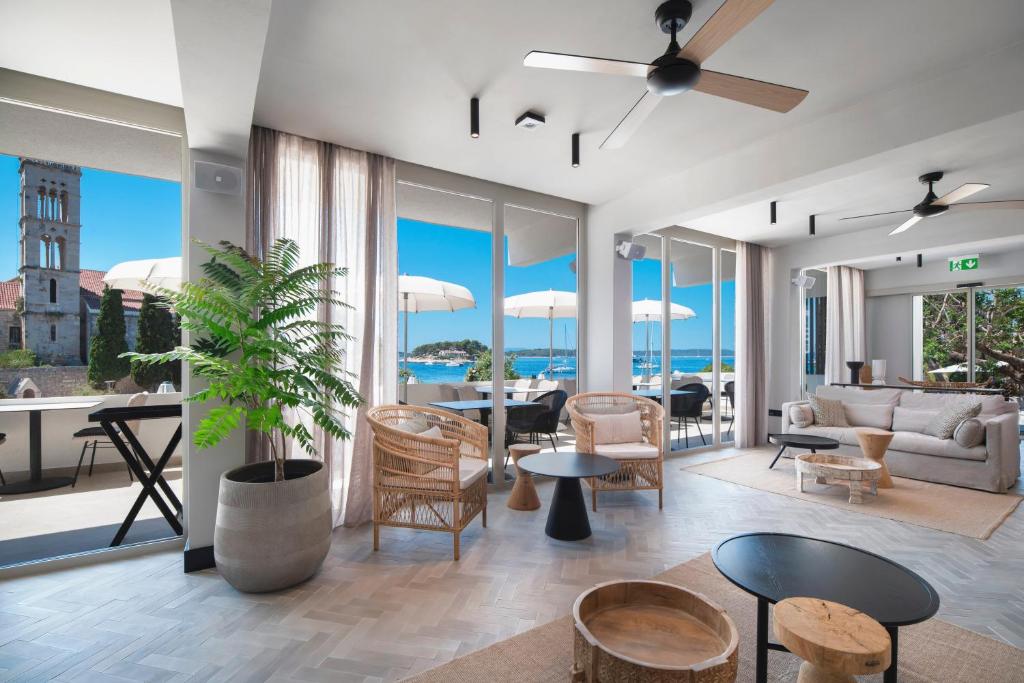 Opened in March 2022, Beach Bay Hvar Hotel is a 4-star beachfront hotel located in the charming town of Hvar. Situated close to Franciscan Monastery Beach and Beach Križna Luka, this hotel offers a range of amenities for guests to enjoy. With a 24-hour front desk and an ATM, convenience is guaranteed during your stay. The rooms are air-conditioned and equipped with essential facilities such as a wardrobe, coffee machine, minibar, safety deposit box, flat-screen TV, balcony, and private bathroom with a shower. Guests can indulge in delicious Mediterranean cuisine at the hotel's restaurant which also offers vegetarian, vegan, and gluten-free options upon request. Start your day off right with a buffet or continental breakfast and relax on the sun terrace afterwards. The hotel also offers bike hire for those looking to explore the area by cycling. Popular attractions nearby include Beach Bonj, Harbour of Hvar, and Hvar's Theatre and Arsenal. Split Airport is the nearest airport located 82 km away from Beach Bay Hvar Hotel.
– Newly opened luxury beachfront hotel
– Convenient location near popular beaches
– Excellent amenities including free shuttle service
– Delicious Mediterranean cuisine with dietary options available
– Perfect for outdoor enthusiasts with cycling opportunities
Hotel Podstine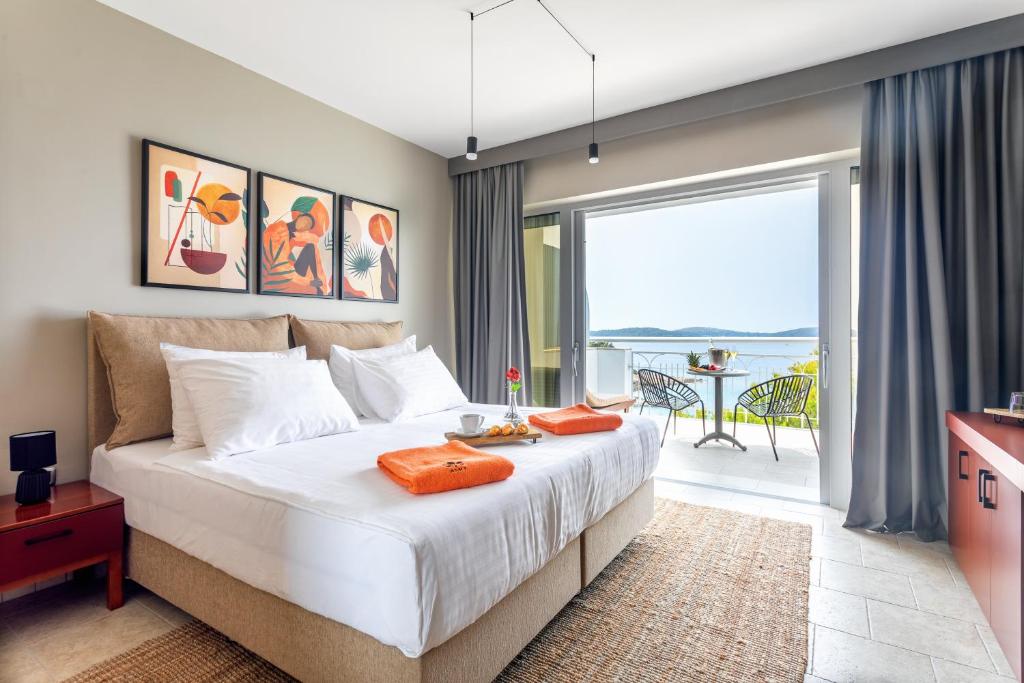 Hotel Podstine is a luxurious beachfront hotel located in a quiet and secluded bay, surrounded by palm and pine trees. It offers a range of amenities including a spa & wellness center, outdoor pool, on-site restaurant with delicious cuisine, and a bar overlooking the stunning Paklenski Islands. The elegant air-conditioned rooms come equipped with satellite TV, minibar, and free toiletries. Guests can enjoy complimentary beach towels during their stay and have access to facilities such as a gym, Finnish sauna, and various body treatments at the spa. Additionally, there are tennis courts nearby for those who want to get active. Wine lovers will appreciate the option of arranging private wine tasting sessions with local wineries. The hotel also offers boat rentals for exploring neighboring islands like Vis (with the Green Cave), Biševo (Blue Cave), or Bol. For added convenience, guests can rent bicycles or scooters on-site or take advantage of the shuttle service from Split Airport to the Island of Hvar.
– Quiet location in secluded bay
– Private beach surrounded by palms and pine trees
– Spa & wellness center with gym and sauna
– On-site restaurant serving delicious cuisine
– Shuttle service from Split Airport available
Hotels Near the Beach in Downtown Hvar
Hotels near the beach in Downtown Hvar offer convenient access to the sandy shores and stunning coastal views. These accommodations provide an ideal base for travelers looking to enjoy sun, sea, and sand during their stay in this vibrant city.
Pansion Marjan (Zavala)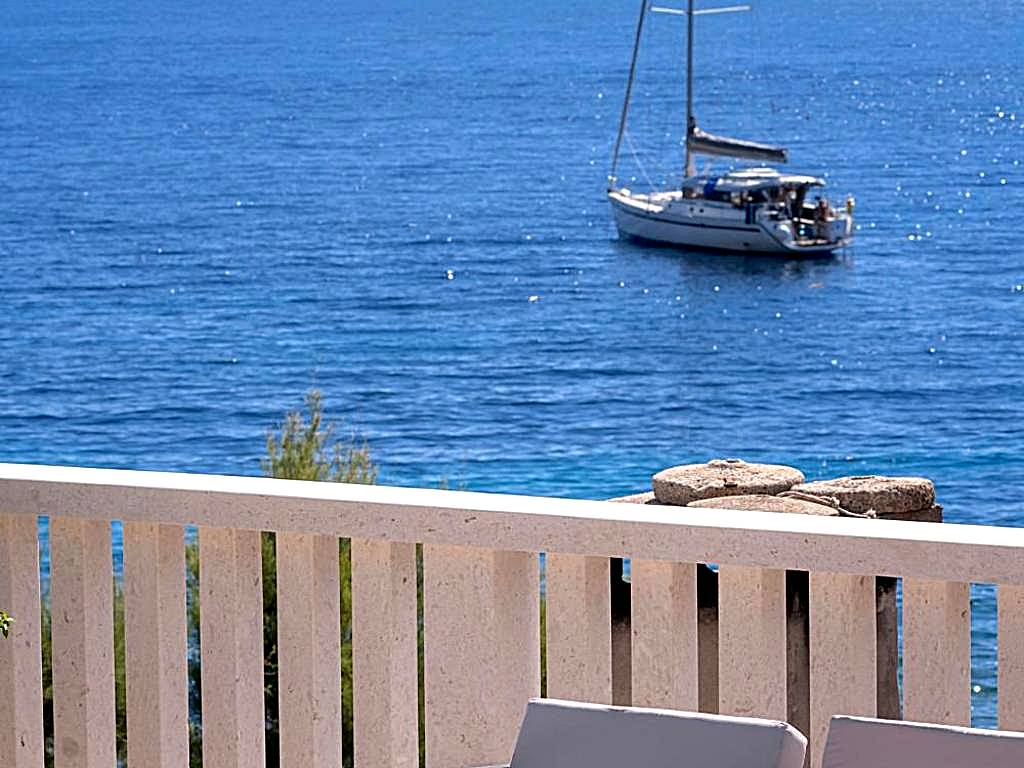 Pansion Marjan is a charming guest house located in Zavala, just steps away from Zavala Beach and Zavala Port Beach. With a beautiful garden and free WiFi throughout the property, this guest house offers comfortable accommodations and convenient amenities such as free private parking. Guests can enjoy delicious meals at the on-site restaurant or relax by the outdoor fireplace. The rooms are well-equipped with coffee machines, some offering sea views from their terrace. Daily maid service, an ATM, and currency exchange services are available for guests' convenience. All units come with air conditioning, a seating area, flat-screen TV with satellite channels, a safety deposit box, and a private bathroom with toiletries provided. Guests can start their day with a continental, Full English/Irish or Italian breakfast served daily. The historic St. Stephen's Cathedral in Hvar is 36 km away while Split Airport is 83 km from Pansion Marjan.
– Convenient beachfront location
– Beautiful garden setting
– Free WiFi throughout the property
– On-site restaurant serving delicious meals
– Comfortable rooms equipped with modern amenities
Luxury Bellavista Amazing sea Holidays with Private Beach & Parking (Hvar)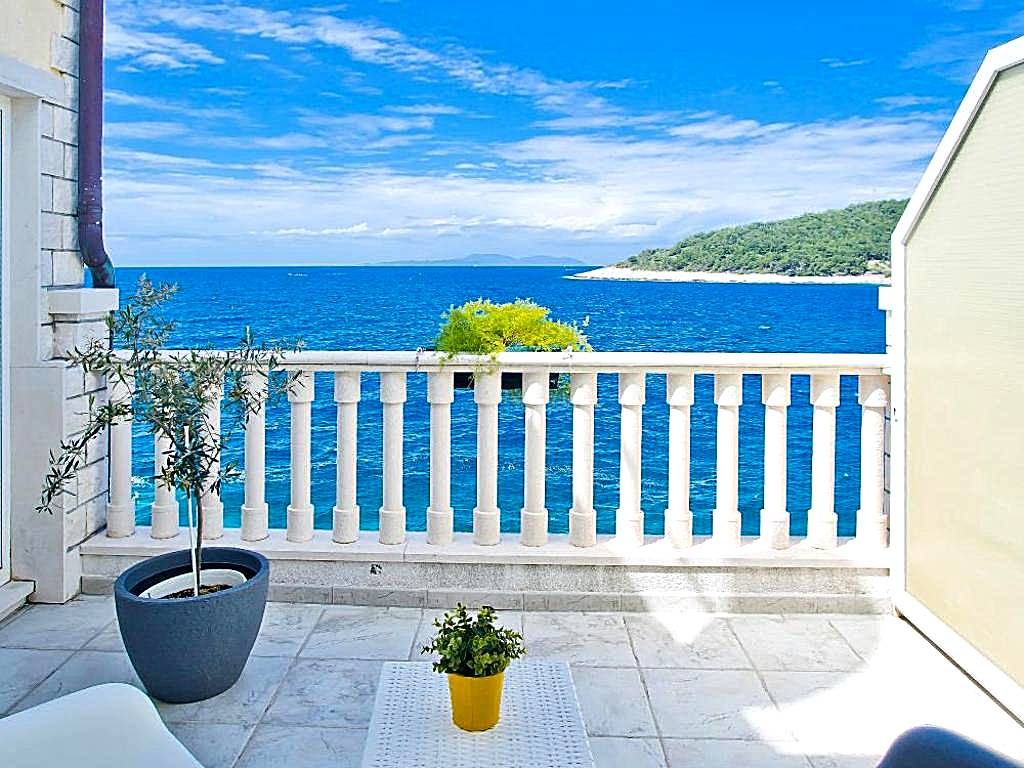 Luxury Bellavista Amazing sea Holidays with Private Beach & Parking is a guest house located in Hvar, just 200 meters from Beach Milna and 500 meters from Beach Mala Milna. The property offers guests a private beach area, free WiFi, and complimentary private parking. With family rooms and a terrace, guests can enjoy their stay to the fullest. The location allows for various activities such as skiing and cycling. Other nearby attractions include Malo Borče Beach at 1.5 km and Hvar's Theatre and Arsenal at 5.1 km away. The guest house also provides luggage storage space and currency exchange services for added convenience. Some rooms offer full kitchens equipped with a dishwasher, microwave, and toaster while every room has a private bathroom. Split Airport is the nearest airport at a distance of 78 km.
– Private beach area
– Free WiFi
– Complimentary private parking
– Family rooms available
– Terrace for relaxation
House Zaca (Zavala)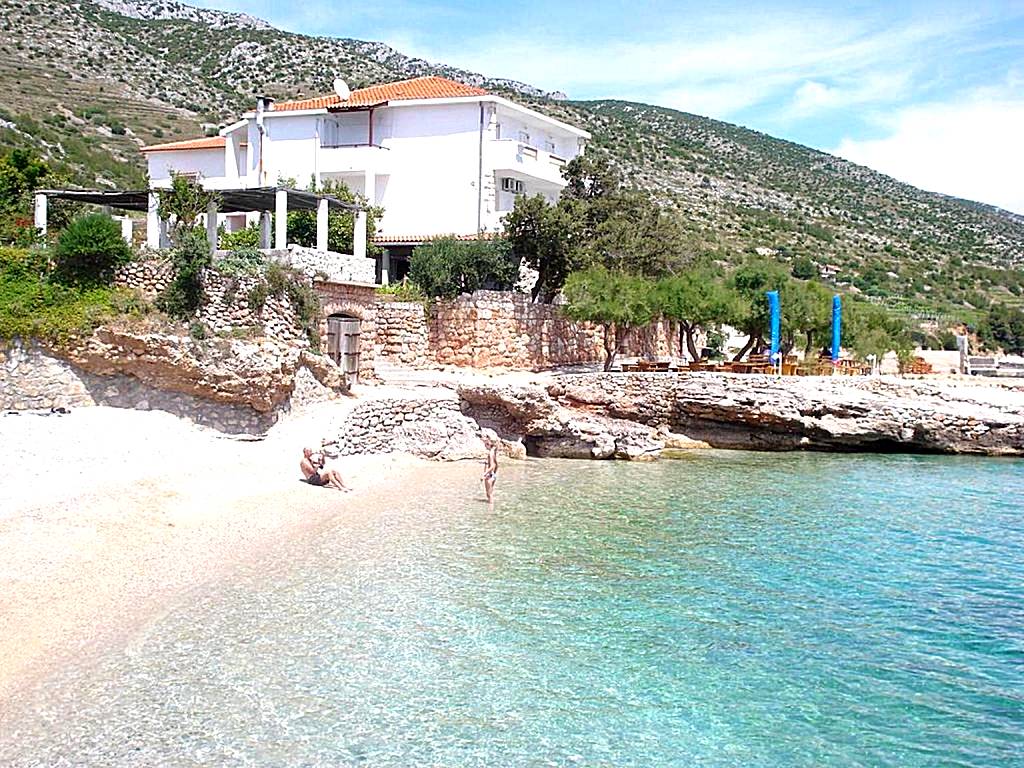 House Zaca is a beachfront guest house located in the charming town of Zavala. Situated right next to a pebbly beach, this property offers breathtaking views of the Adriatic Sea from its balconies. The rooms are air-conditioned, simply furnished, and well-lit, providing guests with all the necessary amenities for a comfortable stay. Free Wi-Fi and parking are available, and there is also a large shared terrace where guests can relax and soak up the sun. Additionally, House Zaca offers bike rentals for those looking to explore the surrounding area or organize boat trips to nearby islands and places of interest. With convenient access to grocery shops, restaurants, and a fish market within walking distance, guests can easily indulge in local cuisine. For those wanting to venture further out, Jelsa is just 6 km away while Hvar is 30 km from the property. The bus stop and ferry port are both located 15 km away, making it easy for guests to travel around. Overall, House Zaca provides an ideal beachfront retreat with its stunning location and convenient amenities.
– Convenient beachfront location
– Rooms with sea-view balconies
– Free Wi-Fi and parking
– Large shared terrace
– Bike rentals available
Romantic Beachfront Hotels in Hvar
Romantic beachfront hotels in Hvar offer breathtaking views of the azure Adriatic Sea and provide a serene and intimate setting for couples. With pristine sandy beaches just steps away, these hotels are perfect for a romantic getaway or honeymoon.
Villa Veli Nova (Zavala)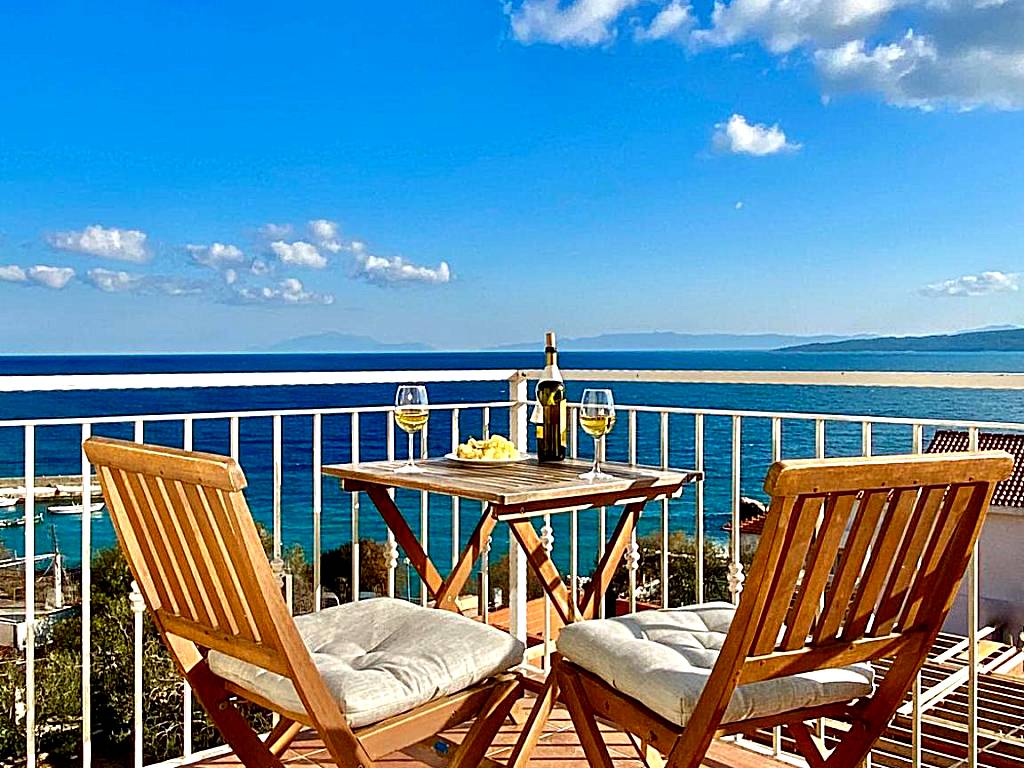 Villa Veli Nova in Zavala offers a delightful bed and breakfast experience for guests seeking a beachfront getaway on Hvar Island. With rooms featuring balconies and stunning sea views, this charming hotel is surrounded by prestigious vineyards. The on-site restaurant serves a range of delicious à la carte dishes, while a nudist beach is conveniently located just 100 meters away. The air-conditioned rooms are equipped with private bathrooms, showers, and complimentary toiletries. Guests can take advantage of the free WiFi, as well as the washing machine and ironing facilities. The common lounge area boasts an LCD satellite TV, and there is also a shared terrace where guests can relax. Villa Veli Nova is situated in Zavala, 8 km from Jelsa, making it an ideal location for exploring the southern part of the island. Free private parking is available on site, and shuttle service can be arranged upon request.
Pros:
– Stunning sea views from balcony
– Delicious à la carte dining at the on-site restaurant
– Conveniently located near a nudist beach
– Complimentary WiFi access
– Additional amenities such as washing machine and ironing facilities
Information about Beachfront Hotels in Hvar
| | |
| --- | --- |
| 🏢 Number of Beach Hotels in Hvar | 7 |
| 🥇 Average Review Score | 8.7/10 |
| 💰 High season average price | 754 |
| 💸 Low season average price | 188.5 |
FAQ
Which beachfront hotels are recommended in Hvar?
There are several highly recommended beachfront hotels in Hvar. One option is the Amfora Hvar Grand Beach Resort, which offers luxurious rooms with stunning views of the Adriatic Sea and direct access to a private beach. Another popular choice is the Adriana Hvar Spa Hotel, known for its elegant design and rooftop pool overlooking the sea. Additionally, the Riva Hvar Yacht Harbour Hotel boasts a prime location along the promenade and provides guests with a stylish stay right by the water.
What amenities can I expect at beachfront hotels in Hvar?
Beachfront hotels in Hvar typically offer a range of amenities to enhance your stay. These may include private beaches or lounging areas with sunbeds and umbrellas, waterfront restaurants serving fresh seafood cuisine, bars or cafes with seaside views, swimming pools or rooftop pools overlooking the sea, spa facilities for relaxation treatments, fitness centers for workouts with ocean vistas, and concierge services to assist you in arranging various activities such as boat trips or water sports.
Are there any all-inclusive options available at beachfront hotels in Hvar?
Yes, some beachfront hotels in Hvar offer all-inclusive packages for guests seeking convenience during their stay. For example, Hotel Pharos offers an all-inclusive package that includes accommodation, meals at their buffet restaurant, selected alcoholic and non-alcoholic beverages throughout the day at designated bars within the hotel complex as well as entertainment programs. It's always best to check directly with your chosen hotel if they have any all-inclusive options available and what exactly is included.
Can I find family-friendly beachfront hotels in Hvar?
Absolutely! There are family-friendly options among the beachfront hotels in Hvar that cater specifically to families traveling with children. One popular choice is Hotel Park Hvar which features family rooms suitable for larger groups as well as a children's playground and a kid's club with supervised activities. Additionally, some beachfront hotels offer amenities such as children's pools or direct access to family-friendly beaches where kids can safely enjoy the sun and sea.
What is the best time of year to visit Hvar for a beachfront hotel experience?
The best time to visit Hvar for a beachfront hotel experience is generally during the summer months between June and September. During this period, the weather is consistently warm and sunny, making it ideal for enjoying the beautiful beaches that Hvar has to offer. The peak season in July and August tends to be busier and more crowded, so if you prefer a quieter atmosphere, consider visiting in June or September when the weather is still pleasant but there are fewer tourists.
Popular Beachfront Hotels destinations