Welcome to a captivating oasis along the glistening shores of Hurghada, Egypt. Prepare to embark on an extraordinary journey as we delve into the world of seaside retreats in this idyllic coastal destination. Nestled amidst azure waters and breathtaking landscapes, Hurghada boasts an abundance of luxurious beachfront accommodations that are sure to leave you spellbound.
Picture yourself waking up to panoramic views of the Red Sea from your opulent room, where every detail has been meticulously crafted for your utmost comfort. Indulge in the epitome of lavishness as you stroll along pristine sandy beaches that stretch as far as the eye can see. Whether you seek a tranquil haven for relaxation or thrilling water sports adventures, this vibrant city offers it all – and more.
From lavish resorts with private beach access to intimate boutique hideaways overlooking turquoise waters, Hurghada's beachfront hotels offer an unparalleled level of sophistication and elegance. Prepare to be pampered by exceptional service and bespoke amenities, ensuring that every moment spent here is nothing short of perfection. So pack your sunglasses and let us guide you through the magnificent world of beachfront luxury in Hurghada!
The Best Hurghada Hotels By the Beach
Arabella Azur Resort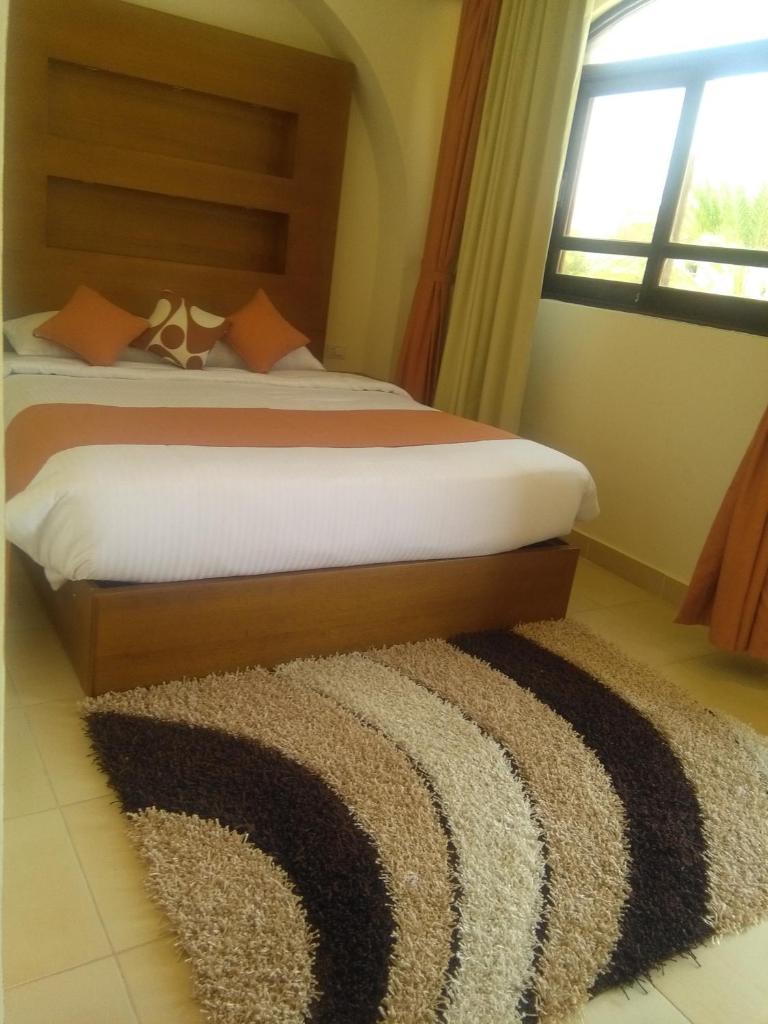 Arabella Azur Resort is a luxurious 4-star property that boasts a picturesque lagoon-style pool, a private beach area, and an indulgent spa center. The resort offers bright and spacious rooms with balconies overlooking either Hurghada or the Red Sea. Each room is equipped with modern amenities including a flat-screen TV with satellite channels and a minibar. The private bathrooms are well-appointed with shampoos, soaps, and hairdryers. Guests can pamper themselves with relaxing massage treatments at the spa or unwind in the sauna. The resort also offers exciting activities such as diving and snorkeling which can be arranged by the helpful staff at the 24-hour front desk. Families traveling with children will appreciate the playground on-site, while food enthusiasts can indulge in delicious buffet meals featuring international and Asian cuisines at The Grill Restaurant or enjoy dining on the terrace. Additionally, complimentary parking is available for guests' convenience. With its prime location just 8 km away from Hurghada International Airport, Arabella Azur Resort provides easy access for travelers.
– Stunning lagoon-style pool
– Private beach area
– Relaxing spa center offering massages
– Convenient diving and snorkeling arrangements
– Family-friendly playground
Hurghada Long Beach Resort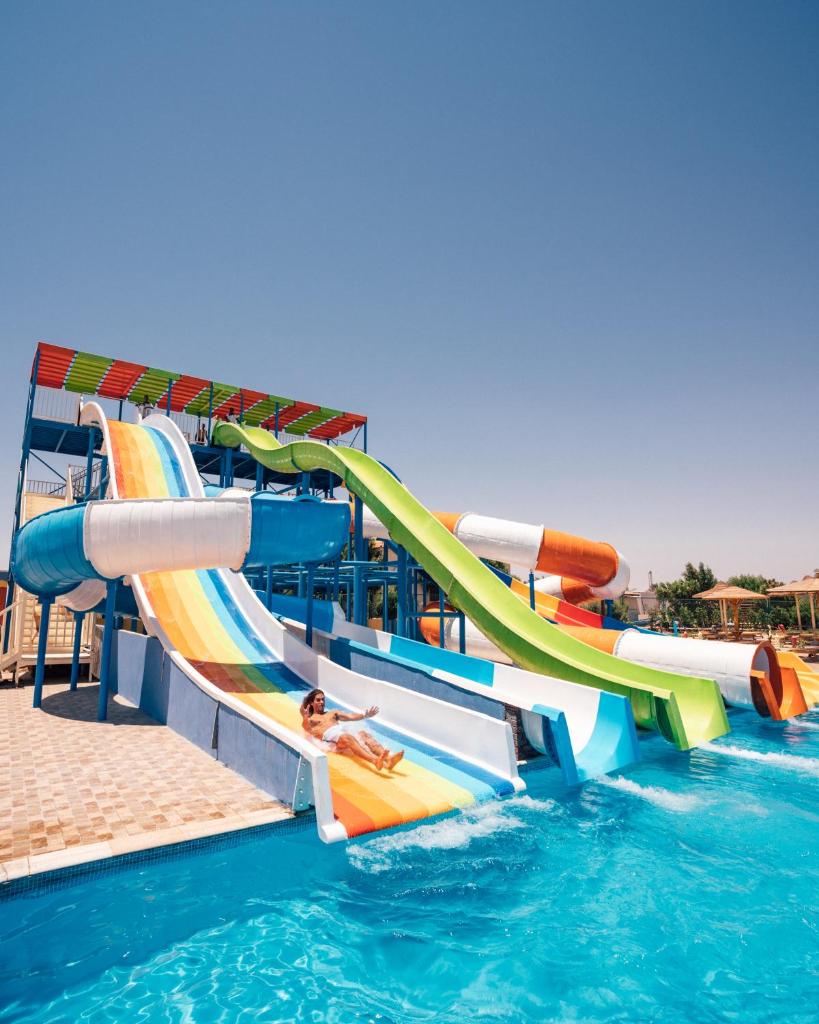 Hurghada Long Beach Resort is a beachfront oasis that offers the perfect retreat for those seeking relaxation and adventure. With its private beach overlooking the magnificent Red Sea, guests can enjoy breathtaking views and indulge in various water sports activities organized by the resort's staff. The resort boasts a lagoon-style pool and an Aqua Park with thrilling water slides exclusively for adults. For fitness enthusiasts, there is a well-equipped fitness center available. The bright and spacious rooms feature a private balcony with either pool or garden views, offering a tranquil setting to unwind. Families will appreciate the kids' club, entertainment center, and playground that cater to young ones' enjoyment. Guests can savor delectable meals at one of seven high-quality restaurants serving international cuisine, including Italian, Mediterranean, Nubian, and Asian dishes. For wonderful sea vistas paired with delicious food options such as Al Dente Restaurant or D'White serving as the main restaurant are ideal choices. Conveniently located less than 15 minutes' drive from Hurghada Airport, this resort ensures ease of access for travelers. Complimentary parking is also provided for guests.
– Private beach overlooking the Red Sea
– Lagoon-style pool and Aqua Park water slides (For Adults Only)
– Well-equipped fitness center
– Seven high-quality restaurants serving international cuisine
– Convenient location near Hurghada Airport
Bel Air Azur Resort (Adults Only)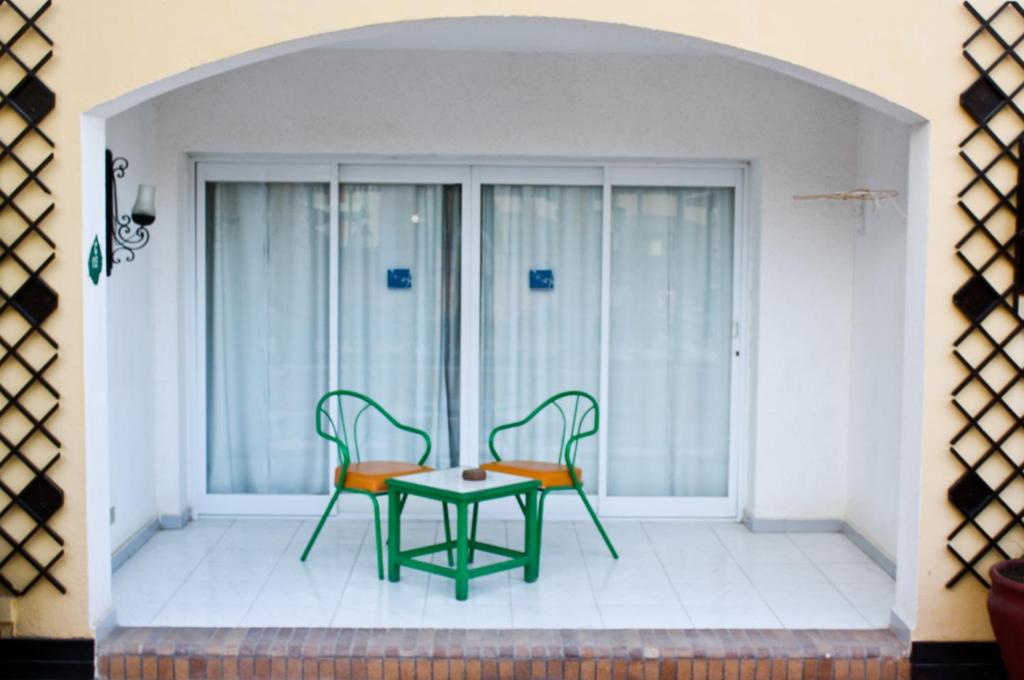 Bel Air Azur Resort (Adults Only) is a luxurious beachfront hotel located along the stunning Red Sea, just 3 km from the center of Hurghada. With its 800 m² of freshwater pools and well-appointed rooms featuring balconies and free minibars, this all-inclusive resort offers the perfect getaway for adults looking to relax and unwind. Guests can enjoy refreshing drinks and light snacks at one of the five bars, including a pool bar with a selection of delicious ice creams. The resort also offers fantastic dining options such as candlelit dinners with Oriental fusion cuisine at Bordiehns. For those seeking some activity, there is a gym, tennis courts, and squash courts available on-site. With its convenient location just 7 km from Hurghada International Airport, guests can easily access the resort and enjoy free private parking.
– Beautiful beachfront location
– Large outdoor pool area
– All-inclusive package with complimentary minibar
– Variety of dining options
– Close proximity to airport for easy travel convenience
Other places to stay in Hurghada
Hotels Near the Beach in Downtown Hurghada
Hotels near the beach in downtown Hurghada offer a prime location for enjoying the sun, sand, and sea. With stunning coastal views and easy access to waterfront activities, these accommodations provide a convenient base for travelers looking to make the most of their beach getaway in this Egyptian resort town.
Redcon Suites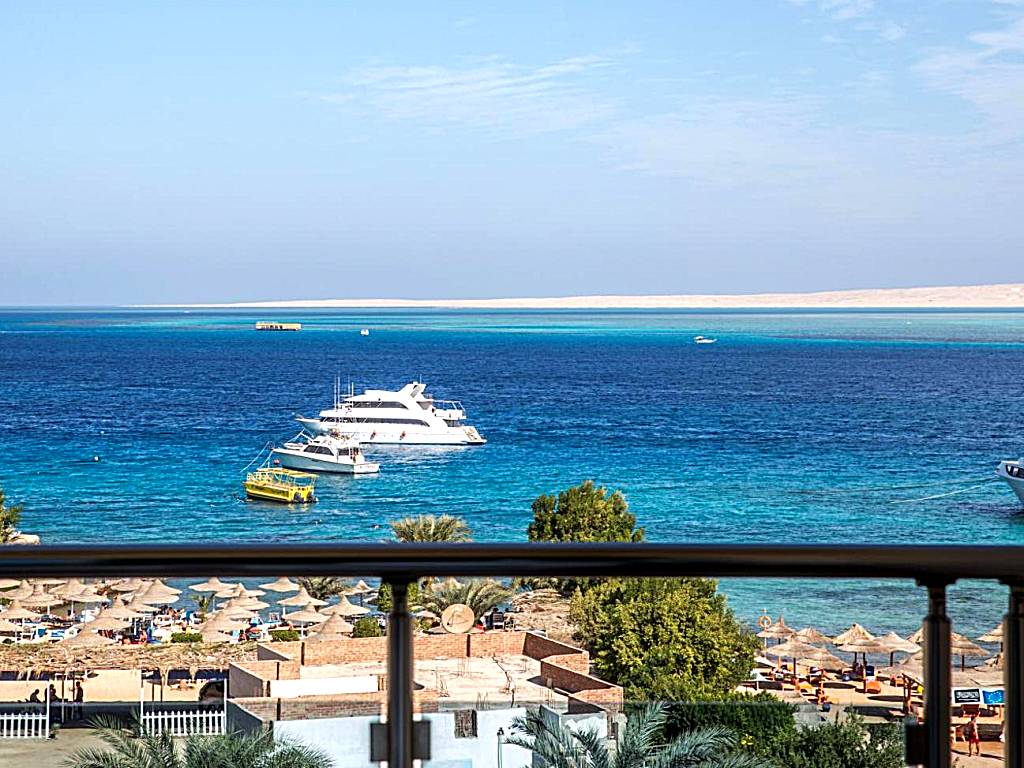 Redcon Suites is a luxurious apartment hotel located in Hurghada, just 100 meters from Orange Beach and 2.7 km from New Marina. This beachfront property offers guests accommodation with free WiFi, air conditioning, and access to a private beach area. The highlight of the hotel is its stunning sea view from the rooftop, which can be enjoyed from 8:00 am until midnight. Each unit at Redcon Suites features a comfortable seating area, a flat-screen TV with satellite channels, and a private bathroom equipped with free toiletries, a bidet, and a shower. Guests can also make use of the hotel's terrace and take advantage of the car rental service available on-site. Popular attractions such as Giftun Island (3.6 km) and Hurghada Grand Aquarium (12 km) are easily accessible from the hotel. For convenience, Hurghada International Airport is only 6 km away, with Redcon Suites offering paid airport shuttle services.
– Prime location near Orange Beach
– Free WiFi throughout the property
– Private beach area for guests' exclusive use
– Stunning sea views from the rooftop terrace
– Convenient car rental service available
Beach Albatros Resort – Hurghada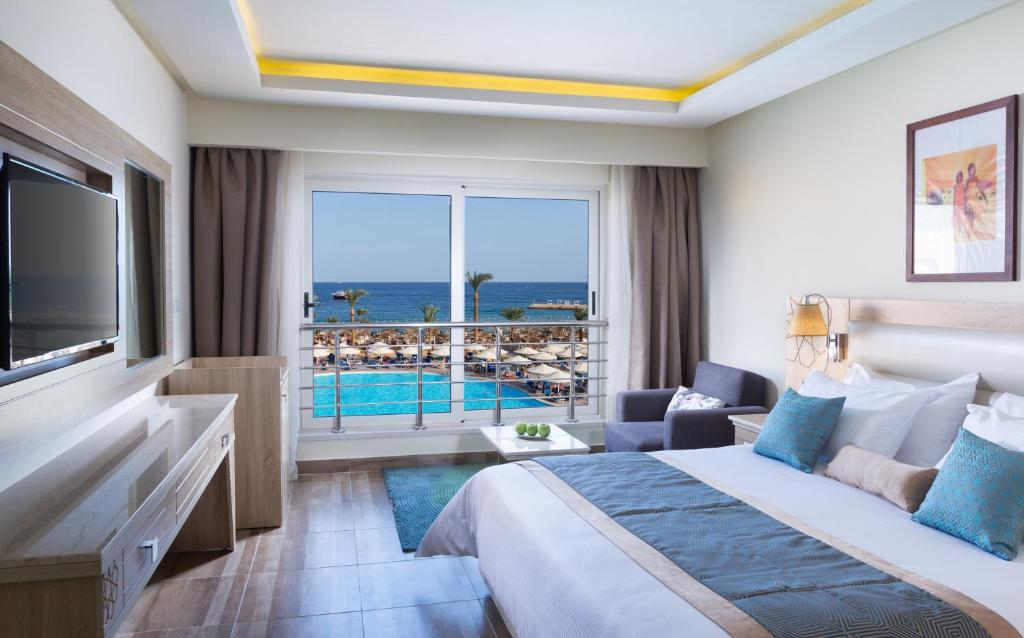 Located on the picturesque seafront of Hurghada, Beach Albatros Resort is a 4-star luxury resort that offers a perfect combination of relaxation and adventure. The resort features an Aqua Park with 11 outdoor swimming pools, including six heated pools, providing plenty of opportunities for water fun. The spacious rooms with balconies offer breathtaking views of either the Red Sea or the beautifully landscaped gardens. The resort boasts nine bars and a themed Moroccan restaurant, ensuring guests have a wide variety of dining and entertainment options. For those seeking ultimate relaxation, the spa provides rejuvenating treatments, while diving enthusiasts can explore the underwater wonders at the diving center. With its all-inclusive concept, kids aqua park, and Wi-Fi throughout the property, Beach Albatros Resort caters to every guest's needs.
– Outdoor pools including heated pools for adults and kids
– Variety of restaurants offering Oriental, Asian & Mediterranean cuisines
– Modern gym equipped with cardiovascular equipment
– Exciting activities such as snorkeling, kayaking,
volleyball court,
tennis court,
mini-golf course,
billiards,
darts
– Convenient location near Hurghada Airport and city center
Fort Arabesque Resort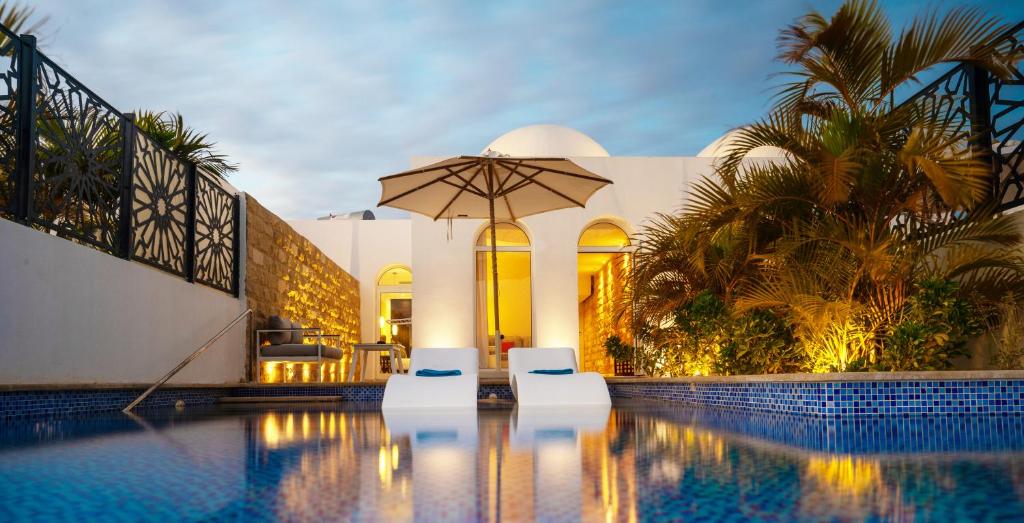 Fort Arabesque Resort, Spa & Villas is a beachfront hotel located in Hurghada, Egypt. This resort offers an outdoor pool and a long stretch of private beach, making it the perfect destination for water sports enthusiasts. With 5 swimming pools, including 3 heated pools and a children's pool, guests can relax and enjoy the beautiful surroundings. The air-conditioned accommodations at Fort Arabesque offer stunning views of the sea, pool or garden. Each room is tastefully decorated with warm colors and features amenities such as satellite TV, minibar and a private bathroom. For dining options, guests can choose from East & West Wing Main Restaurant or Beach Bar Restaurant, Club 159, Pavilion A La Carte. There are also several bars on-site where guests can unwind with refreshing drinks such as Red Rocks Bar, Le Jardin or Pool Bar. Additionally, a snack bar is available for quick bites throughout the day. The resort offers a variety of water sports activities in its private beach area including snorkeling, windsurfing and diving. Guests can also enjoy horse rides, pedal boats and canoes upon request. For those looking to relax further or stay active during their stay at Fort Arabesque Resort there is an option to access the spa or gym for an additional fee.The resort is conveniently located just 15 minutes away from Hurghada International Airport by car and provides airport pick-up and drop-off services upon request. Free valet parking is also available on-site.
– Outdoor pool
– Long stretch of private beach
– Multiple heated swimming pools
– Variety of dining options
– Water sports activities available
Romantic Beachfront Hotels in Hurghada
Hurghada, known for its pristine beaches and crystal-clear waters, is home to a collection of romantic beachfront hotels that offer couples an unforgettable retreat. With stunning ocean views, private balconies, and intimate dining options, these hotels provide the perfect backdrop for a romantic getaway.
Continental Hotel Hurghada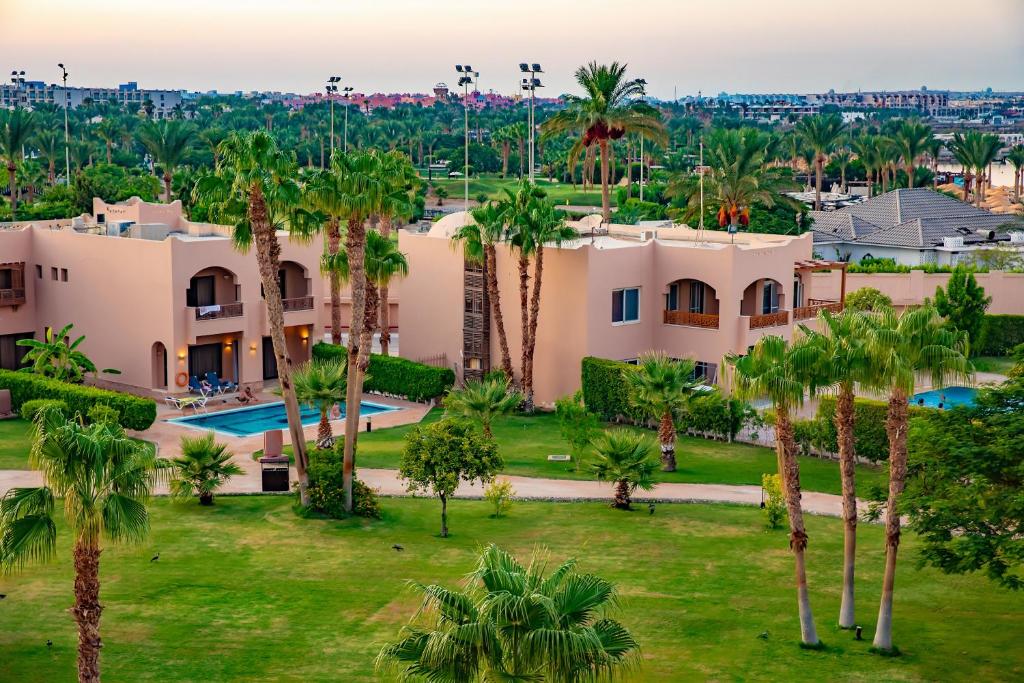 The Continental Hotel Hurghada is a luxurious beachfront resort located in Hurghada, on the west coast of the Red Sea. With its year-round sunny weather and pristine sandy beach, this resort offers a tranquil and relaxing atmosphere for its guests. The hotel features a private marina and is surrounded by beautiful gardens spanning 135,000 sqm. Guests can enjoy a wide range of amenities including an outdoor pool, daily entertainment, water sports activities, snorkeling, and a private diving center. The spacious and air-conditioned rooms offer all the necessary comforts such as hot and cold drinks, flat-screen TVs, and large windows to take in the breathtaking views. The hotel also boasts four dining options including Palm's Brasserie for breakfast, lunch, and dinner; Captain Bar for continental breakfasts and sweet treats; along with various other dining facilities. Conveniently located only minutes away from Hurghada International Airport and the lively Sakkala district; private car parking is available free of charge at the hotel.
Pros:
– Stunning beachfront location
– Pristine sandy beach with private marina
– Wide range of amenities including outdoor pool and water sports activities
– Beautiful gardens spanning 135,000 sqm
– Conveniently located near airport and lively district
Steigenberger Resort Ras Soma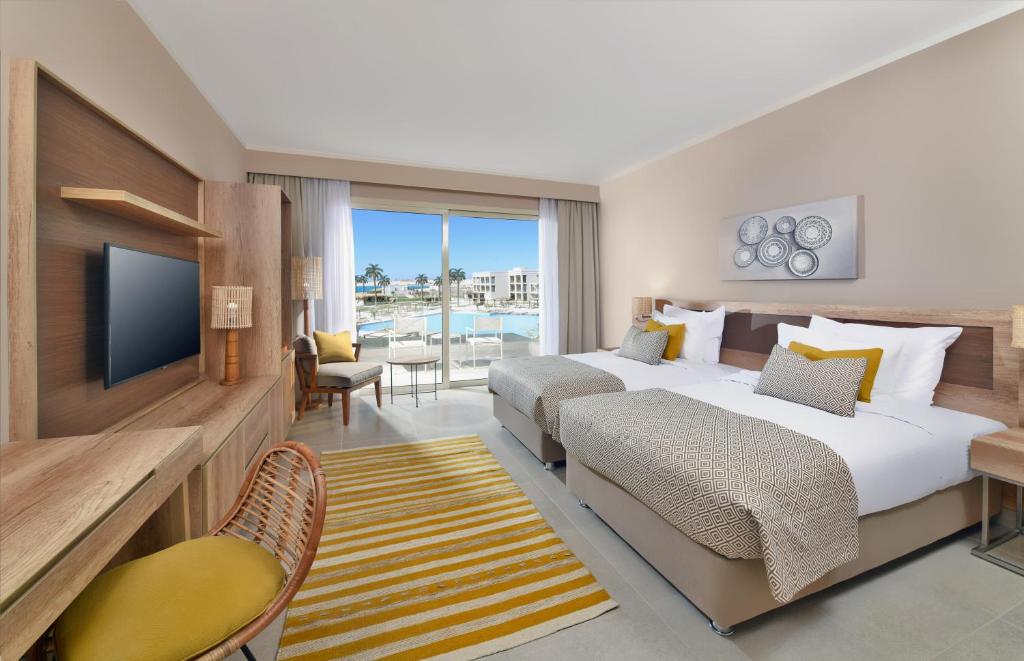 The Steigenberger Resort Ras Soma is a newly opened luxurious beachfront resort that boasts an outdoor pool and stunning views of the Red Sea. The resort offers a range of accommodation options, including Deluxe Family Rooms, Superior Rooms, Executive Suites with private pools, Royal Suites with private pools, and Private Villas with swimming pools. Guests can enjoy a generous all-inclusive experience or opt for half board accommodation. The resort features two Olympic-size pools and offers a wide range of leisure activities such as beach and pool activities, tennis courts, multi-sports courts, beach volleyball, Boccia, and mini-football. The beautifully designed villas offer bespoke features like Jacuzzi tubs, indoor and outdoor showers, spacious living areas with dining areas and kitchenettes, as well as large deck areas. Each room is equipped with modern amenities such as 55-inch flat-screen TVs, safe boxes, minibars, and exclusive bath amenities. For families traveling with children,
Pros:
– Wide variety of leisure activities for guests of all ages
– Luxurious accommodations available including private villas
– Multiple restaurants offering different cuisines
– State-of-the-art fitness center with personal trainers
– On-site spa offering Thai treatments and beauty salon services
Information about Beachfront Hotels in Hurghada
| | |
| --- | --- |
| 🏢 Number of Beach Hotels in Hurghada | 8 |
| 🥇 Average Review Score | 8.7/10 |
| 💰 High season average price | 526 |
| 💸 Low season average price | 131.5 |
FAQ
Is Hurghada in Egypt known for its beachfront hotels?
Yes, Hurghada is famous for its stunning beachfront hotels. With its prime location on the Red Sea coast, this city offers visitors a plethora of luxurious accommodations right on the waterfront. Whether you're looking for a romantic getaway or a family-friendly resort, Hurghada has it all.
What are some popular beachfront hotels in Hurghada?
There are several popular beachfront hotels in Hurghada that cater to different budgets and preferences. Some top choices include Steigenberger Al Dau Beach Hotel, Jaz Aquamarine Resort, and Premier Le Reve Hotel & Spa. These hotels offer not only direct access to pristine beaches but also world-class amenities such as swimming pools, spa services, and multiple dining options.
Do beachfront hotels in Hurghada provide private beach access?
Yes, most beachfront hotels in Hurghada provide their guests with private access to the beaches. This means that you can enjoy the sandy shores and crystal-clear waters without worrying about overcrowding or lack of space. Private beach access ensures a more exclusive and relaxing experience during your stay.
What activities can I expect at beachfront hotels in Hurghada?
Beachfront hotels in Hurghada offer an array of activities to keep guests entertained throughout their stay. Apart from sunbathing and swimming, you can try snorkeling or scuba diving to explore the vibrant underwater world of the Red Sea. Additionally, these hotels often have water sports facilities where you can indulge in thrilling activities like jet skiing or parasailing.
Are there any all-inclusive options available at beachfront hotels in Hurghada?
Yes, many of the beachfront hotels in Hurghada offer all-inclusive packages that cover accommodation, meals, drinks (including alcoholic beverages), and sometimes even recreational activities. This allows guests to enjoy a hassle-free vacation where they can indulge in delicious cuisine, refreshing drinks, and various entertainment options without worrying about additional expenses.
Popular Beach Hotels destinations