Welcome fellow wanderers to our guide on oceanfront accommodations in the tropical paradise of Hawaii, located in the United States. Prepare to be captivated by the allure of pristine shorelines and invigorating waves as we dive into a selection of lavish beachside hotels. Embrace the serenity that comes with waking up to breathtaking views of turquoise waters and swaying palm trees. Get ready for an unforgettable journey through the exquisite resorts that offer unparalleled luxury, exceptional service, and direct access to some of the world's most sought-after beaches. So grab your sun hat and let us embark on this immersive exploration of Hawaii's finest beachfront retreats.
Indulge in the epitome of opulence as these sumptuous seaside abodes redefine sophistication. Embark on a sensory adventure where every moment feels like a dream come true against a backdrop of golden sands and azure horizons. These coastal gems boast elegant decor, world-class amenities, and personalized experiences that cater to your every desire. Whether you seek quiet seclusion or vibrant social scenes by the water's edge, these oceanfront havens ensure your stay is nothing short of extraordinary. From rejuvenating spa treatments overlooking crystal-clear tides to delectable culinary delights infused with local flavors, prepare yourself for a symphony of indulgence at these unmatched Hawaiian beachfront sanctuaries.
The Best Hawaii Hotels By the Beach
The Royal Sonesta Kaua'i Resort Lihue (Lihue)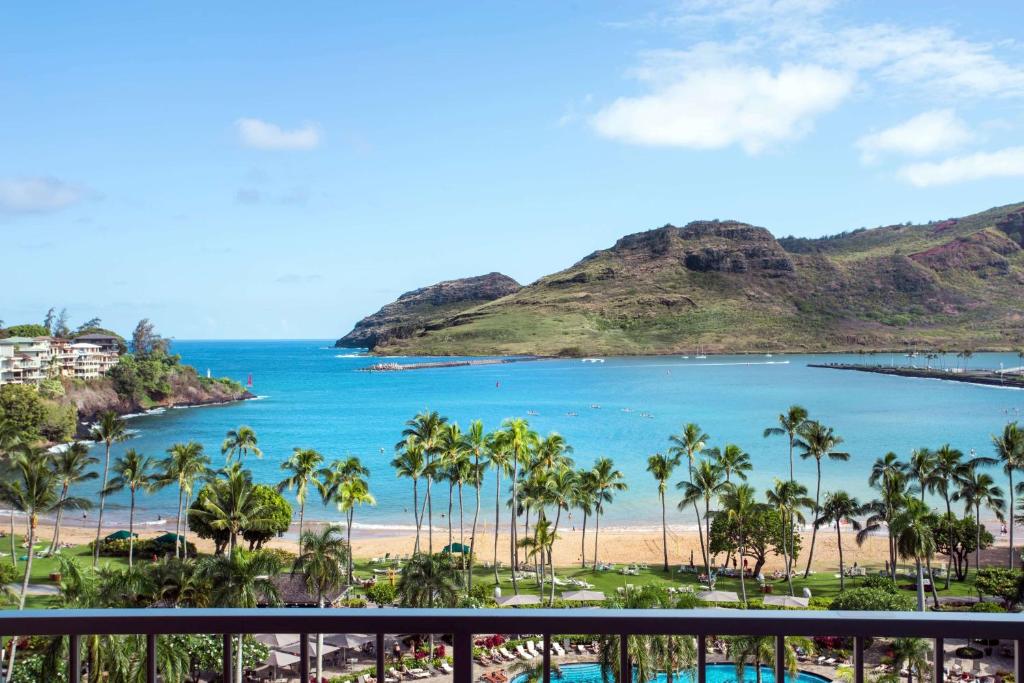 The Royal Sonesta Kaua'i Resort Lihue is a beachfront hotel located next to Kalapaki Bay and the 18-hole Kauai Lagoons Golf Club. This luxurious resort offers an outdoor swimming pool, four excellent restaurants, and a full-service spa. The guest rooms are well-appointed with amenities such as cable TV, a coffee machine, and a refrigerator. Guests can enjoy beautiful views of the ocean or the hotel's gardens from their rooms, and some even come with balconies. The hotel also features a hot tub, fitness center, and a fully-equipped business center. With its international cuisine served at Kukui's on Kalapaki Beach for breakfast, lunch, and dinner along with live music on Friday and Saturday nights, guests can experience true Hawaiian hospitality. Additionally Duke's restaurant offers fresh seafood options with stunning ocean views.
– Outdoor swimming pool
– Four excellent restaurants
– Full-service spa
– Beautiful views of the ocean or gardens from guest rooms
– Convenient location near Kalapaki Bay and golf club
The Royal Hawaiian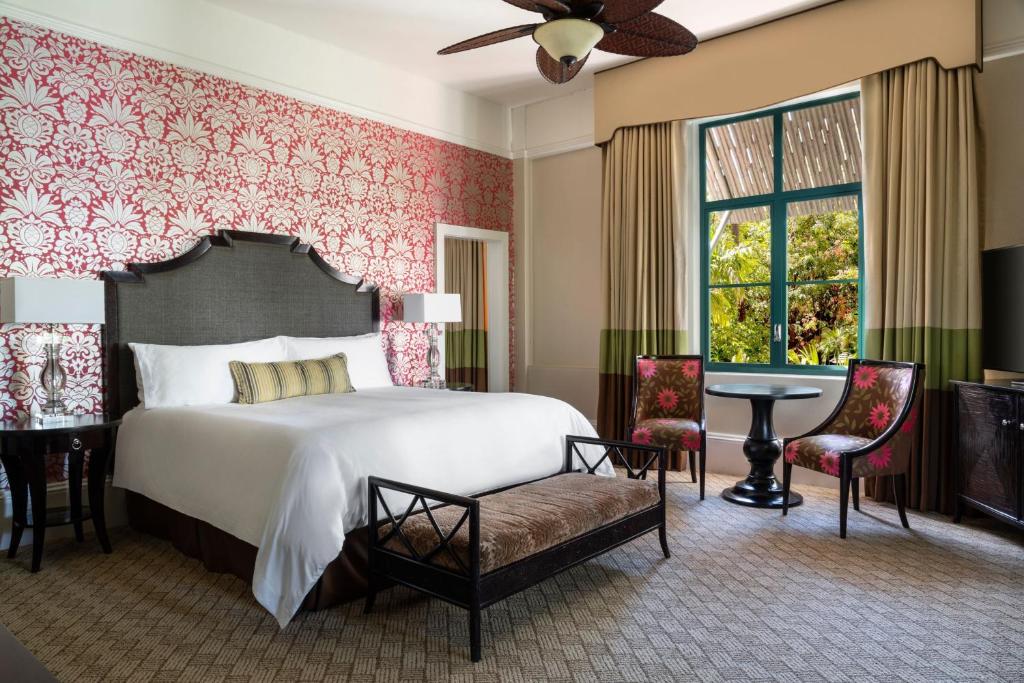 The Royal Hawaiian, a Luxury Collection Resort, is located in the heart of Waikiki, Honolulu. This beachfront hotel offers a range of amenities including a fitness center, full-service spa, on-property bakery, exclusive area on the beach, beach activities, two outdoor pool options, and cultural activities. The rooms are decorated in tropical colors and themes with airy windows and offer views of the garden or ocean. Guests can enjoy swimming in one of the two outdoor pools or relax on the beach. The resort also features a hot tub and water sports rentals. Daily cultural activities are available to guests as well. There are multiple dining options including the Mai Tai Bar serving tropical cocktails and nightly entertainment with views of Diamond Head, Surf Lanai specializing in mainland classic dishes with tropical accents for breakfast and lunch, and Azure Restaurant offering the freshest local seafood caught daily. Kids under 5 years old can eat for free off the kids menu with one paying adult. The Royal Hawaiian is conveniently located close to popular attractions such as the Honolulu Zoo and International Market Place.
– Fitness center
– Full-service spa
– Two outdoor pools
– On-property bakery
– Cultural activities
Marriott's Maui Ocean Club – Molokai (Lahaina)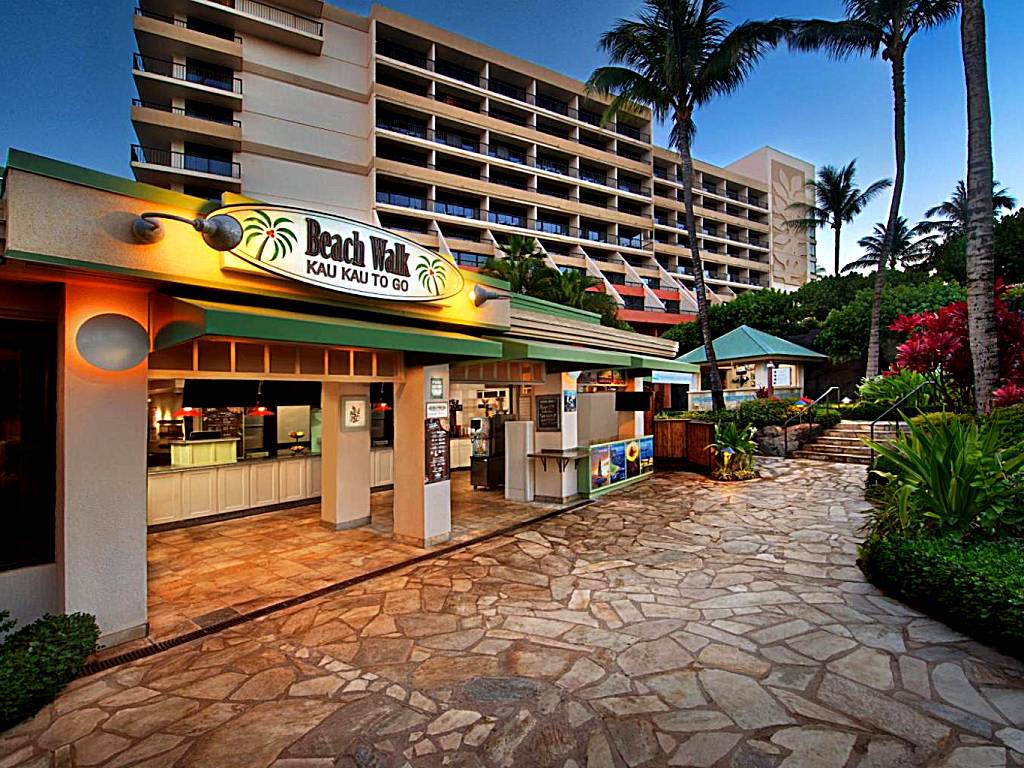 Located on the beach, Marriott's Maui Ocean Club – Molokai, Maui & Lanai Towers is a luxurious hotel that offers stunning views of Ka'anapali Beach. The hotel features a 3.5-acre pool, full-service spa, and spacious suites with private balconies or lanais. Guests can enjoy amenities such as three heated swimming pools, poolside delis offering delicious food options, and an on-site Starbucks. The hotel also offers various wellness activities including yoga and water aerobics classes. With its convenient location near Whalers Village and Lahaina Cannery Mall, guests have easy access to shopping and entertainment options.
– Stunning beachfront location
– Spacious suites with private balconies or lanais
– Three heated swimming pools
– On-site Starbucks
– Convenient proximity to shopping and entertainment options
Other places to stay in Hawaii
Hotels Near the Beach in Downtown Hawaii
Hotels near the beach in downtown Hawaii offer unparalleled access to pristine sandy shores and breathtaking ocean views. These accommodations provide a perfect blend of convenience and relaxation for travelers looking to soak up the sun and experience the vibrant beach culture of this tropical paradise.
Lotus Honolulu at Diamond Head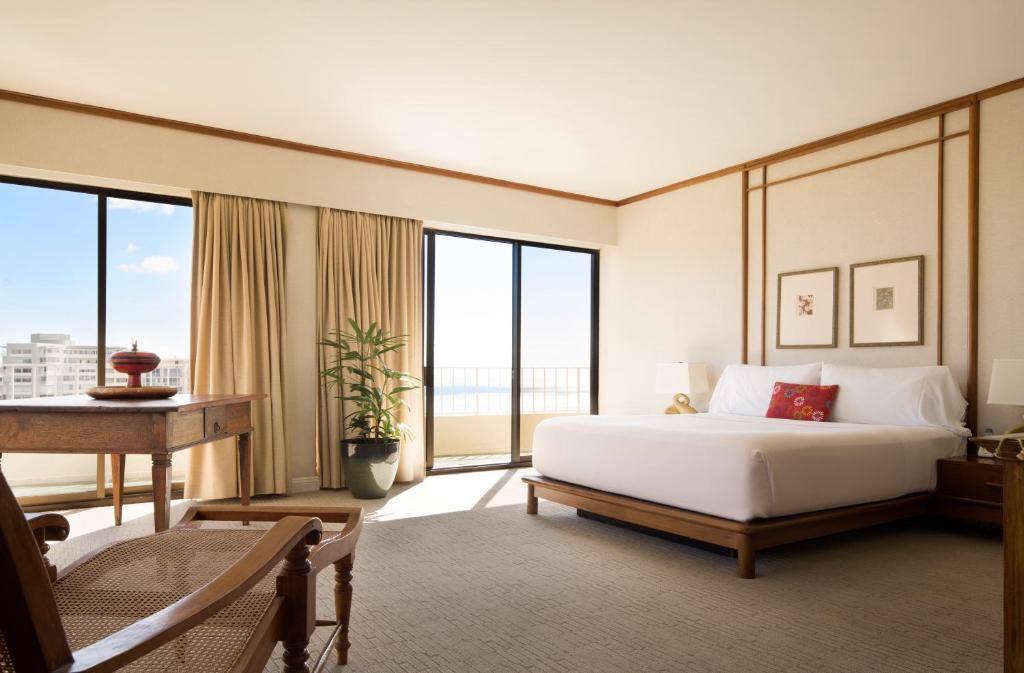 Experience a different side of Waikiki at the luxurious Lotus Honolulu, nestled beneath Diamond Head. This beachfront hotel offers walking paths to two nearby beaches and stunning views of Diamond Head. Each guestroom is equipped with a 42-inch LCD TV with cable and an iPod dock, as well as a balcony or patio. Guests can also enjoy the convenience of a refrigerator and premium illy Espresso machine in every room. Located directly across from Queen Kapiolani Park, the hotel is just steps away from the Honolulu Zoo and the Waikiki Aquarium. With easy access to popular golf courses, unique shops, and water activities, Lotus Honolulu is the perfect destination for an unforgettable beachfront getaway.
– Beautiful views of Diamond Head
– Walking distance to two nearby beaches
– Convenient amenities like a refrigerator and espresso machine in each room
– Close proximity to Queen Kapiolani Park, the Honolulu Zoo, and the Waikiki Aquarium
– Easy access to popular golf courses, unique shops, and water activities
Hilton Grand Vacation Club The Grand Islander Waikiki Honolulu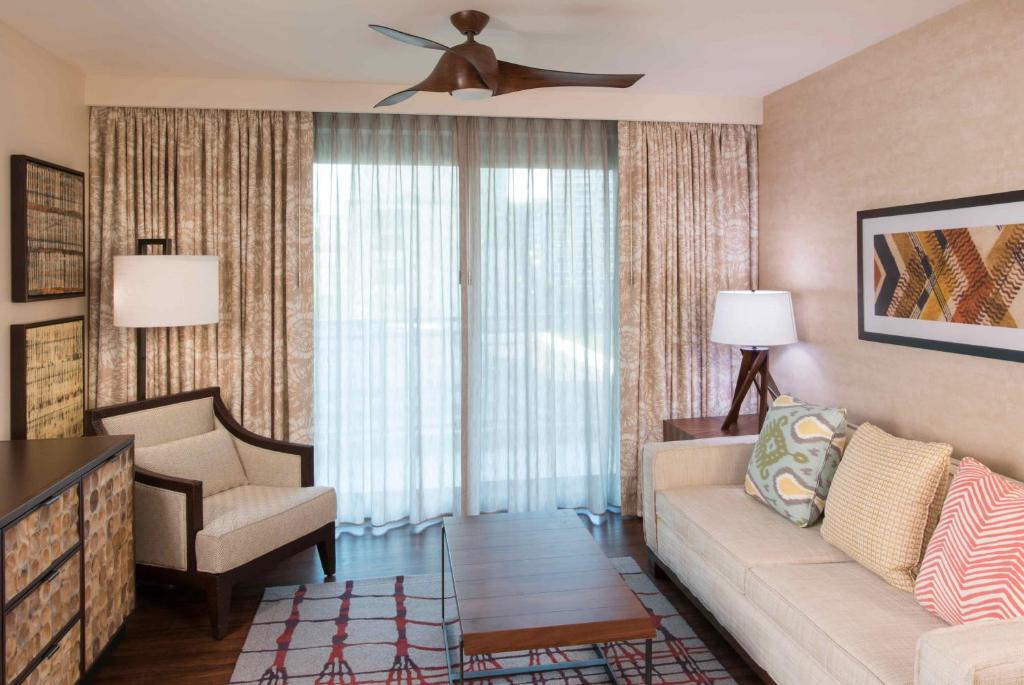 Located on 22 acres of beachfront in Waikiki, the Hilton Grand Vacation Club The Grand Islander offers guests access to all the amenities of the Hilton Hawaiian Village Waikiki Beach Resort. With six pools, Waikiki's longest water slide, a luau and fireworks show, kids club, water sports and recreation options, spa facilities, and a fitness center, there is something for everyone here. The suites are housed in a 37-story tower and feature balconies, fully-equipped kitchens, dining areas, seating areas with TVs and DVD players, as well as washing machines and tumble dryers. Guests can also enjoy convenient access to shops and restaurants within the resort complex. Nearby attractions include Ala Moana Beach Park, Diamond Head Crater, Fort DeRussy Park, Pearl Harbor Museum, the Waikiki Aquarium,and the Honolulu Zoo. Honolulu Airport is just a short drive away.
– Access to all amenities at Hilton Hawaiian Village
– Six pools and exciting water slide
– Convenient location near various attractions
– Fully-equipped suites with kitchenettes and balconies
– Wide variety of shops and restaurants available
Park Shore Waikiki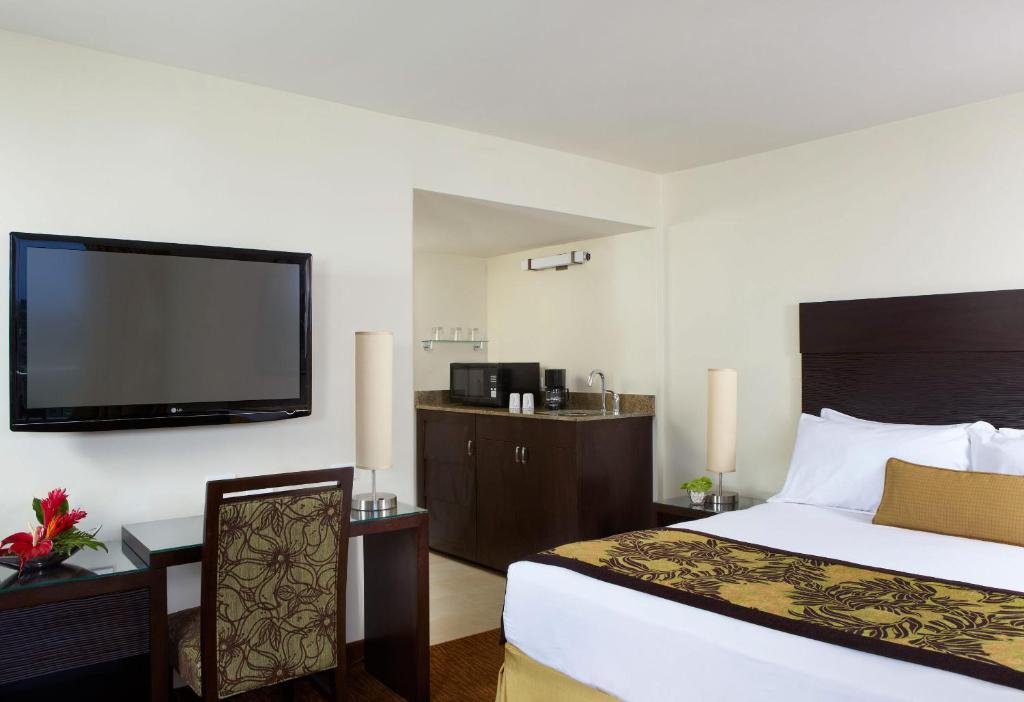 Located across from Waikiki Beach with breathtaking views of Diamond Head and the Pacific Ocean, the Park Shore Waikiki is a 100% non-smoking hotel that offers a rooftop swimming pool and sun terrace overlooking the ocean. Each air-conditioned room features a 42-inch flat-screen TV, compact refrigerator, and coffee machine for convenience. Guests can indulge in authentic Japanese breakfasts and fresh Japanese cuisine at Yoshitsune or enjoy Island and Asian-American dishes all day at LuLu's Waikiki, which also offers late-night entertainment and dancing. The hotel also has a quick-service restaurant offering casual fare and organic picnic fixings. With an activities desk to plan excursions, fitness classes, yoga classes, massage services (additional fee), jogging paths, tennis courts in Kapiolani Park adjacent to the hotel, and the Honolulu Zoo just across the street – there is no shortage of things to see and do during your stay.
– Stunning views of Diamond Head and the Pacific Ocean
– Rooftop swimming pool with ocean views
– Authentic Japanese cuisine at Yoshitsune
– Island and Asian-American dishes all day at LuLu's Waikiki
– Convenient location near Kapiolani Park and Honolulu Zoo
Romantic Beachfront Hotels in Hawaii
Romantic Beachfront Hotels in Hawaii offer breathtaking ocean views, private balconies, and exquisite dining experiences. With their luxurious accommodations and proximity to pristine beaches, these hotels provide the perfect setting for a romantic getaway in paradise.
Hale Napili (Lahaina)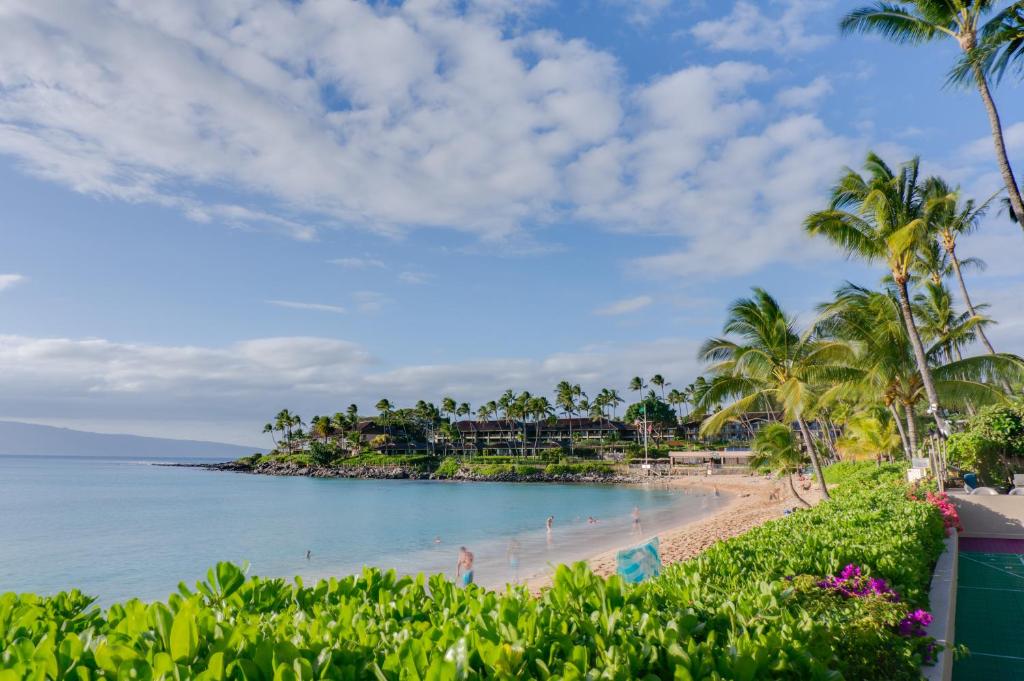 Hale Napili in Lahaina is an apartment hotel located just 3 miles from Kapalua-West Maui Airport. Guests can enjoy breathtaking ocean views from their spacious suites and studios, which are equipped with fully equipped kitchens and offer free Wi-Fi. The property features a shuffleboard court for outdoor entertainment, as well as a private furnished patio for guests to relax on. Additionally, Hale Napili offers an oceanfront picnic area with loungers and umbrellas, perfect for soaking in the tranquil surroundings. BBQ facilities and Tiki torches are also provided for guests to enhance their beachfront experience. Nearby attractions include Maui Ocean Center, located 24 miles away, and Kapalua Spa, which is only a 13-minute walk from the hotel.
– Stunning ocean views
– Fully equipped kitchens in every unit
– Free Wi-Fi
– Outdoor shuffleboard court
– Oceanfront picnic area
Kona Coast Resort (Kailua-Kona)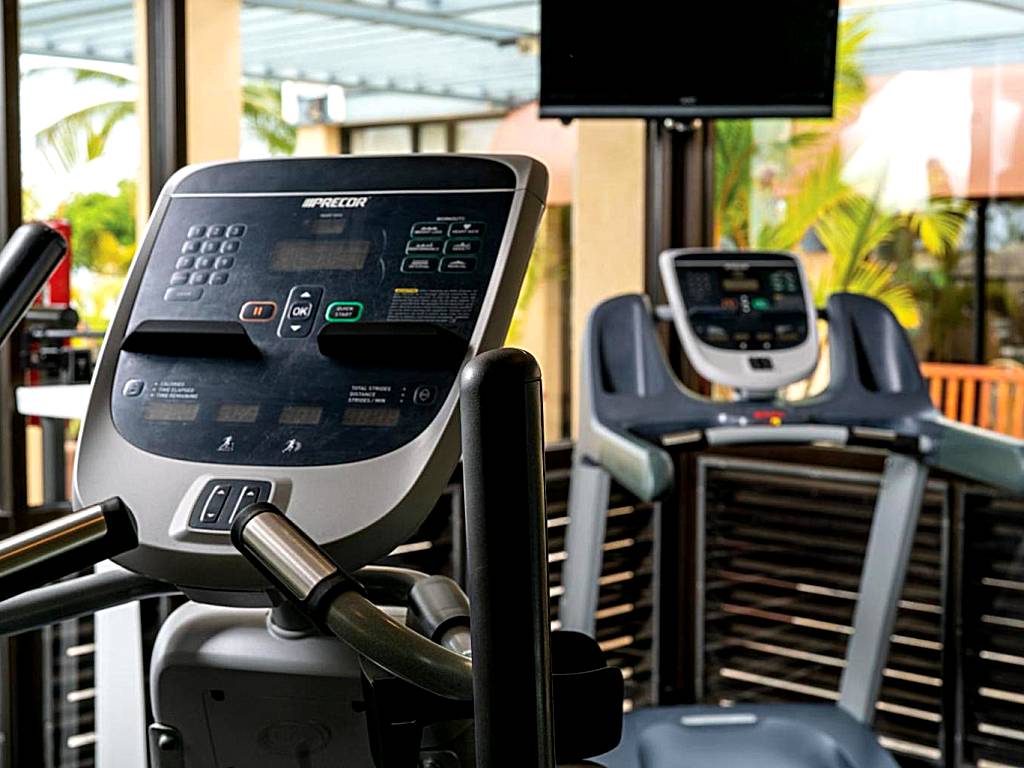 Located on the stunning Kona Coast in Hawaii, Kona Coast Resort is a tropical garden retreat that offers guests a truly luxurious beachfront experience. Situated less than one mile from Kahaluu Beach, this resort boasts an array of amenities to ensure a memorable stay. From its fully-equipped kitchen villas to its onsite restaurant and tennis court, guests can enjoy all the comforts of home with added indulgence. The fitness center allows for invigorating workouts, while the outdoor pools, hot tubs, and sauna provide ample opportunities for relaxation. Each villa is spacious and air-conditioned, featuring a dining room and living room with cable TV and a cozy sofa bed. Other highlights include private patios complete with washer/dryers, as well as access to volleyball and tennis courts. Sunset Terrace Kona Coast serves up delectable American and Hawaiian cuisine, while children can have fun at the playground. For golf enthusiasts, the adjacent 18-hole Kona Country Club is not to be missed. With its prime location just 13.7 miles from Kona International Airport, Kona Coast Resort delivers an unforgettable coastal getaway.
– Spectacular beachfront location on the beautiful Kona Coast
– Luxurious villas equipped with fully-equipped kitchens and private patios
– Access to two outdoor pools, three hot tubs, sauna
– Onsite fitness center for guests seeking exhilarating workouts
– Adjacent 18-hole golf course at Kona Country Club
Mauna Kea Beach Hotel (Hapuna Beach)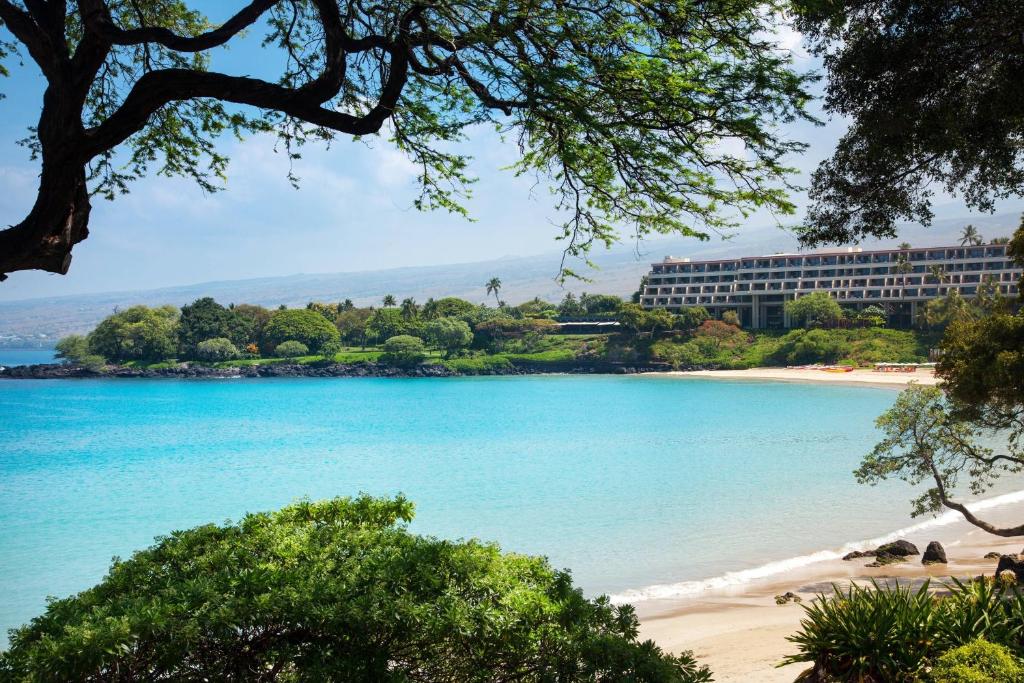 The Mauna Kea Beach Hotel, Autograph Collection offers a beachfront location and a top-rated golf course. Guests are greeted with fresh flower lei upon arrival and have access to an array of water activities, on-site bars and restaurants, and private beach services. The guest rooms feature private lanais with ocean or golf course views and include amenities such as nightly turn-down service, entertainment center with flat-screen TV, refrigerator, coffee machine, and luxurious bathrooms with free toiletries, bathrobes, and slippers. Guests can enjoy supervised children's activities, Hawaiian culture experiences, yoga classes, spa services, and indulge in the beautiful coffee-table book about Mr. Rockefeller's art collection. The on-site restaurant offers a daily breakfast buffet made with locally sourced food while the Copper Bar hosts cocktail hours and lunch. Access to restaurants at the sister property is also available along with complimentary dining shuttle service in the evening. Additional facilities include 11 tennis courts and an on-site tour desk for arranging area tours and excursions.
Information about Beachfront Hotels in Hawaii
| | |
| --- | --- |
| 🏢 Number of Beach Hotels in Hawaii | 9 |
| 🥇 Average Review Score | 8.8/10 |
| 💰 High season average price | 1122 |
| 💸 Low season average price | 280.5 |
FAQ
Is Hawaii a popular destination for beachfront hotels?
Yes, Hawaii is renowned for its stunning beaches and is a highly sought-after destination for beachfront hotels. With its crystal-clear waters, golden sands, and breathtaking sunsets, it offers a paradise-like setting for travelers looking to relax and unwind by the ocean.
What amenities can I expect at a beachfront hotel in Hawaii?
Beachfront hotels in Hawaii typically offer an array of luxurious amenities to enhance your stay. These may include private balconies or terraces with panoramic ocean views, direct access to the beach, infinity pools overlooking the sea, spa facilities offering rejuvenating treatments inspired by Hawaiian traditions, world-class dining options showcasing local cuisine, water sports activities like snorkeling or surfing lessons, and attentive concierge services catering to your every need.
Are there any family-friendly beachfront hotels in Hawaii?
Absolutely! Many beachfront hotels in Hawaii are family-friendly and cater specifically to children and parents alike. These resorts often feature spacious accommodations suitable for families with kids along with dedicated kids' clubs offering supervised activities such as sandcastle building competitions or hula dancing lessons. Additionally, some properties provide family-friendly pools with shallow areas for little ones to enjoy safely.
Which islands in Hawaii have the best selection of beachfront hotels?
All of the major islands in Hawaii boast exceptional selections of beachfront hotels. The island of Maui is particularly famous for its luxurious resorts along the Wailea coastline while Oahu's Waikiki Beach area offers a vibrant atmosphere with numerous high-end accommodations. If you're seeking more secluded options surrounded by lush nature reserves and pristine beaches, Kauai or the Big Island (Hawaii) would be ideal choices.
What is the best time to visit Hawaii for a stay at a beachfront hotel?
Hawaii enjoys warm temperatures year-round which makes it an excellent destination anytime you crave sunny days on beautiful beaches. However, the best time to visit in terms of weather and hotel rates is typically during the shoulder seasons of spring (April-May) and fall (September-October). During these periods, you can often take advantage of fewer crowds, pleasant temperatures, and more competitive prices at beachfront hotels.
Popular Hotels near Beach destinations