Welcome to the enchanting realm of beachfront accommodations in the mesmerizing Florida Keys, nestled within the sun-kissed expanse of the United States. Prepare to embark on a remarkable journey as we uncover the hidden gems scattered along these picturesque shores. Immerse yourself in ultimate relaxation as you discover a plethora of luxurious seaside havens awaiting your arrival. With its idyllic atmosphere and unparalleled natural beauty, this tropical paradise is an ideal destination for those seeking a slice of tranquil perfection.
Indulge your senses in refined opulence as you bask in the warm embrace of ocean breezes whispering through palm trees at these exclusive coastal retreats. From charming boutique hotels that exude intimate elegance to lavish resorts boasting world-class amenities, there is an accommodation option perfectly suited to satisfy even the most discerning traveler's desires. Dive into crystal-clear turquoise waters straight from your doorstep or unwind on pristine sandy beaches with panoramic views stretching endlessly towards the horizon. With each hotel offering its own distinctive charm and allure, prepare to be captivated by an array of unforgettable experiences that exemplify true island hospitality.
Whether you crave thrilling water sports adventures or yearn for peaceful serenity under swaying hammocks, Florida Keys' beachfront hotels provide an idyllic setting where dreams seamlessly blend with reality. Join us as we delve into a coastal world filled with endless sunshine and shimmering blue waves – where luxury meets nature's majesty, leaving indelible memories etched upon your soul.
The Best Florida Keys Hotels By the Beach
Coconut Palm Inn (Key Largo)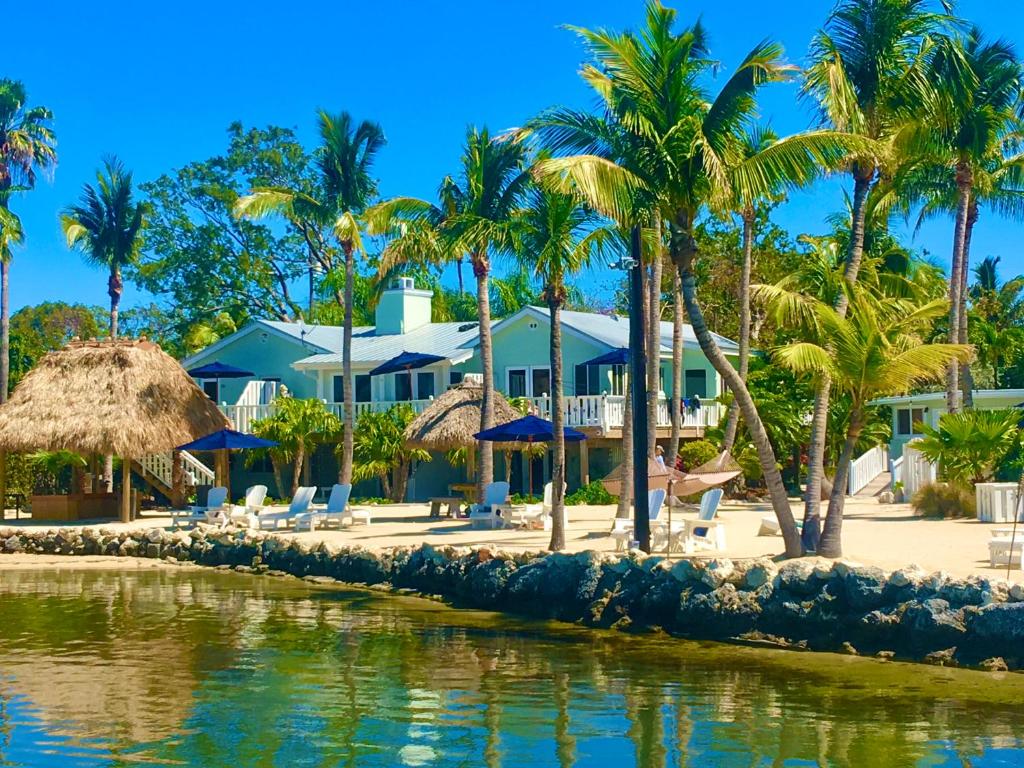 The Coconut Palm Inn is a charming and intimate hotel located on the beachfront in Key Largo. Nestled within a picturesque coconut grove overlooking the Florida Bay, this small inn offers a tranquil retreat for guests seeking a relaxing getaway. The property features an outdoor pool where guests can take a refreshing dip or soak up the sun on the loungers. For those looking for water activities, private boat docks are available for easy access to sport fishing, diving, and snorkeling. The inn also offers wireless internet access throughout, allowing guests to stay connected during their stay. Each guestroom at the Coconut Palm Inn is equipped with modern amenities including air-conditioning, microwaves, and mini-refrigerators for added convenience. In-room entertainment options include cable TV and coffee can be brewed using the in-room coffeemaker. Complimentary bagels, danish pastries, juice, and coffee are served each morning during select hours. Overall, this picturesque beachfront inn provides a peaceful escape with its beautiful surroundings and convenient amenities.
Pros:
– Stunning beachfront location
– Private boat docks for water activities
– Outdoor pool for relaxation
– Modern guestrooms with convenient amenities
– Complimentary breakfast treats in the morning
Hyatt Centric Key West Resort & Spa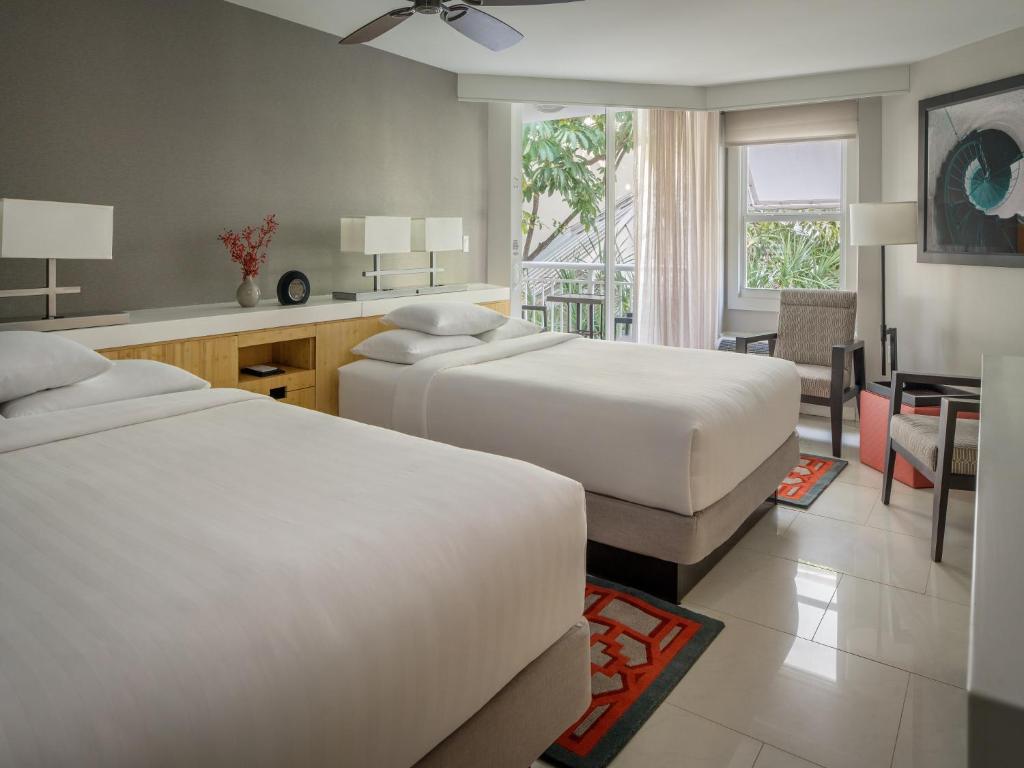 The Hyatt Centric Key West Resort & Spa is a waterfront resort located on Key West Island. Guests can enjoy the convenience of being just a 3-minute walk from the bustling nightlife and delicious restaurants of Duval Street. The resort offers an outdoor pool and hot tub, perfect for relaxing and rejuvenating after a day of exploring. For those looking for adventure, scuba diving, jet boats, and snorkeling are all available either on-site or nearby. The Shor American Seafood Grill serves up delicious coastal fare, while the Blue Mojito Pool Bar and Grill offers refreshing cocktails and light bites. Each cozy room at the resort comes with a private balcony and free WiFi, as well as amenities such as a flat-screen cable TV and small refrigerator. The on-site Jala Spa provides various services including body wraps, facials, deep tissue massages, nail care, and renewal rituals. Guests can also stay active at the on-site fitness center or take part in a Jet Ski island tour to explore the surrounding area.
– Waterfront location with easy access to Duval Street
– Outdoor pool and hot tub for relaxation
– On-site spa offering various treatments
– Multiple dining options serving delicious cuisine
– Exciting water activities available nearby
Islander Bayside Villas & Boatslips (Islamorada)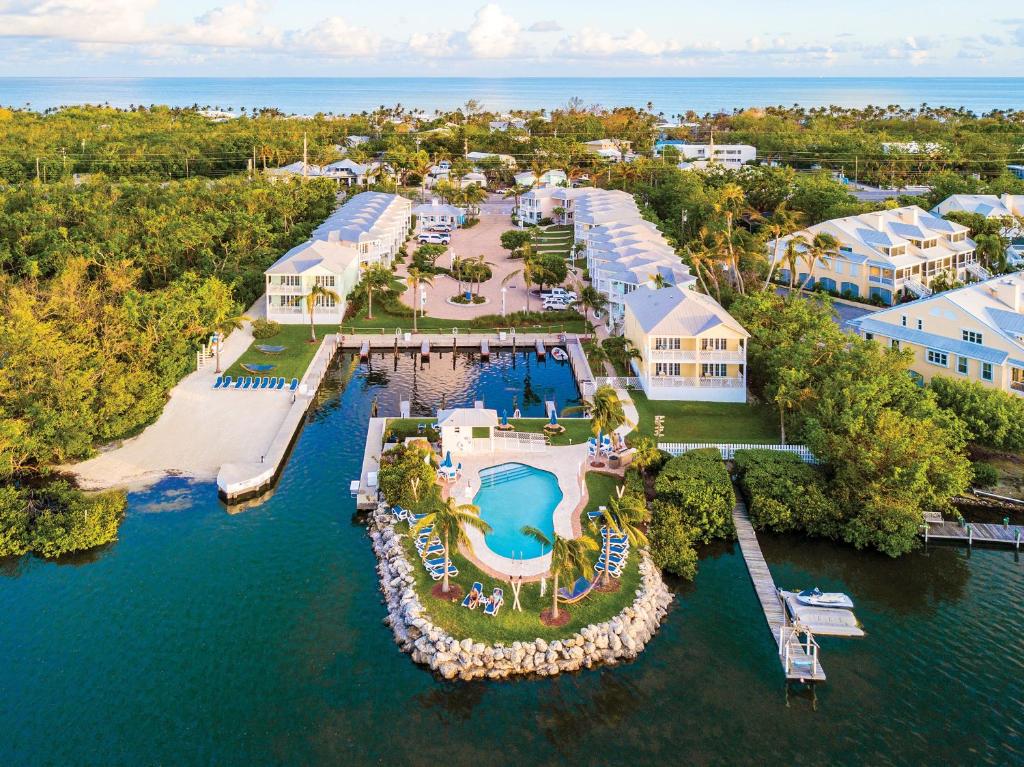 Located on the picturesque shores of the Florida Bay, the Islander Bayside Villas & Boatslips in Islamorada offers a delightful beachfront experience. Each townhouse in this resort boasts a fully equipped kitchen, allowing guests to prepare their own meals, while an outdoor pool offers a refreshing spot to relax and soak up the sun. With amenities like flat-screen TVs, free WiFi, and laundry facilities provided in every unit, guests can enjoy a comfortable stay. The resort also offers bicycle rentals for exploring the area and easy access to a range of water sports activities nearby. Guests will find a variety of dining options within 1.6 km from the resort and can visit Windley Key Fossil Reef Park just 5 minutes away by car. The property is conveniently located only 15 minutes' drive from Long Key.
– Fully equipped kitchens in each townhouse
– Outdoor pool for relaxation
– Flat-screen TVs and free WiFi in all units
– Convenient bicycle rentals available onsite
– Close proximity to dining options and local attractions
Other places to stay in Florida Keys
Hotels Near the Beach in Downtown Florida Keys
Located in the heart of Florida Keys, hotels near the beach in downtown offer easy access to pristine sandy shores and breathtaking ocean views. With their prime location, visitors can indulge in a perfect combination of relaxation, water activities, and vibrant city life.
Opal Key Resort & Marina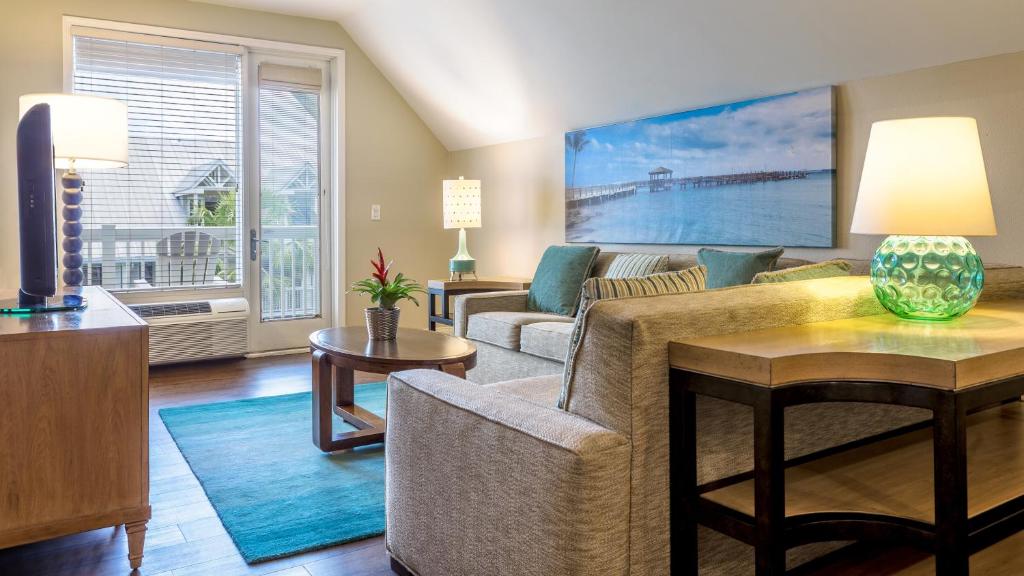 Opal Key Resort & Marina is a waterfront hotel located in the old town area of Key West, Florida. This centrally located resort offers a range of amenities to ensure a memorable stay. Guests can relax and unwind in the outdoor heated pool and hot tub or grab a bite to eat at Castaways Pool Bar, which offers light poolside dining options. Each room comes equipped with a cable TV, work desk, hairdryer, and ironing facilities for added convenience. The hotel also features a business center and fitness center on-site, as well as access to shops and water-sports facilities. Bistro 245 serves delicious American fare for breakfast, lunch, and dinner. With its prime location just minutes away from Historic Duval Street and opposite the Mel Fisher Maritime Heritage Society & Museum, Opal Key Resort & Marina is the perfect choice for those looking to explore all that Key West has to offer.
– Waterfront location in old town Key West
– Outdoor heated pool and hot tub
– Convenient access to Key West Aquarium
– On-site dining options at Castaways Pool Bar and Bistro 245
– Proximity to Historic Duval Street and Mel Fisher Maritime Heritage Society & Museum
Isla Bella Beach Resort & Spa – Florida Keys (Marathon)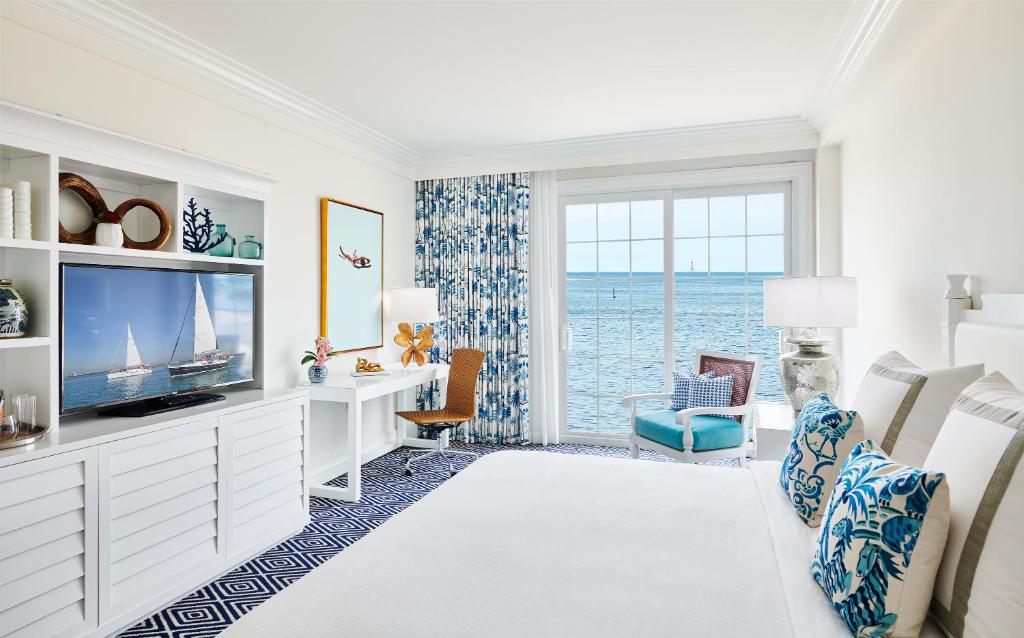 Isla Bella Beach Resort & Spa is a stunning beachfront hotel located in Marathon, Florida Keys. Opened in July 2018, this luxurious resort offers guests a memorable experience with its private beach area and beautiful surroundings. The resort features a business center and amenities such as an ATM machine, newspapers, fax machine, and photocopier. The rooms at Isla Bella Beach Resort are spacious and well-appointed, with terraces or balconies offering breathtaking views. Each room includes a flat-screen TV and a private bathroom with a bath. Guests can start their day with a delicious breakfast from the full menu at the resort's in-house restaurant that serves Hawaiian Regional Cuisines. The wellness area provides relaxation options like a hot tub and fitness center for guests to enjoy after exploring the outdoor activities available in Marathon, such as cycling and fishing. With round-the-clock assistance available at the reception, Isla Bella Beach Resort ensures that guests have everything they need during their stay. Dolphin Research Center is just 19 km away from the accommodation while Florida Keys/Marathon International Airport is conveniently located 8.1 km away.
– Private beach area
– Beautiful terraces or balconies with stunning views
– Delicious breakfast menu
– Wellness area with hot tub and fitness center
– Close proximity to outdoor activities like cycling and fishing
Glunz Ocean Beach Hotel and Resort (Marathon)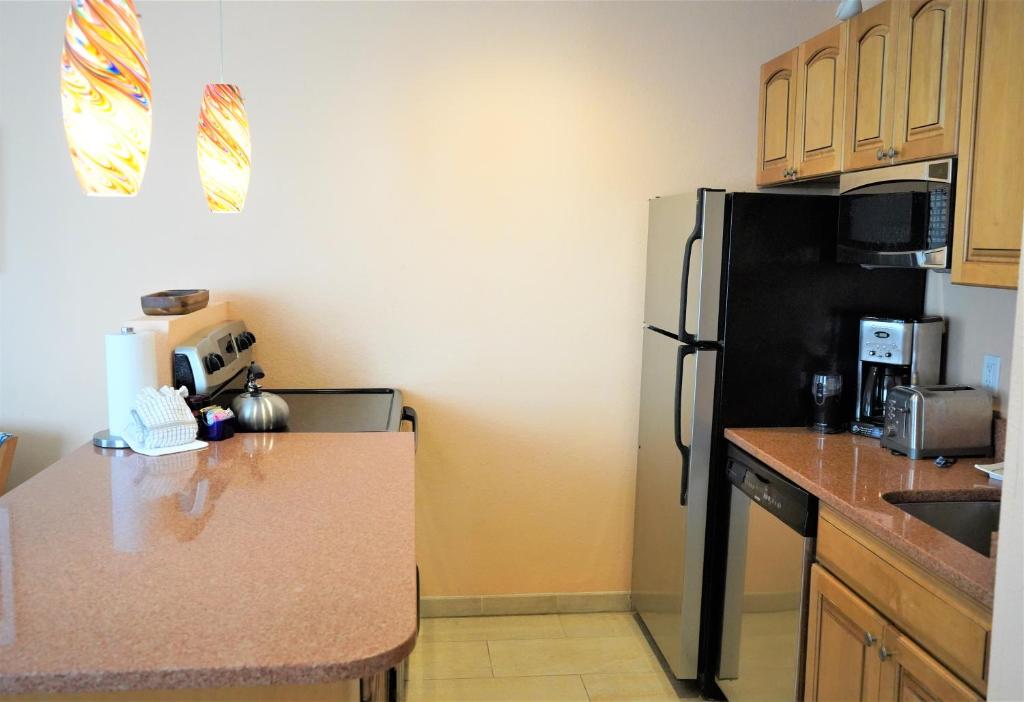 Located in Key Colony Beach, Florida, Glunz Ocean Beach Hotel and Resort offers guests a luxurious beachfront experience. With an outdoor pool and a private beach area, guests can soak up the sun while enjoying the stunning ocean views. The hotel also provides free Wi-Fi access for all guests. Each room at Glunz Ocean Beach Hotel is equipped with modern amenities including a microwave and refrigerator, as well as a flat-screen TV for entertainment. For those looking to stay active during their vacation, the hotel boasts a fitness center where guests can exercise and stay in shape. Additional facilities offered include luggage storage and launderette services for added convenience. Guests can even enjoy fishing right on site. When it comes to dining options, Havana Jack's Oceanside Restaurant and Bar is located on-site and offers delicious Florida Keys-style cuisine with an array of fresh seafood dishes. The restaurant provides both indoor and outdoor dining options, making it perfect for any occasion or preference. For those looking to explore the area, Dolphin Research Center is just a 9-minute drive away from the hotel while Curry Hammock State Park is within 4 miles reach.
Pros:
– Beautiful beachfront location
– Outdoor pool and private beach access
– Free Wi-Fi throughout the property
– On-site fitness center for staying active
– Delicious Florida Keys-style cuisine at Havana Jack's Oceanside Restaurant
Romantic Beachfront Hotels in Florida Keys
The Florida Keys offer a romantic beachfront getaway like no other. With pristine white sand beaches, crystal clear turquoise waters, and breathtaking sunsets, it's the perfect destination for couples seeking a dreamy seaside escape.
Indigo Reef Resort (Marathon)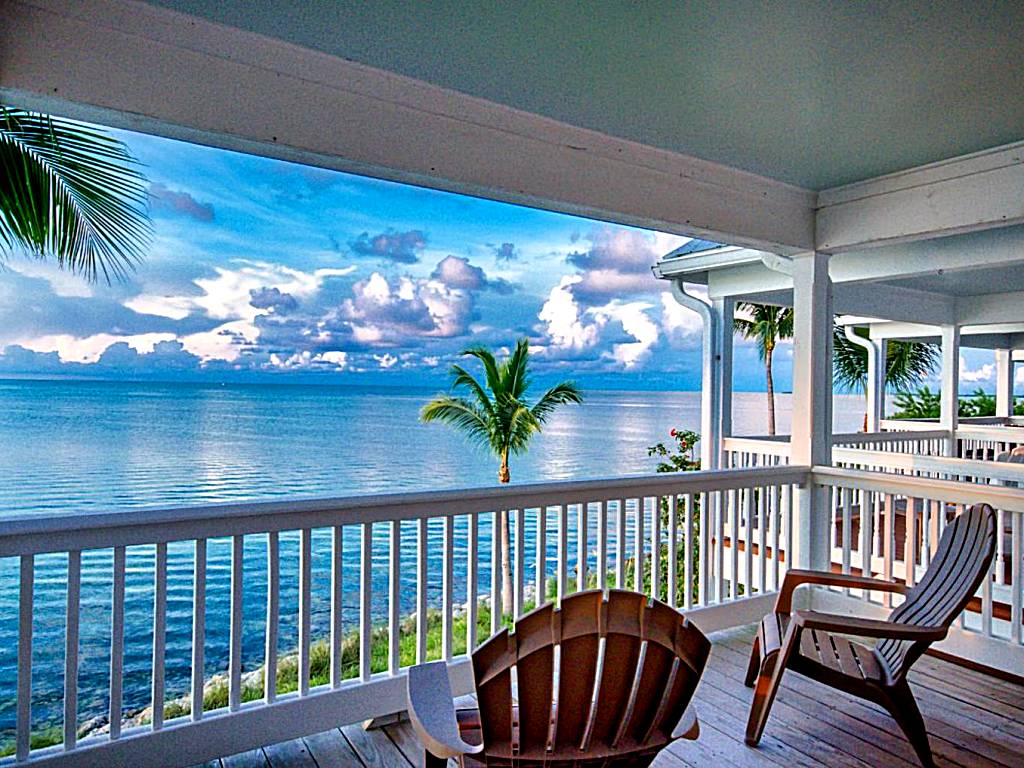 Nestled on a 15-acre property along the Gulf of Mexico, Indigo Reef Resort in Marathon, Florida offers guests a truly tropical retreat. The resort features spacious villas with private boat docks and gourmet kitchens, allowing guests to make the most out of their beachfront experience. Each bi-level villa boasts a balcony and patio with breathtaking panoramic ocean views, while inside you'll find private bedrooms and a large living area for comfort and relaxation. The villas also provide two full bathrooms, a washer/dryer, a 42-inch flat-screen TV, CD/DVD player, and complimentary Wi-Fi. With pastel-colored interiors adorned with handmade furniture and tile floors, each Indigo Reef Villa exudes charm and coastal elegance. Guests can indulge in the waterfront pool overlooking the crystal-clear waters or work up a sweat at the on-site gym. For those seeking ultimate relaxation, in-room spa treatments can be arranged to complete your beachfront getaway. Conveniently located just one mile from Florida Keys Marathon Airport and within easy reach of Bahia Honda State Park (30 minutes' drive) as well as the Dolphin Research Center (6.4 miles away), Indigo Reef Resort is perfectly situated for exploring all that Marathon has to offer.
– Spacious villas with private boat docks
– Gourmet kitchens for self-catering convenience
– Breathtaking ocean views from balconies and patios
– Stylish pastel-colored interiors reflecting coastal charm
– On-site gym and waterfront pool for leisure activities
Matecumbe Resort (Islamorada)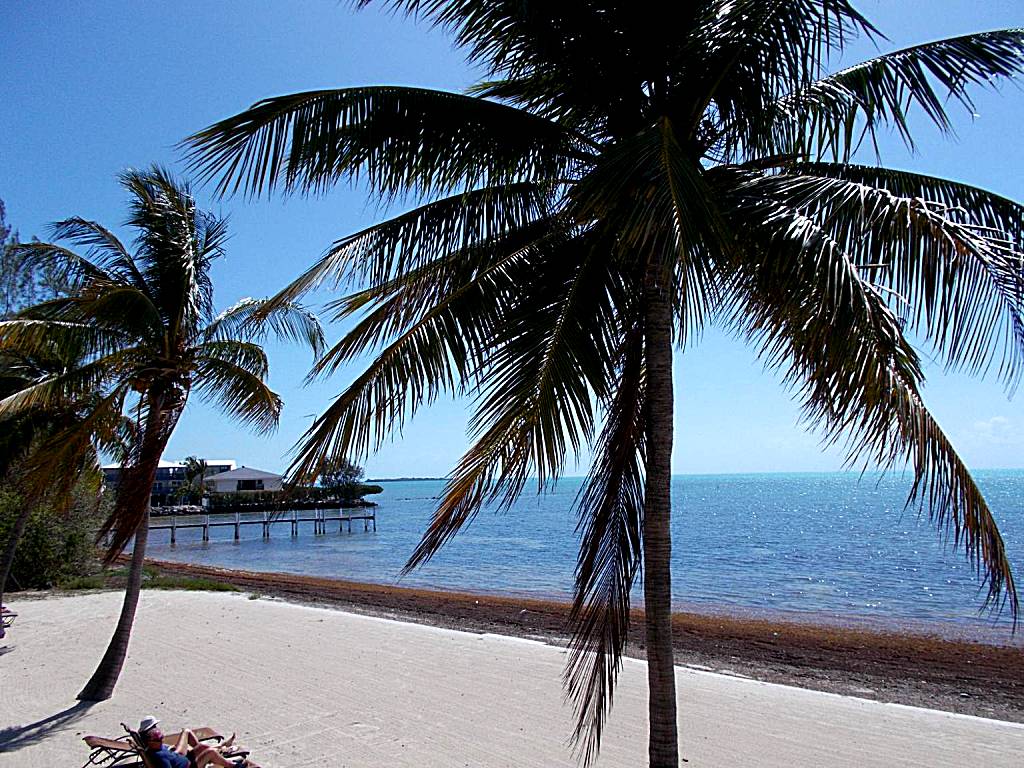 Located on the beachfront in Islamorada, Florida, Matecumbe Resort is an apartment hotel offering comfortable accommodations with stunning views of the sea and pool from private balconies or patios. With free WiFi and amenities such as a children's playground, a private beach area, and free parking, guests can relax and enjoy their stay. The units are equipped with air conditioning, a seating area, cable flat-screen TV, and a kitchen with an oven, microwave, toaster, and coffee machine. The resort also offers 2-star accommodation with a public bath and picnic area for guests to enjoy their leisure time. Some exciting activities available onsite include table tennis while nearby options include cycling or fishing in the surroundings. Upper Matecumbe Key is just 9.2 km away from Matecumbe Resort while Windley Key is only 14 km away. For those flying in, Key West International Airport is located 118 km from the property.
– Beachfront location
– Free WiFi
– Private balcony/patio with stunning sea views
– Children's playground on site
– Easy access to nearby attractions such as Upper Matecumbe Key and Windley Key
Postcard Inn Beach Resort & Marina (Islamorada)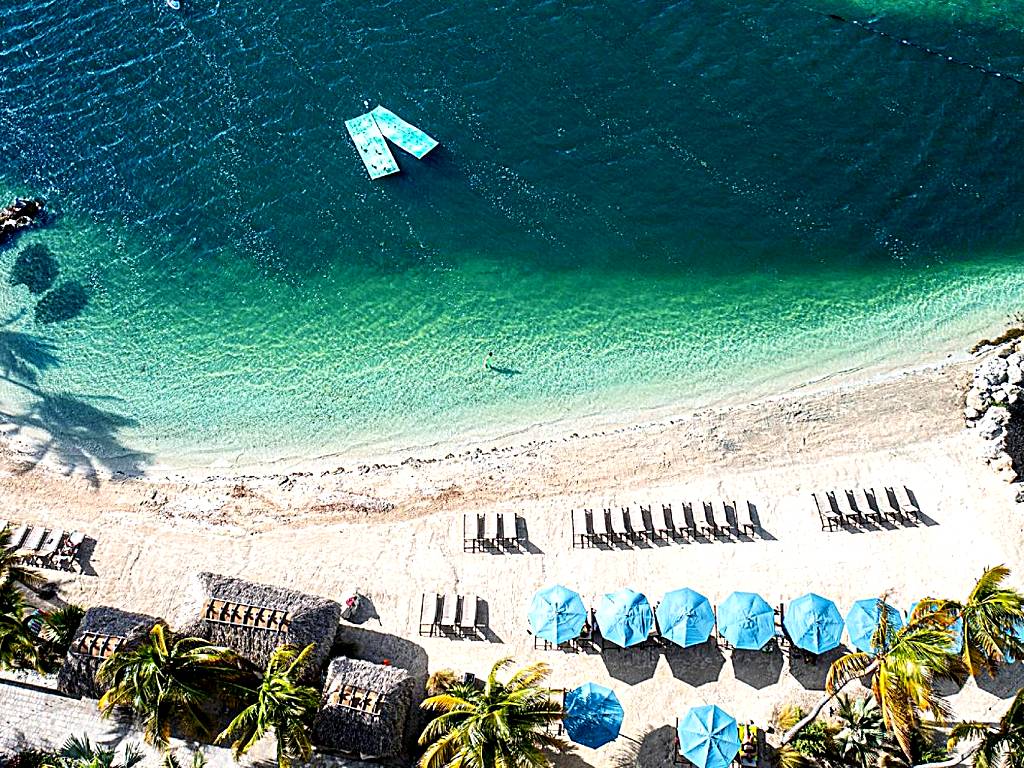 Located on an island in the beautiful Florida Keys, Postcard Inn Beach Resort & Marina is a tropical paradise that offers guests a unique and relaxing beachfront experience. With amenities such as WiFi and parking included, guests can enjoy modern comforts while surrounded by the stunning natural beauty of the area. Each guestroom is equipped with a cable TV and private bathroom for ultimate convenience. For those seeking adventure, the marina offers fishing trips and jet ski rentals, while snorkeling and diving charter boats are available for underwater exploration. The resort also boasts an on-site Raw Bar where guests can indulge in delicious fish tacos and fresh oysters. With Windley Key Fossil Reef Geological Park just a short drive away, along with nearby attractions like Key Largo, Postcard Inn Beach Resort & Marina is the perfect destination for those looking to relax, explore, and create lasting memories.
– Unique tropical atmosphere
– On-site marina for fishing trips and jet ski rentals
– Snorkeling and diving charter boats available
– Delicious seafood options at the on-site Raw Bar
– Convenient location near popular attractions
Information about Beachfront Hotels in Florida Keys
| | |
| --- | --- |
| 🏢 Number of Beach Hotels in Florida Keys | 9 |
| 🥇 Average Review Score | 8.6/10 |
| 💰 High season average price | 924 |
| 💸 Low season average price | 231 |
FAQ
Is there a beachfront hotel in Florida Keys?
Yes, there are several beachfront hotels in the beautiful Florida Keys. These hotels offer stunning views of the crystal-clear waters and direct access to the sandy beaches. Whether you're looking for a luxurious resort or a cozy boutique hotel, you'll find plenty of options to choose from.
What amenities can I expect at a beachfront hotel in Florida Keys?
Beachfront hotels in Florida Keys offer an array of amenities to make your stay unforgettable. You can indulge in world-class dining experiences, relax by the infinity pools overlooking the ocean, enjoy spa treatments with ocean views, participate in water sports activities such as snorkeling and kayaking, and take romantic sunset walks along the shore.
Are there any family-friendly beachfront hotels in Florida Keys?
Absolutely! There are many family-friendly beachfront hotels in Florida Keys that cater to travelers with kids. These hotels provide spacious accommodations, children's pools and playgrounds, organized activities for kids, kid-friendly menus at their restaurants, and even babysitting services so that parents can have some alone time on the beach.
Can I find budget-friendly beachfront hotels in Florida Keys?
While most beachfront hotels in Florida Keys tend to be more upscale and luxurious, there are still some budget-friendly options available. These affordable beachfront accommodations might have simpler amenities but still provide stunning views of the ocean and direct access to the beaches. It's always best to book well ahead of time to secure these budget-friendly options.
What activities can I do near a beachfront hotel in Florida Keys?
When staying at a beachfront hotel in Florida Keys, you'll have an abundance of activities right at your doorstep. From swimming and sunbathing on pristine beaches to snorkeling or diving among colorful coral reefs teeming with marine life. You can also explore nearby nature trails through lush mangroves or visit local attractions such as the Ernest Hemingway Home and Museum or the Key West Butterfly and Nature Conservatory. The options are endless!
Popular Beach Hotels destinations