Welcome to the mesmerizing coastal city of Durban, famed for its stunning beachfront accommodations that cater to those seeking a slice of paradise. Nestled along the shores of the Indian Ocean, Durban boasts an impressive collection of opulent seaside hotels that are sure to exceed your every expectation. Whether you're yearning for a tranquil escape or an action-packed adventure, this vibrant South African city has it all.
Picture yourself waking up to the sound of crashing waves and basking in the warm embrace of the sun as you step onto your balcony overlooking the azure waters. The beachfront accommodations in Durban offer a plethora of indulgent amenities and breathtaking views, making them an irresistible choice for travelers from around the globe. Immerse yourself in luxury as you relish in world-class service, elegant decor, and delectable cuisine served against a backdrop of white sandy beaches stretching as far as the eye can see.
Embark on exhilarating water activities such as surfing or jet skiing or simply unwind on pristine shores while sipping on refreshing cocktails. With a variety of accommodation options available, ranging from stylish boutique hotels to expansive resorts, there is something suited for every discerning traveler's taste. So pack your bags and get ready to experience sheer bliss at these magnificent beachfront havens in Durban – where relaxation meets adventure in unparalleled harmony.
The Best Durban Hotels By the Beach
Suncoast Hotel & Towers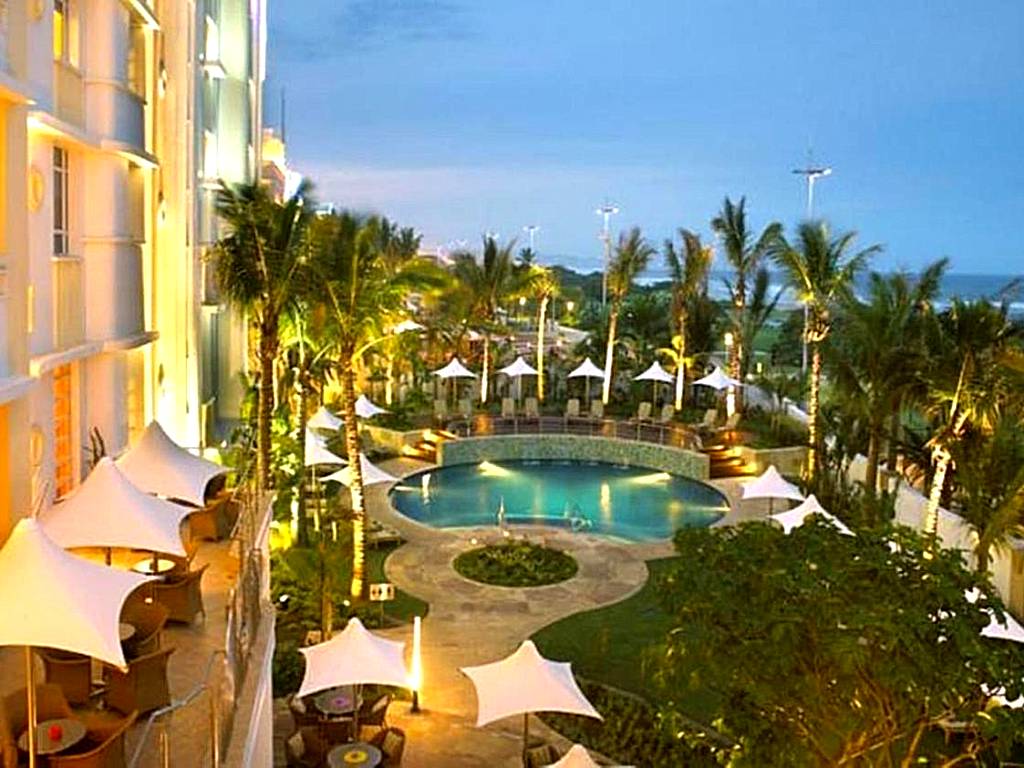 Suncoast Hotel and Towers is a modern beachfront hotel located above the Suncoast Casino and Entertainment World on Durban's Golden Mile. With its outdoor pool and Suncoast Spa, guests can relax and enjoy stunning views of either the city or Indian Ocean from their air-conditioned rooms. The hotel is conveniently situated just a 5-minute walk from the beach, offering guests easy access to sun, sand, and sea. The rooms are well-equipped with satellite TVs, a refrigerator, and tea/coffee facilities, while the open-plan bathrooms come stocked with complimentary toiletries. Start your day with a delicious breakfast at the Riviera Restaurant which also offers an à la carte menu for lunch and dinner. And in the evening, unwind at the Riviera Bar with a refreshing cocktail. Additionally, this hotel's prime location puts many of Durban's top attractions within reach including Durban Country Club, Moses Mabhida Stadium, and Kings Park – all within 2 km. For those arriving by air, King Shaka International Airport is just 30 km away with airport shuttle services available upon request.
– Fantastic beachfront location
– Stunning ocean or city views from rooms
– Outdoor pool for relaxation
– On-site spa for ultimate pampering
– Close proximity to popular attractions
La Lucia Sands Beach Resort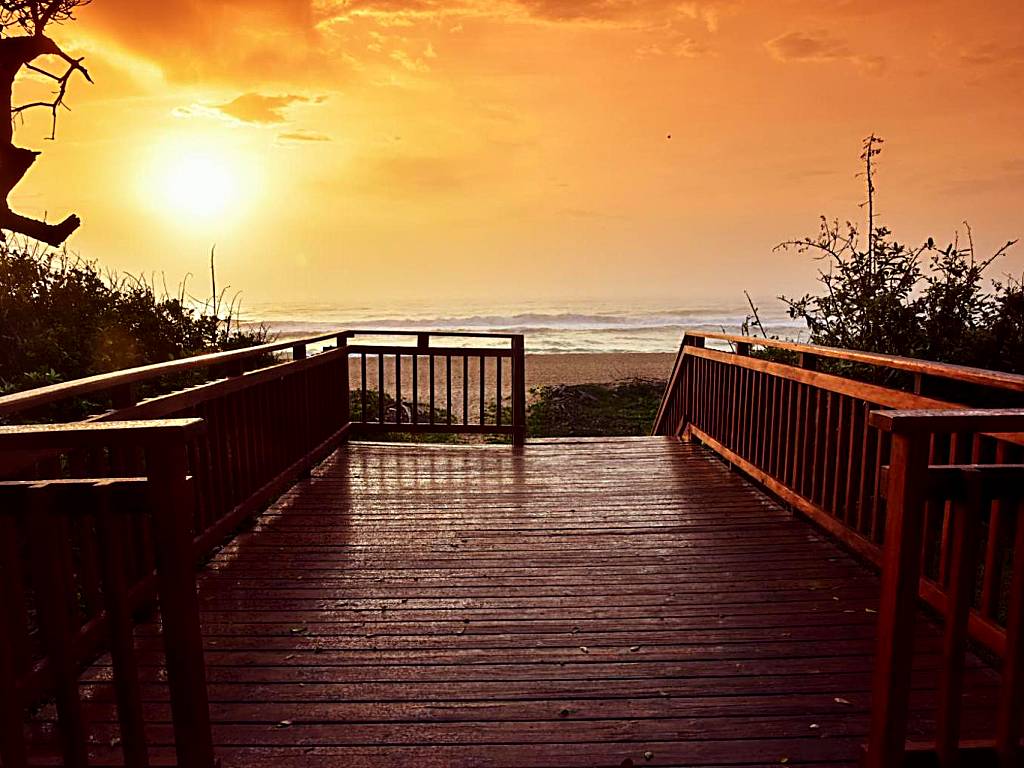 Located in the picturesque coastal town of Umhlanga Rocks, La Lucia Sands Beach Resort offers guests a luxurious self-catering experience. Situated just a short stroll from the beautiful beach, this resort features an outdoor pool and barbecue facilities, perfect for enjoying the sunny weather. The spacious air-conditioned apartments face the lush gardens and are equipped with three bedrooms, two bathrooms, a lounge area, and a dining space. The fully-equipped kitchen includes modern amenities such as a dishwasher, fridge, microwave, kettle, and toaster. Additional services such as linen changes can be arranged at an extra cost. Guests can take advantage of the resort's tennis court, sauna and well-manicured garden. For those craving some retail therapy or dining options, Gateway Shopping Mall and Umhlanga Ridge are just three kilometers away. With its convenient location only 20 minutes' drive from Durban and close proximity to Umhlanga Lagoon Nature Reserve and King Shaka International Airport (17 km), La Lucia Sands Beach Resort is an ideal choice for travelers seeking relaxation combined with convenience.
– Scenic beachfront location
– Spacious self-catering apartments
– Outdoor pool for leisurely swims
– Close proximity to shopping mall and nature reserve
– On-site tennis court and sauna for recreation
Holland House B&B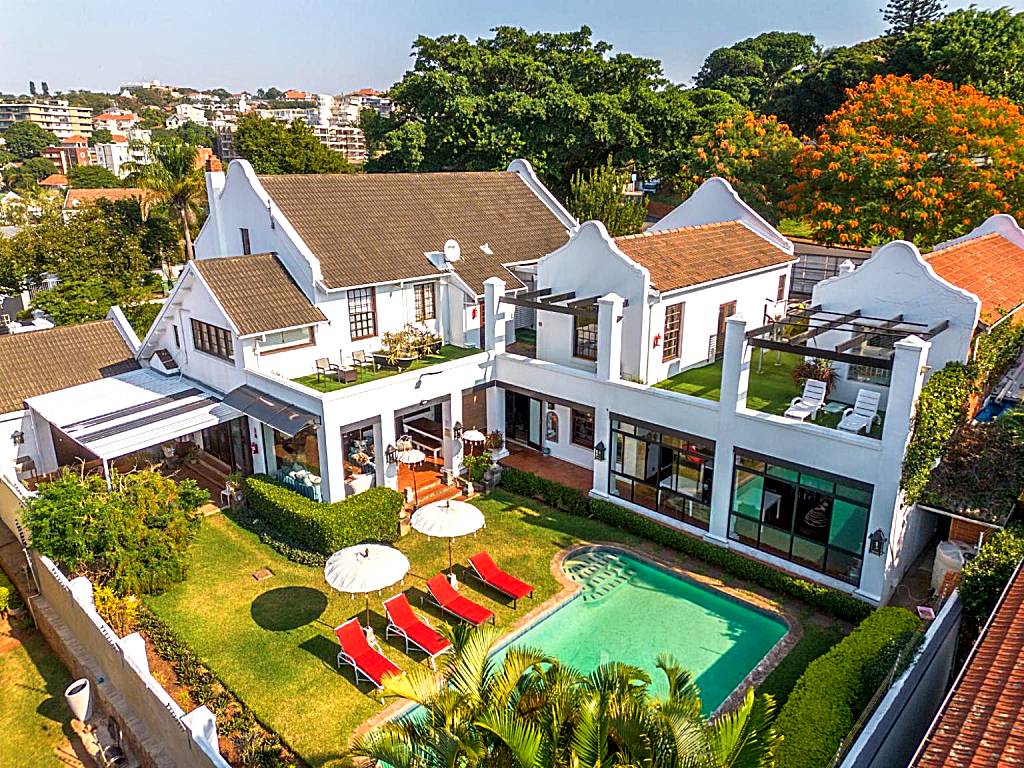 Located in Durban, the Holland House B&B is a lively and charming bed and breakfast offering a good breakfast and a range of amenities. Guests can enjoy the outdoor pool, as well as take advantage of the free WiFi access. The property boasts a beautiful garden, barbecue facilities, and a terrace for guests to relax and unwind. Each room at Holland House B&B features modern amenities such as air conditioning, a TV, and a private bathroom with a shower, bath, and hairdryer. Some rooms offer stunning sea views while others overlook the cityscape. Additional on-site facilities include meeting rooms, luggage storage, and an ironing service. Golf enthusiasts will appreciate the proximity to golf courses in the area. With free parking available on-site and being just 26 km away from King Shaka International Airport, guests can easily explore everything Durban has to offer without any hassle.
– Lively atmosphere
– Good breakfast options
– Outdoor pool for relaxation
– Sea view rooms available
– Convenient location near sports stadiums
Other places to stay in Durban
Hotels Near the Beach in Downtown Durban
Downtown Durban offers a range of beachfront hotels, providing guests with convenient access to the sandy shores and breathtaking ocean views. These accommodations are perfect for travelers looking to soak up the sun, enjoy water activities, or simply relax by the sea.
Marilyn Boutique Hotel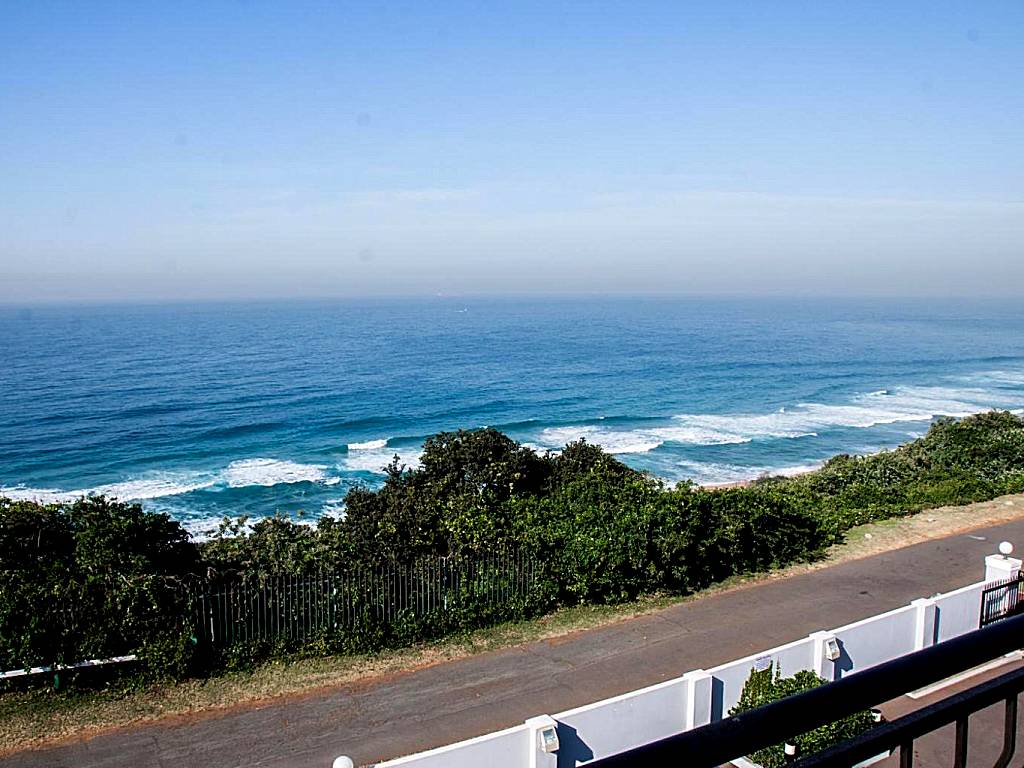 Located in Durban, Marilyn Boutique Hotel is a charming boutique hotel situated just 300 meters from Garvies Beach. This 3-star hotel offers a range of amenities including a fitness center, free private parking, a garden, and a terrace. The air-conditioned rooms are equipped with free WiFi and each has its own private bathroom. Guests can enjoy delicious meals at the on-site restaurant and take advantage of the concierge service and luggage storage available. With its close proximity to Ansteys Beach and Brighton Beach, guests have easy access to various water activities such as fishing. King Shaka International Airport is approximately 47 km away, and the hotel provides a paid airport shuttle service.
Pros:
– Close proximity to beautiful beaches
– Well-equipped fitness center
– Free private parking
– Delicious halal breakfast available
– Helpful concierge service
Greenfire Dolphin Coast Lodge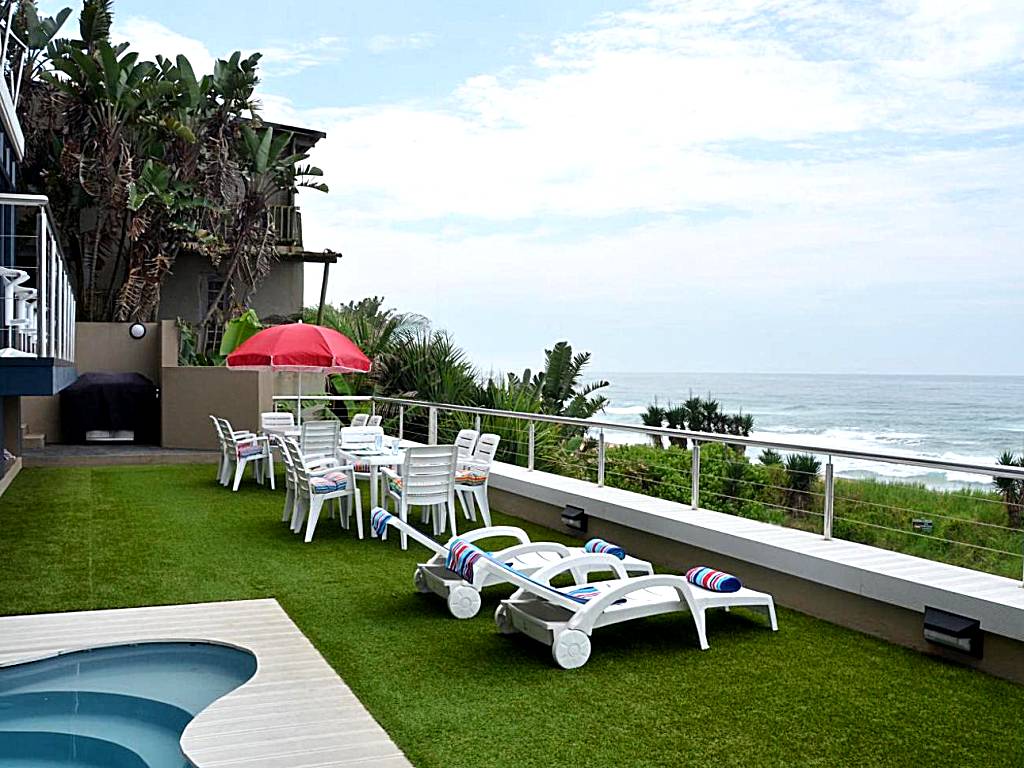 Greenfire Dolphin Coast Lodge is a charming guest house located directly on the beach in Umdloti, offering guests magnificent views over the Indian Ocean. With its convenient 12 km distance from King Shaka Airport, this hotel provides ease of access for travelers. The lodge features a shared lounge and a terrace with sun loungers and an outdoor pool, allowing guests to relax and soak up the sun. Beach lovers will appreciate the opportunity to take leisurely walks along the shore or explore the nearby lagoon. The modern rooms at Greenfire Dolphin Coast Lodge are sea-facing, each equipped with a balcony, fan, and private bathroom with shower. Free WiFi is available throughout the property. Additionally, Gateway Mall in Umhlanga Ridge is just a short 15-minute drive away.
– Stunning beachfront location
– Beautiful views of the Indian Ocean
– Charming guest house atmosphere
– Convenient proximity to King Shaka Airport
– Accessible location near Gateway Mall in Umhlanga Ridge
Blue Waters Hotel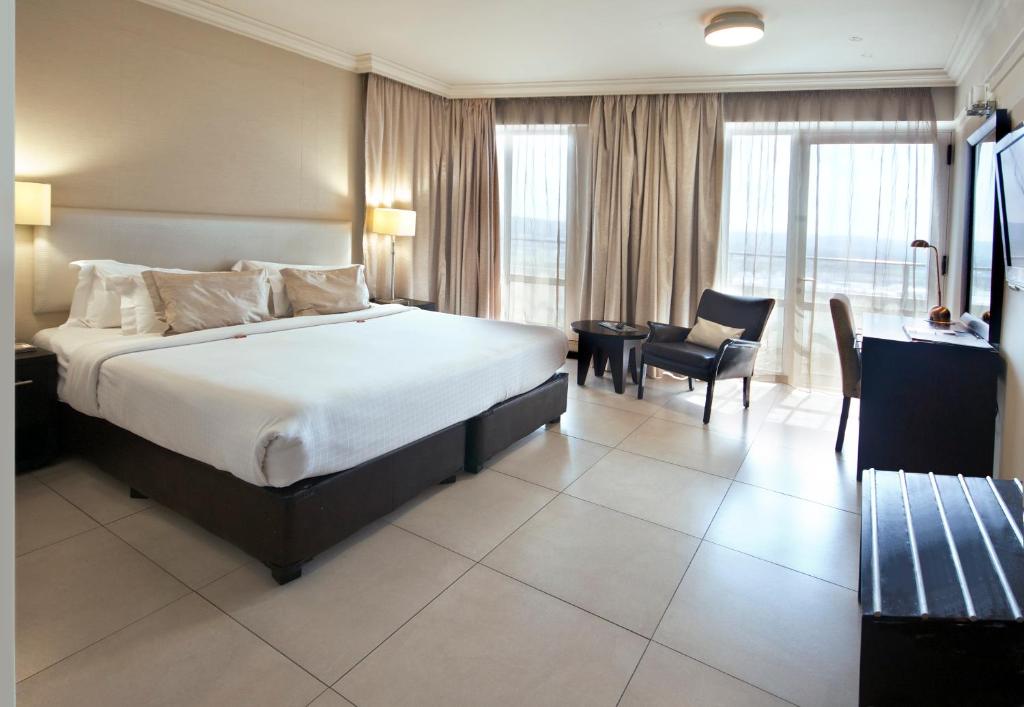 Located across from Durban's renowned beachfront, Blue Waters Hotel offers a prime location within walking distance of the Suncoast Casino and iconic Moses Mabhida Stadium. The property is also conveniently close to uShaka Marine World and Greyville Racecourse. Leisure facilities at the hotel include an indoor swimming pool, sauna, squash court, and an outdoor rooftop pool with a rooftop bar showcasing stunning sunset views. The spacious rooms and suites feature LCD TVs, coffee-and-tea-making facilities, air conditioning, work desks, ample storage space, and most offer furnished balconies with breathtaking views of the Indian Ocean. Guests can indulge in afternoon tea and cake in the Florida Lounge overlooking the ocean or relish buffet or á la carte meals at the Versailles Restaurant for lunch and dinner. With its ideal location for walking, running, and cycling along Durban North Beach area, Blue Waters Hotel is just a 5-minute drive from Durban ICC and 10 minutes away from Durban's city center. Durban Station is conveniently situated 2 km away while King Shaka International Airport is located 31 km from the property.
Pros:
– Rooftop pool with sunset views
– Close proximity to popular attractions such as Suncoast Casino and Moses Mabhida Stadium
– Indoor swimming pool, sauna, squash court available for guests' leisure
– Spacious rooms with LCD TVs and coffee-and-tea-making facilities
– Afternoon tea in Florida Lounge overlooking ocean
Romantic Beachfront Hotels in Durban
Durban offers a range of romantic beachfront hotels, each with stunning views and a serene ambiance. From private balconies overlooking the ocean to intimate dining experiences by the shore, these hotels provide the perfect setting for couples looking to indulge in relaxation and romance.
Fairlight Beach House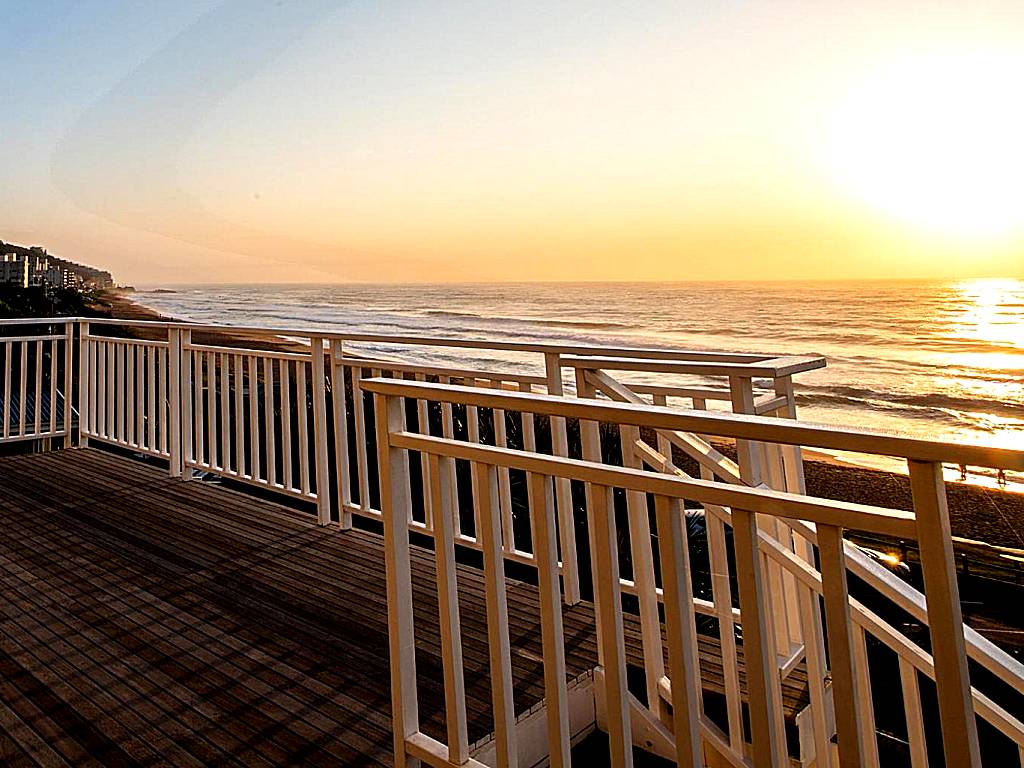 Fairlight Beach House is a charming bed and breakfast located just 20 meters from Umdloti's beautiful swimming beach. The guest house features an outdoor pool and offers air-conditioned rooms decorated in light colors with free Wi-Fi access. Each room and suite is equipped with a TV, minibar, hospitality tray, and a private bathroom. Most rooms also offer stunning views of the Indian Ocean. Guests can enjoy a delicious breakfast buffet served on the poolside terrace. The guest house is conveniently located within a 5-minute walk to Umdloti's restaurants and cafes. Additional services include babysitting, airport transfers to King Shaka International Airport (10-minute drive), and easy access to nearby attractions such as Ushaka Marine World and Durban's golf courses (20 km away). Surfing enthusiasts will be delighted by the beach across the road.
– Convenient location just steps away from the beach
– Lovely outdoor pool for relaxation
– Rooms with beautiful ocean views available
– Free Wi-Fi access throughout the property
– Easy access to local restaurants, cafes, and attractions
The Edward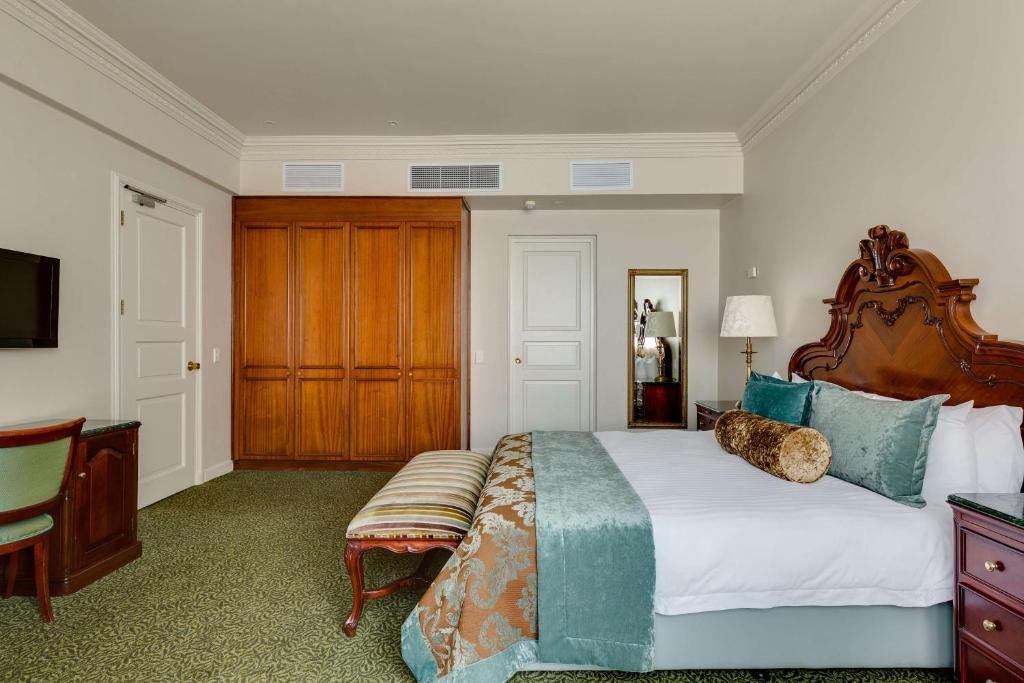 Situated 100 metres from the beach along Durban's Golden Mile, The Edward is a historic hotel that offers breathtaking views of the Indian Ocean. With its Art Deco style and a rooftop pool, this hotel is perfect for sunbathing and enjoying sundown cocktails. Since opening in 1911, The Edward has hosted numerous prestigious guests including princes, presidents, millionaires, and celebrities. Half of the recently refurbished rooms provide uninterrupted ocean views and are decorated in a classic style with wooden features and rich fabrics. Each room also includes satellite flat-screen TVs and an intimate reading area. Additional amenities at this hotel include a gym, room service, on-site parking (surcharge), and an airport shuttle (surcharge). Guests can also enjoy leisurely walks or cycling on the promenade adjacent to the hotel. King Shaka International Airport is located 32 km away while uShaka Marine World and ICC Durban are both just 1.5 km away.
– Stunning panoramic rooftop pool
– Classic rooms with ocean views
– Convenient location near popular attractions
– On-site gym for fitness enthusiasts
– Excellent service including room service
Point Waterfront Apartments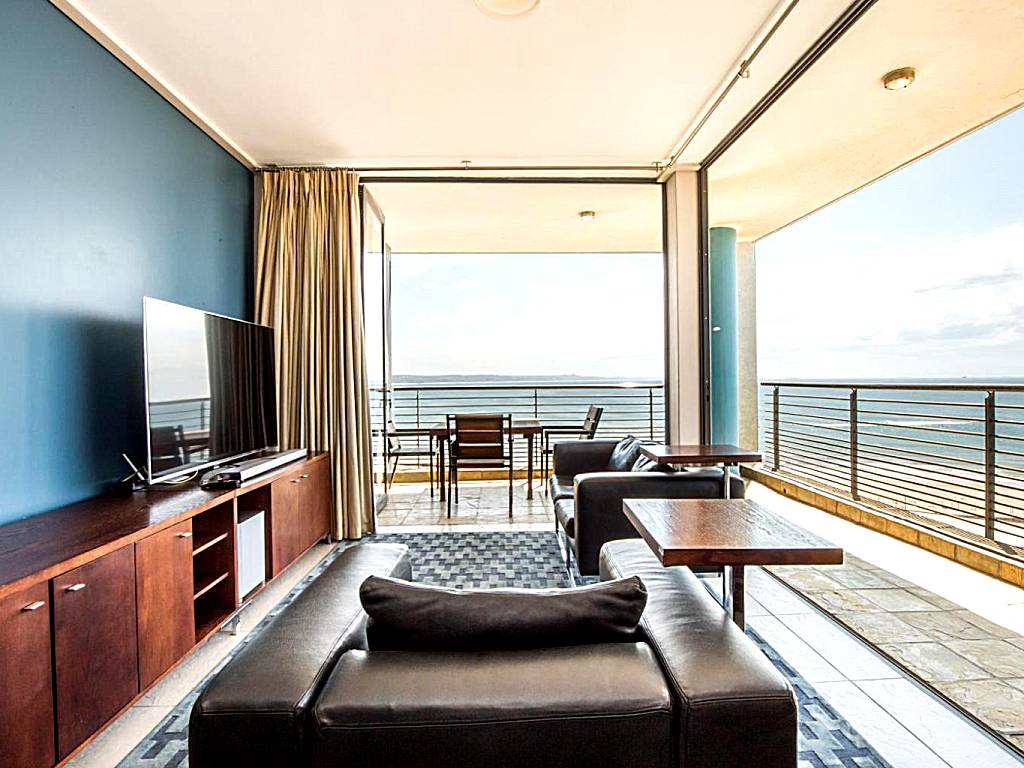 Located at the harbour in Durban and just a 10-minute walk from uShaka Marine World, Point Waterfront Apartments is a beachfront apartment hotel offering spacious and modern self-catering accommodation with balconies. The apartments are air-conditioned and feature an open plan living area with a sofa, dining table, and satellite TV. The bathrooms are equipped with both a bath and shower, and some apartments even have a hot tub. Free WiFi is available throughout the property, and guests can enjoy free underground parking. With fully equipped kitchens in each apartment, guests have the option to prepare their own meals or explore nearby restaurants within a 5-minute drive. Barbecue facilities are also available for those who enjoy grilling by the beach. ICC Durban is just 3 km away from Point Waterfront Apartments, making it convenient for business travelers attending conferences or events there. The nearest airport, King Shaka International Airport, is situated 29 km away.
– Convenient location near uShaka Marine World
– Spacious apartments with balconies
– Air-conditioned rooms for added comfort
– Free WiFi throughout the property
– Self-catering options with fully equipped kitchens
Beachfront Hotels Hotels in Durban With a Pool
Beachfront hotels in Durban with a pool offer the perfect combination of stunning ocean views and refreshing aquatic relaxation. Guests can enjoy the convenience of a pool just steps away from the sandy beaches, creating an idyllic setting for a memorable beachfront getaway.
Belaire Suites Hotel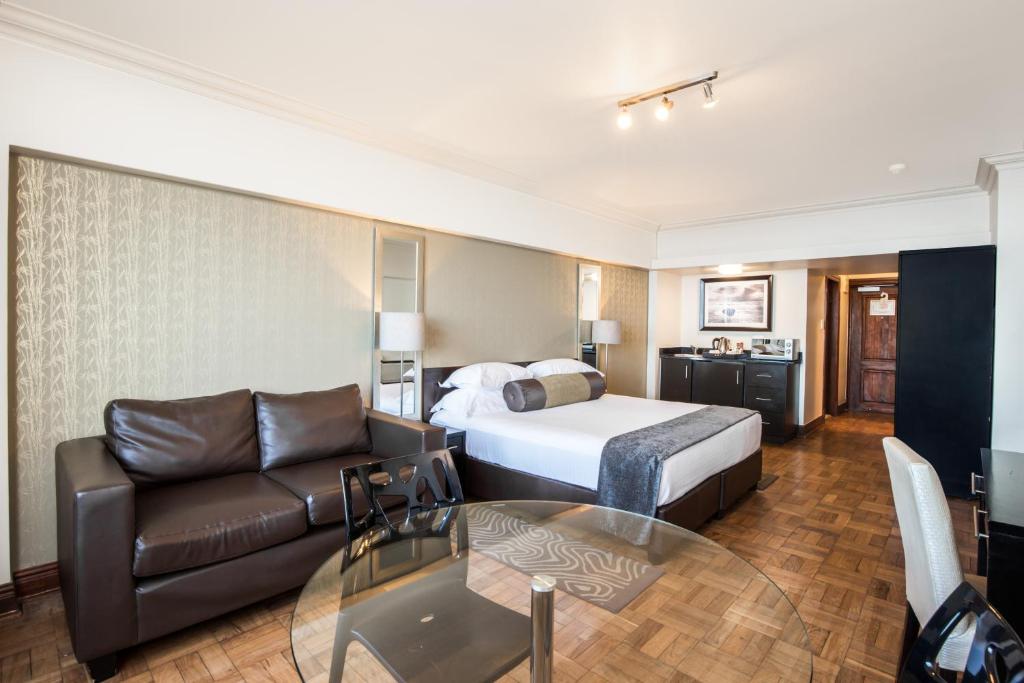 Located on Durbans North Beach, Belaire Suites Hotel offers modern rooms with free WiFi and stunning views of the ocean. The hotel is just 1 km away from Durban Station and features a popular café called Café Jiran, known for its award-winning coffee. The rooms at Belaire Suites Hotel are spacious and equipped with kitchenette facilities and private marble bathrooms. Guests can enjoy a full English breakfast buffet in the Sky Lounge, located on the top floor of the hotel, which offers breathtaking ocean views. With its convenient location close to major attractions such as Greyville Racecourse, uShaka Marine World, Durban ICC, and Moses Mabhida stadium, guests will have plenty of options for entertainment nearby. On-site parking and an airport shuttle service are available at an additional cost.
Pros:
– Beautiful beachfront location
– Free WiFi
– Spacious rooms with kitchenette facilities
– Stunning ocean views from some rooms
– Convenient access to major attractions
Information about Beachfront Hotels in Durban
| | |
| --- | --- |
| 🏢 Number of Beach Hotels in Durban | 10 |
| 🥇 Average Review Score | 8.5/10 |
| 💰 High season average price | 944 |
| 💸 Low season average price | 236 |
FAQ
Are there any beachfront hotels in Durban?
Yes, there are several beachfront hotels in Durban. Being a popular coastal city in South Africa, Durban offers an array of luxurious accommodations situated right on or near the beautiful sandy beaches. These hotels provide breathtaking ocean views and easy access to the pristine shores for guests to enjoy a relaxing beach getaway.
What amenities can I expect at beachfront hotels in Durban?
Beachfront hotels in Durban offer a range of amenities to enhance your stay. You can expect facilities such as swimming pools overlooking the ocean, spa and wellness centers offering rejuvenating treatments, fitness centers equipped with state-of-the-art equipment, exquisite restaurants serving delicious cuisine, and stylish bars where you can unwind with refreshing drinks while enjoying stunning sunset views.
Do beachfront hotels in Durban provide water sports activities?
Yes! Many beachfront hotels in Durban offer exciting water sports activities for their guests. From surfing and paddleboarding to jet skiing and scuba diving, these hotels provide opportunities for thrill-seekers to indulge in various aquatic adventures. Whether you're a beginner or an experienced water sports enthusiast, there is something for everyone at these beachfront establishments.
Can I find budget-friendly options among the beachfront hotels in Durban?
Certainly! While some beachfront hotels in Durban may lean towards luxury experiences, there are also budget-friendly options available. These accommodations ensure that travelers with different budgets can enjoy the beauty of the beaches without compromising on comfort and convenience. With careful research and planning, you can easily find affordable yet comfortable stays by the seaside.
Are there any attractions near the beachfront hotels in Durban?
Absolutely! Apart from being located right by the sandy shores, many attractions are within proximity to the beachfront hotels in Durban. The Golden Mile promenade offers a vibrant atmosphere with various shops, cafes, and entertainment options nearby. Additionally, the uShaka Marine World, Moses Mabhida Stadium, and Durban Botanic Gardens are just a few attractions that can be easily accessed from these beachfront accommodations.
Popular Beachfront Hotels destinations