Welcome to the picturesque shores of Dewey Beach, where endless stretches of sun-kissed sands meet the soothing embrace of the Atlantic Ocean. Nestled along this pristine coastline, you'll find an array of exquisite beachfront accommodations that epitomize luxury and relaxation. Whether you seek a tranquil escape or a vibrant coastal adventure, Dewey Beach has something to offer every discerning traveler.
Immerse yourself in unparalleled natural beauty as you awaken each morning to the sound of crashing waves and breathtaking ocean views. Indulge in world-class amenities that cater to your every desire, from private balconies overlooking the coast to decadent spa treatments designed for ultimate rejuvenation. Unwind by sparkling infinity pools or take leisurely strolls along the sandy shores, feeling the gentle caress of sea breeze against your skin.
Dewey Beach not only offers an idyllic setting but also an abundance of activities for the adventurous souls. Dive into thrilling water sports such as surfing, paddleboarding, or jet skiing, allowing adrenaline to course through your veins as you conquer the rolling waves. Savor delectable coastal cuisine at beachside restaurants and savor refreshing cocktails while basking in golden sunsets that paint the sky with hues of orange and pink.
Experience true seaside bliss at our handpicked selection of beachfront hotels in Dewey Beach – where luxury meets nature's grandeur.
The Best Dewey Beach Hotels By the Beach
Admiral on Baltimore (Rehoboth Beach)
Located just steps from the beach and boardwalk, the Admiral on Baltimore in Rehoboth Beach is a modern hotel offering guests a comfortable and convenient stay. The hotel features amenities such as an indoor pool and free WiFi access. Each guest room is well-appointed with a flat-screen TV, microwave, and refrigerator. The rooms are tastefully decorated in light colors and wood furnishings, creating a soothing atmosphere for guests to relax in. The hotel also offers a sun terrace with lounge chairs and umbrellas for those looking to soak up the sun. With 24-hour reception services and coffee/tea available in the lobby, guests can expect exceptional service throughout their stay. Additionally, there are plenty of dining options close by including Iguana Grill Restaurant and Cantina as well as Nicola's Pizza. Jungle Jim's Mini Golf is also nearby for some family-friendly fun. For nature enthusiasts, Cape Henlopen State Park is just 16 km away.
– Steps away from the beach
– Indoor pool for year-round swimming
– Free WiFi access for staying connected
– Comfortable and well-appointed guest rooms
– Convenient location near dining options
Brighton Suites Hotel (Rehoboth Beach)
Located in Rehoboth Beach, just 800 meters from the Rehoboth Beach Boardwalk, Brighton Suites Hotel is a beachfront hotel that offers free WiFi and stunning views of the city. The hotel features an indoor pool and a sun terrace where guests can relax and soak up the sun. Each air-conditioned room at Brighton Suites Hotel includes a separate living area with a comfortable sofa bed. The rooms are equipped with modern amenities such as a microwave, refrigerator, coffee maker, and flat-screen TV. With its convenient location, guests can easily explore popular attractions such as Rehoboth Beach and City of Rehoboth Beach Convention Center which are within walking distance. For added convenience, there is also a 24-hour front desk at the property. With Salisbury-Ocean City Wicomico Regional Airport being only 72 km away, Brighton Suites Hotel is easily accessible for travelers.
– Free WiFi
– Indoor pool
– Sun terrace with beautiful city views
– Convenient location near popular attractions
– Modern amenities included in each room
Mahalo Diamond Beach Resort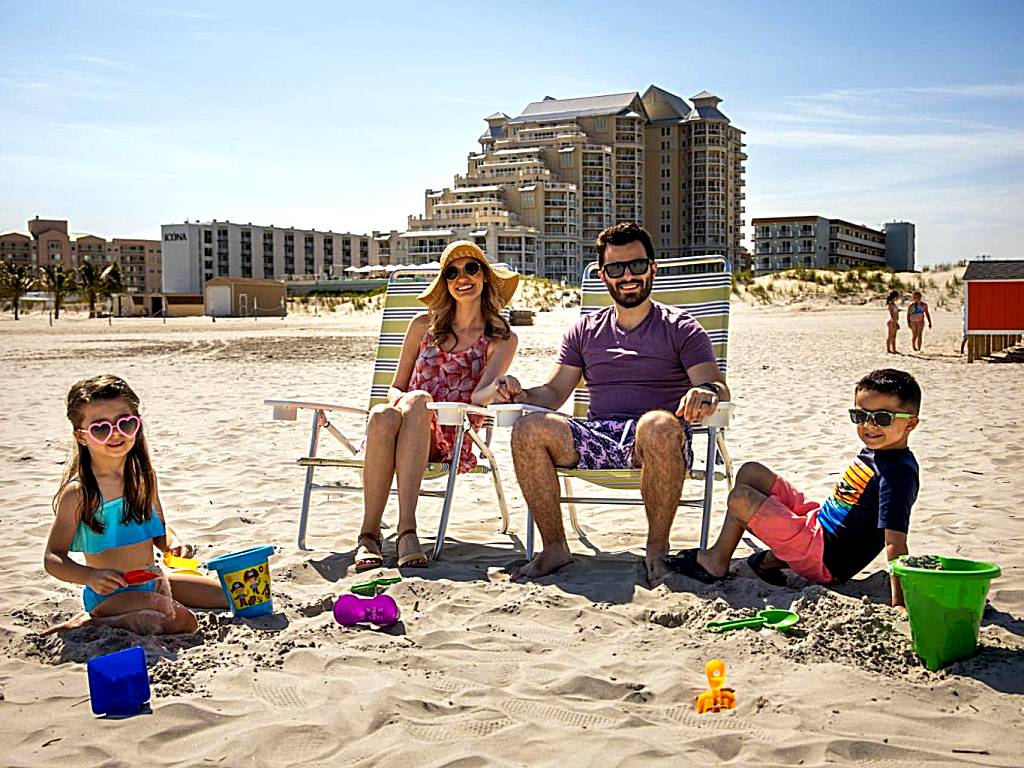 Mahalo Diamond Beach Resort is a stunning beachfront hotel located in Wildwood Crest, just steps away from the beautiful Wildwood Crest and only 2.6 km from Poverty Beach. This resort offers family rooms and boasts a terrace with breathtaking sea views. Guests can enjoy the outdoor heated pool, as well as amenities such as 24-hour front desk service, complimentary WIFI, and convenient on-site parking. Each room at Mahalo Diamond Beach Resort is elegantly furnished and includes bed linen, towels, air conditioning, a seating area, a flat-screen TV with cable channels, a safety deposit box, and a private bathroom with a shower. To start off their day on the right foot, guests can indulge in either continental or à la carte breakfast options. For those looking for adventure during their stay, Mahalo Diamond Beach Resort offers cycling activities in and around Wildwood Crest. Additionally, guests can take advantage of the local shuttle service to visit popular attractions like Wildwood Boardwalk or ICONA Diamond Beach Dining. The hotel's prime location also allows easy access to Wildwood Beach which is only 3 km away. Travelers flying into the area will find that Atlantic City Airport is conveniently situated just 60 km from Mahalo Diamond Beach Resort.
– Unbeatable beachfront location
– Family-friendly accommodations
– Outdoor heated pool with sea views
– Complimentary WIFI throughout the property
– Convenient on-site parking facility
Hotels Near the Beach in Downtown Dewey Beach
Downtown Dewey Beach offers a range of luxurious hotels near the beach, providing easy access to beautiful sandy shores and stunning ocean views. With their prime location, visitors can enjoy a relaxing beachfront vacation with convenient access to entertainment, dining, and shopping options.
Boardwalk Plaza Hotel
Located in Rehoboth Beach, just 700 meters from the beach, Boardwalk Plaza Hotel offers a range of amenities for a luxurious and comfortable stay. This 4-star hotel features a fitness center, free private parking, a garden, and an on-site restaurant. The hotel provides room service and has a 24-hour front desk to cater to all your needs. Guests can enjoy free WiFi throughout the property. The hotel's prime location allows easy access to popular attractions such as North Shores Beach, Dewey Beach, and Rehoboth Beach Boardwalk. Some rooms offer balconies with city views while all air-conditioned rooms come with modern facilities including a wardrobe, coffee machine, fridge, microwave, safety deposit box, flat-screen TV, and private bathroom with shower. Selected rooms also include kitchenettes with dishwasher, stovetop, and toaster. Bed linen and towels are provided in each room. Boardwalk Plaza Hotel boasts 4-star accommodation along with a hot tub and sun terrace for ultimate relaxation. For entertainment purposes guests can engage in dart games at this premier establishment. Additionally,a business center is available on site along with vending machines offering snacks and drinks for added convenience during your stay at Boardwalk Plaza Hotel.The nearest airport is Ocean City Municipal Airport which is approximately 50 km away from the property.
– Prime beachfront location
– Fitness center
– On-site restaurant
– Free private parking
– Hot tub
ICONA Diamond Beach (Wildwood Crest)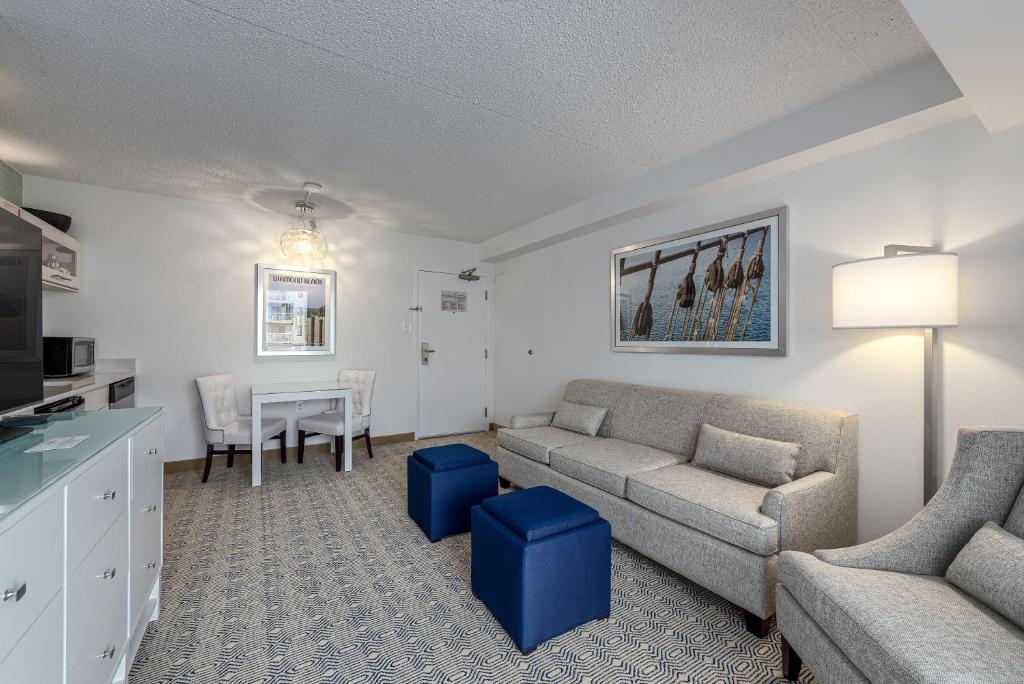 Boasting a private beach area with fire pits and an outdoor swimming pool, ICONA Diamond Beach is a luxurious hotel located in the beautiful Wildwood Crest. The hotel offers on-site dining at the waterfront Coastal Blue restaurant, which specializes in seafood and serves breakfast, lunch, and dinner. Guests can enjoy signature drinks at the bar while listening to live music. Each air-conditioned room at ICONA Diamond Beach features a full kitchenette and varies in ocean view, with select rooms also offering balconies. For those looking to explore the local area, Wildwood Boardwalk is just a short 4.5 km drive away, and Morey's Piers & Beachfront Waterparks are 4.4 km away.
– Private beach area
– Outdoor swimming pool
– On-site dining specializing in seafood
– Signature drinks available at the bar
– Convenient location near Wildwood Boardwalk and Morey's Piers & Beachfront Waterparks
Information about Beachfront Hotels in Dewey Beach
| | |
| --- | --- |
| 🏢 Number of Beach Hotels in Dewey Beach | 5 |
| 🥇 Average Review Score | 8.7/10 |
| 💰 High season average price | 814 |
| 💸 Low season average price | 203.5 |
FAQ
Are there any beachfront hotels in Dewey Beach?
Yes, Dewey Beach offers a variety of beachfront hotels that cater to different tastes and budgets. Whether you want a luxurious resort right on the beach or a cozy boutique hotel with stunning ocean views, you will find plenty of options to choose from in this charming coastal town.
What amenities can I expect at beachfront hotels in Dewey Beach?
Beachfront hotels in Dewey Beach typically offer a range of amenities to enhance your stay. These may include private balconies or patios overlooking the ocean, direct access to the beach, outdoor pools, restaurants and bars with panoramic views, fitness centers, spa services, and complimentary Wi-Fi. Some hotels may also provide beach equipment rentals such as umbrellas and chairs for your convenience.
Is parking available at beachfront hotels in Dewey Beach?
Most beachfront hotels in Dewey Beach provide parking options for their guests. Some properties offer free on-site parking while others may charge a daily fee. It is advisable to check with your chosen hotel prior to arrival regarding their parking arrangements so that you can plan accordingly.
Can I engage in water sports activities near the beachfront hotels in Dewey Beach?
Absolutely! The prime location of the beachfront hotels allows easy access to an array of water sports activities. From jet skiing and paddleboarding to parasailing and kayaking, there is something for everyone looking to have fun on the water. Many local rental companies offer equipment and lessons right on the beaches near these hotels.
Are there any dining options within walking distance from the beachfront hotels in Dewey Beach?
Dewey Beach has numerous dining options within walking distance from its beachfront hotels. You can explore various seafood restaurants specializing in fresh catches or enjoy casual waterfront cafes offering delicious bites paired with stunning views. From international cuisine to local delicacies, you are sure to find something that satisfies your taste buds.
Popular Hotels near Beach destinations