Welcome to the stunning coastal region of Devon, where breathtaking landscapes meet the tranquil embrace of sandy shores. In this travel guide, we delve into the mesmerizing world of luxury seaside accommodations that will leave you spellbound. Set amidst the picturesque beauty of this British county lie a plethora of beachfront hotels that epitomize elegance and decadence.
Discover a haven of serenity as you immerse yourself in the unrivaled charm of these ocean-facing retreats. From boutique hideaways to grand resorts, Devon offers an array of choices for every discerning traveler. Feel the gentle breeze caress your face as you wake up to panoramic vistas and step onto private balconies overlooking azure waters. With their exquisite design and impeccable attention to detail, these coastal havens create an ambiance that effortlessly combines sophistication with warmth.
Indulge in opulent amenities such as infinity pools that seamlessly blend into the horizon or rejuvenating spa treatments inspired by sea elements. Immerse yourself in outdoor activities like kayaking along breathtaking cliffs or embarking on scenic coastal walks right from your doorstep. As dusk falls upon these idyllic retreats, savor delectable cuisine crafted with locally sourced ingredients at their world-class restaurants.
Let us be your guide as we embark on a journey through Devon's most coveted beachfront hotels, where luxury intertwines with nature's magnificence to create an unforgettable coastal escape
The Best Devon Hotels By the Beach
Hotel Riviera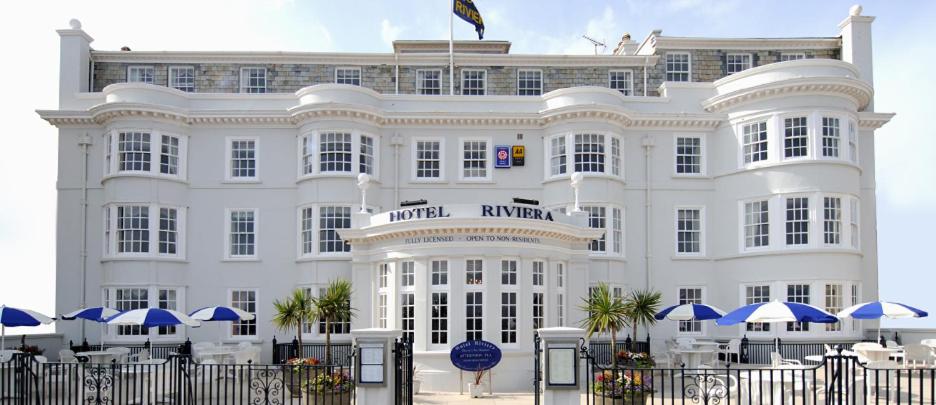 Superbly positioned on the seafront, the 4-star Hotel Riviera in Sidmouth boasts an elegant regency façade and offers guests a perfect base for exploring the stunning surrounding area. With many of its classically furnished rooms featuring breathtaking sea views, guests can enjoy a truly luxurious stay. The hotel's air-conditioned dining room serves AA rosette-awarded cuisine with bay views, while the stylish cocktail bar is perfect for relaxing evenings. The hotel also offers amenities such as free Wi-Fi internet access, free parking, and easy access to local attractions including The Heritage Coast Trail and activities such as golfing, riding, and shooting.
Pros:
– Stunning sea views from many of the classically furnished rooms
– Award-winning cuisine served in the air-conditioned dining room
– Stylish cocktail bar for relaxing evenings
– Easy access to local attractions and activities
– Free Wi-Fi internet access and free parking available
Watersmeet Hotel (Woolacombe)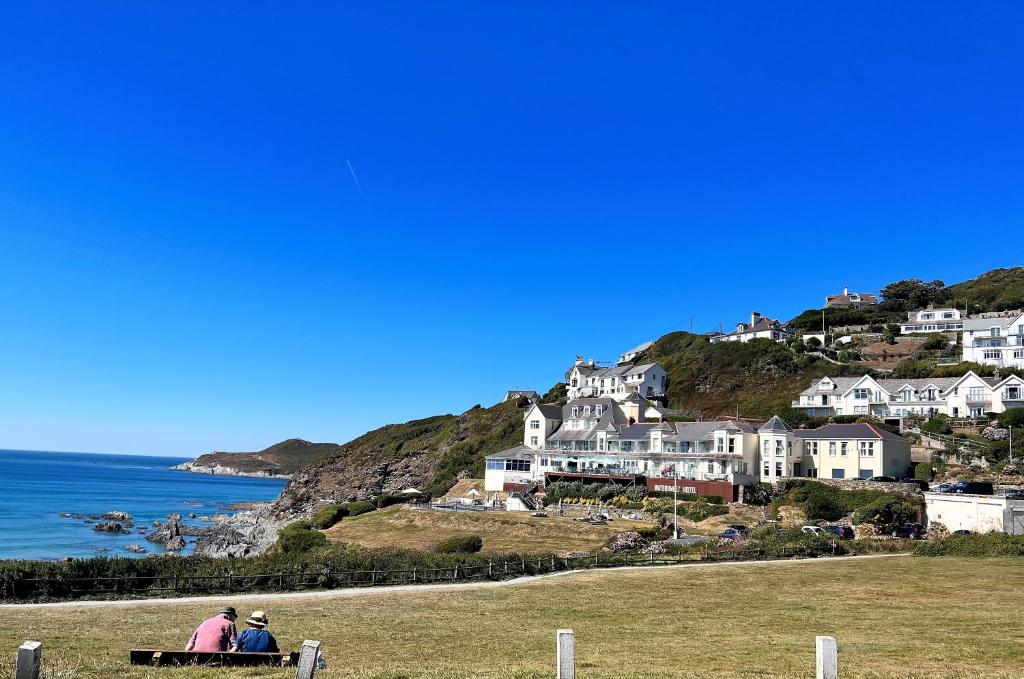 Watersmeet Hotel is a luxurious four-star beachfront hotel located in Mortahoe, on the quiet edge of Woolacombe. Boasting breathtaking sea views, this hotel offers guests access to its own private steps leading down to Combesgate Beach, allowing for a quick and convenient dip in the ocean. With nearly all bedrooms offering stunning sea views, some even featuring balconies or terraces, guests can enjoy the beauty of North Devon's rugged coastline from the comfort of their rooms. The hotel also provides free WiFi and a restaurant with panoramic sea views. The restaurant holds 2 AA Rosettes for its exceptional cuisine and offers a smart/casual dining experience. For those seeking something more relaxed and informal, there is also a new Bistro Restaurant available. Watersmeet Hotel is an ideal location for exploring the North Devon coastline and beaches or embarking on scenic walks along the South West Coastal Path. And for surf enthusiasts, it's conveniently situated near one of Britain's best surf beaches.
Pros:
– Spectacular sea views
– Private steps leading to Combesgate Beach
– Free WiFi
– Highly acclaimed restaurant with panoramic sea views
– Ideal location for exploring North Devon's coastline and beaches
The Commodore Rooms & Relaxation (Paignton)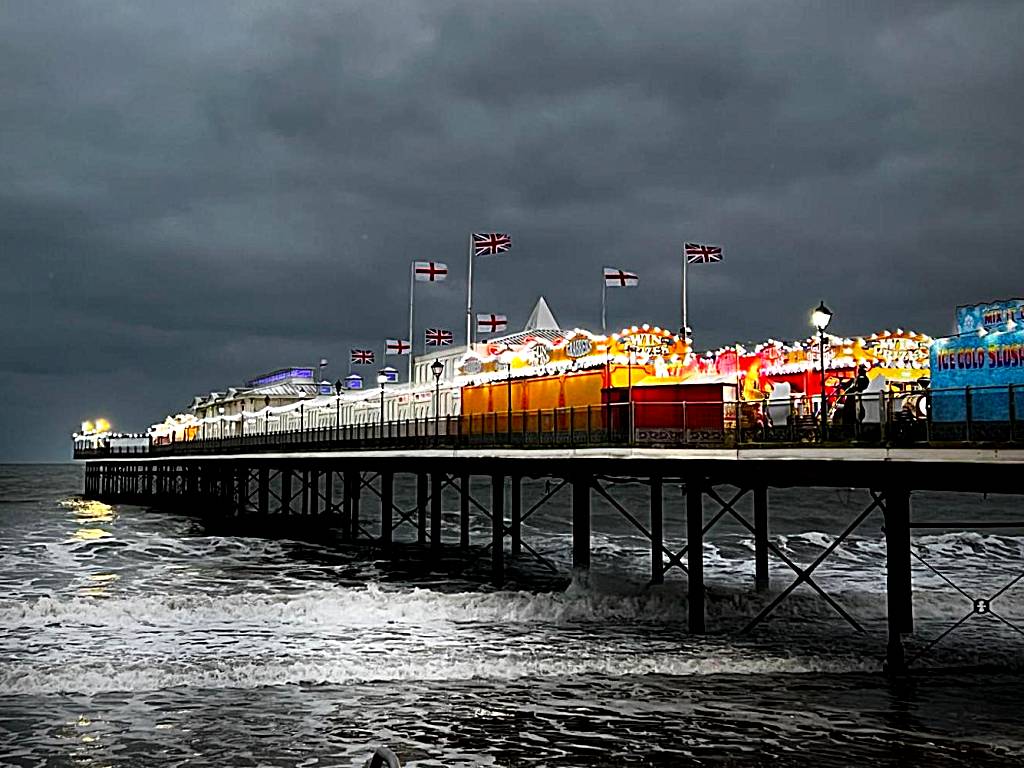 Located on the stunning seafront in Paignton, The Commodore Rooms & Relaxation offers a dog-friendly accommodation just steps away from the beach. Situated only a 5-minute walk from the town center, this hotel provides guests with comfortable en suite rooms that feature free Wi-Fi and private parking. Many of the rooms boast breathtaking sea views and are equipped with flat-screen TVs, hairdryers, and tea/coffee making facilities. Plus, each room comes with a modern en suite shower room for added convenience. The hotel's prime location makes it easily accessible as it is less than a 10-minute walk from Paignton Train Station, providing convenient transportation links throughout Devon and neighboring Cornwall. For nature enthusiasts, Dartmoor National Park is just 30 minutes away by car, while Torquay can be reached in only 12 minutes. Don't miss out on this perfect seaside retreat at The Commodore Rooms & Relaxation.
– Prime beachfront location
– Dog-friendly accommodation
– Stunning sea views from many of the rooms
– Free Wi-Fi and private parking available
– Convenient access to nearby attractions such as Dartmoor National Park and Torquay
Other places to stay in Devon
Hotels Near the Beach in Downtown Devon
Downtown Devon offers a range of beachfront hotels, providing easy access to sandy shores and breathtaking ocean views. These accommodations offer an ideal location for travelers looking to relax by the beach while still being close to the vibrant city center.
Channel View Boutique Hotel – Adults Only (Paignton)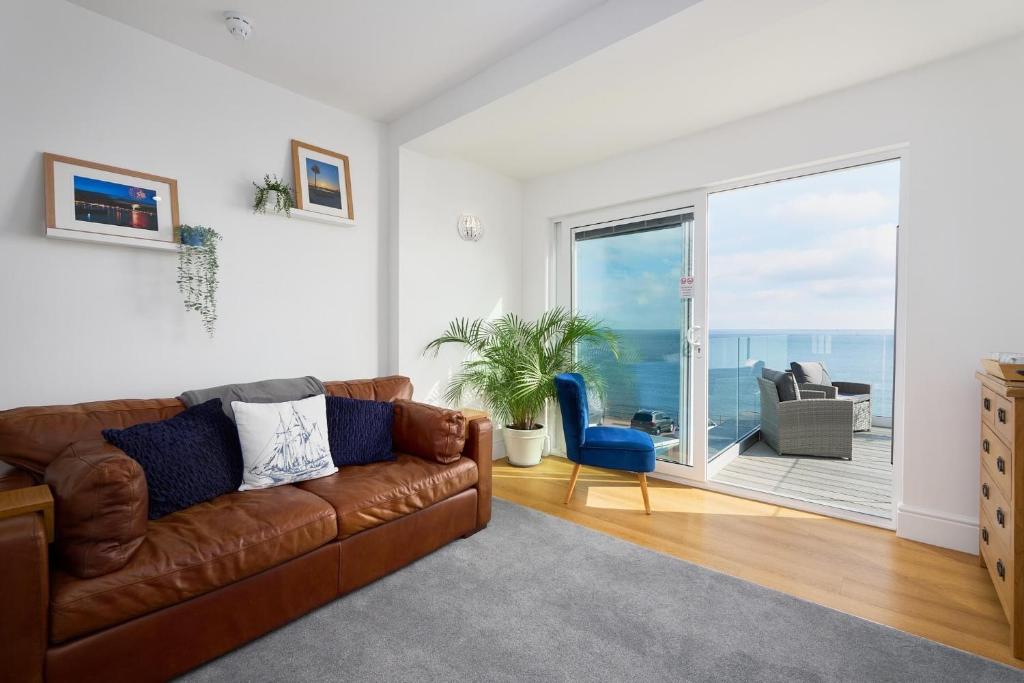 Located just 15 meters from the picturesque Paignton Beach, Channel View Boutique Hotel offers a luxurious and relaxing getaway for adults only. This charming hotel features a restaurant and bar, providing guests with delicious meals and refreshing drinks. The rooms are tastefully decorated and equipped with modern amenities such as a TV with cable channels, a seating area for relaxation, and a kettle for your convenience. The private bathrooms in each room come complete with free toiletries and a hairdryer. Additionally, guests can enjoy the shared lounge area during their stay. With its prime beachfront location and close proximity to Exeter International Airport (34 km away), Channel View Boutique Hotel is the perfect choice for those seeking both comfort and convenience.
– Prime beachfront location
– Stylishly decorated rooms
– On-site restaurant and bar
– Access to shared lounge area
– Close to Exeter International Airport
The P&M Paignton RESIDENCE (Paignton)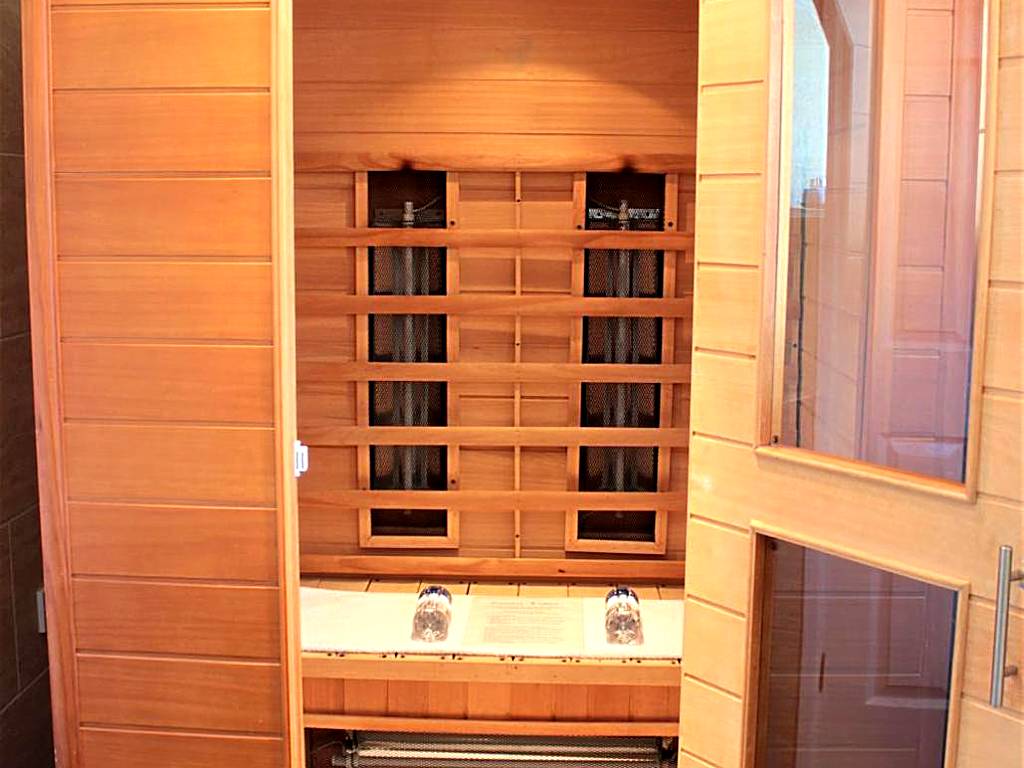 The P&M Paignton RESIDENCE is a charming bed and breakfast located just 200 meters from Paignton beach. This AA 5-star rated property offers stylish modern accommodation with luxurious touches, such as in-room saunas, four-poster beds, and walk-in showers. The hotel is conveniently situated only a few minutes' walk from the town center, allowing guests to easily explore the local shops and restaurants. Additionally, the hotel serves a delicious full English breakfast in the mornings and has an option for breakfast to be served directly to the room. With its excellent location near both the beach and town center, The P&M Paignton RESIDENCE is also an ideal base for visiting nearby attractions like Paignton's famous zoo and the Paignton and Dartmouth Steam Railway.
– Convenient location close to both beach and town center
– Stylish modern rooms with luxurious amenities
– In-room saunas available for ultimate relaxation
– Delicious full English breakfast served daily
– Easy access to popular local attractions
Rowcroft Lodge (Paignton)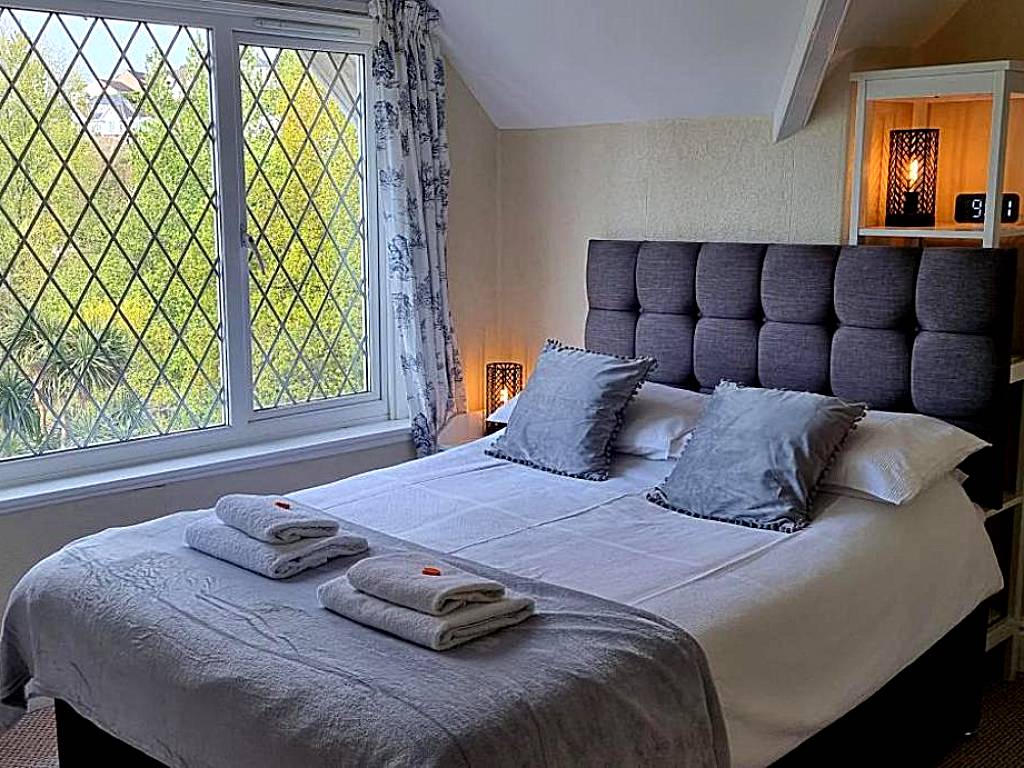 Rowcroft Lodge is a charming 3-star guest house located in Paignton, offering a peaceful retreat overlooking Goodrington Park. With its prime beachfront location, guests can enjoy stunning views from the balcony, with the sea and Brixham visible in the distance. The hotel recently underwent new ownership in June 2022 and has exciting renovation plans underway. Each of the en suite rooms at Rowcroft Lodge is individually decorated in neutral colors, providing a cozy and comfortable atmosphere for guests. Family rooms are also available for those traveling with loved ones. Amenities such as tea/coffee-making facilities and TV with Freeview channels are provided in all rooms. Dogs are welcome in selected pet-friendly rooms located on the lower ground floor. It's important to note that access to all rooms requires climbing stairs, as there are no ground floor options available due to the layout of this beautiful Victorian house. Guests can start their day off right with delicious home-cooked breakfasts made from locally sourced ingredients obtained from a nearby farm and butcher. The hotel's convenient location allows easy access to Torbay's many attractions, including Paignton Zoo just one mile away. Additionally, the center of Paignton is less than a 10-minute walk away where visitors can explore its bustling harbor and pleasure pier.
– Beachfront location overlooking Goodrington Park
– Stunning views from balcony onto sea and Brixham
– Individually decorated en suite rooms
– Pet-friendly accommodation available on lower ground floor
– Delicious home-cooked breakfast using local ingredients
Romantic Beachfront Hotels in Devon
Devon offers a selection of romantic beachfront hotels that provide the perfect getaway for couples seeking a serene and intimate escape by the sea. With stunning coastal views, luxurious accommodations, and easy access to sandy shores, these hotels create an idyllic setting for a truly unforgettable romantic retreat.
Saunton Sands Hotel Source Spa and Wellness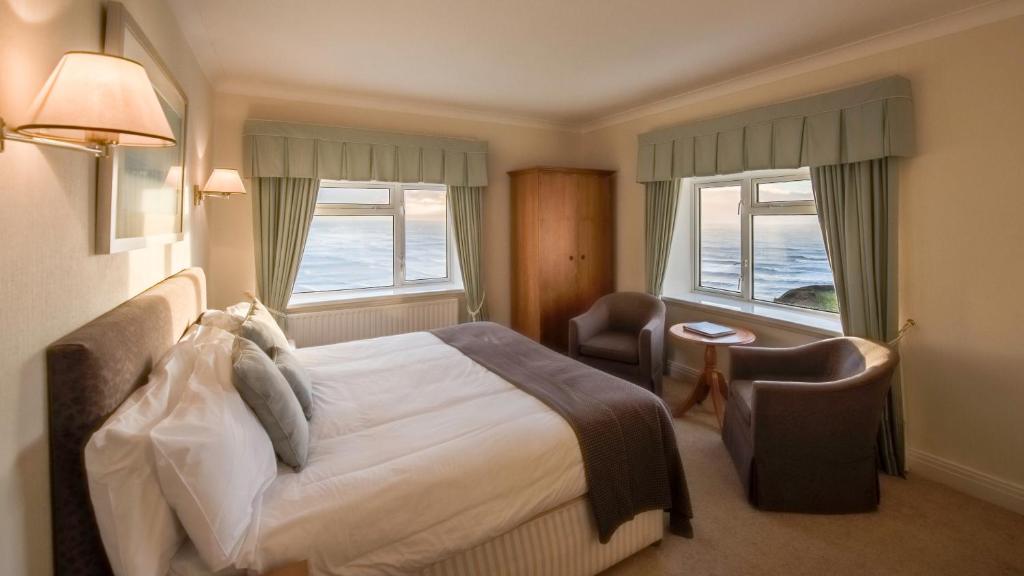 Located on a cliff top overlooking Braunton Burrows, Saunton Sands Hotel Source Spa and Wellness is a luxurious beachfront hotel that offers breathtaking views of Saunton Beach. The hotel features a spa, two swimming pools, and a popular restaurant. The elegant rooms are equipped with modern en-suite bathrooms with free toiletries, as well as amenities such as TVs, tea/coffee facilities, and Wi-Fi access. Guests can enjoy formal dining at the Restaurant which boasts a seasonal menu or relax in the casual Terrace Lounge while taking in the wonderful views. For those looking for a quick bite by the beach, Sands On The Beach serves a selection of snacks. The hotel also offers indoor and outdoor pools, tennis courts, mini golf, and table tennis to keep guests entertained throughout their stay. With Exmoor National Park just a short 20-minute drive away and Dartmoor National Park reachable within an hour's drive, Saunton Sands Hotel provides the perfect base for exploring the beautiful surroundings.
Pros:
– Stunning location overlooking Saunton Beach
– Luxurious spa facilities
– Range of recreational activities available on-site
– Close proximity to both Exmoor National Park and Dartmoor National Park
– Variety of dining options including formal dining at the restaurant or casual snacks by the beach
The Sands Hotel (Paignton)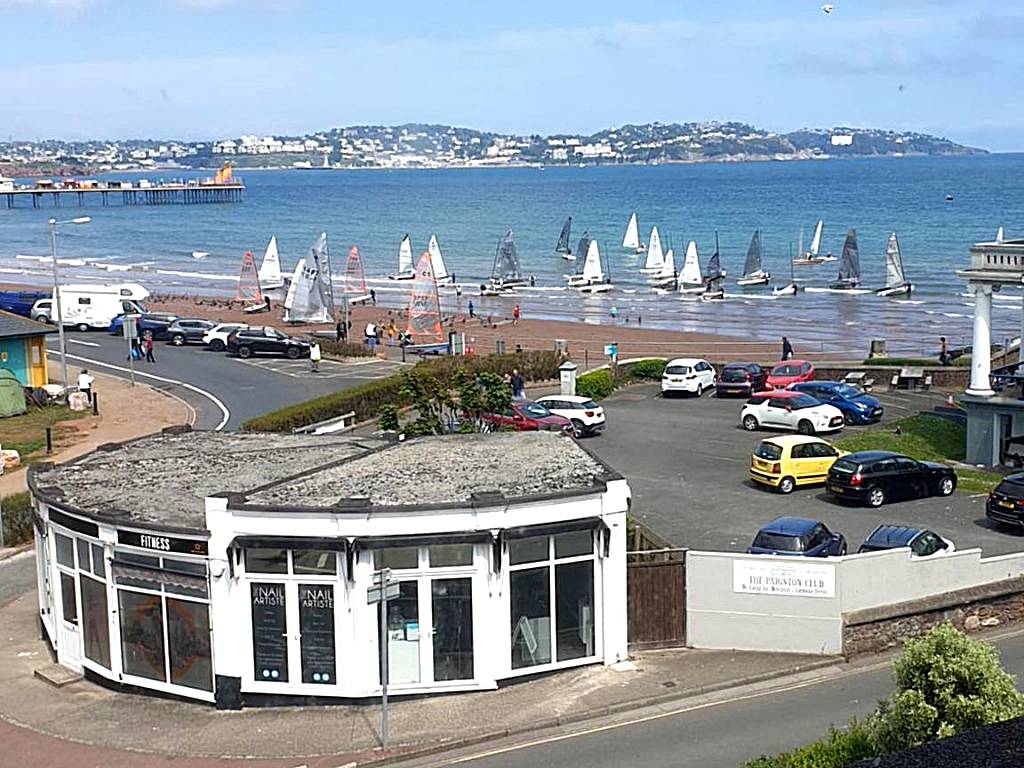 The Sands Hotel, opened in February 2020, is a luxurious beachfront hotel located in Paignton, just 300 meters from Paignton Beach. This elegant 4-star hotel offers a range of amenities including a shared lounge, free private parking, a terrace with stunning sea views, and a bar. The property also provides luggage storage and free WiFi for guests' convenience. Some rooms at The Sands Hotel feature a patio with breathtaking sea views while others offer charming city views. Each room is equipped with modern comforts such as a desk, flat-screen TV, and en-suite bathroom with shower and complimentary toiletries. For breakfast, guests can enjoy continental, Full English/Irish or vegetarian options to start their day off right. In addition to the beautiful beaches nearby like Goodrington Sands Beach (less than 1 km away) and Preston Sands Beach (a short 13-minute walk), guests can also entertain themselves at the hotel by playing billiards or table tennis. With its prime location and excellent facilities, The Sands Hotel promises an unforgettable stay for beach lovers visiting Paignton.
– Newly opened in February 2020
– Prime beachfront location
– Stunning sea views from some rooms
– Complimentary breakfast options
– On-site billiards and table tennis activities
The Thornhill (Teignmouth)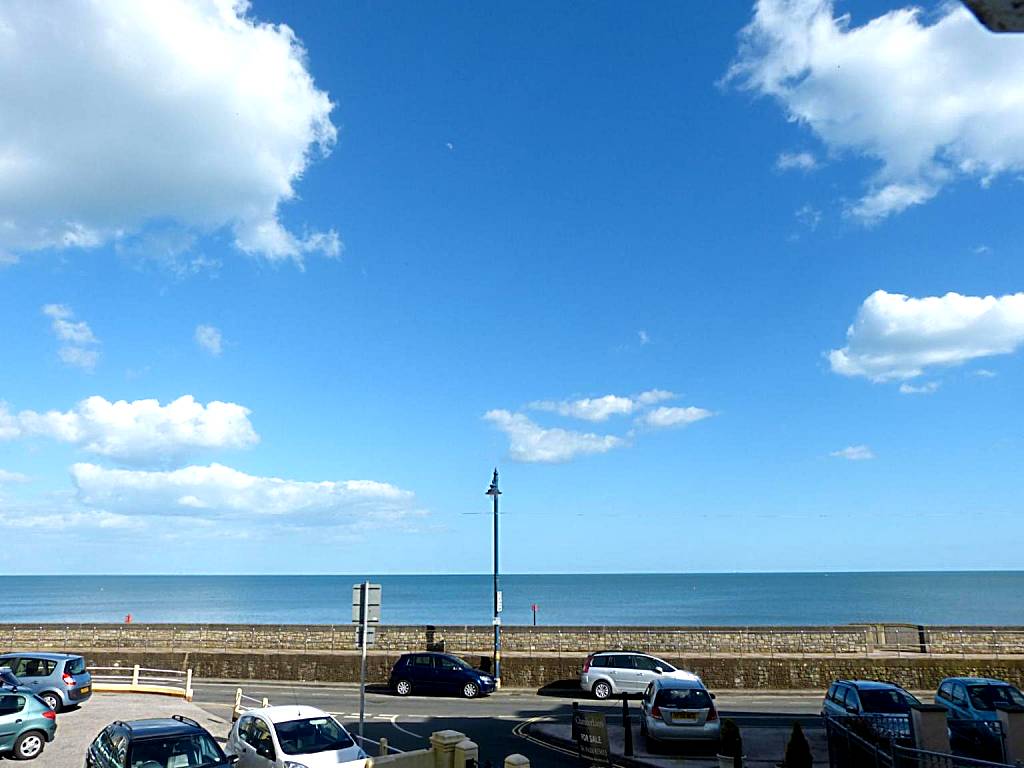 The Thornhill in Teignmouth is a charming bed and breakfast that offers comfortable accommodation just meters away from the sandy beach. The hotel is conveniently located within a 5-minute walk of shops, cafes, restaurants, bars, and the rail station. Some rooms at The Thornhill boast stunning sea views and all rooms are equipped with a flat-screen TV and tea/coffee making facilities. Guests can enjoy free WiFi throughout their stay. A delicious traditional English breakfast is served in the tastefully decorated dining room, which also includes fresh juice, yogurt, fruit, and breakfast cereals. Ample tea, coffee, and toast complete a satisfying start to the day. Special dietary requests can be catered for upon request. Moreover, Teignmouth offers plenty of recreational activities such as sea and river boating, fishing, bowls, golfing and walking. Additionally,the seaside town is home to both the steam railway and the South West Coastal Path. Torquay is just 14 km away from The Thornhill while Exeter sits 24 km away; making it an ideal location for exploring nearby attractions like Dartmoor National Park which lies approximately 17 km from the property.
– Conveniently located near shops, cafes & restaurants
– Some rooms offer picturesque sea views
– Delicious traditional English breakfast included
– Free WiFi available throughout
– Ideal location for coastal walks & outdoor activities
Beachfront Hotels Hotels in Devon With a Pool
Beachfront hotels in Devon with a pool offer the perfect combination of relaxation and recreation. Whether you want to take a refreshing swim, soak up the sun on a lounger, or simply enjoy breathtaking ocean views, these hotels provide an idyllic setting for your beach getaway.
The Cimon (Torquay)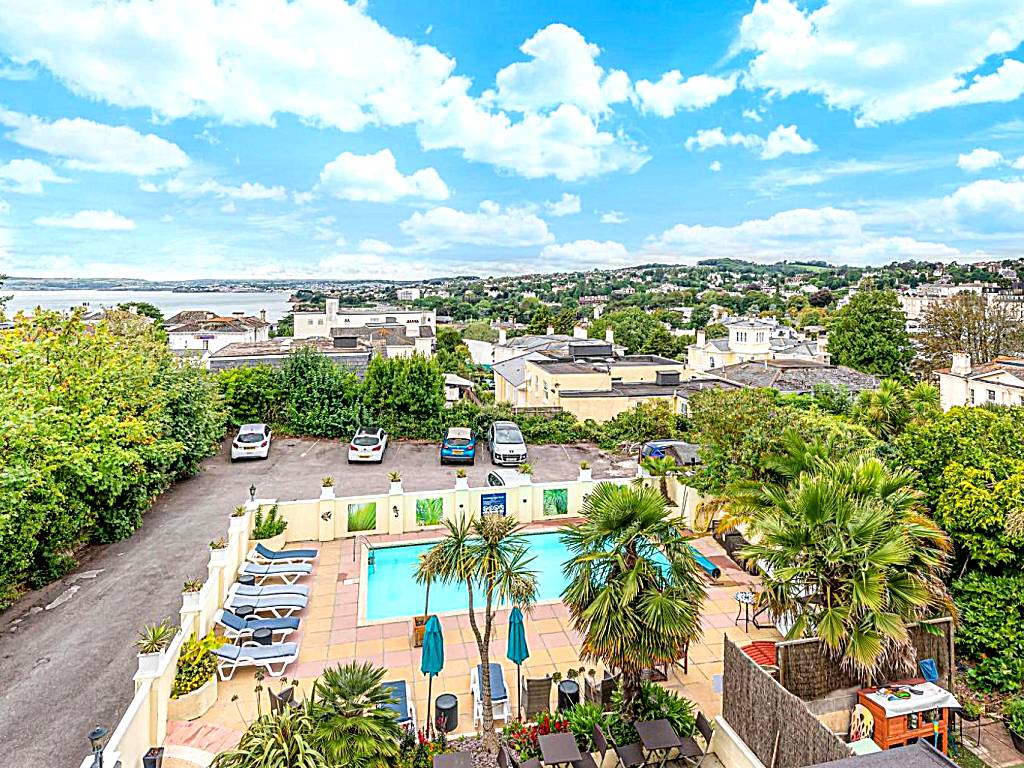 The Cimon is a charming guest house located in the heart of Torquay. Housed in a beautiful detached Victorian building from the 1850s, this hotel offers a wonderful beachfront experience. Guests can enjoy the large patio garden and take a refreshing dip in the 30-foot outdoor swimming pool. The rooms at The Cimon are comfortable and some even offer panoramic south-facing sea views across Torbay. Each room comes with its own bathroom, flat-screen TV, and tea/coffee making facilities. Additionally, guests have access to free Wi-Fi and free parking during their stay. For added convenience, there is a south-facing dining room overlooking the sun terrace and pool area where guests can enjoy delicious meals. The hotel also features a licensed bar for residents to relax and unwind after a day of exploring Torquay's sandy beaches or visiting nearby attractions like the Agatha Christie Mile.
Pros:
– Beautiful detached Victorian building
– Panoramic south-facing sea views from some rooms
– Large patio garden with an outdoor swimming pool
– Free Wi-Fi and parking available for guests
– Close proximity to Torquay's sandy beaches and Agatha Christie Mile tour site
Bedford Hotel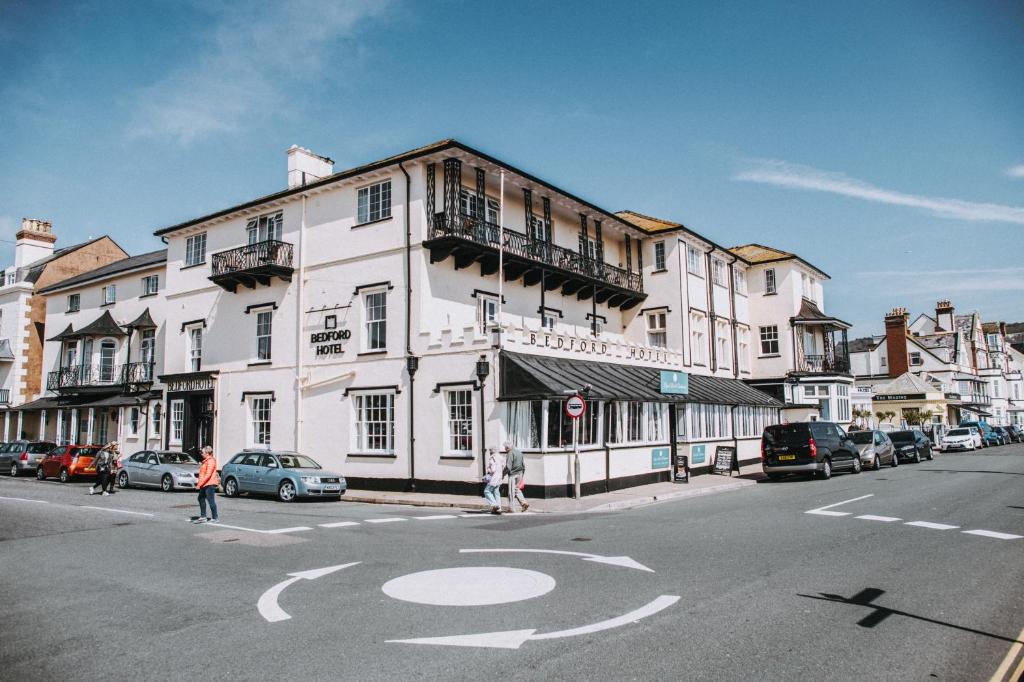 Located on Sidmouth's seafront, Bedford Hotel is a charming beachfront hotel set on Devon's Jurassic Coast. The hotel offers individually designed rooms with modern amenities such as flat-screen TVs, hairdryers, and tea/coffee-making facilities. Many rooms boast panoramic sea views and some even feature balconies. Guests can start their day with a delicious cooked English breakfast in the dining room and enjoy international cuisine at the restaurant overlooking Lyme Bay. The hotel sources its produce from the local area, ensuring a delightful culinary experience. With miles of sandy beaches nearby and Sidmouth Golf Course just a short walk away, guests can fully indulge in seaside relaxation and outdoor activities.
– Beautiful seafront location
– Individually designed rooms
– Panoramic sea views
– Delicious English breakfast and international cuisine options
– Proximity to sandy beaches and golf course
Seaways (Paignton)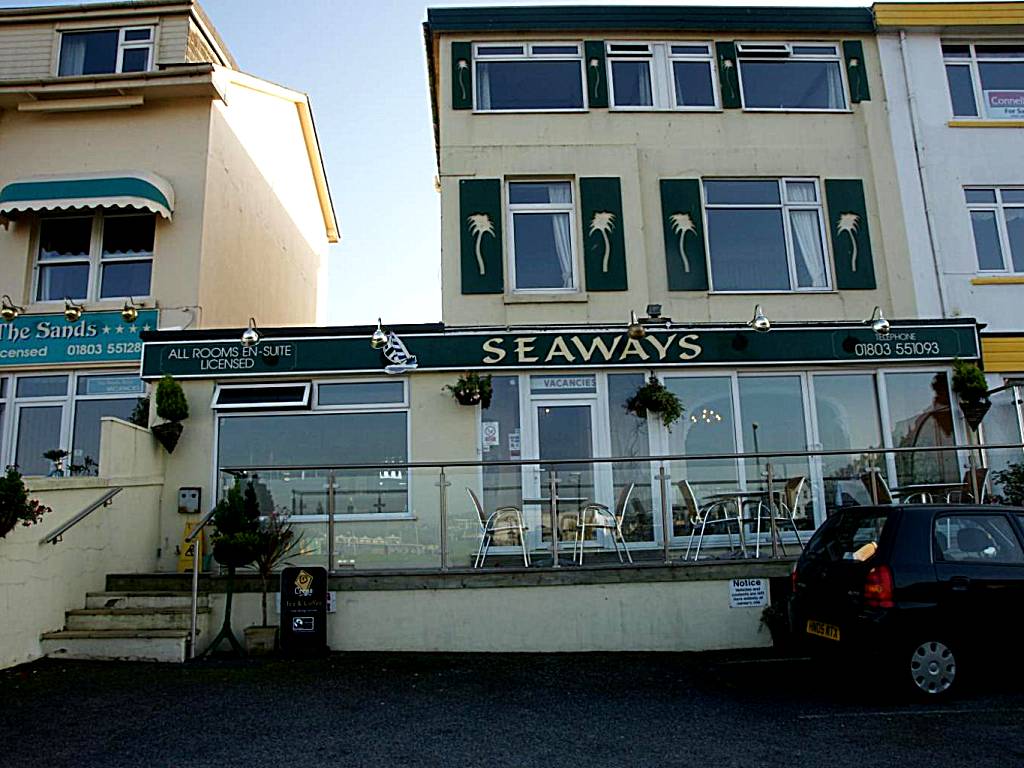 Seaways is a charming family-run guest house located on the stunning seafront of Paignton, just a stone's throw away from the beach and conveniently close to all amenities. This delightful hotel is well-known for its exceptional home-cooked meals, friendly service, and relaxed ambiance. With 11 cozy en-suite rooms, many featuring breathtaking sea views, guests can enjoy both comfort and tranquility during their stay. The establishment also offers a welcoming bar and lounge area where visitors can unwind while taking in the dramatic vistas of the seafront and Torbay. Situated in Paignton, one of the small towns nestled within Torbay – also known as the English Riviera – there are plenty of opportunities for beautiful coastal walks along the South West Coast Path (just 0.25 miles away). Additionally, guests can explore traditional seaside attractions like Cook's Island Crazy Golf or simply leisurely stroll down the pier.
– Beautiful location on Paignton's picturesque seafront
– Excellent home-cooked food
– Friendly service
– Relaxed atmosphere
– Breathtaking sea views from some rooms
Information about Beachfront Hotels in Devon
| | |
| --- | --- |
| 🏢 Number of Beach Hotels in Devon | 12 |
| 🥇 Average Review Score | 8.8/10 |
| 💰 High season average price | 302 |
| 💸 Low season average price | 75.5 |
FAQ
What are the top beachfront hotels in Devon?
Devon offers a range of excellent beachfront hotels for travelers seeking a luxurious seaside escape. Some of the top options include The Cary Arms & Spa in Babbacombe, which boasts stunning views and a relaxing spa, and Saunton Sands Hotel in Braunton, known for its stylish rooms and direct access to the sandy shores. Another popular choice is Salcombe Harbour Hotel & Spa, located on the waterfront with breathtaking views and an indulgent spa experience.
Are there any family-friendly beachfront hotels in Devon?
Absolutely! Devon has several family-friendly beachfront hotels that cater to both adults and children. One such option is The Woolacombe Bay Hotel in Woolacombe, which offers spacious family rooms, an indoor pool, kids' club activities, and direct access to miles of golden sand. Another great choice is The Headland Hotel & Spa in Torquay, equipped with family suites, a children's playroom, outdoor swimming pools, and even a private beach cove.
Which beachfront hotels in Devon offer water sports activities?
If you're looking to indulge in water sports during your stay at a beachfront hotel in Devon, there are a few notable options available. The Thurlestone Hotel near Kingsbridge provides facilities for kayaking and paddleboarding right on its doorstep. In addition to comfortable accommodations by the sea, this hotel also offers equipment rental for various water sports activities. Alternatively,the Saunton Sands Hotel mentioned earlier not only provides direct access to the beautiful Saunton Sands but also offers surfing lessons for guests interested in riding the waves.
What amenities can I expect at a typical beachfront hotel in Devon?
Most beachfront hotels in Devon strive to provide their guests with exceptional amenities for ultimate comfort during their stay. Guests can typically expect features such as stylishly furnished rooms or suites with ocean views or balconies, on-site restaurants serving delicious seafood and locally sourced cuisine, wellness facilities like spas or gyms for relaxation and rejuvenation, easy access to the beach for sunbathing or leisurely walks, and helpful concierge services to assist with any needs or reservations.
Are beachfront hotels in Devon open all year round?
While many beachfront hotels in Devon are indeed open year-round, it is always recommended to check with your chosen hotel directly regarding their specific operating dates. Some hotels may have seasonal closures or limited availability during certain months of the year due to maintenance or renovations. However, there are plenty of options available that cater to visitors throughout the seasons, allowing you to enjoy a beachfront getaway in Devon regardless of when you plan your trip.
Popular Hotels near Beach destinations