Welcome to the breathtaking coastal town of Dahab, Egypt, where sun-kissed beaches meet crystal-clear waters. Nestled on the shores of the Red Sea, this enchanting destination is renowned for its stunning beachfront hotels. Picture yourself waking up to gentle waves lapping against the shore and being greeted by a panorama of golden sands and azure seas stretching as far as the eye can see.
Dahab boasts an irresistible charm that draws travelers from across the globe. With its vibrant coral reefs teeming with marine life, it has become a haven for snorkeling and diving enthusiasts. Immerse yourself in this underwater wonderland and discover a kaleidoscope of colors beneath the surface. After an exhilarating day exploring the depths, indulge in luxury at one of Dahab's many beachfront resorts. These opulent accommodations offer not only exquisite views but also world-class amenities that ensure your stay is nothing short of extraordinary.
Escape to paradise at a beachfront hotel in Dahab where you can bask in tranquility while relishing in breathtaking vistas. Whether you seek relaxation or adventure, this idyllic Egyptian retreat has something for everyone. So pack your swimsuit and get ready to embark on an unforgettable journey along Egypt's mesmerizing coastline
The Best Dahab Hotels By the Beach
Dar Dahab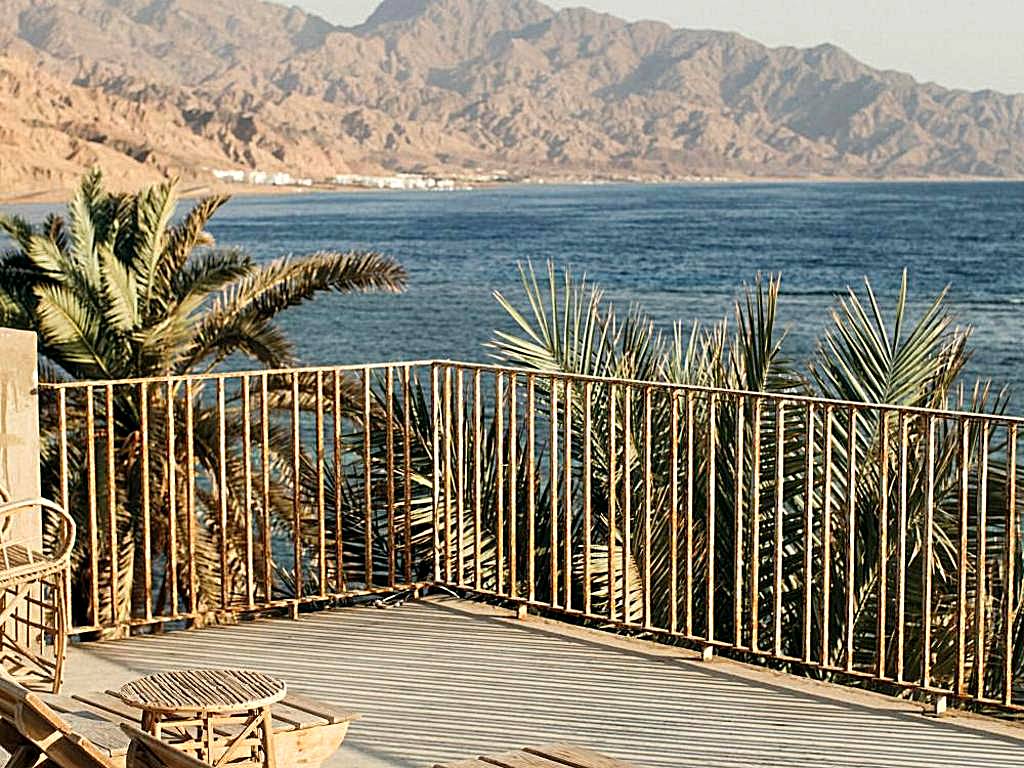 Situated just steps away from Dahab Beach, Dar Dahab is a luxurious apartment hotel that offers guests a truly unforgettable beachfront experience. With its convenient amenities such as a bar, barbecue facilities, and shared kitchen, this hotel ensures that guests have everything they need for a comfortable stay. The units feature tiled floors, a seating area with a flat-screen TV, fully equipped kitchenettes, and private bathrooms. Some units even boast dining areas and balconies for guests to enjoy the stunning views. Start your day off right with a delicious continental or Full English/Irish breakfast before exploring the Middle Eastern, Moroccan, and seafood cuisine served at the on-site restaurant. For those seeking relaxation and entertainment outdoors, Dar Dahab offers an outdoor fireplace as well as cycling and walking tours nearby. Guests can also make the most of the sun terrace while taking in the breathtaking beachfront scenery. With Sharm el-Sheikh International airport just 93 km away, getting to this tranquil paradise is made easy with the paid airport shuttle service.
– Convenient location just steps from Dahab Beach
– Fully equipped kitchenettes in every unit
– Delicious breakfast options available each morning
– On-site restaurant serving Middle Eastern, Moroccan,and seafood cuisine
– Outdoor fireplace for cozy evenings under the stars
Dahab Bay hotel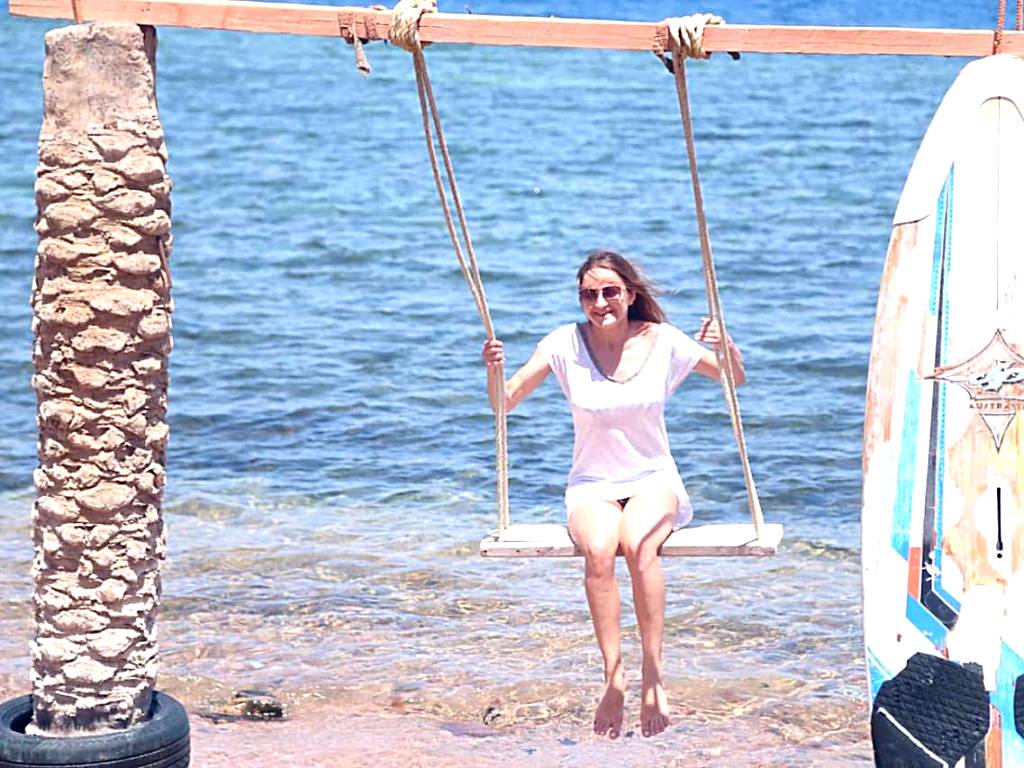 Opened in April 2021, Dahab Bay hotel is located on the beachfront in Dahab and offers 3-star accommodations. Guests can enjoy an outdoor swimming pool, a garden, and a shared lounge. The property also features a restaurant, water park, and terrace, as well as room service. Just 600 meters away is Dahab Beach, making it convenient for guests to access. The hotel provides amenities such as a 24-hour front desk, airport transfers, a business center, and free WiFi. Guests can start their day with an American, vegetarian or vegan breakfast at the property before exploring the area. For families traveling with children, there is also a children's playground available at the hotel. Adventure enthusiasts will appreciate activities like skiing and windsurfing nearby, with bike hire options also offered by the hotel. Sharm el-Sheikh International Airport is the closest airport to the accommodation at about 93 km away.
Pros:
– Beautiful beachfront location
– Outdoor swimming pool
– Water park for added fun
– Variety of breakfast options (American/vegetarian/vegan)
– Close proximity to popular water sports activities like skiing and windsurfing
Swiss Inn Resort Dahab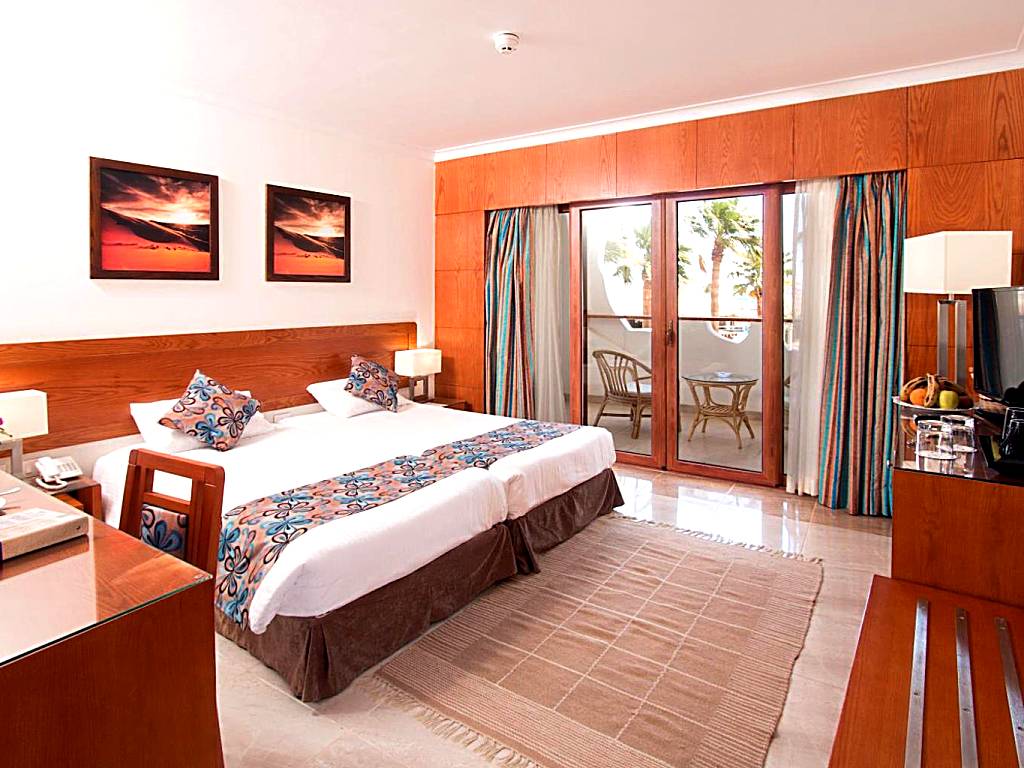 Swiss Inn Resort Dahab is a magnificent 4-star beachfront resort located in Dahab, offering guests a breathtaking private beach along the Red Sea coast. The resort boasts outdoor swimming pools with a dedicated children's section, a diving center, and four dining options. Guests can indulge in refreshing cocktails and mocktails made from fresh fruit at the Beach Bar. The rooms and suites are bright and airy, equipped with modern amenities like a private balcony and spacious seating area with satellite TV. Some rooms also offer stunning views of the sea or beautifully landscaped gardens. Dining options include the El Khaima Restaurant and Terrace serving a delectable buffet throughout the day, as well as the Locanda Sports and Bar for sports enthusiasts. Guests can stay active at the gym with state-of-the-art cardiovascular equipment or unwind with rejuvenating massages at the expansive spa. Families traveling with children can take advantage of the kids' club which includes professional supervision and an exciting playground. Additionally, Swiss Inn Resort offers shuttle services to Dahab's town center for convenient exploration, while airport transfers to Sharm El Sheikh International Airport can be arranged upon request. For adventure seekers, the resort organizes unique safaris across Sinai by camel, horse, Jeep or quad bike.
Pros:
– Stunning private beach on the Red Sea coast
– Outdoor swimming pools with dedicated children's section
– Multiple dining outlets offering delicious cuisine
– Diving center for underwater exploration
– Exciting safaris across Sinai by various means of transport
Hotels Near the Beach in Downtown Dahab
Downtown Dahab offers a range of beachfront hotels, providing guests with convenient access to the sandy shores and sparkling blue waters. These hotels provide a perfect base for visitors looking to relax and soak up the sun while enjoying the vibrant atmosphere of downtown Dahab.
Safir Dahab Resort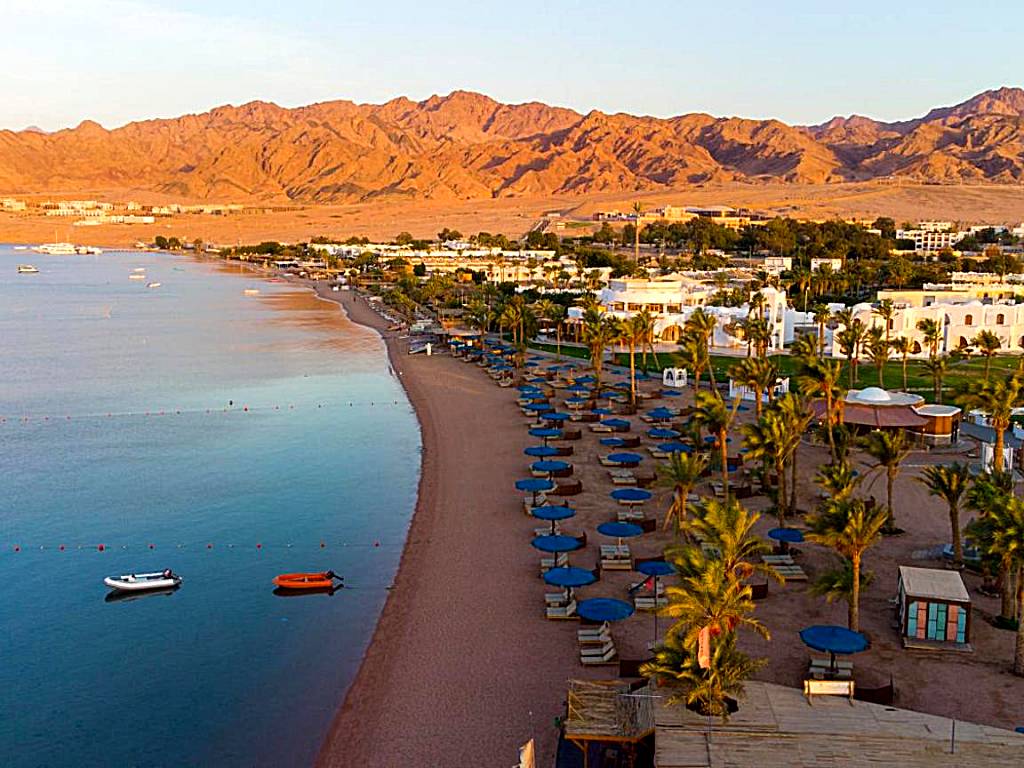 The Safir Dahab Resort, located on the Red Sea, is a luxurious beachfront retreat that offers breathtaking panoramic views. Just a one-hour drive from Sharm el Sheikh, this resort features a private beach and an exquisite landscaped pool area. Guests can indulge in a delicious array of dining options at Flavors Restaurant, Catch Sea Food's Restaurant, and Portofino Italian Restaurant. Additionally, there is a beach bar and pool bar where guests can relax with their favorite drink. The spacious rooms at Safir Dahab Resort are elegantly furnished with luxury bedding and feature modern amenities such as minibars and private marble bathrooms. Each room also comes with a balcony offering stunning garden views. The resort provides various leisure activities including tennis for sports enthusiasts or lounging by the pool for those seeking relaxation. The tour desk offers assistance with car rentals and information on local attractions while nearby activities like windsurfing and diving provide exciting adventures. With its convenient location just 87 km from Sharm el-Sheikh International Airport, 24-hour front desk service, and free onsite parking, Safir Dahab Resort ensures a comfortable stay for all its guests.
– Stunning panoramic Red Sea views
– Private beach access
– Elegant landscaped pool area
– Variety of international dining options
– Convenient location near popular water sports activities
Dahab Lagoon Club & Resort Ex Tirana Dahab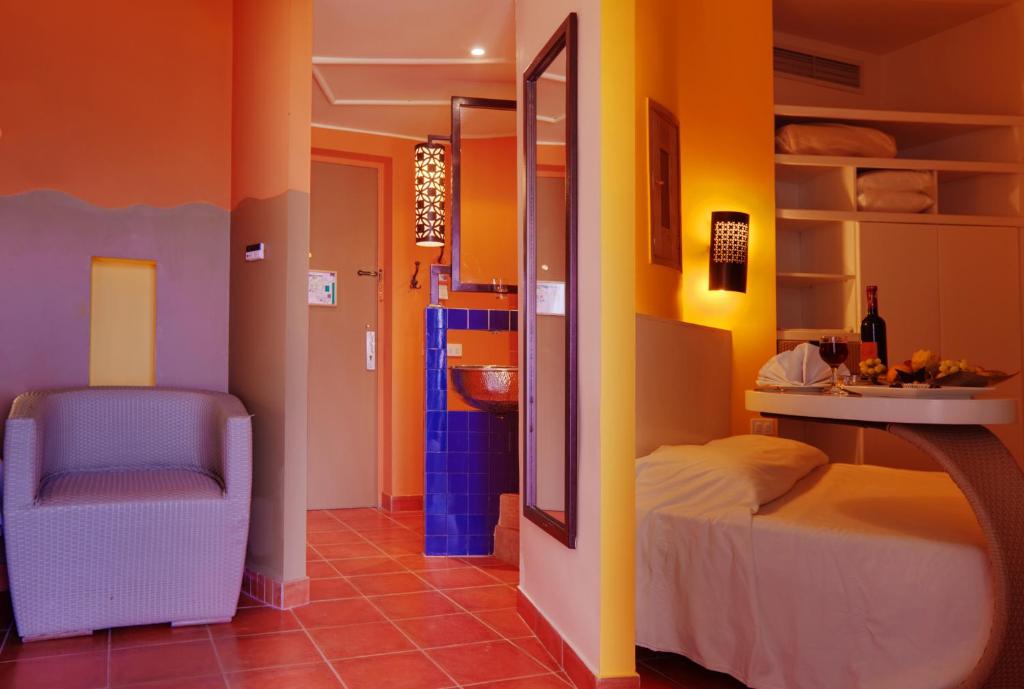 Located 3 km from Dahab's center and boasting a stunning beachfront position by the Red Sea, Dahab Lagoon Club & Resort Ex Tirana Dahab is a luxurious 4-star hotel. The resort features a lagoon-style pool and modern guest rooms with furnished balconies. Each room is tastefully decorated in warm colors and equipped with satellite TV and a minibar. With the pink mountains of the Sinai Peninsula as its backdrop, the resort offers breathtaking views of the Red Sea across its 650-meter sandy beach. Guests can indulge in delicious meals at one of the three restaurants or enjoy drinks and live entertainment at any of the four bars, whether indoors or on the terrace. For ultimate relaxation, guests can pamper themselves with massage treatments or stay active at the fitness center. Sharm El Sheikh International Airport is conveniently located 88 km away.
– Prime location by the Red Sea
– Lagoon-style pool for refreshing swims
– Breath-taking views of pink mountains and sandy beach
– Variety of dining options including traditional meals
– Relaxing spa treatments available
Information about Beachfront Hotels in Dahab
| | |
| --- | --- |
| 🏢 Number of Beach Hotels in Dahab | 5 |
| 🥇 Average Review Score | 8.6/10 |
| 💰 High season average price | 1006 |
| 💸 Low season average price | 251.5 |
FAQ
What are the top beachfront hotels in Dahab?
Dahab is home to several top-notch beachfront hotels that offer stunning views of the Red Sea. Some of the highly recommended options include Le Méridien Dahab Resort, Hilton Dahab Resort, and Coral Coast Hotel. These hotels not only boast prime locations right on the beach but also provide luxurious amenities, such as private pools, spa services, and fantastic dining options.
Are there any all-inclusive beachfront hotels in Dahab?
Yes, there are a few all-inclusive beachfront hotels in Dahab that ensure a hassle-free and relaxing vacation experience. One popular choice is Swiss Inn Resort Dahab which offers an all-inclusive package covering accommodation, meals, drinks, water sports activities, and access to their private beach area. The hotel boasts spacious rooms with sea views and provides entertainment programs for both adults and children.
Which beachfront hotels in Dahab have a private access to the beach?
Many beachfront hotels in Dahab have direct or private access to the beaches nearby. For instance, Mövenpick Resort & Spa Taba has its private sandy stretch equipped with loungers and umbrellas exclusively for hotel guests' use. Similarly, Ibis Styles Dahab Lagoon Hotel features a stunning lagoon-side location where guests can enjoy swimming and snorkeling right from their doorstep.
What are some budget-friendly options for beachfront accommodations in Dahab?
While there are plenty of luxury options available, travelers on a budget can still find affordable beachfront accommodations in Dahab without compromising on quality. Hotels like Acacia Boutique Hotel offer comfortable rooms just steps away from famous dive sites at reasonable prices. Other wallet-friendly choices include Marine Garden Camp which offers basic yet cozy bungalows near the sea or Sheikh Ali Resort known for its friendly atmosphere and affordable rates.
Can I find eco-friendly beachfront resorts in Dahab?
Indeed, eco-friendly beachfront resorts can be found in Dahab. One such example is Dahab Paradise which offers a serene and environmentally conscious stay with solar-powered energy, natural building materials, and water-saving practices. They also organize eco-friendly excursions like desert safaris and snorkeling trips to protect the delicate marine ecosystem. Another option is Blue Beach Club & Dive Resort which combines sustainability with comfort by using renewable energy sources and practicing waste reduction initiatives to minimize their impact on the environment.
Popular Hotels near Beach destinations