Welcome to Chania, Greece, a paradise nestled along the stunning coastline of the Mediterranean Sea. If you're seeking an idyllic beachfront getaway, look no further than this enchanting destination. Chania boasts a plethora of luxurious seaside accommodations that will leave you in awe of their beauty and serenity.
Immerse yourself in the breathtaking views of the azure waters and golden sands as you indulge in the finest offerings from our handpicked selection of shoreline lodgings. From opulent resorts to boutique hotels, there's something for every discerning traveler seeking a touch of sophistication by the sea.
Unwind under swaying palm trees while sipping on refreshing cocktails or take a leisurely stroll along pristine shores as gentle waves tickle your toes. Whether you prefer lounging by an infinity pool overlooking the ocean or basking in private cabanas just steps away from sandy beaches, Chania offers an array of amenities that cater to your every desire.
Escape routine and immerse yourself in pure bliss at these beachfront havens where luxury meets natural beauty. Prepare to be mesmerized as we unveil some of Chania's finest coastal retreats that promise an unforgettable experience filled with relaxation, adventure, and unparalleled hospitality.
The Best Chania Hotels By the Beach
Christina Beach Hotel (Chania Town)
Located in Chania Town, just steps away from Nea Chora Beach, Christina Beach Hotel offers comfortable 3-star accommodation with a range of amenities. The hotel features an outdoor swimming pool, fitness centre, and a kids' club. Guests can enjoy meals at the on-site restaurant and relax on the terrace with breathtaking sea views. Each room is air-conditioned and comes with free WiFi, a private bathroom, and a safety deposit box. Some rooms also include a patio and coffee machine. The multilingual staff at the reception are always available to assist guests. Continental and Full English/Irish breakfast options are served daily. Popular attractions such as Municipal Art Gallery of Chania, Firkas Fortress, and Mitropoleos Square are located nearby. Chania International Airport is conveniently situated 14 km away.
– Prime beachfront location
– Outdoor swimming pool
– Fitness centre
– Kids' club for family entertainment
– Multilingual staff for easy communication
Vergina Beach Hotel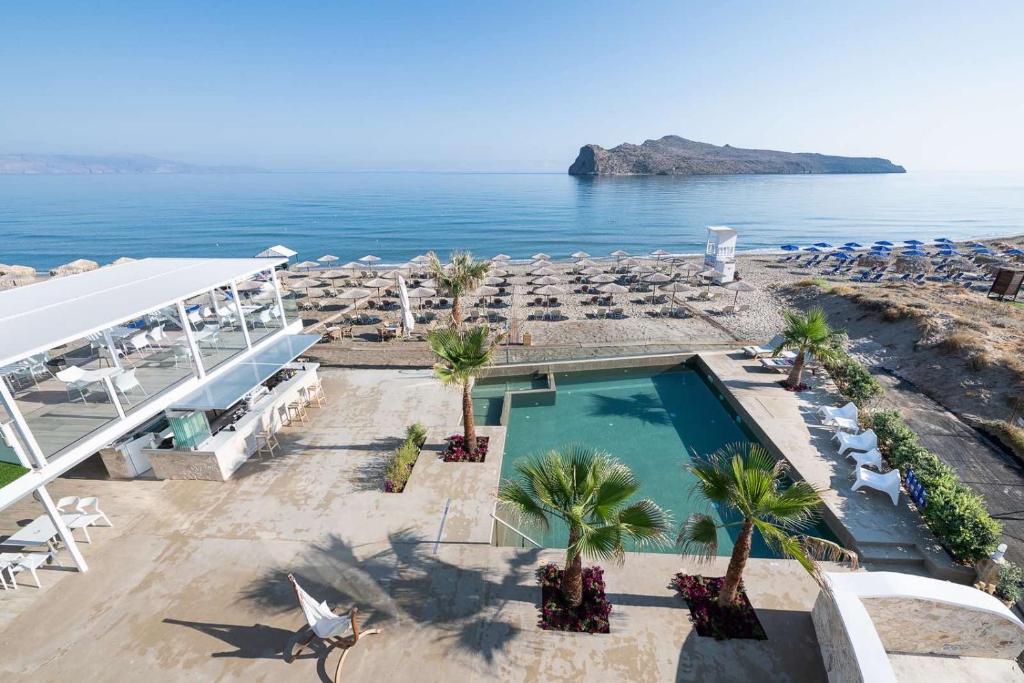 Located on the sandy beach of Agia Marina, Vergina Beach Hotel offers comfortable accommodation with stunning views of the Cretan Sea. The hotel features a swimming pool by the seaside and a plunge-spa pool with a waterfall. Guests can enjoy breakfast, lunch, and snacks at the beach restaurant, while nearby amenities include a bakery, supermarkets, ATMs, bars, and restaurants. The studios, suites, and apartments are tastefully furnished with private balconies and equipped with kitchenettes and flat-screen TVs. The cocktail bar serves delicious drinks and pizzas while offering 8 large flat-screen TVs for entertainment. Chania town and port are just 8 km away from the hotel while Chania Airport is around 17 km away.
– Direct access to a sandy beach
– Swimming pool by the seaside
– Plunge-spa pool with waterfall
– Convenient location near local amenities
– Tastefully furnished accommodations with private balconies
Mistrali Suites & Apartments (Kalyves)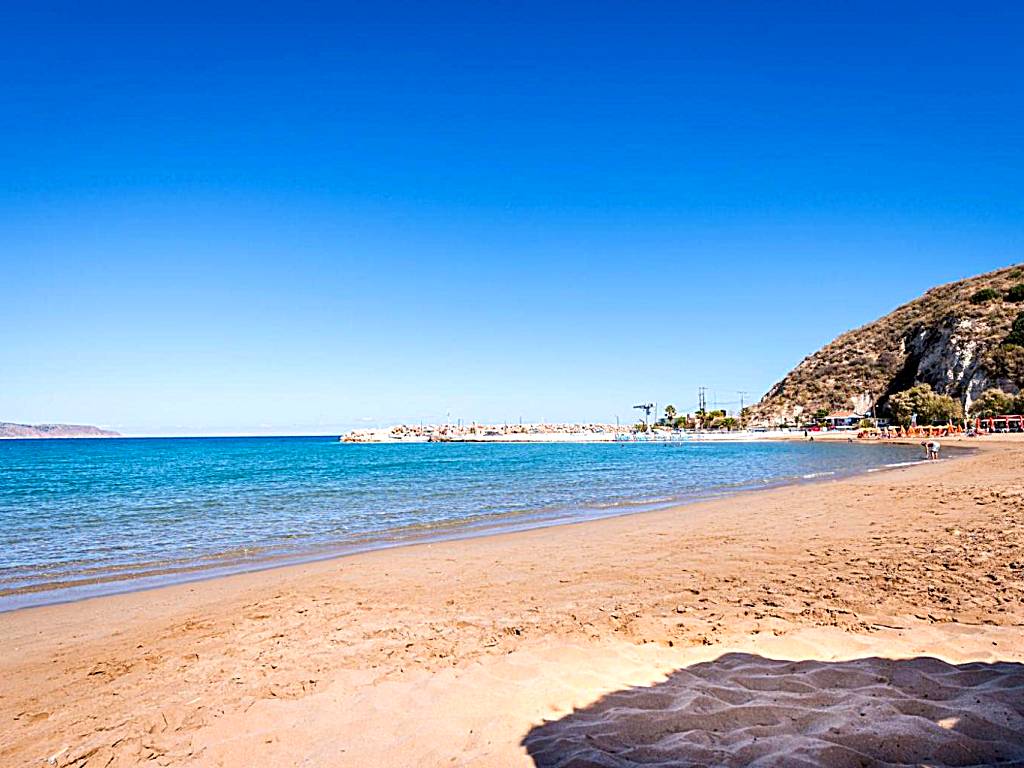 Resort: Mistrali Suites & Apartments is a 3-star beachfront resort located in Kalyves, offering comfortable accommodation with stunning sea views. The resort features a garden, terrace, and restaurant, as well as a bar and private beach area. Guests can enjoy free WiFi throughout the property. The rooms are equipped with private bathrooms and some have balconies. Popular nearby attractions include Kalives Beach, Hermans Beach, and Kera Beach. Airport transfers and bicycle rental services are available for guests' convenience.
– Beautiful beachfront location
– Free WiFi throughout the property
– Private beach area for guests to enjoy
– Close proximity to popular local beaches
– Convenient airport transfers available
Other places to stay in Chania
Hotels Near the Beach in Downtown Chania
Hotels near the beach in downtown Chania offer a convenient location for beach enthusiasts, with stunning views of the sea and easy access to the sand. Visitors can enjoy the perfect combination of relaxation and vibrant city life in this beautiful coastal destination.
Blue Dome Hotel (Plataniás)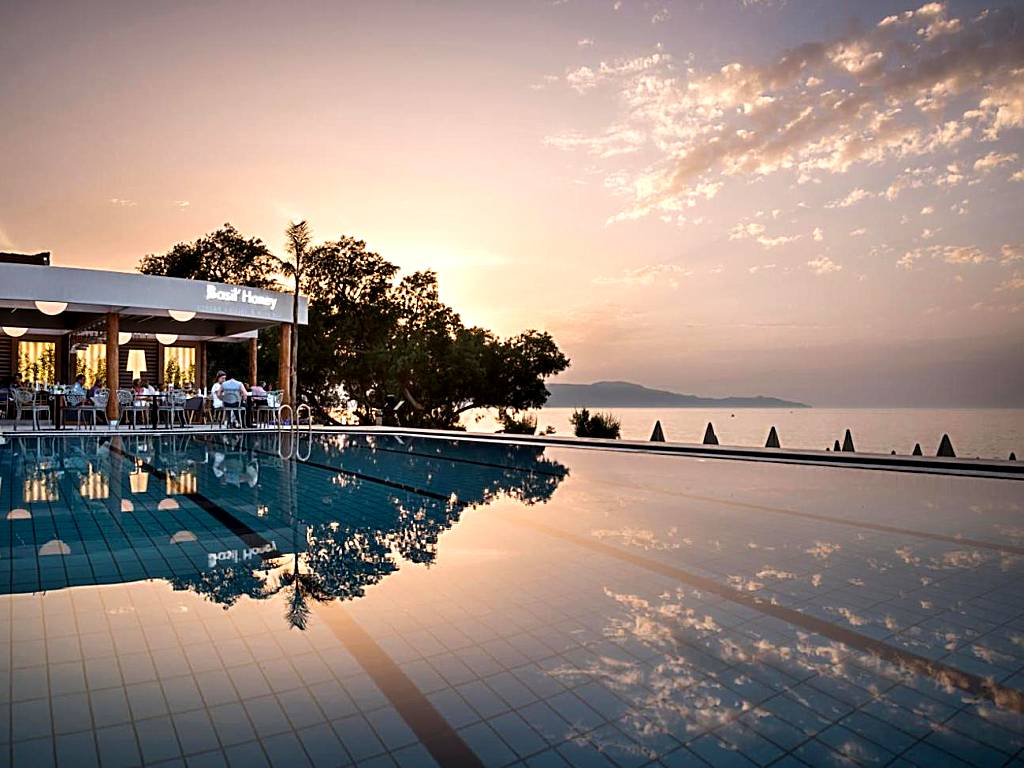 Located in the beautiful beachfront town of Platanias, the Blue Dome Hotel is a luxurious apartment hotel offering breathtaking views of the Cretan Sea. With its environmentally friendly approach, this hotel provides self-catering accommodation with private balconies. Guests can enjoy a variety of refreshing drinks and cocktails at the poolside bar while lounging by one of the two swimming pools. The on-site Basil' Honey restaurant serves modern Cretan flavors and offers stunning sea views. Free beach towels are provided, and guests can also take advantage of free Pilates classes at the fitness center. With its convenient location, just 11 km from Chania Town and 15 km from Souda Port, guests can easily explore all that Platanias has to offer.
– Stunning beachfront location
– Two swimming pools with sun terrace
– Delicious dining options at Basil' Honey restaurant
– Free Pilates classes at the fitness center
– Conveniently located near Chania Town and Souda Port
Pilot Beach Resort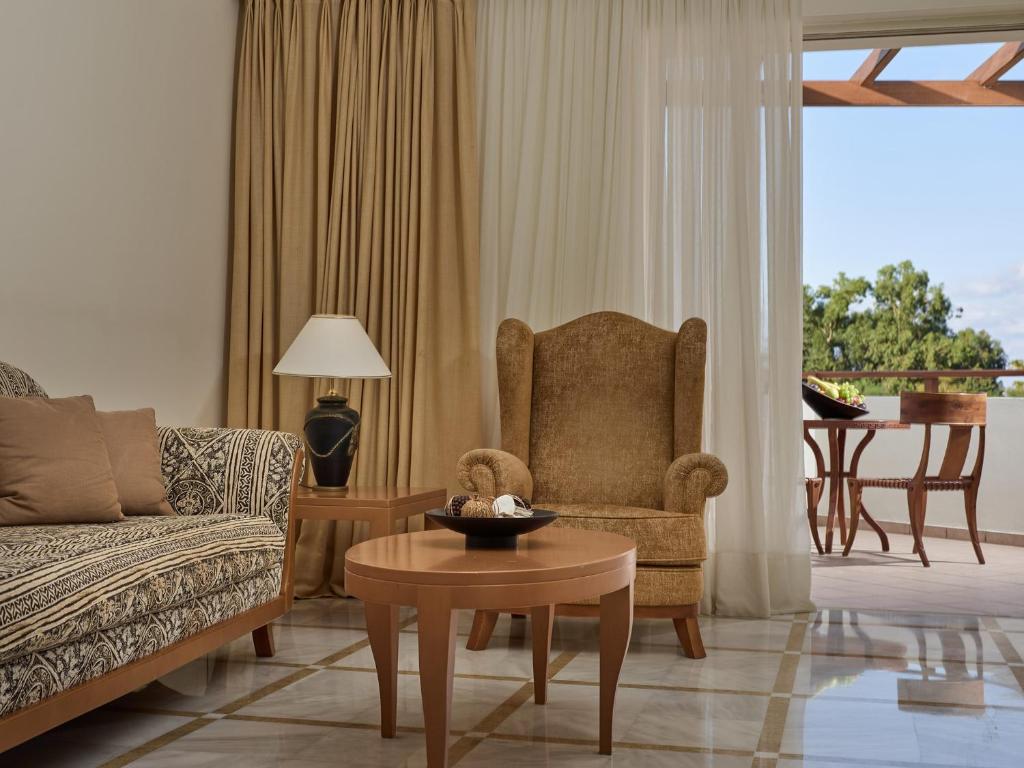 Located on the stunning Almyrou Bay near Georgioupolis, Pilot Beach Resort offers a private sandy beach and beautiful gardens. The resort boasts 5 swimming pools, both indoor and outdoor, as well as excellent health and leisure facilities. Guests can choose from a variety of well-appointed accommodations and enjoy the natural surroundings. The resort also offers a complimentary buffet breakfast and a wide range of leisure activities such as yoga, Pilates, aqua gymnastics, art workshops, and more. In the evening, guests can indulge in traditional Greek and Cretan delicacies at the seaside restaurant or grab a drink at the cocktail bar or lively Ermis Bar.
– Private sandy beach
– Picturesque gardens
– Multiple swimming pools (indoor & outdoor)
– Extensive complimentary buffet breakfast
– Wide variety of leisure activities
Asterion Suites & Spa – Designed for Adults (Gerani Chanion)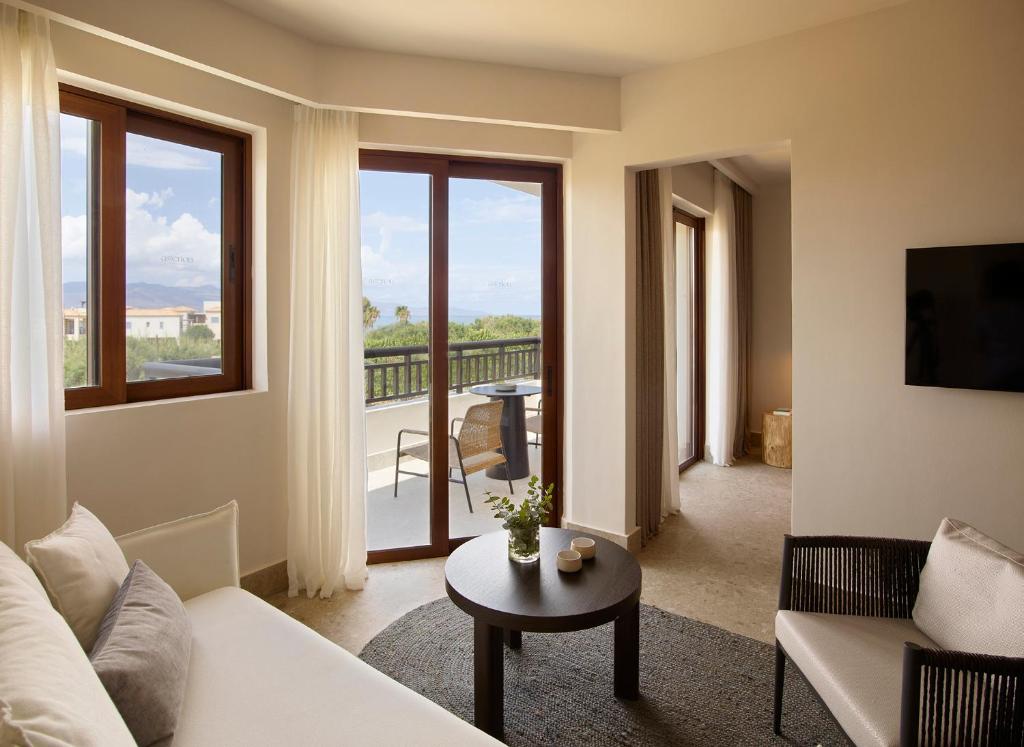 Located on the sandy beach of Platanias in Chania, the 5-star Asterion Suites & Spa – Designed for Adults offers a luxurious and tranquil retreat. Just a short distance from Maleme, Platanias, and Chania, this beachfront hotel is perfectly situated for guests to explore the area. The spacious rooms are bright and airy, with some featuring private pools or swim-up access to shared pools. Each room also boasts a seating area and a spacious balcony with breathtaking views. Guests can indulge in rejuvenating treatments at the Orion Spa, which includes a sauna, hot tub, massages, facials, manicures, pedicures, and various beauty services. Other facilities include free WiFi, satellite TV minibar hairdryer. The hotel features two gastronomic restaurants – the Matter offering international cuisine and 35º serving traditional Cretan dishes by the poolside. Additional amenities include hairdresser's services and complimentary use of Akylas gym. With Chania Airport only 27 km away and free on-site parking available, Asterion Suites & Spa provides convenient access for travelers. Furthermore, during summer 2023 all guests will enjoy two complimentary yoga morning sessions per week along with one evening yoga event as well as a free 15-minute massage.
– Spectacular beachfront location
– Spacious rooms with private pools or swim-up access
– Luxurious spa facilities offering a range of treatments
– Gastronomic dining options including traditional Cretan dishes
– Complimentary yoga sessions and massage during summer 2023
Romantic Beachfront Hotels in Chania
Chania offers a range of romantic beachfront hotels that boast picturesque views and intimate settings. These hotels provide the ideal backdrop for couples seeking a romantic getaway with their loved ones.
Baladinos Apartments (Gerani Chanion)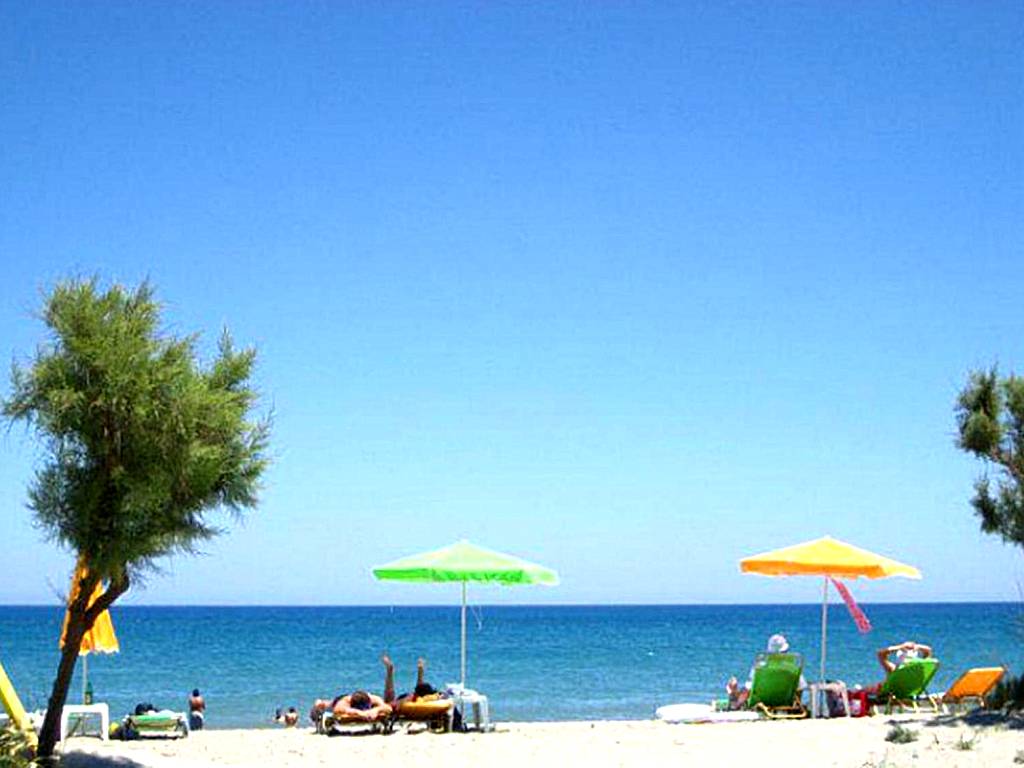 Located right on the sandy Gerani Beach in Chania, the family-run Baladinos Apartments is a beachfront apartment hotel that offers self-catering accommodation with balconies or patios. The property features lush gardens and a bar-restaurant where guests can enjoy coffee drinks and traditional flavors while overlooking the sea. The apartments have kitchenettes, air conditioning, flat-screen TVs, and private bathrooms with showers and hairdryers. A continental breakfast is served daily at the dining area. Baladinos Apartments is conveniently located near Agia Marina Village and Falassarna Beach, as well as being within driving distance of Chania Town and Souda Port.
Pros:
– Prime beachfront location
– Lush gardens provide a serene atmosphere
– Bar-restaurant offers beautiful sea views
– Self-catering accommodations provide flexibility
– Free Wi-Fi throughout the property
Giannoulis – Santa Marina Beach Hotel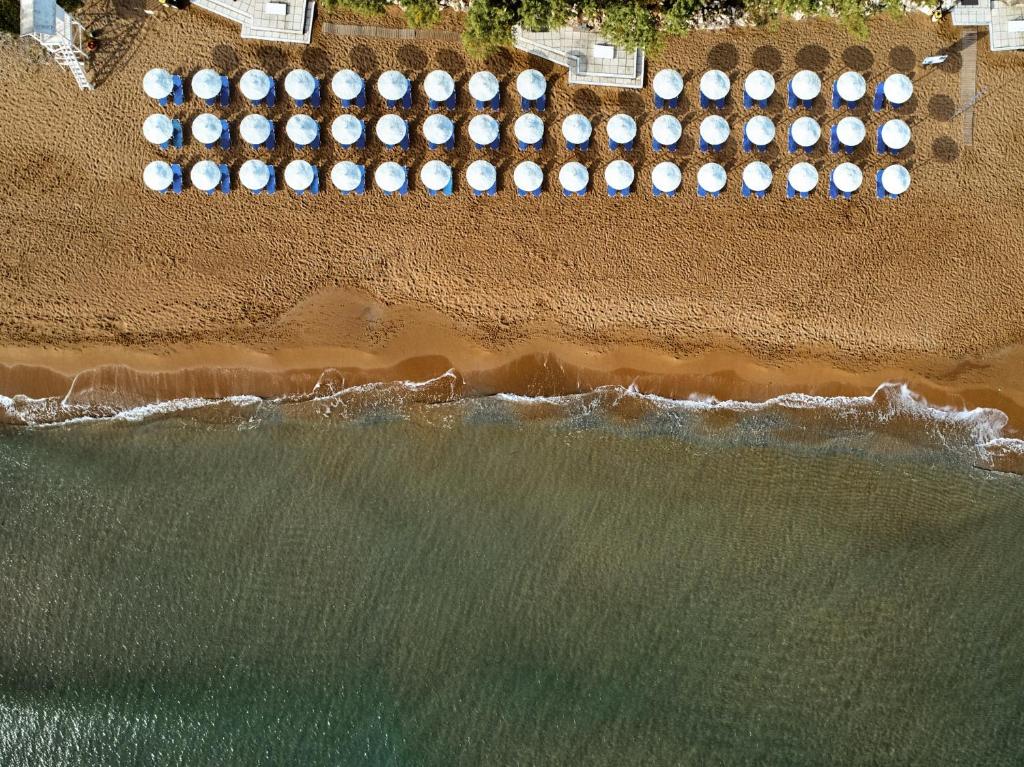 Located just 8 kilometers from the charming city of Chania, Giannoulis – Santa Marina Beach Hotel is a beachfront resort in the picturesque village of Agia Marina. With three buildings and a total of 212 spacious and comfortable rooms, guests can enjoy amenities such as balcony, direct dial phone, air conditioning, satellite TV, minibar, radio, refrigerator, and private marble bathroom with hair dryer. The hotel features three bars including one in the lobby area with TV, another by the pool and a third on the beach. Guests also have access to a fitness room and playground while water sports opportunities are available on the nearby beach. Dining options include two restaurants serving traditional Greek or international cuisine. Transfers by taxi can be arranged for an additional charge.
Pros:
– Beachfront location
– Spacious and comfortable rooms
– Three bars offering different atmospheres
– Fitness room and playground available
– Water sports opportunities on nearby beach
Hotel Christina (Chania Town)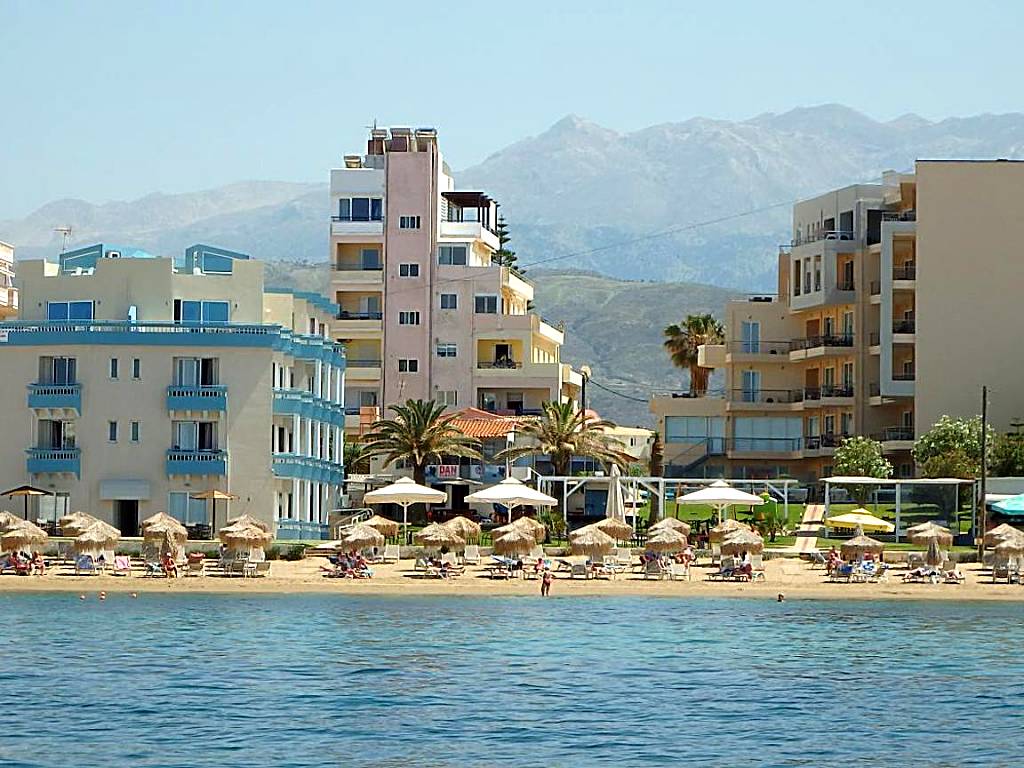 Hotel Christina in Chania Town is a beachfront hotel offering stunning sea-view rooms and a spacious garden that leads directly to the beach. The 2-star resort features an outdoor heated pool and a children's pool, providing plenty of options for relaxation. Guests can enjoy snacks at the beach bar and rent sun beds and umbrellas for ultimate comfort. The elegantly furnished self-catered studios come with a kitchenette, air conditioning, satellite TV, safe, and free Wi-Fi throughout the premises. Located just a 10-minute walk from Chania's center, Hotel Christina is perfectly situated for both relaxation and sightseeing.
– Stunning location on Chania's beachfront
– Sea-view rooms
– Outdoor heated pool and children's pool
– Spacious garden leading to the beach
– Free Wi-Fi throughout the premises
Beachfront Hotels Hotels in Chania With a Pool
Beachfront hotels in Chania with a pool offer the perfect combination of stunning ocean views and refreshing swimming options. Whether you prefer lounging by the pool or taking a dip in the sea, these hotels provide an idyllic setting for a beach vacation.
Giannoulis – Santa Marina Plaza (Adults Only)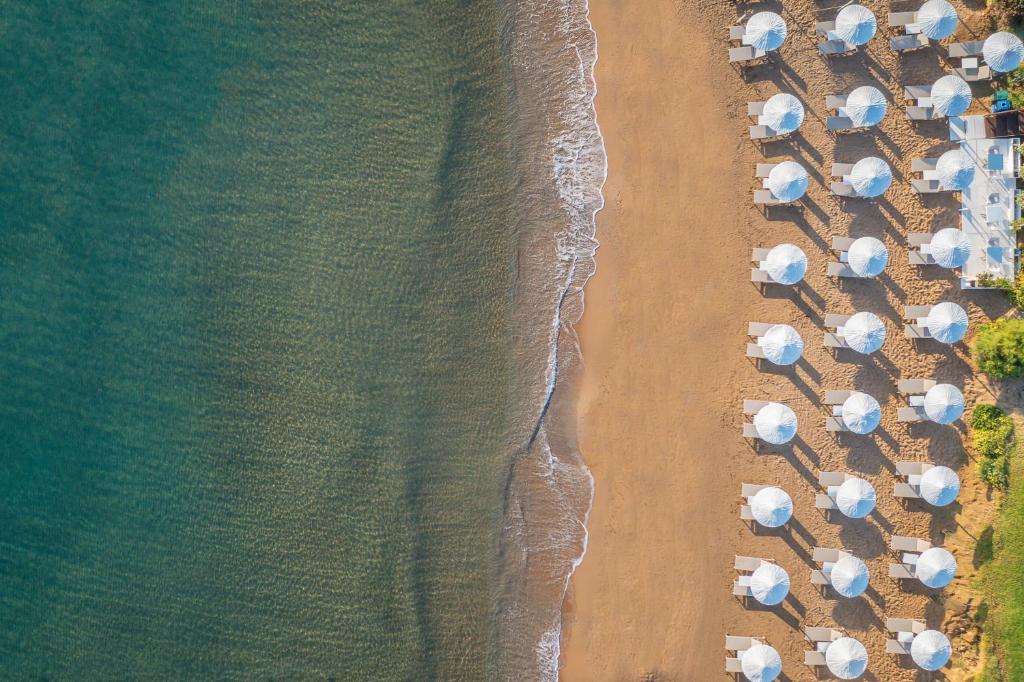 The adults-only Giannoulis – Santa Marina Plaza is a beautiful beachfront resort located on the beach of St. Marina, just 8 km from Chania Town. The resort features an outdoor swimming pool and offers free private parking. The rooms are modernly decorated and include amenities such as air conditioning, LCD TV, minibar, and a balcony with views of the Cretan Sea or the garden. Guests can enjoy Greek and international cuisine at the main restaurant, watch live-show cooking, or dine on Mediterranean dishes at the beachfront a la carte restaurant. The hotel also organizes guitar nights for entertainment. Additional facilities include a hot tub, fitness room, room service, laundry service, and WiFi internet access.
– Beachfront location
– Outdoor swimming pool
– On-site parking
– Variety of dining options
– Entertainment events such as guitar nights
Information about Beachfront Hotels in Chania
| | |
| --- | --- |
| 🏢 Number of Beach Hotels in Chania | 10 |
| 🥇 Average Review Score | 8.9/10 |
| 💰 High season average price | 430 |
| 💸 Low season average price | 107.5 |
FAQ
Can you recommend a luxury beachfront hotel in Chania, Greece?
One highly recommended luxury beachfront hotel in Chania, Greece is the Domes Noruz Chania. This stunning boutique hotel offers stylish and modern accommodation right on the beach, with beautiful views of the sea. Guests can relax by the pool or on the sun loungers while enjoying direct access to the sandy shore. The hotel also features a spa, fitness center, and several dining options for a truly indulgent stay.
What amenities can I expect at a beachfront hotel in Chania?
Beachfront hotels in Chania typically offer a range of amenities to enhance your stay. You can expect direct access to the beach where you can enjoy leisurely walks or bask in the sun. Many hotels also have swimming pools overlooking the sea, perfect for cooling off after a day under the sun. Other common amenities include restaurants serving delicious local cuisine, bars with refreshing cocktails, spa facilities for relaxation and rejuvenation, as well as fitness centers for those who want to keep active during their vacation.
Are there any family-friendly beachfront hotels in Chania?
Yes, there are several family-friendly beachfront hotels in Chania that cater specifically to families traveling with children. One such example is Cretan Dream Royal Hotel which offers spacious rooms and suites suitable for families of different sizes. They also provide various facilities like kids' clubs with supervised activities and entertainment programs designed especially for children to ensure they have a fun-filled vacation experience.
Can I find budget-friendly beachfront hotels in Chania?
While luxury accommodations dominate the scene in Chania's beachfront area, there are some budget-friendly options available as well. Hotels like Almyrida Residence Hotel offer comfortable rooms at more affordable rates without compromising on proximity to the sea. These properties may not have all the lavish amenities of higher-priced counterparts but still provide an enjoyable seaside stay for guests on a tighter budget.
What activities can I enjoy during my stay at a beachfront hotel in Chania?
Staying at a beachfront hotel in Chania opens up numerous opportunities for fun activities. Besides lounging on the sandy shores and swimming in the crystal-clear waters, you can also try water sports like snorkeling, paddleboarding, or jet skiing. Many beachfront hotels also organize boat trips and excursions to nearby attractions such as Balos Beach or Samaria Gorge, allowing you to explore the natural beauty of the area. Additionally, Chania's town center offers a wealth of dining, shopping, and cultural experiences that are just a short distance away from your idyllic seaside retreat.
Popular Beach Hotels destinations