Welcome to the stunning coastal city of Barcelona, a paradise for beach lovers and sun seekers! Today, we embark on an exploration of the magnificent seaside accommodations that dot this vibrant Spanish metropolis. Nestled along the dazzling Mediterranean coastline, these opulent establishments offer an exquisite fusion of luxury and relaxation, ensuring an unforgettable stay for every discerning traveler.
Prepare to be enamored by the sheer beauty of Barcelona's beachfront hotels. From lavish resorts boasting spectacular vistas over pristine sandy shores to intimate boutique hideaways nestled in charming coastal neighborhoods, each property exudes its own unique charm and character. Immerse yourself in the unparalleled elegance and sophistication that awaits you as you indulge in world-class amenities, savor delectable culinary delights at renowned restaurants with panoramic sea views, and unwind with rejuvenating spa treatments at your fingertips.
With their prime locations just steps away from golden beaches that stretch endlessly before you, these beachfront havens provide a gateway to explore the captivating city's cultural treasures and lively atmosphere. Whether you are seeking a tranquil retreat or an action-packed adventure under the sun-kissed sky, Barcelona's exceptional range of beachfront accommodations will surely cater to all your desires. So pack your swimsuit and let us dive into this enchanting world where turquoise waters meet stylish comfort – it's time to experience Barcelona's finest coastal escapes!
The Best Barcelona Hotels By the Beach
Hotel Miramar Badalona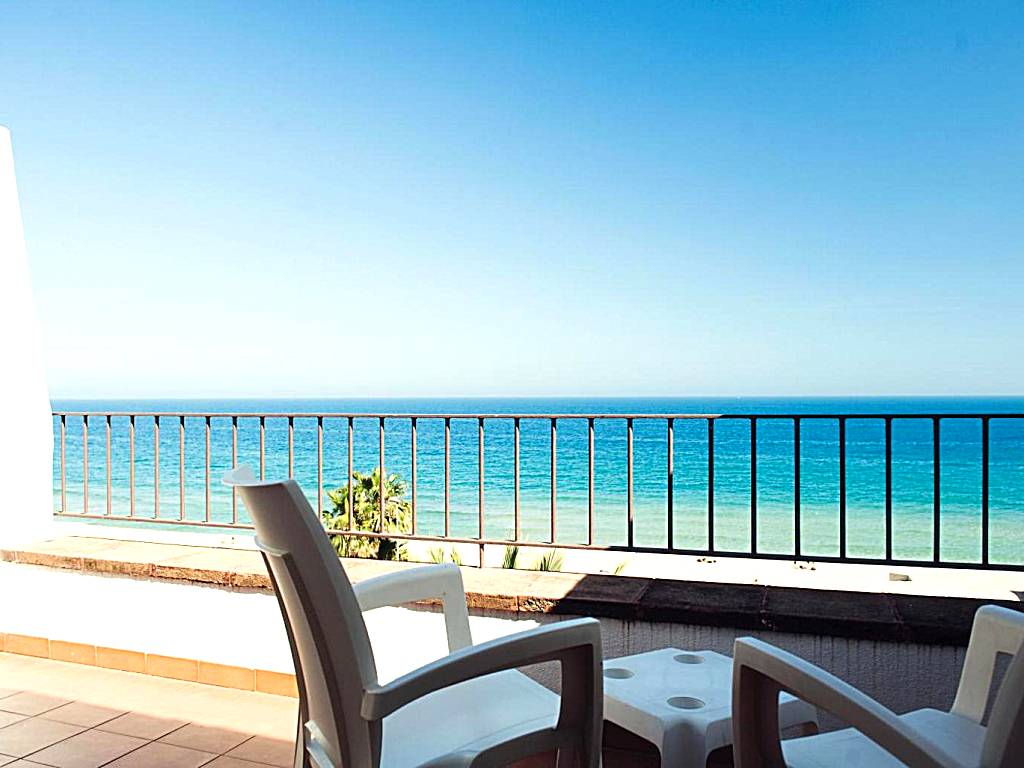 Located on the beachfront promenade with stunning views of the sandy beach and Mediterranean Sea, Hotel Miramar Badalona offers a modern and family-friendly experience. Its prime location is just a few meters away from the town's train station, providing convenient access to Barcelona in just 20 minutes. The hotel features a restaurant serving delicious regional and international cuisine, perfect for unwinding after exploring the sights of Barcelona or enjoying a day on the golden sandy beach. With Wi-Fi available throughout the hotel and a sociable lounge area, guests can stay connected or simply relax. Additional perks include easy access to other charming resorts along Costa de Maresme from Badalona's train station.
– Prime location on the beachfront promenade
– Easy access to Barcelona via nearby train station
– Delicious regional and international cuisine at the hotel restaurant
– Wi-Fi available throughout the property
– Sociable lounge area for relaxation
Melia Barcelona Sky 4* Sup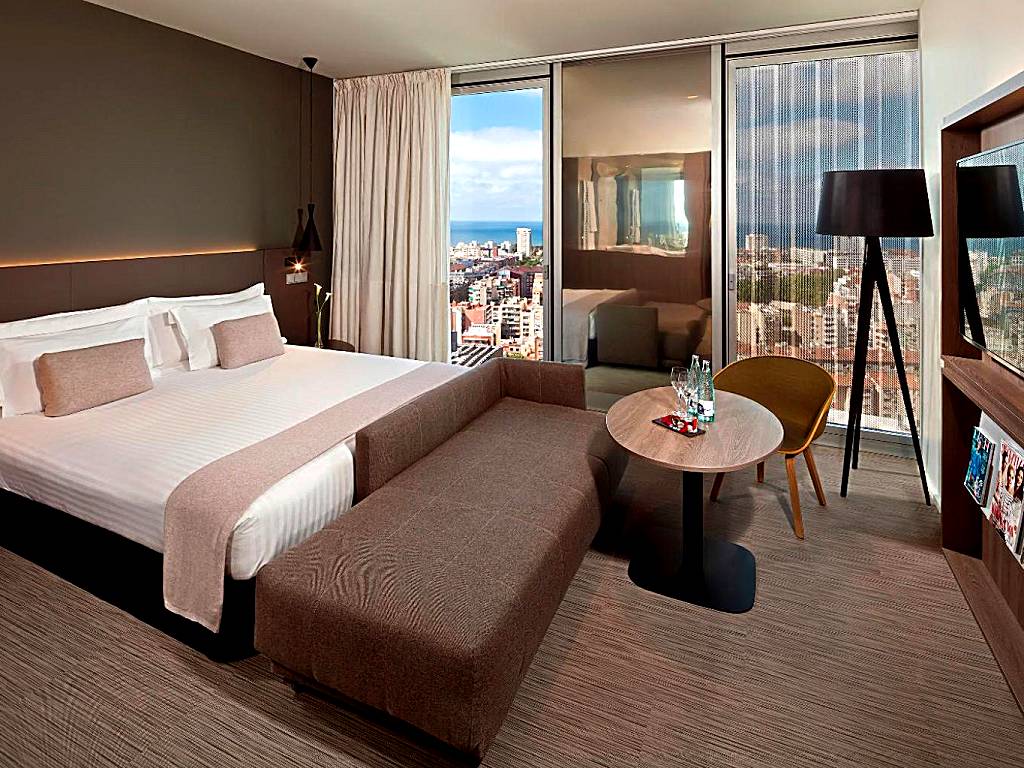 Melia Barcelona Sky 4* Sup is one of Barcelona's tallest buildings, offering breathtaking views of the city and sea. This design hotel boasts an outdoor swimming pool and is conveniently located just a 10-minute walk from Mar Bella beach. Guests can indulge in luxurious treatments at the Serena SPA Wellness, with complimentary access to the gym. Each spacious room features a 32-inch plasma-screen TV and offers stunning city views, while the stylish bathrooms are equipped with rain showers. The Skyline 24 Panoramic Terrace on the 24th floor is perfect for sipping cocktails while enjoying panoramic city vistas. El Merkado Restaurant serves delectable Mediterranean cuisine, and guests can also enjoy cocktails on its terrace. With free WiFi throughout, Melia Barcelona Sky is situated in Poblenou, a vibrant area just 200 meters from Poble Nou Metro Station. The Forum and International Convention Centre are within a convenient 15-minute stroll.
– Spectacular views over the city and sea
– Outdoor swimming pool
– Luxurious treatments at Serena SPA Wellness
– Convenient location near Mar Bella beach
– Stylish rooms with plasma-screen TVs and rain showers
Acta Voraport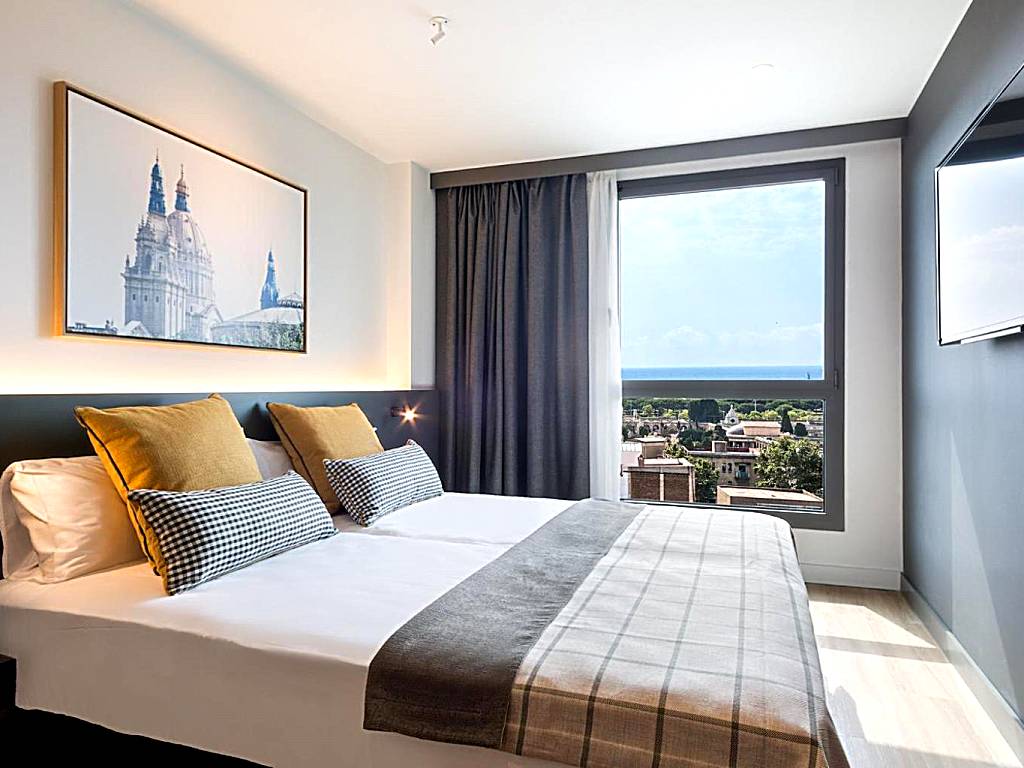 Set in the vibrant city of Barcelona, Acta Voraport is a 3-star hotel situated less than 1 km from Bogatell Beach. Guests can enjoy a range of amenities including an outdoor swimming pool, private parking, and a restaurant. The hotel offers air-conditioned rooms with free WiFi and each room has a private bathroom. With popular beaches such as Mar Bella Beach, Nova Icaria Beach, and Somorrostro Beach nearby, guests have plenty of options for relaxation and fun. The hotel also provides services such as an ATM, concierge service, and organizing tours for guests. The friendly staff at the 24-hour front desk are fluent in Catalan, English, Spanish, and French, ensuring a comfortable stay for international visitors. For convenience, Barcelona El Prat Airport is located just 15 km away.
Pros:
– Convenient location near Bogatell Beach
– Outdoor swimming pool
– Private parking available
– Friendly multilingual staff
– Free WiFi access
Other places to stay in Barcelona
Hotels Near the Beach in Downtown Barcelona
Hotels near the beach in downtown Barcelona offer the perfect combination of urban convenience and seaside relaxation. With their prime location, guests can enjoy stunning ocean views and easy access to the city's vibrant attractions, making it an ideal choice for both business and leisure travelers.
Barcelona Princess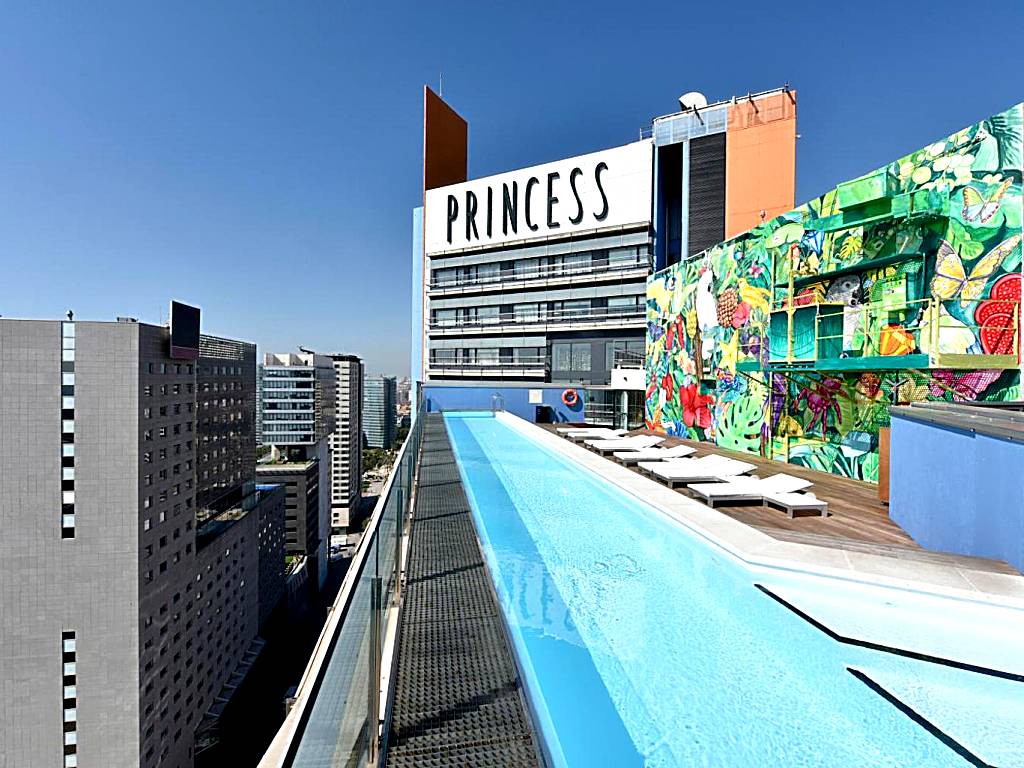 Located just a 10-minute walk from the beach in Barcelona's Forum area, the Barcelona Princess Hotel offers stunning views and a host of amenities. Guests can enjoy free access to two heated outdoor pools, including one on the 23rd floor with breathtaking sea views. The hotel boasts elegant and bright rooms with contemporary decor and satellite TV. With free WiFi available throughout, guests can stay connected during their visit. The hotel also features a Mediterranean restaurant and two stylish bars, including a relaxed poolside bar with panoramic views. Conveniently situated on Avenida Diagonal next to Diagonal Mar Shopping Centre, the hotel is within easy reach of Plaza de Catalunya and Las Ramblas via the nearby Maresme Forum Metro Station.
– Prime location near the beach
– Spectacular sea views from 23rd-floor pool
– Elegant rooms with contemporary decor
– Free WiFi throughout the hotel
– Close proximity to shopping centers and metro station for convenient transportation options
Attica 21 Barcelona Mar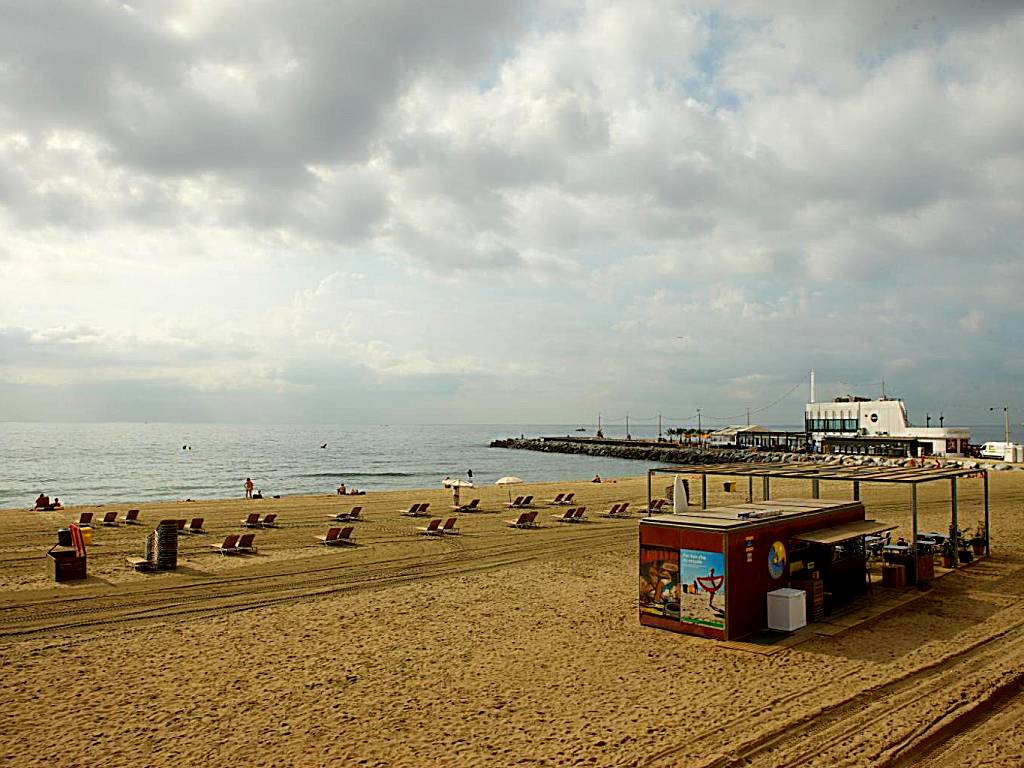 Located in the modern Diagonal Mar district of Barcelona, Attica 21 Barcelona Mar is a beachfront hotel that offers guests an ideal location just 300 metres from the beach. With a rooftop swimming pool and free Wi-Fi, this hotel provides both comfort and convenience for travelers seeking a luxurious stay. The rooftop pool is surrounded by a sun terrace and loungers, offering stunning views of the city. In addition to the pool, there is also a pool bar available during the summer months. The contemporary rooms at Attica 21 Barcelona Mar feature wooden floors and large windows, creating a stylish and inviting atmosphere. Each room comes equipped with air conditioning and a private bathroom for guests' comfort. The hotel amenities include a coffee bar and tour desk, providing easy access to information about local attractions and activities. Guests will also appreciate the close proximity to Selva de Mar Metro station, located just 400 meters away, making it convenient to explore all that Barcelona has to offer. Additionally, Fòrum entertainment venue can be reached within a 15-minute walk while Diagonal Mar Shopping Centre is only five minutes away. For those arriving by car, private parking options are available onsite for an extra cost.
Pros:
– Beachfront location
– Rooftop swimming pool with stunning city views
– Contemporary rooms with stylish design
– Close proximity to public transportation
– Convenient access to shopping center and entertainment venues
Hotel 54 Barceloneta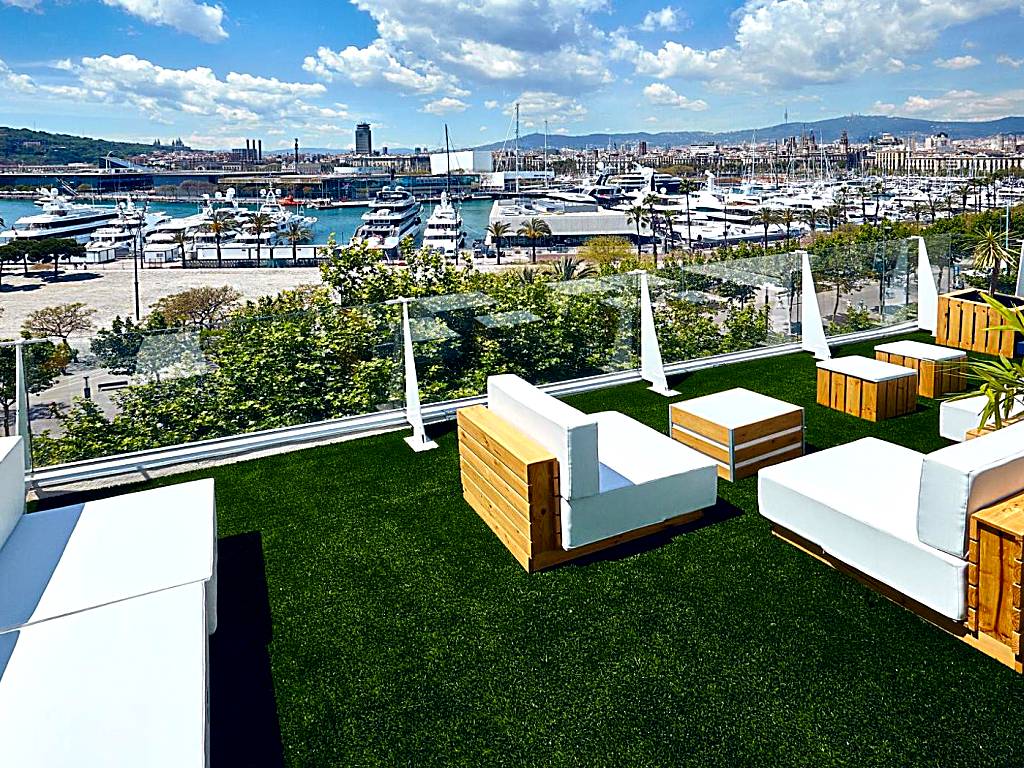 Located in the vibrant beachfront area of Barceloneta, Hotel 54 Barceloneta offers a stylish and modern design, with a terrace that provides stunning views overlooking the port. The hotel provides 24-hour reception services, complimentary Wi-Fi access, and all rooms are equipped with air conditioning and smart TVs. Just a short 3-minute walk away is Barceloneta Beach, allowing guests to easily enjoy the beautiful sandy shores. The hotel's rooms boast contemporary décor with innovative lighting, each featuring a private bathroom complete with a hairdryer. Within a short walking distance of Hotel 54 Barceloneta, guests can find an array of excellent seafood restaurants to indulge in. Additionally, the popular Born district is only a 10-minute walk away, while Barceloneta Metro Station can be reached within just 7 minutes on foot.
Pros:
– Stylish terrace overlooking the port
– Close proximity to Barceloneta Beach
– Modern décor with innovative lighting in rooms
– Variety of good seafood restaurants nearby
– Convenient location for exploring Born district and easy access to public transportation options
Romantic Beachfront Hotels in Barcelona
Barcelona offers a range of romantic beachfront hotels, where couples can bask in the beautiful coastal views, unwind on pristine sandy beaches, and indulge in intimate moments amidst a serene atmosphere. With their breathtaking surroundings and enchanting ambiance, these hotels make for the perfect romantic getaway by the sea.
Hesperia Barcelona Del Mar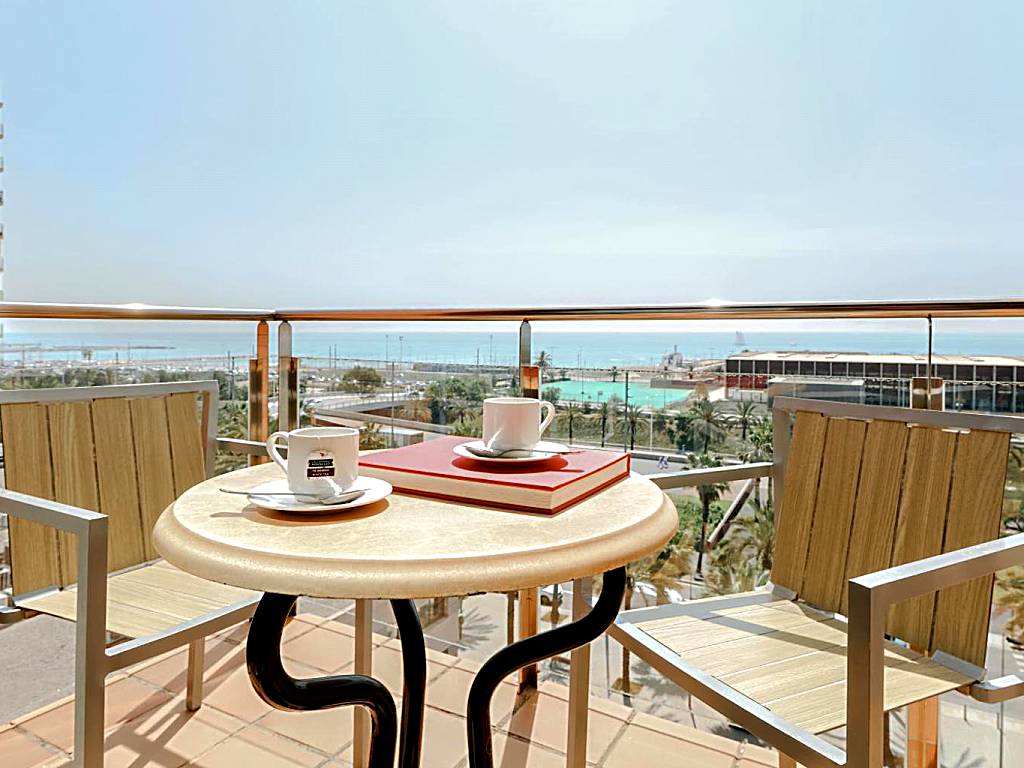 The Hesperia Barcelona Del Mar is a stylish beachfront hotel located in Diagonal Mar, offering guests stunning sea views. The hotel features modern and comfortable rooms with amenities such as free WiFi, satellite TV, air conditioning, flat-screen TVs, safes, minibars, and private bathrooms with bathtubs and complimentary toiletries. Guests can enjoy the convenience of being just a 5-minute walk away from the CCIB (Barcelona International Convention Center) and Diagonal Mar Shopping Centre. Additionally, popular attractions like the Ramblas and Barcelona's Gothic Quarter are only 5 km away from the hotel. For easy exploration of the city, Poble Nou Metro Station is just a 10-minute walk away.
– Beachfront location with stunning sea views
– Modern and comfortable rooms with free WiFi
– Close proximity to CCIB and Diagonal Mar Shopping Centre
– Easy access to popular attractions in Barcelona
– Convenient location near Poble Nou Metro Station
Hostal Poblenou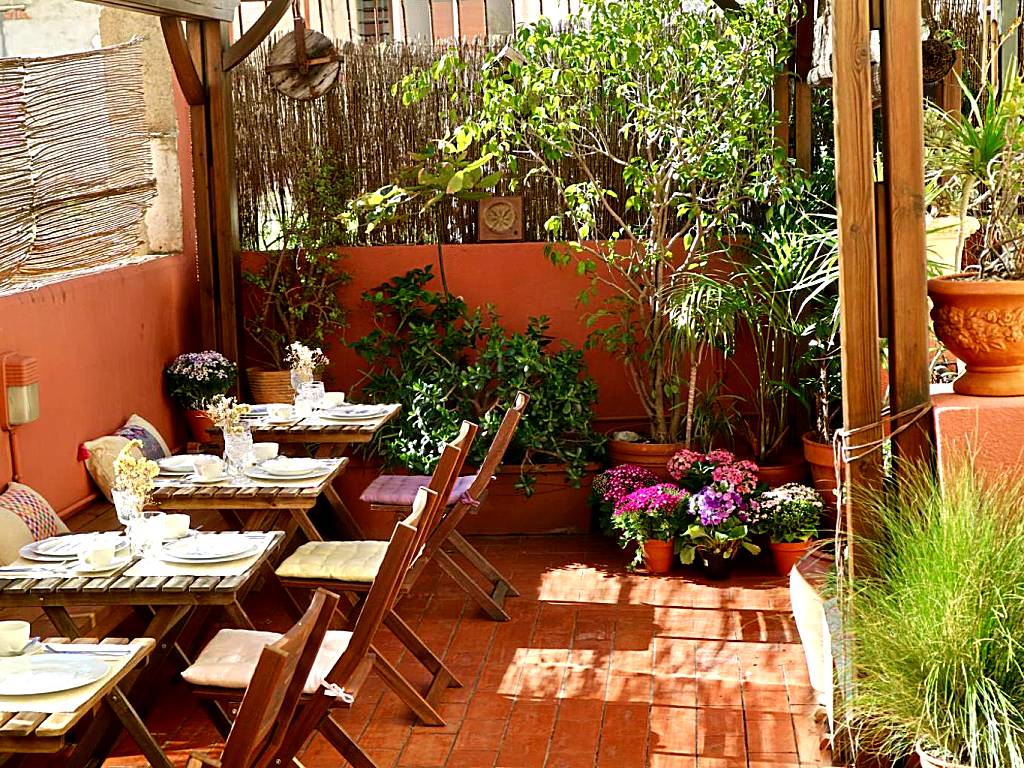 Hostal Poblenou is a charming bed and breakfast located just a short stroll away from the beautiful Bogatell Beach in Poblenou. Housed in an attractive building dating back to the 1930s, this lively hotel offers comfortable rooms with modern decor and amenities including free Wi-Fi, TV, and private bathrooms. Guests can enjoy a delicious breakfast on the terrace each morning before exploring the surrounding area. With plenty of cafes and bars nearby, as well as easy access to metro stations, it's convenient to explore Barcelona's Gothic Quarter, famous Las Ramblas, or indulge in Barceloneta's seafood restaurants. Additionally, the city's airport is just 20 km away.
– Conveniently located close to the beachfront
– Lively atmosphere
– Free Wi-Fi available throughout the property
– Spacious and modern rooms with air conditioning
– Easy access to public transportation for exploring Barcelona
Eurohotel Diagonal Port
Located in Barcelona's Poble Nou district, Eurohotel Diagonal Port offers stunning Mediterranean Sea views and is just a short 350-meter walk from Mar Bella Beach. The hotel features spacious rooms with contemporary designs, equipped with air conditioning, satellite TV, and free wired internet access. Guests can enjoy a continental breakfast at the on-site facilities. Eurohotel Diagonal Port is conveniently situated near Poblenou Metro Station, allowing easy access to central Barcelona in just five stops. The hotel is also within walking distance of Ciutadella Park and the Forum venue, making it an ideal choice for both leisure and business travelers. Additional amenities include proximity to the 22@ financial district, Barcelona International Convention Centre, shops, as well as a Metro station and bus stop within a five-minute walk.
Pros:
– Breathtaking sea views from its beachfront location
– Spacious rooms featuring contemporary designs
– Easy access to central Barcelona via nearby metro station
– Convenient proximity to Ciutadella Park and Forum venue
– Close to 22@ financial district and Barcelona International Convention Centre
Beachfront Hotels Hotels in Barcelona With a Pool
Beachfront hotels in Barcelona with a pool offer the perfect blend of sun, sand, and relaxation. Guests can soak up the Mediterranean views while cooling off in the refreshing pool waters, making for a truly idyllic beach getaway.
Le Meridien Ra Beach Hotel and Spa (El Vendrell)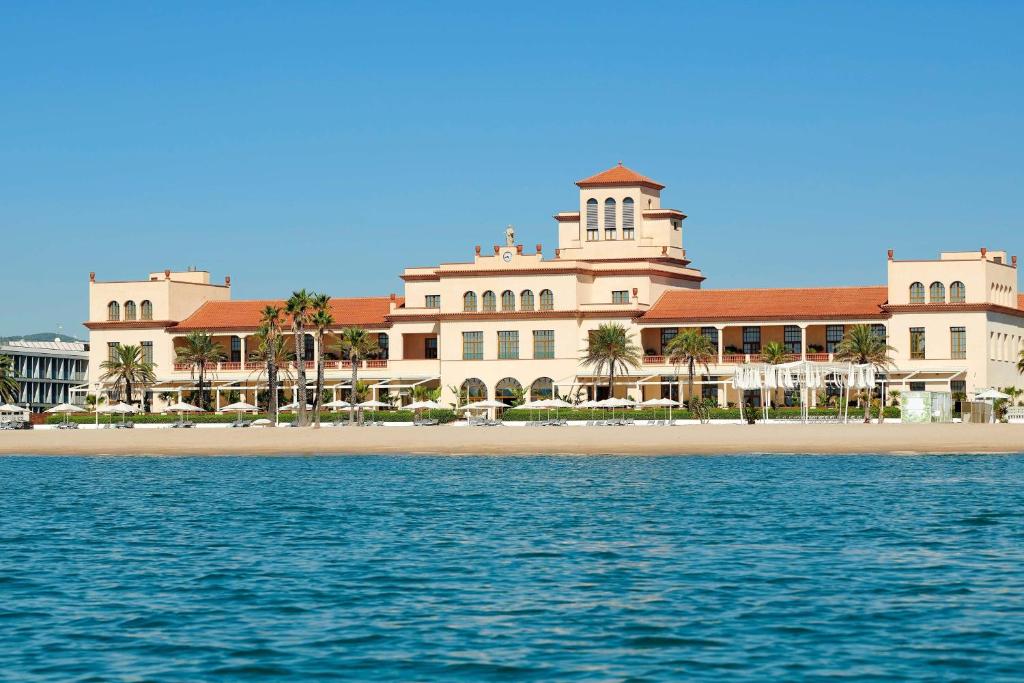 Le Méridien Ra Beach Hotel and Spa is a luxurious resort located on the picturesque Sant Salvador Beach of Costa Daurada. With its 1920s building and contemporary decor, this hotel exudes elegance and sophistication. The spacious rooms offer balconies, free WiFi, high ceilings, flat-screen TVs, and cozy bathrobes. Many of the rooms also provide stunning side or front sea views. Indulge in the culinary delights of Catalonia at the two restaurants that serve a range of local dishes and buffet cuisine. For relaxation and rejuvenation, guests can enjoy the hotel's outdoor swimming pool or pamper themselves with hydrotherapy sessions and sea water treatments at the extensive spa. The spa also offers soothing massages to melt away any stress or tension. Younger guests will have a blast at the Kids' Club where they can engage in various activities and crafts specially designed for them. Additionally, there are pool-side, lounge, and terrace bars where guests can unwind with their favorite drinks while enjoying beautiful views of the surroundings. The hotel's Beach Club provides a shaded deck where guests can relax by the beachside. Located in El Vendrell, less than 30 minutes' drive from Barcelona El Prat Airport and about 45 minutes by car from Barcelona City Centre, Le Méridien Ra Beach Hotel is perfectly situated for both convenience and tranquility.
– Luxury beachfront location
– Stylishly decorated rooms with stunning sea views
– Extensive spa offering hydrotherapy treatments
– Variety of dining options including Catalan cuisine
– Kids' Club providing activities for young guests
Information about Beachfront Hotels in Barcelona
| | |
| --- | --- |
| 🏢 Number of Beach Hotels in Barcelona | 10 |
| 🥇 Average Review Score | 8.3/10 |
| 💰 High season average price | 1910 |
| 💸 Low season average price | 477.5 |
FAQ
Are there any beachfront hotels in Barcelona?
Yes, Barcelona offers a wide range of beachfront hotels that cater to all types of travelers. From luxury resorts with private beaches to boutique hotels with stunning ocean views, you will find numerous options along the coastline of this vibrant city. Whether you prefer to stay near popular beaches like Barceloneta or explore quieter areas like Nova Icaria, there are plenty of accommodations available to suit your preferences and budget.
What amenities can I expect at a beachfront hotel in Barcelona?
Beachfront hotels in Barcelona offer an array of amenities designed to enhance your stay and make the most of their prime location. You can usually expect direct access to the beach where you can enjoy swimming, sunbathing, and water sports. Many hotels also have rooftop terraces or pool areas with panoramic views of the sea. Additionally, these properties often provide facilities such as spa services, fitness centers, restaurants serving delectable seafood dishes, and bars offering refreshing cocktails by the waterfront.
Is it possible to find family-friendly beachfront hotels in Barcelona?
Absolutely! Barcelona has several family-friendly beachfront hotels that are perfect for those traveling with children. These accommodations typically offer spacious rooms or suites that can comfortably accommodate families and may even provide additional beds or cribs upon request. Some properties also feature kid's clubs or play areas where young guests can engage in various activities under supervision while parents relax by the seaside.
Do beachfront hotels in Barcelona have easy access to other attractions and transportation options?
Yes, many beachfront hotels in Barcelona boast convenient access not only to the beach but also to other popular attractions and transportation options. The city's excellent public transport system makes it easy for guests staying at these properties to explore different parts of Barcelona efficiently. Metro stations and bus stops are often located within walking distance from many beachfront hotels, enabling visitors to reach iconic landmarks like Sagrada Familia, Park Güell, or the Gothic Quarter in no time.
What is the best time to visit Barcelona for a beachfront hotel experience?
The best time to visit Barcelona for a beachfront hotel experience is during the summer months of June to September when the weather is warm and sunny. This period offers ideal conditions for enjoying the beautiful beaches, swimming in the Mediterranean Sea, and indulging in various water activities. However, do keep in mind that this is also the peak tourist season, so it's advisable to book your accommodations well in advance to secure a spot at your preferred beachfront hotel.
Popular Beach Hotels destinations