Welcome to the stunning coastal region of Puglia, Italy, where turquoise waters meet golden sandy beaches and picturesque towns dot the shoreline. Puglia, known for its exquisite beauty and rich history, offers a plethora of beachfront accommodations that promise an unforgettable vacation experience. From charming boutique hotels nestled along the coast to luxurious resorts overlooking the Adriatic Sea, there is something for every traveler seeking a slice of paradise.
Immerse yourself in Puglia's natural wonders as you wake up to breathtaking sunrises from your ocean-view room. Feel the warm sand between your toes as you stroll along pristine shores and let the gentle breeze caress your face. Indulge in delectable seafood delicacies at beachside restaurants while sipping on local wines that perfectly complement the Mediterranean flavors.
Whether you're seeking relaxation or adventure, Puglia's beachfront hotels provide an ideal escape from everyday life. Unwind by infinity pools that seem to blend seamlessly with azure seas or pamper yourself with rejuvenating spa treatments overlooking panoramic vistas. With a wide array of water sports activities available, including snorkeling and sailing, there are endless opportunities for thrill-seekers to satisfy their adrenaline cravings.
Experience unparalleled luxury combined with unparalleled natural beauty at our hand-picked selection of beachfront hotels in Puglia. Step into a world where tranquility meets elegance and create memories that will last a lifetime against this idyllic backdrop.
The Best Puglia Hotels By the Beach
Rocco Forte Masseria Torre Maizza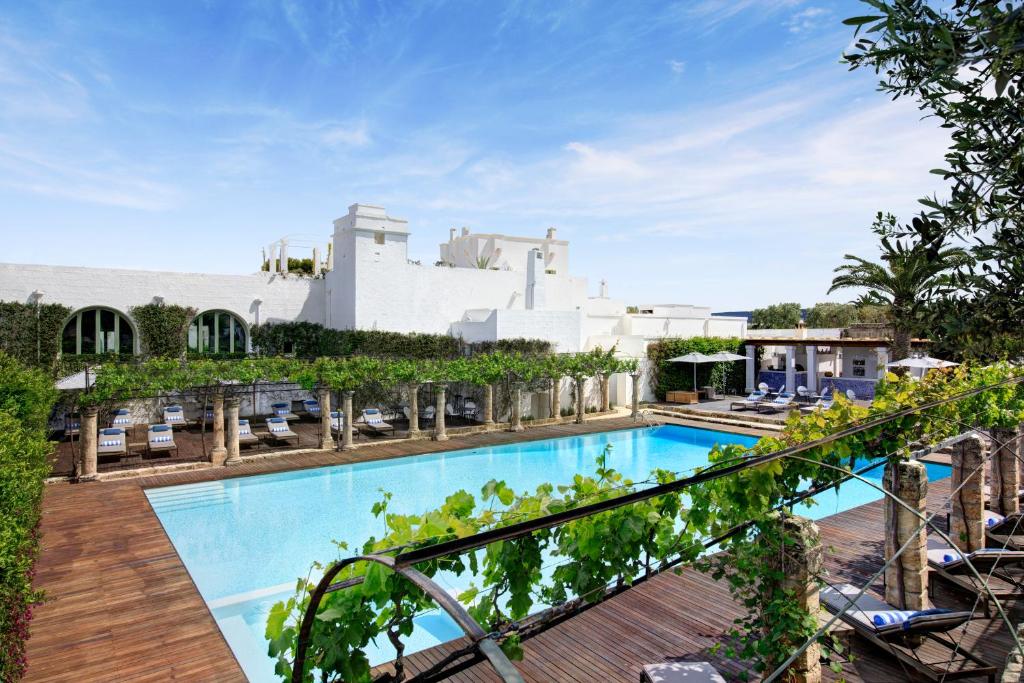 Located in the picturesque area of Savelletri di Fasano, Masseria Torre Maizza is a luxury hotel nestled within a sprawling estate. Guests can indulge in fine Italian dining at the stylish restaurant and enjoy refreshing drinks at the pool bar or rooftop bar. The property boasts a 20-meter pool and a private beach club, providing guests with ample opportunities for relaxation. The hotel also offers a spa and a 9-hole golf course for those seeking leisure activities. Each spacious room and suite, furnished by local artisans, features its own private garden and stunning views of the Apulian countryside. With its convenient location, just a short drive from Brindisi Airport or Bari Airport, Masseria Torre Maizza serves as an ideal base to explore the surrounding area.
– Stylish restaurant offering fine Italian dining
– Pool bar and rooftop bar serving expertly crafted cocktails
– Spacious rooms and suites with private gardens and countryside views
– Convenient access to spa facilities and 9-hole golf course
– Close proximity to both Brindisi Airport (40-minute drive) and Bari Airport (50-minute drive)
Residence Costamartino (Vieste)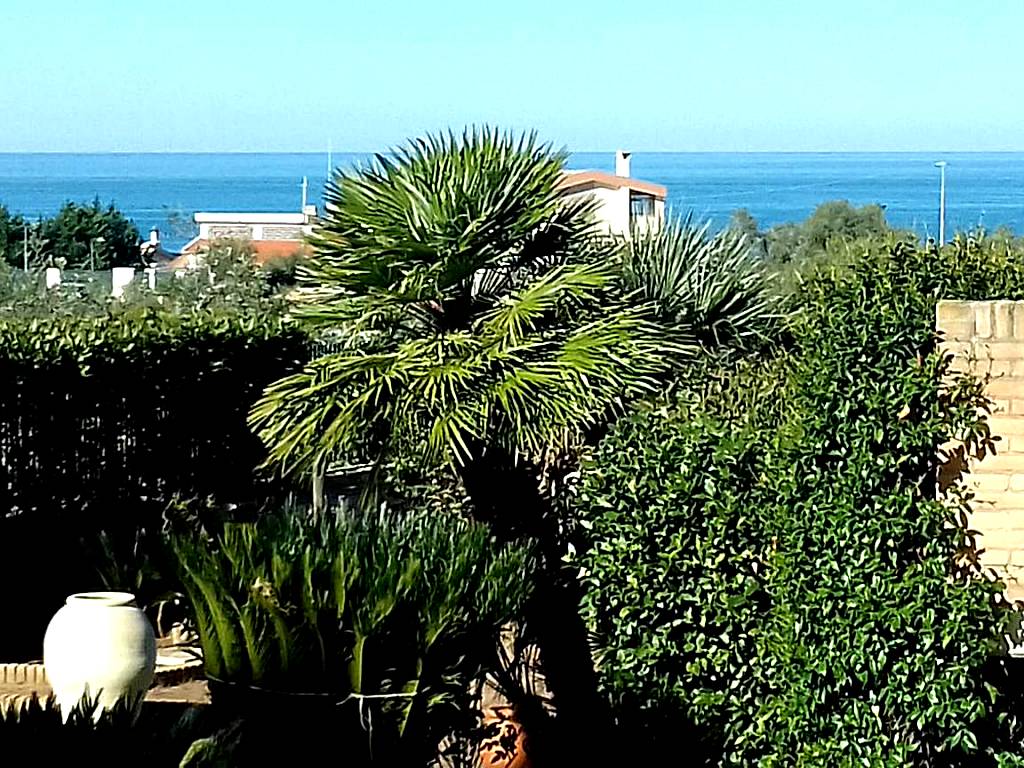 Residence Costamartino is a beautiful apartment hotel located within the Gargano National Park, just a 5-minute drive from the center of Vieste. Surrounded by stunning nature, this hotel offers free WiFi, a garden, and a playground for guests to enjoy. The property also provides free bike rental and private parking. Each apartment at Residence Costamartino features a terrace and comes equipped with a TV, dining area, and kitchen with a refrigerator and stovetop. Guests can also take advantage of the included amenities such as a parking space, 1 parasol, and 2 sun loungers at the nearby beach of San Lorenzo (1.5 km away).
Pros:
– Convenient location inside the Gargano National Park
– Free WiFi for guests
– Beautiful garden and playground on-site
– Free bike rental is available
– Private parking provided
GG77 Hotel La Spiaggia (Torre Lapillo)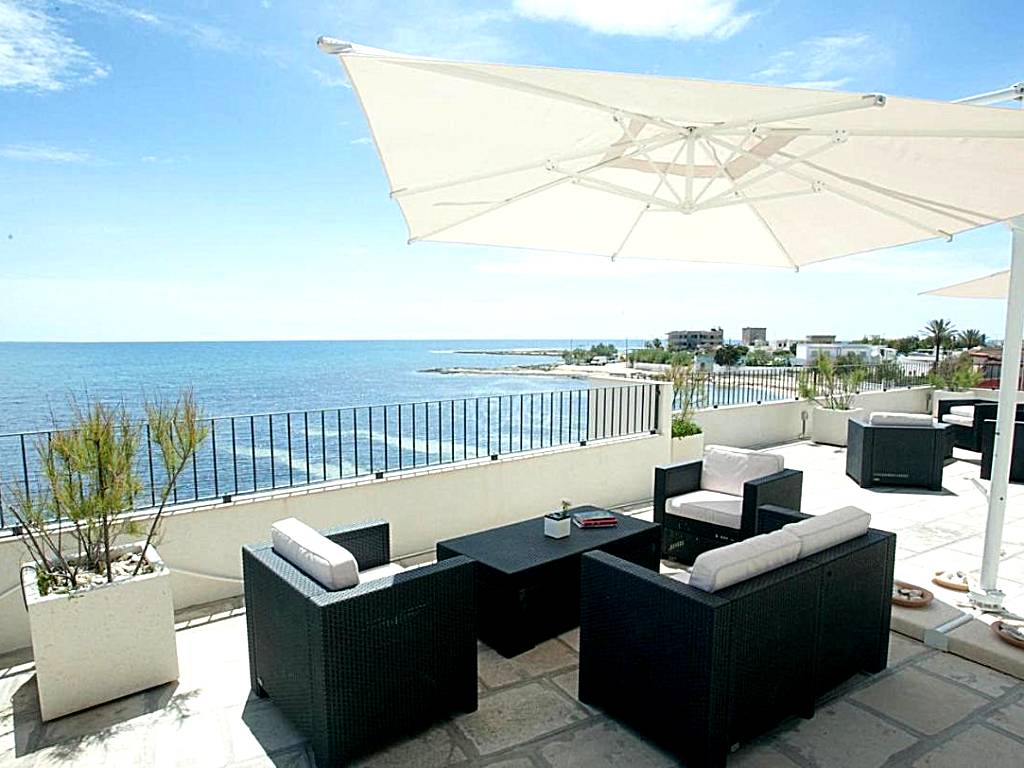 Situated directly on the beachfront in Torre Lapillo, GG77 Hotel La Spiaggia offers luxurious 4-star accommodation. The hotel features a range of amenities including free bikes, a shared lounge, and a terrace. Guests can enjoy drinks at the bar and explore the nearby Torre Lapillo Beach or visit Piazza Mazzini, located 34 km away. The hotel provides excellent service with a 24-hour front desk, airport transfers, room service, and free WiFi throughout the property. The stylish rooms are equipped with modern comforts such as air conditioning and flat-screen TVs. Some rooms even have balconies for guests to enjoy breathtaking views of the surroundings. A safety deposit box is also available in each guest room. Brindisi – Salento Airport is the nearest airport, located 51 km away.
– Stunning beachfront location
– Complimentary bikes for exploring
– Relaxing shared lounge area
– Beautiful terrace with scenic views
– Modern amenities including free WiFi
Other places to stay in Puglia
Hotels Near the Beach in Downtown Puglia
Hotels near the beach in downtown Puglia offer a prime location for travelers looking to enjoy a seaside vacation. With stunning ocean views and easy access to the sandy shores, these hotels provide an ideal setting for relaxation and water activities.
B&B Palazzo Manfredi Vieste vista mare (Vieste)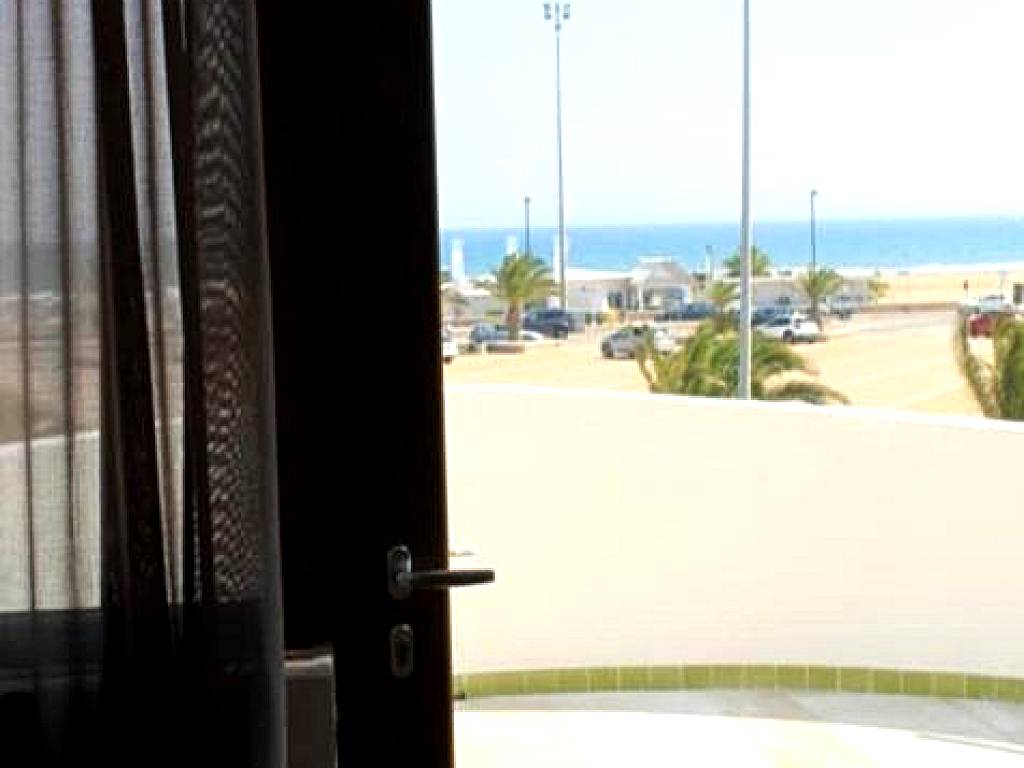 B&B Palazzo Manfredi Vieste vista mare is a charming bed and breakfast located in the town of Vieste, just 600 metres from Vieste Harbour. With free WiFi and complimentary parking, this property offers comfortable rooms with sea views and a veranda. Guests can enjoy easy access to the beautiful beach along Vieste's Lungomare Europa, which is only a 5-minute walk away. Each room at B&B Palazzo Manfredi Vieste vista mare features a private bathroom for added convenience. The property also boasts a 24-hour front desk for guests' assistance. Nature enthusiasts will appreciate the proximity to the Umbra Forest, situated just 4 km away.
– Free WiFi
– Free private parking
– Sea views from rooms
– Veranda in each room
– Close proximity to the beach
Oasi Beach Hotel (Vieste)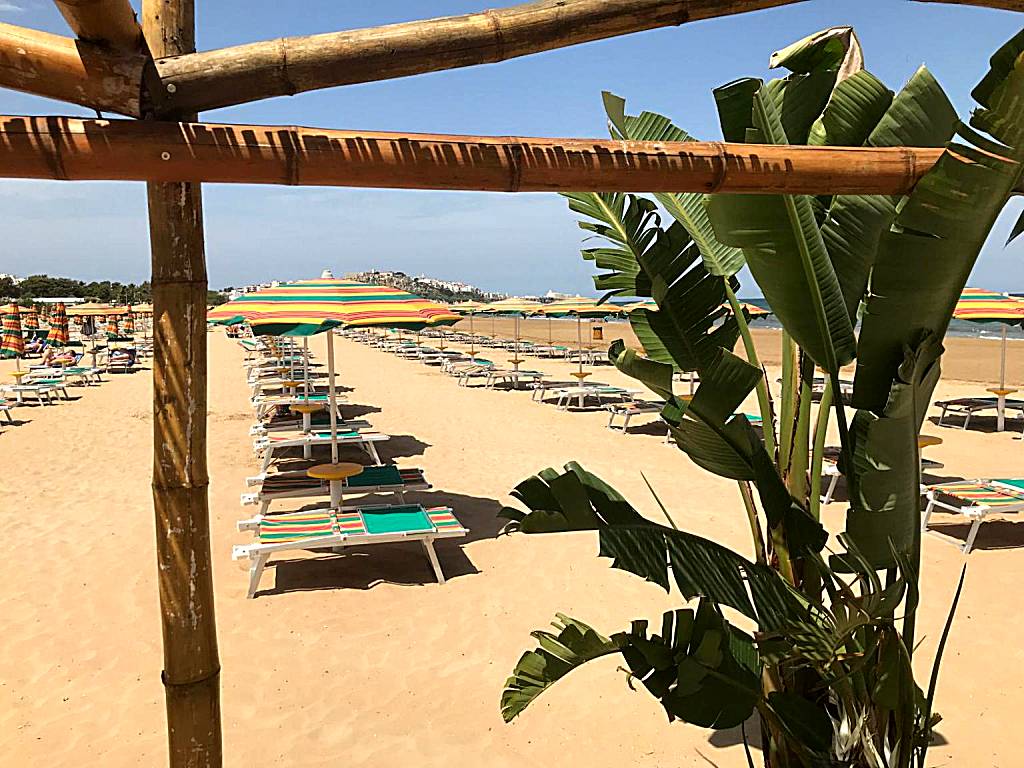 Oasi Beach Hotel offers beachfront accommodation in Vieste with free WiFi and a terrace. Guests can enjoy the on-site bar, as well as bike hire and a private beach area that includes one free parasol. The hotel is conveniently located near Vieste Harbour (1.4 km) and Umbra Forest (2.2 km). Each air-conditioned room features a flat-screen TV with cable channels, as well as a private bathroom with a bidet. The Italian breakfast served daily includes pastries, cakes, and coffee. Additional amenities include 1 free deckchair and 1 free sun lounger, along with free private parking on site.
La Pineta Residence (Otranto)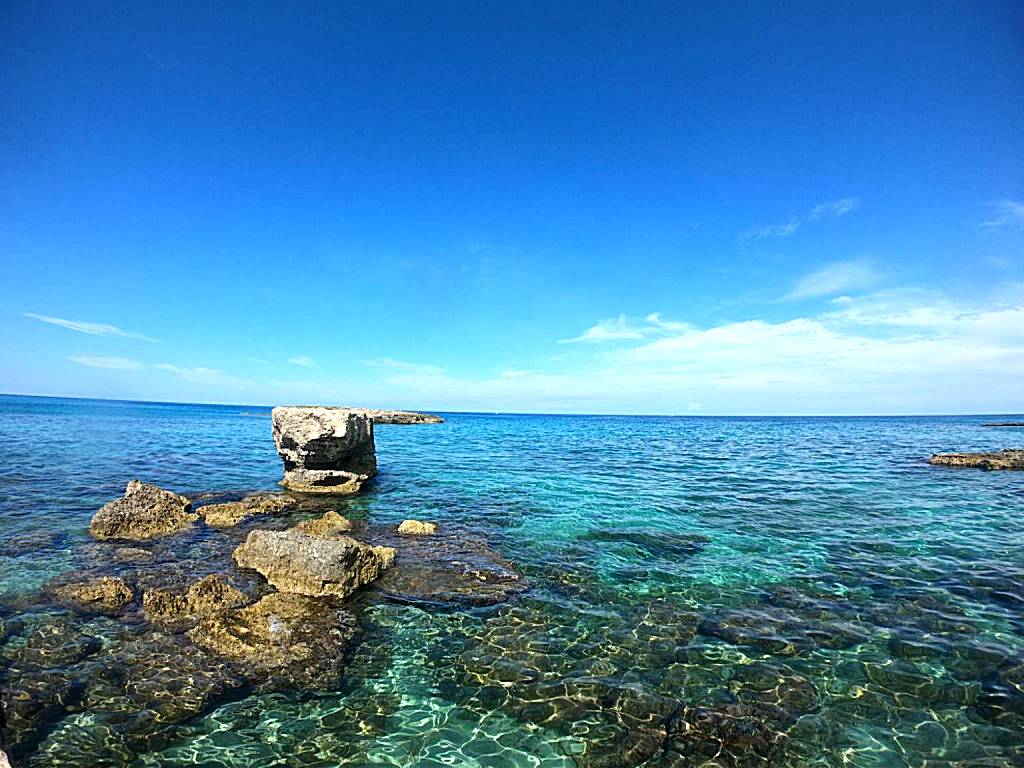 La Pineta Residence is an apartment hotel located just 500 meters from the beach in Otranto's Alimini coastal area. It offers a variety of air-conditioned rooms, apartments, and bungalows, as well as an outdoor summer pool with a hydromassage function. The property also features a terrace, a children's playground, and a nearby restaurant called Ristorante Zenzero Pineta that serves delicious seafood and regional specialties. With Otranto just a 15-minute drive away and Santa Cesarea Terme being 30 km from the hotel, La Pineta Residence is the perfect choice for those seeking a relaxing beachfront getaway.
– Convenient location near the beach
– Air-conditioned rooms, apartments, and bungalows available
– Outdoor pool with hydromassage function
– Nearby restaurant serving seafood and regional specialties
– Close proximity to both Otranto and Santa Cesarea Terme
Romantic Beachfront Hotels in Puglia
Romantic beachfront hotels in Puglia offer breathtaking views of the Adriatic Sea and provide a peaceful and intimate setting for couples. With their secluded location, luxurious accommodations, and access to pristine sandy beaches, these hotels are an ideal choice for a romantic getaway.
Tabù Hotel (Porto Cesareo)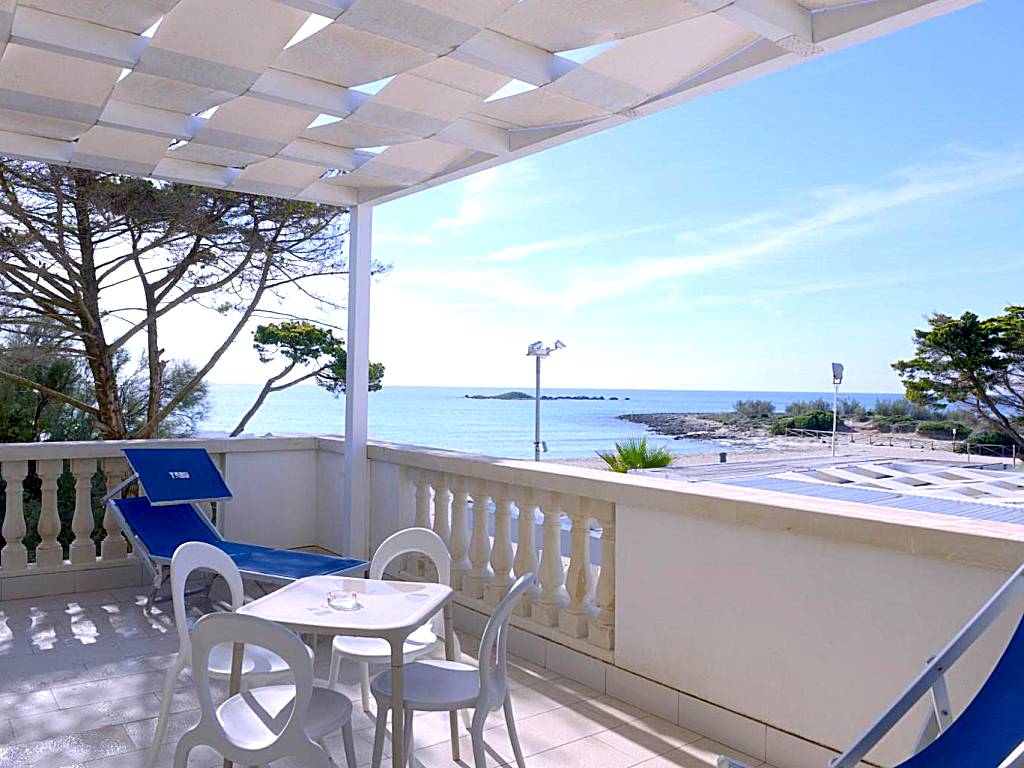 Located just 2 km from the center of Porto Cesareo, Tabù Hotel offers Mediterranean-style rooms with air conditioning and free WiFi. The hotel features a garden, terrace, and free parking, all overlooking the beautiful Ionian Sea. Many of the rooms have balconies with stunning views of the gardens and sea. Guests can enjoy direct access to the beach where they can rent parasols and sun loungers. The light-colored rooms are equipped with private bathrooms and flat-screen TVs. A delicious breakfast buffet is served in the breakfast room, offering both sweet and savory options. The hotel's restaurant specializes in mouthwatering Mediterranean dishes that can be enjoyed indoors or on the terrace. For convenience, there is a supermarket just 500 meters away, and Tangenziale Ovest Motorway Exit to Lecce is only a 25-minute drive from the property.
– Free WiFi
– Beautiful garden and terrace overlooking the Ionian Sea
– Access to a beach with rental options for parasols and sun loungers
– Delicious breakfast buffet with sweet and savory options
– Convenient location near a supermarket
Hotel Club Astor (Ugento)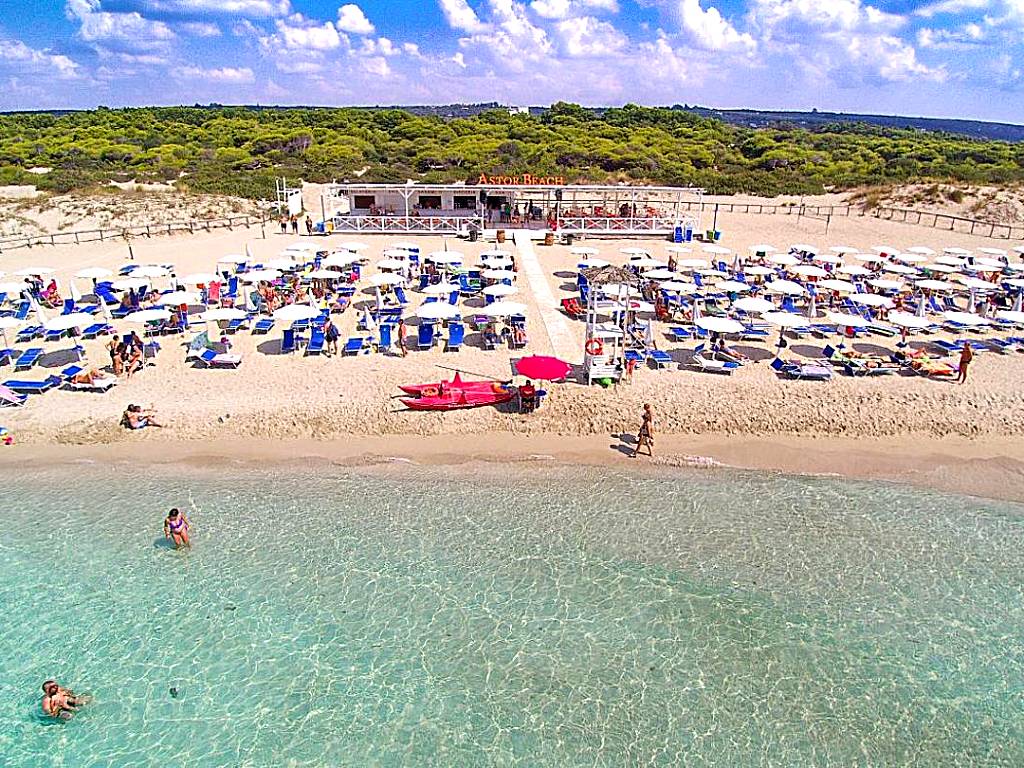 Hotel Club Astor is a beachfront hotel located in Marina di Ugento, just 200 meters away from its own private beach. The hotel offers guests a range of amenities including a wellness center, outdoor pool, and gym. The air-conditioned rooms are equipped with TV and minibar, and sun loungers, deckchairs, and parasols are provided on the nearby beach. Surrounded by aromatic pine trees and situated 4 km from Torre San Giovanni, Hotel Club Astor offers a peaceful escape with easy access to the resort town and the historic city of Gallipoli. Guests can enjoy relaxing treatments at the spa which features a hot tub, sauna, and massage service. An Italian-style breakfast is served daily with sweet pastries, fruit jams, and coffee while buffet meals are available for lunch and dinner at the hotel's restaurant. The rooms feature simple furnishings with tiled floors and each includes a fully equipped bathroom with hairdryer and shower. Wi-Fi is free in public areas.
– Private beach access
– Wellness center with spa facilities
– Outdoor pool for relaxation
– Gym for fitness enthusiasts
– Buffet meals served at the restaurant
Miramare Blue Stay (Torre Santa Sabina)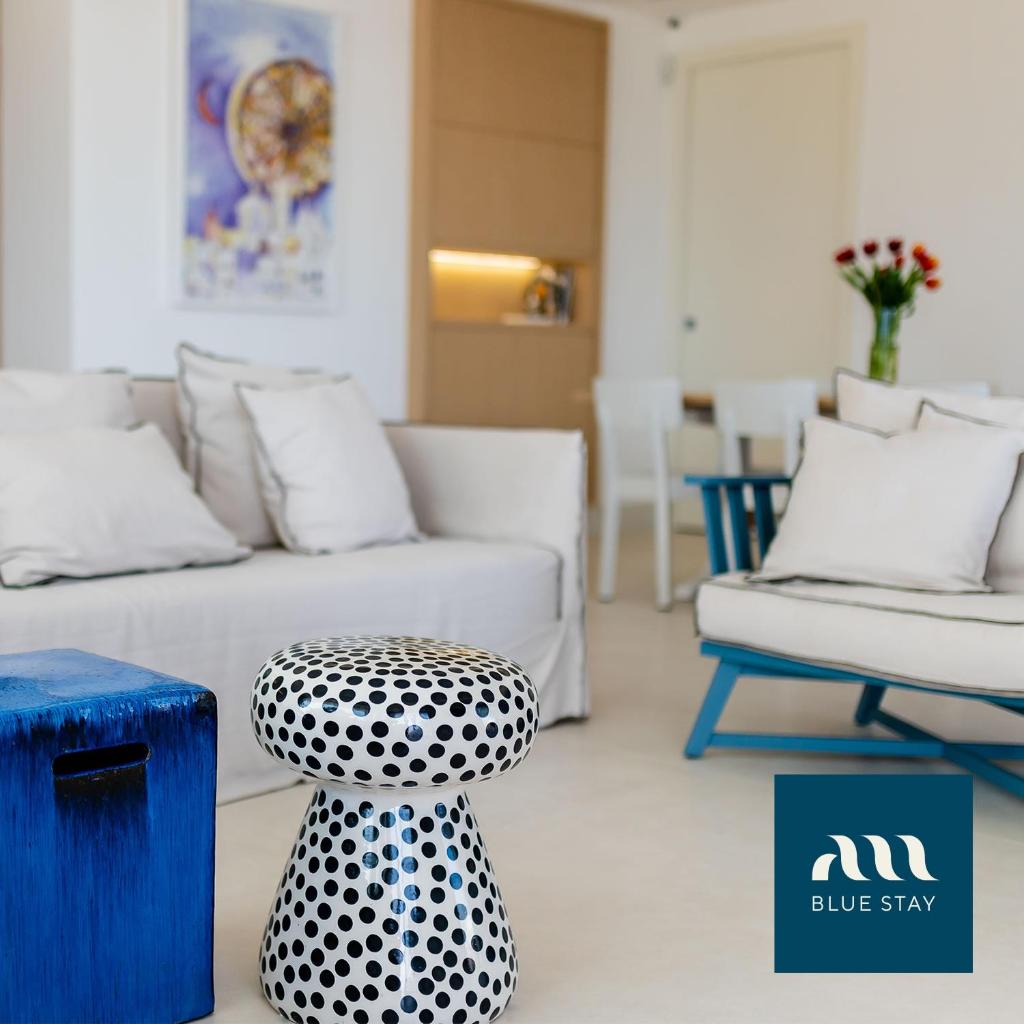 Miramare Blue Stay is a boutique hotel located in Torre Santa Sabina, offering 4-star accommodation right on the beachfront. This newly opened hotel features a beautiful garden, terrace, and bar for guests to enjoy. With room service, concierge service, and free WiFi available, guests can expect a comfortable and convenient stay. The hotel also offers private parking on site. The rooms at Miramare Blue Stay are stylishly decorated and equipped with modern amenities such as flat-screen TVs, air conditioning, and safety deposit boxes. Some rooms even have balconies overlooking the stunning surroundings. Guests can start their day with a delicious à la carte or continental breakfast before exploring nearby attractions like Spiaggia Mezzaluna and L'Isoletta Beach. For added convenience, the hotel provides a paid airport shuttle service to Brindisi – Salento Airport.
Beachfront Hotels Hotels in Puglia With a Pool
Beachfront hotels in Puglia with a pool offer guests the perfect blend of relaxation and entertainment, providing stunning ocean views and a refreshing way to unwind. With their prime locations along the coast, these hotels allow visitors to enjoy the sandy beaches and crystal-clear waters right at their doorstep.
Hotel Boutique Il Castellino Relais (Vieste)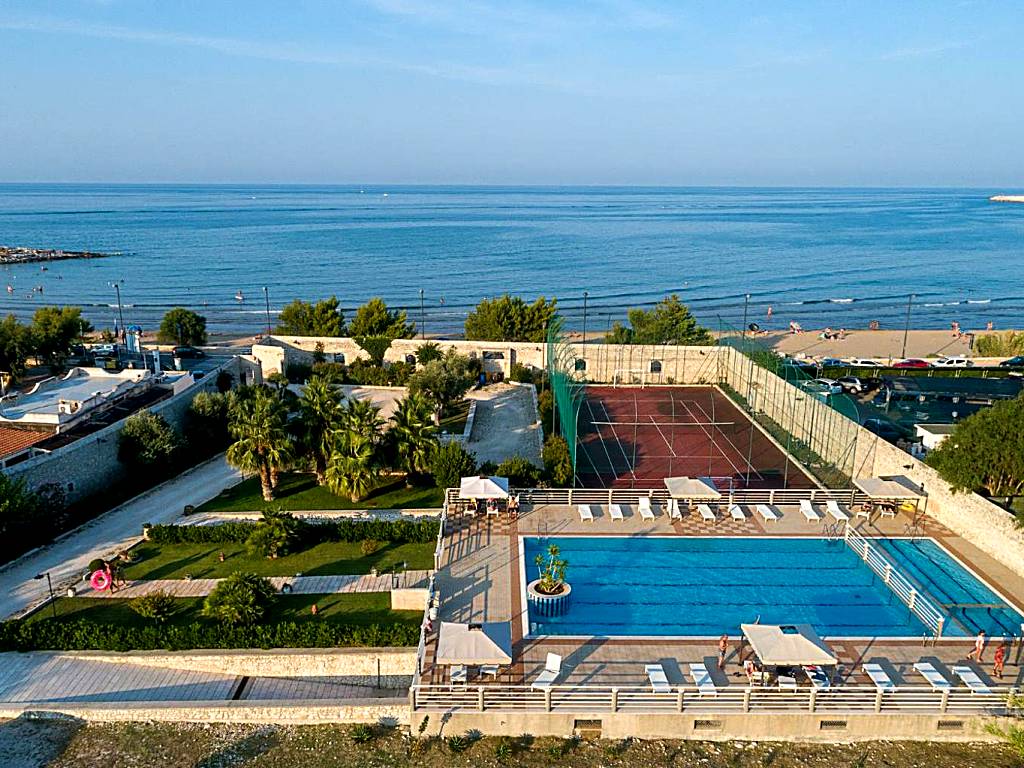 Hotel Boutique Il Castellino Relais is a charming boutique hotel situated on the seafront in Vieste. This historic building boasts bright colors and rustic interiors, creating a unique and inviting atmosphere. Guests can enjoy various amenities such as an outdoor swimming pool, tennis court, private beach, free parking, and complimentary WiFi throughout the hotel. The rooms are elegantly furnished and equipped with air conditioning, LCD TV, and minibar. Many of them offer breathtaking views of the Adriatic Sea. Start your day with a delicious continental breakfast served in either the spacious breakfast room with large windows or on the furnished terrace overlooking the sea. The friendly staff is available 24/7 to assist you in organizing exciting excursions in the Gargano area. Located within the Gargano National Park, this hotel is just a scenic 20-minute walk from the center of Vieste along a flat promenade with panoramic views.
– Outdoor swimming pool
– Tennis court
– Private beach
– Free WiFi
– Spectacular views of the Adriatic Sea
Hotel Baia Delle Zagare (Mattinata)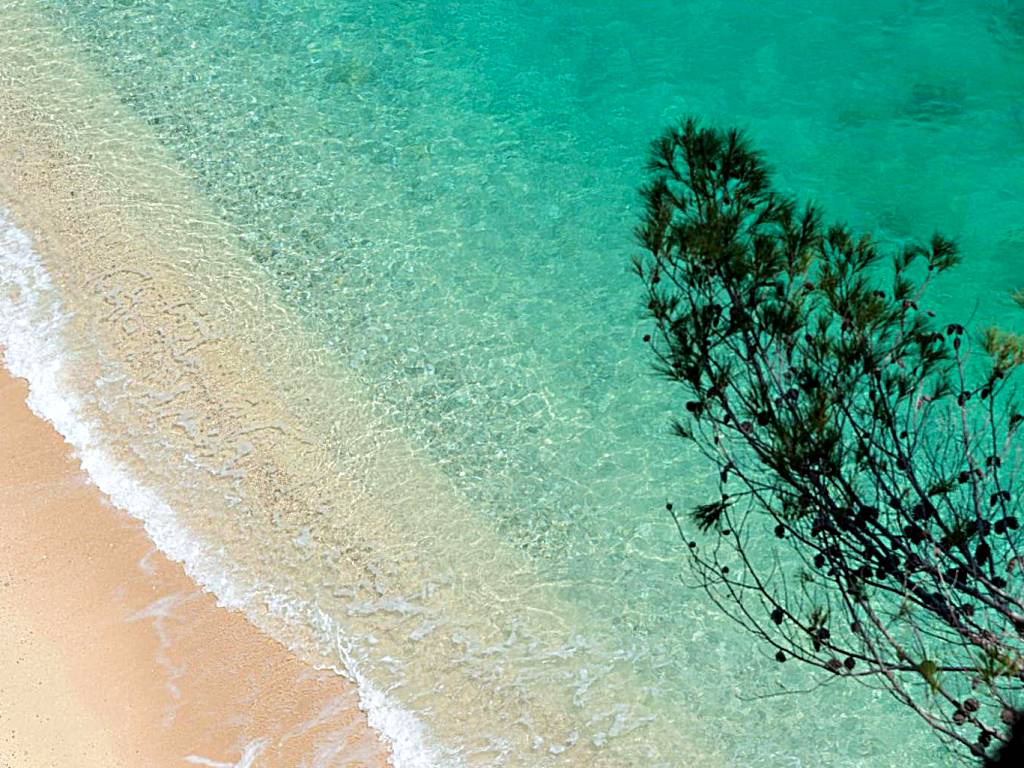 Hotel Baia Delle Zagare is a stunning beachfront property located in the Gargano National Park, offering breathtaking views of Zagare Bay and Mergoli Bay. The hotel boasts a seasonal outdoor swimming pool, a restaurant with sea views serving local and Mediterranean cuisine, and two private beaches equipped with sun loungers and parasols that can be reached via panoramic lifts. Guests can also enjoy amenities such as a tennis court and a cocktail bar. The property consists of six villas where the air-conditioned rooms are located. Decorated in Mediterranean style, the rooms feature modern amenities including TV, telephone, and minibar. Some rooms even have their own garden or terrace. Hotel Baia Delle Zagare is conveniently situated 65 km away from Foggia and offers free shaded parking.
– Stunning cliffside location overlooking two beautiful bays
– Seasonal outdoor swimming pool for relaxation
– Enjoy delicious local and Mediterranean cuisine at the on-site restaurant with sea views
– Private beaches equipped with sun loungers provide an exclusive beach experience
– Convenient amenities including a tennis court and cocktail bar
Information about Beachfront Hotels in Puglia
| | |
| --- | --- |
| 🏢 Number of Beach Hotels in Puglia | 11 |
| 🥇 Average Review Score | 8.9/10 |
| 💰 High season average price | 1390 |
| 💸 Low season average price | 347.5 |
FAQ
Is Puglia known for its beachfront hotels?
Yes, Puglia is renowned for its stunning beachfront hotels. With a long coastline along the Adriatic Sea and the Ionian Sea, this region in southern Italy offers a plethora of options for travelers seeking luxurious accommodations by the beach. From boutique resorts to grand five-star establishments, Puglia boasts a wide range of beachfront hotels that cater to different budgets and preferences.
What amenities can I expect at a beachfront hotel in Puglia?
Beachfront hotels in Puglia often offer an array of amenities to ensure guests have a memorable stay. Most establishments provide private access to pristine sandy beaches where visitors can relax and soak up the sun. Additionally, many hotels feature outdoor swimming pools with panoramic views of the sea, spa facilities offering rejuvenating treatments, on-site restaurants serving fresh seafood delicacies, and even water sports activities such as sailing or snorkeling.
Are there family-friendly beachfront hotels in Puglia?
Absolutely! Puglia is an excellent destination for families looking to enjoy some quality time by the sea. There are numerous family-friendly beachfront hotels available throughout the region that offer spacious rooms or suites suitable for families with children. These accommodations often provide dedicated kids' clubs or playgrounds, child-friendly pools with shallow areas for safe swimming, and various entertainment options tailored specifically for younger guests.
Can I find luxury beachfront hotels in Puglia?
Yes, you certainly can find luxury beachfront hotels in Puglia. This region has become increasingly popular among luxury travelers seeking exclusive experiences by the sea. Some of these high-end establishments boast lavish suites or villas overlooking picturesque coastlines, private butler services catering to every need and desire, gourmet dining experiences showcasing local cuisine prepared by acclaimed chefs, as well as opulent wellness centers offering state-of-the-art facilities.
Do I need to make reservations in advance for beachfront hotels in Puglia?
It is highly recommended to make reservations in advance for beachfront hotels in Puglia, especially during the peak tourist season. This ensures that you secure your preferred accommodation and avoid any disappointment upon arrival. With its popularity as a holiday destination, beachfront hotels can quickly fill up, particularly those with desirable locations or limited availability. Making reservations ahead of time allows you to plan your trip smoothly and guarantees a seamless experience at these sought-after establishments.
Popular Beachfront Hotels destinations