Welcome to a mesmerizing coastal paradise in Albufeira, Portugal! Nestled along the shimmering shores of the Atlantic Ocean, this enchanting destination boasts an array of luxurious seaside accommodations for those seeking a tranquil escape by the sea. With its picture-perfect beaches, breathtaking sunsets, and warm Mediterranean climate, Albufeira is a haven for beach lovers from around the globe.
Immerse yourself in pure bliss as you explore the exquisite beachfront hotels that dot this vibrant coastal town. Prepare to be captivated by stunning vistas and soothing sounds of crashing waves right outside your doorstep. Whether you are embarking on a romantic getaway or simply longing for some much-needed relaxation under the sun, Albufeira's beachfront hotels offer an unbeatable combination of world-class amenities and unparalleled natural beauty.
Indulge in luxurious accommodations that range from elegant boutique hotels to opulent resorts with private beach access. Unwind in spacious suites adorned with stylish decor and modern comforts while savoring panoramic views of sandy coastlines stretching as far as your eyes can see. Impeccable service awaits at every turn, ensuring your stay is nothing short of extraordinary. Join us as we delve into the top beachfront havens Albufeira has to offer – where idyllic beaches meet sumptuous luxury.
The Best Albufeira Hotels By the Beach
3HB Golden Beach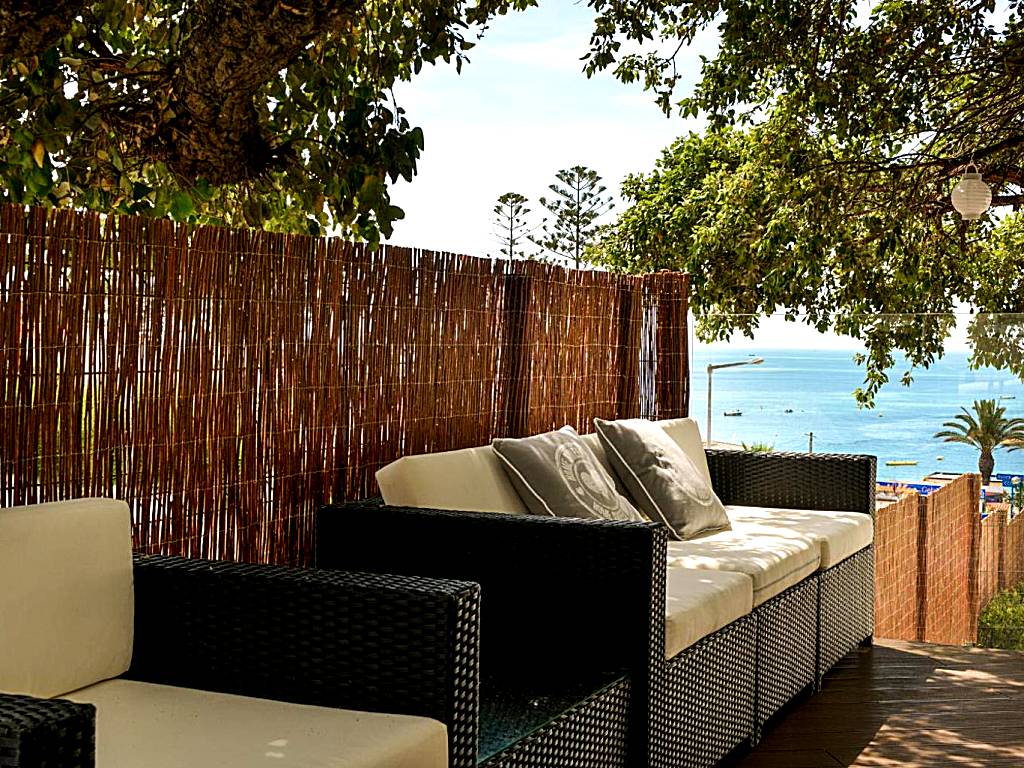 Located right next to Praia da Oura Beach, 3HB Golden Beach is an apartment hotel with stunning views of the Atlantic Ocean. Guests can enjoy the outdoor pool and spacious terrace, complete with sunbeds and a bar serving refreshing drinks. The apartments feature balconies, fully equipped kitchenettes, and seating areas with satellite TV. Some units offer panoramic ocean views. Daily cleaning service, complimentary WiFi in both apartments and common areas, as well as the option to cook meals in your own kitchenette, enhance the comfort of your stay. The hotel is conveniently situated just 2.5 km from the center of Albufeira and Balaia Golf Course.
– Prime beachfront location
– Spacious apartments with ocean views
– Outdoor pool with sun deck and bar
– Daily cleaning service
– Complimentary WiFi available
INATEL Albufeira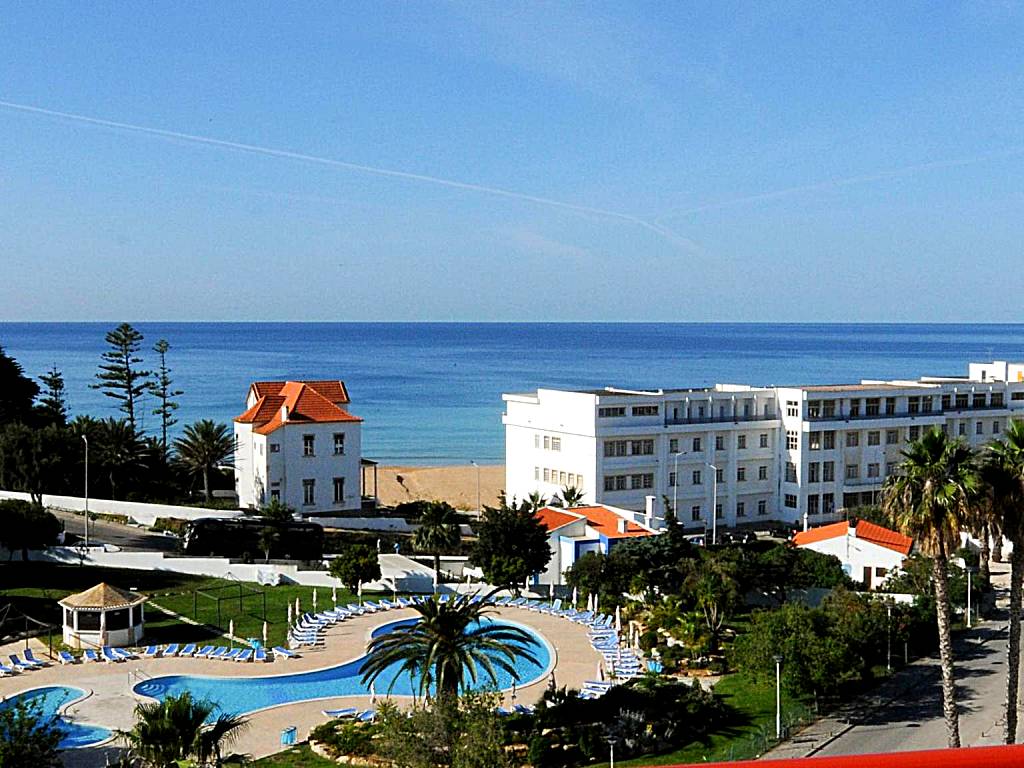 Located just 500 meters from a beautiful sandy beach, INATEL Albufeira is a luxury beachfront hotel that offers the perfect blend of comfort and convenience. With its prime location, guests can easily reach the city center with just a short 10-minute walk. The hotel features an inviting outdoor swimming pool surrounded by sun loungers, providing plenty of space to relax and soak up the sun. The air-conditioned guestrooms are tastefully decorated and include amenities such as terracotta floors, work desks, minibars, and cable TVs. Some units even boast panoramic balconies for breathtaking views.
INATEL Albufeira offers a variety of activities for guests to enjoy both indoors and outdoors. From karaoke nights to diving adventures, there is something for everyone. The hotel also provides 24-hour front desk service and free on-site private parking for added convenience.
For those looking to explore the surroundings, there are plenty of leisure activities nearby including diving excursions, hiking trails, and miniature golf courses. Additionally, within a short 10-minute walk from the hotel, guests can find several restaurants serving fresh seafood dishes – perfect for indulging in authentic Portuguese cuisine.
– Prime location near the beach
– Outdoor swimming pool with sun-lounger terrace
– Air-conditioned guestrooms with terracotta floors
– Variety of indoor and outdoor activities available
– Free on-site private parking
Alisios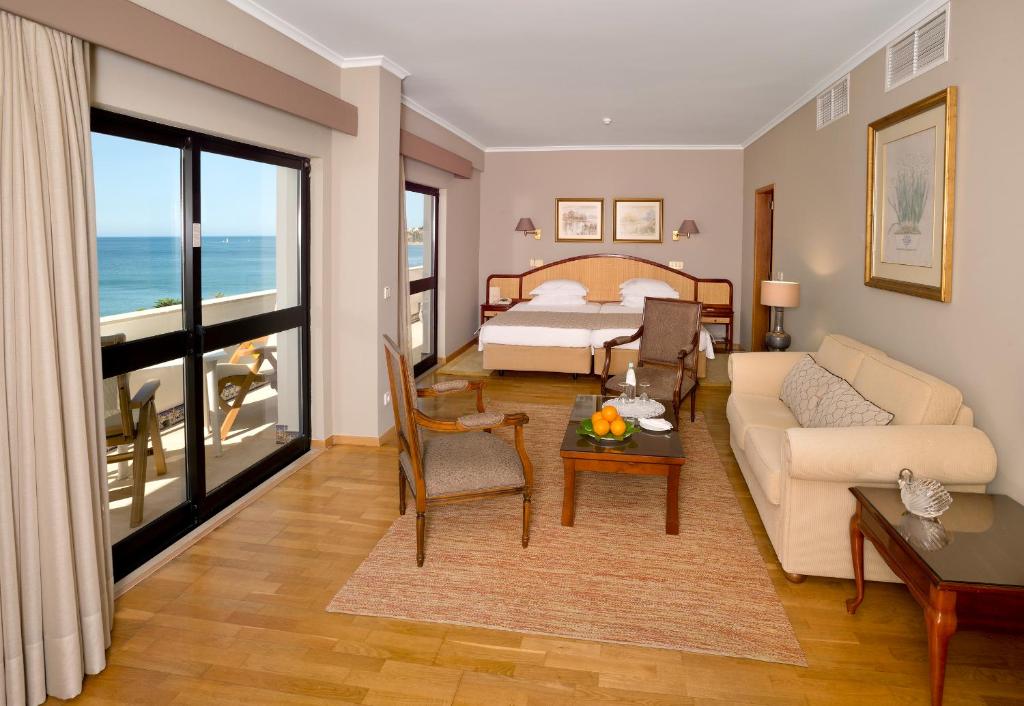 Perched on the magnificent cliffs of Algarve, Alísios is a modern hotel that offers breathtaking views of the Atlantic Ocean. Its highlights include a panoramic deck and an indoor pool with heated sea water. The rooms at Alísios are bright and airy, opening out onto private balconies through floor-to-ceiling windows. During the summer months, guests can savor delicious seafood, barbecues, and salads on the outdoor terrace until 21:30. Drinks and cocktails are available throughout the day, while live music adds to the vibrant atmosphere on some evenings. For those looking to explore, the hotel offers bicycle rental to discover Albufeira Old Town located just 1 km away. With its lively Strip filled with bars and clubs nearby, guests can experience the vibrant nightlife of this coastal town. Free Wi-Fi access is provided throughout the hotel and complimentary private parking is available.
– Stunning ocean views from private balconies
– Indoor pool with heated seawater
– Outdoor terrace offering delicious food options
– Live music for added entertainment
– Convenient location for exploring nearby attractions
Other places to stay in Albufeira
Hotels Near the Beach in Downtown Albufeira
Hotels near the beach in downtown Albufeira offer travelers the perfect combination of relaxation and convenience. With their prime location, visitors can easily access the sandy shores and enjoy stunning ocean views right from their accommodations.
Auramar Beach Resort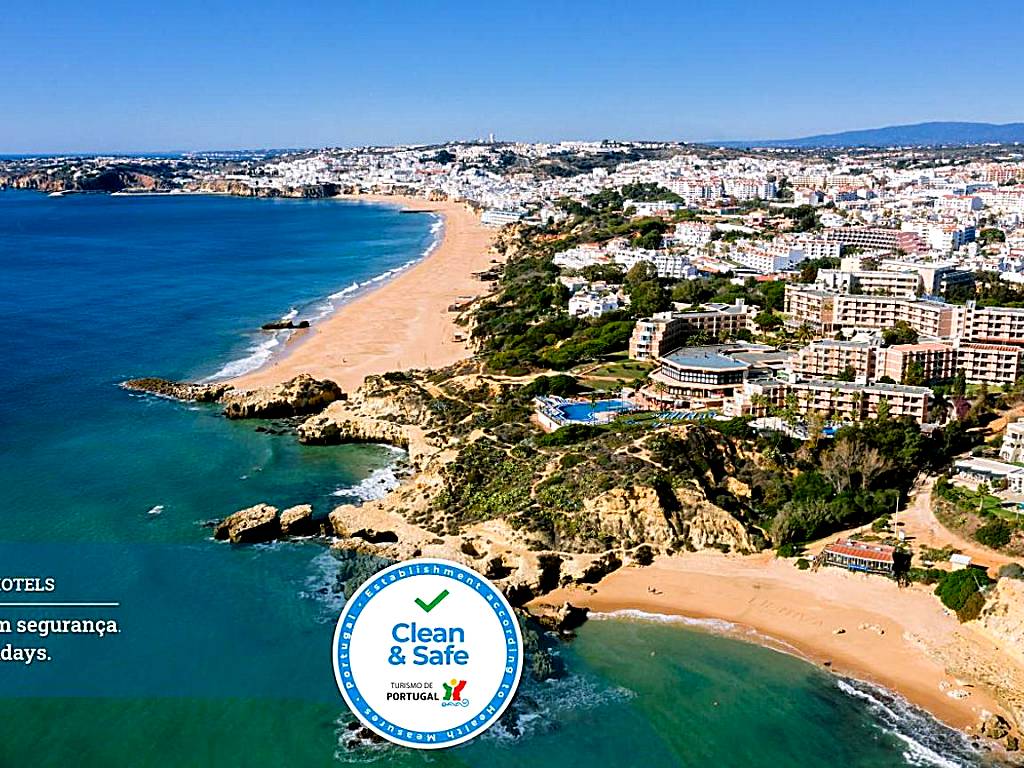 Located just a few meters from the Atlantic Ocean and surrounded by the stunning Praia dos Aveiros scenery, Auramar Beach Resort is a beachfront hotel that offers a perfect retreat for travelers seeking relaxation and luxury. The resort features indoor and outdoor pools as well as a terrace where guests can unwind and soak up the sun. The bright and airy rooms are air-conditioned and equipped with amenities such as satellite TV, minibar, and balcony. The on-site Panoramic Restaurant serves delicious breakfast and dinner dishes with breathtaking views of the ocean. Guests can also enjoy refreshing drinks on the spacious terrace that overlooks the Atlantic Ocean. After a day at the beach, visitors can rejuvenate in the hot tub or indulge in various activities offered by the kids' club for younger guests. With its proximity to Albufeira's vibrant nightlife, which is only 500 meters away, along with free parking on-site and being just a 10-minute drive from Albufeira's city center, Auramar Beach Resort provides an ideal base for exploring both relaxation and entertainment.
– Beachfront location
– Indoor and outdoor pools
– Breathtaking ocean views
– Kids' club with fun activities
– Proximity to Albufeira's nightlife
AP Adriana Beach Resort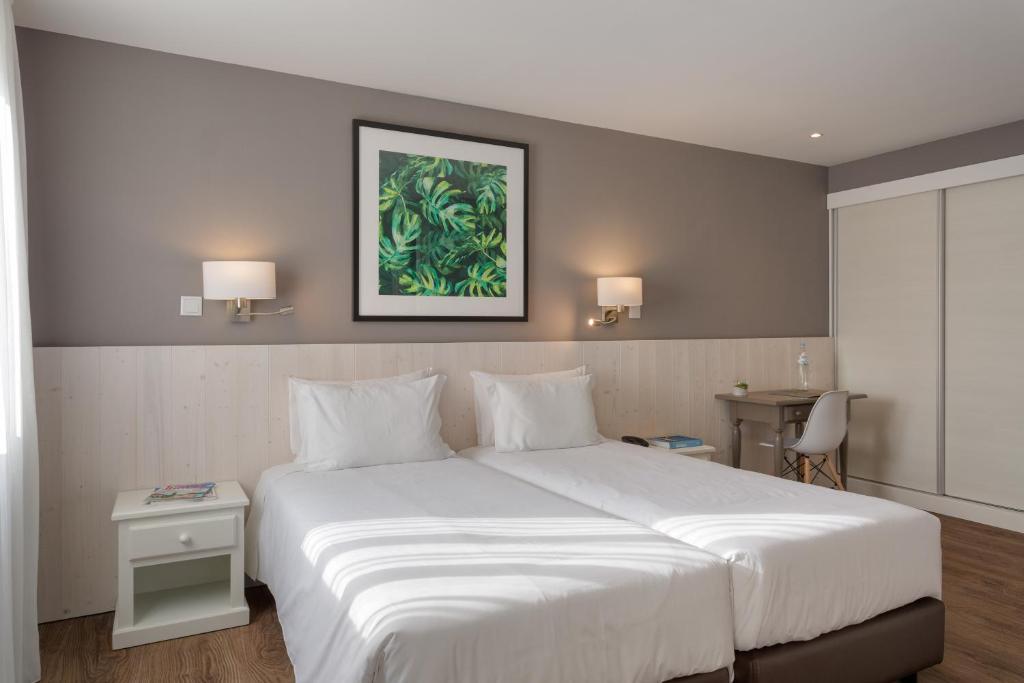 Located just 300 meters from Falesia Beach, the all-inclusive Adriana Beach Club is a fantastic choice for a beachfront getaway. Surrounded by lush gardens, this resort offers a range of amenities and activities to ensure an enjoyable stay. With two adult pools and two children's pools, guests can take a dip and soak up the sun. Sports facilities are available for those who want to stay active, including tennis courts and minigolf. For some relaxation, guests can visit the spa and indulge in a massage or unwind in the sauna or hot tub. The resort also has three spacious restaurants serving international and Portuguese cuisine, ensuring delicious meals throughout the day. With entertainment options such as live music shows and a kids club, there is something for everyone at Adriana Beach Resort.
– Indoor and outdoor pools offer plenty of options for swimming and lounging.
– The resort is surrounded by beautiful gardens, creating a serene atmosphere.
– Guests have free access to sun loungers and umbrellas at Falesia Beach.
– The variety of sports facilities allows guests to stay active during their stay.
– The spa offers relaxing treatments such as massages, perfect for unwinding after a day at the beach.
EPIC SANA Algarve Hotel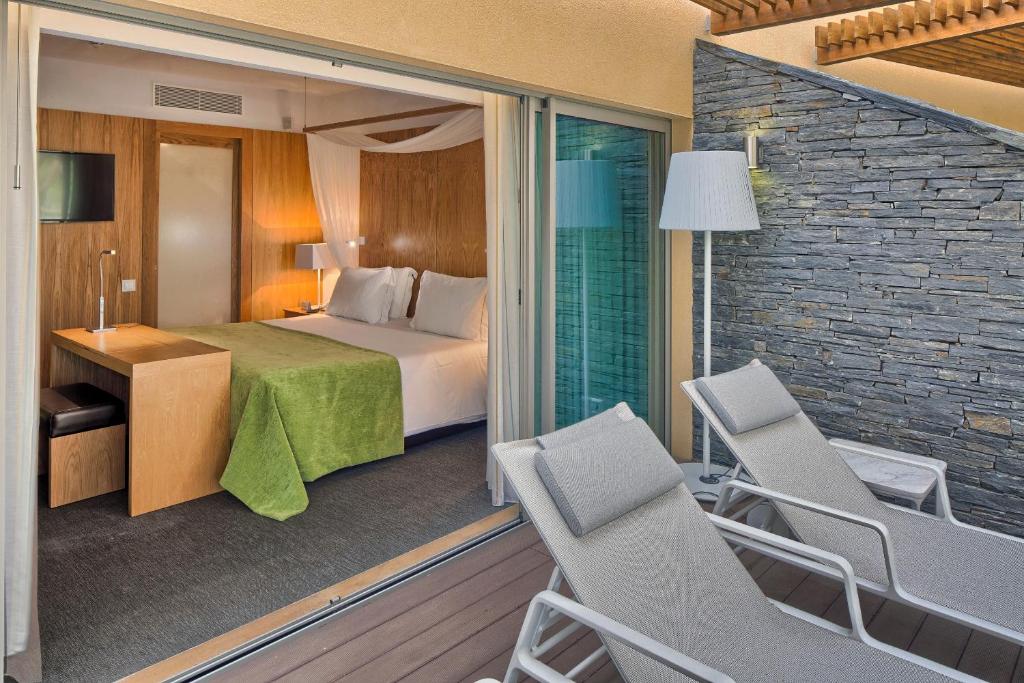 Located between Vilamoura and Albufeira, EPIC SANA Algarve Hotel offers guests a luxurious stay overlooking Falésia Beach. The hotel is set in a beautifully landscaped pinewood, providing direct access to the beach and offering breathtaking views of the ocean, pool, or resort from each room's balcony. With five outdoor swimming pools and an indoor pool, guests have plenty of options for relaxation and recreation. The spacious rooms feature a contemporary design with white marble bathrooms complete with rain showers and bathtubs. Epic Sana Algarve boasts five restaurants offering a range of culinary delights, including traditional Algarvian flavors. For those looking to unwind after a long day, Bluum Bar provides the perfect setting to enjoy a refreshing drink while taking in the stunning surroundings. Additional amenities include a fitness center, multi-sports court, extensive spa facilities, seasonal kids' club for families traveling with children aged 4-12 years old, and a congress center for business events. Located just 30 km away from Faro International Airport and with free on-site car parking available, EPIC SANA Algarve Hotel is the ideal choice for those seeking luxury beachfront accommodations combined with top-notch amenities.
Pros:
– Beautifully landscaped pinewood location overlooking Falésia Beach
– Generously sized rooms with contemporary design and balconies offering ocean or pool views
– Five restaurants featuring diverse culinary experiences including traditional Algarvian cuisine
– Extensive spa facilities offering relaxation and rejuvenation
– Range of recreational activities including multiple swimming pools and fitness center
Romantic Beachfront Hotels in Albufeira
Albufeira offers a range of romantic beachfront hotels, perfect for couples seeking a tranquil getaway. With breathtaking ocean views and secluded stretches of sandy beaches, these hotels provide an idyllic setting for romantic walks at sunset and intimate dinners by the sea.
Frentomar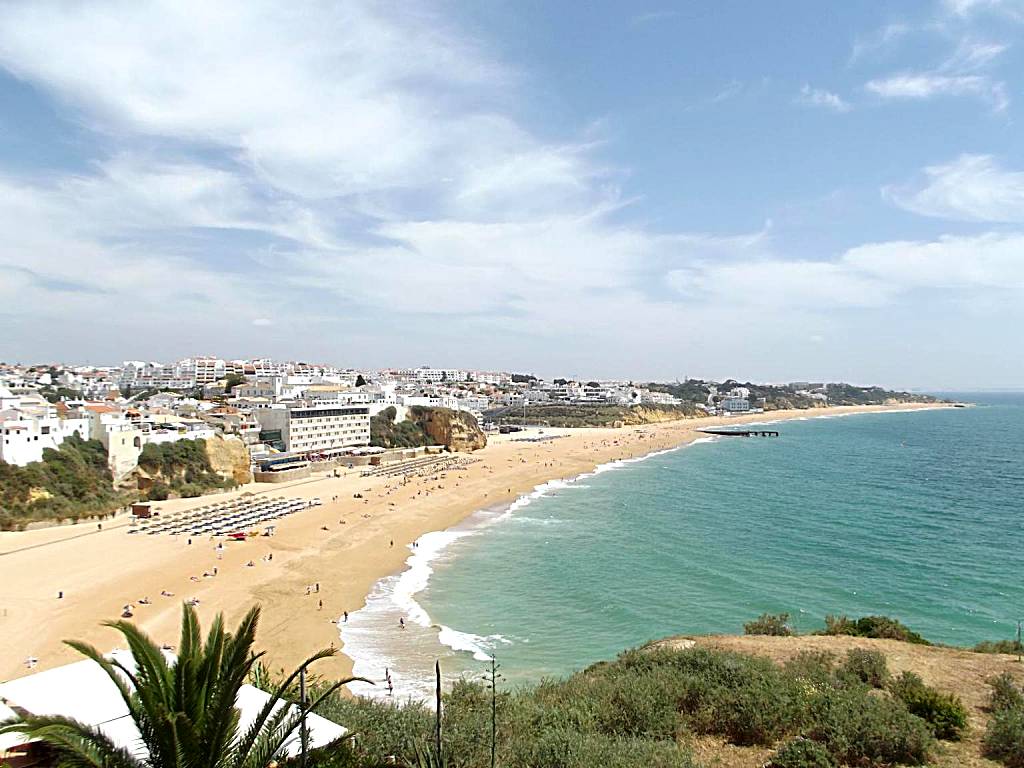 Frentomar is a charming guest house located right on the beachfront in Albufeira. Just 50 meters from the main beach elevator, this hotel offers comfortable rooms with a satellite TV and private bathroom. Guests can start their day with a delicious breakfast on the terrace or in the privacy of their own room. Most rooms also feature a balcony where guests can relax and enjoy the fresh sea breeze. Frentomar has a billiards table where guests can socialize with other visitors, and the friendly reception staff can assist with arranging car rentals for exploring the area at your own pace. The hotel is conveniently situated just a 10-minute walk from Eva Bus Station, providing direct access to Lisbon. With numerous restaurants, cafes, and bars in close proximity, Frentomar is perfectly positioned for an enjoyable stay.
– Beachfront location
– Comfortable rooms with satellite TV
– Breakfast served on terrace or in-room
– Billiards table for socializing
– Car rental assistance available
Information about Beachfront Hotels in Albufeira
| | |
| --- | --- |
| 🏢 Number of Beach Hotels in Albufeira | 7 |
| 🥇 Average Review Score | 8.7/10 |
| 💰 High season average price | 1274 |
| 💸 Low season average price | 318.5 |
FAQ
Are there any beachfront hotels in Albufeira?
Yes, Albufeira is known for its stunning coastline and offers a wide range of beachfront hotels. Whether you prefer a boutique hotel or a luxurious resort, you will find plenty of options right on the beach. From the popular Praia dos Pescadores to the more secluded Praia da Coelha, there is a beachfront hotel to suit every traveler's taste.
What amenities can I expect at a beachfront hotel in Albufeira?
Beachfront hotels in Albufeira are well-equipped with various amenities to ensure a comfortable and enjoyable stay. Most offer direct access to the beach, allowing guests to relax on sun loungers or engage in water sports activities. You can also expect facilities such as swimming pools, spa services, fitness centers, restaurants serving delicious seafood dishes, and bars showcasing breathtaking ocean views.
Can I book a room with an ocean view at a beachfront hotel in Albufeira?
Absolutely! Many beachfront hotels in Albufeira offer rooms or suites with stunning ocean views. Waking up to the sound of waves crashing onto the shore and enjoying picturesque sunsets from your private balcony is an experience not to be missed. It's recommended to specify your preference for an ocean view room while making your reservation to ensure availability.
Are there family-friendly options among the beachfront hotels in Albufeira?
Yes, there are several family-friendly options among the beachfront hotels in Albufeira. These establishments often provide special amenities for children like kids' clubs, playgrounds, and children's pools. Some even offer babysitting services so that parents can enjoy some quality time together while their little ones are taken care of by trained professionals.
How do I choose between different beachfront hotels in Albufeira?
Choosing between different beachfront hotels depends on your preferences and budget. Consider factors such as the location of the hotel, proximity to attractions or restaurants, available amenities, room types, and rates. Reading reviews from other travelers can also provide valuable insights into the quality of service and overall experience at each hotel.
Popular Beachfront Hotels destinations